The Gateway to Big Sur, The Black Swift Falls Trail Delivers Epic Views
Ragged Point, home of the 'Million Dollar View' showcasing barren, steep cliffs rushing into the sea is a landmark stop for travelers on the iconic Highway 1 Discovery Route. Towering 400 feet above the Pacific Ocean, the view from the point reveals miles of deep blue ocean, waves crashing on remote beaches, and seasonal whale watching.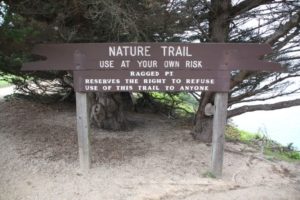 At the bluff's edge look for a steep trail called the Black Swift Falls Trail which begins at the Ragged Point Inn and Resort on the southern Big Sur Coast. One of the most epic hikes (for experienced hikers) in San Luis Obispo County, the Black Swift Falls Trail is simply signed "Nature Trail."
The base of the cliffs is only a half mile, but steep with about a 400-foot drop in elevation, and filled with breathtaking panoramas. It switchbacks down the vegetated hillside and ends at a small black sand beach, a common phenomenon on this section of the coast. The black sand beach is warm on a sunny day, and often there's only the shorebirds to welcome you.
When you finally get to the bottom, the reward is the waterfall you can't see from above. This trail assures the best views of Ragged Point's Black Swift Falls that cascades from 300 feet above. This is the only way to Young's Creek Beach as beach access is a rare commodity in this area. The Young's Creek Beach is visible from the bluff but unfortunately the waterfall is not. It's a short but stiff trail, and you feel like a champion when you've completed it.
Back up on top of the cliffs, Ragged Point Inn and Resort house one of the few gas stations on this portion of Route 1, and is also a fully loaded resort, with stunning ocean-view rooms, classy restaurant, gift shop, coffee bar, and one of the most epic hikes in SLO County.
For those seeking a simpler trail to witness the jaw-dropping views, benches are perched on the cliff and The Ragged Point Nature Trail follows the perimeter of the peninsula along the high blufftop terrace. There are scenic vista points and an overlook platform.