The stretch of Highway 1 between Ragged Point and San Simeon offers some of the most sought-after cycling in the world. Here, you'll discover easy flats as well as challenging climbs among the Monterey pines and redwood trees that grow along the rugged coastline. The Pacific Ocean is never further than a stone's throw away, providing endless views for your adventure. Explore historic landmarks, witness wildlife, and breathe in scenic vistas along the way. Whether you take this route bit-by-bit or all at once, you'll be a changed person by the time you kick up your clips at the end of the ride.
A couple organizations can help make your Highway 1 ride a success. Check out Cycle Central Coast, a guide to various routes between Ragged Point and San Simeon that local cyclists know and love. CCC makes it easy to choose the right ride for you, with elevation gain, mileage, terrain and maps for each route. Itineraries also include access to restrooms and points of interest along the way like restaurants, farm stands, wine tasting and wildlife viewing. If you're looking for an in-person guide along Highway 1, try Central Coast Outdoors, a tour company and outfitter based in San Luis Obispo. CCO sets cyclists up with bikes and gear, and offers half-day and full-day rides with options for lunch, wine tasting, and other attractions. 
Before you clip in for any ride, always be sure to bring a patch kit, mini tool kit and lights for early morning or evening rides. And never be without a water bottle, helmet, ID and a little cash for fun stops along the way. And don't forget that Stewardship Travel for Good activities can help you preserve this place where you ride. Whether it's building trails or touring historic monuments along your route, every moment you connect here insures its protection for generations to come. To learn how Stewardship Travel for Good can broaden your Highway 1 cycling experience, check out the list of activities here.
Explore Cycling Along Highway 1
San Simeon to Ragged Point
This 37-mile ride starts in San Simeon and travels north along the coastline. Special points of interest lie along this stretch, including Piedras Blancas Light Station, built in 1874 to protect ships from the dangerous shoreline. Just south of the lighthouse, the Piedras Blancas Elephant Seal Rookery hosts up to 24,000 Northern Elephant Seals each year. Watch these majestic marine mammals play out their life cycle just steps from the viewing area and Highway 1. Then head to the opulent hilltop home of newspaper mogul William Randolph Hearst. Tucked into the Santa Lucia Mountains east of Highway 1, Hearst Castle's twin towers and facade are easily visible from the roadway. Or take an expert guided tour of the home, grounds and famous Neptune Pool. For a final picturesque stopover, be sure to park at the W.R. Hearst Memorial State Beach and walk the San Simeon Pier.
This route is out-and-back, and paved the entire way. Elevation varies, with a challenging hill at the midway point climbing up to Ragged Point.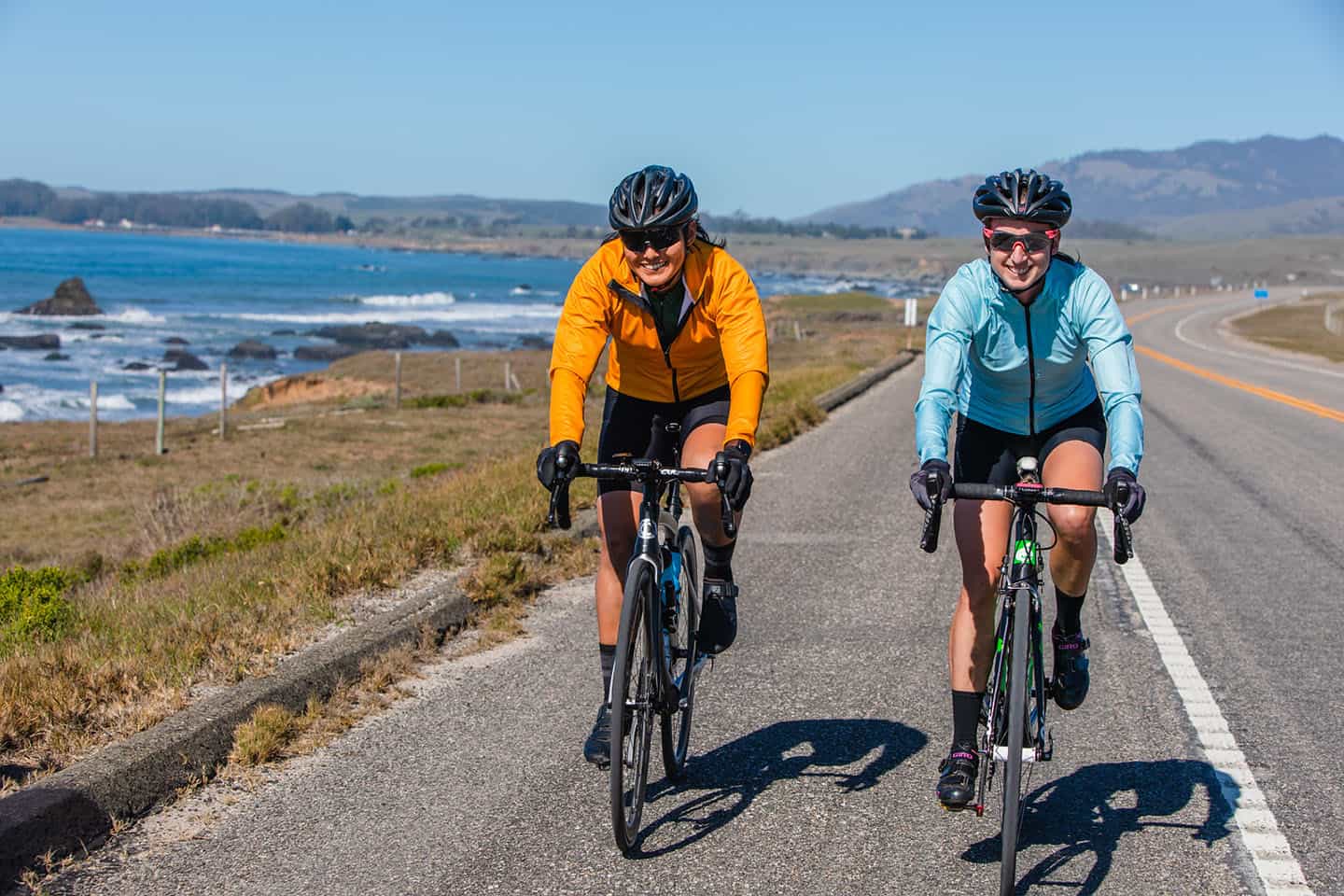 San Simeon to Cayucos
At 42 miles round-trip, this mellow, mostly-flat itinerary takes you and your bike from San Simeon to the friendly beach town of Cayucos. There are no major climbs on this ride, and all terrain is asphalt. The route is marked by several vista points and multiple tasty stops like restaurants, bakeries, and a small-town ice cream truck. Beginning in San Simeon, pull over at about the 14-mile mark for ice cream at the Harmony Valley Creamery. The pint-size town of Harmony is famous for being home to just 18 residents, many of whom are painters, sculptors and glass-blowers. Visit the Harmony Valley Creamery ice cream truck for a scoop or two before traveling on. From there, ride past Estero Bluffs State Park and enjoy the sweeping views of Morro Rock and Cayucos, clinging to the hillside. Another pause-worthy stop can be found at the southbound Cayucos exit, with views of the Estero Bluffs to the north. Then indulge in breakfast, lunch, or dinner at The Sea Shanty, where fresh seafood and giant desserts are the name of the game. Sit on beautiful Cayucos State Beach or walk the Cayucos Pier, then stroll the quaint street of downtown Cayucos. Don't forget to sample the famous shortbread goodies from the Brown Butter Cookie Company, and pick up a bag or two for the ride home.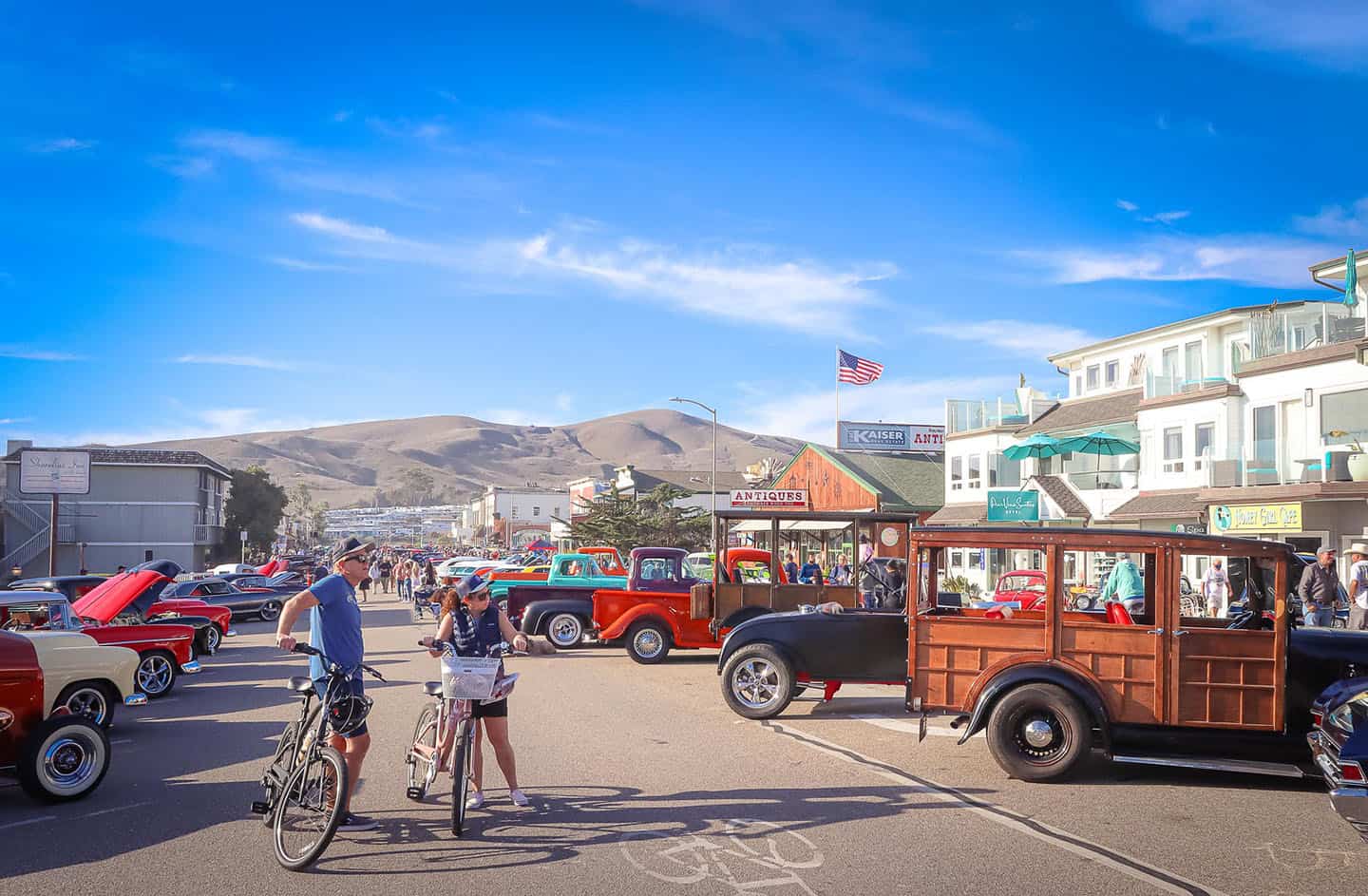 San Simeon to the Silver Peak Wilderness
At 64 miles round-trip and 783 feet gained in elevation, this challenging route will keep even the most seasoned of riders engaged. The ride begins in San Simeon and travels through the gateway to Big Sur and into the Silver Peak Wilderness This is some of the most beautiful, untouched country on earth, well worth the huffing and puffing it takes to get there. Paved the entire way, this route passes Arroyo Laguna State Beach, popular with kiteboarders and windsurfers. From here, head up Highway 1 past the Piedras Blancas Elephant Seal Rookery and historic Piedras Blancas Light Station. In Ragged Point, catch live music on the lawn or order lunch with a "million dollar view." Afterward, take the short and steep Black Swift Falls Trail to see these impressive falls from the black sand beach below. End at Willow Creek Beach, about 13 miles ahead, for a secluded retreat before heading back the way you came.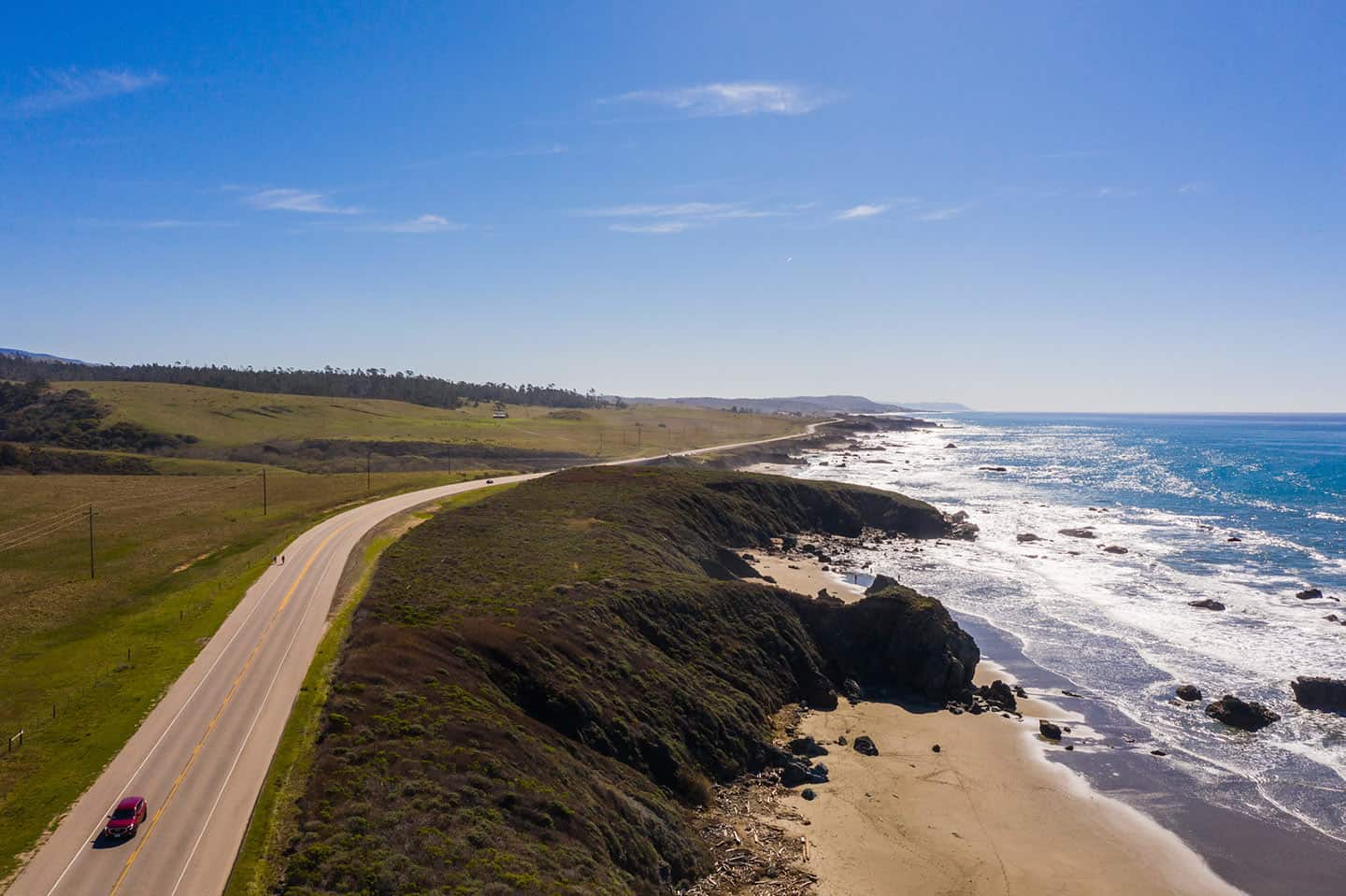 Popular Cycling Events That Pass Through
Best Buddies Challenge
One of the most popular rides the world over, the Best Buddies Challenge takes cyclists through Big Sur and Ragged Point each September. Cyclists choose routes between 100-, 62-, and 30-mile distances, all with cascading ocean views and rolling hills. The ride ends with a party on the coast, serving gourmet barbecue and headliner entertainment at the finish line. Proceeds go to Best Buddies, an organization that serves people with developmental and intellectual disabilities.
Lighthouse Century
This ride, held every year in September, offers 100-, 75- and 45-mile distances between Piedras Blancas Light Station and Morro Bay. Pass Hearst Castle, San Simeon Pier, and Cayucos State Beach during this lively event, then finish with a barbecue lunch near Morro Rock. Proceeds support the work of the San Luis Obispo Bicycle Club. 
Eroica's Piedras Blancas Route
The Eroica ride began in 1997 along the gravel roads of Tuscany, Italy as a way to celebrate vintage bicycle culture. Riders must wear period bicycle gear and ride road bikes made before 1987, with or without gears. The idea was to enjoy "the beauty of fatigue and the thrill of conquest" on a beautiful ride. Today, Eroica takes place in just a few other parts of the world with similar conditions to that first Italian ride. These include South Africa, the Netherlands, Japan, Spain…and the Central Coast of California. The Eroica California rides pass through Cambria and Paso Robles, but the Piedras Blancas Route features San Simeon and Ragged Point. 
Amgen Tour of California
This professional cycling race travels Highway 1 each year, and is the only event in the country on the top-level WorldTour. (Union Cycliste Internationale holds 36 other events at this level throughout the world.) The tour covers 700 miles over 8 days, with part of the tour passing through Ragged Point and San Simeon along the way. This is a thrilling event to watch from the sidelines – almost as thrilling as competing in the race.
Mountain Biking Trails
This steep and challenging out-and-back trail gains 1,873 feet in just 4.6 miles. A lack of trees along the way means crystal clear coastal views, both en route and at the top of the mountain. This well-maintained trail is often overlooked as the Ragged Point Inn and Black Swift Falls trailhead stand just across the highway. But anyone who takes the (fire) road less traveled is rewarded with a challenging climb and jaw-dropping ocean views. It also means the trail is uncrowded, if not empty. After spring rains, hear and see several small waterfalls flowing in the brush beside the trail. On a clear day, views stretch south to Piedras Blancas Light Station, Morro Rock, and Point Buchon. But be warned: these views don't come cheap. Mountain biking novices should work up to this climb.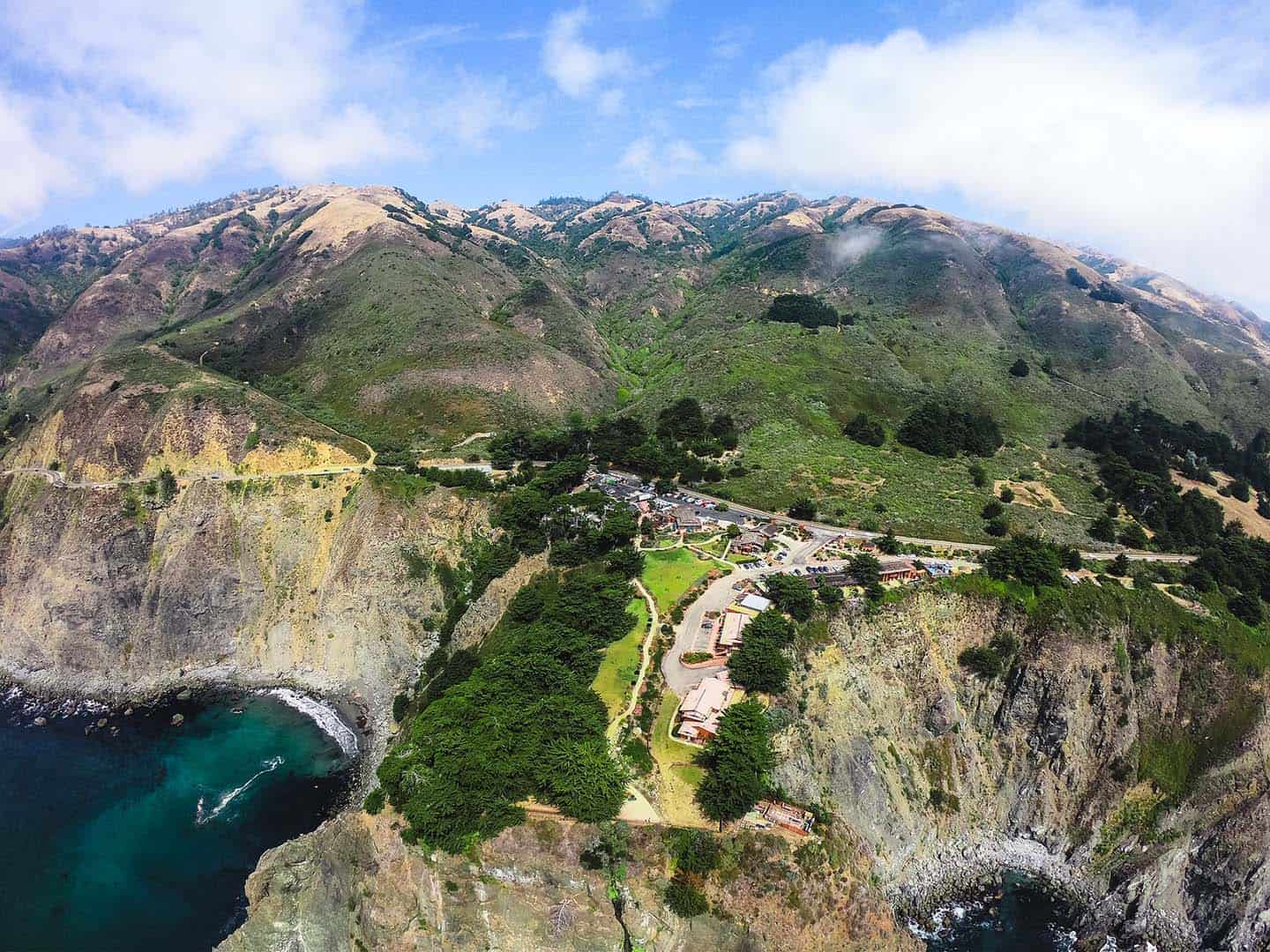 Popular cycling destinations nearby
Cambria (South of San Simeon)
The charming seaside town of Cambria offers a nearby hub of cycling opportunities, whether you're looking for road routes or mountain biking trails. Take on the 17 miles of mountain biking trails through pine forests and along rugged ocean at the Fiscalini Ranch Preserve. Or head down back roads into the mountains of Los Padres National Forest. For road cyclists, take the picturesque and challenging route between Cambria and Paso Robles, or through the farmland along Santa Rosa Creek Road.