The stretch of coastline along San Simeon sees some of the most diverse sea life of all of Highway 1. Here, whales spout and breach within full view of the San Simeon Pier at William Randolph Hearst Memorial Beach. Dolphins' dorsal fins dip in and out of the ocean's surface, and California sea otters float with pups on their bellies. Seabirds like Western Snowy and Black-bellied Plovers, Killdeer, and Long-billed Curlew make their home along the shore, sometimes feeding among the waves. Tide pools brim with tiny sea creatures like urchin, hermit crabs, anemones, and sea stars. Most dramatically of all, Northern Elephant Seals court, fight, molt and birth their young in one of Earth's largest elephant seal rookeries. (And that's not even counting the zebras that roam William Randolph Hearst's ranch estate, visible from Highway 1!) This truly is a diverse and abundant place worth protecting. Want to be part of that sustaining effort? Stewardship Travel for Good is a way to get closer to the heart of Highway 1, with activities that make the most of your time here. Try exploring the Monterey Bay National Marine Sanctuary, which borders the San Simeon shoreline. Or take a tour of Piedras Blancas State Marine Reserve and Conservation Area. However you choose to learn about this stretch of Highway 1, you'll be glad you took the time to dive deeper. Just be sure to read our Wildlife Viewing Tips before you embark on your journey of discovery.
Explore San Simeon Tide Pools & Sea Life
Located at William Randolph Hearst Memorial Beach, the Coastal Discovery Center is a great starting point for any coastal adventure in the area. A joint project between the Monterey Bay National Marine Sanctuary and California State Parks, the center provides visitors with education, information, and inspiration. Engaging exhibits bring the intersection of land and sea to life with stories about San Simeon's cultural and natural history. The Coastal Discovery Center also offers guided and self-guided tours that the whole family can enjoy. Take a self-guided tour which includes a walk along the pier, with signs along the way giving information on local birds and mammals. (Harbor seals are particularly active around the pier, but if you want a close-up, the center has binoculars available to borrow.) Or opt for one of their guided tours, with a menu that includes pier walks as well as San Simeon Cove beachcombing, among others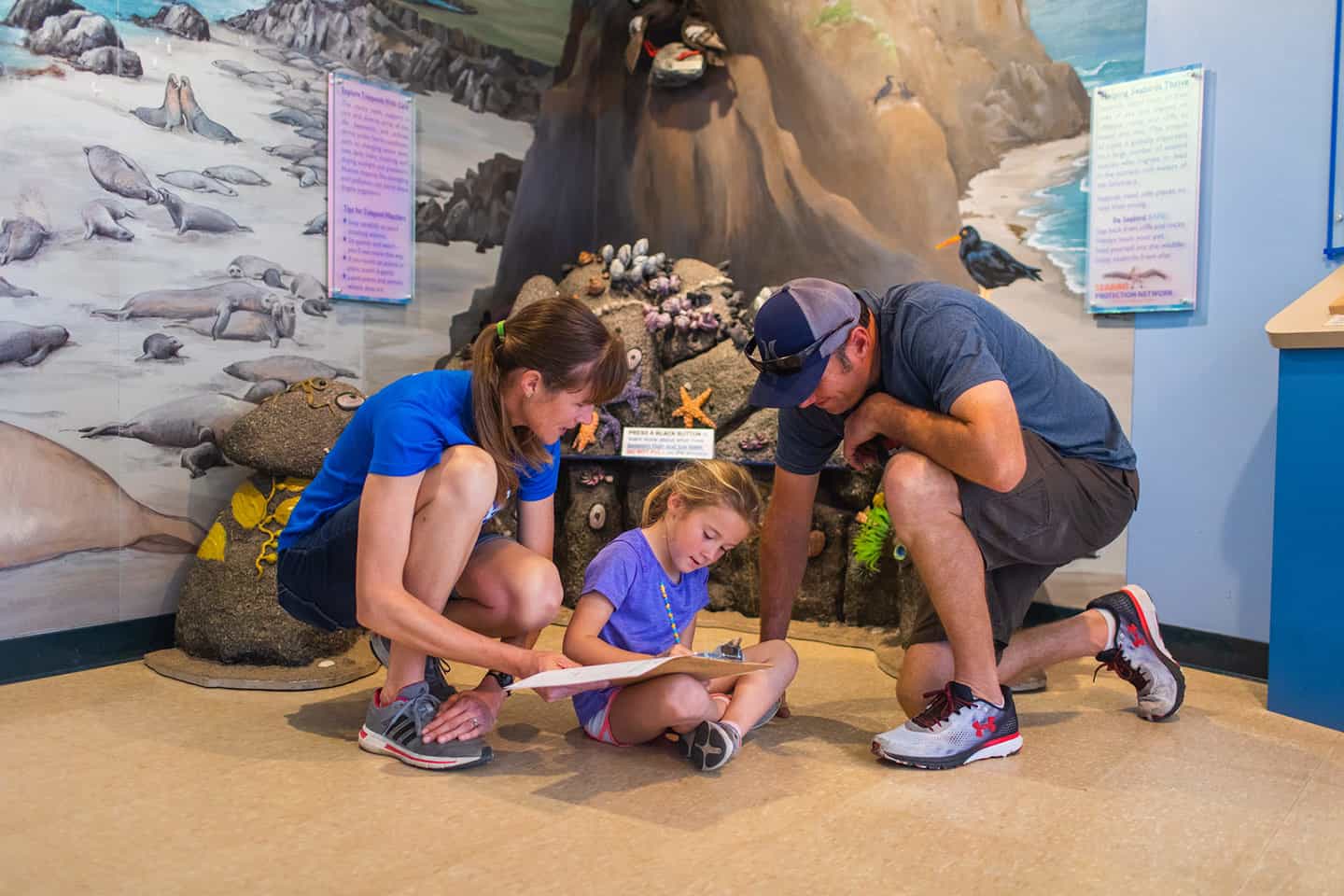 Tide-pooling can be rather epic in San Simeon thanks to its craggy shoreline and abundance of biological diversity. Several spots worthy of a tide-pooling adventure can be found along the San Simeon coastline, each with their own character and appeal. Look to the area north of the Piedras Blancas Light Station for the Point Sierra Nevada Trailhead South. This stretch offers easy access to Arroyo Laguna Beach and a variety of tide pools during low tide. Also north of the light station, check out the Northernmost Boucher Trailhead, which provides access to the beach and has a great selection of tide pools. (Just be careful of any Elephant Seals on the beach! Give those guys a wide berth.) Another tide pool hub can be reached at the vista point south of Piedras Blancas, just off Highway 1. For a low-key, picturesque spot for tide-pooling, go even further south to W.R. Hearst Memorial Beach. Here, on the northern side of the beach, low tide reveals small tide pools containing tiny flora and fauna to explore.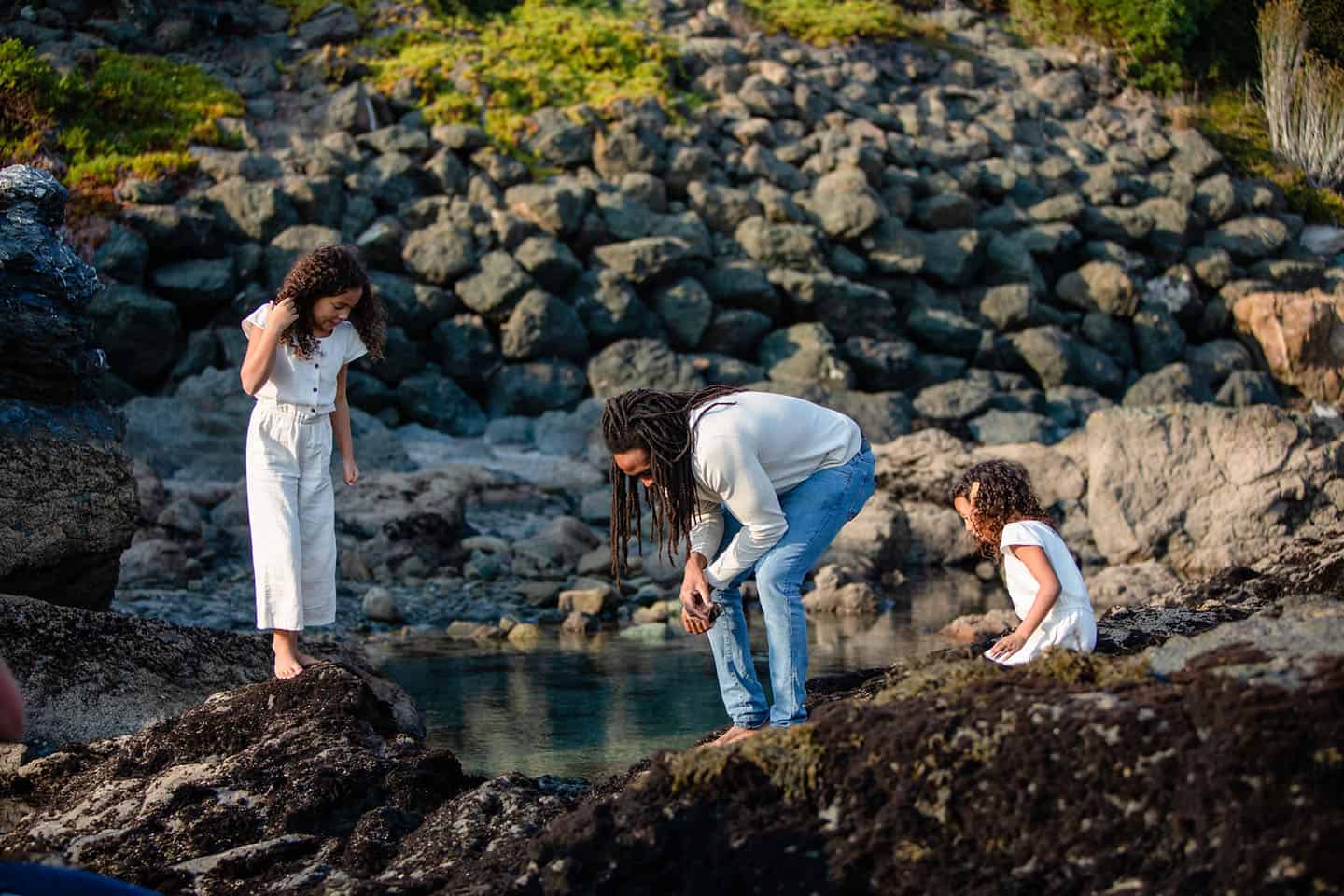 Tide Times for Highway 1
Monday, Dec 4, 2023
| Tide | Time (PST/PDT) | Height |
| --- | --- | --- |
| High Tide | 4:42 AM | 4.11 ft |
| Low Tide | 9:51 AM | 3.16 ft |
| High Tide | 2:26 PM | 3.88 ft |
| Low Tide | 9:52 PM | 0.78 ft |
Tides measured at Port San Luis Harbor. Data provided by
noaa.gov.
Wildlife Viewing at Point Piedras Blancas
Point Piedras Blancas stands out as a rich wildlife viewing area — even along wildlife-rich Highway 1. To enjoy the natural spoils of the area, begin by heading to the West Overlook Stop. The westernmost point of the Piedras Blancas Light Station provides a view of offshore rocks where multiple congregate and can be observed. Look for harbor seals, sea lions, cormorants, pelicans and even peregrine falcons sheltering among the "white rocks" for which Piedras Blancas is named. These offshore white rocks provide a resting and nesting zone for many marine birds and mammals. Further south, the Boucher Trail boasts two fantastic spots for wildlife viewing along its path: The Whale Stop and The Otter Stop. The Whale Stop provides a wide, sweeping view of an area where whales often breach and put on a spectacular show. And The Otter Stop features a view of the cove area where otters can often be found playing.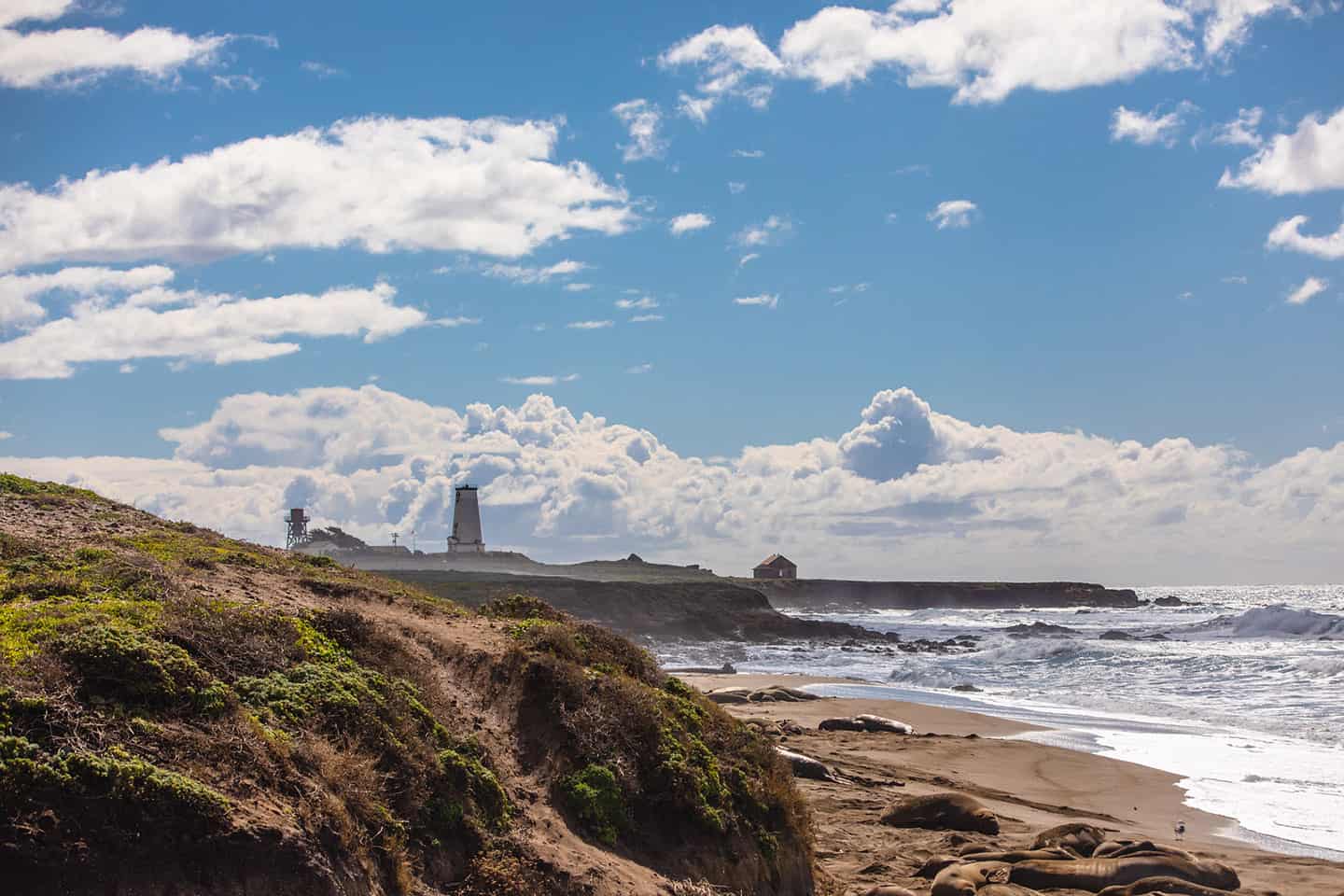 Few attractions put wildlife front-and-center the way the Northern Elephant Seal Rookery does. Located just south of Piedras Blancas Light Station, this turnout and viewing area allows visitors to watch elephant seals in their migratory home. Thousands cycle in and out of this beach every year, pupping infants, competing for females, and lazing on the sand. Depending on the season, you might see giant males fight and lumber on the beach, or females scratch themselves with their "fingers." Of course, baby elephant seals win the cuteness contest, nursing, snuggling, and resting with their mamas. And it's a good thing they do rest, as they'll spend around 80 percent of the rest of their lives in the ocean. It's only for major life changes that an elephant seal comes ashore, like mating, birthing, and molting. (Otherwise, they're in the water, able to hold their breath over 100 minutes, and able to travel up to 60 miles per day.) Take advantage of the opportunity to watch them during those milestones, from a safe, roped-off viewing area.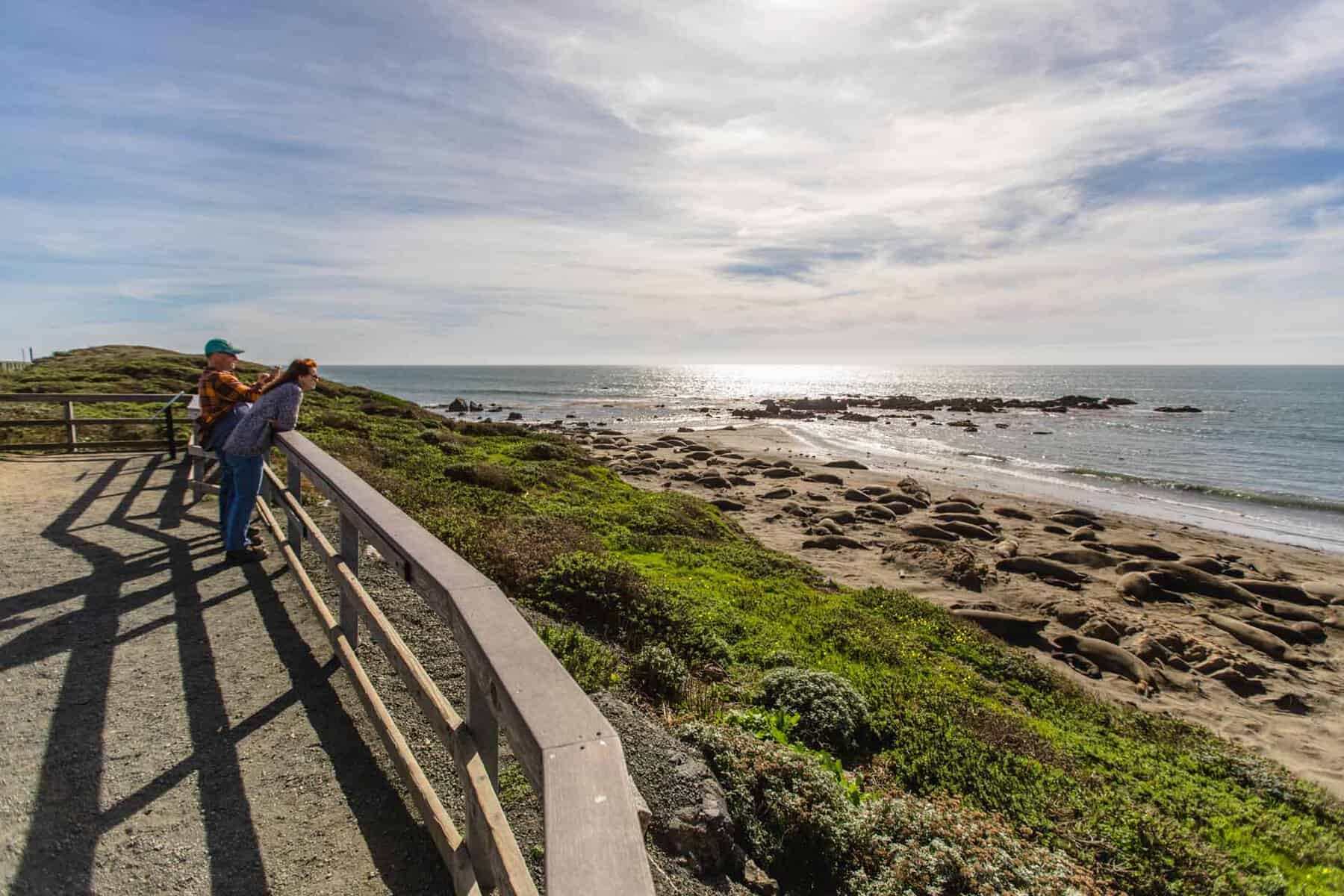 In addition to the Whale Stop on the Boucher Trail at Piedras Blancas, there are multiple elevated scenic viewing points along Highway 1. Turn off onto any one of these points and you may see a whale in the distance. Look for spouts on the water's surface — did you know a whale's species can be determined from the shape of its spout? You may also see a fin, a tail, or even a whale breaching. Often, species like California Gray Whales, Humpback Whales and Blue Whales migrate past San Simeon. Watch for seagulls flocking, as often whales are coming to the surface filtering fish. These are many times the best places to predict where a whale will emerge. To learn more about whale watching here, visit the Whale Trail signs at Hearst San Simeon State Park and near San Simeon's Cavalier Resort.