Rural Road Trip: Must-See Spots in San Simeon and Ragged Point
Experience the best of the Highway 1 Discovery Route
Longer days, endless amounts of sunshine, miles of deep blue ocean, waves crashing on remote beaches, and seasonal whale & wildlife watching… There is so much we love about the summer months along the coastal Highway 1 Discovery Route. Though rural in nature and tucked along the scenic CA Highway 1 coastal drive, San Simeon and Ragged Point offer must-see history, culture, hiking and lots of curb appeal. Don't let your summer slip away without experiencing these Must-See Spots in San Simeon and Ragged Point. Grab your cameras, pack the car and enjoy!

Immerse yourself in the majestic coast of San Simeon and Ragged Point along the iconic CA Highway 1 Discovery Route in Coastal San Luis Obispo County. Enjoy stunning views of rugged Pacific coastline in Ragged Point, relaxing on the pristine beach of San Simeon cove, enjoying a private Hearst Castle tour and Hearst Ranch Winery tasting. There's so much for you to enjoy on a mid-week getaway in San Simeon and Ragged Point.
Must See Spots, San Simeon- The Majestic Coast 
Hearst San Simeon State Historical Monument, known throughout the world as Hearst Castle®, is the home of the late William Randolph Hearst. This majestic structure, La Cuesta Encantada, "The Enchanted Hill" has a magnificent 115 –room main house, guesthouses, pools, 8 acres of cultivated gardens, and a world class art collection. The Castle overlooks the Pacific Ocean and coastal cliffs and beaches from its perch in the the Santa Lucia mountain range 1600 feet above. Visitors can still find wild zebras roaming freely over the hillsides as though they were part of the original zoo at the castle from back in the 1930s.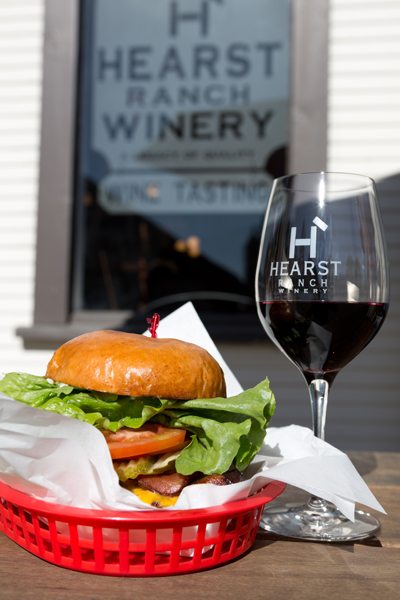 Hearst Ranch Winery tasting room beckons visitors to enjoy our vintages of Chardonnay, Rosé, Tempranillo, Cabernet Franc, Malbec, Merlot, Cabernet Sauvignon, Petite Sirah, Late Harvest Zinfandel and our Red Cuvée, White Cuvée and Barrel Select Cuvée blends. Located across Highway 1 from the Hearst Castle Visitor's Center inside historic Sebastian's General Store, the Hearst Ranch Winery serves as a general store and cafe to tourists, campers and sport fishing enthusiasts. Historic Sebastian's is also the gathering place to sample the wines of Hearst Ranch Winery and enjoy café style meals featuring Hearst Ranch Beef. Visitors and locals boast about this hidden treasure located near William Randolph Hearst Memorial State Beach, and world-famous Hearst Castle.
Piedras Blancas Light Station, offers an opportunity to go back in time to the lonely and blustery life of the lighthouse keeper. First lit on February 15, 1875, to guide ships along the Central Coast of California, the 100-foot-high lighthouse operated for 100 years. Piedras Blancas Light Station has been congressionally designated an Outstanding Natural Area. Teeming with wildlife, the surrounding area is home to elephant seals, otters, peregrine falcons, harbor seals and California sea lions; and if you go during whale season you might spot a mother and calf as they make their way north. Tours of the light station are offered Monday through Saturday, except federal holidays.
The Piedras Blancas Elephant Seal Rookery viewing areas are open every day of the year, wheelchair accessible, and free.  Visitors learn more about stewardship for the great northern elephant seals from the Friends of the Elephant Seals, a nonprofit cooperative association with California State Parks.     The Northern Elephant Seal migrates thousands of miles twice each year, from the open oceans to a land-based rookery, where it breeds, births, molts, and rests between trips. The Piedras Blancas rookery, on HWY 1, north of San Simeon is home to about 15,000 animals. The area is open for viewing every day of the year and there is no admission fee or reservation required. Docents are on site daily from 10 – 4 pm. Come see these magnificent marine mammals up close on one of the prettiest coastlines in California.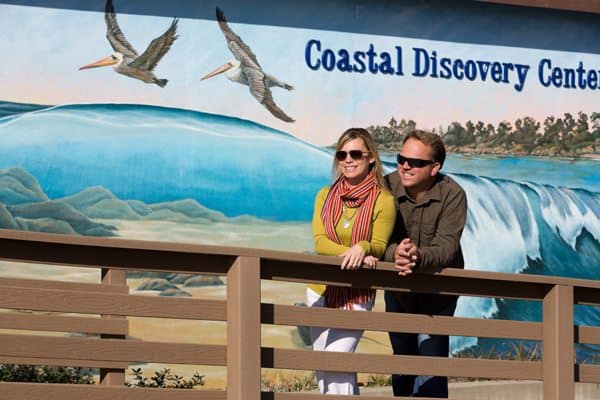 The Coastal Discovery Center is a joint venture between the Monterey Bay National Marine Sanctuary and California State Parks. Located on beautiful San Simeon Bay, the Coastal Discovery Center celebrates the connection between land and seas, offering interactive exhibits and education programs which highlight the cultural and natural history of Old San Simeon, California State Parks, and the Monterey Bay National Marine Sanctuary. The interface of land and sea is unique, drawing people for its rich bounty, economic opportunity, recreation and inspiration. Protection of these special places preserves them for use and enjoyment for generations to come. This Stewardship Travel opportunity invites guests to gain a deeper connection on vacation through activities and charitable donation opportunities that protect wildlife, habitat, and cultural heritage sites.
Ragged Point Cliffside Trail is one of the few places where you can take a trail down the face of a cliff, to witness the largest waterfall in the area. The trail to Ragged Point Beach at the base of the cliffs is only a half-mile, but steep with about a 400-foot change in elevation. Views of the beach below are incredible, as are the ever-changing views of the cliffs to the north. The dampness can make the trail somewhat slippery. The beach is rather exotic with the black sand, a common phenomenon on this section of the coast. The view of the cliffs is all the more imposing looking from the bottom up.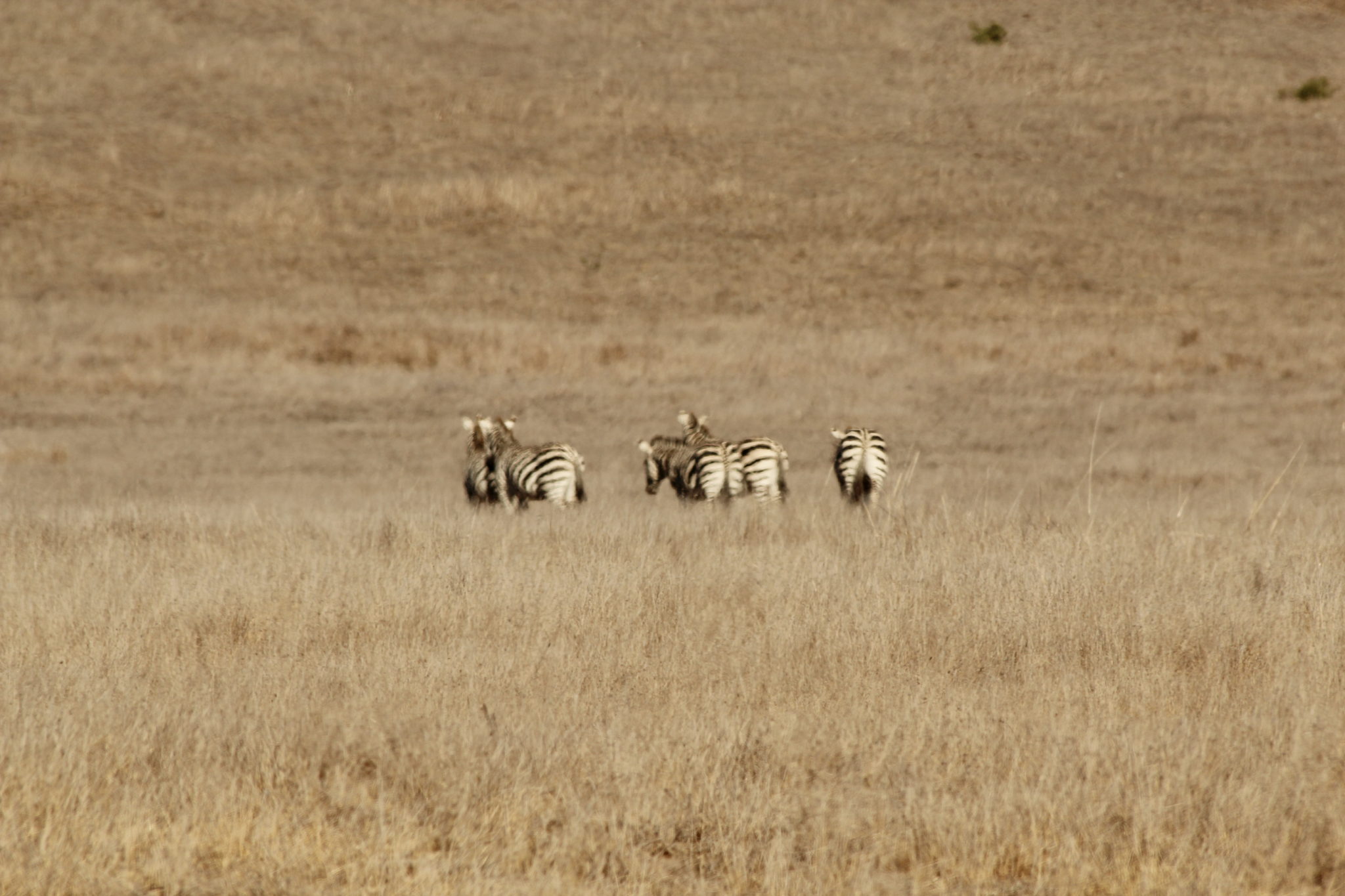 Highway 1 Zebra Viewing, traveling the winding ranch road to Hearst Castle, guests once passed through fenced fields populated with many species of exotic wild animals freely roaming over the hillsides as though they were native to this land. It was an amazing sight, featuring an ever-changing collection of animals—like American bison, Rocky Mountain elk and zebras. Today, zebras can still be seen grazing on the Castle's land from Highway 1
Salmon Creek Falls is a natural, beautiful waterfall found on the Big Sur Pacific Coast Highway 1. Like most famous Big Sur waterfalls, Salmon Creek Falls is a short easy hike and for a quick look no special preparations are necessary but you should always use your head and take certain safety precautions when near waterfalls. For any serious waterfall trek, there are numerous things to keep in mind to make your waterfall visit safe, memorable, more productive and enjoyable. There are specific creek and waterfall safety considerations as well as proper clothing and equipment to consider when visiting Big Sur Falls. How about waterfall pictures? Here are some waterfall photography tips and tricks.
There are many places to stop along the way and become immersed in the 10 quaint towns that make up the CAH1DR. Discovering the hidden gems and local favorites along the route has become so popular by visitors that 10 rural road trip loops are featured on the comprehensive website, making it easy to navigate by car. The connected rural routes are prime examples of why the 101-mile stretch of Highway 1 is unique to the areas north and south of Coastal San Luis Obispo County. Download the rural road trip map here.