Looking for the best seafood in Morro Bay? Savor the catch of the day at Morro Bay's bountiful restaurants, which range from elegant oceanfront eateries to casual family-friendly hangouts. From breakfast to dinner, Morro Bay restaurants offer up an array of dining offerings to please everyone's taste buds, including fresh-caught seafood, Mexican, Thai, Italian, sushi,and crowd-pleasing favorites like clam chowder, fish and chips, pizza and burgers. For those craving a view of the ocean, Morro Bay boasts several top notch restaurants situated along the water's edge, perfect for taking in a sunset with your meal. Where else can you catch a glimpse of seabirds, otters and seals while you dine? Time to taste what makes Morro Bay so deliciously different.
Dig into ocean-fresh Mexican fare heightened by a unique California twist. Although the name might fool you, "Taco Temple" is not your average taco joint (not many boast their own dedicated head chef). Thanks to fresh-caught seafood hauled from the docks daily, the "specials" board tends to outshine the rest with halibut tacos, poke street tacos, jumbo scallop tacos, white sea bass tacos, ling cod tacos, snapper tacos, white shrimp tacos or salmon tacos, depending on what's fresh that day. Of course, you can't go wrong with standard classics like the calamari tacos, crab cake tacos and beer battered alaskan cod tacos on the menu. With hot burritos smothered in tangy sauce, crispy tostadas laden with veggies, refreshing salads and sizzling fajitas featuring everything from an array of farm-fresh produce to juicy carne asada, this is one Mexican restaurant that deserves to be slotted into its own culinary category. Don't forget to order a side of their signature Temple Dressing, mango salsa or guacamole, for good measure!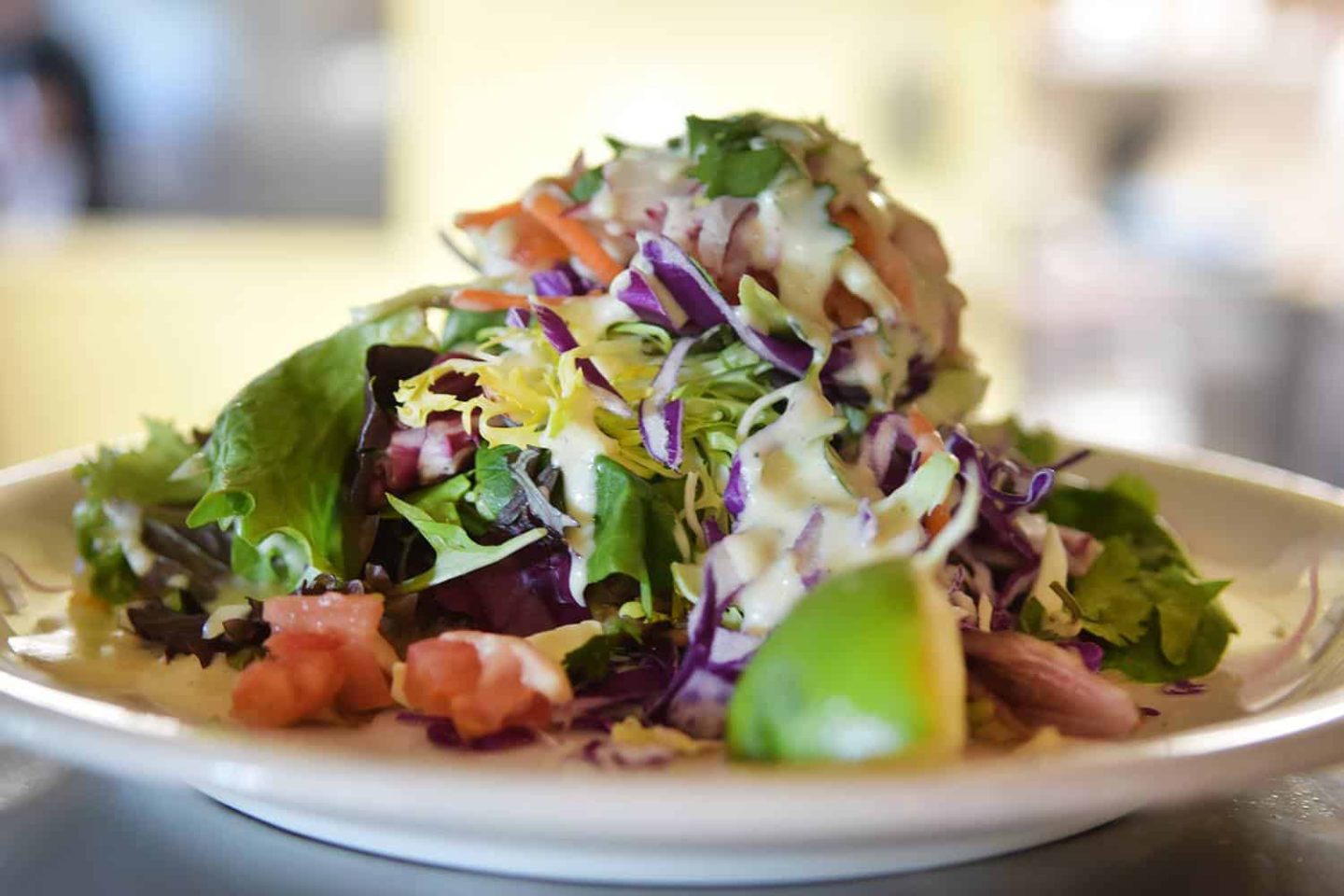 Join the family and taste one of the most trusted names in the seafood industry, now a destination on Morro Bay's bustling Embarcadero. Family owned in Morro Bay for 30 years, Giovanni's is one of the Central Coast's most beloved seafood purveyors for a reason (in fact, the iconic restaurant is a proud six-time Morro Bay Annual Chowder Cook-off winner).With a staggering selection of more than 100 seafood items to choose from—and the ability to ship your seafood selections anywhere in the USA—fish fans will feel like they've hit the jackpot. As if that freedom weren't enough to whet your appetite for briny goodness, choose from two excellent dining options: Giovanni's Fish Market & Galley is located on the waterfront and well suited for sharing a plate of oysters, slurping up clam chowder, breaking into hot fish and chips or devouring an irresistible 24-piece family style bucket of Alaskan Cod. On the Embarcadero side, Gio's Take-Out Express offers a paired down menu of perennial hits not to be missed. Try a portable made-to-order poke bowl topped with tuna, pineapple and seaweed, your choice of deep fried seafood and chips, a mess of freshly-caught fish tacos or their locally-famous "fish on a stick." Intrigued? Check out their instagram page for an ever-flowing tide of #fishpo.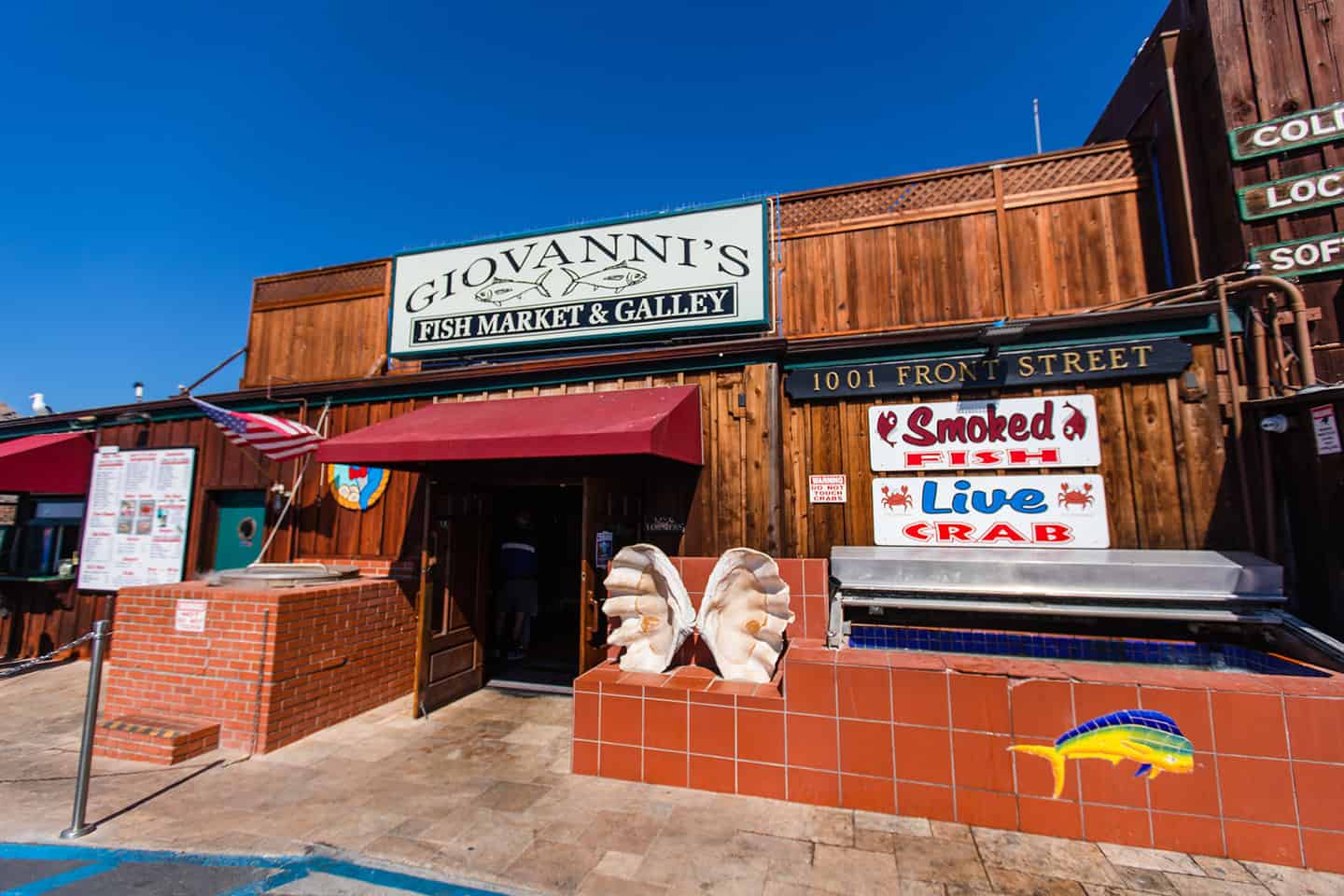 Pepperoni, plain cheese or meat lover's, everyone can enjoy their favorite sizzling topping at Pizza Port downtown in Morro Bay. Proudly serving the seaside community since 1983, this locally-loved pizza joint is the go-to hangout to grab a stellar slice by the bay. When lunch or dinner roll around and the craving strikes for something savory, dig into Pizza Port's specialty and artisan 'zas featuring perfectly chewy house-made dough and the best locally-sourced produce around. Plus, there's no need to order ahead of time for large pepperoni, cheese or Hawaiian pizzas—they're always made fresh and are ready for pick up daily! Looking for a cold pint to savor alongside that pizza pie? Head in early for specials and appetizers sure to make any happy hour that much happier.
Experience a timeless Morro Bay tradition that spans generations at Dorn's Breakers Cafe. Originally opened in 1942, this popular eatery features a respectable view of Morro Rock from every seat in the house (quite a feat to behold, considering it's not directly on the water). While fresh seafood is at the heart of their time-honored menu, you'll also find a variety of delicious steaks made to your liking, luscious pasta dishes, and hearty appetizers fit for sharing among friends new and old. Located just one block from the Embarcadero, you'll savor a true slice of Morro Bay history while avoiding the crowds–plus, the outside patio is dog friendly for your four-legged companion. A classic seafood establishment with an elegant yet casual feel, make Dorn's a delicious accompaniment to your next Morro Bay adventure.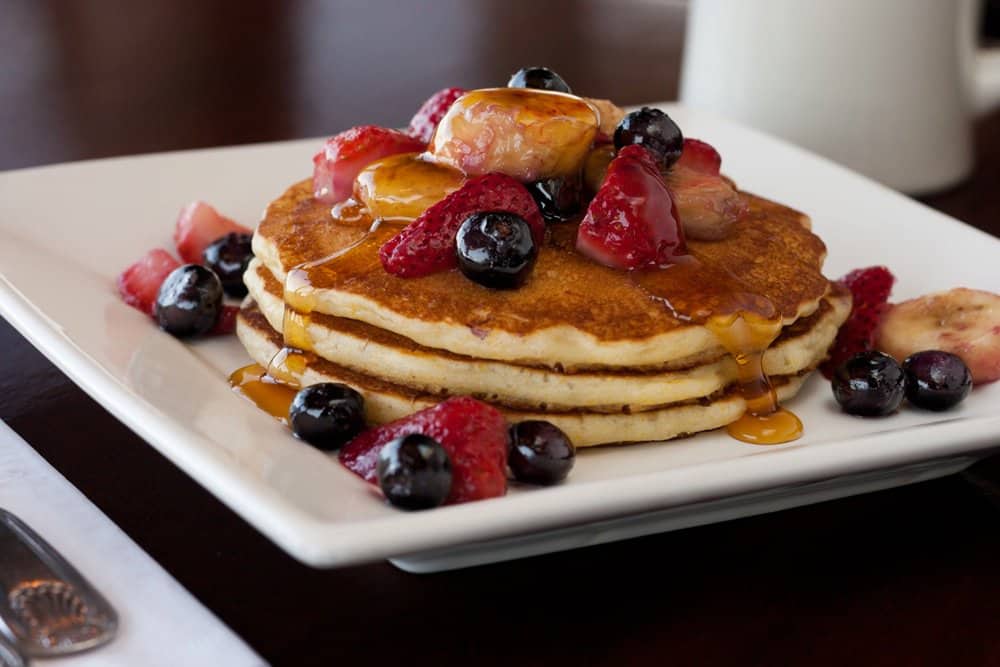 Nestled along the water on the Los Osos side of the Morro Bay Estuary, Bayside Cafe is a natural oasis to refuel after kayaking or standup paddle boarding. Enjoy the same gorgeous views of Morro Rock that visitors relished upon the restaurant's opening day in 1986—not to mention an un-obscured view of seabirds soaring along pristine estuary habitat. Here, you'll find fine wine by the glass or bottle and craft beer on tap served alongside fresh salads, savory pastas, juicy burgers, satisfying sandwiches and a variety of hunger-obliterating meals served hot and crispy from the frier (you'll also find a few well-loved Mexican items on the menu, too). Come dinner time, quell your desire for seafood with zesty shrimp cocktail, a hot bowl of clam chowder or a seared ahi steak drizzled with ginger soy sauce. Whether you paddled today or not, you owe yourself a sit-down seafood meal to remember.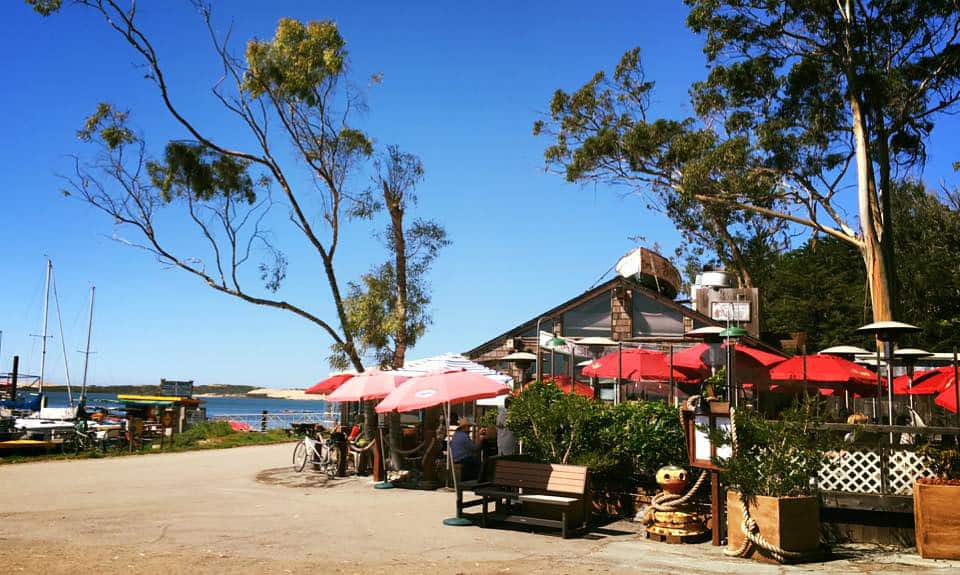 The Galley Seafood Grill & Bar
The true flavor of Morro Bay's surf and land come together at The Galley Seafood Grill & Bar, where head Chef Henry Galvez handpicks each herb and onion from his very own Los Osos-based family farm. Taste the heightened pleasure that hyper-local, seasonal, pesticide-free produce can add to your meal, which might consist of fresh, locally caught fish hauled in that very day or a juicy cut of filet mignon wrapped in tantalizing bacon (beware, however; as diners are seated first-come-first-serve, with no reservations available). With a world class wine selection featuring the finest Edna Valley, Paso Robles and Napa Valley selections—not to mention prized vintages sourced from around the globe—you're never far from a mind-blowing pairing. At The Galley, farm-fresh meets vine-to-glass class, with all wines stored in an on-site custom controlled wine vault and each offering poured into sparkling Riedel stemware. With a full bar featuring a dazzling array of after-dinner treats like vintage port, cognac and armagnac, you might have some serious trouble saving room for chocolate. Of course, that would be a mistake (life is short, at least take a peek at the dessert menu).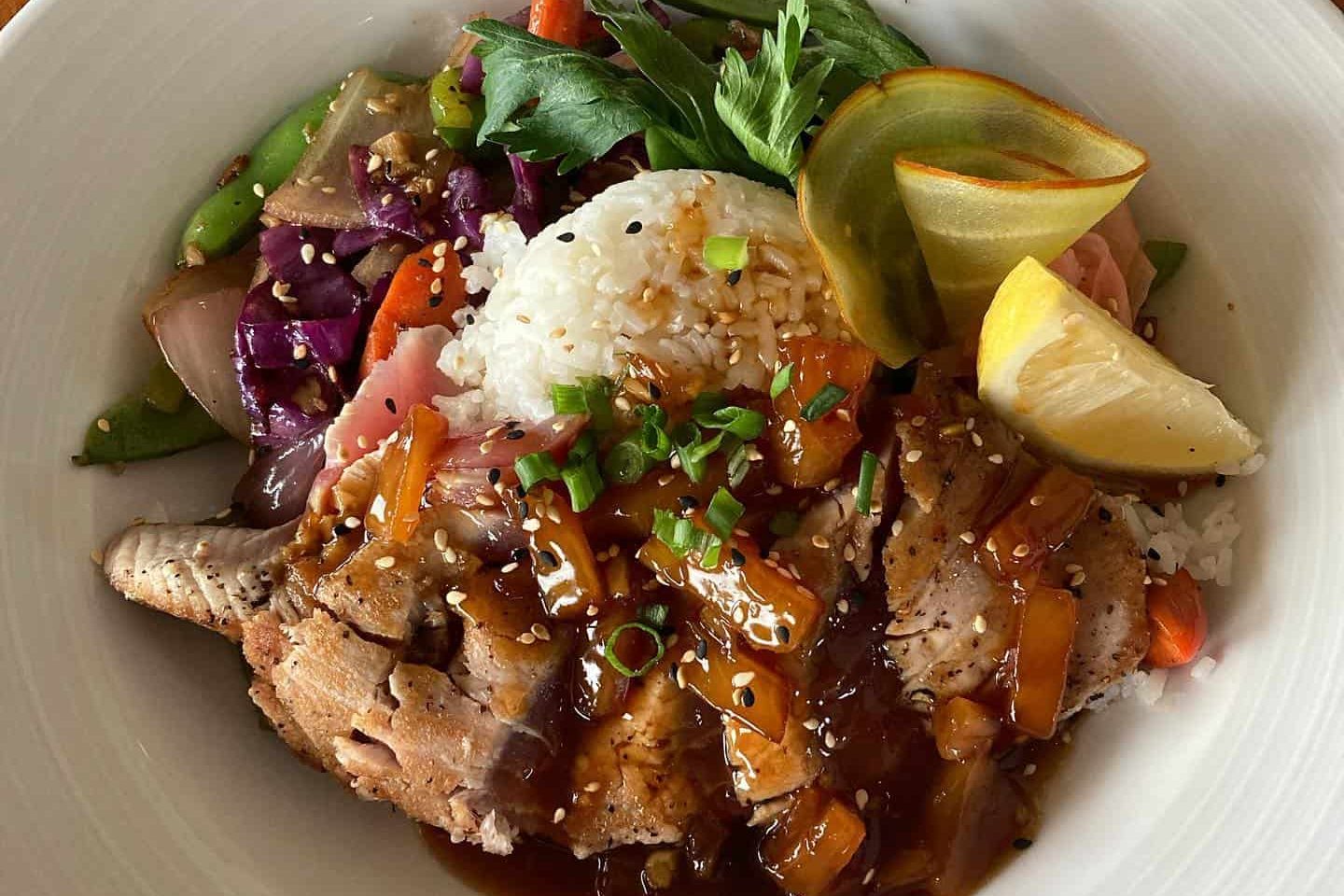 If you're looking for a vast selection of fresh seafood in Morro Bay served with a heaping side of warm hospitality, there's only two things you need to know: Tognazzini's Dockside and Tognazzini's "Too" Fish Market. A local tradition since 2004, Tognazzini's Dockside offers up cozy indoor dining and vast windows facing the T-pier, where local fleets offload their catches daily. Opened a few years later, Tognazzini's Dockside "Too" gives diners a dog-friendly outdoor patio dining experience nestled on the dock behind Tognazini's restaurant. Live, local music is often heard in this laid back celebratory setting, beloved by locals and travelers alike. Plus, with a robust fish market adjoining, you can take home the same high quality fish, oysters, shrimp, clams and scallops that Morro Bay's top notch restaurants proudly serve over white tablecloths. Just thank Captain Mark Tognazzini, who runs the Bonnie Marietta fishing and research support vessel (he's even known to haul in delicious seasonal salmon and albacore, among other coastal delicacies).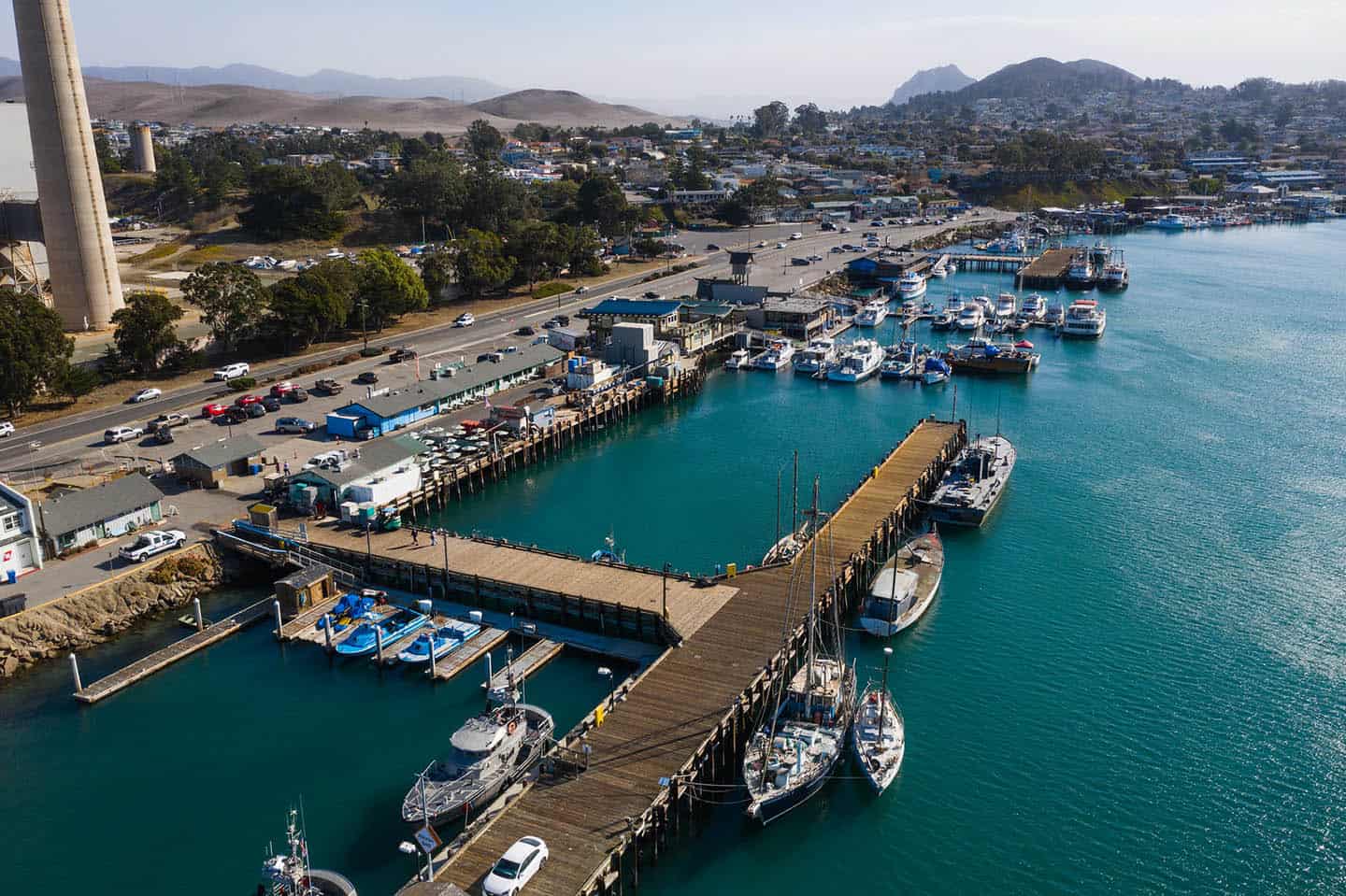 Delicious, nutritious and chock full of zesty plant-based passion, Shine Cafe is a hands-down favorite among vegans, vegetarians and anyone looking for a light yet totally satisfying meal in downtown Morro Bay. With a 100% vegan menu bursting with gluten-free and soy-free options, anyone can order freely, knowing that each meal will fit all the necessary dietary requirements—plus, all ingredients are farmed sustainably and with an unwavering commitment to the land. Thanks to an unmatched offering of local produce sourced from a bevvy of verdant Central Coast farmer's markets, you'll taste the difference in each bite of their famous Tempeh Tacos, topped with a generous mound of good-for-you greens, carrot, cabbage, sliced avocado and a savory, suspiciously creamy sauce. With plenty of vibrant raw ingredients to explore, a stellar juice bar starring health-boosting elixirs and a funky health food market adjoining, it's never been easier to eat your vegetables in Morro Bay.
Mi Casa Restaurante Mexicano
Ignite a flavor fiesta in your belly with a true Mexican legend in Morro Bay. Tucked away off Morro Bay Boulevard away from the bustle of any weekend crowds, Mi Casa Restaurante Mexicano is ground zero for all things spicy, salsa-topped and sizzling. With heaping portions of California-styled Mexican cuisine, including hot skillets of fragrant fajitas, tender and flakey fish tacos, savory enchiladas, traditional tamales and authentic menudo (plus super addicting chips and salsa), you' can get your Mexican kick over breakfast, lunch or dinner. Plus, with an outdoor patio friendly to pups, everyone's invited to this party!
Looking for fresh Morro Bay seafood with a side of crowd-pleasing variety? While the name suggests a seafood-heavy menu, Dutchman's Seafood House also offers up a rainbow of diverse offerings for lunch, dinner and happy hour. Try the spicy fried chicken sandwich, a New York Strip Steak made just the way you like it or Stir-Fried Veggie Pasta, if you're in the mood. Of course, you can also go seafood crazy with an appetizer plate of steamers swimming in wine and lemon broth followed by Parmesan-panko crusted Halibut or a bowl of clam chowder made with real butter and topped with smoked bacon and lump crab or shrimp. With an outdoor patio overlooking the water and a popular happy hour held from 3-6p.m. daily, think of this as a choose-your-own adventure that always ends happily.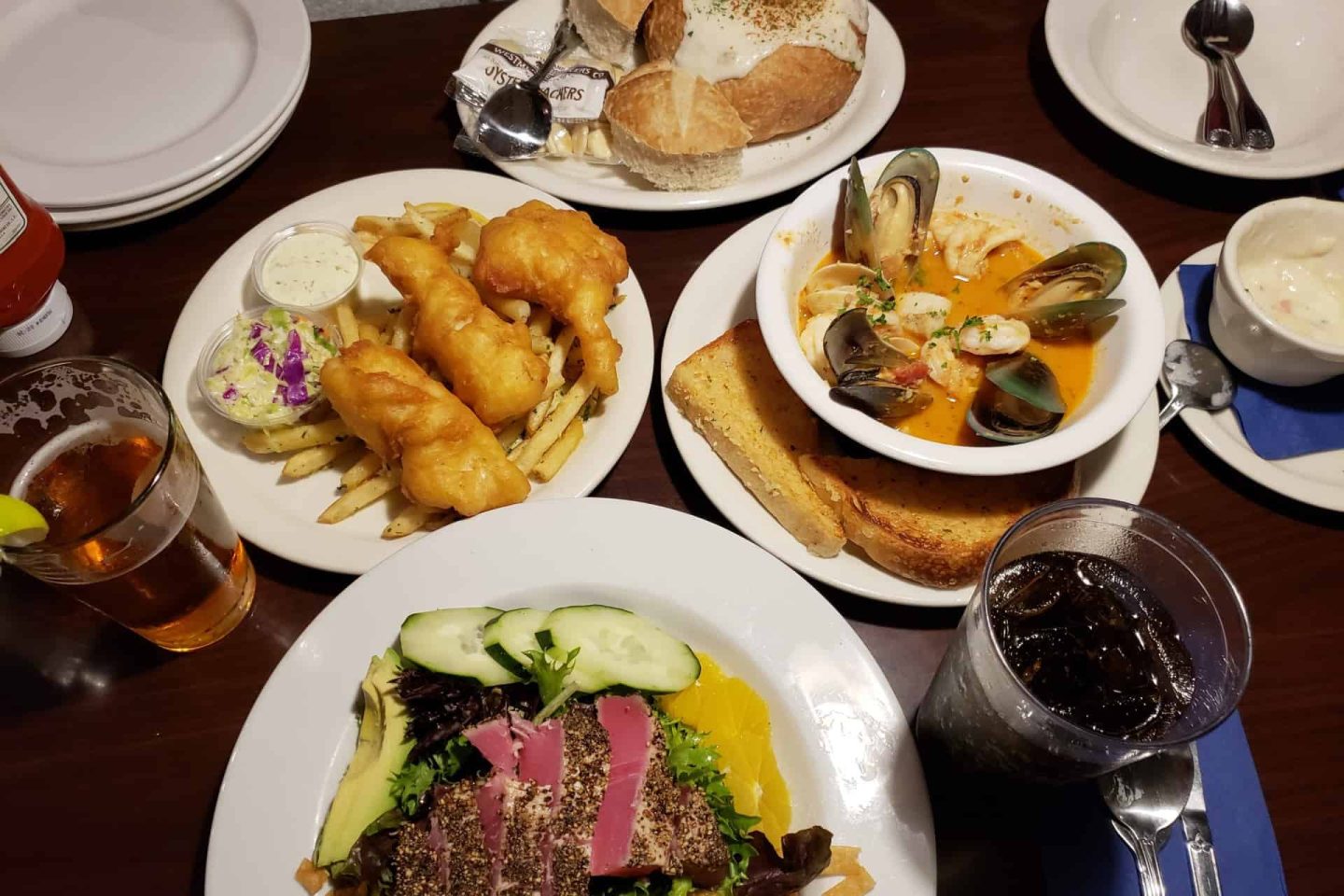 The Great American Fish Company
Family-friendly fun is on the horizon when you belly up to a booth at The Great American Fish Company, overlooking the pier, bay and Morro Rock. With a casual, family-oriented atmosphere and three flat screens to catch the game, you're in for a relaxing and laid back meal that curbs all kinds of rumbling tummies. Famous for their mesquite broiling technique (which locks a smoky flavor into their delectable seafood dishes), you won't have to look far for a wow-worthy slab of salmon, snapper or tuna. That said, you can easily order up a classic burger or teriyaki chicken for the kiddos—plus, seniors can take advantage of early bird specials, just for being well-seasoned, too. Open for breakfast, lunch, and dinner, family vacations are made more peaceful with this crowd-pleasing menu on deck.
Distasio's Ristorante on the Bay
The enticing flavors of Italy seamlessly blend into Morro Bay waters at Distasio's Ristorante by the Bay. Opened in 1997, this family-owned-and-operated restaurant features a 360-degree glass fireplace as the centerpiece of the dining room, while the dog-friendly outdoor patio faces Morro Bay Boulevard (a wonderful place to perch and people watch). Twirl your fork into authentic pasta dishes laden with flavorful and herby marinara, alfredo and pesto sauces, feast on fresh-from-the-oven pizzas and lasagnas or dig into meaty braciole or a gourmet steak. With luscious local seafood on the menu, including shrimp scampi, grilled halibut and linguine al vongole brimming with baby clams, garlic and wine, you need not choose between Italian or seafood ever again. Isn't that a relief?
Looking for a Morro Bay meal with a totally awe-inspiring view? Perched on the second floor with more than a dozen windows designed to capture a full view of the harbor, Windows on the Water is one of Morro Bay's best locales for savoring a farm-to-table meal at sunset. From this unique vantage point you'll be privy to a panoramic vista stretching from Morro Rock to Montana de Oro (if you don't want to miss this view, be sure to grab a reservation, as the restaurant serves dinner from 5-8p.m. only). With an emphasis on nourishing, farm-fresh ingredients you'll taste Chef Neil Smith's appreciation for organic produce and sustainably caught fish in each and every bite. A fully stocked bar with a 300+ wine list featuring both local and worldly wines (not to mention a 5,000 bottle wine cellar) ensures that you'll never need to worry about finding the perfect pairing, either. After dinner, lounge on a swanky cigar deck overlooking the bay. Could there be a better way to cap off an extraordinary coastal sunset? We think not.