Kayaking the Morro Bay Estuary
There's no better way to experience Los Osos-Baywood than to kayak the protected waters of the Morro Bay Estuary. This serene body of water spans the southern end of Morro Bay to the shores of Los Osos-Baywood. The estuary's intersection of freshwater and saltwater supports a remarkably broad ecosystem of plant, insect, and animal species. To paddle a kayak in the Morro Bay Estuary is to enjoy the very best view of them all.
The climate along this stretch of Highway 1 is temperate and mild, perfect for a day of paddling. To make the most of your visit, be sure to wear layers, sun protection and a hat, as a day on the water means possible extended sun exposure. Also, birders and wildlife-lovers: bring binoculars and be sure to read our Wildlife Viewing Tips before heading out. 
Ready to go? Grab your gear and make a beeline for this wonderland where wildlife, sea, salt and sand meet.
Morro Bay Estuary Overview
When rainwater runs over land toward the sea, it can pool in areas close to the ocean, but still mostly separated from it by land. The combination of freshwater and saltwater environments makes for an area teeming with all forms of life. This area, where saltwater and freshwater meet, is called an estuary.
Fed with freshwater from Chorro and Los Osos Creeks, the Morro Bay Estuary spans over 2,300 acres beside Estero Bay. (These two creeks run on either side of the Nine Sisters: volcanic peaks running southeast to northwest, ending at Morro Rock.) The estuary is protected from the bay by a long sandspit.
A host of animals feed and breed in this safe space. Some include bobcats, horned lizards, steelhead trout, southern sea otters and western pond turtles. As a stopover on the Pacific Flyway between South America and the Arctic, it also hosts migratory birds. Habitats include maritime chaparral, coastal scrub, salt marsh, grasslands, oak woodlands, creek corridors, and sand dunes. Some plants are intensely local, native just to the area around Morro Bay. (The Morro manzanita is a good example.) Some are also endangered and threatened native plants.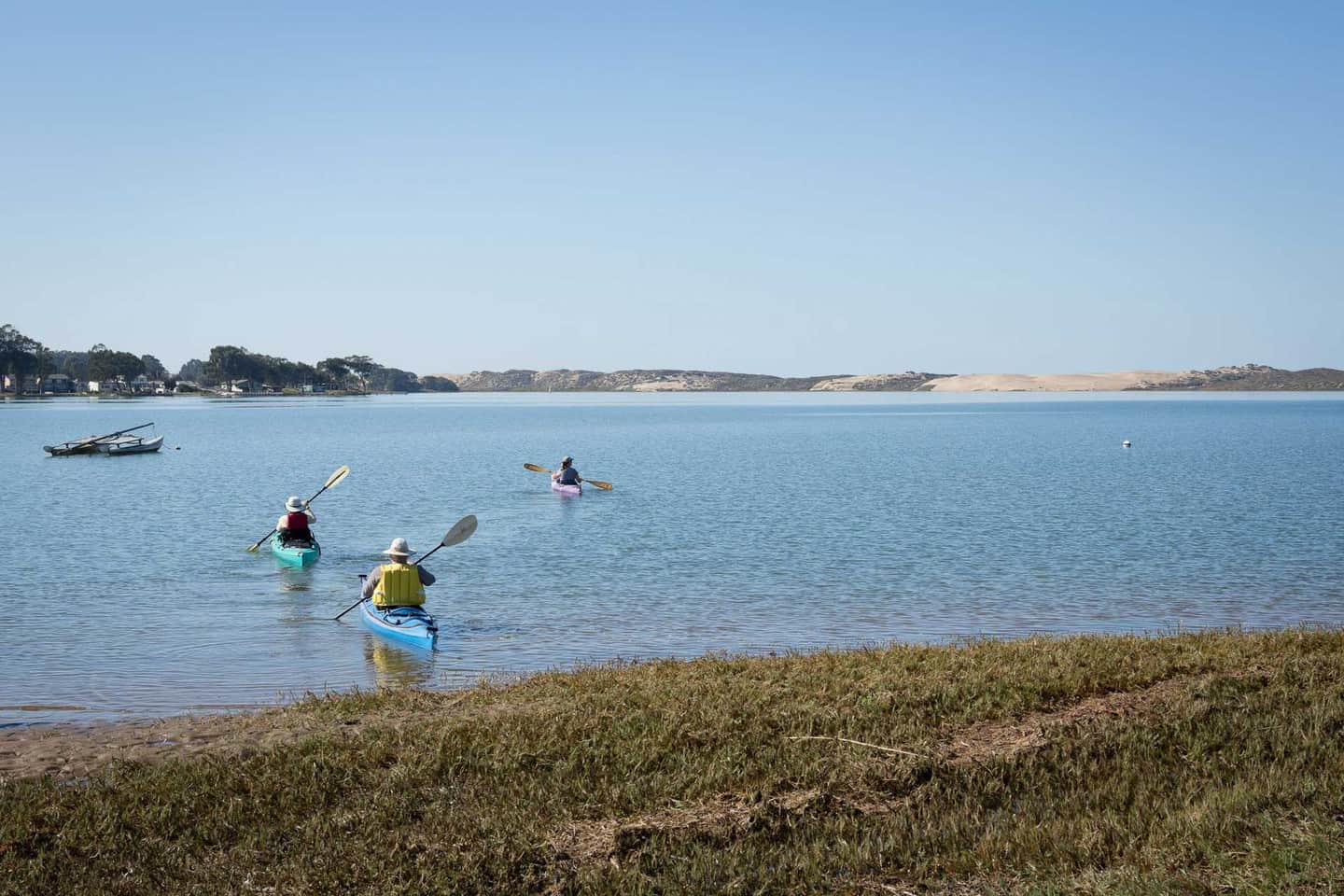 Sites to See While Kayaking
Morro Bay State Marine Reserve
This magnificent marine protected area (MPA) makes for a great day of kayaking, year-round. Thanks to the California Marine Life Protection Act of 1999, the MPA maintains biodiversity while inviting visitors to see it up close.
Wildlife
Under the protection of the MPA, flora and fauna thrive. Species of birds run in the hundreds here, whether residing here or migrating along the Pacific Flyway. In the mud, shore crabs, gaper clams, and innkeeper worms do their invisible work. Marine mammals like sea lions, harbor seals and sea otters play, eat, and breed here. In all, over two dozen species live in these diverse, protected waters, and many can be seen from the seat of a kayak. But please note: the State Marine Reserve does not permit fishing or taking of any living marine resources.
Oyster farm
What if you could watch oyster farmers tending Pacific Gold oysters in the middle of the estuary, from your rig? Turns out you can. The Morro Bay Oyster Company farms Pacific Golds for clients from Whole Foods Market to celebrated Chef Daniel Boulud. Much of the action takes place on a simple platform in the middle of the Morro Bay Estuary, where anyone can paddle up and watch. Here, rows of oyster bags hang and float along lines, like row crops in a field. When the tide comes in, the bags are flushed with chilly water; at low tide, they lay on the sandbar. This cycle makes for plump, healthy oysters ― and delicious feasting. To reach the farm, head southwest from the dock at the Morro Bay Marina and look for the floating platform.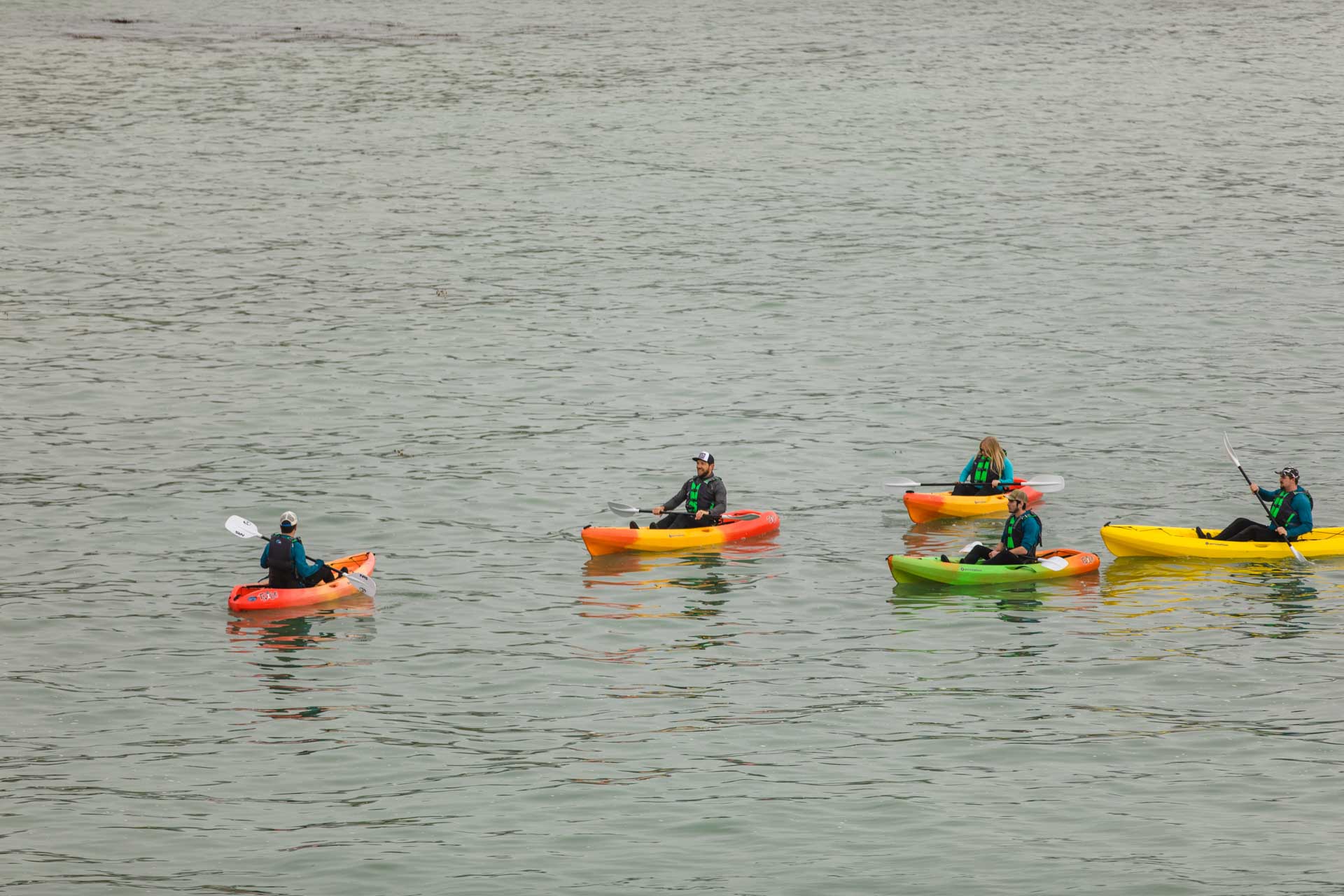 Morro Bay Kayak Rental & Tours
Several outfitters rent gear and provide tours for those interested in kayaking Morro Bay.
Central Coast Outdoors
This company employs professional nature guides to bring kayakers close to the beauty of the Morro Bay Estuary. Central Coast Outdoors welcomes beginners, experts, and everyone in between to paddle with them. Public tours include short, half-day, and sunset paddles. Private tours accommodate groups – even large ones – and can turn a simple kayak tour into a never-forget occasion. Private tours range from 2 hours to an entire evening, dog-friendly to birding-specific. Marriage proposal alert: Ask for a private tour to the dunes at sunset, along with a grilled California-style dinner, ideal for popping the question.
Kayak Horizons
This outfitter sits on the Morro Bay Embarcadero and offers both Old Town and Necky Sit-In kayaks. (Reservations aren't necessary for rentals.) Kayak Horizons also offers tours for up to 60 kayaks. Be sure to make a reservation for groups, including churches, corporations, scouting troupes and family reunions. Enjoy free, ample parking and a great central position for your Morro Bay kayaking adventure.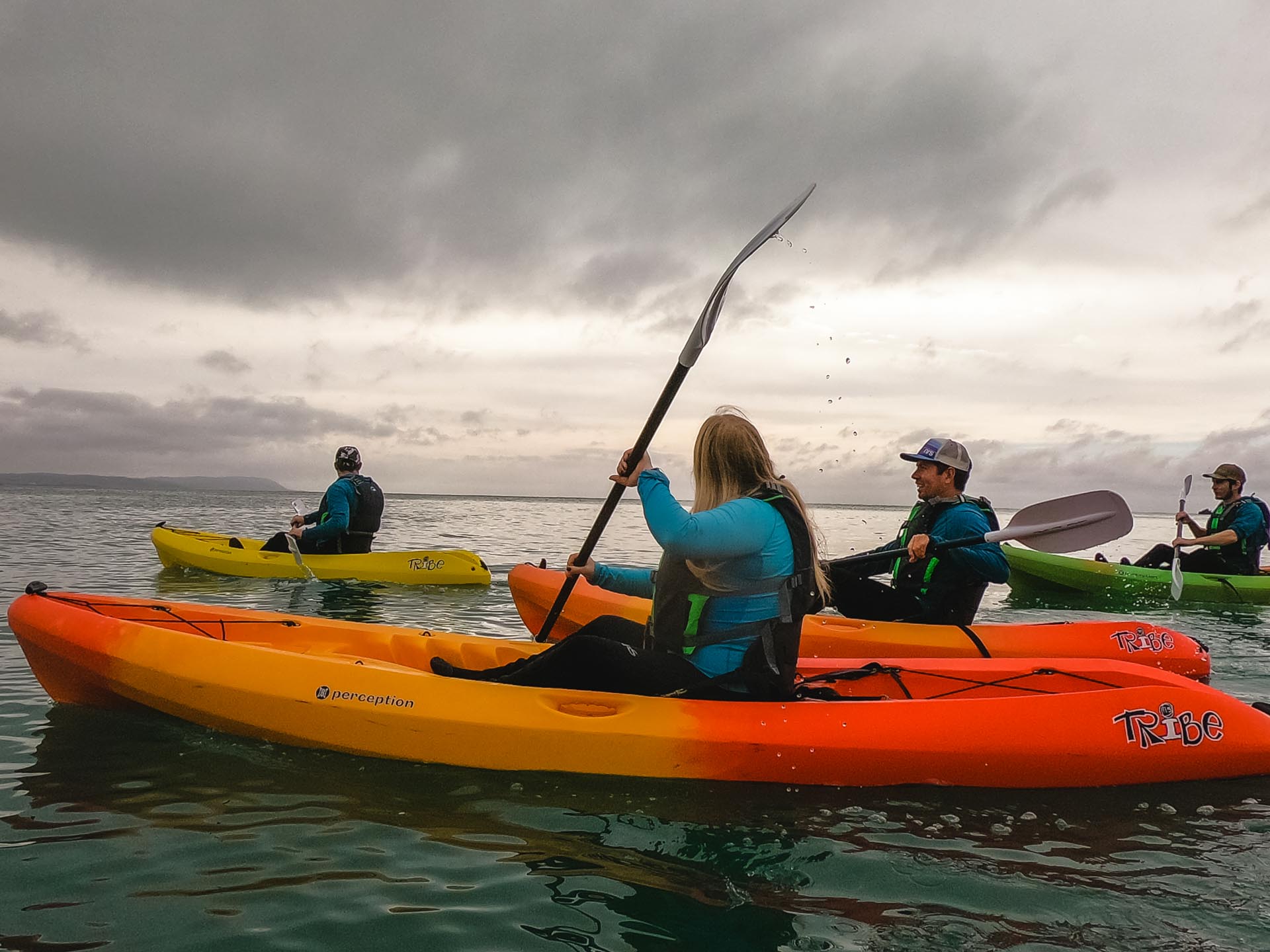 A Kayak Shack
A Kayak Shack is located on the Los Osos side of the estuary (called "the back bay"). With its helpful, knowledgeable staff, this outfitter provides rental gear for eager kayakers of all ages. Conducted by partner Central Coast Outdoors, tours take kayakers by views of Morro Rock and over to the beach to explore the sand dunes. A Kayak Shack offers a wide range of life jackets, single and tandem kayaks, bottled water, dry bags, and storage cubbies for tours. Public restrooms and plenty of parking make this a full-service experience.
Rock Kayak
A little way off from the back bay, this outfitter offers life preservers and paddles for every rental, with multiple sizes to accommodate the whole family. Rock Kayak also offers lessons for first-timers, tours, and help with purchasing kayaks and paddles. Rock Kayak is also wheelchair accessible, so everyone can enjoy getting out on the water.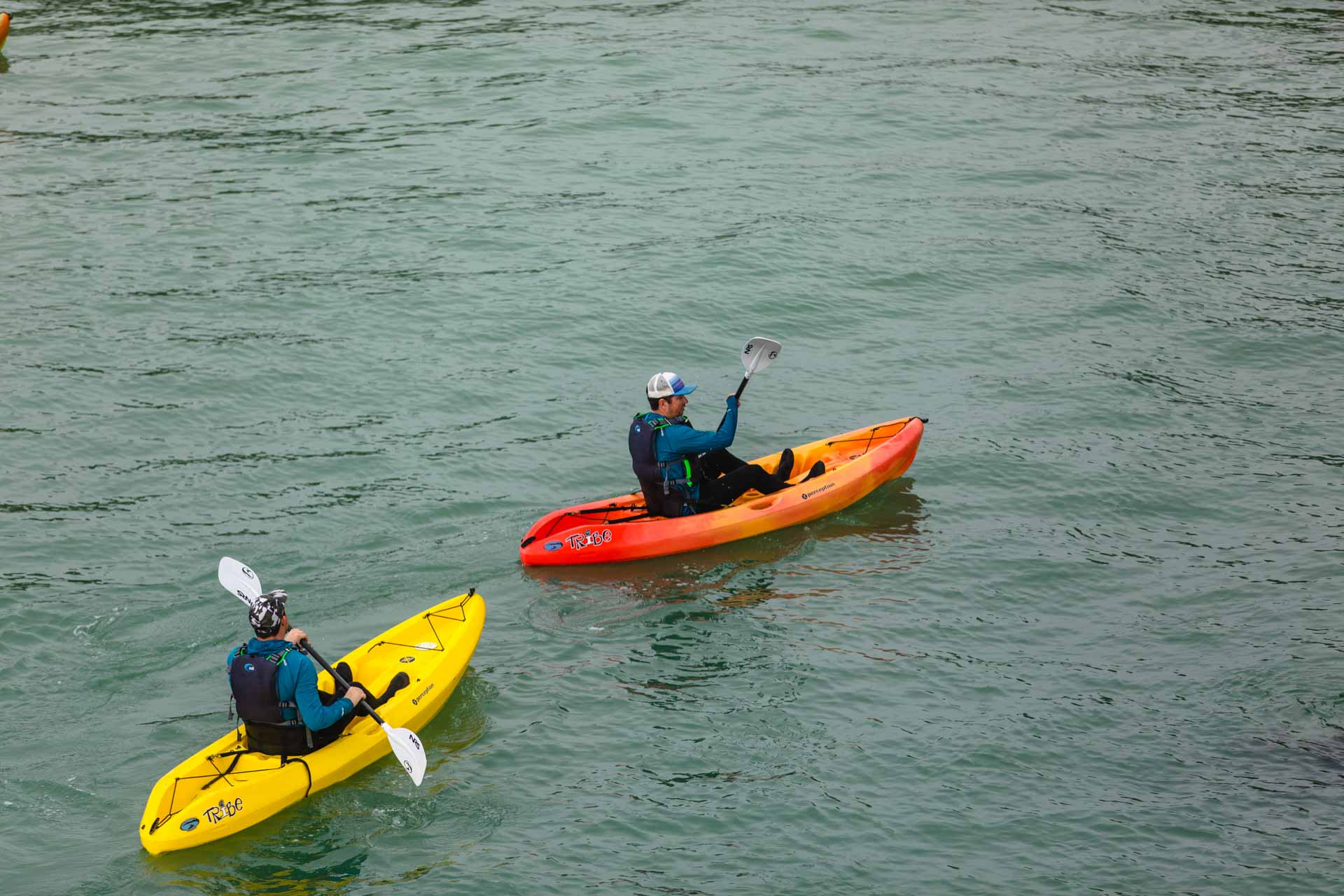 Around the Estuary
Looking to do more after a good paddle? You've come to the right place. Exploring Los Osos-Baywood, the back bay and the areas around the estuary is a must for any Central Coast trip.
Morro Bay State Park Boardwalk
Take a peaceful stroll along this boardwalk, built in 2012, that takes in views of the bay, estuary and Morro Rock. Wildlife can be seen at nearly every turn along it's nearly one-mile length, including rabbits and seabirds. This trail provides excellent accessibility for wheelchairs, as well.
Morro Bay State Park Campground
Ocean views supply the serene backdrop at this favorite Highway 1 spot. Restrooms, play areas, picnic facilities, and proximity to the Bayside Cafe make it a favorite among both locals and visitors.
Museum of Natural History
This museum is sometimes called "the biggest little museum" for good reason. Pint-sized displays and exhibits bring the natural history of the bay vibrantly to life, especially for young visitors. Observe sea otters, view Morro Rock through a powerful telescope, and learn about how wind, sand, and tides shape the landscape. Kids: complete the museum's scavenger hunt and win a prize at the end of your visit!
Sweet Springs Nature Preserve
With over 32 acres of preserved land, Sweet Springs is a quiet, unspoiled world away. Hike along one of the preserve trails, sit and enjoy vistas of Morro Rock and the bay, or spy one of the area's hundreds of bird species.
Elfin Forest
Covering 90 acres overlooking the estuary and salt marshes, the Elfin Forest is best known for its pygmy oaks. Though ancient, these trees are stunted by their growing conditions, and make for a unique forest among other native plants. A one-mile boardwalk criss-crosses the park, with seating for birdwatchers and sunset-seekers.
Bayside Cafe
Make like a local and grab a table at this beloved cafe featuring some of the best waterfront dining around. Specialties include fried green tomatoes, breakfast burritos and sandwiches, alongside a selection of local beer and wine. This eatery features options for the whole family, and even makes room for pups on the heated patio.