The San Simeon Pier anchors beautiful W.R. Hearst Memorial Beach, located on the shore of what's commonly known as "The Cove." Ethereal, pristine, and uncrowded, San Simeon Cove is the site of many marriage proposals, family picnics, and peaceful solo walks. Centered in the midst of these is the San Simeon Pier, which has its own remarkable history. The pier was once the last significant anchorage in SLO County for ships sailing north to Monterey. During the mid-1800s, San Simeon Pier became a destination for commercial shipping and trading to Rancho Piedras Blancas and others nearby. It also served as a whaling station at a time when whale oil was in high demand. Across Highway 1, Hearst Castle faces down toward the pier, where William Randolph Hearst once received art and antiquities for his sprawling estate. Today, the pier welcomes anglers and pier-fishers, wildlife enthusiasts, and those seeking a picturesque view. It is just one part of what can be a magical day in San Simeon, complete with sun, sand, surf, science, and natural and cultural history.
Explore The San Simeon Pier
History of San Simeon Pier
Behind the beautiful serenity of the San Simeon Pier stands a long and productive history. The pier as it stands now isn't the original structure, which was built in 1878 by U.S. Senator George Hearst, father of William Randolph Hearst. That pier included a warehouse at its base and an 18-room Victorian ranch house east of San Simeon. That pier extended 750 feet from shore, built as a commercial venture for whaling and shipping. Steel tracks ran along the pier to accommodate wheeled platforms that transported goods and materials to and from shore. These included merchandise for nearby Sebastian's Store, which supplied locals with general goods. During San Luis Obispo County's mercury mining heyday, San Simeon Pier shipped mercury abroad. The pier also moved lumber and other materials for building Hearst Castle in the early 20th century. The project, which lasted the better part of 30 years, represented a feat of engineering, as well as a feat of shipping and receiving. At the height of its activity, the pier saw Pacific steamship boats docking there three times a week. Cambria farms would send wagon loads of produce down the pier to be shipped for Los Angeles and San Francisco, as well as locally-harvested seaweed. Inbound shipments included cattle, which schooner ships offloaded in the ocean, and which swam to cowboys waiting onshore.
William Randolph Hearst had high hopes of replacing the pier's pilings with eucalyptus and pine trees he planted on San Simeon Point in 1890. While they never became useful as such, those trees are iconic of W.R. Hearst Memorial Beach today. Ultimately, however, the strength of the Southern Pacific Railroad would diminish the need for a shipping operation like the San Simeon Pier. The last commercial steamer unloaded lumber at San Simeon in 1916. Today, when the tide is low, remnants of the old pier can be seen jutting from the surface of the water.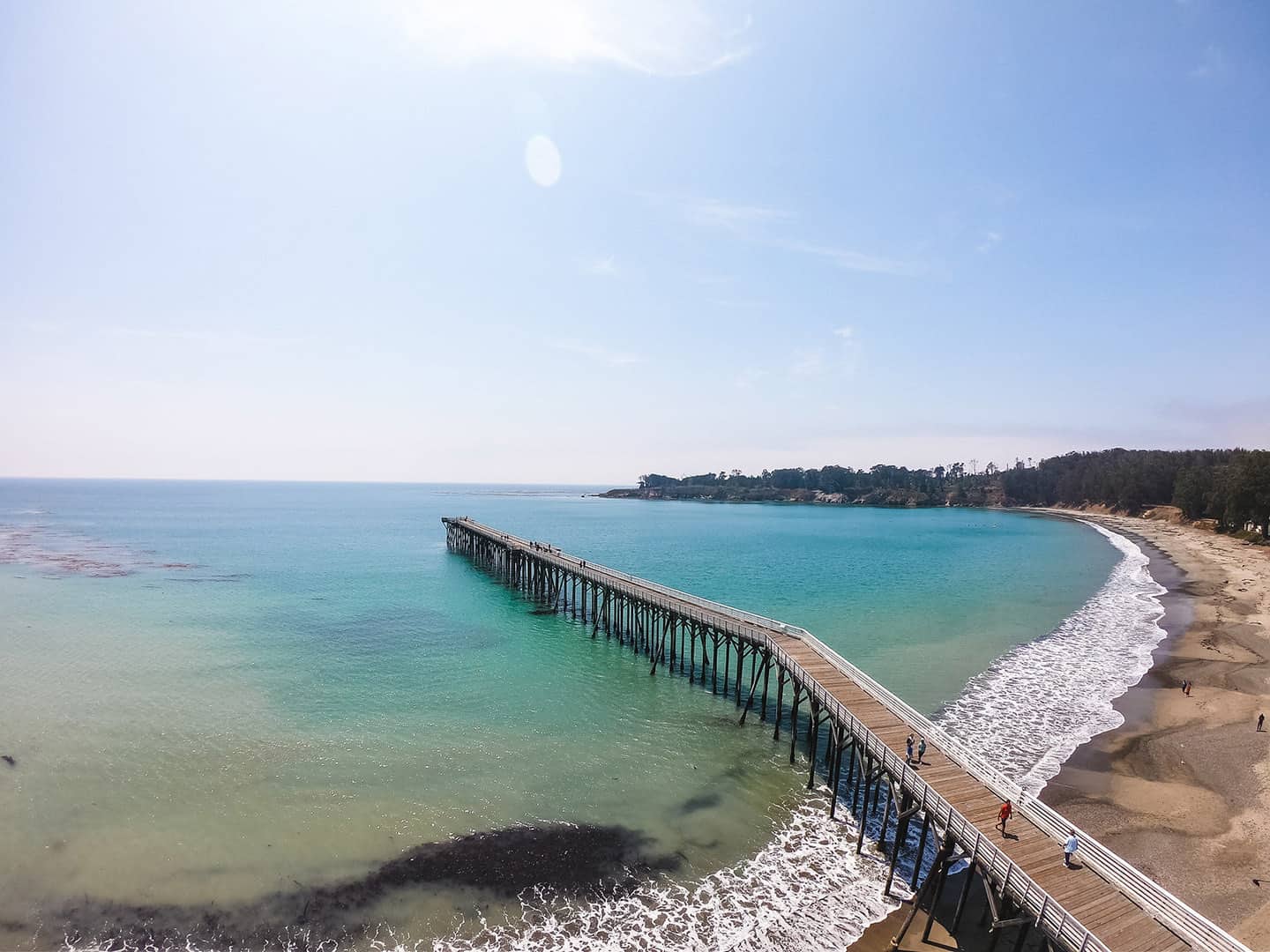 San Simeon Pier stands as one of several historic piers located along Highway 1 today. In 1957, San Luis Obispo County built the pier that's visible today at San Simeon Cove. Located just a few hundred yards south of the original pier's site, this new pier's purposes were recreational rather than commercial. The county teamed up with the California Department of Fish and Game to build a 300-foot extension to the pier in 1969. 
San Simeon Pier lies inside the Monterey Bay National Marine Sanctuary (MBNMS), an area of coastline protected for conservation research and education. Right there on the cove, at the base of the pier, California State Parks and MBNMS co-operate the Coastal Discovery Center. This is a great place for families to stop, as the center loans out binoculars and wildlife guides for exploring the cove. The Coastal Discovery Center lies directly across Highway 1 from Hearst Castle Road, where Hearst built one of his old warehouses. Find elevated parking for pier access, picnic tables, and public restrooms here. (A small driveway also leads to beach parking.) If stopping in at the Coastal Discovery Center isn't an option, be sure to check out the interpretive signs along the pier. These teach about the natural and cultural history of San Simeon Bay, including information about migrating whales that can be seen from shore.
One of the best ways to enjoy the San Simeon Pier is by fishing off its edge. The California Department of Fish and Wildlife allows free non-commercial fishing from public piers without requiring a license. That means anyone can enjoy fishing from the San Simeon Pier, year-round (though late spring to fall is fishing's best season here). Because the pier is only 850 feet long, the waters never get very deep. Look for the kelp that grows around the base of the pier, where many fish like to hide out. Waves and surf are minimal here thanks to the pier's protected position in the cove, making this a good spot for beginners. Anglers can hope to catch white croaker, calico surfperch, barred surfperch, walleye perch and rubberlip here. Other San Simeon fishing options include rock fishing, kayak fishing, surf fishing and deep sea fishing. Check out spots like San Carpoforo Creek and Arroyo Laguna Beach, as well as charter companies like Virg's Landing and Patriot Sportfishing.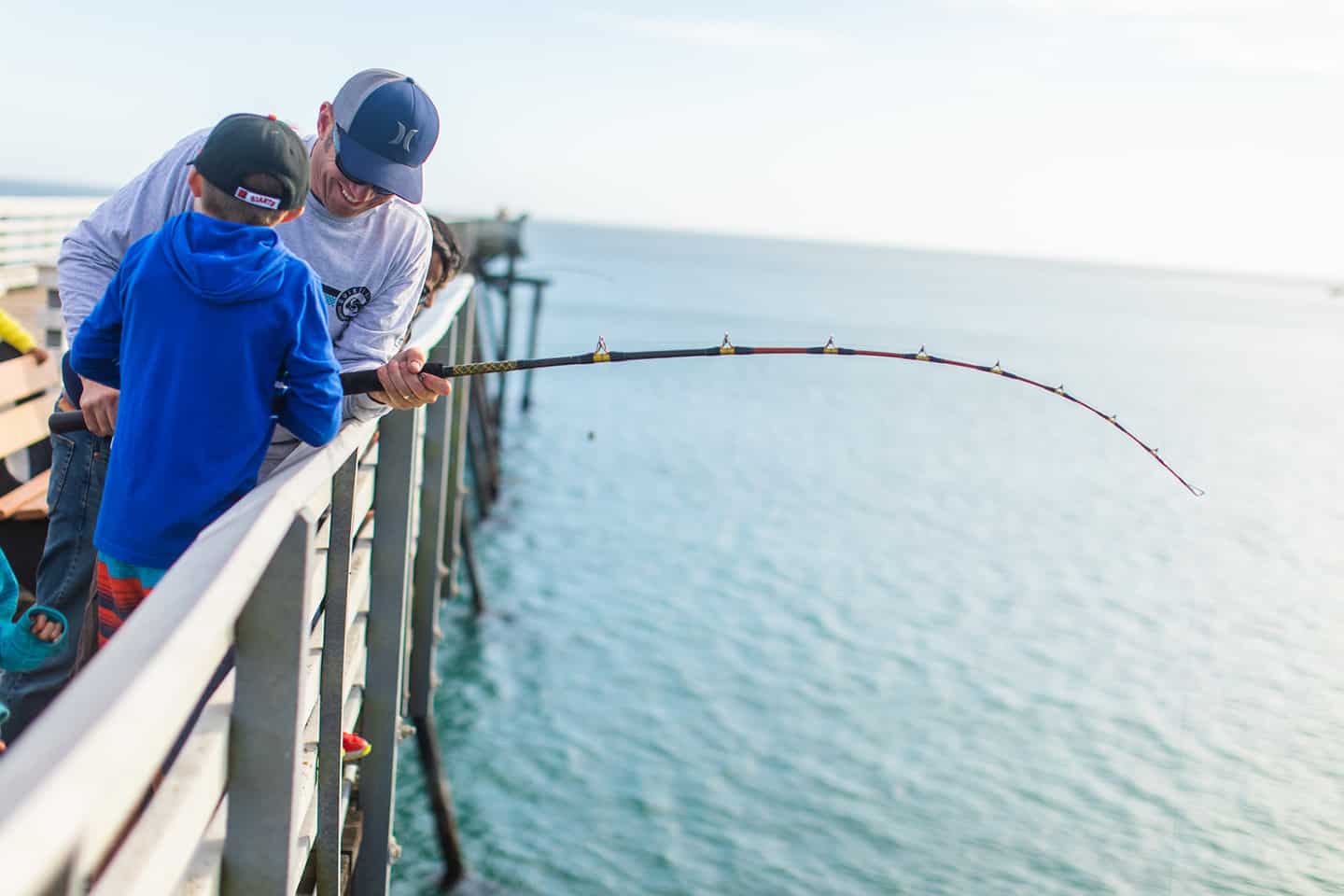 Whale Watching from the San Simeon Pier
Few experiences beat the excitement of seeing a whale spout or breach within several feet of San Simeon Cove. Historically, this area sees a lot of whale activity — especially in fall — and the San Simeon Pier offers the best view. Humpback whales have been known to feed directly next to the pier, drawing large crowds of delighted onlookers. To see the passage of migrating whales further out from the pier, bring a pair of good binoculars. (Or, if you forgot your own, you can borrow binoculars for whale watching at the Coastal Discovery Center near the beach parking lot.) Don't be surprised to see elephant seals on the uncrowded shores near the pier, too. These majestic, bizarre creatures often travel over from the Piedra Blanca Elephant Seal Rookery to sunbathe and eat. San Simeon Pier also offers splendid bird-watching. Look for seabirds like scoters and grebes, as well as pigeon guillemots and marbled murrelets nesting beneath the pier.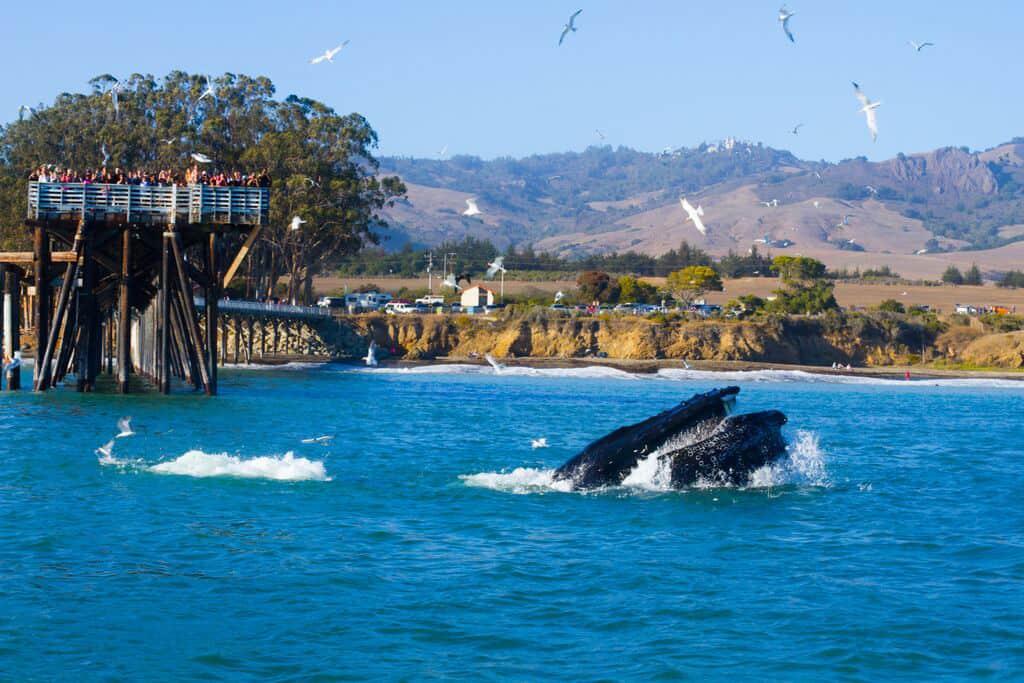 Things to see near the Pier
Without a doubt, the most glamorous nearby attraction to the San Simeon Pier is Hearst Castle. Named after its owner, William Randolph Hearst, this massive estate perches on what he called "an enchanted hill" just across Highway 1. Hearst employed architect Julia Morgan to design his 90,000 square-foot home, which finished construction in 1947. Inside, Mr. Hearst's vast collection of art, antiquities and furnishings dates back as far as ancient Egypt. The home was deeded to the state in 1958, and State Parks has operated it as "a museum like no other" ever since. Hearst Castle makes 12 different tours available to the public, including ADA-accessible tours, evening tours, and even private tours. The house is reachable only via Hearst Castle buses for ticketed visitors. Purchase tickets online or at the Visitor Center just off Highway 1. Here, you'll also find a small Hearst museum, gift shop, food services, and an IMAX theater. The Hearst Castle Theater features a five-story screen and regularly shows "Building the Dream," an IMAX movie about Mr. Hearst and Hearst Castle. The film is produced exclusively for the theater, and all tickets to Hearst Castle include admission to see Building The Dream. Running short on time? Check out the Visitor Center lobby where you can see a display of 17th century tapestries from the Hearst Collection. And don't forget to look for zebras on Highway 1 along Hearst Ranch, a remnant of Mr. Hearst's private zoo.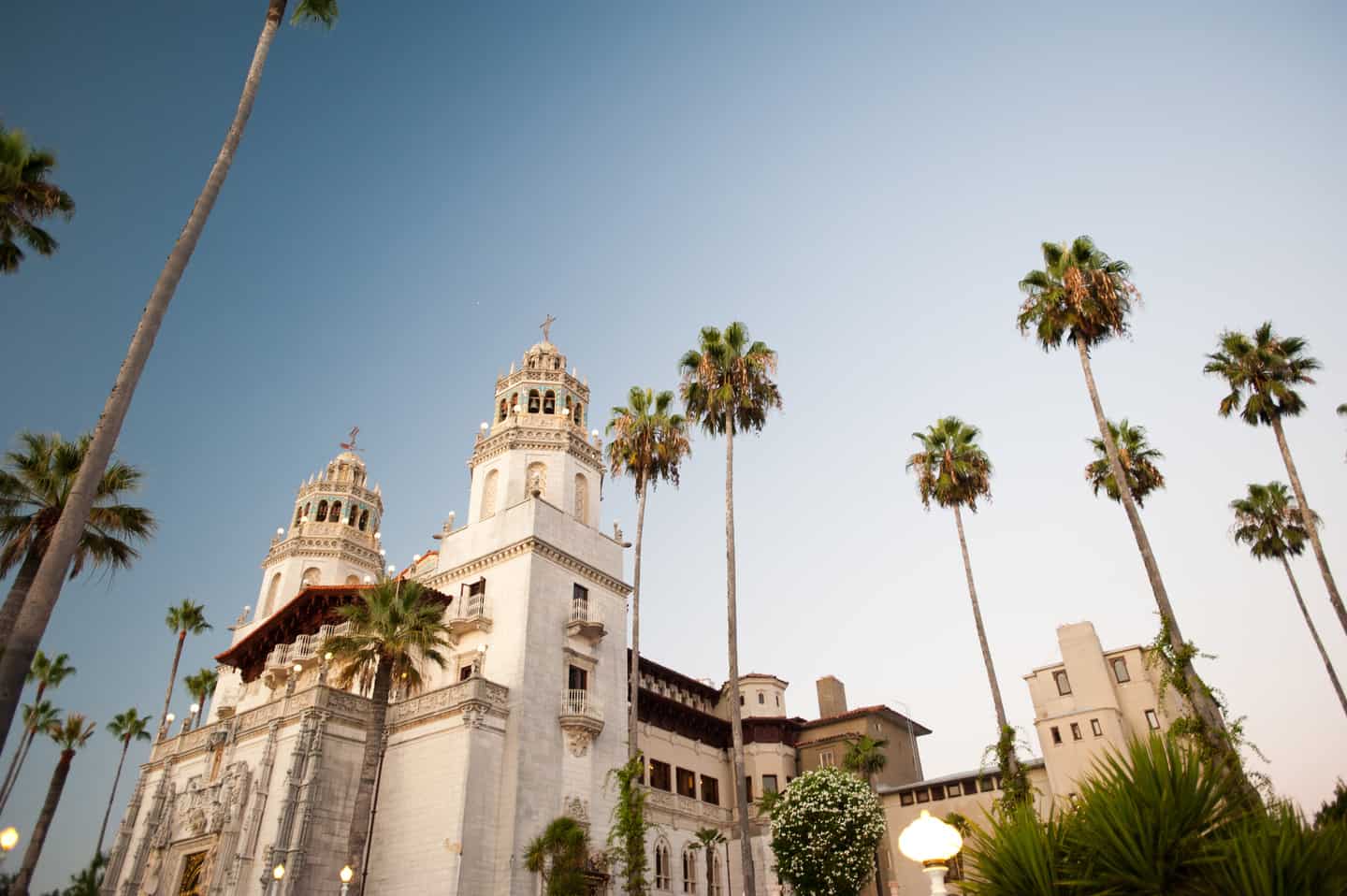 This must-stop tasting room offers award-winning wines from Hearst Ranch Winery. These wines begin at the 350-acre Saunders Vineyard in Paso Robles' Estrella district, where Bordeaux, Rhone, and Spanish varieties thrive. Visitors can taste and purchase wines at the Hearst Ranch Tasting Room, located in a cliffside building across the street from Sebastian's. This is the historic Hearst Warehouse Building, where W.R. Hearst held art and furnishings for his home and other properties. Today, the tasting room pours Purchase wines by the bottle or by the glass, and enjoy sweeping views of San Simeon Bay. The outdoor tables welcome you to linger, along with your family and even your pup. Pair wines with farm-to-table cuisine from "The Cruiser" food truck, open at San Simeon Bay Thursday through Sunday. The Hearst Ranch Winery tasting room also includes a boutique with merchandise like apparel, wine gear, gifts, candles, and home decor.
Sebastian's General Store
The history of Old San Simeon is wrapped up tightly with that of this small false-front Western general store. The Sebastian brothers originally established the building in 1852 as a general store, livery stable and post office. This was in the heyday of the whaling industry, when it served whalers, fishermen, ranchers, miners, kelp farmers, lumbermen, vaqueros, and lighthouse keepers. Other buildings in town included a blacksmith, butcher, two hotels, saloons, and a railroad depot. Most of this had disappeared by 1910, but Sebastian's General Store stayed in the Sebastian family for over almost a century. The last family member to own the store, Pete Sebastian, died in 1988. Until recently, the post office continued to serve local residents, and the shop offered a cafe, wine tasting room, and souvenir shop. Today, the Hearst Corporation owns it, and is currently restoring the building to its 1878 concept and design.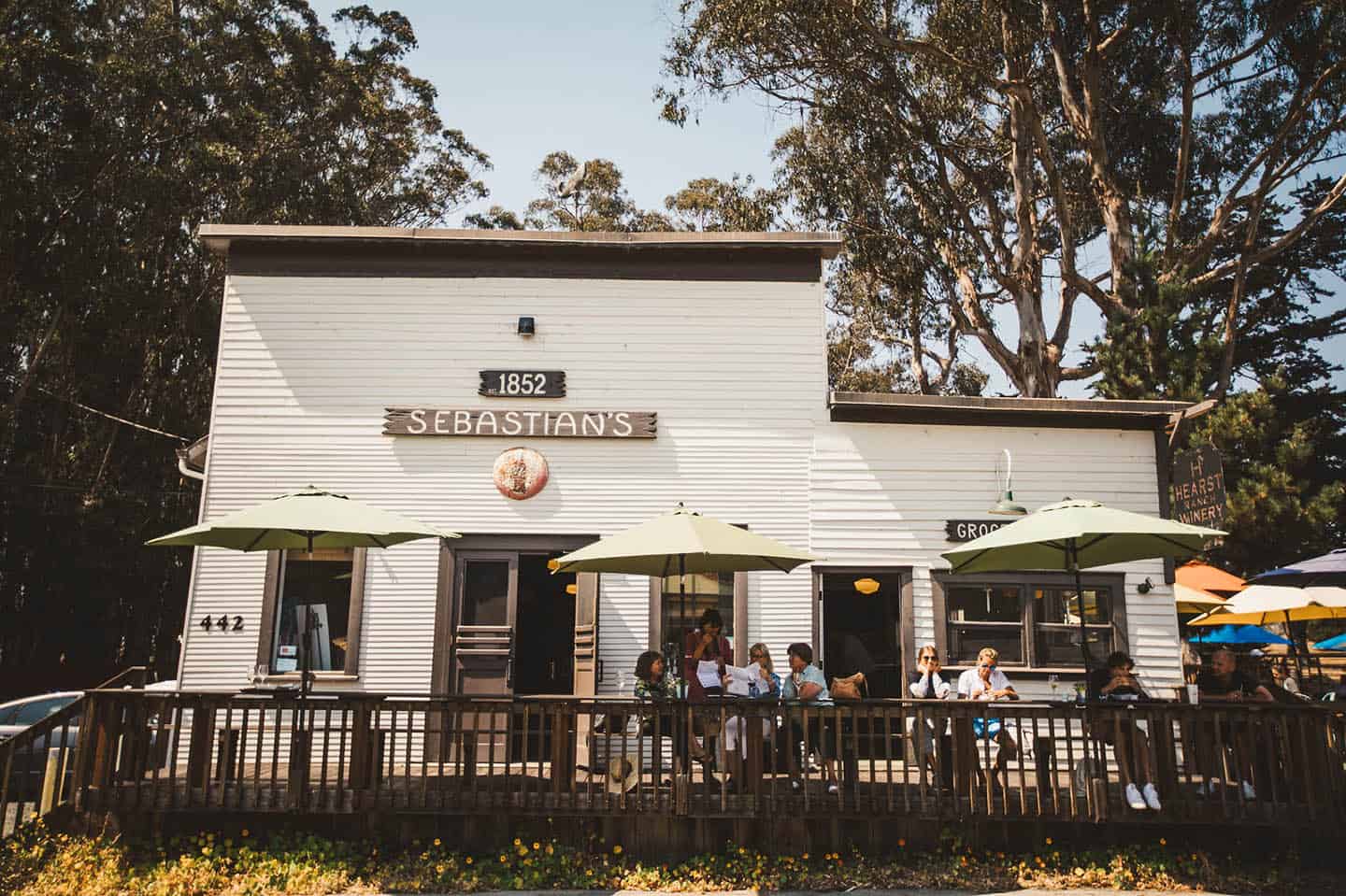 Many photographers find inspiration in this simple red-and-white schoolhouse, a remnant of San Simeon's earliest ranching days. The schoolhouse, which was in operation from 1881 to 1950, stands in a field not far from Sebastian's General Store. (The fact that the school stands at all is something of a miracle, as schoolhouses throughout history have commonly been salvaged for timber.) When George Hearst purchased parts of Rancho Piedra Blanca, Rancho San Simeon, and Rancho Santa Rosa, he hired many people to work there. As workers' families grew, the larger community needed options for educating children. The one-room Pacific Schoolhouse saw generations of ranching children — including George and Phoebe Hearst's son, William Randolph Hearst. Other students included Pete Sebastian, the last Sebastian to own Sebastian's General Store, as well as Hearst's grandson, John Hearst Jr. View the schoolhouse from the west looking east, and note the contrast with Hearst Castle in the background, on the hill.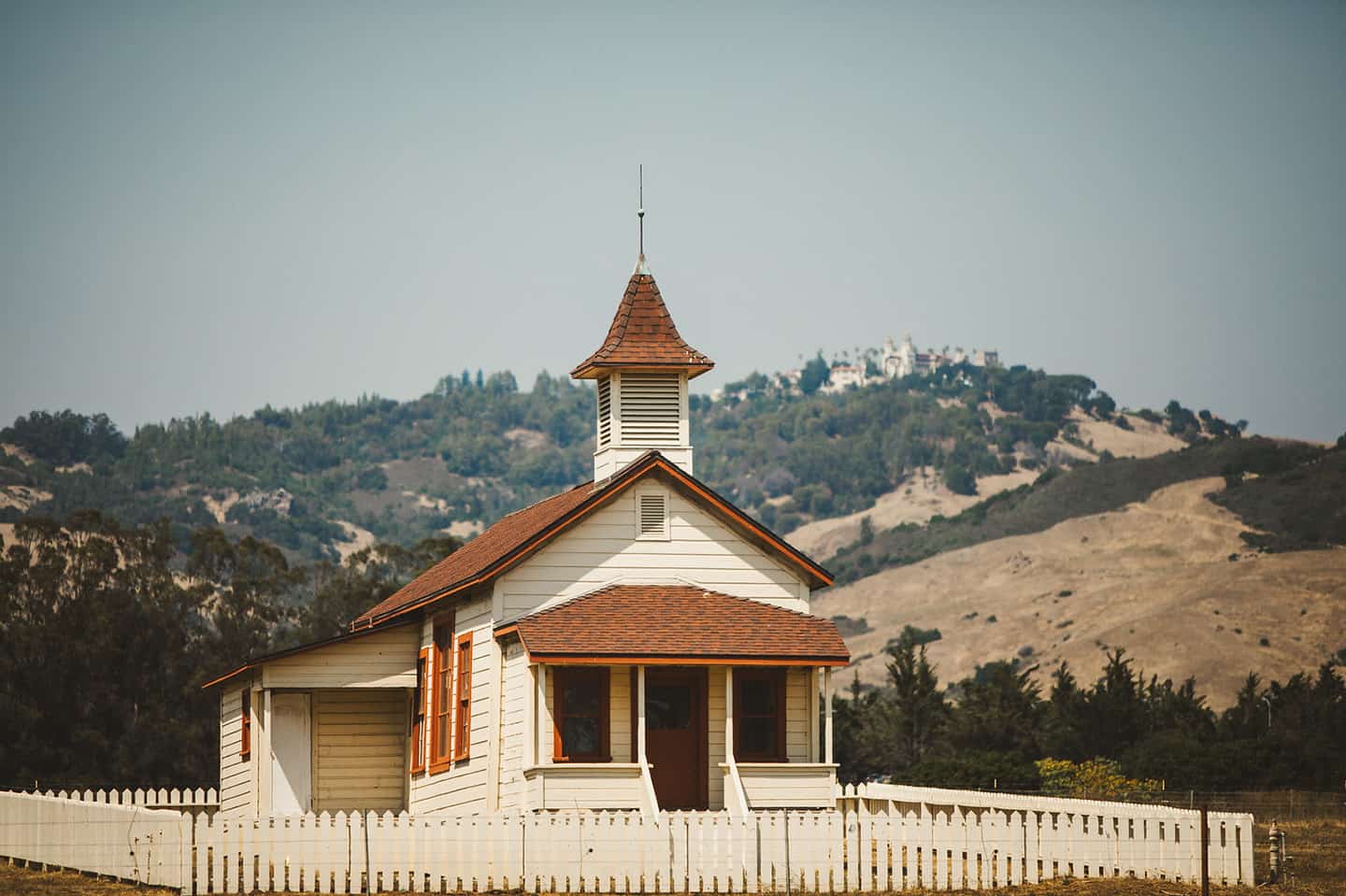 The natural wildlands and accessibility of trails within walking distance of San Simeon Pier make this an excellent area for a hike. Most notably, the San Simeon Point trail extends from the pier northwest to the curling point that protects San Simeon Bay. At 2.5 miles of flat, coastal trail this is an easy out-and-back walk. Enjoy views of W.R. Hearst Memorial Beach, widely considered a best-kept secret by locals. The path leads through a forest of eucalyptus and pine trees that Hearst planted before the turn of the 20th century. These hang with Spanish moss, and their leaves create beautiful shadows against the forest floor on a sunny day. The trail emerges at San Simeon Point, where it's possible to scramble down to a tiny rocky beach. (Keep an eye out for elephant seals — do not approach them if they're on the beach, as they can be aggressive.) Savor the salty air, as well as views that extend all the way to Point Buchon and Montana de Oro State Park. Got more time? Don't miss a variety of other trails available within just a few miles of Old San Simeon.