A hike across the varied trails of Oceano or Nipomo means wildlife, peaceful lagoons, abundant native plants, and views of the Pacific coastline. These two towns lie within 10 minutes' drive of each other on the southern end of our stretch of Highway 1. In this area, a wide array of birds awaits seasoned birdwatchers, as well as those just getting into the hobby. Other sightings of jackrabbits, horned toads, butterflies and deer are common, as well. Hikers may even spy dolphins, seals or migrating whales offshore. The landscape here includes majestic dunes, coastal scrub, shoreline, creeks, a lake, and eucalyptus groves, not native to California, but iconic nonetheless.
For those interested in tackling Oceano and Nipomo hiking trails, a few suggestions will help make any visit a memorable one. Always bring water and wear layers, as weather can be changeable depending on the time of day. Wear sturdy hiking shoes, as well, plus sunscreen and a hat for sun protection. If you plan to make a day of it, be sure to carry a towel and swimsuit for any spontaneous swimming that may tempt you. Picnics can also be a great idea out here, especially on soft sand or with views of the ocean. Birders and wildlife seekers should tote binoculars and field journals, and artists may want to bring supplies to sketch the dramatic landscape. At the very least, bring a spirit of adventure and curiosity, as Oceano and Nipomo invite you with some of the best hiking around.
Explore Hiking Oceano & Nipomo
Guiton Oceano Lagoon Trail
This serene, moderately trafficked 1.5-mile loop is tucked away, lying off Highway 1 close to the Pismo State Beach Campground. The dirt path is flat and easy, perfect for a casual stroll, and dogs are welcome on this trail on leash. Wind around the lagoon and spy ducks, blue herons, egrets, geese, coots, and sometimes even egrets. Pause beneath the willow and oak trees and take in the sound of their birdsong, especially on a quiet morning. This spot is just as popular with the locals as it is with birds! Walkers along this trail have also seen turtles and beavers in and around the freshwater lagoon, as well as deer on the grass. The trail is not a difficult one, with just a 4-foot gain in elevation, but poison oak grows heavily here. Prepare to keep your dog from wandering into it, and consider wearing long pants and shirt sleeves. The dirt path can also be muddy after winter and spring rains; be sure to wear shoes that you don't mind getting dirty. To find the trailhead, travel south on Highway 1 to Oceano, the turn west onto Pier Avenue. Park on Pier Avenue and find the Oceano Dunes District Visitor Center. The Guiton Trailhead lies nearby, heading north. Part of the path is wheelchair-accessible.
Oceano Dunes Preserve Trail
This 2.4-mile out-and-back trail follows the contours of a vast dune complex, part of the 570-acre Oceano Dunes Natural Preserve. The sandy trail is easy and moderately trafficked, separate and protected from the Oceano Dunes State Recreational Vehicle Area (SVRA). Park in the Fin's Bar & Grill parking lot, just before the entrance to the Oceano Dunes SVRA, then locate the wooden trailhead sign. Then wander among the dunes, wildflowers and native grasses, hearing the crashing waves in the distance and inhaling the salty ocean air. You'll see views of the coastline stretching from the Guadalupe-Nipomo Dunes up to Avila Beach. You may come across people horseback riding along the path; be conscious of the horses' droppings along the way. Dogs are also allowed on the trail, but must be kept on leash. The path is particularly peaceful in the morning, blanketed in mist, or as the sun sets over the ocean. Along the way, sit on a fallen tree or the low branches of an old eucalyptus, and take in the sights and sounds.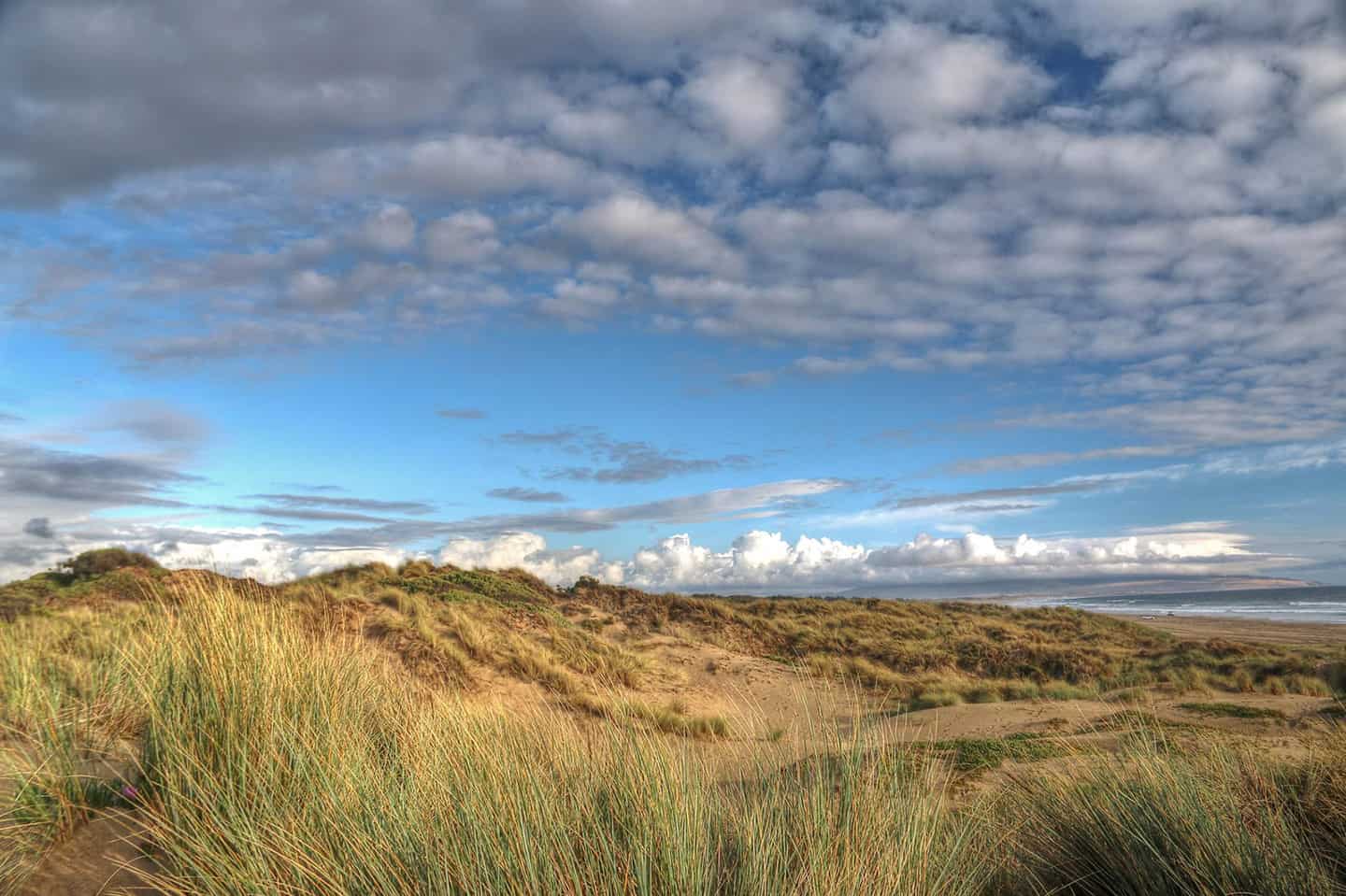 Meadow Creek Trail 
Ready to see the largest migratory home of the Western Monarch Butterfly? This trail passes through the Pismo State Beach Monarch Butterfly Grove, a must-see site along our special stretch of Highway 1. Park just off Highway 1, and walk into the grove, which is staffed by docents and volunteers during butterfly season (November through February). Listen to one of the free docent talks, peek through a high-powered telescope, or gape at the thousands of Monarchs clustered onto eucalyptus branches. Then stroll out west of the grove and head south along the Meadow Creek Trail. Part of this walk is on a well-maintained boardwalk, while other parts walk over hard and soft sand. The trail skirts trees, lagoons and dunes on one side, and a quiet golf course on the other. Enjoy the sounds of birdsong and waves on the shore, and the sight of wildflowers as you walk the 1.5-mile out-and-back trail. Kids and families will love the wide, easy path and opportunities to explore. Dogs are allowed to take the trail too, provided they are on leash.
Black Lake Canyon Trail 
Little-known even to locals, the Black Lake Canyon Trail takes in a 2-mile loop of the Black Lake Ecological Area in Nipomo. These 160 acres are part of the Land Conservancy of San Luis Obispo County, and closed to the public, other than docent-led tours. The property came under the Land Conservancy's care in 2000 for restoration and preservation of its pocket wetlands and endangered plants. The Black Lake Canyon Trail follows the edge of Black Lake, a lake fed by Black Lake Canyon. Over the winter, Western Monarch Butterflies can be seen sheltering in the eucalyptus forest along the trail; in spring, wildflowers bloom. Docents are well-versed in the ecology of this recovering dune scrub habitat, once a farm field. Volunteers have spent thousands of hours removing invasive species and planting those that are native and beneficial to the land. Truly, the Black Lake Canyon Trail just might be Highway 1's best-kept secret trail. Book a guided visit with knowledgeable Land Conservancy staff to get to know this beautifully rugged part of San Luis Obispo County.
Oso Flaco Lake Trail
This out-and-back trail packs a wide spectrum of terrain into its 1.7 miles, including dunes, a creek, a lake, and a wide beach. Park in the parking lot off Oso Flaco Lake Road, west of Highway 1 at the southernmost edge of Nipomo. (Be aware that there is a nominal fee to park here.) The paved road leads through a gate that closes the park off to vehicle traffic. The walk first travels through a tall forest of cottonwood trees, then to a raised boardwalk over the freshwater Oso Flaco Lake. Opportunities for wildlife-spotting abound here, including over 200 species of birds. Some include peregrine falcons, pelicans, terns and Western snowy plovers. Also find butterflies, lizards, red-legged frogs, deer, and coast garter snakes along the path. The trail winds through towering dunes and ends at the remote beach, with views of the entire Pismo Bay extending to Avila Beach. Plan to bring beach chairs for enjoying the sights and sounds of the mighty Pacific, or surf fishing gear for catching your dinner. Bring dogs along on this adventure, too, but be sure to keep them on leash.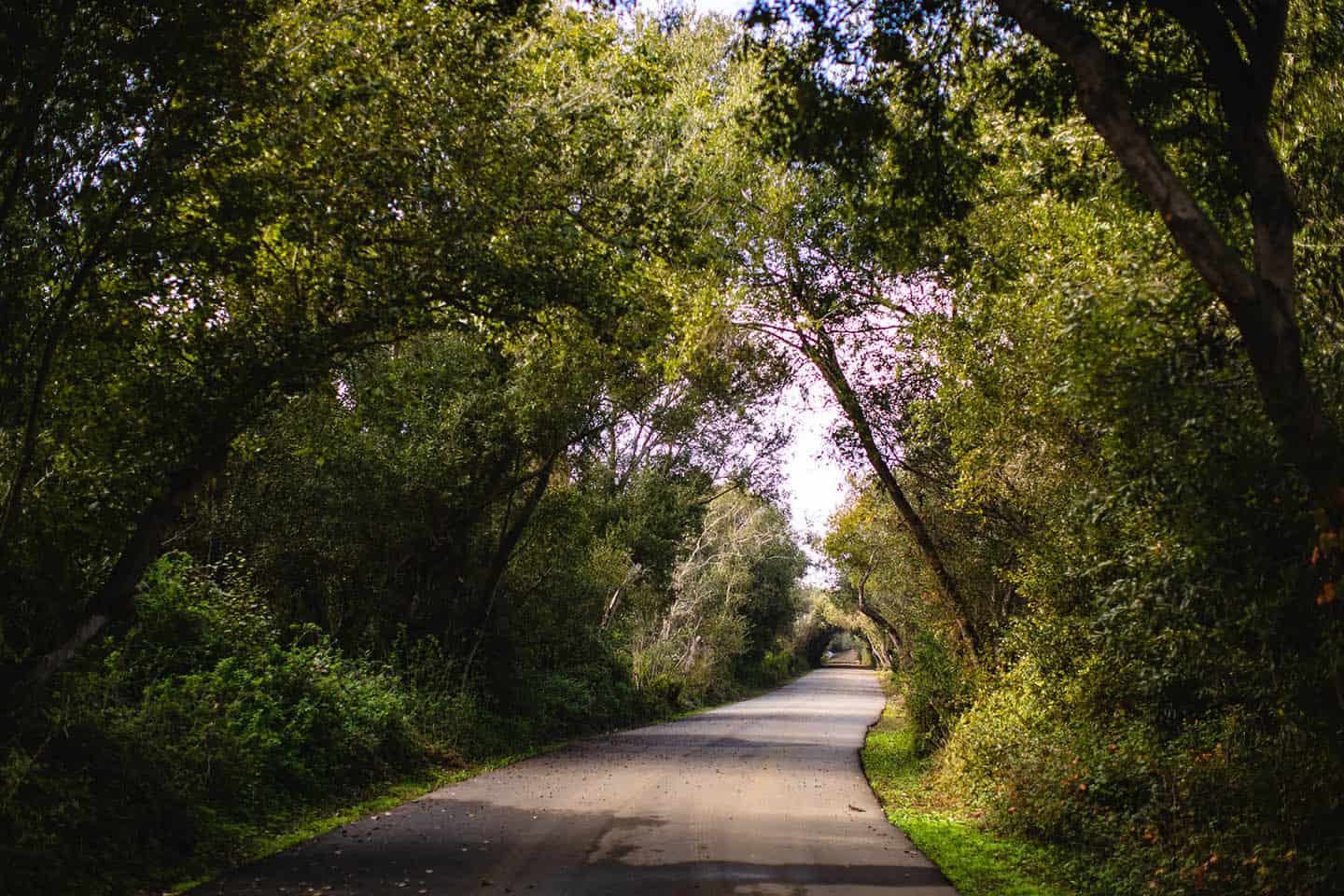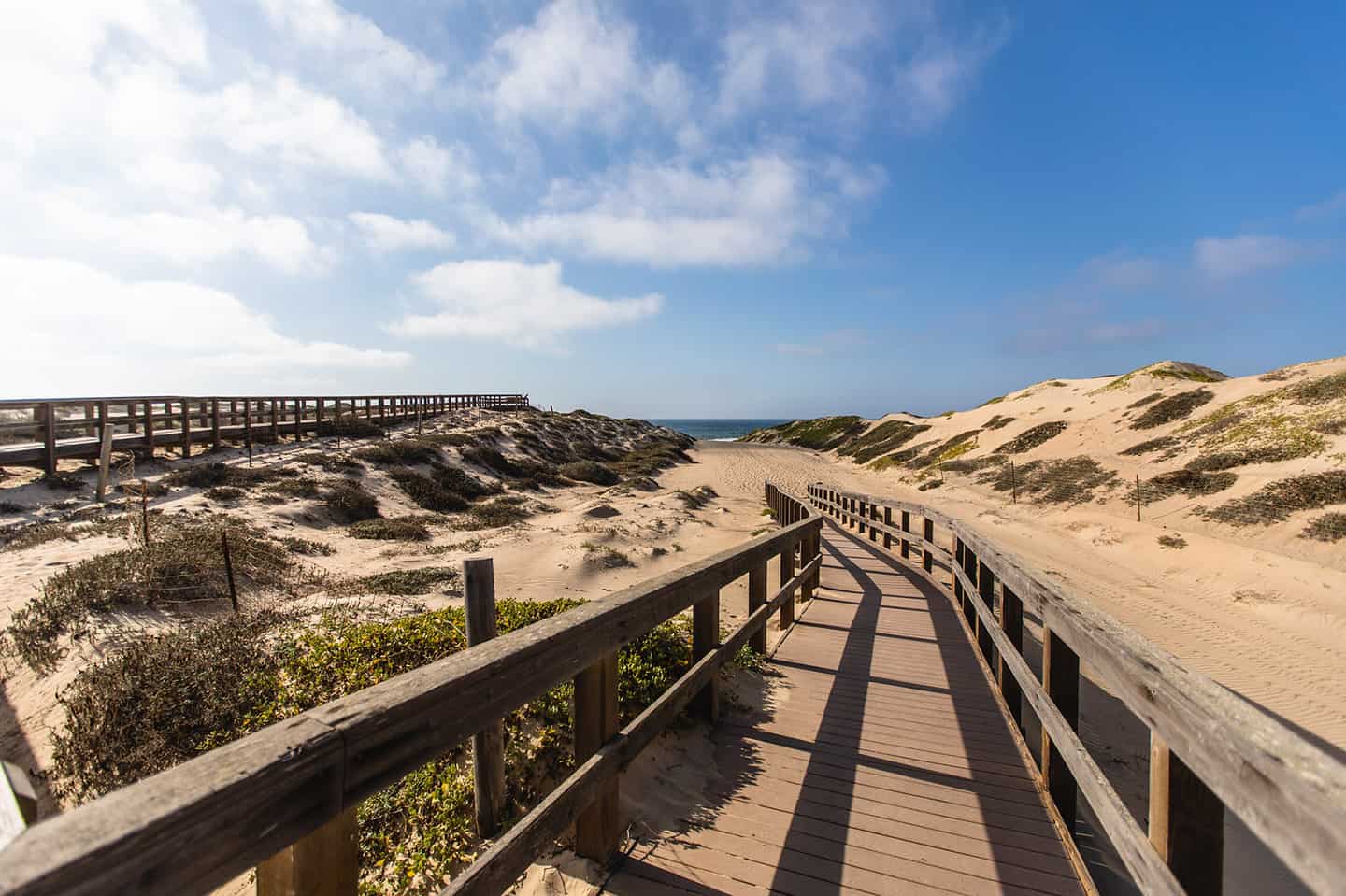 Nipomo Native Garden Trail
Easy and short, this casual Nipomo walk winds through a 12-acre garden of native plants, well-kept by dedicated local volunteers. The trail itself comprises a 0.6-mile loop through the botanical garden featuring plants native to the Nipomo Mesa and Guadalupe-Nipomo Dunes. Much of the trail travels through an established Coast Live Oak forest, as well, a treasure of the Central Coast. Nipomo Native Garden volunteers provide documentation on the many native plant and animal species found in this area, as well as some local history. Some include Blue Woolly Stars, Nipomo Mesa Ceanothus, Cleveland Sage and King Snakes. Come for a quick walk or sit for a spell, learning about the native species here and enjoying the garden's quiet. The Nipomo Native Garden can be found off Highway 101, west of the Tefft Street exit. Drive 1.4 miles to Pomeroy Street, make a right, an immediate left on Camino Caballo, and right on Osage Street. Parking is available on Osage Street, and the trailhead is just beyond the garden entrance. Dogs are welcome on leash only.
Nipomo Park
The Nipomo Park trail weaves a 1.9-mile loop through acres of native Nipomo landscape. Enjoy the sight of coast live oak trees, the scent of wild white sage and manzanitas, and the feel of sand underfoot. Deeply sandy trails are one of the defining features of this walk, making it a great leg workout. (Be sure to bring close-toed shoes you don't mind getting sandy.) Even so, this is an easy excursion on moderately-trafficked trails. Despite sitting tucked within a residential neighborhood, many parts of this trail feel very remote and peaceful. Mix and match the several spurs within the complex for a longer, more varied walk. Walkers and runners also share the trail with equestrian riders; be careful where you step and keep your dog on leash. Also be aware that the park charges a nominal parking fee on the weekends. To reach the entrance to the Nipomo Park trail, drive south on Highway 101, take the Tefft Street exit and turn west. After 1.5 miles, turn right at the entrance to the Nipomo Regional Park parking lot. Find the trailhead behind Dana School, just west of the regional park.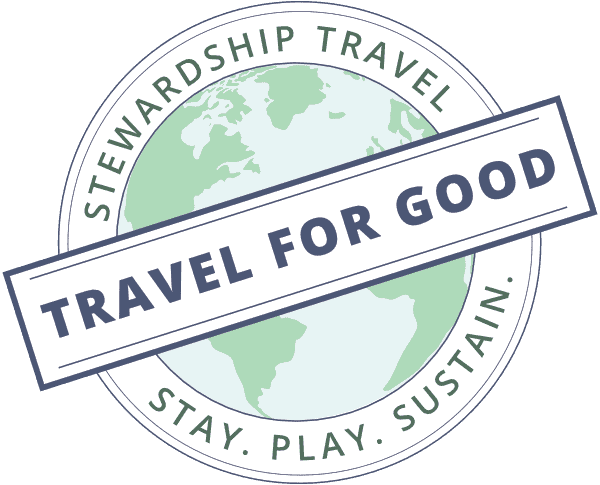 Stewardship Travel For Good
Are you looking for ways to see more of beautiful Highway 1? Get closer with Stewardship Travel For Good, a program that brings travelers to the heart of the Central Coast. Take extra time on your hike through Oso Flaco or the Oceano Dunes by volunteering at the Guadalupe Dunes Center for an hour or two. Or stroll the historic grounds of the nearby Nipomo Adobe. When you immerse fully in the history and heritage of our unique stretch of Highway 1, you can't help but want to preserve it. For more information on how you can dive deeper on your next visit, look at our local Stewardship Travel for Good activities.