Cute, furry, and playful, Southern Sea Otters make their homes just offshore along the SLO CAL stretch of Highway 1. Sea otters are native to the north Pacific Ocean, with Monterey Bay, Big Sur, and the Central Coast as hubs of activity. They are friendly, and often stay close to shore to raise their young. This makes otter spotting particularly easy on the Central Coast.
Sea otters haven't always been so easy to find. Their extremely dense fur attracted fur traders of the 18th and 19th centuries, resulting in a severely decreased population along the West Coast. Today, the Southern Sea Otter is considered a threatened species, listed on the Endangered Species Act since 1977. They are also recognized as a depleted species under the Marine Mammal Protection Act, having only reinhabited 13 percent of their historic range.
Southern sea otters don't rely on blubber or fat to keep them warm, as other sea mammals do. Instead, they rely on their rich, dense fur and a high level of activity to stay warm. And that high level of activity makes Southern sea otters ravenous eaters! They can be on the move and foraging up to 50 percent of their day. In other words, to glimpse a sea otter cracking open a sea urchin for lunch is not uncommon. Mothers of baby otters are especially active, feeding their young and floating their young on their belly.
Otters can be spotted year-round, but the best seasons on the SLO CAL stretch of Highway 1 are often winter and spring. Sea otters avoid inclement weather, so look for them toward shore, near coves, kelp forests and estuaries during these seasons. Here, sea otters can be found during oceanfront walks and hikes, from piers, beaches, boardwalks, and most certainly from kayaks along the shore. And each September, the Defenders of Wildlife, Sea Otter Savvy, and California Department of Parks and Recreation sponsor Sea Otter Awareness Week.
To make the most of your otter spotting experience, bring binoculars and wear layered clothing, as weather can run cool to warm. You may also want to bring a camera as Southern sea otters are extremely photogenic! Make sure to read our Wildlife Viewing Tips, too, for ways to see these sweet, funny creatures up close without threatening their safety.
Sea Otter Fun Facts
A group of sea otters is called a "raft."
Sea otters have a pocket under their arm where they may store prey or a rock tool used to crack open their food.
Sea otters need to rest 10-12 hours every day, and often prefer napping in kelp beds to stay anchored and safer from predators.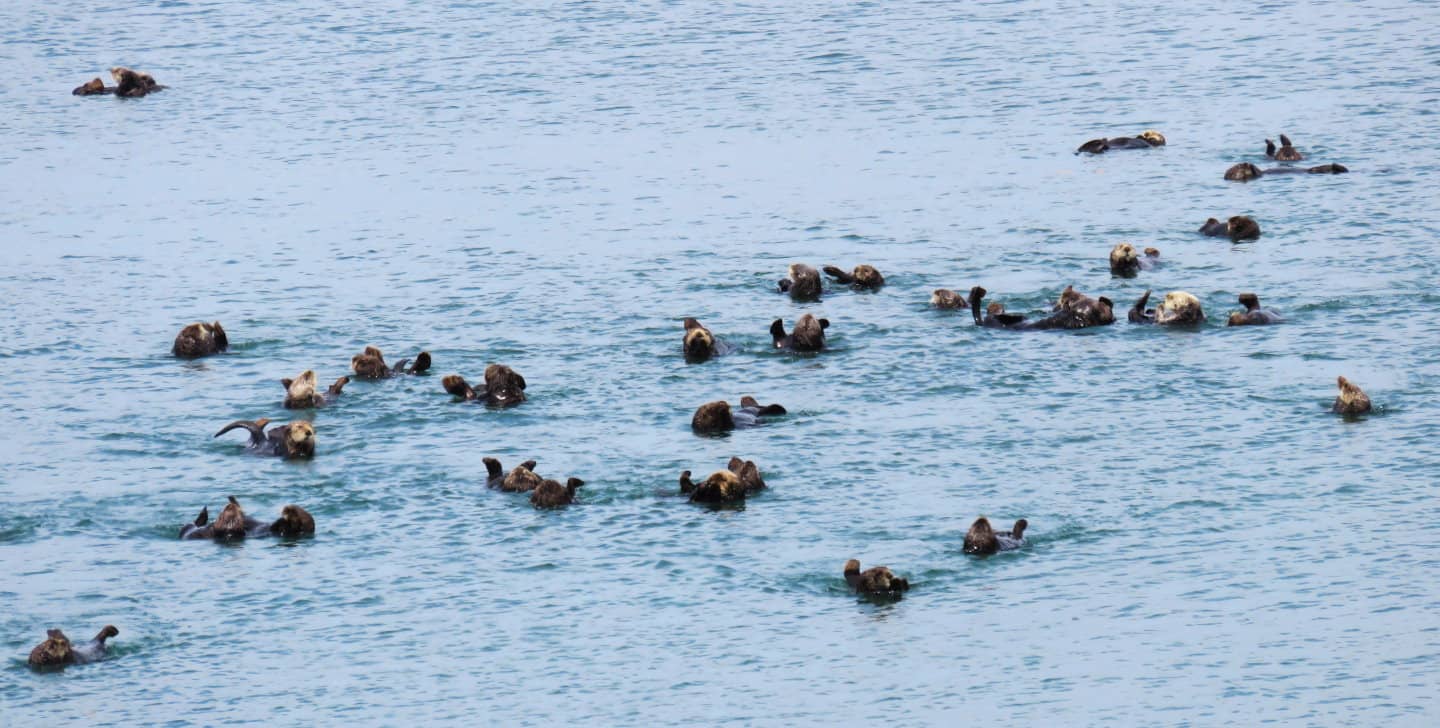 Where to find Sea Otters
The SLO CAL stretch of Highway 1 offers many other ideal spots for spying Southern sea otters. Bring along your camera, a pair of sturdy shoes, and your sense of adventure.
Morro Bay Sea Otters
The protected inlet of Morro Bay serves as habitat for about 40 sea otters, primarily females caring for pups. This number is growing as the sea otter population continues to stabilize in the wake of fur trading. Both the Morro Bay Embarcadero and Estuary provide safety for otters to find food, raise their young, and avoid predators like sharks.
Near the Morro Bay State Park marina, at the south end of Morro Bay, otters can be found near the shoreline. Walk the marina to see otters at work (and play), and be sure to bring binoculars. Perhaps the best way to see otters in the Estuary is from a kayak. Work with a kayak outfitter and/or guide to find the hot spots of sea otter activity. Often, otters will pop up right beside your paddle, just inches away.
Morro Rock provides another way to see otters in the wild. Look for kelp beds in the water to the left of the rock (just by the parking area). If you come around 8am, you're bound to see at least a few otters bobbing on the water's surface. The Morro Bay Embarcadero offers yet another viewing opportunity. Walk the town's waterfront street and find plenty of places to "pull over" for a sea otter spotting. Just be sure to look for kelp beds, as those are common feeding grounds for sea otters.
Baywood Sea Otter Spotting
A walk along the Baywood Pier (also called the 2nd Street Pier) can result in a sea otter sighting, especially in the early morning. Grab a coffee at the Back Bay Cafe and walk the Baywood Pier to see the back bay come to life. Watch for kelp beds, where Southern sea otters prefer to float, feed, and groom their young.
Los Osos Sea Otter Spotting
Head out to Montaña de Oro State Park to find the Bluff Trail, a 3.4-mile out-and-back hike with ocean views. Corallina Cove provides protection for sea otters that can often be seen from the trail. Follow the Bluff Trail out even further for a primitive hike to Quarry Cove, where sea otters also congregate.
Avila Beach Otter Spotting
Rafts of sea otters are a common sight on either side of the Harford Pier. For an even closer experience, hire a kayak and paddle out past the pier.
San Simeon Sea Otter Spotting
A large population of sea otters lives along the coast near San Simeon, particularly near the Piedras Blancas Light Station. Hike the 2-mile Boucher Trail, heading north from the Elephant Seal Rookery parking lot to the lighthouse for the best views. Sea otters can also pop up in and around San Simeon Cove at the W.R. Hearst Memorial State Beach.
Cayucos Sea Otter Spotting
For an easy otter-spotting hike, try the 3-mile trail at Estero Bluffs State Park. This comfortable path leads parallel to the coastline, where sea otters nest and hunt among the kelp forests.
Cambria Sea Otter Spotting
The otherworldly setting of Moonstone Beach serves as a viewing point for sea otters in Cambria. Better yet, hike the Moonstone Beach Trail, an out-and-back 3-mile walk that provides a high vantage point and tide pool exploring. Find the trail at the start of Moonstone Beach Drive and wind northwest through a pine forest to Santa Rosa Creek.
Sea Otter Videos in Morro Bay Estuary
Sea Otter Educational Video
Other wildlife viewing along Highway 1
Sea otters are just the beginning of the wildlife on display along the SLO CAL length of Highway 1. Try your luck at sighting a few other species on your visit; you're sure to be awed by our abundance.
Whale Watching
San Luis Obispo County boasts a whopping 10 sites along the Whale Trail ― the highest number of any county in California. Each Whale Trail station displays interpretive signs for identifying species and discussing seasonal migration patterns. Gray whales, humpback whales, Minke whales, blue whales and even orcas make frequent appearances along this length of the California coast.
Elephant Seals
The northern hemisphere's largest Northern Elephant Seal rookery stands lies along the San Simeon coast near Piedras Blancas Point. Open to the public, the rookery hosts up to 24,000 elephant seals annually, from newborn pups to 2-ton males. From the safety and proximity of the viewing area, visitors can witness the life cycle of these majestic animals, free of charge.
Monarch Butterflies
Between October and February each year, the eucalyptus trees at the Pismo Beach Butterfly Grove crowd with thousands of Monarch butterflies. One of the largest Monarch colonies in North America, the preserve provides powerful telescopes to see the butterflies up close. Docents offer talks, answer questions, and describe the behavior and life cycle of these beautiful and fascinating creatures.
Harbor Seals
In Avila Beach, harbor seals gather on the rocks beneath the Harford Pier. Here, they sun themselves and bark between slipping into the ocean to catch fish or cool off. Enjoy a walk on the pier and a free "show" from these whisker-faced marine mammals.