There's no more scenic way to experience wine country than from the saddle of a bicycle. Here in the Edna and Arroyo Grande Valleys, rolling hills meet with long flats for the ride of your life. Wheel into the valley and take in the patchwork countryside as vineyard rows fly past. Stop into boutique, off-the-beaten-path tasting rooms and wineries owned by families for generations. Taste their pinot noir, chardonnay, and aromatic white wines, and pick up a bottle or two of your favorites. Many wineries offer snacks and outdoor seating, perfect for a midday picnic. Some even include live music and games like cornhole and bocce for a bit of friendly competition. 
Of course wine country biking doesn't always mean road biking; this part of Highway 1 has plenty of mountain biking trails, too. Summit dozens of mountain bike trails all throughout the Edna and Arroyo Grande Valley and beyond. Many of these routes are suitable for beginners, while others will challenge even the most experienced of technical riders. 
However you choose to explore by bike along this stretch of Highway 1, remember to carry cash for stopping at a winery or two. And always bring a patch kit, water, a helmet, and saddle bags or a basket to carry a picnic and a bottle of wine.
Explore Wine Country Biking
Edna Valley and Arroyo Grande Road Loop
A set of three loops ranging from about 20 to 30 miles takes in most of Edna Valley and Arroyo Grande wine country. Start at the San Luis Obispo Amtrak Station at 1011 Railroad Avenue and Santa Rosa Street, just south of downtown San Luis Obispo.
Tiffany Ranch Road Loop
19.7 miles. Take the scenic route! This route starts on a peaceful bike path, then breezes through the hillside vineyards and ranches immediately south of San Luis Obispo. Cross the Jennifer Street Bridge, then take Sinsheimer Bike Path to Orcutt Road. Turn left and follow Orcutt Road out into Edna Valley, about 7 miles. This leg passes multiple wineries including Baileyana, Chamisal, and Wolff. (Note that the further south you ride, the more hills you'll encounter.) Pass Chamisal Winery and turn right onto Tiffany Ranch Road, then another right onto Corbett Canyon Road to Highway 227. This leg includes wineries like Claiborne & Churchill, Sextant, Biddle Ranch and Tolosa. (Note: You may encounter afternoon winds from the north on the return trip, so schedule accordingly.) Ride Highway 227 back to SLO, turning right at Orcutt Road to pick up the Sinsheimer Bike Path back to the Amtrak Station.
Corbett Canyon Loop
29.5 miles (plus options for Lopez Lake and Huasna). This route ventures into the rural pastures and ranchland of Corbett Canyon, south of San Luis Obispo. Start by crossing the Jennifer Street Bridge, then cruise the Sinsheimer Bike Path to its end. Turn left on Orcutt Road and follow it south just over 11 miles. Along the way, pass wineries including Baileyana, Wolff and Chamisal. Turn left on Lopez Drive for an immediate stop at Talley Vineyards, or turn right to loop back. Where Lopez Drive and Corbett Canyon meet, turn right and follow Corbett Canyon past Kynsi Winery, then turn right onto Highway 227. Pass wineries like Claiborne & Churchill, Sextant, Biddle Ranch and Tolosa. (Note: You may encounter afternoon winds from the north on the return trip, so schedule accordingly.) Ride Highway 227 back to SLO, turning right at Orcutt Road to pick up the Sinsheimer Bike Path back to the Amtrak Station.
For those interested in a longer cruise, add an out-and-back ride to Lopez Lake (4.5 miles). To ride even further, head to the Huasna townsite (20 miles) east of Arroyo Grande.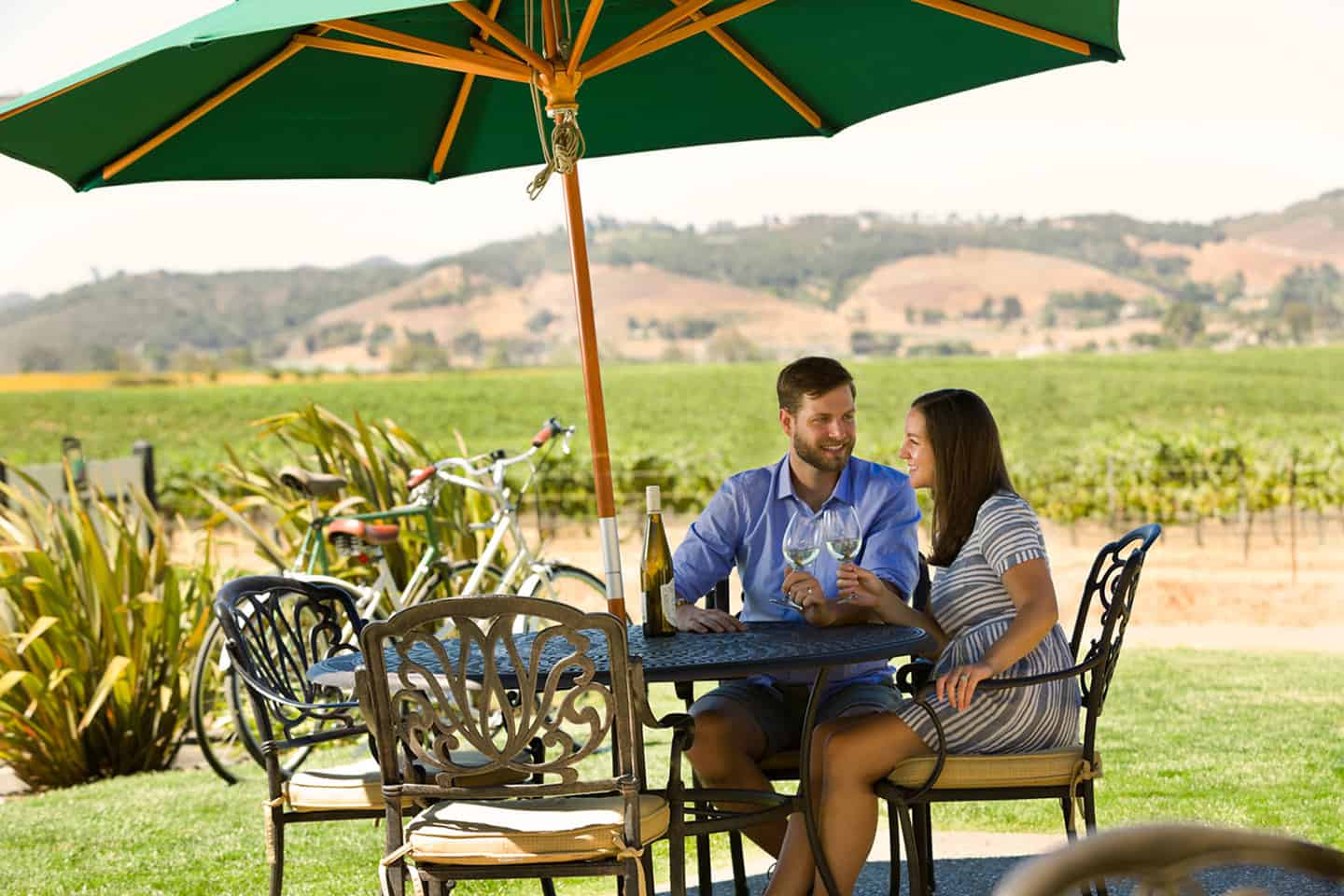 Tour d' Avila
22.8 miles (plus options for a longer, more challenging ride into See Canyon). This is a relatively flat out-and-back ride to picturesque Avila Beach. Experience the popular Bob Jones Bike Trail, then taste several wines with a view of the ocean. Start at the Amtrak Station in SLO, then travel north on Santa Rosa Street, toward downtown. Turn left on Higuera Street and follow all the way out of town, about 5 miles. After crossing under Highway 101, turn right onto Ontario Road. Cross San Luis Bay Drive and stay on Ontario Road. Less than 1 mile later, turn right at the Bob Jones Bike Trail and follow for 1 mile. Cross San Luis Bay Drive and continue on the bike path to Avila Beach Drive. At this point, you can either cross toward the beach, restaurants and several downtown tasting rooms like Sinor-LaVallee, Morovino and Alapay Cellars. Or turn right on Avila Beach Drive and cross the bridge, heading toward the Harford Pier and Olde Port San Luis. Enjoy classic American diner cuisine at Fat Cats Cafe or fresh seafood at Mersea's. Then head back to the Amtrak Station the way you came.
To include a serious challenge to your Avila Beach return ride, try traveling See Canyon/Prefumo Canyon. This will add about 25 miles of out-and-back to your route, as well as about 2,910 feet in elevation! (You'll also pass Kelsey See Canyon Winery to refresh yourself along the way.) Leaving Avila Beach on the Bob Jones Bike Trail, turn left on San Luis Bay Drive midway along the trail. Ride a half mile, then turn left onto See Canyon Road. From here, ride over some very difficult terrain, including dirt roads and multiple long, steep hills. This will take you all the way to Los Osos Valley Road in San Luis Obispo, where you'll turn back the way you came to finish the ride. The payoffs include tunnels of oak trees draped in Spanish Moss, quiet pastures, and some of the best 360-degree-views on the Central Coast.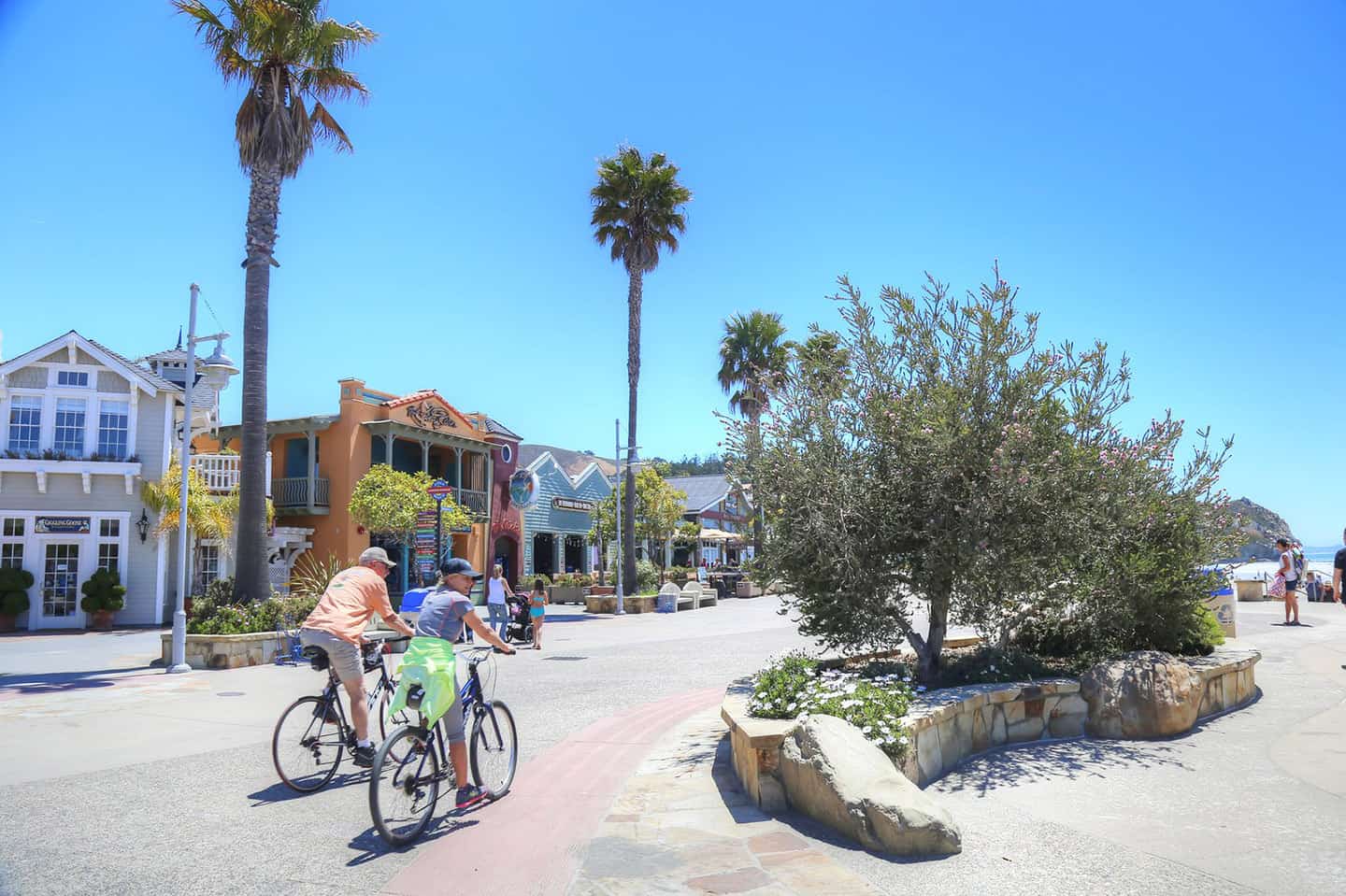 For a specially curated experience, set out through wine country with a guided bike tour provided by Central Coast Outdoors. CCO offers both full- and half-day bike trips through the Edna and Arroyo Grande Valleys for up to 10 people. Trips can be adapted based on riders' interests and abilities, with longer route options extending further south into the neighboring farmland. Bikes and a picnic lunch at Talley Family Vineyards are included, as are wine tasting fees and complimentary pick-up from nearby cities.
Of course, you can always design your own route, and depending on your starting point, wineries can be incredibly close. Customize your trip to be shorter or longer, easier or more challenging, depending on your comfort level or interest.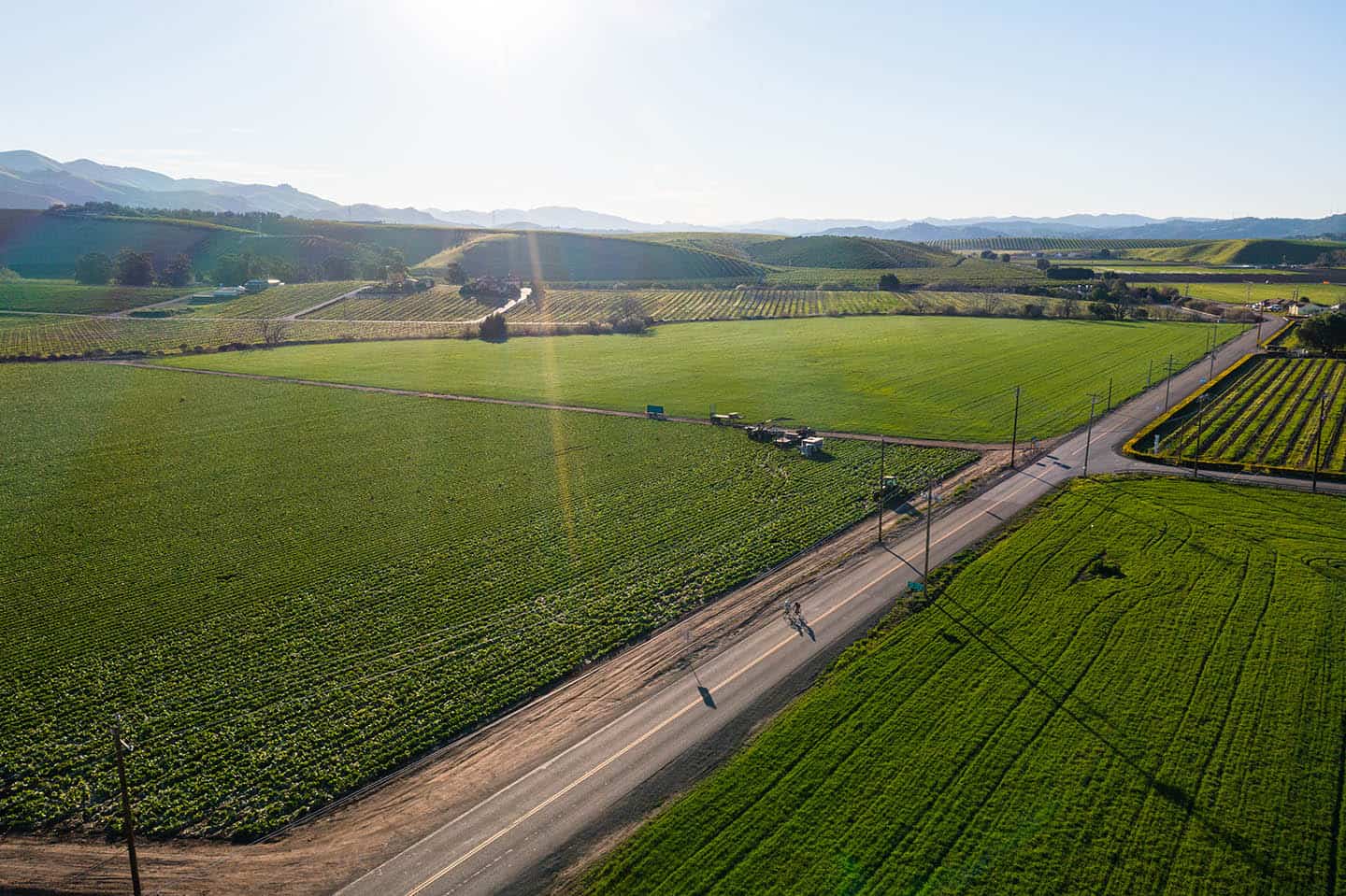 Irish Hills Mountain Bike Trails
The trails of abandoned mercury mines in the hills west of San Luis Obispo have since become popular mountain biking trails. The Irish Hills comprise 10 miles of trails ranging in difficulty from novice to black diamond. The trails are managed by the Central Coast Concerned Mountain Bikers (CCCMB), whose mission is to expand and maintain Central Coast mountain bike trails. Many of the trails travel laterally across the Irish Hills, beside seasonal creeks. It's also possible to see several of the abandoned mercury mines along the way. Expect to see chaparral, grassy hillsides, oak glens, and views toward Los Osos and Morro Bay. Most of the Irish Hills trails are single-track, with the exception of the Filipponi Trail. This trail is a dirt road that connects to the Johnson Open Space, another favorite mountain biking area that parallels Highway 101. To access the Irish Hills Trail, park at the west end of Madonna Road in San Luis Obispo. Alternatively, park near the Johnson Open Space trailhead off Ontario Road, then extend to the Irish Hills via Filipponi Road. Mountain bike bells and trail maps are available at both entrances.
Lopez Lake Mountain Bike Trails
Above and around the perimeter of Lopez Lake, 15 miles of mountain bike trails welcome riders of all abilities. These trails frange in difficulty from novice to black diamond, and are maintained by the CCCMB. This group seeks to expand and maintain the Central Coast's mountain bike trails, hosting trail clean-ups, building and designing new routes. Most of the trails in the Lopez Lake State Recreation Area are single-track, with a double-track and dirt road among them. Some trails are spurs to longer routes, while others wind deep into the backcountry of eastern Arroyo Grande, like the Vista Loop. Trails are predominantly sandy and several welcome horseback riders and hikers, as well. Take in wide open views of rolling hills, blue sky, the lake and perhaps even the ocean, on a clear day. Chaparral, oak trees, and over 175 flowering plant species can be seen along your ride. To enter the recreation area, drive to the easternmost end of Lopez Drive, past Arroyo Grande. Lopez Lake charges an entrance fee for day use. For a free option, parking is available at the horse trailer parking lot, one mile west of the park entrance on High Mountain Road.
Other cycling destinations nearby
Montana de Oro State Park
North of Edna Valley, this favorite mountain biking destination offers 73 miles of trails, including four advanced and 3 intermediate. Riders can climb 4.5 miles to the top of the park's highest ridge, Valencia Peak, at 1,347 feet. The views from any of Montana de Oro's peaks include views of Morro Rock, Morro Bay, Point Estero, China Harbor, and Sandspit Beach. Other routes, like those along the rugged coastline, include the Bluff Trail and Dune Trail. Others wind deep into the inland hills, like the Coon Creek Trail and Alan Peak Trail. The majority of mountain bike trails travel over sand; all of them include at least hikers and/or horses, as well. To enter Montana de Oro State Park, travel west on Los Osos Valley Road from San Luis Obispo. Stay left and continue onto Pecho Valley Road, following signs for parking and trailheads. Mountain bike bells and maps are available at most trailheads.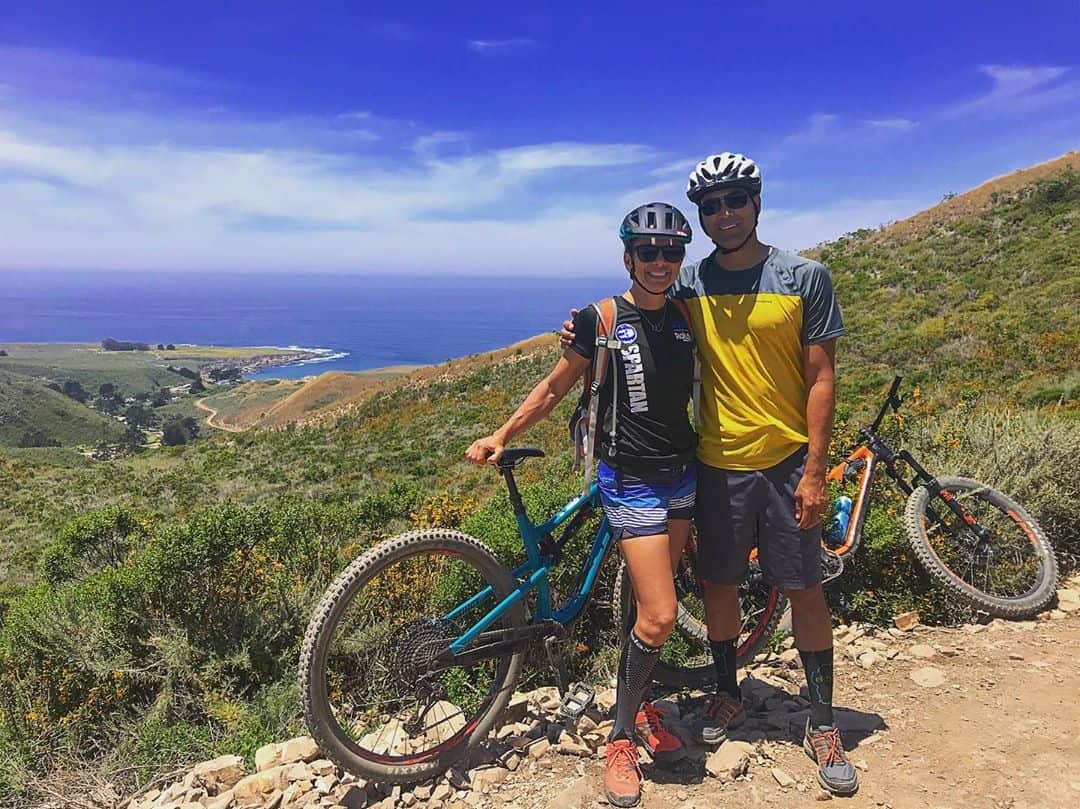 Pismo Preserve
West of Edna Valley, the 880-acre Pismo Preserve has quickly become a favorite mountain biking destination since it opened in 2019. Find 10 miles of trail here, either towering of the vast Pacific or facing east over the vineyards of Edna Valley. These trails were built by the Land Conservancy of Slo County, the CCCMB, and the SLO Parks, Open Space & Trails Foundation. They range in difficulty from novice to intermediate, and all welcome hikers and horses. (One trail, the Vamonos Trail, is only open to hikers.) Try the Lone Oak Trail for a 2.2-mile gentle elevation gain, or the easy 3.4-mile Spring to Spring trail. The best views can be found on the 5.2-mile Discovery Loop, which includes a spur to Lover's Lookout Trail. Find the Pismo Preserve off Highway 101 in Pismo Beach, exit 191B. The parking lot is on the east side of the freeway, at the southern end of Mattie Rd.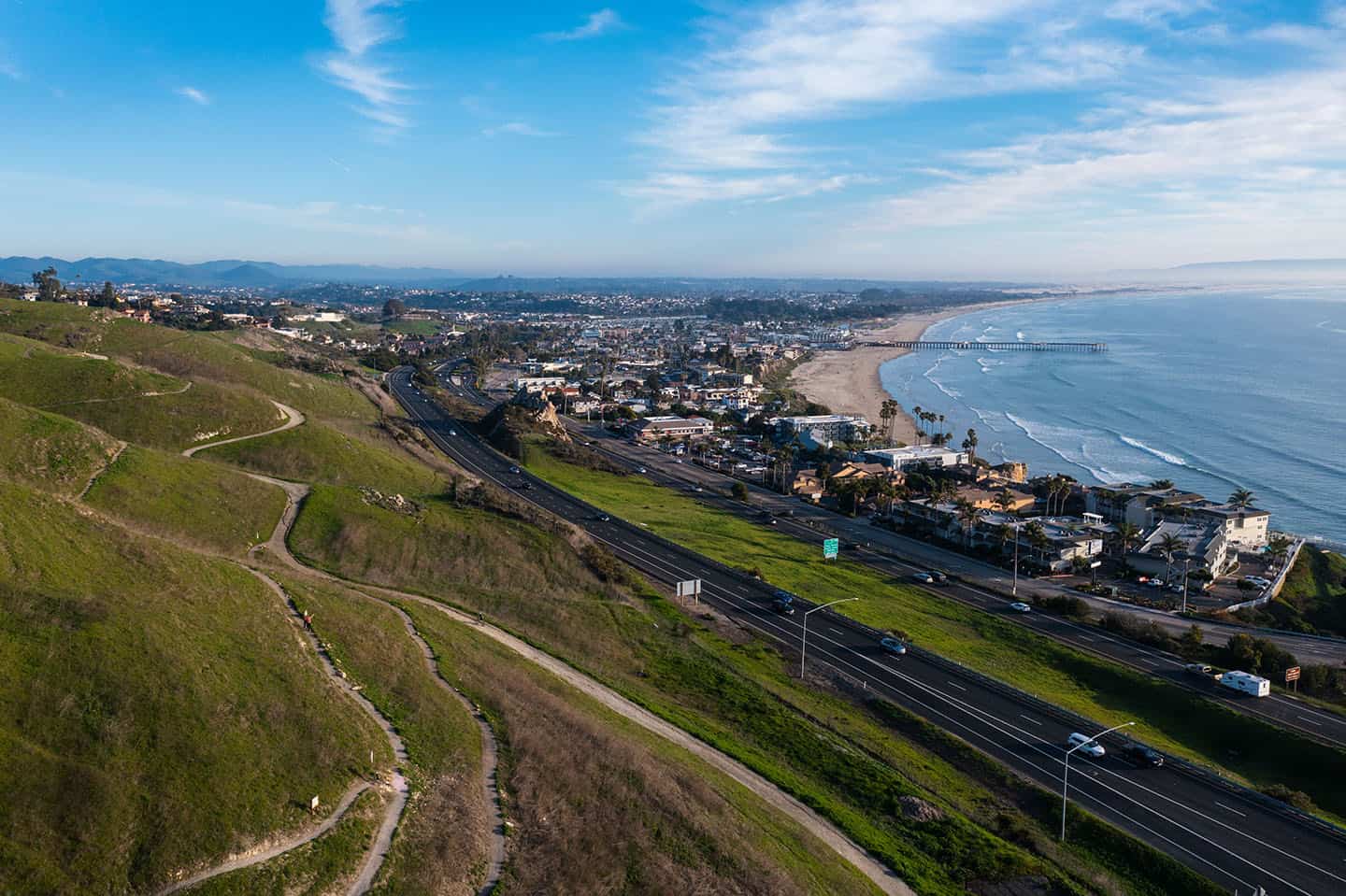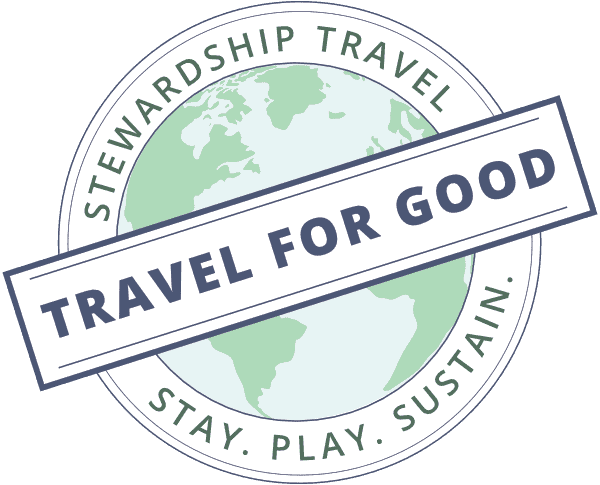 Stewardship Travel for Good
When you engage in wine country biking, you have opportunities to go deeper with the experiences you find here. On your way to Lopez Lake, stop at the historic Swinging Bridge or the Hoosegow jail house. These destinations bring the history and heritage of our stretch of Highway 1 to life. Or, on your ride to Avila Beach, head to the Avila Beach Pier and watch for whales using the Whale Trail interpretive sign. See the Stewardship Travel for Good page for more ideas on how to make the most of your time here.