Waterfront vistas, historic sites, abundant wildlife and wine tasting are just a few reasons any cyclist should plan a ride from Avila Beach. Here where the coast is clear, enjoy options for both mountain biking trails and road biking routes. Be sure to plan for a relaxing soak in the local hot springs and a delicious meal or drink with an ocean view. You won't want to miss the many treasures that Avila Beach offers.
If you fall in love with Avila Beach and this stretch of Highway 1, circle back to our Stewardship Travel for Good activities. These small-but-impactful experiences bring you into the lifestyle, history, and culture of this soulful place. Kayak out to the Point San Luis Lighthouse in Avila Beach and learn about its architecture and origins while soaking up the view. Or spend an afternoon at the Central Coast Aquarium, right in downtown Avila Beach, where water and wonder meet. These moments and many more can be found on the Stewardship Travel for Good page.
Before you saddle up for your ride, remember to bring water, ID, a patch kit, and a credit card or cash. Then pump up your tires, strap on your helmet, and get going!
Explore Cycling Along Highway 1
Mountain Biking Avila Beach
Ontario Ridge (Avila Ridge) Trail
At just 1 mile long, this advanced trail descends Ontario Ridge (also called Avila Ridge) on a grade that's -35% at its steepest. This, combined with loose and rocky conditions, makes Ontario Ridge a challenging black diamond trail. From the top, enjoy 360-degree views of Avila Beach, Shell Beach, and the Pismo Bay, all the way south to Santa Barbara County. This is a popular local hiking trail, especially on the weekends. Remember to bring a bell and share the trail.
To reach the trailhead, park at Cave Landing: from Highway 101 north, exit Avila Beach Drive and drive west, under the freeway. After two miles, turn left onto Cave Landing Road, drive to the end of the road and park in the dirt parking lot there. The Mallagh Landing trailhead spurs off from the parking lot and leads to the start of the Ontario Ridge Trail.
To create a full loop, take the Ontario Ridge Trail and connect to the Shell Beach Bluff Trail at the base of the ridge. This circles back to the Cave Landing Parking Lot where you began.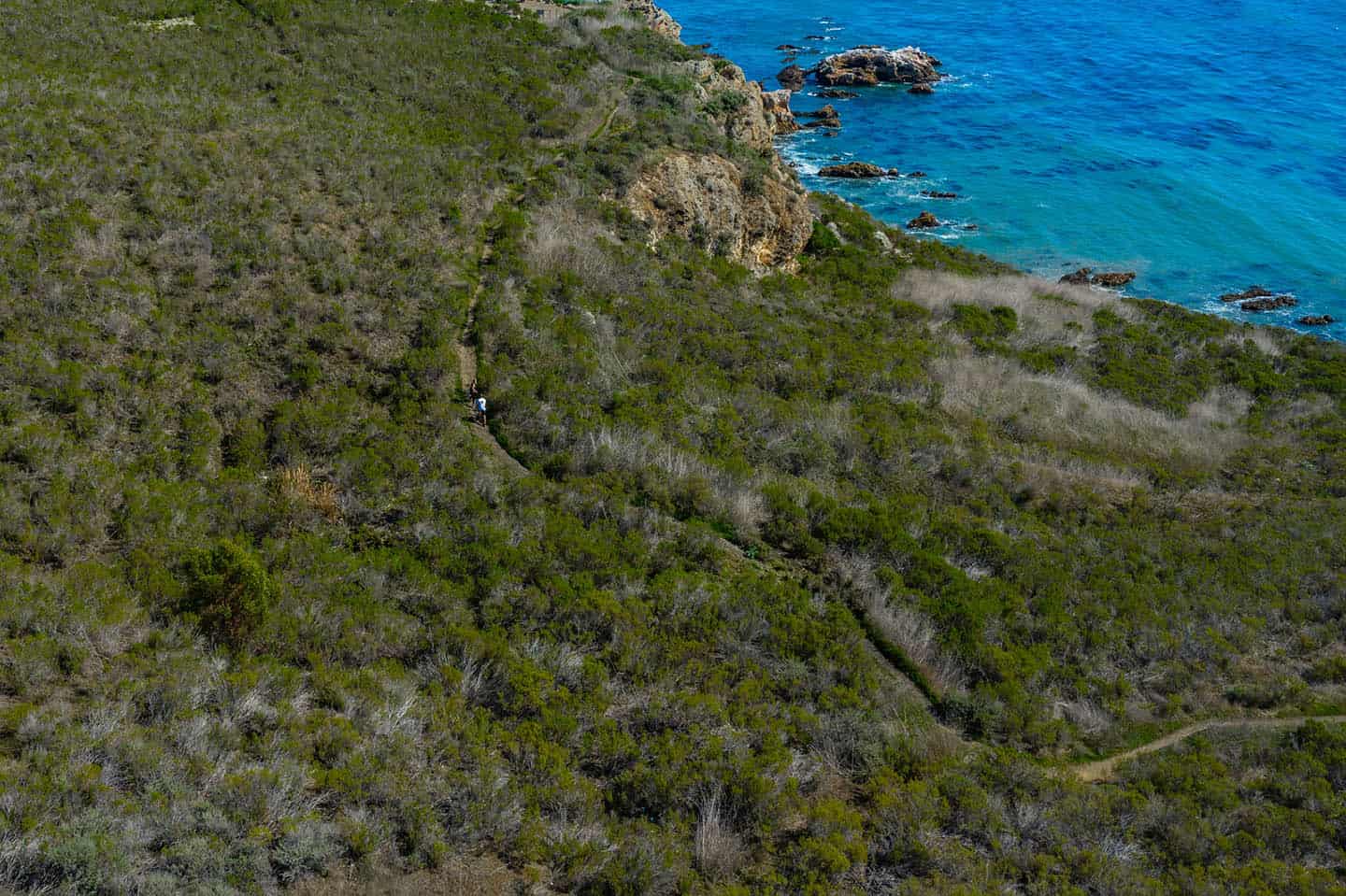 Bob Jones Bike Trail
Are you looking for a family-friendly bike route that includes plenty of fun detours? The Bob Jones Bike Trail offers an easy and level 5-mile ride that parents and kids love. This out-and-back route stays on a path through a sycamore forest, with plenty of shade, especially on its eastern end. The route passes beside Woodstone Market, a creek and estuary, and over the Avila Beach Golf Resort bridge. Downtown Avila Beach lies at its westernmost end, with dining, wine tasting, an aquarium, a wide white-sand beach, cafes and shopping. From the trail, it's also easy to reach Sycamore Mineral Springs, Avila Hot Springs, and the Avila Valley Barn. In other words, there is plenty of fun along the trail for the whole family!
The trail can be accessed from either Ontario Road at the east end or downtown Avila Beach at the west end. For Ontario Road, park in the Park & Ride lot just past the KOA campground on Ontario Road, north of the Avila Beach exit from Highway 101. The trailhead lies across Ontario Road on the west side of the street. From downtown Avila Beach, park in any number of free street parking spaces or in pay-to-park lots in the center of town. Catch the westernmost trailhead along Avila Beach Drive, just beside the entrance to the Avila Beach Golf Resort.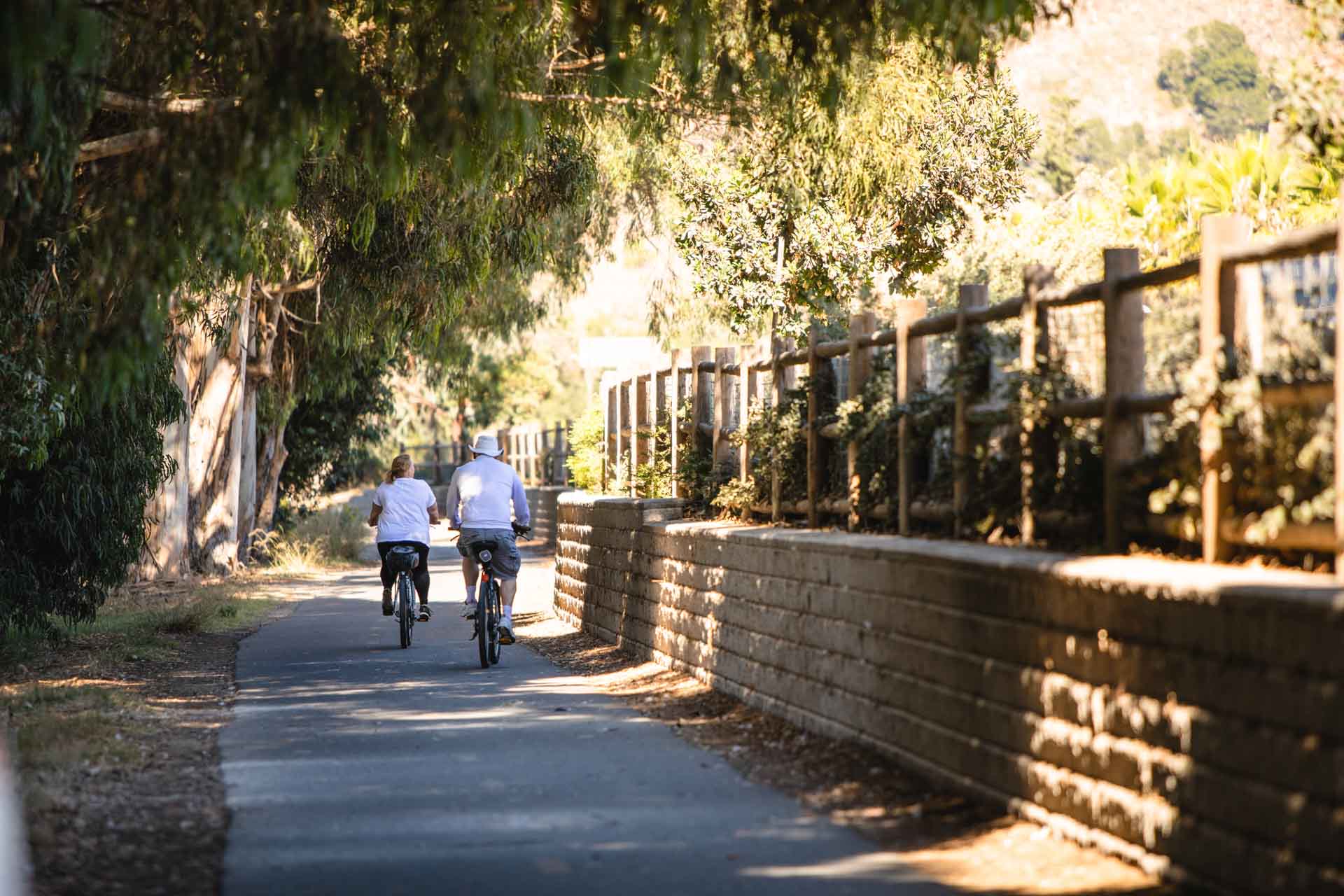 Avila to Wine Country
This 28-mile loop travels from the Pacific coast in Avila Beach to the vineyard-covered hills of Edna Valley wine country. The route parallels Highway 101 from Avila Beach, then cuts over to travel the rolling landscape around Orcutt Road in Edna Valley. It then travels through Price Canyon Road and into Pismo Beach before returning to Avila Beach via surface streets along the coast. Altogether, this loop gains 1,286 feet in elevation, mostly from gentle wine country hills.
To begin, grab a muffin and coffee at the Avila Valley Barn, then launch from there along Ontarro Road, which parallels Highway 101. This eventually becomes South Higuera around mile 3.5 when the road crosses beneath the freeway bridge. Take South Higuera to Tank Farm Rd at mile 5.5 and travel east for 3 miles. Near the Islay Hill Open Space, Tank Farm Road turns into Orcutt Road; this is where vineyards begin to dominate the landscape. Ride Orcutt Road for 6 miles, stopping in at Baileyana Winery, Chamisal Vineyards, or Wolff Vineyards for wine tasting. At mile 14, turn right onto Tiffany Ranch Road, which cuts over to historic Corbett Canyon Road. Follow this for 2 miles, then turn left onto Price Canyon Road, which takes you all the way to Pismo Beach, about 5 miles. Once in Pismo Beach, cross over Highway 101 and turn right on Price Street; ride along the coastline for 2 miles. Near Dinosaur Caves Park, Price Street becomes Shell Beach Road. Follow this road for 2 miles, then dip into the Sunset Palisades neighborhood for more scenic views of the Pacific and Avila Bay. Return to Shell Beach Road at mile 27, then turn left onto Avila Beach Drive to connect back to the Avila Valley Barn, where you began.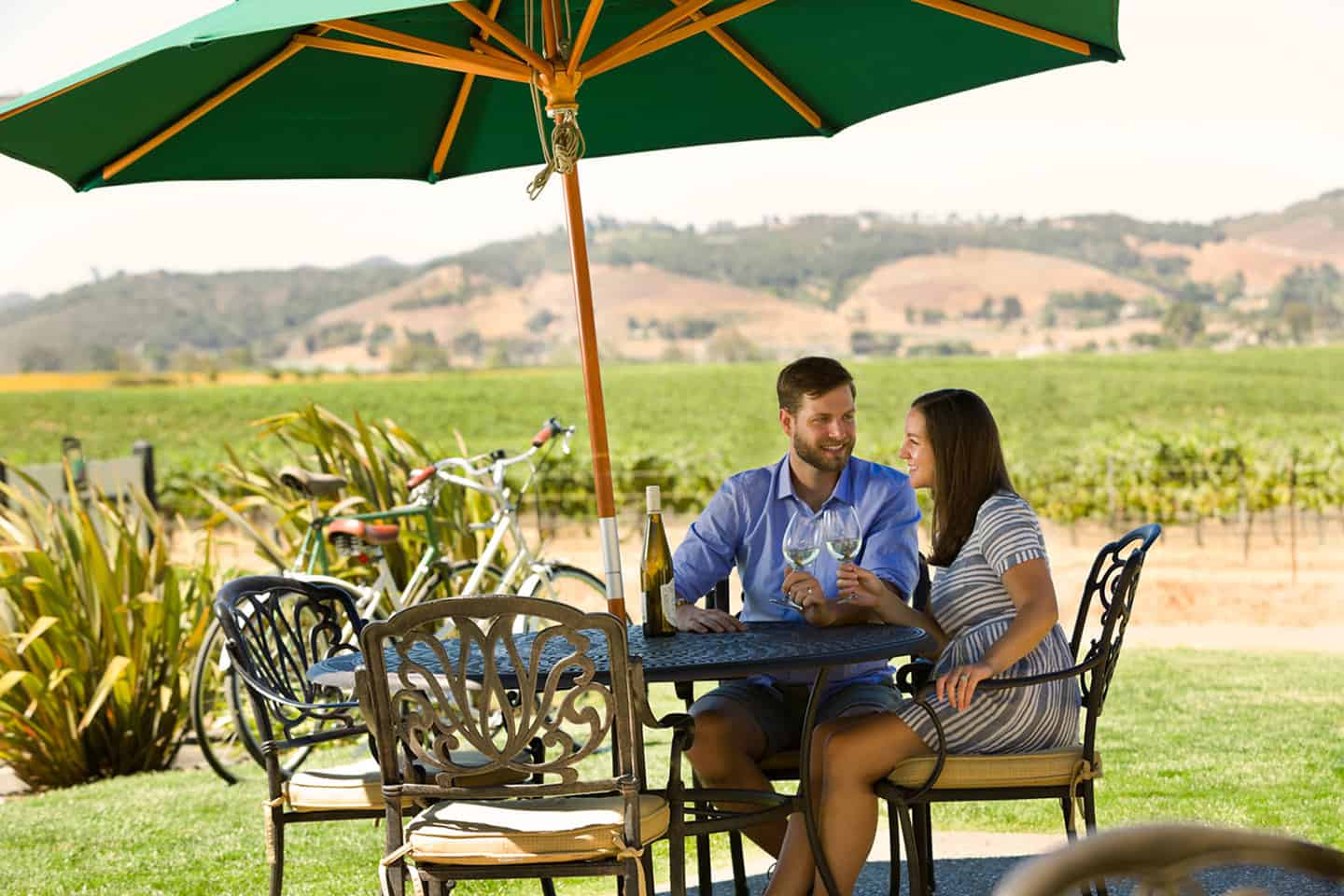 Sea Canyon to Prefumo Canyon
At 29 miles and an elevation gain of 1,961 feet, this itinerary tackles multiple climbs, mostly of them early in the ride. The route travels through idyllic See Canyon and over the mountains above Prefumo Canyon, then through the outskirts of San Luis Obispo. On the return trip, loop back into Avila Beach to ride past a farmstand, beaches, and three historic piers.
To start, clip in at Sycamore Mineral Springs and head west. Quickly turn onto San Luis Bay Drive, then turn left at See Canyon Road at mile 1. Here begins the climb, but it stays fairly gentle until mile 5. At that point, the elevation gains 700 feet in just 1.5 miles. Wind through quiet pasture lands, apple orchards, and farmstands like Gopher Glen, where apples can be tasted and purchased in season. (Also note that part of the road here is unpaved, but shouldn't require any special tires or modifications to ride over.) The climb continues until mile 8.5, where you'll definitely want to snap a photo to remember the epic views. From here, descend down what is now Prefumo Canyon Road, all the way to the intersection with Los Osos Valley Road. Turn right and travel for 2 miles, over the freeway bridge. At the end of Los Osos Valley Road, turn right onto South Higuera Street for 1.5 miles. As it crosses under Highway 101, South Higuera becomes Ontario Road; follow this another 3 miles to the intersection with Avila Beach Drive. Turn right and follow the road through a canopy of Sycamore trees, past the Avila Beach Golf Resort. At mile 23, turn left on San Luis Street and ride downtown along the Avila Beach shoreline. Then turn left onto Avila Beach Drive and follow until it terminates at the Harford Pier at Old San Luis. Grab a bite to eat at Fat Cat's or Mersea's, then return along Avila Beach Road to Sycamore Mineral Springs, where you began.
Cycle Central Coast's Avila Route
Cycle Central Coast designs some of the best cycling routes along Highway 1, including this century loop between Cambria and Avila Beach. (Of course, the route can be reversed to begin in Avila Beach and reach Cambria.) Cover 100 miles and gain 4,709 feet in elevation passing through Los Osos, Morro Bay and Cayucos along iconic Highway 1.
Begin at Leffingwell Landing in Cambria. Ride south along Moonstone Beach Drive and connect with Highway 1, again traveling south. The first 16 miles will have you speeding past the tiny town of Harmony, Harmony Headlands and Estero Bluffs State Parks. At Cayucos, stop off for coffee, a beach moment, or a walk along Cayucos Pier. Then return to Highway 1 and ride south to Morro Bay. At mile 22, take the Main Street exit, then a quick left onto Quintana Road. Turn right on Kennedy Way, then left on Piney Way; follow this for 1 mile until it merges with Main Street. Then turn left onto Park View Road and take this to its end at mile 25. Turn right onto South Bay Boulevard; in 1.5 miles, turn east onto Turri Road. This is a stunning backcountry road that winds through patchwork farmland and ranches for 5 miles. At Los Osos Valley Road, turn left and pedal for another 5 miles. At mile 36, head west on Prefumo Canyon Road and prepare for the major climb of your ride. Hit your highest point at mile 42, where grades can exceed 9 percent. Descend through oak forests and Spanish moss, as well as a section of road that's unpaved. (No special equipment or gear is necessary.) At the intersection with San Luis Bay Drive, turn right, then turn right again to follow the Bob Jones Bike Trail into downtown Avila Beach. 
Enjoy this classic beach town's dining, wine tasting, shopping, wildlife viewing, sand and surf. Then return the way you came, this time taking the Bob Jones Trail all the way to its end at Ontario Road. Turn left on Ontario Road and follow it under Highway 101, where it becomes South Higuera Road. At mile 60, turn left onto Los Osos Valley Road and ride 7 miles before turning right onto Turri Road. At South Bay Boulevard, turn right, then left onto Park View Road. Bear left to take Main Street, passing through Morro Bay State Park, with views of Morro Rock and the Morro Bay National Estuary.
From here, follow the way you rode in: return to Highway 1, this time traveling north. Pass Cayucos and Harmony, then exit Highway 1 in Cambria at Weymouth Street. Turn left toward the ocean, then follow Moonstone Beach Road back to Leffingwell Landing.
Nearby
Pismo Preserve Mountain Bike Trails
This 900-acre preserve offers 11 miles of trails with views of the sprawling Pacific Ocean and Pismo Beach below. As one of the newest spaces open to mountain bikers, Pismo Preserve's trails are well-maintained by Central Coast Concerned Mountain Bikers. Most trails are rated "easy," including the Discovery Loop, Lone Oak Loop, and Spring to Spring. Two others are rated as intermediate trails: the Panhandle and the Peekaboo Loop. In addition to ocean vistas, trails wind back away from the coastline with views of Edna Valley wine country to the east. Horses and hikers also share these trails, so use a bell for courtesy to alert those on the path with you.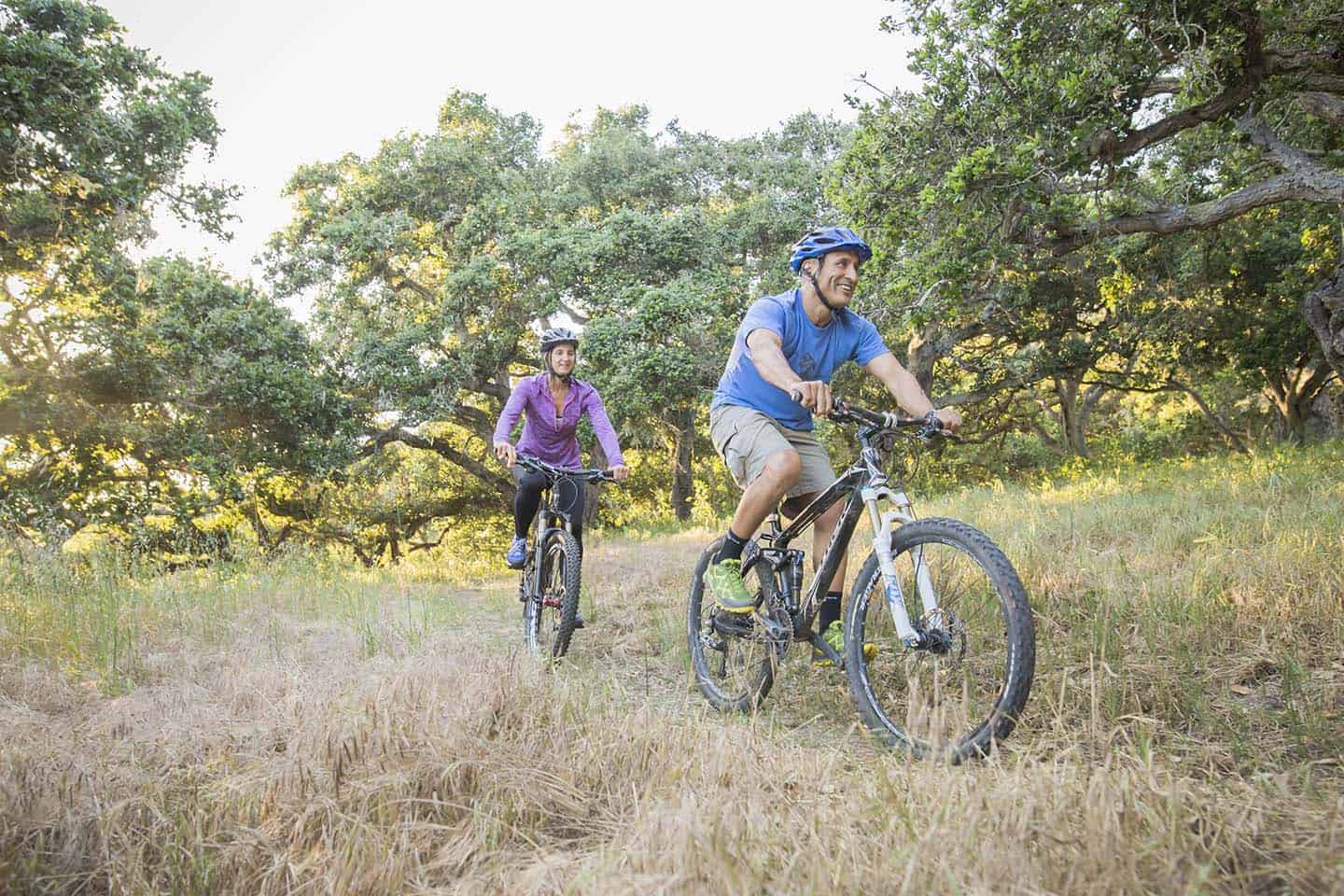 Johnson Ranch Open Space Mountain Bike Loop
Just down the road from the Bob Jones Bike Trail park and ride lot, the Johnson Ranch Open Space offers a 2.8-mile mountain bike loop. This is a gentle loop with an average grade of just 5% and gaining 452 feet in elevation. The terrain includes several switchbacks among grassy hillsides, boulders and stands of ancient oak trees. Enjoy scenic overlooks as well as serene streams with bridges over them for easy passage. Be conscious and courteous here, as this is a very popular single-track loop for hikers. Borrow a bell at the Bells 4 Bikes box at the trailhead, courtesy of the Central Coast Concerned Mountain Bikers.