Located on the secluded southern edge of the Estero Bay, Los Osos-Baywood Park feels like a world away from the busy pace of modern life. Switch gears and plan your next ride to explore this quiet beach town and the surrounding landscape. Mountain bikers will love taking on the 75 miles of Montana de Oro bike trails that run over mountains and beside the shoreline. And road cyclists will enjoy pedaling east to Edna Valley wine country, south to Avila Beach, and north to Cambria. When it comes to cycling here, it's hard to go wrong with so many choices — and so many ocean views.
Before you set out on your ride, be sure to pack water, ID, patch kits and a little cash, just in case. Mountain bikers, be sure to bring a bell to alert hikers and horseback riders of your presence on trails. (Some trails make these available to borrow at the trailhead; see below.) And of course, all cyclists should wear a helmet at all times.
After your ride, you may find yourself wanting to experience more of the Central Coast. If that's the case, be sure to check out our Stewardship Travel for Good activities. These inspirational, educational and sustainable experiences bring you closer to the heart of Highway 1. Climb the Oats Peak mountain bike trail, then visit the historic Spooner Ranch House to learn about the origins of Montana de Oro State Park. Or ride to Cambria and stop over at the Elfin Forest for bird watching along the edge of the Morro Bay National Estuary. These opportunities can open your mind — and your heart — to the hidden treasures of the Central Coast. To learn more, see Stewardship Travel for Good.
Explore Cycling Along Highway 1
Montana de Oro Mountain Biking
One of the best parts of mountain biking at Montana de Oro State Park is its impeccable weather for the sport. Foggy mornings often give way to sunny conditions with a light, comfortable breeze by midday. Best of all, the ideal days to ride are typically in the spring and fall, when trails are least crowded.
The Central Coast Concerned Mountain Bikers have maintained Montana de Oro bike trails for decades. In 1987, these trails were slated for closure to mountain bikers until a group of locals fought to keep them open. As their name states, these concerned mountain bikers worked with State Park staff to repair erosion issues and maintain the trails. To this day, CCCMB dedicates thousands of volunteer hours toward local mountain bike trails, both at Montana de Oro and across the region.
One of CCMB's most successful efforts is its Bells4Bikes program. This service offers mountain bikers size #00 cowbells to borrow at the start of popular Central Coast trails via a "Bell Box." Velcro-ing one of these small bells to your mountain bike helps alert hikers and horses to your presence on trails. (Hikers and horseback riders share all trails with mountain bikes at Montana de Oro.) This is especially helpful on two-way trails that curve around mountains, where speed can be high and visibility can be low. After enjoying your ride, place your borrowed bell back in the Bell Box for another rider to use. Alternatively, you can buy your bell for a small fee and send your donation to CCCMB via PayPal, right from your smartphone. By using a bell, you help hikers and horses, and build goodwill for mountain bikers' continued access to these trails.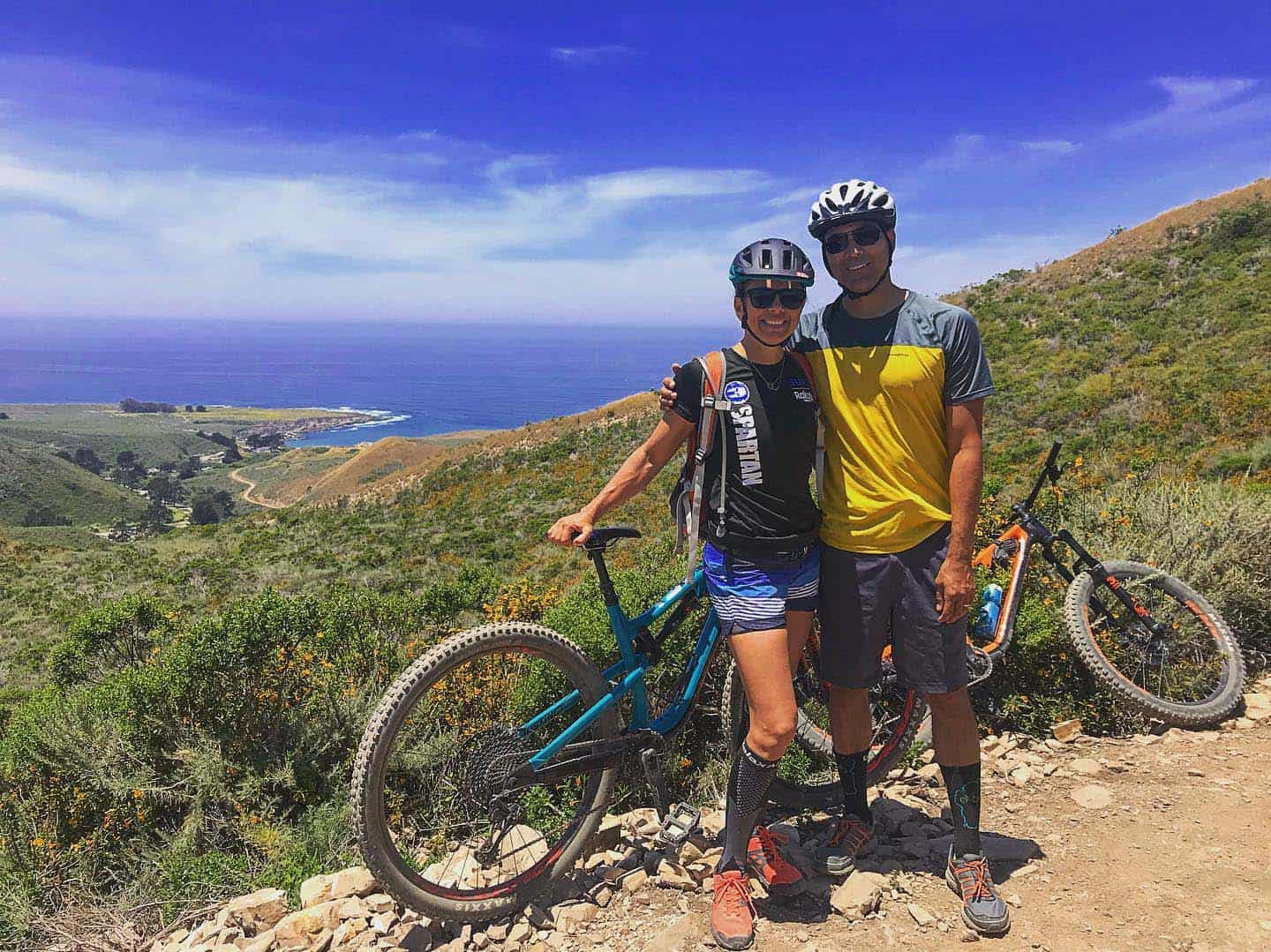 Montana de Oro Bike Trails
Oats Peak Trail
This easy-to-intermediate trail summits Montana de Oro State Park's second-highest peak with a 1,433-foot elevation gain. While many Montana de Oro bike trails offer panoramic views of the coastline, Oats Peak Trail features views of the scenic Irish Hills. Out and back, the trail covers 11.3 miles, many of which are switchbacks up and down the mountain. Some of these sharp turns can be avoided, however, by taking the attached Beebe Trail — especially helpful on the descent. Pick up the Beebe Trail on the ascent of Oats Peak at 1.84 miles, or on the descent at the 8-mile mark.
Find the trailhead behind the Spooner Ranch House, close to the road to Islay Creek Campground. Be careful not to confuse the "Old Oats Peak Trail" with the "New Oats Peak Trail"; the new trail is the full-length one. And be aware that the last part of the trail is the steepest, but the views at the top are worth the effort.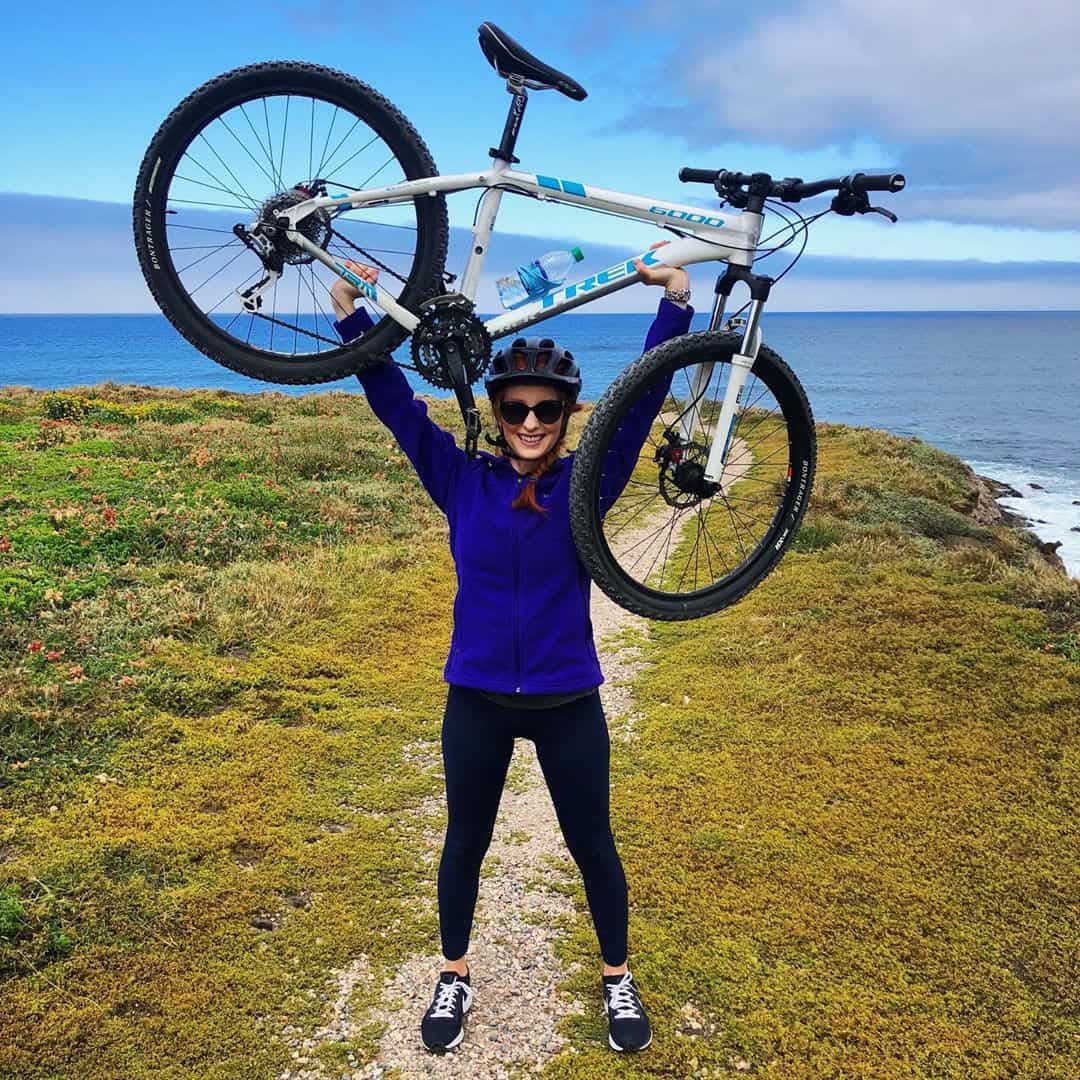 East Boundary Loop
At 12.5 miles and with a 1,678-foot ascent, this trail is rated as difficult. The first and last 25 percent of the route is a two-way trail, while the rest loops the northernmost reaches of the park. A major benefit of riding this trail is its incorporation of other well-known trails along the way. These include the Hazard Peak, East Boundary, Manzanita and Barranca Trails, as well as Islay Creek Road. Riders especially enjoy the "poppers" on the downhill near the end of the Manzanita portion of the trail. 
Find the trailhead on Hazard Canyon Road, close to the entrance of Montana de Oro State Park. Ride to its end, then follow signs for the East Boundary Trail, which includes a small climb. At the top, descend to Islay Creek Road, which is steep at points. Follow Islay Creek Road and look for an unmarked trail to the right. This connects to the Hazard Mountain Trail, which climbs gradually to the top of Hazard Peak for more coastal views. Next, cross the ridge and turn left onto the Manzanita Trail. (Here's where you can really have fun on those poppers!) For the remainder of the trail, stay to the right and slow down for sharp turns. Once you reach Hazard Canyon Road again, descend to the trailhead where you began.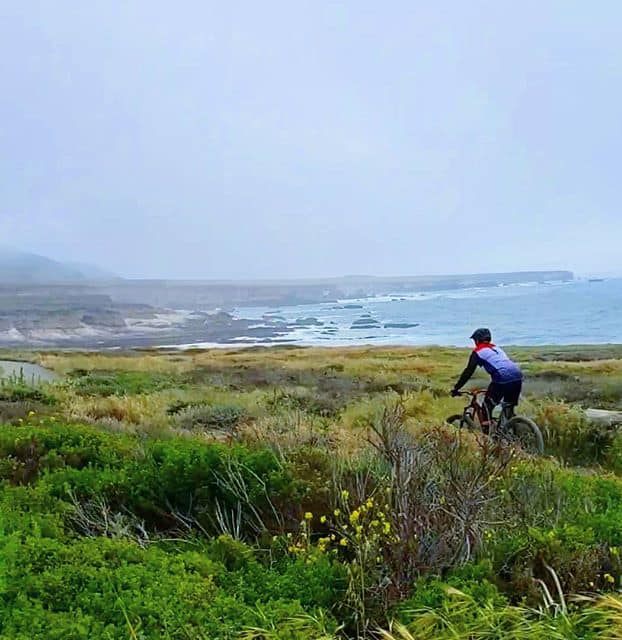 Bluff Trail
The Bluff Trail is an easy out-and-back trail along a bike-friendly pedestrian path of 4.6 miles. (Alternatively, you could ride one-way and use Pecho Valley Road as a connecting loop to the trailhead.) Parallel the rugged coastline and enjoy ocean views the full length of the trail. Additional excursions can include beginning and ending with a picnic, swimming, or sunbathing at scenic Spooner's Cove Beach. Tidepooling at Corallina Cove (one half-mile after the first footbridge) presents another enjoyable stop along the way. Find the trailhead, close to the entrance to the Spooner's Cove parking lot on the west side of Pecho Valley Road.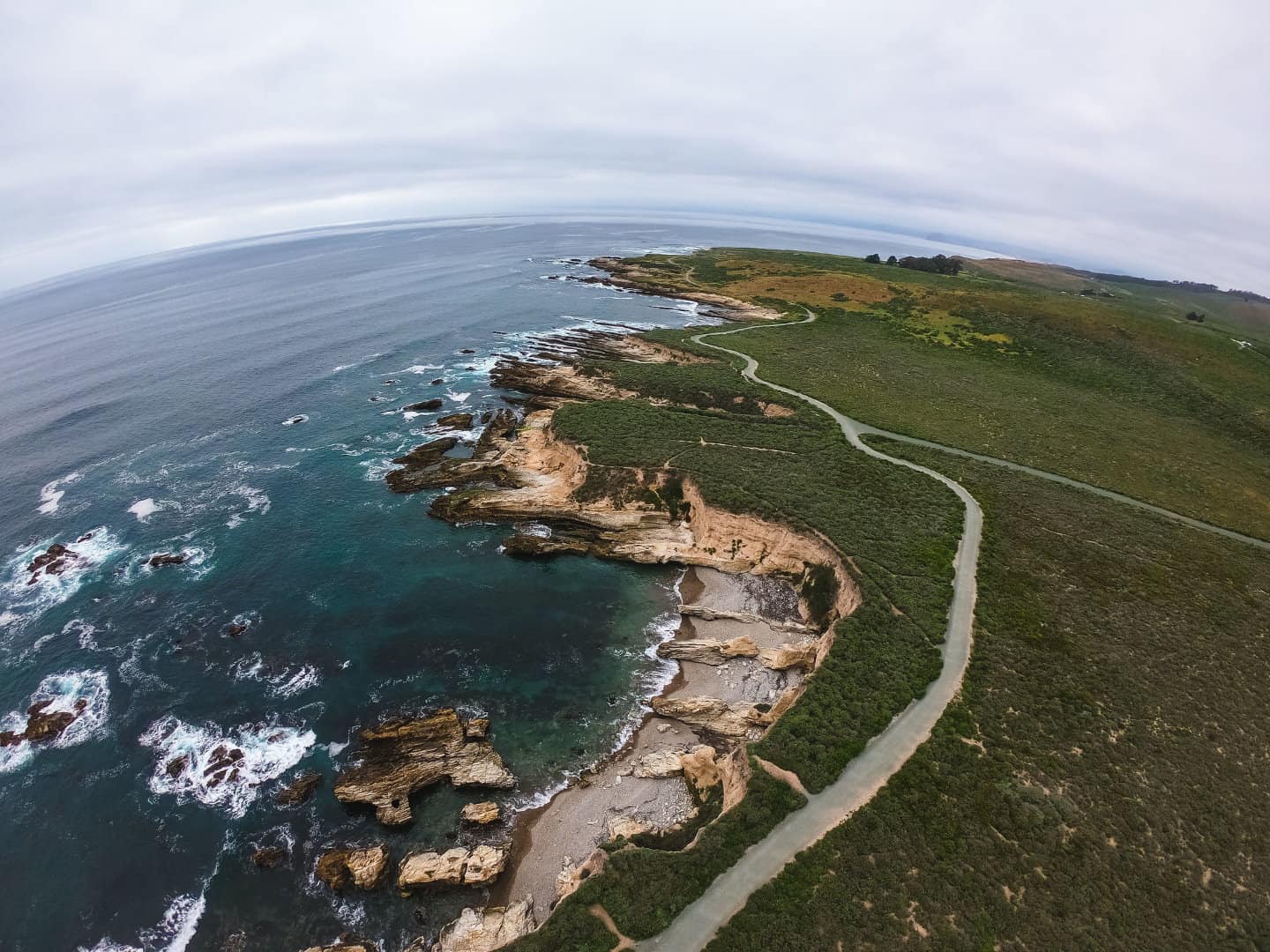 Road Biking from Los Osos
North To Cambria and back
This 4-hour ride racks up 54 miles and a gain of 2,032 feet in elevation. It also takes in some of the Central Coast's most beloved natural wonders. Enjoy glimpses of Morro Bay National Estuary, Morro Bay State Park, Morro Rock, Cayucos State Beach, the Estero Bluffs and Cambria''s Monterey Pines.
Start at the corner of Los Osos Valley Road and South Bay Boulevard in Los Osos. Ride north on South Bay Boulevard, passing the Morro Bay National Estuary and Morro Bay State Park on the left. When South Bay Boulevard meets Highway 1, turn north (left) and ride for 6 miles, passing Morro Rock on the left. At mile 10, look for the beach town of Cayucos and sunny Cayucos State Beach, with its historic pier. From mile 13 to 16, enjoy passing beside the Estero Bluffs State Park — a good stop for a scenic, easy hike. Continue another 12 miles and turn right onto Cambria's Main Street for a ride through its West and East Villages. At the 27-mile mark, turn left onto Cambria Road and an immediate left onto Highway 1 riding south. Follow Highway 1 all the way back to Morro Bay, taking the Main Street exit and following Quintana Road to South Bay Boulevard. Turn right on South Bay Boulevard and return to the corner with Los Osos Valley Road where you began.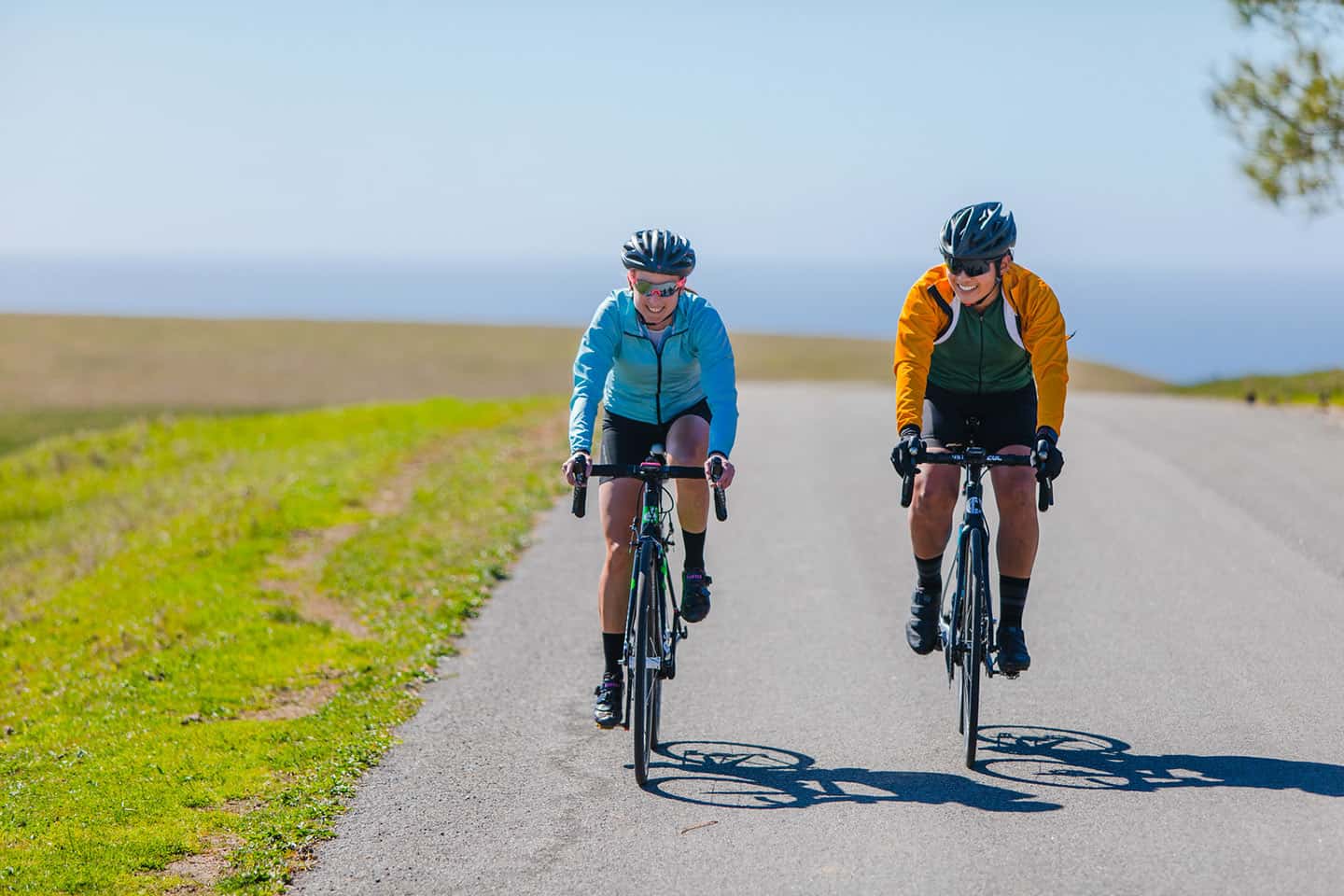 South to Edna Valley
Take this route for views of patchwork farmland south of Los Osos and vineyards throughout Edna Valley wine country. At 50.8 miles, with an elevation gain of 2,169 feet, this loop route crests and descends over numerous rolling hills. It also travels San Luis Obispo backroads through Camp San Luis and Cuesta College before returning to Los Osos via Highway 1.
Start at the corner of Palisades Avenue and Los Osos Valley Road in Los Osos. Travel south along Los Osos Valley Road for less than a mile to turn left on South Bay Boulevard. This takes you past El Morro Elfin Forest before turning right (south) on Turri Road. Enjoy this quiet, scenic backroad (which rarely sees many vehicles) for 4 miles. At the intersection with Los Osos Valley Road, turn left and pedal for 7 miles. By the time you hit the intersection with Higuera Street, you are now in San Luis Obispo. Turn left on Higuera for a quick jog, then make a sharp right onto Vachell Lane. In less than a mile, turn left on Buckley Road and head south for 3 miles. Turn right onto Highway 227 for almost 5 miles, passing Edna Valley vineyards and wineries along the way. Turn left on Tiffany Ranch Road and pedal for 1 mile. Then head left (north) on Orcutt Road. This will take you past more vineyards and wineries, as well as Islay Hill Open Space just before the intersection with Johnson Avenue. Turn right on Johnson and ride for 1.5 miles. At this point, Johnson splits to the left while San Luis Drive splits to the right; take San Luis Drive. At California Boulevard, turn left and ride 1 mile, then head left on Foothill Boulevard. This is a 3-mile leg that will take you outside of town; turn right on O'Connor Way and ride for 4 miles. You'll weave the backroads behind Bishop Peak Mountain, turning around its base and entering Camp San Luis from the back. O'Connor Way dead-ends at Colusa Avenue; turn right, then an immediate left onto Hollister Road, past Cuesta College. At the intersection with Highway 1, head left and ride for 5 miles, enjoying the view of the northern Nine Sisters peaks. At the exit for Los Osos/Baywood Park, turn left to cross the highway and take in the view of majestic Hollister Peak. Travel right on Quintana Road, then left at South Bay Boulevard. At Los Osos Valley Road, turn right and head back to your ride's beginning.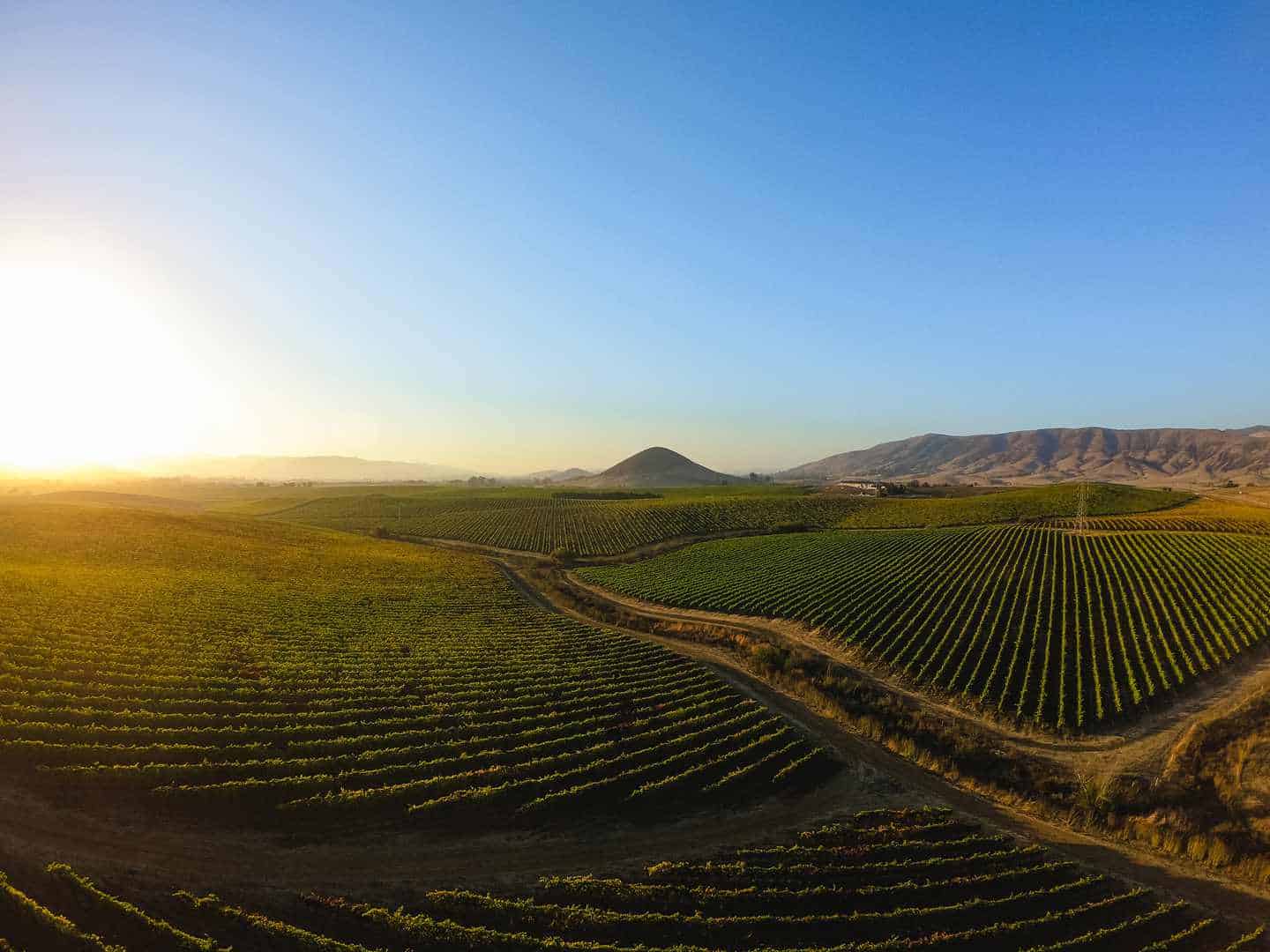 South to Avila Beach
This challenging ride includes two loops, gains 2,729 feet in elevation, and covers 48.7 miles. The ride features a major climb that summits the Irish Hills around mile 14, but the rest of the ride is fairly gentle. Enjoy wide-open views from Morro Rock to the north, south to Pismo Beach. The ride includes a quick jaunt along the sweet Bob Jones Bike Trail, and views of Avila Beach and the historic Port San Luis (Harford) Pier.
Begin at the corner of Palisades Avenue and Los Osos Valley Road in Los Osos. Ride south along Los Osos Valley Road for 8.5 miles before turning right onto Prefumo Canyon Road. This begins the climb through the backroads of the Irish Hills toward Avila Beach. Take in the views at mile 14, then descend along what is now See Canyon Road, through oak forests and apple orchards. At San Luis Bay Drive, turn right and ride to the turnoff for Avila Village. Here you'll pick up the Bob Jones Bike Trail, turning west (right) toward Avila Beach. Follow this 5 miles, past the estuary and Avila Bay Golf Resort to its end. Merge with Avila Beach Drive and ride west to its end at the Harford Pier and Port San Luis. Return along Avila Beach Road and the Bob Jones Trail, this time following it to the opposite end at Ontario Road. Take Ontario east toward San Luis Obispo, parallel to Highway 101. At mile 32.5, Ontario Road passes beneath the freeway and becomes South Higuera Street. Take South Higuera Street to mile 34 and turn left on Los Osos Valley Road to return to the ride's beginning, 14 miles.