Arroyo Grande Valley has an adventure for everyone
Hop off Highway 1 and burn off some steam with a glass of wine!

Article Reposted from Roadrippers.com
There's nothing like a road trip along Highway 1, but let's face it, that's a lot of time in the car. If you've got the itch to stretch your legs and burn off some energy, pull over in the Arroyo Grande Valley. This lush valley provides a change of pace from the beach towns and coastal views along the route. Whether you want to cool off at the waterpark, poke around the antique shops and eateries downtown, meet the roosters and chickens that roam the streets, or get an adrenaline rush with a trip to an adventure park, the Arroyo Grande Valley is perfect. And the region's plethora of wineries only add to the charm of the area. Enjoy a glass of locally-made wine, bike through the vineyards, stay in a vacation rental or B&B right in wine country and make the most of it. Here are some of our favorite Arroyo Grande village and valley attractions to explore!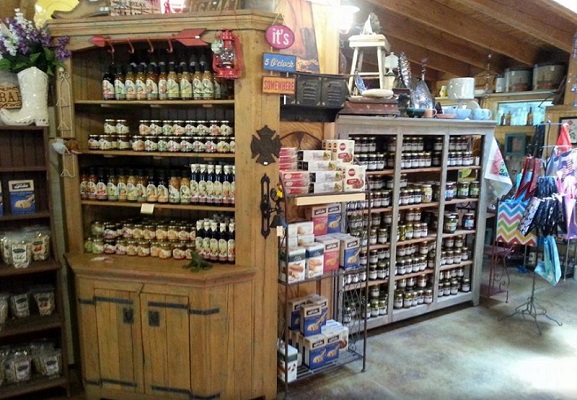 Windmill Farms 
Ever dreamed of going to your neighborhood's weekend farmers' market every day? Wish granted! Windmill Farms is a daily market that boasts the freshest produce, artisanal cheeses and bread, handmade pottery and much, much more. Stroll through the garden area and look around at succulent roses and sculptures, and when you're ready, step inside the barn (yes, all this goodness is inside the cutest rustic barn!) to be amazed by their selection of fruits, vegetables and gourmet delights.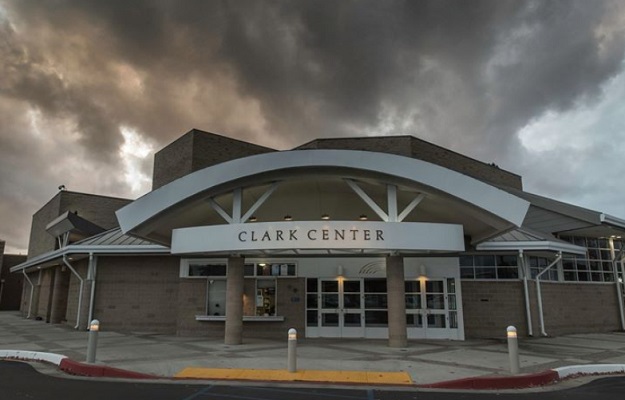 Clark Center for Performing Arts
The Clark Center for the Performing Arts is the hub of the Arroyo Grande Valley for all things entertainment. The Center was built in the late 1900s because Cliff Clark, a local resident, was sick of seeing Arroyo's finest talent having to perform in the high school gym. It offers a wide variety of shows circling every season. From stand-up, to Shakespearean classics like The Taming of the Shrew, to a neo-traditional Hawaiian band, you won't want to miss out on what the Clark Center has in store. It's located in the city of Arroyo Grande, a quick 10-minute drive from the valley. Be sure to keep an eye on their website for upcoming shows and ticket prices!
Driving through the Arroyo Grande Valley, you can't help but smile as you're greeted with mile after mile of beautiful, hilly countryside, produce stands popping up at all corners of the road, and free-roaming chickens that always seem to be milling about the downtown. It's got rustic charm, combined with a classic countryside feel at wineries and historic sites.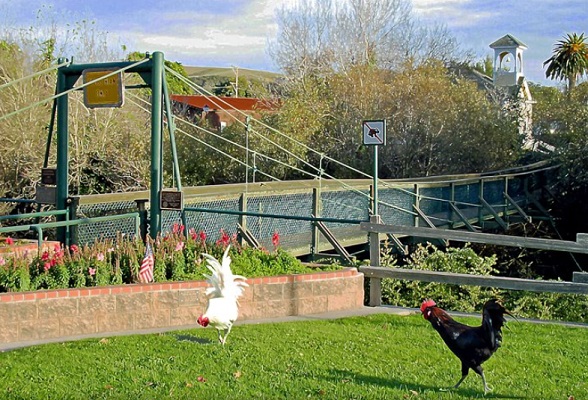 Swinging Bridge
Warning: If you are a lover of all things fun and unique then you may actually never want to leave the Arroyo Grande Swinging Bridge. The bridge crosses right above the Arroyo Grande Creek, and while it's perfectly safe (the sturdiest of sturdy cables, we swear) the bridge sways ever so slightly when you cross back and forth, giving the thrill seeker in all of us the adrenaline rush we deserve. Once you make it to the other side, take the trail down to the creek for a different perspective. The park around the bridge serves as a community gathering spot and hosts all kinds of events, from weekend farmers markets to summer concerts. Don't forget to say hi to all the chickens that roost in the tall trees here.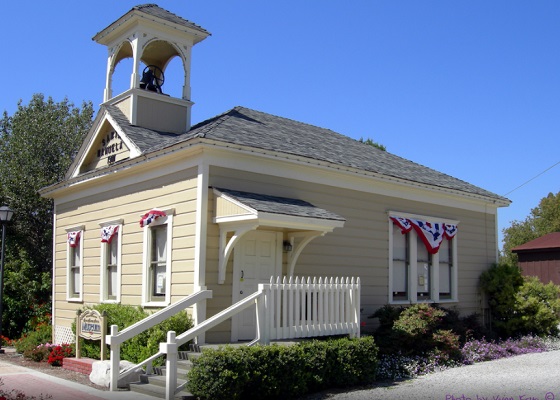 Santa Manuela Schoolhouse
The Santa Manuela Schoolhouse is the perfect weekend spot if you're lookin' to get a dose of history in on your trip to the Arroyo Grande Valley. The schoolhouse is just one room that served as the community's school back in the 1900s. Just behind the schoolhouse is the barn, which now serves as a museum annex with all sorts of unique vintage vehicles, a printing press and period clothing. It's open on Saturdays and Sundays and admission is free!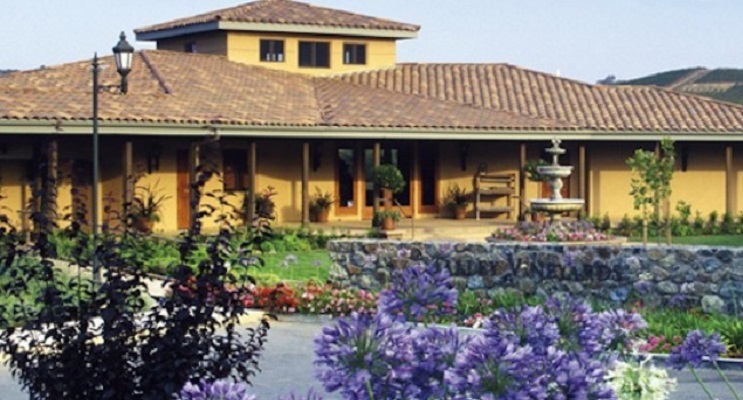 Talley Vineyards
Although this is just one of many ah-mazing vineyards in the Arroyo Grande Valley, Talley Vineyards is a must-stop. Just 10 minutes from Highway 101 in Arroyo Grande, check out Talley Vineyards for a tour or a stop in the tasting room. The family-run vineyard has been producing wine since 1986, and you will not want to miss out on your chance to explore the rolling hills and row after row of lush vines. Check out the website to book your winery tour– and, pro tip, do the tour with wine tasting. It's only $20! Talley Vineyards also has a full farm and runs a farm stand offering a variety of two dozen or so different freshly-harvested veggies and other offerings right next door to the winery if you're just looking for a quick stop and healthy treat.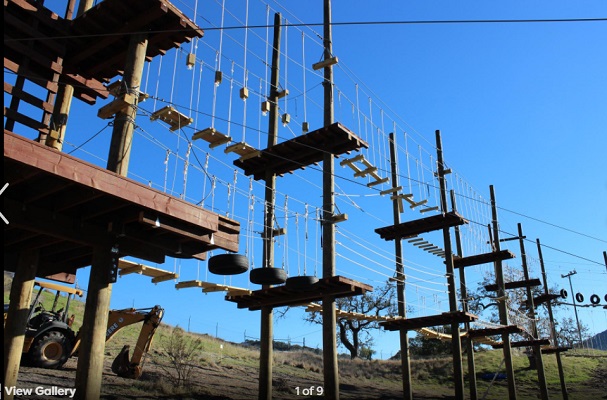 Vista Lago Adventure Park
Adventure awaits at the Vista Lago Adventure Park. This place is a wonderland for thrill-seekers, adrenaline junkies and adventure enthusiasts alike. Book the 3-hour adventure tour if you want the premier thrill experience– it features a 45-foot-tall ledge, 3 ziplines and a whole lot of rope-course obstacles on lower and upper levels. Looking for something a little more intermediate? Try the 2-hour agility tour. It's got a pole walk, tire bridge, cargo net and lots more, all centered around the lower level. Plus, you get a pro walking you through the course the entire time. Either way, this place will get your heart racing.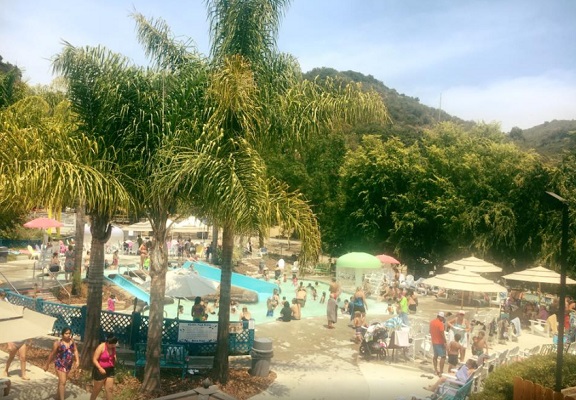 Mustang Water Park
Slide and splash into some good ol' family fun at Mustang Waterpark, conveniently located at Lopez Lake Recreation Area. Just 10 miles east of Arroyo Grande, you cannot miss the chance to stop here and dive headfirst into the aquatic wonderland. The park has water slides for days, but you have to try the Stampede. It's Mustang's coolest attraction, plummeting 38 feet down one side of the giant half-pipe in an inner tube, then speeding back up 38 feet on the other side! You can ride solo for this one, but you might wanna grab a buddy to hold on to, it's a wild ride!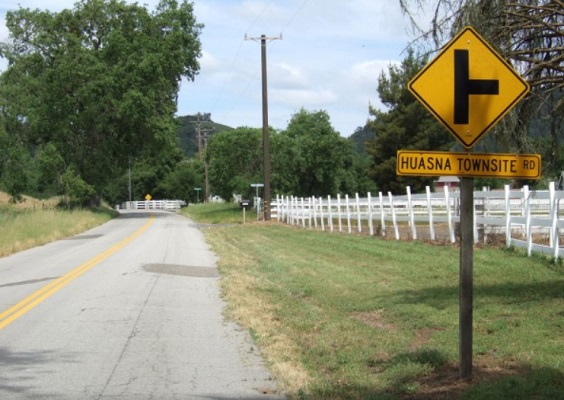 Historic Huasna Townsite
Large ranches, miles of rolling hills and gorgeous trees await at the Historic Huasna Townsite. The Huasna Valley is just 20 minutes from Arroyo Grande and it's known for its growing succulent fruit, beautiful flowers and lots of veggies. This is the perfect place to grab a bike and glide down the hillsides, exploring the area. In fact, it's best known for its stellar biking route on Huasna Townsite Road. Be prepared to sweat a bit; coasting down the hills is a breeze, but pedalling up them can be a struggle. You'll be rewarded with amazing views, though, so the payoff is totally worth it.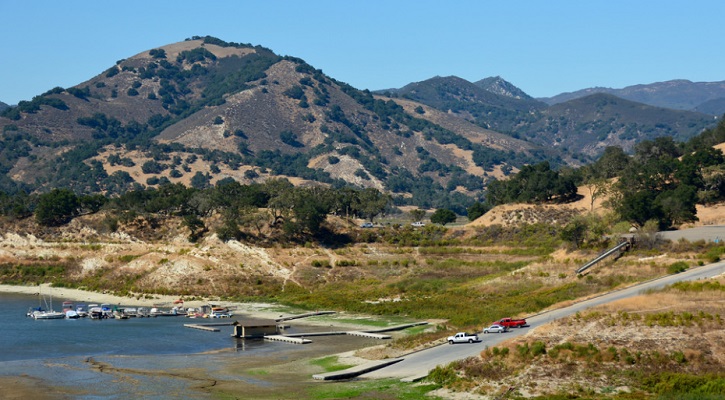 Lopez Lake Recreation Area
Located just ten miles east of Arroyo Grande, California, Lopez Lake Recreation Area is one of the best hiking spots around. The recreation area stretches over 22 miles of shoreline and there is something for everyone; camping, fishing, boating, picnicking, hiking and equestrian trails, mountain biking, ziplining, birdwatching, picnicing and so much more. The best part is, there's never a bad time to visit here– the weather is always spot on, making it the perfect destination year-round.
Whether you're treating yourself to a glass of wine after biking through vineyards, or heading out to a show after a long day touring the beautiful Valley, Arroyo Grande Valley has something for everyone. This lush valley provides the beauty of the countryside smack dab only four short miles from coastal beach towns. As far as vacation spots go, it's hard to beat Arroyo Grande Valley!