Quaint, historic, and lively, the Village of Arroyo Grande charms visitors with its one-of-a-kind shops, dining, and community events. This sweet downtown provides a change of pace from the beach towns and coastal views along Highway 1. Shop for antiques, celebrate the harvest, meet the town's roaming roosters, or walk the historic swinging bridge. And don't miss out on flavor! Taste local wines and beer in downtown tasting rooms, and enjoy slowing down in the heart of this charming village.
Downtown Arroyo Grande
Though Arroyo Grande extends further out from "the Village," as locals call it, this downtown district represents its heart. See Harvest Church, built in 1887, on the west end, or watch the butchers work at the Arroyo Grande Meat Co, open since 1897. Wherever you wander, this beautifully preserved Village is a destination for anyone seeking the good life.
Arroyo Grande Parks
For being just a few blocks long, the Arroyo Grande Village boasts two generous public parks.
Heritage Square Park is the newest park, with lawns and a generous gazebo where dance troupes and live bands perform during festivals and events. Heritage Square Park also provides picnic facilities, restrooms, and street parking.
Centennial Park hosts the weekly farmers' market and live music in its gazebo, and provides access to the Arroyo Grande Creek. Centennial Park is also the territory of Arroyo Grande's famous group of roosters who roam the Village with a regal strut. (Want to spy one? Try looking along the fence that parallels the creek.) Picnic facilities, restrooms and parking are also available at Centennial Park, as is the historic Short Street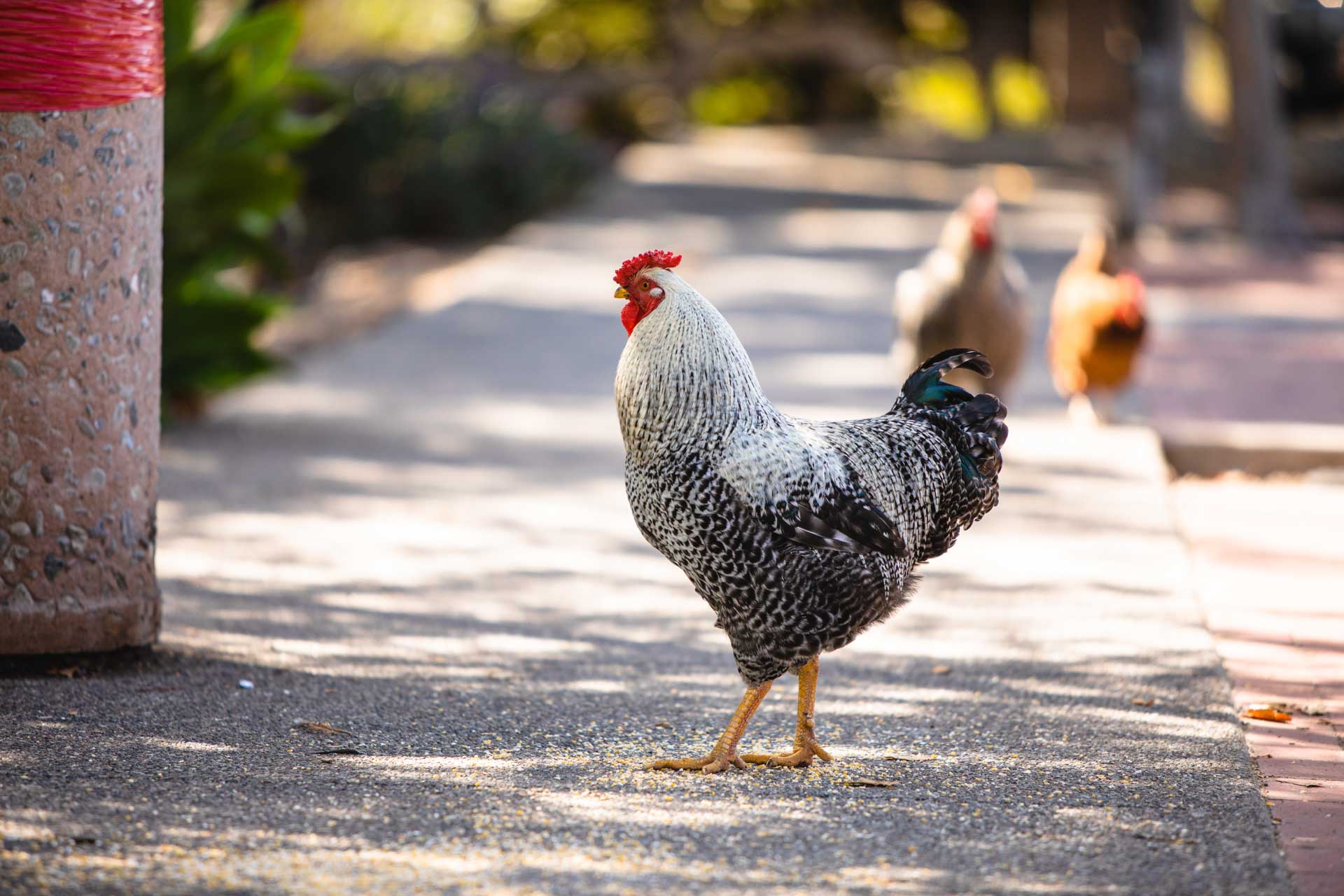 Historical Arroyo Grande Sites
As a well-preserved downtown, the Village of Arroyo Grande offers windows into the town's early history.
Swinging Bridge
The only one of its kind in California, the Swinging Bridge reaches 171 feet long and swings 40 feet above the Arroyo Grande Creek. First built in 1875 by Newton Short, the bridge connected his property that was divided by the creek. But when Short built it, the bridge did not have sides! Those were added later, in 1902. In 1911 the bridge was given to the City of Arroyo Grande. A severe storm in 1995 totally destroyed the original bridge. With the efforts and donations of local businesses, residents and federal funding, the bridge was reconstructed.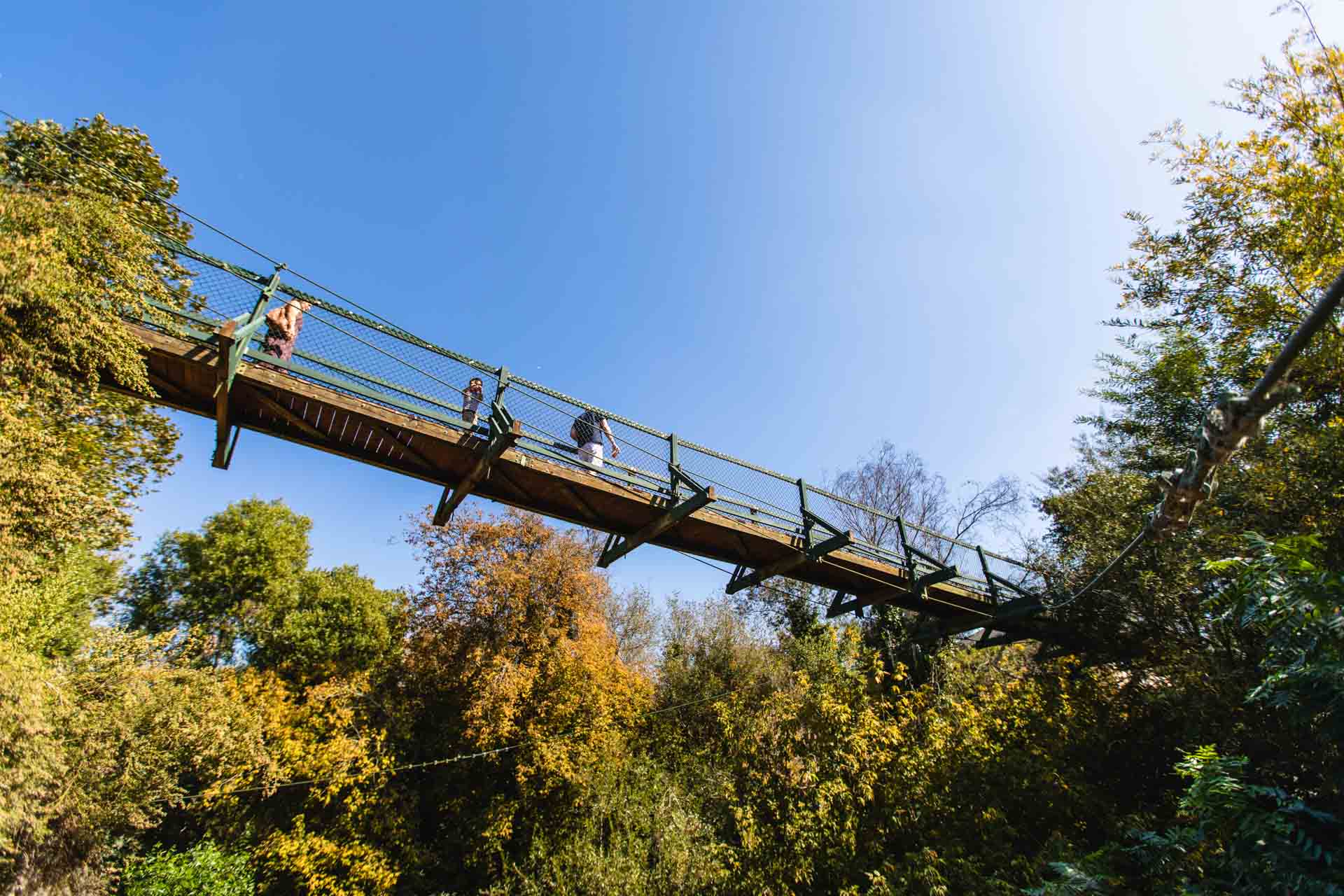 Heritage House Garden & Museum
Built in the late 19th century, the Heritage House has served as a residence, a sanitorium, and a daycare center. The Historical Society acquired the house in 1997 and did major restoration work to turn it into a visitor's center and museum. A gazebo and garden were added to provide a beautiful setting for weddings and other social events. The museum has an interesting collection of period clothing, photographs and kitchen items, and docents are available to answer questions.
Santa Manuela Schoolhouse
This historic site was originally built in 1901 and is now a hands-on museum for historical exploration and learning. Restored to its original state, the schoolhouse is supplied with period chairs, historical books, maps, blackboards and photographs. Used until 1957 in its original location, it was then moved to save it from flooding due to the construction of the Lopez Lake Reservoir. It was moved again in 1999 to Short Street in Arroyo Grande near the Swinging Bridge, and is open for visitors.
Admission is free for both points of interest.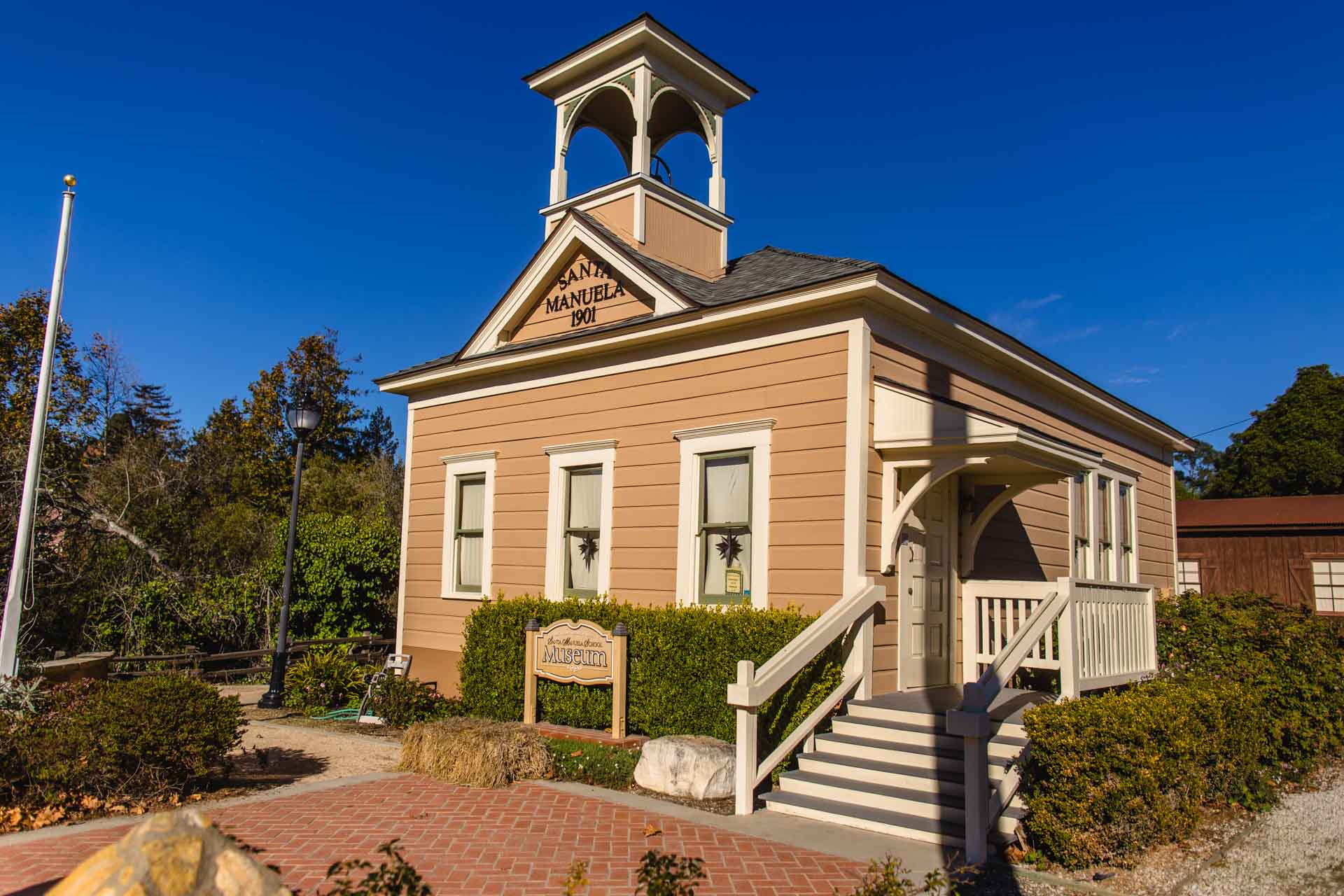 "Hoosegow" Jail House
The tiny one-room jailhouse overlooking downtown Arroyo Grande from Le Point Street is known as the Hoosegow. It was believed to have been constructed around 1910 for use by the County Constable. The jail is of concrete construction with walls measuring eight inches thick. Besides the door, there are only three other openings in the structure: very high windows about ten inches by twelve inches crisscrossed with metal bars. The single entrance is constructed of a heavy iron door which is secured by an oversized padlock. Fortunately, the jail has been preserved and is surrounded by a small park maintained by the City of Arroyo Grande known as "Hoosegow Park."
Barn Museum
The "Barn" is the South County Historical Society's Museum Annex which houses a variety of antique vehicles and agricultural artifacts from the South County area. It also houses vintage printing presses and other interesting exhibits. The Barn is located just a few steps from the Santa Manuela Schoolhouse and immediately behind the Heritage House. Admission is free.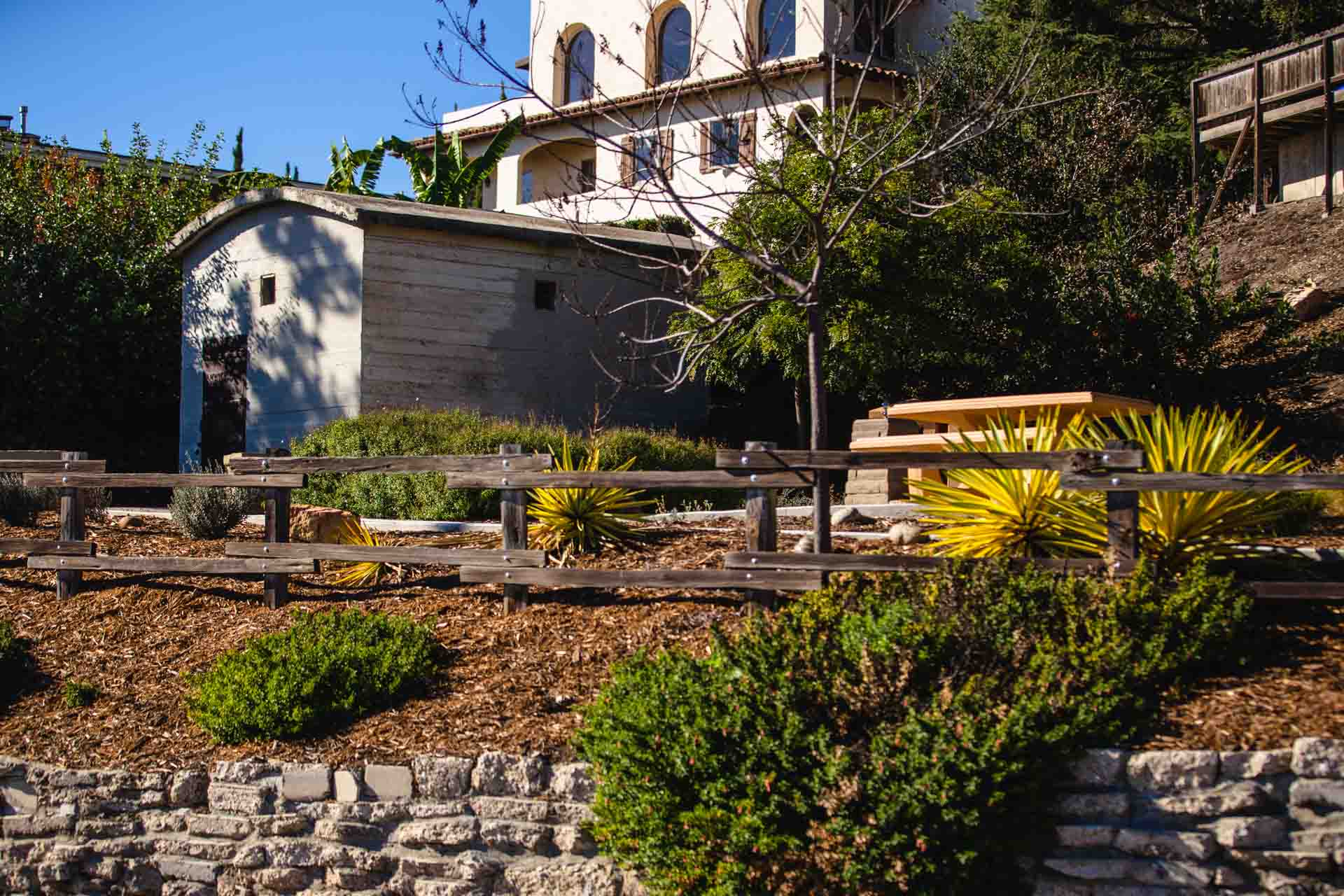 Paulding History House
Registered as a California Historic Resource, the Paulding History House was built in 1889 and inhabited by only two families since then. The Paulding History House was the home of Arroyo Grande's first resident medical doctor, Dr. Edward Paulding. Dr. Paulding traveled to Arroyo Grande, married Clara Edwards and together they bought the house at 551 Crown Hill Road in 1891. His missionary parents and his daughter, Ruth, filled the house with artifacts from around the world. Dr. Paulding, also a talented woodworker, spent hours working on carvings, seen throughout the house. Countless other artifacts fill the house, including the only authentic Chumash Indian basket in the county. A grand old oak tree believed to be 250 years old still presides over the front yard today.
Clark Center of Performing Arts
This two-theater performance space hosts national and international touring acts, as well as local performing arts organization productions.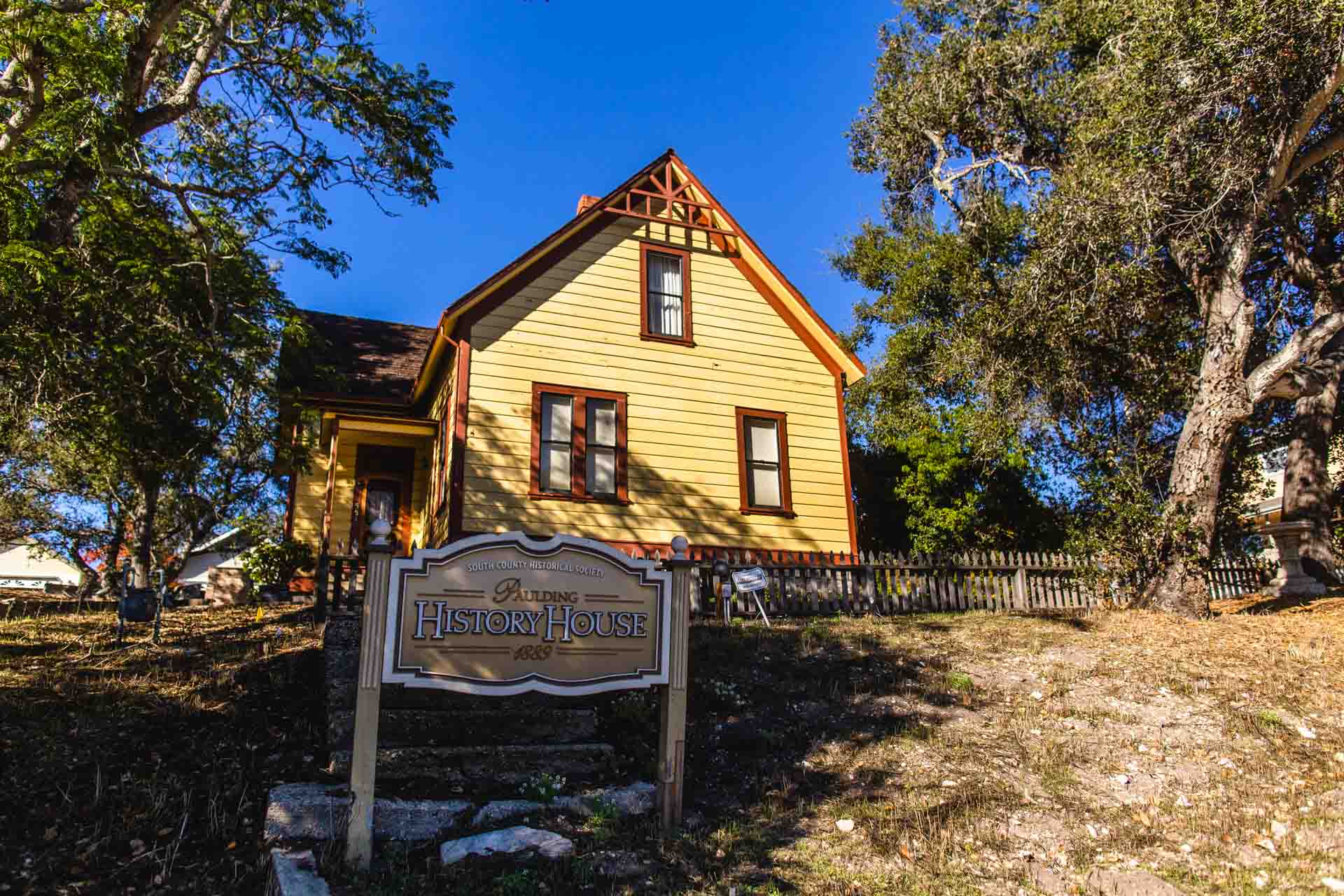 Wine Tasting
The Village of Arroyo Grande is home to two "urban" wine tasting rooms. The Verdad-Lindquist Family Wines tasting room samples several Spanish-variety wines (like Garnacha and Tempranillo) from sustainably-grown vines in Santa Barbara County. At the Timbre tasting room, wines are made by a former sommelier, with Pinot Noir and Chardonnay leading the lineup. Just outside of the Village of Arroyo Grande, the Arroyo Grande Valley and Edna Valley offer 30+ tasting rooms for exploration.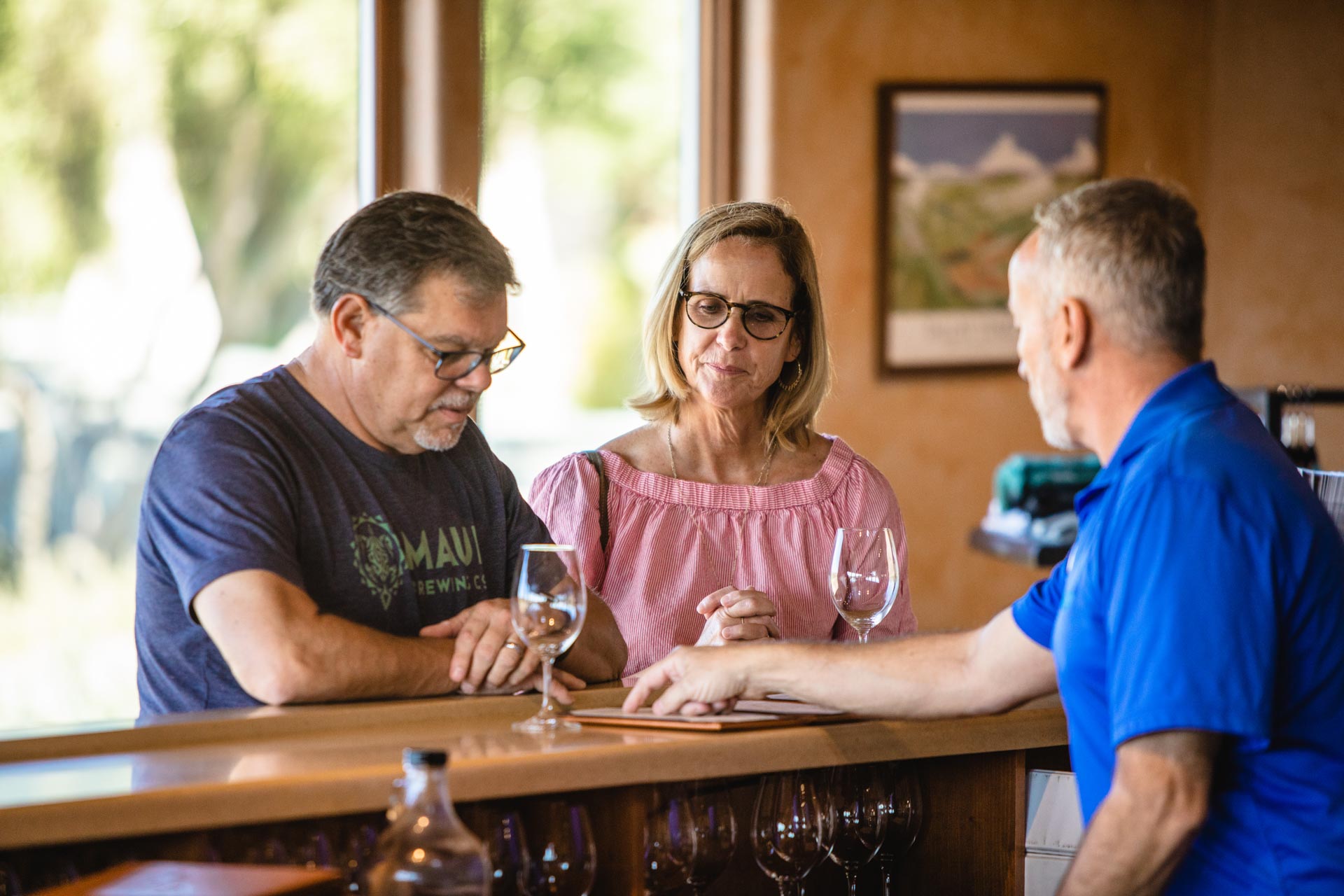 Eating in the Village of Arroyo Grande
Mason Kitchen & Bar
Farm-fresh cuisine and craft drinks are at the center of this popular Village hangout. Choose from a wide selection of beers on tap in the bar, as well as local wines and signature cocktails. The restaurant serves fresh, creative lunch and dinner options as well as weekend brunch.
Villa Cantina
South-of-the-border staples like burritos, nachos and tacos delight diners of all ages at Villa Cantina. Enjoy drink specials, flat-screen TVs and a friendly atmosphere.
Gina's Italian Restaurant
The quintessential little neighborhood Italian restaurant, Gina's has been a local favorite for decades. Here you'll find Italian specialties like lasagna bolognese and fettuccine alfredo, all in an intimate, boutique setting. Tip: don't miss the complimentary housemade bread and bruschetta sauce.
Old Village Grill
This Village staple serves traditional fare like hamburgers, hot dogs and sandwiches, freshly prepared, at reasonable prices.
Village Cafe
The Village Cafe is a luncheonette that serves diner classics for breakfast and brunch. Located in the historic Village of Arroyo Grande, the Village Cafe has seating near wide windows perfect for people-watching.
Jaffa Cafe
A local favorite for Mediterranean style cuisine, Jaffa Cafe makes everything with the freshest ingredients – all at an affordable price. International delights that top the menu include baba ganoush, tabbouleh, homemade pita bread, falafel, gyros and baklava.
Rooster Creek Tavern
Situated by the Arroyo Grande Creek and named for the roosters that strut here, Rooster Creek is a modern bar and dining room in Arroyo Grande. Menu items include traditional tavern food like wings and nachos to wood-fired entrees like bacon-wrapped filet mignon and seabass.
Arroyo Grande Village Events
Strawberry Festival
Named "The Place to be On Memorial Weekend" by Sunset Magazine, the Arroyo Grande Strawberry Festival is one of California's largest festivals. This family-style event brings together thousands of visitors and residents to enjoy strawberry-centric foods, activities and entertainment.
Harvest Festival
Held the last Friday and Saturday of September, the Annual Arroyo Grande Valley Harvest Festival is old-timey celebration at its best. The two-day event kicks off on Friday, starting with the annual Rotary Fish Fry, games, arts and crafts, entertainment, and free movie night. The Festival resumes on Saturday morning with the Hometown Parade, followed by even more entertainment, games, contests, foods, crafts and displays.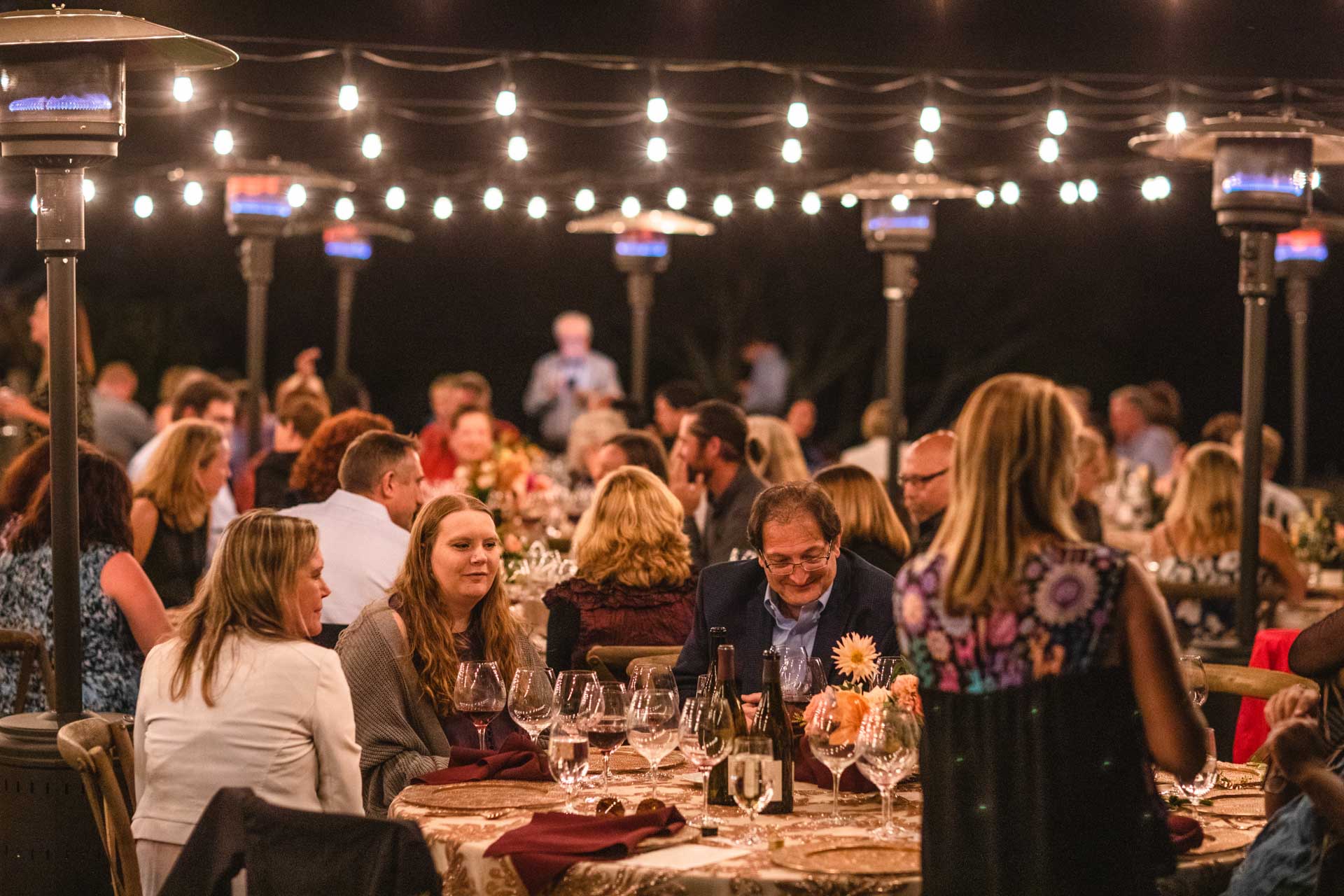 Summer Concerts
The Arroyo Grande Village Summer Concert Series is held at Rotary Bandstand in Heritage Square Park. The Arroyo Grande Summer Concert Series is known for presenting the most eclectic and diverse musical offerings of all the regional summer music series. During the shows, Historical Society volunteers serve famous all beef hot dogs, Doc Burnstein's ice cream novelties, popcorn, drinks, and other treats. Special raffles benefitting the featured nonprofit and various displays further enliven the concerts. Attendees are asked to bring lawn chairs, blankets, and their friends and neighbors to enjoy the afternoons under the sun.
Farmers Market
Weekly at Centennial Park, the Arroyo Grande Farmers' Market provides produce, live music, and community connection for residents and visitors alike. The market opens every Saturday from 12 P.M. to 2:30 P.M. in the Village's Centennial Park.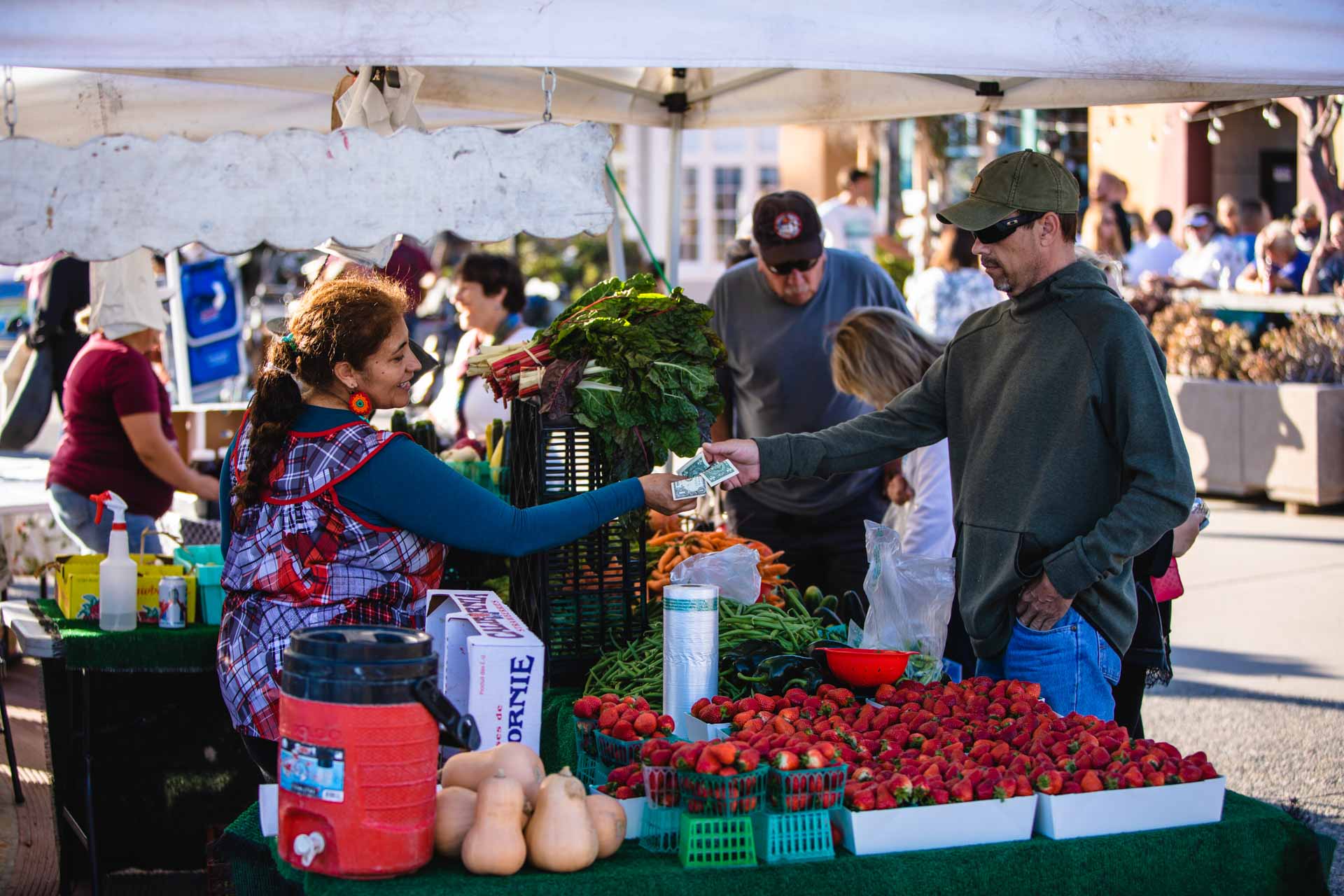 Beer Feast
In mid-October, enjoy craft beers paired with local bites from dozens of breweries and restaurants, as well as live music. This annual event hosts over 500 guests and is one of the most popular gatherings in San Luis Obispo County.
4th of July Concert
Enjoy a band concert in the gazebo of the historic Village of Arroyo Grande. Bring a picnic, sit on the lawn and enjoy the sights and sounds of summer on Independence Day. Hot dogs, lemonade and ice cream are served by the South County Historical Society.
Christmas Parade
The Village of Arroyo Grande ushers in the holiday season with a Christmas Parade each year. During the month of December, enjoy a fairyland of lights throughout the Village every night. And don't miss Santa in the Village until Christmas!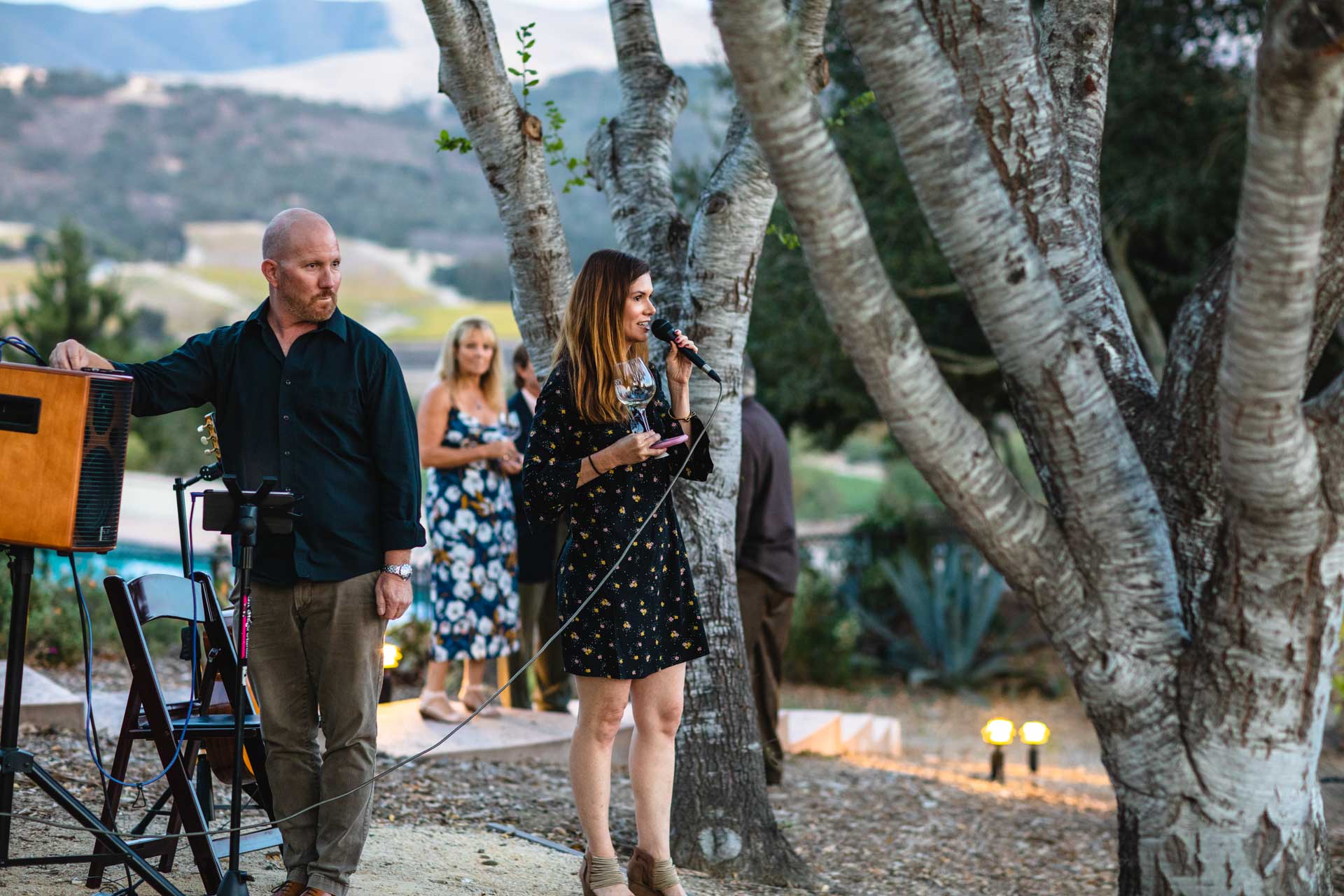 Sites to See Near the Village of Arroyo Grande
Old Edna Townsite
One of the oldest townsites in San Luis Obispo County, Edna was established in the 19th century in what would become Edna Valley wine country. Today, the townsite is beautifully preserved, with a wine tasting room, gourmet deli, and vacation rentals on the property.
Oceano Dunes and Pismo State Beach
Just 4 miles away, experience the adventure and natural beauty of sand, sun, and surf. Hike the Oceano Dunes for vast views of the Pacific Ocean, or drive your vehicle right out onto the sand for a thrill. Better yet, bring your horse and giddy-up for a sunset beach ride.
Lopez Lake
This locals' favorite spot provides plenty of fun in the sun, with fishing, swimming, Jet Skiing, boating, and more. Don't miss the Mustang Waterslides and Vista Lago Adventure Park inside the recreation area at Lopez Lake.
Historic Huasna Townsite
Thought very little of its townsite remains viewable today, the Huasna Valley supported a 22,000+ acre Mexican land grant, Rancho Huasna, in the mid-19th century. Today, it's known for its rural fruit orchards, vegetables, berries, flowers and herbs. Huasna is located 20 minutes from the town of Arroyo Grande; the roads surrounding its valley offer stunning views and can be enjoyed either by car or bicycle.
Butterfly Grove
Every winter, thousands of monarch butterflies pull into Pismo Beach and hang in the branches of eucalyptus trees near Pismo Beach State Beach. Look for an average of 25,000 monarch butterflies in the grove between late October and February each year ― one of the largest in North America.