Your weekend itinerary to coastal SLO CAL
Whether you roam north or south, now is the best time to enjoy whale watching, kayaking, hiking and fresh eats
Ready for the weekend? Fill your days off with fresh coastal discoveries along the Highway 1 Discovery Route this February. Borrow our handy weekend itinerary and experience wide open spaces, tranquil beaches, uncrowded trails, awe-inspiring whale watching and cozy coastal communities along iconic Highway 1. Never taken on this slice of SLO CAL before? Planning your trip is as easy as checking out our Coastal Discovery Trail North Coast and South Coast recommendations, rife with opportunities to hike, dine, dream and de-stress. Along the way, savor local wine, take in unique historical stops and enjoy nonstop wildlife encounters. Ready to roll? Thankfully, all you have to do is follow our lead.
Friday – Beach, butterflies & wine
On the agenda: Kayak to a storybook lighthouse, dine oceanside and clink your glass among coastal vines
10 a.m. – Breakfast at Fat Cat's and a kayaking adventure in Avila Beach
Pancakes, please: Start your day with a bountiful breakfast at Fat Cat's Cafe in Avila Beach, steps away from a unique kayaking experience that whisks you from the sunny shore to a historic lighthouse. As you paddle along the glassy water, wave to Sea Lions lounging along the launch point of Harford Pier.
Noon – Avila Beach beckons and lunch at Avila Golf Resort
Avila awaits: Explore Downtown Avila Beach, where wine tasting rooms meet the sand. Be sure to stop at the Whale Trail Sign on the Avila Beach Pier and keep an eye out for these magnificent creatures. Travel for Good and pick up your free clean up kit and complimentary tote bag at Avila Beach Golf Resort (a great place to enjoy a few appetizers before a day of beachy fun). As you stroll Avila's white sand beaches, take time to clean up as you go. Once you've worked up a good appetite, savor a luxurious lunch at Blue Moon Over Avila, where the seaside views—and seasonal dishes—always impress.
Watch here: To make the most of your whale watching experience, we recommend you explore our Whale Trail—the six designated whale watching viewpoints dotting the Highway 1 Discovery Route. How whale-obsessed are we? Well, SLO CAL has the most whale watching locations in one county along the entire California coast. Keep an eye peeled for the Whale Trail signage, which offers up useful information and intriguing facts.
1 p.m. Sip and swirl SLO Coast Wine in Edna Valley
Explore SLO Coast Wine: Discover Edna Valley's delicious cool climate varietals—including Chardonnay and Pinot Noir—along this beloved wine trail a stone's throw from the ocean. Must tries? Biddle Ranch Vineyard and Claiborne & Churchill wineries, local favorites with hospitality to spare. Family owned and known for top-notch grapes, you'll get a warm welcome with your fine wine.
2 p.m. – Catch coffee and butterflies in Oceano and Pismo Beach
Dreams take flight: Perk up your afternoon with an expertly-roasted cup of coffee from Quintessa Coffee Roasters in Oceano, not far from the Monarch Butterfly Grove in Pismo Beach. Watch as thousands of orange wings take to the sky (don't miss your chance—the butterflies tend to hang around until the close of February).
3 p.m. – Dive into dunes and deliciousness in Nipomo
Dunes or bust: Hike the Guadalupe-Nipomo Dunes or Oso Flaco Preserve, where otherworldly sand-dunes undulate onward to the sea. Follow up your day of adventure with a meal at Willow in Nipomo, where you can grab a fresh house-made pizza, deli sandwich or bowl of seasonal soup. Call ahead and pick up to go!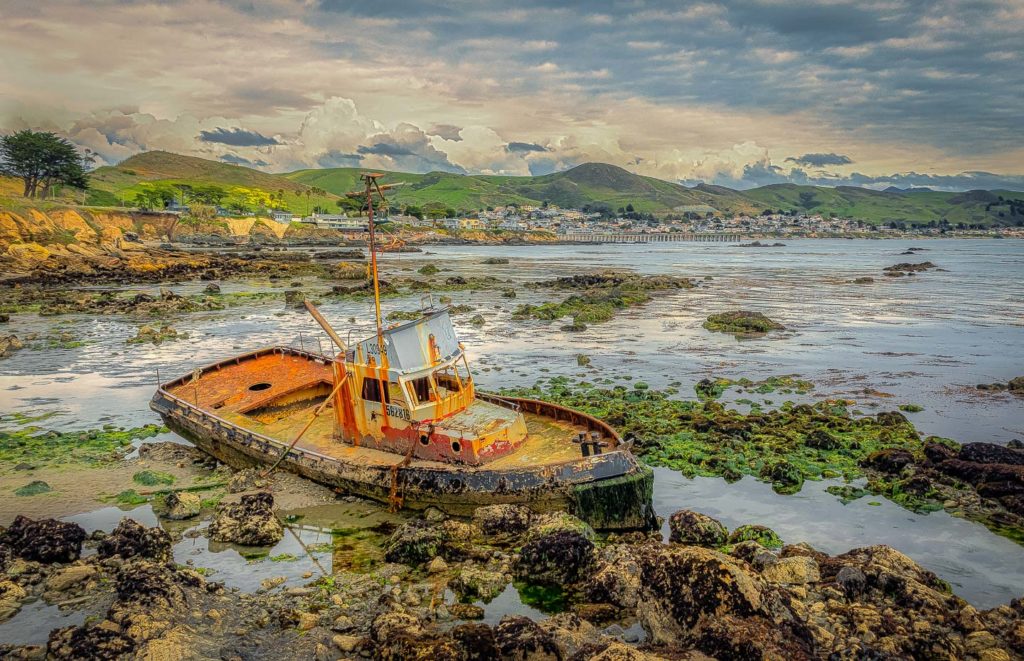 Saturday – Hiking, whales & wildlife
On the agenda: Discover a shipwreck site, eat like a local and forage for seaweed
8 a.m. Make memories at Montaña de Oro
Wake up and smell the hiking trails! Montaña de Oro State Park is a feast for the eyes (and an outdoor enthusiast's paradise). Whether you see yourself lacing up your boots and trekking up a coastal mountaintop, biking trails perfumed with sage, or simply horseback riding along the golden sand, this incredible natural playground is ready to wow. Located near the laid back communities of Los Osos and Baywood, this iconic park features rugged cliffs, secluded sandy beaches, coastal plains, streams, canyons, and the famous 1,347-foot Valencia Peak. Each spring, waves of vibrant wildflowers bloom along these bluffs, giving the park its romantic name: "Mountains of Gold." How's that for an impressive post-hike selfie?
Golden hour: A leisurely stroll among the tide-pools at Spooner's Cove is a must for visitors of Montaña de Oro. Bring a picnic and enjoy a little well deserved moment in the sun!
Do more: Big on biking? Visit the Central Coast Concerned Mountain Bikers (CCCMB) for free online trail maps and Travel for Good opportunities like volunteer trail work days. You can also make a donation towards trail maintenance, a lasting and tangible gift to this land we all adore.
10 a.m. – Chase your whale along the coast
Glimpse a giant: Whether you're an avid whale watcher or a newbie to the pastime, you'll want to be in SLO CAL during our Season of Coastal Discovery. Yes, February is a smart time for folks to set their sights for the horizon (binoculars not mandatory). Look closely at the right spots and you might just catch an unforgettable show: massive visitors are known to emerge from the depths with fabulous fanfare.
Do more: Montaña de Oro's best whale-viewing spot is located at the south end of the park on the Bluff Trail, just north of Corrallina Cove. Trek 1.65 miles down the Bluff Trail (if you park at the trailhead by Spooner's Cove) or 0.55 miles from the Coon Creek parking lot (farthest lot in the park – look for the Whale Trail signage). No luck whale spotting today? Chances are you've already enjoyed stellar sightings of local dolphins, sea otters, seals and seabirds!
Noon – Fill up at The Sea Shanty in Cayucos
Local flavor: The first thing you should do when you walk into Cayucos' beloved community watering hole? Look up! There, among the well-worn rafters, you'll spy hundreds of baseball caps hanging from the ceiling as a colorful homage to the coastal town's welcoming charm. Family owned and operated since 1983, the Sea Shanty is open seven days a week. Lunch night be a perfectly fried basket of fish and chips, a satisfying burger or a classic cup of clam chowder. What sounds good to you? Hot tip: Love a little spice? Look for bottles of Cayucos-crafted hot sauce at a range of local haunts (you'll want to pick up a few to bring back to friends and family).
Unexpected treasures: Kill some time (and love every moment). Follow up lunch with a stroll along the main drag in Cayucos, where laid back ocean views and antique shops are plentiful. The Cayucos Pier juts out along the water, a popular spot for casting a fishing or just watching the local surfers and seabirds play.
1pm – Walk it off at Estero Bluffs
Walkable wonder: Time to stroll off those fries. The easy-to-accomplish Estero Bluffs Trail in Cayucos features gentle paths leading down to a pocket of peaceful—and largely secret—beaches nested along salt-sprayed rocks. Peer into a patchwork of tide pools, where sea stars and urchins thrive among glossy kelp. You'll also want to keep an eye out along the water: whales are known to make an appearance as seabirds skim the surf.
Shipwrecked sight: No, we aren't kidding—Cayucos is home to a real life shipwreck, although we can assure you there are no gold doubloons or jewels to be found among the wreckage. From Estero Bluffs, embark on an easy 500-foot walk to the shipwreck viewing site (take the rustic southern Estero Bluffs State Park entrance to the parking at the corner of North Ocean Avenue and Highway 1). What's the story behind this unexpected landmark? Well, a commercial fishing boat, The Point Estero, crashed into the rocks on its way back to Morro Bay Harbor after a fishing trip on July 28, 2017. No one was harmed but—due to difficulties removing the vessel—the wreck remains!
Do More: Love this place as much as the locals? The Cayucos Land Conservancy and enthusiastic residents can be thanked for preserving this little slice of coastal heaven, which remains free and easily accessible to the public. Travel for Good by learning more about the history and mission of the Cayucos Land Conservancy or make a donation to the conservancy effort to help further protect this beautiful coastline.
3 p.m. – Hunt for Seaweed with Marley Farms Seaweeds
Forage for snacks: Even the most adventurous foodies have yet to hunt for wild seaweed in Cayucos! Try your hand at this brand-new SLO CAL offering, sure to indulge your hunger for fresh, nutritious flavor. Book a tour with Marley Family Seaweeds, and you'll enjoy 90 minutes hunting for a range of superfood greens while surrounded by ocean views and marine life. Plus, you'll be rewarded handsomely for your efforts: a bowl of seaweed-topped ramen awaits to congratulate you on a job well done!
5 p.m. – Dine the local way at Robin's Restaurant
Sit down and savor: Celebrate all the wonders you discovered today—and the amount of good you were able to do—with a scrumptious meal at Robin's Restaurant in Cambria, to the north. Offering up a magical mix of world fusion cuisine imbued with casual, farm-to-table flare, this popular SLO CAL eatery is all about comfort food with a fun spin on farmer's market fresh produce. Housed in a restored adobe home in the historic East Village of Cambria, Robin's is beloved by locals and travelers alike for its warm hospitality, cozy atmosphere and charming gardens. The best part? No reservations required.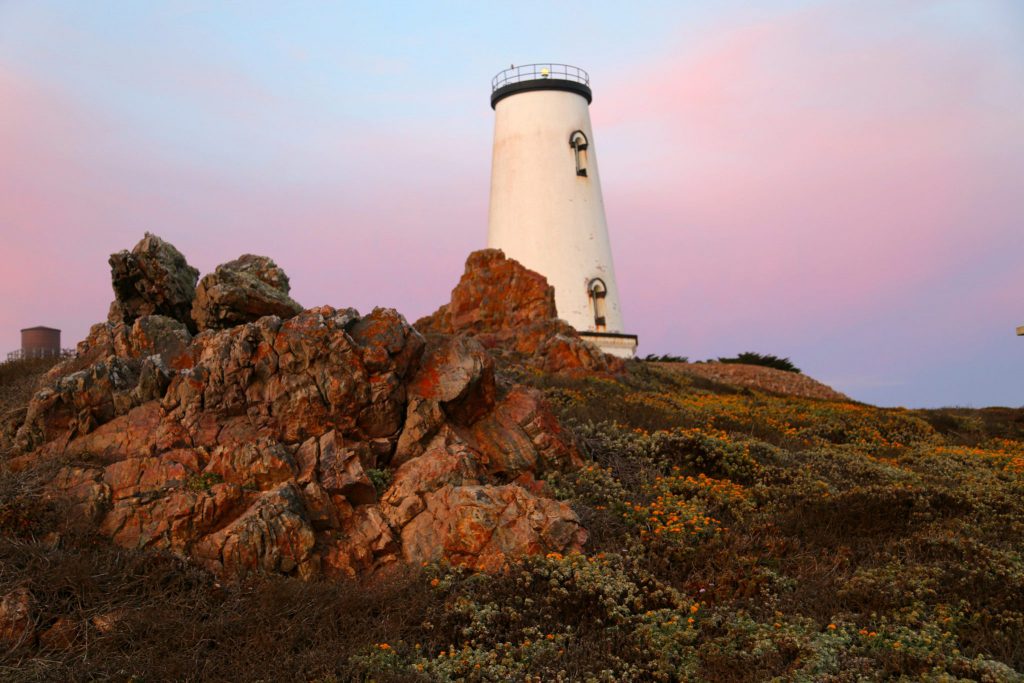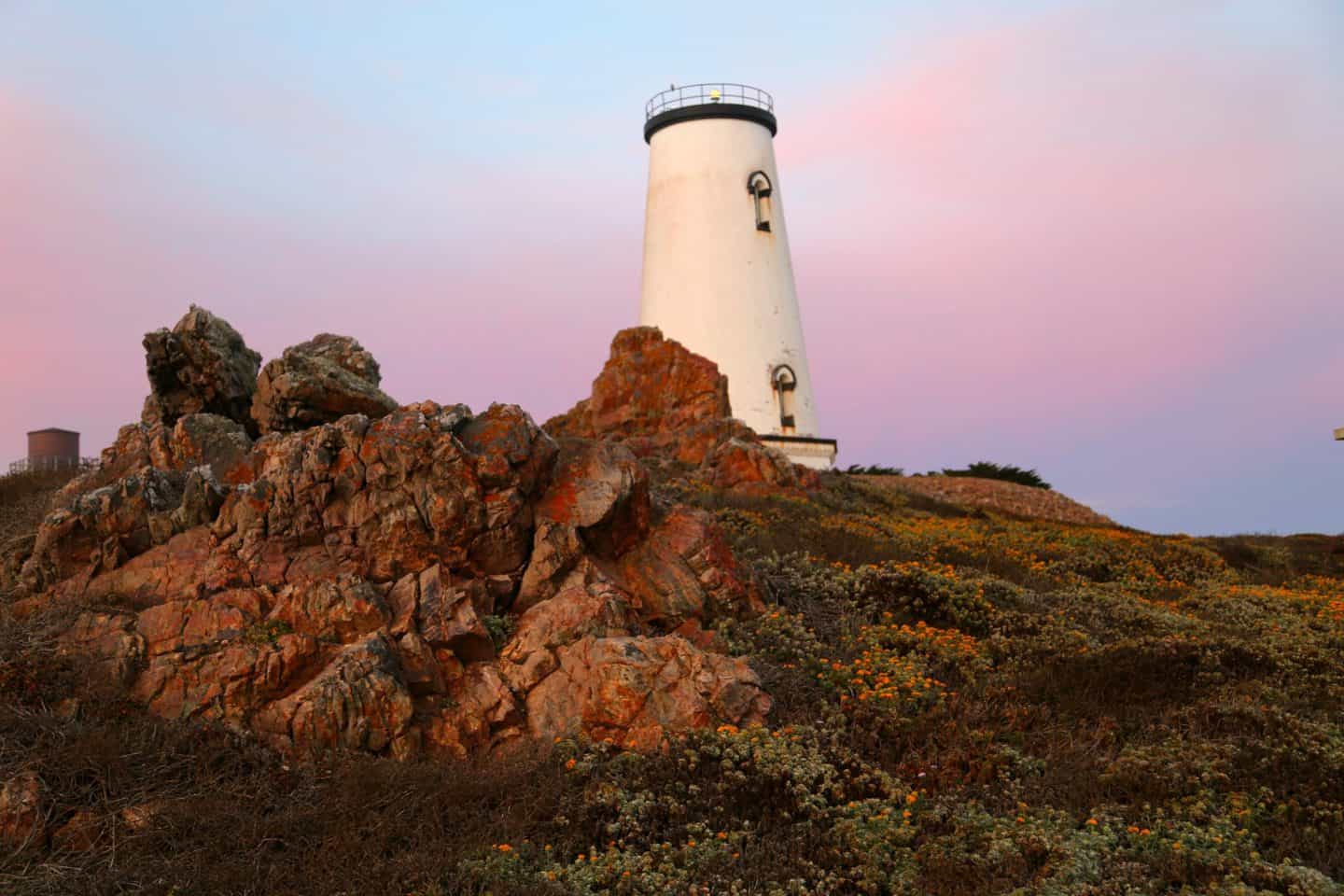 Sunday – Historic sites, iconic views & peaceful preserves
On the agenda: Hunt for moonstones, eat a slice of olallieberry pie, meet the Elephant Seals
9 a.m. – Stroll through history with a self-guided walking tour in Cambria
See this seaside hamlet: A self-guided walking tour courtesy of the Cambria Historical Museum allows for everyone in your "tour group" to enjoy the morning at their own pace. Start at the museum, housed within the 1870 Guthrie-Bianchini House, one of Cambria's oldest and most cherished homes. As you stroll past art galleries and tasting rooms, you'll visit 28 historic sites throughout Cambria (with the help of a free map). Be sure to keep your camera handy: You'll want to snap pics of the tiny chapel perched atop of a hill, the prohibition-era hotel and card hall and one of the oldest remaining Chinese temples in all of Southern California.
Do more: Loved the walking tour through Cambria's quaint streets? Travel for Good by visiting the Cambria Historical Museum's website to make a donation after your morning of exploration. You'll help preserve and protect historic Cambria, one brick, photograph and artifact at a time.
10 a.m. – Take in the majesty of Moonstone Beach and Fiscalini Ranch Preserve
Breezy beauty: With seabirds calling overhead and the smell of salt and spray in the air, Moonstone Beach beckons you to take a tranquil break along the water. Perhaps you'll see otters at play or—as is especially common January-April—moonstones glittering along the sand. You're likely to spot even more wildlife while trekking along Cambria's Fiscalini Ranch Preserve, which stretches for one mile along the Pacific shoreline. With multiple hiking and biking trails —many ADA-accessible—this small-yet-mighty preserve is a biologically diverse natural wonderland. You'll see an amazing variety of habitat packed into one beautiful setting: riparian, tide pools, seasonal freshwater marshes and wetlands, plus a native Monterey pine forest—one of five remaining in the world!
Do more: See trash? Take it out. Grab your free clean up kit and tote bag (check here for pick up locations) and Travel for Good while walking the Moonstone Beach Boardwalk or hiking the Fiscalini Ranch Preserve. Picking up litter along your adventure is an amazing way to ensure these precious spaces remain pristine for the next visitor.
11 a.m. – Treat yourself to something sweet at Linn's Restaurant
There's always room for pie: Linn's Restaurant isn't just a tradition in Cambria, it's a cherished piece of SLO CAL history. Belly up to a booth for comfort food classics and (here's the most important part) don't you dare skip dessert! Trust us, this pie is a celebrity in its own right. Established in 1977 by ex-city slickers John and Renee Linn, the fruit stand-turned-restaurant helped put Cambria's olallieberry pie on the map. Or was it the other way around? A cross between a raspberry and blackberry, the fruit has even garnered love from Food Network's Mark Summers, who featured the now-famous olallieberry pie on his "The Best Thing I Ever Ate" TV show. You just have to try it for yourself!
Taste on: Don't stop there. Delight your senses further with a wine tasting at Hearst Ranch Winery in Old San Simeon, the only tasting room in SLO CAL with an ocean view! Overlooking the breathtaking San Simeon Bay, this casual yet elegant hangout offers a sun dappled outdoor lounge area perfect for sampling sustainably grown wines crafted from award-winning Paso Robles-grown grapes. Cheers to a Sunday well swirled!
1 p.m. – Visit the Elephant Seals at Piedras Blancas Rookery
Seal the deal: It's not a question of "if" you'll see an Elephant Seal along Highway 1—it's a question of how many. January through February sees a surge in San Simeon's famous Elephant Seal population, so we can guess the answer will be "quite a few!" More than 1,600 pups were born recently along this gorgeous stretch of coastline, making San Simeon the most accessible viewing point for the creatures in all of California. Really, it's as easy as getting out of your car: At Piedras Blancas Rookery, you can view these majestic animals birth, nap, and—on occasion—duel—all from a socially distant outdoor outlook.
SLO CAL, illuminated: Our Historic Lighthouses and Piers make fantastic spots for a quiet picnic, whale watching and bird watching. The nearby Piedras Blancas Lighthouse is no exception. Take a moment to stretch your legs and grab a photo!
2 p.m. – Cruise Ragged Point for incredible views
Take the wheel: Ready for a pleasure cruise to rival all others? The stretch of highway between San Simeon and Ragged Point is known for its million dollar views (OK, make that trillion dollar views). Named as a Scenic Byway by the U.S. Department of Transportation, here the majestic Santa Lucia Mountains meet the Pacific Ocean, meaning you'll find jaw-dropping views around every twist and turn. Be sure to stop along the scenic lookouts that dot the roadway. This is your big moment: Time to take in the grandeur all around you as you enter the ethereal gateway to Big Sur!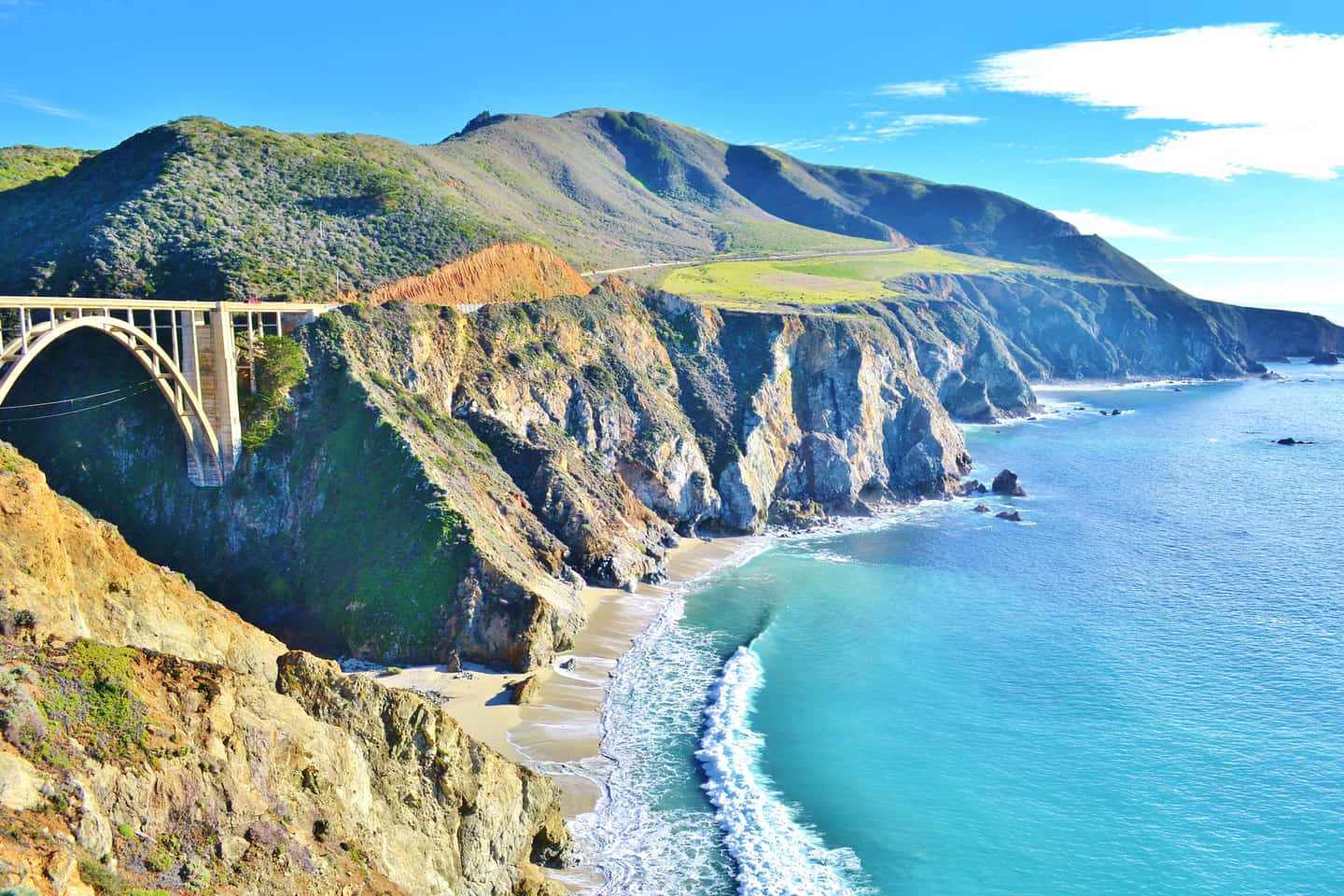 Thanks for Traveling for Good
It was a pleasure to share our favorite places with you. We wish you safe travels home and we hope to see you again along the Highway 1 Discovery Route! Thank you for Traveling for Good and doing your part to keep this slice of SLO CAL coast pristine and picturesque.
Already planning your next trip?
We have an incredible itinerary for you! For your next visit, check-out the History & Heritage Trail, a collection of landmarks and significant points along Highway 1 designed to bring visitors closer to the roots of coastal SLO CAL. Step back in time and step up to help preserve the places, cultures, and stories of this rich, varied region.