Wine country weddings are always scenic, memorable, and—most importantly—incredibly romantic. Thanks to year-round sunny weather and an array of unique venue options nestled among the vines, you'll find your dream wedding venue on San Luis Obispo County's coveted coastline. From rugged ranches dotted with majestic oak trees and rustic barns strung with twinkle lights to the grandeur of lush vineyards, dramatic barrel rooms and sun-dappled terraces, you'll find the perfect wine country wedding ambiance that speaks to you and yours. Plus, all that stunning wine country scenery makes for fantastic photoshoots you'll cherish forever (a huge plus for any spouse-to-be)! Whether you want to invite your wedding party for a romp along the wine trail or aim to spend your honeymoon in a cottage lounging by the beach, you'll find a thousand reasons to say "I do" to a wedding in wine country.
Discover Weddings in Wine Country
One of the most popular wine country venues in Edna Valley Wine Country, The White Barn combines rustic charm with dreamy elegance in a green, wine country setting. Backdropped by a historic on-site barn, your wedding colors will pop against the contrast of centuries old whitewashed barn wood, a truly iconic place for a wedding party photoshoot or the ceremony itself (seats 500 guests). Inside, the spacious 5,500-plus-square-foot space seats approximately 300 guests for dinner and dancing, featuring a rural-yet-modern ambiance complete with antique chandeliers hanging from the rafters and whimsical twinkle lights strung throughout. Surrounded by the venue's well groomed Santa Lucia Lawn, you can also take advantage of this grassy area perfect for exchanging vows, partaking in lawn games or savoring cocktails among loved ones, all while enjoying views of the beautiful Santa Lucia Hills (accommodates 500 seated guests). Additionally, the spacious courtyard area—located between the Santa Lucia Lawn and White Barn—can be used as an outdoor lounge for refreshments or al fresco dinner area glowig under string lights (accommodates up to 300 guests). Finally, the Peppertree Lawn area allows your vows to unfold beneath twisting pepper tree branches and rolling hills, a truly organic backdrop (accommodates up to 500 people).
Nestled in the heart of Edna Valley, Spreafico Farms offers up a historical ranch style barn experience that can easily accommodate up to 180 guests during your big day. Dine and dance the night away below the barn's twinkling string lights without ever worrying about kicking up dust, thanks to a smooth concrete floor. Yes, it's hard to believe that this venue is actually one of the oldest existing milking barns left in the county (today the property remains a family-owned cattle and vegetable ranch, adding to the locale's authentic country charm). Rustic yet modern where it matters, you'll be privy to two large, wooden bars located both inside and outside the barn perfect for serving up drinks and keeping the party rolling (a catering area equipped with outdoor prep sink and grill are also handy for this purpose). At Spreafico Farms, you'll also experience stellar views, including a hilltop perch featuring 360-degree panoramic views of wine country vineyards and gently sloping hills, a heavenly place to proclaim your vows or snap a few keepsake photos. With a built-in rustic ceremony backdrop and stage ready to be adorned with your own creative vision, built-in ceremony pews, and a back-barn patio area that can accommodate another 130 seated guests, you'll be left to enjoy the festivities. There's even two charming cottages on site (one perfect for two lovebirds looking to get cozy), making for a truly convenient transition from reception to honeymoon.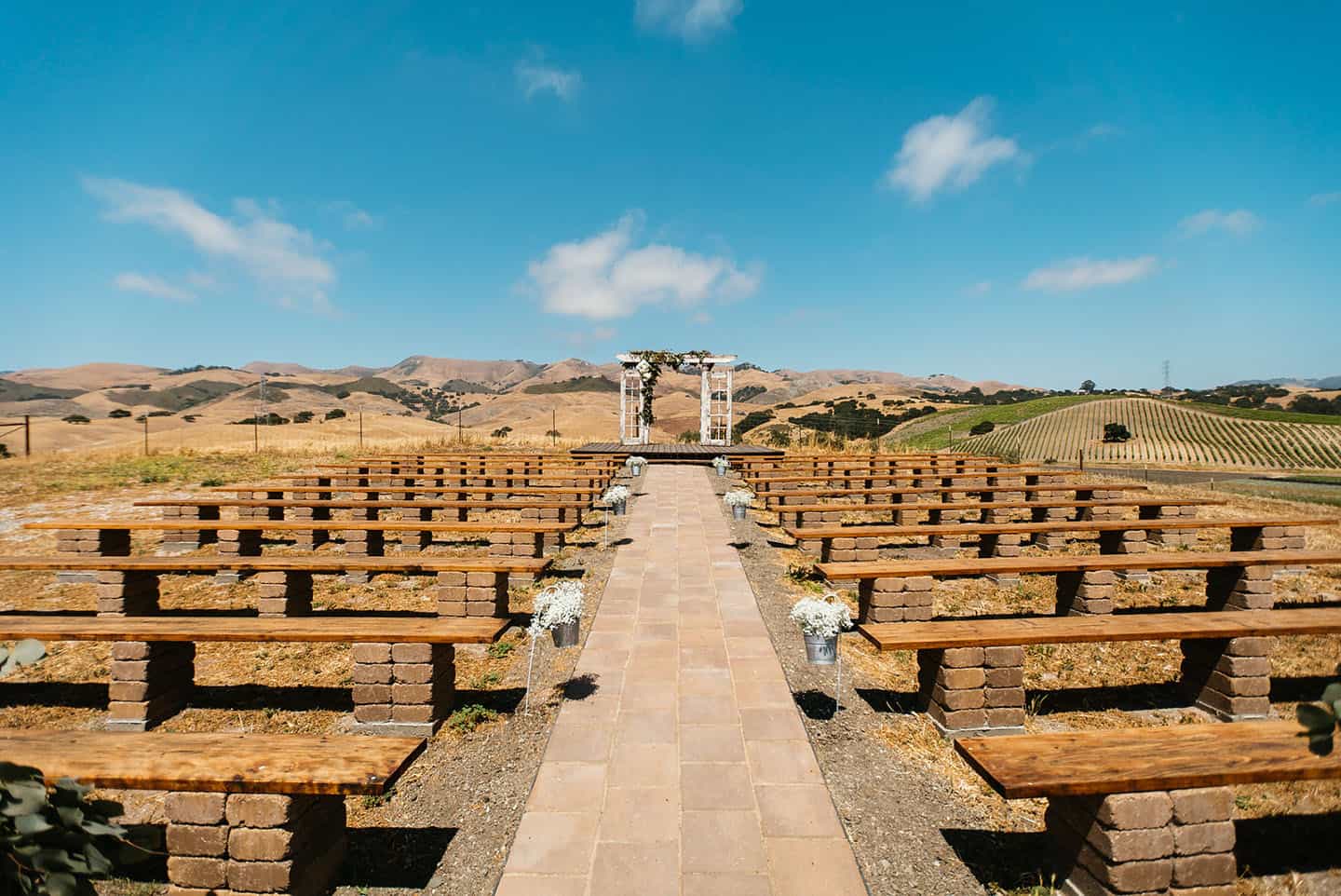 With striking Spanish architecture and manicured grounds studded with fragrant white roses, Edna Valley's La Lomita Ranch offers up a colorful place to tie the knot among friends and family. From the sun dappled plaza framed by exotic palm fronds to the lush courtyard canopied by oak branches to the stunning plaza featuring rolling hills and a bubbling fountain, there's plenty of awe-inspiring backdrops perfect for a special ceremony. Enjoy dinner and your first dance in the banquet hall and ballroom, which hosts a party of up to 400 guests. With a gorgeous Spanish-styled bed and breakfast on-site and sumptuous lounge bolstered by leather chairs and European continental breakfast, your wedding party will get star treatment while you primp, pose and celebrate.
If you're seeking a wine country wedding with a fairytale feel, Villa Loriana is ready to whisk you away from the day-to-day. At this whimsical Edna Valley venue, a classic, Old World vibe meets the glory of pristine, manicured scenery to create your storybook dream in Edna Valley. Savor a shared candle-lit meal in a rustic dining hall accommodating 350 seated and 400 standing loved ones before hitting the landscaped grounds for dancing, lawn games or a lively round of bocce ball. Host up to 400 of your loved ones in this Alice in Wonderland-esque outdoor ceremony setting, where the forest, valley and garden views come together to create a verdant tapestry of dusty gold and emerald greens. Plus, the Baldini Suite has been thoughtfully designed with full-length mirrors, hair and make-up chairs, a refrigerator and coffee nook, two bedrooms, and a luxurious bathroom. Enjoy breakfast in the dining area and full kitchen before embarking on your wedding adventure.
Greengate Ranch & Vineyard
Find a beautiful balance between celebration and serenity at Greengate Ranch & Vineyard, tucked away within the calming hillsides of Edna Valley wine country. With a vintage barn that accommodates up to 200 and a bucolic courtyard that can accommodate up to 600 seated guests under romantic bistro string lights, you'll find a sense of peace and tranquility amidst the rush of saying "I do" to the love of your life. Not far from the barn and crowned by an ancient walnut tree, the Grand Lawn offers up a naturally memorable setting to say your vows and enjoy that first married kiss, while the secluded Willow Pond features a more private ceremony oasis (that can still host a surprisingly robust guest list). What about the party? The Ranch house and terrace lawn were built for socializing: invite your favorite 100 people for a cocktail hour, feasting or a rousing game of horseshoes and bocce ball. Plus, the pool area offers up a fabulous place for entertaining out-of-town wedding attendees with a fun and relaxing dip.
With a 4,000-square-foot rustic barn space ready to transform into the backdrop of your dreams, The Flying Caballos Ranch combines Edna Valley's naturally gorgeous greenery and the creative flexibility to host a day you'll never stop dreaming about. Originally owned by the Madonna family back in the 1900s, rich heritage can be found everywhere you look (today, the turn-of-the-century farmhouse has been lovingly restored into a breathtaking vacation rental that sleeps up to 24 guests). Your betrothed as well as your wedding party can take their pick between the on-site lodgings: there's the farmhouse, the cozy cottage and the guest house, all of which feature luxurious amenities in a quaint country setting.
Lakeside and wine country vibes make Holland Ranch a unique Edna Valley wedding venue rife for photo opportunities. With sweeping views of the countryside split between the rolling hills of Edna Valley and the wild, tree-lined ridges of Arroyo Grande, you'll imbue natural elegance and a laid back, rural charm into your big day. Snap wedding photos amongst this stunning scenery or take a rowboat out to the pond before tying the knot on a sprawling green lawn backdropped by a dramatic rocky outcropping and clear blue sky. Dine under a fiery sunset near the barn, where old fashioned neon signs and string lights add to the already lively Americana ambiance.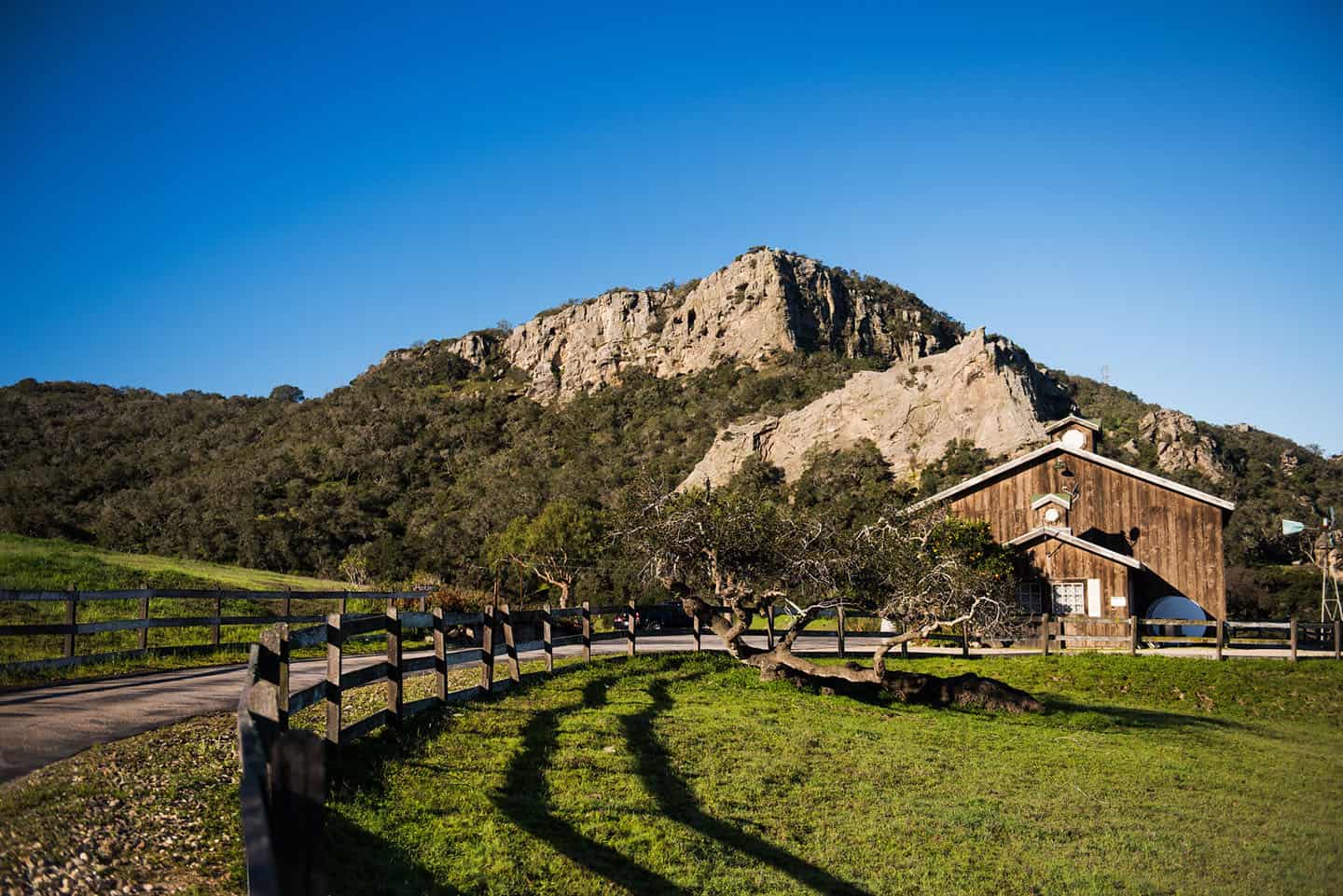 With lush vineyard views, a fragrant garden bejeweled with a water feature, and a boho-chic outdoor fireplace for getting cozy with your love, Biddle Ranch Vineyards is one of Edna Valley's most romantic wedding venues. Tucked into 17-acres of Chardonnay vines, this fantasy locale offers up a refreshing combination of upscale sophistication and down-to-earth ease, with the on-site Ranch Barn accommodating up to 130 guests for dining and dancing. You can also dine outside, where the landscape offers a mix of the area's most coveted features: vines, fields, garden, and mountain views delight the senses at every turn. Need a place to house the wedding party? With a blend of rustic, mid-century modern, and contemporary design and decor, the Vineyard House is spacious (just over 3,100 square feet) and can comfortably accommodate up to twelve guests in style.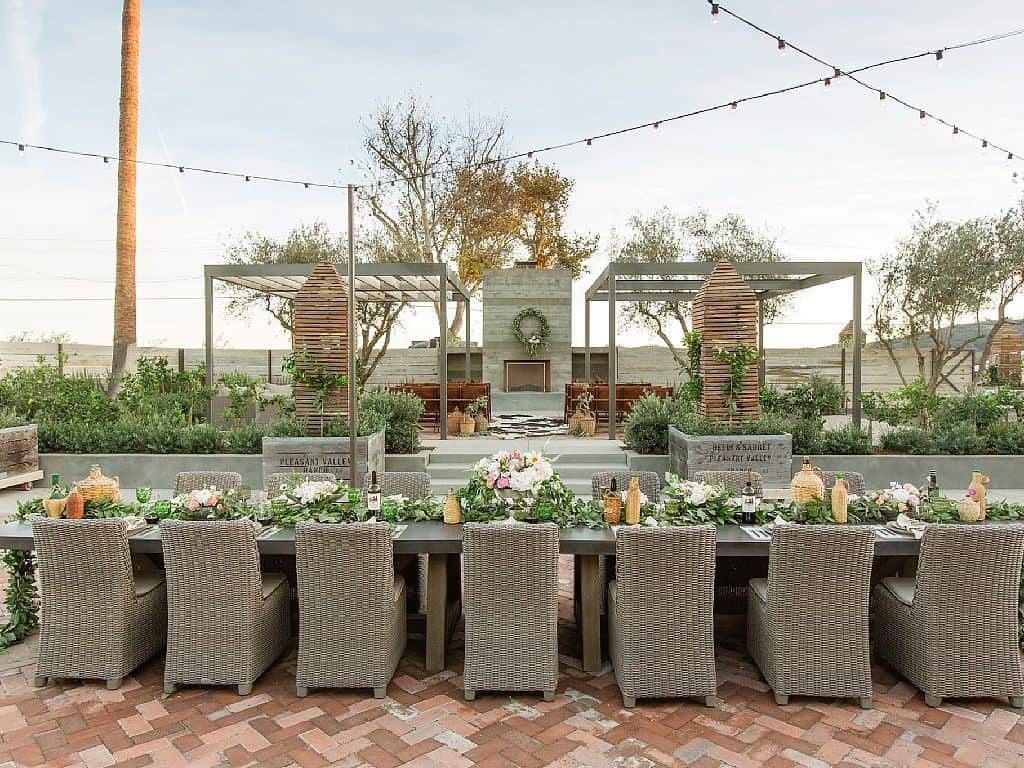 Boasting 50 acres of majestic oak and Mazanita woodlands and flanked by ten acres of scenic Italian varietal olive groves, Tiber Canyon Ranch proves that there's more to Edna Valley than simply fine wine. With views of endless vineyards melting into the horizon and enchanting oak branches that can be adorned with twinkle lights, gauzy fabric, or even an antique chandelier, you'll enjoy an earthy elegance that can only be captured at this unique locale (accommodates up to 150 guests). Sloping trees help create the perfect blend of sun and shade for your guests and add a natural backdrop for keepsake photos. The patio and garden areas provide a lovely setting for the ceremony and reception, allowing your guests to enjoy the woodsy ambiance (an eclectic mix of string lighting and Japanese lanterns add a whimsical touch). Adjacent to the patio, you'll find a timber-framed barn ready to welcome you and your guests for an evening of joyful celebration.
If you dream of saying your vows at an authentic ranch populated by cows and avocado trees, Loma Grande Ranch in Edna Valley is exactly the place where you can let down your hair and kick your boots up. A family owned and operated cattle ranch since 1935, this western wonderland accommodates up to 350 guests for the perfect ranch-style wedding, cowboys included. Complete with two rustic barns, bistro lighting, romantic white barn drapes, an outdoor dance area, custom wedding arbor, and sprawling green lawn, every aspect of your big day is covered by capable ranch hands. Located in its own valley with a 360 degree view of the rolling hills, Loma Grande Ranch is a real life west coast tradition.
Whether you're looking for the perfect wedding day in wine country or a full weekend of wedding-centric events, the hilltop-situated Casitas Estate in Arroyo Grande can juggle all your needs with a customizable menu tailored specifically to you and your best friend. With a dozen awe-inspiring acres of countryside as your backdrop and a pristine outdoor ceremony area showcasing mountainous wine country views, you can tie the knot among vines, wildflowers, fruit trees—even a vibrantly tiled pool. Overlooking the Arroyo Grande Valley, Santa Lucia Mountain Range and vineyards, this show-stopping venue accommodates up to 180 guests and features eye-catching Spanish accents throughout, perfect for setting your wedding photos apart. With several haciendas on site stocked with plush amenities—and a special wedding and suite featuring a private patio overlooking picturesque vistas and gardens—you'll probably want to extend your stay as long as possible (or simply start your honeymoon here).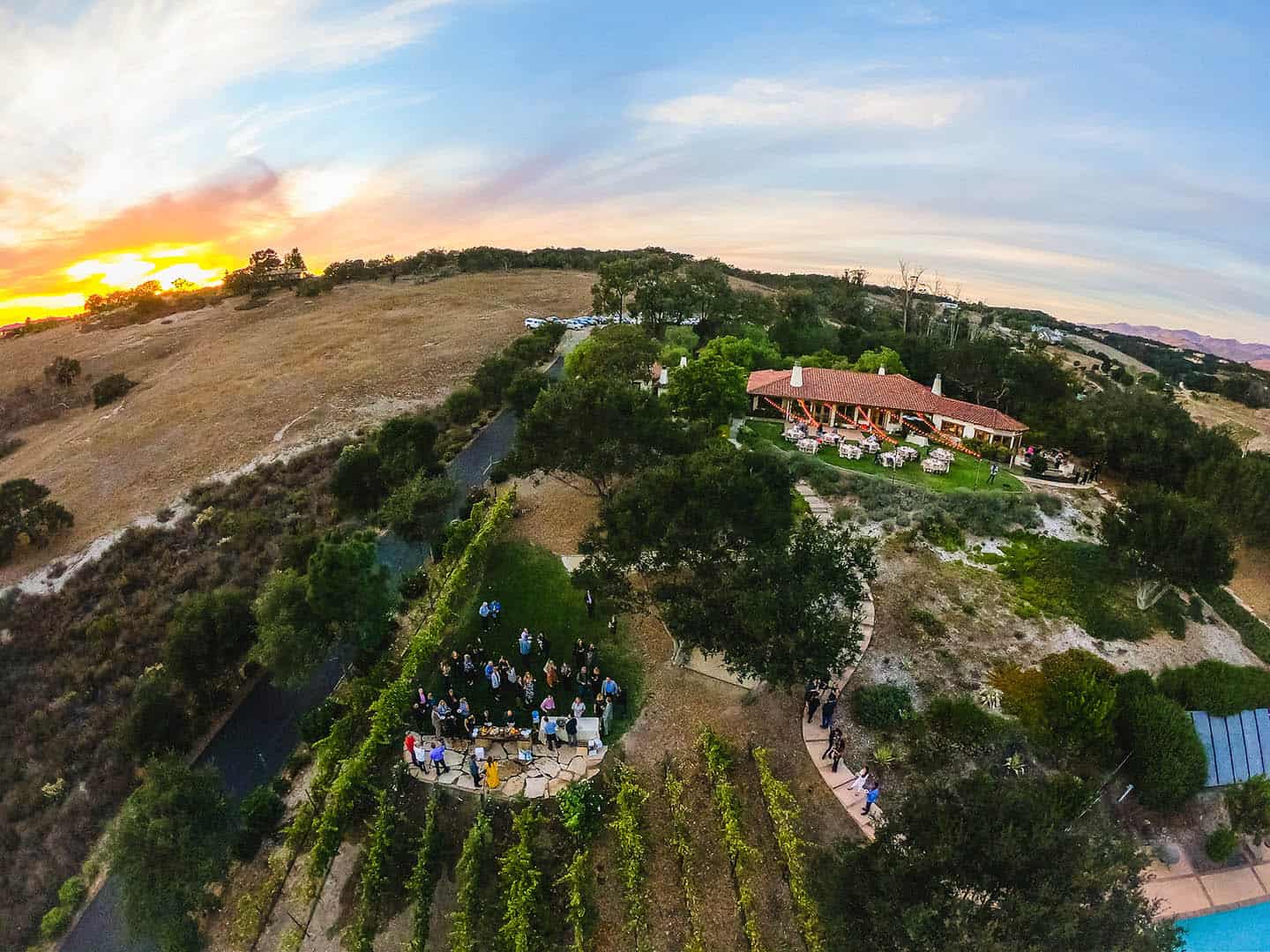 A breezy, beautiful country-chic wedding is in order at The Gardens at Peacock Farms in Arroyo Grande, where love blooms year round. Manicured gardens reveal a rainbow of fragrant flowers, giving way to rows of stunning estate vineyards. Say "I do" beneath a leafy, rose-studded arch before celebrating among the fabulous foliage thriving throughout the location. Steal a kiss beneath the antique windmill, in front of a classic white pickup truck or inside a classic Shasta trailer, all great memory-making photo opportunities. With accommodations for up to 200 guests and custom floral design available, you'll host a truly romantic wedding akin to the most lavish garden tea party you've ever dreamed up.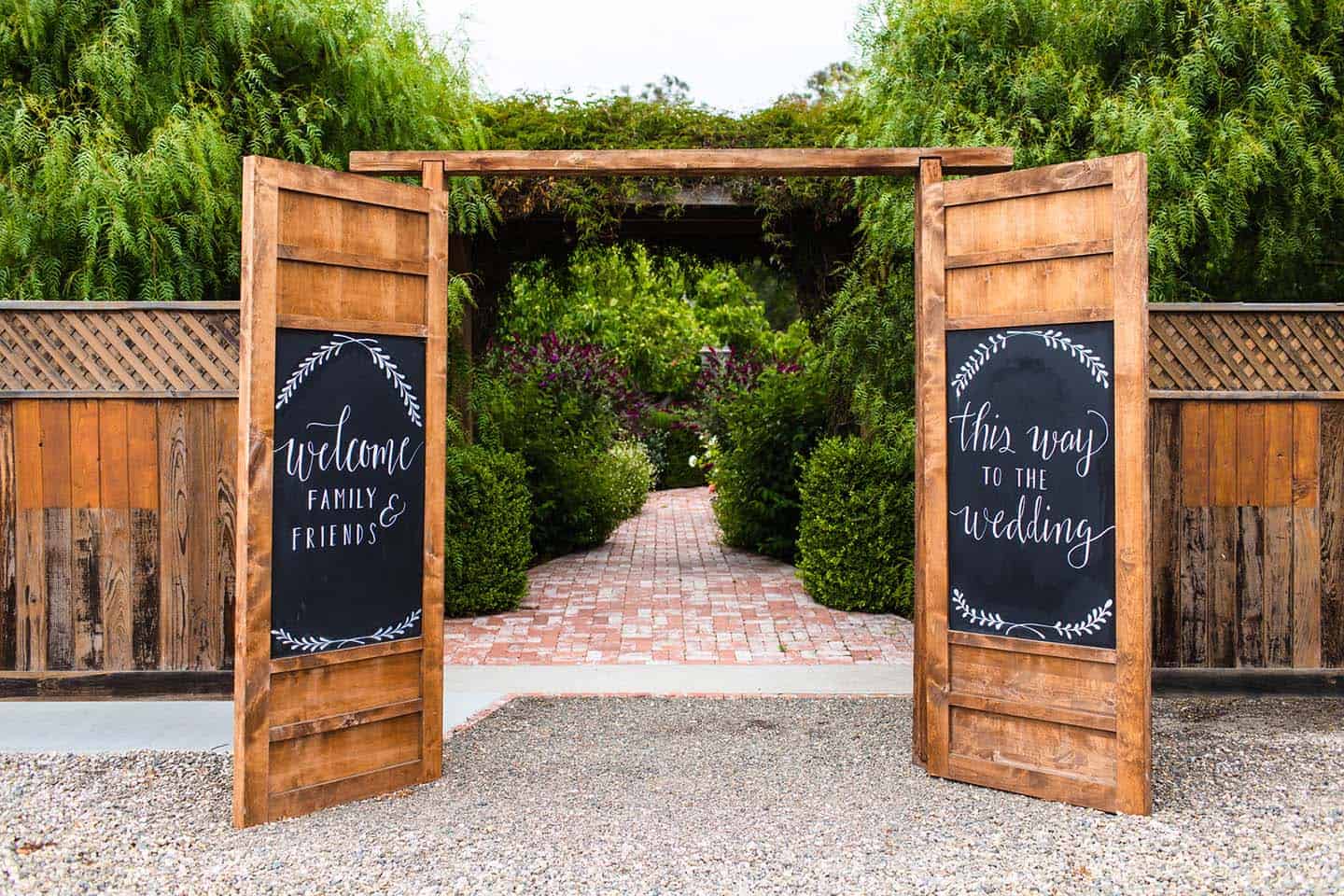 The refined elegance of the Victorian era rushes back to life at the Victorian Estate in Arroyo Grande, a perfectly period-styled venue sure to elevate your big day to new heights. Allow the expansive, pristine grounds and turn-of-the-century mansion to provide the backdrop for your vows, complete with a charming covered colonnade and antique gazebo. Garden weddings with receptions include use of the grounds, indoor banquet room, restrooms and a 130-year-old bar. Accommodating up to 300 guests, choose a wedding as intimate or vast as you wish. Plus, flexible wedding packages allow the soon-to-be bride and groom a personalized mix of catering, floral and ceremony style options.
Choose a wedding venue as sweet as your love at See Canyon Fruit Ranch, a popular Avila Valley venue featuring a rare orchard/ranch-style setting. Say your vows under a dreamy wooden gazebo nestled within a forested entrance or get creative and hang your own archway from overhead oak branches. Capture the moment with a photoshoot strolling along the fruit trees or pose with onsite rustic structures and barns featuring distressed Americana-styled flair. With an outdoor dance floor and earthen area for dining among the trees, your day will be as picturesque as your love is juicy. Plus, located just five miles from Avila Beach and the glittering Pacific Ocean, you're never far from pre or post wedding fun.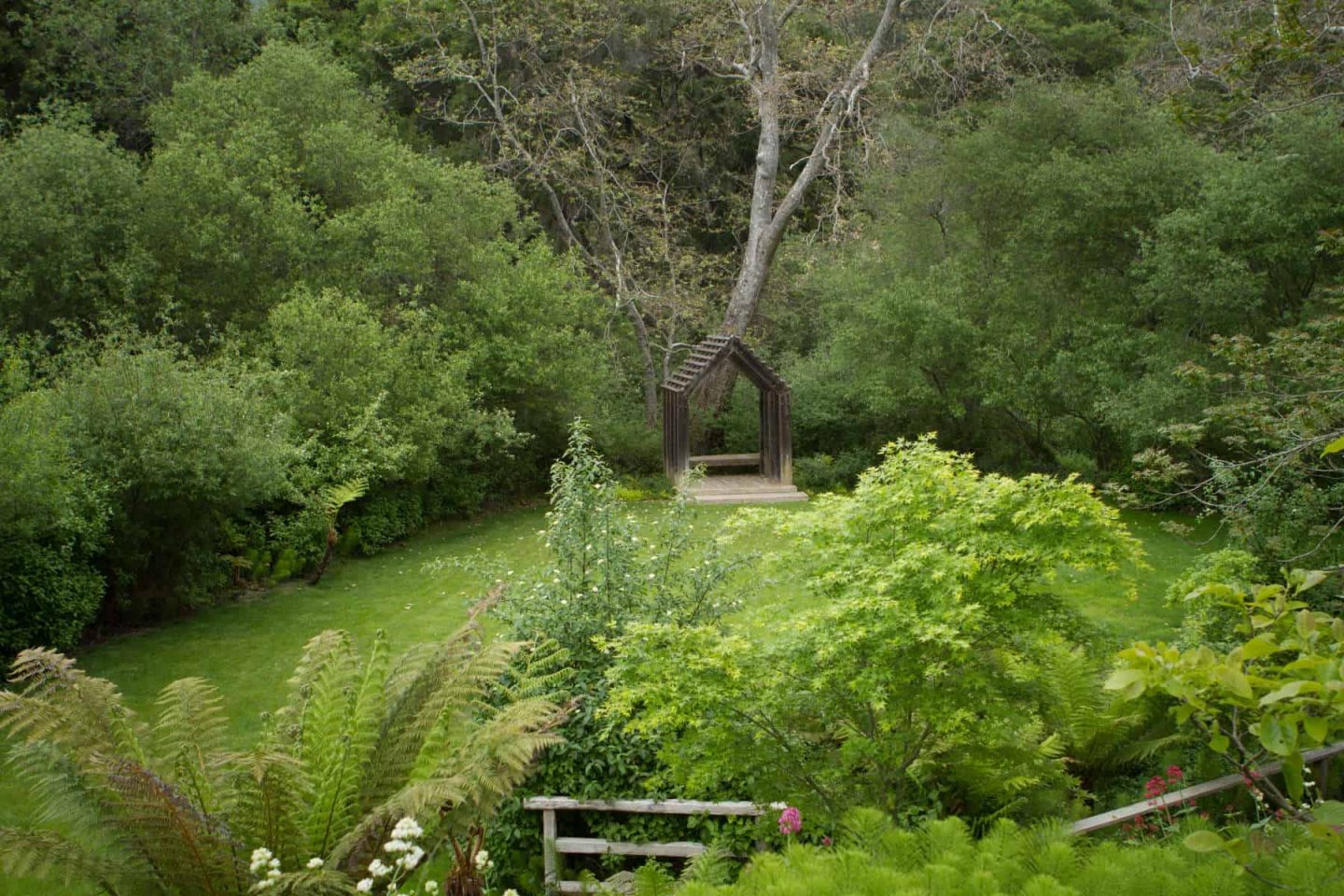 Enjoy the royal wedding treatment you deserve at The Castle at Chateau Noland, a real-life castle that feels as if it's been ripped from a child's fairy tale. Allow your storybook ceremony to unfold beneath a floral archway backdropped by the dramatic stone castle walls, pose for photos along the manicured lawn and dine outside in full view of the architectural wonder, which took a whopping 25 years to build (the outdoor lawn area seats up to 200 guests). Inside, this lavish castle boasts three master suites featuring elaborate murals, hand painted domed ceilings and antique European furniture. A vast living area connects the family room, dining room, and gourmet kitchen—perfect for hosting a rehearsal dinner or post-wedding soiree seating up to 50 people. Located just five miles from Avila Beach and a multitude of coastal attractions, your wedding party can partake in pleasures of both land and sea.
With 80 acres of rolling green foothills, plus serene olive groves and ancient oaks to admire, Higuera Ranch offers up a natural feast for the eyes in San Luis Obispo. The property's scenic grounds and iconic rustic barn seat a combined 200 guests, the latter of which features a sunken bar as well as a loft sure to entertain and dazzle your guests. Bring your loved ones to tears as you say your vows beneath the awe-inspiring Higuera Tree, a centuries-old oak with long-reaching branches reaching and twisting out in all directions. When it comes to getting ready for the festivities, comfortable suites can be found onsite ready for primping, pressing and impromptu photoshoots.
If you plan on hosting a real barn burner of a wedding, La Cuesta Ranch in San Luis Obispo is here to make your dreams come true. With a stately old school barn backdropped by golden fields and gently sloping hillsides, you'll dine and dance beneath twinkling lights and chandeliers emitting a beautiful glow come dusk. The barn itself is a worthy centerpiece for your great romance: with its vast wooden doors and rustic appeal, you'll want to say "I do" as well as pose for group photos with your wedding party. With a 350 guest capacity and antique couches perfect for lounging under the stars, you'll get a uniquely San Luis Obispo wine country wedding experience without an ounce of fuss.
The rustic barn ambiance you have been looking for is awaiting you at the aptly named The Barn at Fog's End. This unique venue is set on an expansive property that includes historic structures, a vineyard and multiple houses. Your select guests will be able to stay on-site at the Main House which has four bedrooms. The bride will enjoy getting ready in the Guest Cottage. The rustic theme can carry through to the reception with rousing games of bocce ball and horseshoes. Surrounded by the rolling hills of Cambria, you will find this charming venue to be a special and welcoming place for your memorable day.
More to explore in Edna Valley and Arroyo Grande Valley Wine Country
Exciting activities abound in Edna Valley and Arroyo Grande Valley Wine Country, where the beach, vineyard and hiking trail meet. Located just six miles from the beach, surfing, paddle boarding, wildlife viewing, kayaking, windsurfing and sunbathing are all within easy reach. Discover scenic wine trails perfect for a pre-wedding picnic with the family or a romantic post-vow vineyard tour. From cool climate chardonnay and pinot noir to delectable gourmet pairings, there's always more to savor in wine country, including top notch dining and vibrant farmer's markets. The outdoorsiest of the bunch will no doubt appreciate the area's vast open space hiking trails and dirt biking opportunities as well as nearby lake fishing, camping, horseback riding, boating and zip-lining. Plus, boutique shopping, world class golfing, relaxing hot spring soaks, and scenic drives are all in a day's fun. As for the honeymoon, why not start here? Wake up to cozy bed and breakfasts, scenic vineyard stays, unique winery lodging, plush oceanfront resorts and modern boutique hotels. Whether you seek a romantic room with a view of vines or ocean, an onsite pool or a luxurious spa package, you'll find the perfect love nest to kick off your forever, together.