Fishing in Cayucos is one of the best ways to explore our unique section of Highway 1. You can see the historic Cayucos Pier, the shoreline of Cayucos State Beach or Morro Strand. Or charter a deep sea fishing boat and head out into the big blue. Cast out among the rocks around Estero Bluffs, paddle out on a kayak, or visit the Whale Rock Reservoir for freshwater fishing. By bringing out your rig and giving these sites a try, you'll experience much of the best the Central Coast has to offer. Should you have questions or need help or gear, head to Virg's Tackle Shop in Morro Bay. There, they offer just about anything you could need for saltwater fishing tackle, plus supplies like sunscreen, snacks and sunglasses. Best of all, the folks at Virg's can offer up-to-the-minute advice on where and how to fish around Cayucos, just a few miles north. Be sure to pick up a fishing license here, unless you plan to fish solely on a pier. Otherwise, anglers 16 years and older need a license.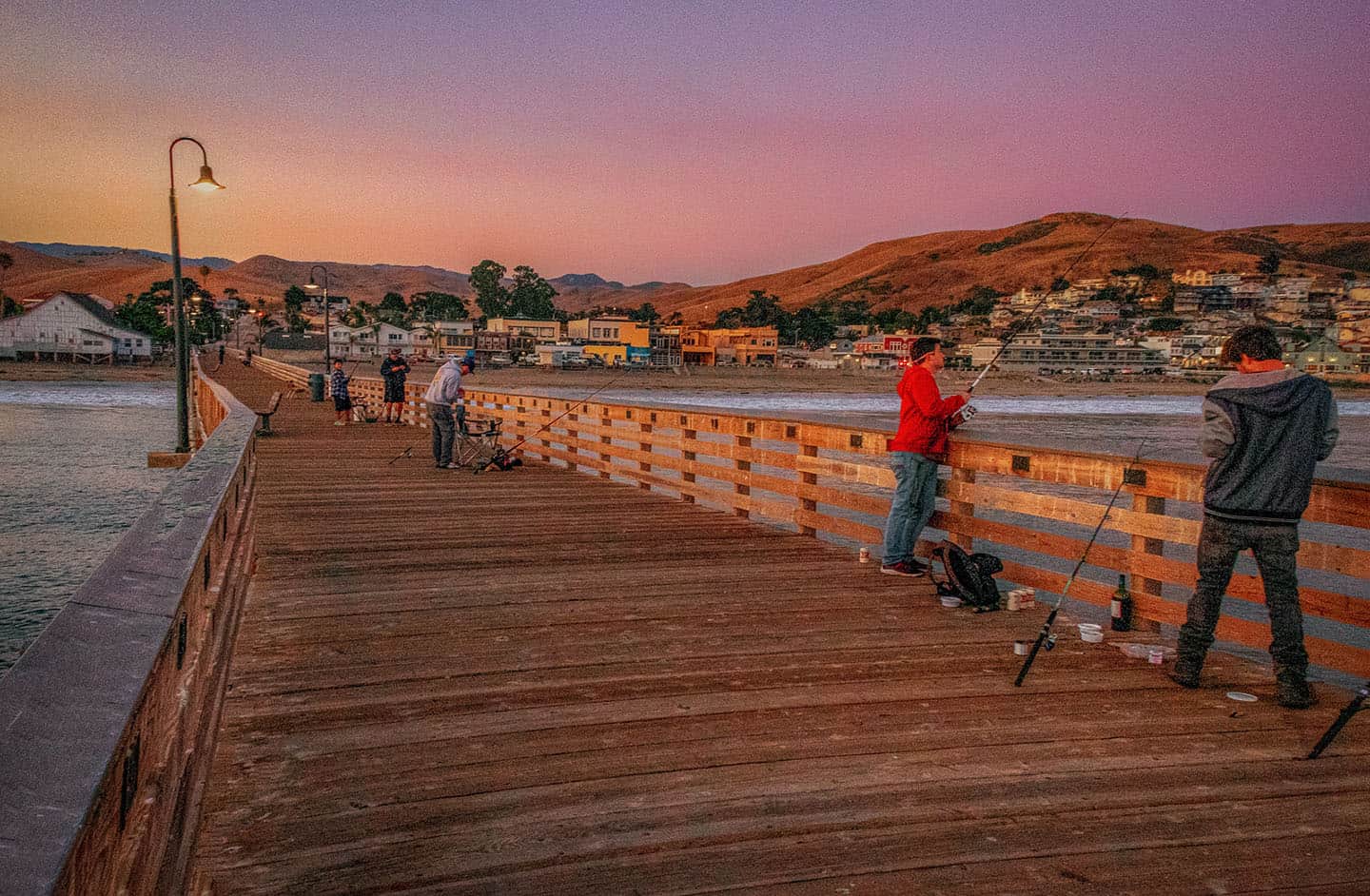 Discover Fishing Along Highway 1
Pier fishing in Cayucos

The historic Cayucos Pier was originally built by Naval Captain Cass in 1872, and remains a favorite spot for anglers to cast. The Cayucos Pier is located downtown on Cayucos State Beach. Find dining, shopping, a playground and a white sand beach just steps away, so the family can stay entertained on a long day. You don't need a fishing license to enjoy the good fishing from this public pier, so pack your gear and head out. (All other California fishing regulations, including bag limits, seasons and minimum size still apply.) Many anglers choose to use a hi/lo rigging, while others opt for a Carolina-rig with a sliding leader.  
Surfperch is a very common catch in these waters. Closer to shore, use bait like sand crabs, bloodworms, chunks of shrimp and mussels to attract barred and calico surfperch. If you're looking for bottom species like cabezon and lingcod, try fishing near the pier pilings where the kelp floats. Other species caught here include striped bass, halibut, and the occasional steelhead. The Cayucos Pier is also popular with anglers looking for skates, rays, and sharks. It's not uncommon to find dogfish, horn sharks, and soupfins, too. Anglers have also caught sevengill and angel sharks to the tune of 180 pounds. Landing one of these is most likely in late summer when large schools of mackerel and sardines surround the pier. If skates, sharks and rays are your thing, come out at night and try for one. (Just be sure to have a friend on hand to help reel it in!)
Even if you never feel so much as a tug on your line, fishing off the Cayucos Pier is always a worthwhile adventure. Spend time watching the surfers shred waves below, and enjoy looking for other marine life, including otters, dolphins, seabirds, seals, and even whales.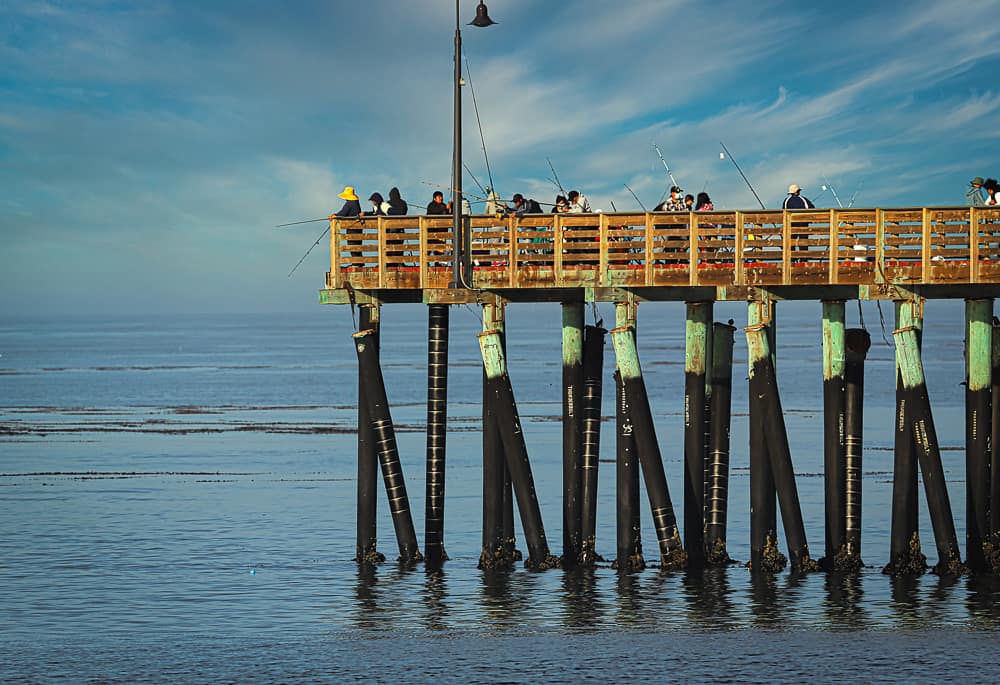 Surf Fishing in Cayucos
Two miles down the coast, Morro Strand State Beach (also called Atascadero Beach or "A Beach" by the locals) offers terrific surf fishing. This three-mile-long beach is completely open for surf fishing (to those with a current California fishing license), and is never crowded. Read the water and look for holes in the tide; before long, you'll have something like a barred surf perch or jacksmelt tugging at your line. Bring your rig with a fish finder and drop/slider, as well as a bait bucket, cast net, tape measure, and fishing license. You may also want waders, or even a wetsuit depending on how far out you go, as the Pacific can be chilly here. For bait, the tried-and-true option is sand crabs, which are easily found just below the sand's surface at the beach. Other good bait includes grubs and gulp sandworms, from which many anglers get good results.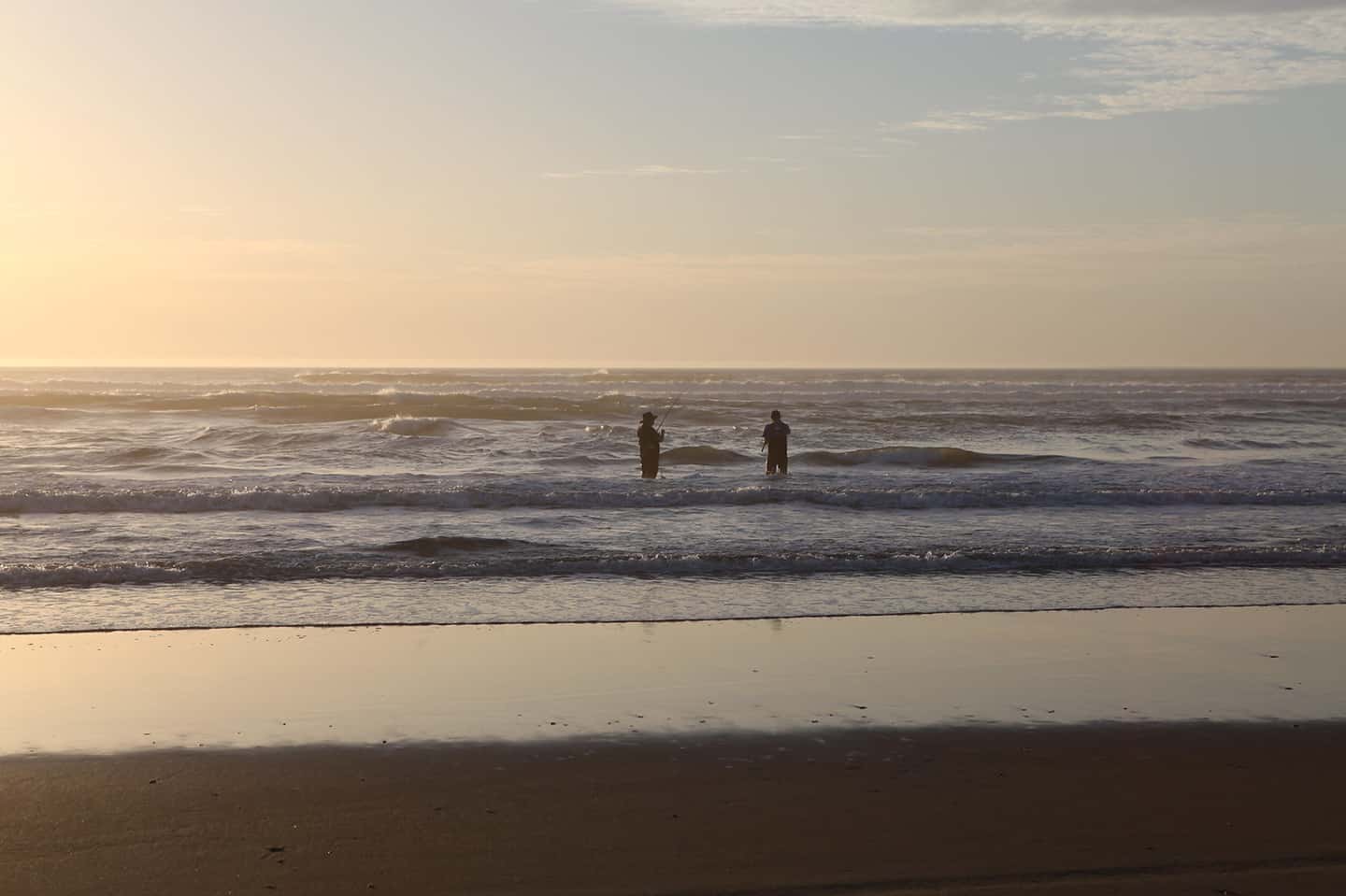 Rock Fishing in Cayucos 
With all the rugged coastline along this section of Highway 1, it's not surprising that rockfishing thrives here. Anywhere on the north coast of San Luis Obispo County, you can find ideal conditions for rockfishing. Look for craggy rocks with holes that go deep toward the ocean's floor. Come during low tide, which exposes a lot of opportunities for rock fishing. (That being said, be very careful not to disturb tide pools. Step carefully and be aware of your surroundings.) One of the deepest spots for rockfishing sits north of the Cayucos Pier toward the Estero Bluffs. For a good landmark, look at the beached fishing boat there to reference the rockiest area. Here, you'll find a good position for dropping your line in for cabezon, rock cod and lingcod. Fancy rigs or bait are unnecessary — just chopped white fish or even worms will do. Make sure, however, to watch for a rising tide, as all it takes is one wild wave to sweep a rock fishing angler out to sea.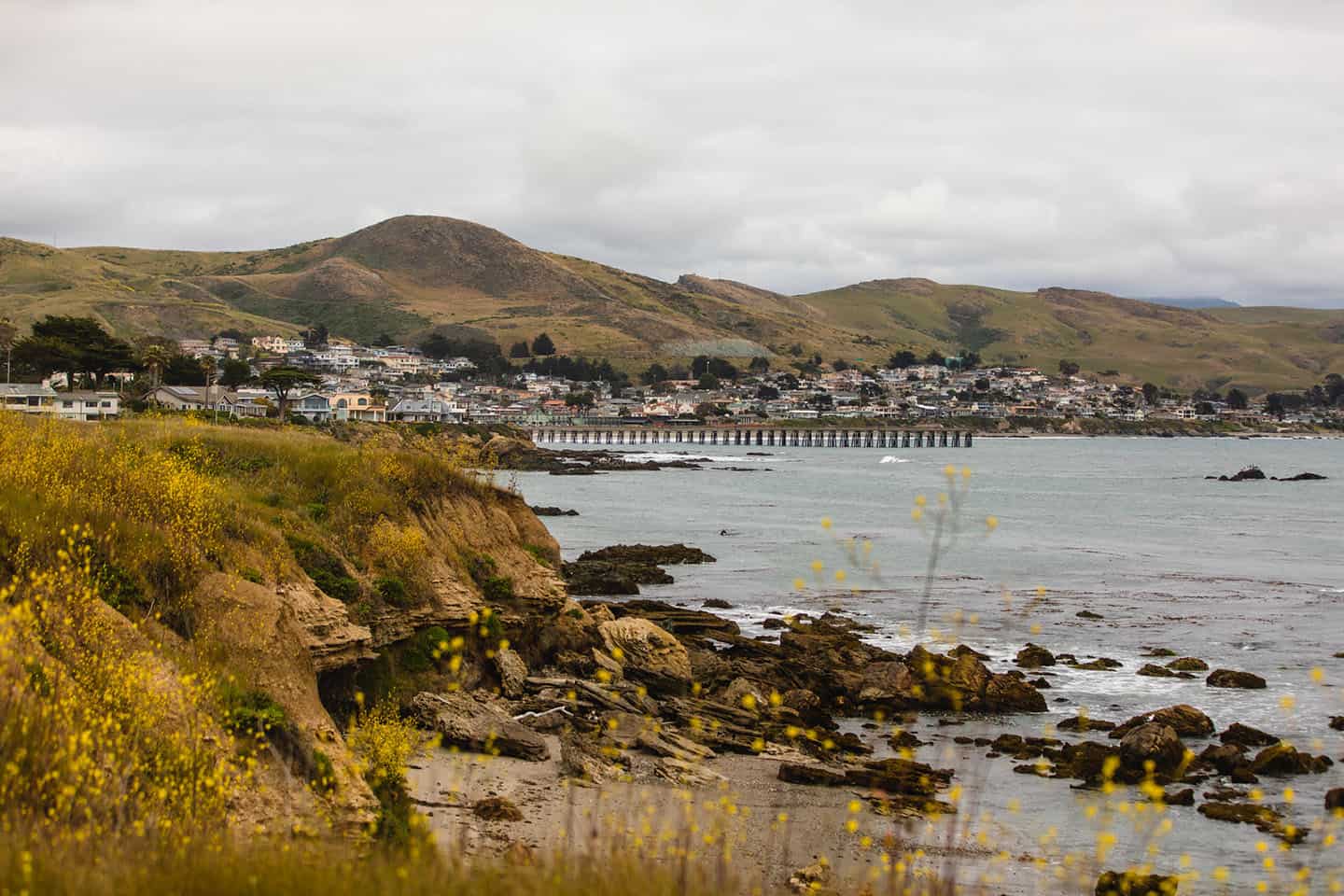 Deep Sea Fishing 
For those looking to fish further from the immediate coastline, why not charter a sportfishing boat? Shallow (50-100') and deep sea fishing (0-300') can be fantastic in the waters beyond Cayucos and the Estero Bay. A typical haul can include lingcod, olives, vermilions, cabazons, greenlings and blue rockcod. 
Out of Morro Bay, Virg's Landing offers rockfishing trips to Cayucos, as well as salmon and albacore, seasonally. The shop also books 1/2 day, 3/4 day, full day, overnight, long-range and twilight trips. For a customized experience, charter a boat for your own fishing trip, big or small. Each of the four boats in their fleet is U.S. Coast Guard approved, and include a qualified captain and crew, as well as a hot galley. (Who knows? You may catch a giant lingcod and win cash in the annual "John Rowley's Biggest, Baddest Lingcod Competition," sponsored by Virg's Landing.) Just remember: each angler is responsible for abiding by California Fish and Wildlife regulations, including best practices, minimum size requirements and take. Bring your own rod and tackle or rent everything from the Virg's Landing tackle shop. You can also purchase a fishing license at Virg's Landing, as well as gunny sacks, which are required for keeping fish.
Patriot Sportfishing, another outfit in Morro Bay, launches fishing trips from Morro Bay Landing to the waters off Cayucos, as well. Anglers of all ages and abilities will enjoy a 1/2 day, 3/4 day, full-day, or 12-hour trip to Cape San Martin. Bring your own rig or rent a rod, reel and tackle setup — and buy a fishing license — from the tackle shop. Experienced captains, crews and anglers will take you out on the Avenger or the Patriot for shallow or deep sea fishing. Patriot Sportfishing deckhands ensure that all California State Fish and Wildlife regulations are met, including minimum size requirements. They're also on hand to gaff, clean and filet your fish, making it easy to go home with fresh Cayucos seafood. For those who like to make things interesting, throw some cash into the jackpot for the largest catch, and you may go home with more than fresh fish.
Kayak Fishing in Cayucos 
Kayak anglers know Cayucos as one of the best destinations for kayak fishing on the Central Coast and beyond. But even at its most popular times, this area remains open and uncrowded, with plenty of room to roam and explore. Depending on where you go here, you may catch lingcod, cabezon, rockfish, greenling, surfperch or even halibut. 
Launch from the little parking lot just north of Cayucos Pier for the easiest place to paddle out, with minimal swell. (Remember to read the waves and steer your bow straight into them.) Here, you'll find perch on the sandy bottom past the breakers, or rockfish, cabezon and lingcod among the rocks and kelp. The further you head south, the greater the likelihood you'll catch halibut on the sandy ocean floor. 
Another popular spot is called "Windmills" by the locals for the historic windmill between Highway 1 and the shoreline just north of Cayucos. (Head north on Highway 1 from Cayucos and look for the Aeromotor windmill just before Estero Point, by San Geronimo Creek. You can't miss it.) Here, you'll need a kayak cart or dolly — something with wheels to get you from the parking turnout to the shore. Plan for catching more rockfish and lingcod around the kelp forests here.
If you're new to kayak fishing or want to give it a try, Good Clean Fun in Cayucos provides very popular kayak fishing tours. Expert guides lead kayak anglers to the best local spots, and can teach newbies the basics for shallow sea kayak fishing. Bring or buy your fishing license, and Good Clean Fun can outfit you with the rest. Private, semi-private and group tours are offered.
Still want to know more about Cayucos kayak fishing? The Central Coast Kayak Fishing Club is a great resource for asking locals questions.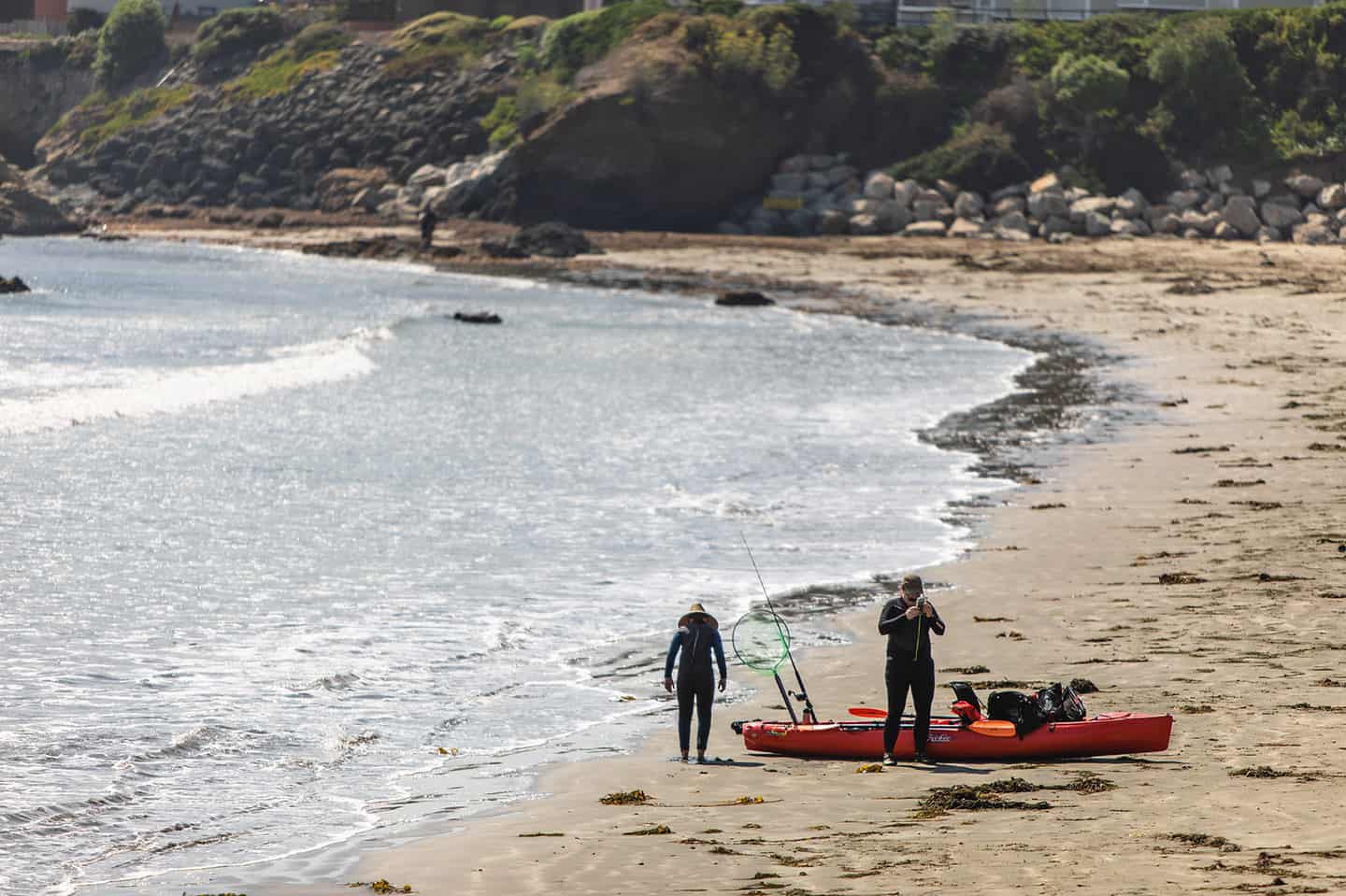 Whale Rock Reservoir Fishing
If freshwater fishing is more your speed, or if you'd like to try it out, the Whale Rock Reservoir offers a great experience. During the season, the reservoir is well-stocked with large-mouthed bass and striped bass. The Whale Rock Reservoir is only open during bass season, though, from the last Saturday in April to November 15th, Wednesday through Sunday. Follow Old Creek Road from Cayucos up above town, with ocean views past the reservoir. Parking in the limited parking lot requires a small fee, so bring cash. Also, prepare for a hike to the lake: wear comfortable clothes and shoes, and keep your rig simple. This is a no-contact lake only: no boats or vessels of any kind are allowed, including kayaks. The walk is nearly 4 miles long, out and back, which typically takes about 2 hours total. In addition to catching bass and getting in a good walk, you'll be rewarded with pretty views of the Pacific Ocean beyond. This is an uncrowded, secluded spot that only the locals know about; come ready to enjoy the peace and quiet.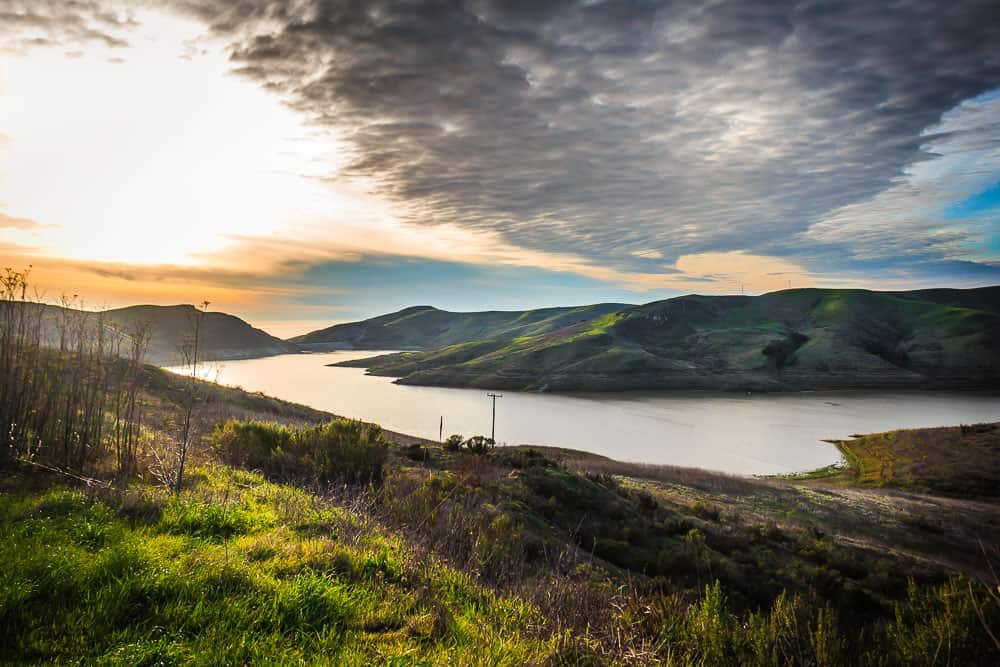 Tide Times for Highway 1
Friday, Dec 8, 2023
| Tide | Time (PST/PDT) | Height |
| --- | --- | --- |
| High Tide | 6:29 AM | 5.24 ft |
| Low Tide | 1:30 PM | 0.88 ft |
| High Tide | 7:27 PM | 3.4 ft |
Tides measured at Port San Luis Harbor. Data provided by
noaa.gov.