The charming beach town of Cayucos offers many treasures for visitors, including its bike-friendly roads and routes. Pedal around downtown, stop to take in the view, grab a bite to eat, and enjoy a beach break on Cayucos State Beach. There's so much to do and see in town, or you can launch out on a bigger adventure from here. Take a journey north or south on iconic Highway 1 from Cayucos, enjoying the coastline and its many attractions along the way. These excursions can be short or long, depending on your interest and ability, but there's definitely something for every rider. For serious cyclists, extending a ride into backcountry roads is a must; the terrain, elevation and views can be spectacular. 
Wherever you roam, be sure to wear a helmet, bring water, a phone, and ID. And if you plan to stop at one of the Cayucos area's eateries, surf shops, or artists' galleries, be sure to bring cash. 
Want to keep the ride going? Get to know our special stretch of Highway 1 better by trying out Stewardship Travel for Good activities. These experiences draw you closer to the heart of Highway 1 and SLO Cal through education and conservation. Before or after your ride, walk the historic Cayucos Pier and learn about Captain Cass and his wharf.  Then find the Whale Trail sign at the base of the pier to learn about which whales can be spotted from shore, when they can be seen, and what to look for. All of these ideas can turn a trip into a journey of discovery. For more activity ideas, visit the Stewardship Travel for Good page.
Explore Cycling Along Highway 1
Cayucos to Cambria Loop
This 41-mile loop begins and ends in Cayucos, but it covers both inland farmland and coastal terrain. The better part of the ride follows Old Creek Road and Santa Rosa Creek Road, which travels past the Whale Rock Reservoir. This reservoir was built in 1961 and covers 38,000+ acres. Along Santa Rosa Creek Road you'll pass the quaint Linn's Farm Store (temporarily closed), where pies, jams, jellies and other preserves can be tasted and purchased. The route also travels by Stolo Family Vineyard, which offers wine tasting, wines for purchase, and an excellent picnic spot. Just be ready to climb: this route gains 1,863 feet in the first 13 miles. After that, however, most of the route is downhill. If, however, you're looking for a more difficult climb, take the route in reverse, which ascends about 1,200 feet between miles 24 and 27. (Locals call this ascent "The Wall.")
Start in downtown Cayucos, riding south on Ocean Avenue. In about a mile, turn left onto 13th Street, then right on Cabrillo Avenue. From here, turn left (northeast) onto Old Creek Road. After 9.4 miles, Old Creek Road crosses Highway 46 and becomes Santa Rosa Creek Road. Take this for an additional 9.4 miles, then turn left on Main Street in Cambria. Make another left on Highway 1 (traveling south) and ride another 14 miles to arrive back in Cayucos.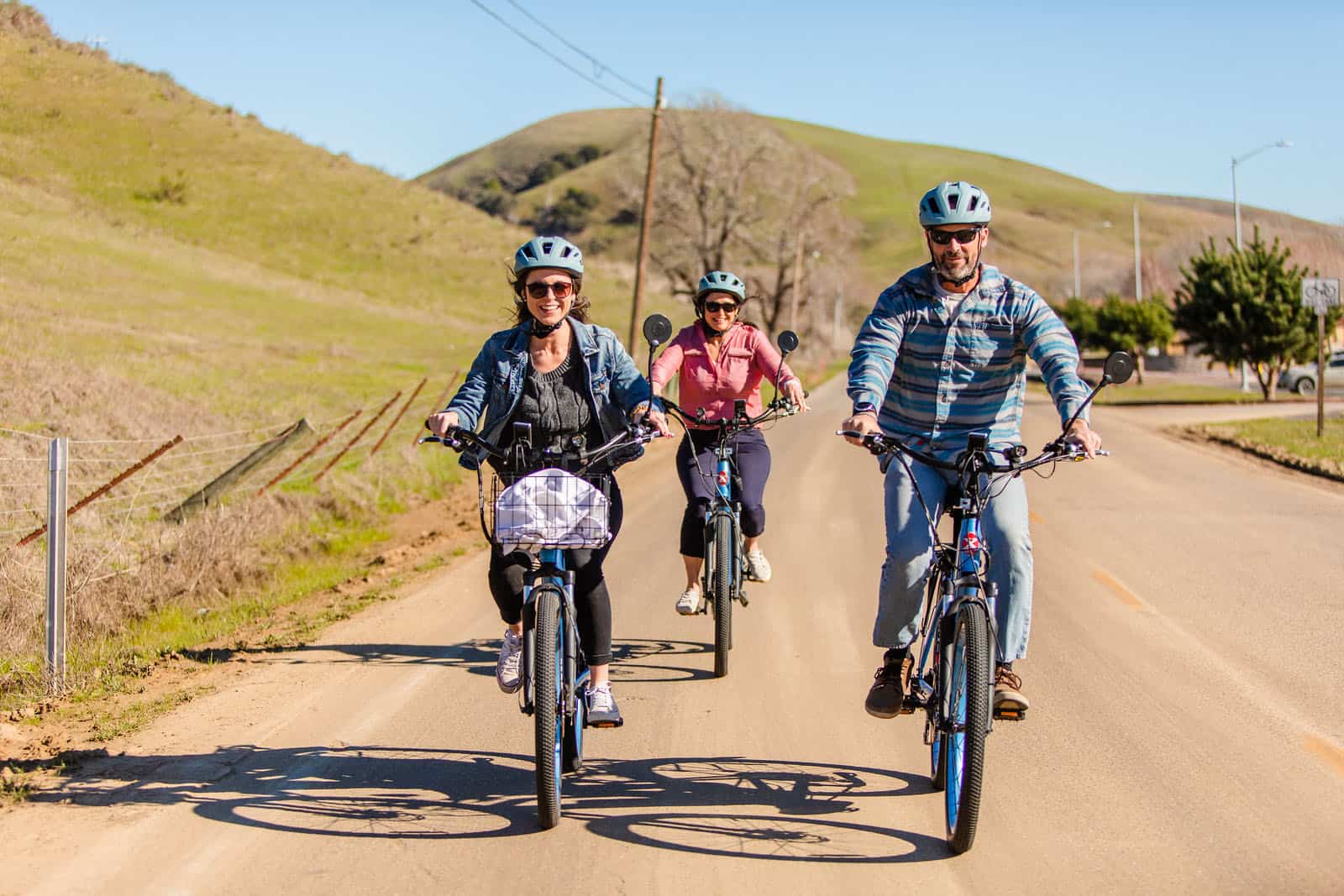 Cayucos to Hwy 46 Loop
Like the Cayucos to Cambria Loop (above), this 32.7-mile route will have you pedaling past the Whale Rock Reservoir, up Old Creek Road. But this itinerary turns left (west) along Highway 46 to abbreviate the mileage somewhat. Though it summits a 1,900+ peak on Highway 46, this is gained over the course of 14 miles; the rest is downhill.
Depart from downtown Cayucos, riding south along Ocean Avenue. Take this about one mile, turn left onto 13th Street, then right on Cabrillo Avenue. Turn northeast up Old Creek Road for 9.4 miles. At Highway 46, turn west (left) and ride for 11 miles, then turn left on Highway 1. Ride the remaining 10 miles back to Cayucos.
Cayucos to 46 to Cambria
This route combines the previous two routes, completing a figure-8 across Highway 1, Old Creek Road, Santa Rosa Creek Road and Highway 46. At 63.7 miles and a gain of 6,108 feet in elevation, this is an itinerary for serious riders. The route features several climbs, the highest of which ascends 1,700+ feet between miles 30 and 38. The steepest climb occurs between mile 42 and 43, with a maximum grade of 9.6 percent. At about mile 3, enjoy a view of the Whale Rock Reservoir, which supplies water to much of San Luis Obispo County.
Start in downtown Cayucos, heading south on Ocean Avenue to 13th Street. Turn left, then right on Cabrillo Avenue. Turn left to ride Old Creek Road for 9.4 miles, then turn left at Highway 46. Ride for 11 miles, then turn right on Highway 1. In 2 miles, turn right onto Main Street and pass through the seaside town of Cambria. Turn right onto Santa Rosa Creek Road, passing the Linn's Fruit Bin farmstand and Stolo Family Vineyards winery. At mile 30 begin the 1,707-foot climb that locals call "The Wall," then turn right at Highway 46 and descend 11 miles. At Highway 1, turn left (south) to return to Cayucos.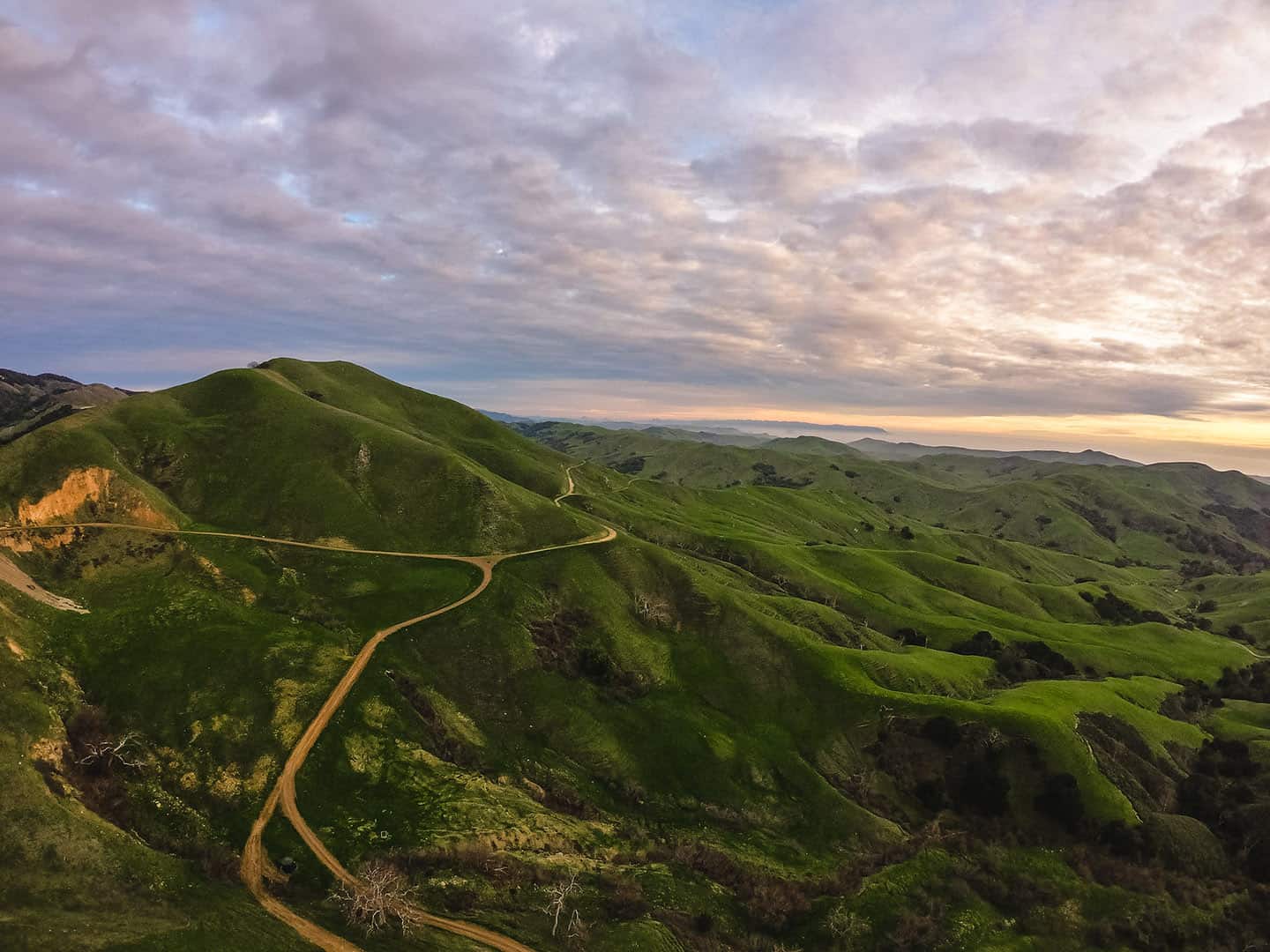 Cayucos to Harmony and back
Enjoy a brief, scenic ride to the quaint town of Harmony, population 18, via 17 miles of Highway 1. Out and back, this ride gains a total of 1,000 feet in elevation; nonstop, it can take as little as 2 hours. 
Harmony once supported a large cooperative dairy; today, a number of artists use these buildings as galleries and studios. Despite its small population, Harmony is big on flavor, with wine tasting at Harmony Cellars and ice cream at the Harmony Valley Creamery. This ride also passes the trailhead to Harmony Headlands State Park, a 4.5-mile trail across coastal plains and beside the rugged shoreline.
To begin, ride north from downtown Cayucos along North Ocean Avenue to merge with Highway 1. Ride about 8 miles to reach Harmony. (The terrain here includes a 298-foot climb between miles 5 and 8.) After enjoying time browsing in artists' studios and wine tasting at Harmony Cellars, begin the ride back south. Along the way, stop at mile 11.5 for a hike through Harmony Headlands State Park, then return to Cayucos on Highway 1 south.
Cayucos to Moonstone Beach and back
At 33 miles. with an elevation gain of 1,700+ feet, this out-and-back ride travels Highway 1 to Cambria's Moonstone Beach. The itinerary winds past trailheads for hikes into Estero Bluffs State Park, Harmony Headlands State Park, and the Fiscalini Ranch Preserve. It also passes the Moonstone Beach Boardwalk, a casual and popular trail that parallels the coastline for one mile. On the return trip, the route takes cyclists along Cambria's Main Street, lines with restaurants, historic buildings, cafes and boutiques.
Start in downtown Cayucos, riding north on North Ocean Avenue to merge onto Highway 1. Pass the town of Harmony and the intersection Highway 46. After passing much of the town of Cambria, turn left (west) on Windsor Boulevard, then an immediate right on Moonstone Beach Drive. Moonstone Beach runs parallel to this street, and offers excellent beachcombing of seaglass, driftwood and smooth "moonstones." To head back to Cayucos, return to Windsor Boulevard and cross Highway 1 to Main Street, this time riding directly through Cambria. Stop for a bite to eat and window shopping, then follow Main Street all the way south to its end. Then turn left (south) on Highway 1 and return to Cayucos, about 12 miles.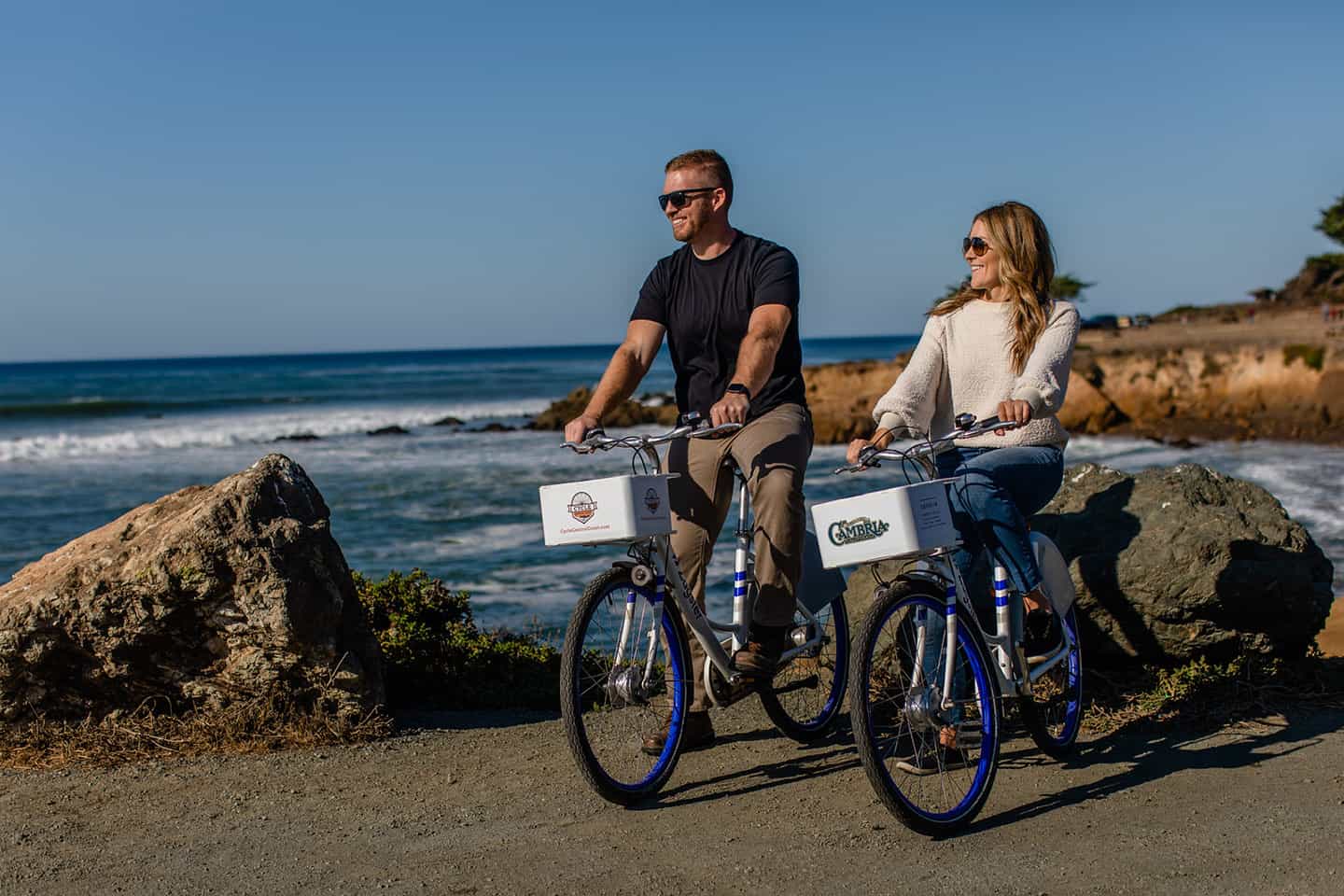 Cayucos to Morro Bay State Park
From charming downtown Cayucos to the scenic Morro Bay State Park, this easy ride is packed with pull-over opportunities. This is a one-way itinerary (or double-back for a round-trip ride), 8.5 miles long, with an elevation gain of just 283 feet. It passes Cloisters Community Park (once home to the famous Cloisters Inn of the 1920s) and travels through downtown Morro Bay. Inside Morro Bay State Park, check out the small-but-mighty Morro Bay Natural History Museum, the Monarch Butterfly grove, and the beautiful marina. Here, you can even enjoy a meal at the Bayside Cafe, with a view of the Morro Bay National Estuary.
Start in downtown Cayucos and ride south on Ocean Boulevard. Merge onto Highway 1 and continue to ride south for 3.6 miles. At San Jacinto Street, turn right (west) and an immediate left on Coral Avenue. Pass Cloisters Community Park, following Coral Avenue to the entrance of a bike path on the left, just before entering a residential neighborhood. Follow this bike path south, parallel to Highway 1, crossing Atascadero Road, for 1.25 miles. Make a quick merge with Quintana Road heading south, then turn right onto Main Street. Follow Main Street for 2 miles, into the pine forest of Morro Bay State Park, past the Natural History Museum to the marina.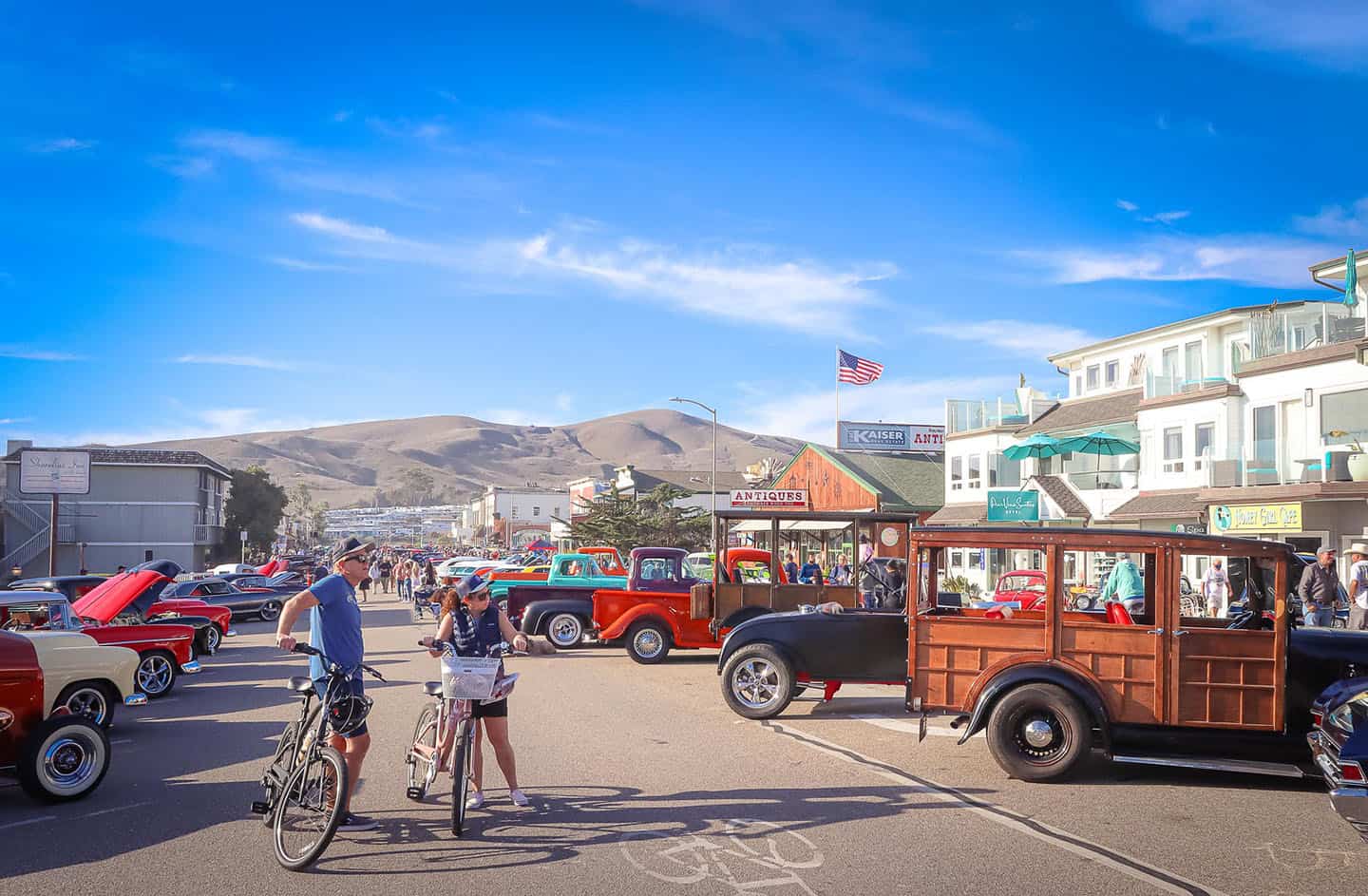 Launching out from nearby Cambria, cyclists can enjoy a wide variety of routes, from casual to competition-level challenging. The famous Eroica ride centers on Cambria for its annual Eroica California event, and Cycle Central Coast has shared the routes. Additional rides along Highway 1 and into the countryside east of Cambria make for fantastic cycling. Plus, Fiscalini Ranch Preserve offers 4 miles of beginner-to-intermediate mountain biking trails with a view of the coastline.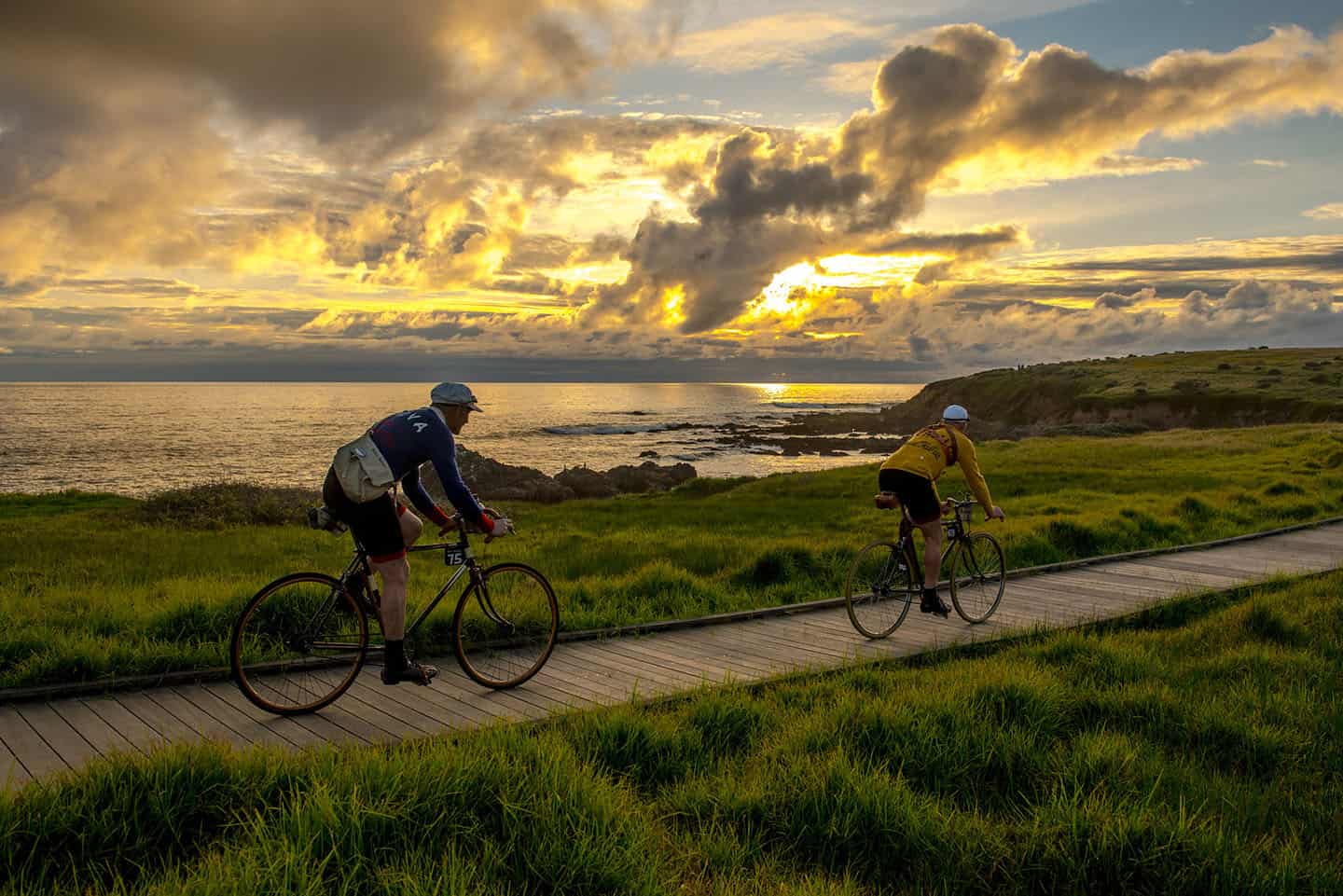 Montana de Oro State Park in Los Osos is one of the best-known destinations for mountain bikers in California. Here, you'll find 73 miles of mountain biking trail to explore, from beginner to advanced options. It's a world-class place to enjoy challenging climbs, tricky terrain, and wide-open views of the Pacific Ocean. And for mountain bikers looking to hone their skills, the Morro Bay Bike Park is a safe and fun place to practice. Try the pump track and dirt jumps, no matter what your skill level; all ages and stages are welcome.