Looking for an ideal California beach town with history, charm and boutique shopping? Cayucos is your destination. Its quaint downtown boasts field-to-table restaurants, antique stores, public art and cafes ― all just steps from the beach. Add a few historic buildings, surf shops, and an old cowboy bar, and you have California coastal living at its finest. Even better, Cayucos residents dine, shop, and connect in all the same places as visitors. Ready to make like a local? Use our guide for the best spots to discover the essence of the California coast.
Cayucos History
Cayucos' history begins with the Chumash and Salinan people who first settled here, thousands of years before Europeans arrived. The word cayucos comes from the Spanish for the canoes those first residents used, as named by early explorers. The famed Portola expedition camped near Cayucos in the mid-18th century, and many other explorers passed through as well.
In 1867, Captain James Cass made the founding of Cayucos official, as we know it today. With the local dairy industry growing, he took advantage of Cayucos' ideal position and built a port from which to ship goods. He established a warehouse and built the Cayucos Pier for steamers to collect and dispatch shipments across California. Many of Cayucos' dairy farms ― and descendents from those ranching families ― remain in the area today. Captain Cass' home also stands downtown, restored into a charming restaurant, inn and event venue called Cass House Cayucos.
The Grill at The Cass House
An elegant stop on any itinerary, Cass House Cayucos combines rich history with fresh flavors. Dine at The Grill, where local, seasonal ingredients meet a curated international wine list. Or visit the Cass House Bakery, where muffins, scones, quiche and focaccia are baked fresh daily. Find the Cass House Cayucos at the north end of North Ocean Avenue.
Sea Shanty
A visit to Cayucos deserves a meal at this beloved casual eatery. Grab breakfast or a cup of coffee (do not miss the world-famous cinnamon rolls!) before a walk on the beach. Or, if you're hunting down lunch or dinner, get a tall burger, juicy steak, or crispy fish 'n chips. If dessert is your thing, you'll struggle to pick just one from the Sea Shanty's many decadent desserts. (Try the "Rocky Mountain High Pie" with marshmallow-rice crust, rocky road ice cream, hot fudge, peanut butter and white chocolate topping. Or the "Mudd Pie," with chocolate cookie crust and butter pecan ice cream.) As you lick your spoon, check out the ceiling's 1,000 hanging ball caps, or enjoy the comfort of the heated patio. Find the Sea Shanty on South Ocean Avenue, at the corner of Ocean Avenue and North 3rds Street.
Ruddell's Smokehouse
A favorite of Sunset Magazine, Westways, and even Bobby Flay of the Food Network, this pint-sized eatery makes a big impression. Just a few steps from the sand, Ruddell's smokes a range of meats ― think oysters, ahi, chicken and pork. Then, those meats are sold for take-away, or they get folded into decadent tacos made with house sauce and fresh salsa. The local favorite? Smoked albacore tacos. But vegetarians, never fear: Ruddell's has you covered with smoked black bean tacos. Find Ruddell's at the corner of Ocean Front Street and D Street, overlooking Cayucos State Beach.
Brown Butter Cookie Company
This one-of-a-kind sweet shop claims that "butter makes everything better." If that's true, the Brown Butter Cookie Company makes its customers feel like a million bucks. Crafted from a short list of ingredients ― browned butter, sugar, flour and sea salt ― these cookies have fans worldwide. Try the original Brown Butter Cookie, or venture out into other flavors like espresso, almond, cinnamon and coconut lime. For those who go gluten-free, the Brown Butter Cookie Company bakes several flavors without gluten. So grab a sample in the shop or purchase a box to bring home…if they make it that far. Find the Brown Butter Cookie Company on North Ocean Avenue, between D and E Streets.
Old Cayucos Tavern
While the Cass House shows Cayucos' elegant history, the Old Cayucos Tavern shows its more rugged side. Established in 1906, in the wake of the California Gold Rush, this cowboy saloon still attracts visitors from far and wide. Sit at the bar, enjoy live music, or head to the back rooms for poker on Friday and Saturday nights. Marvel at the many hundreds of dollar bills stuck to ceiling, or the "interesting" art on the walls. (You have to see to understand.) No matter what you do at the Old Cayucos Tavern, you're sure to get a taste of its long history ― and a stiff drink. Find the Old Cayucos Tavern on North Ocean Avenue between D Street and Cayucos Drive.
Cafe della Via
This Old World trattoria brings a bit of Italy to Cayucos. Traditional dishes get a California twist, like orecchiette pasta tossed with sautéed shrimp in a white wine cream sauce, or savory pizzas on house-made crust. The thoughtful wine list includes local favorites as well as Italian bottles. Caffe della Via can be found on North Ocean Avenue between D Street and Cayucos Drive.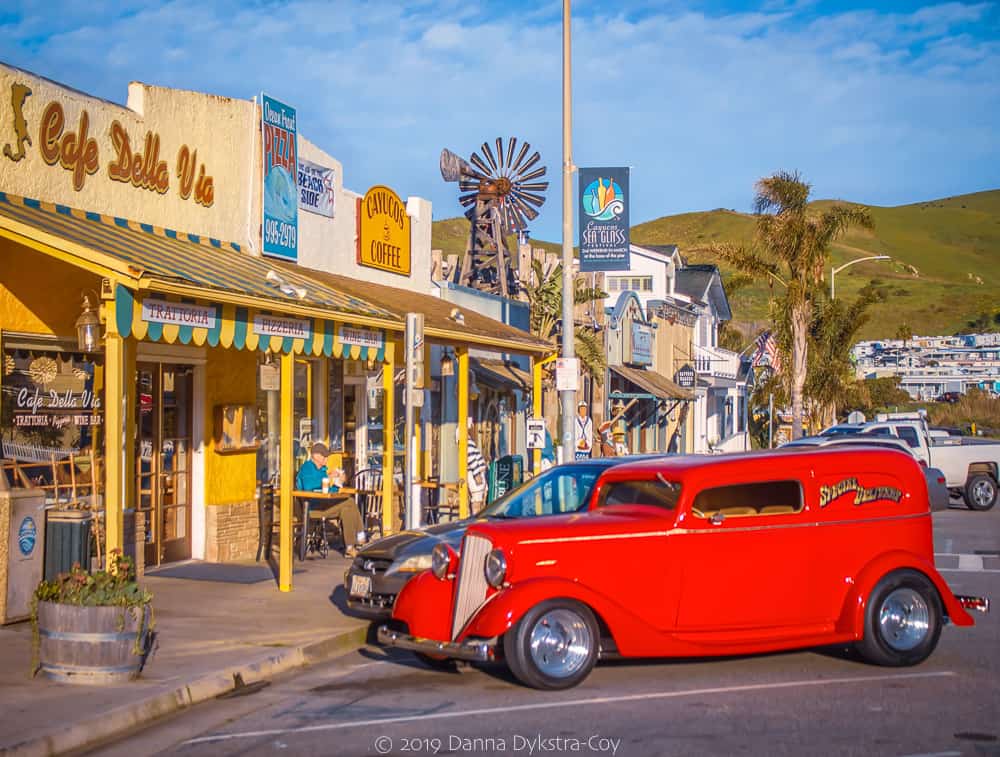 Schooner's
A fan favorite, Schooner's has served fresh seafood, steaks, fish 'n chips and burgers since 1993. The upstairs patio is unrivaled in terms of coastal views, and the nautical theme enhances the experience. Be sure to check the wine and beer lists, or try a craft cocktail and watch the sun set over the Pacific. Schooner's is located on North Ocean Avenue between D Street and Cayucos Drive.
Duckie's Chowder House
If you love clam chowder, you'll be in clam heaven at Duckie's. Here, they dish up both New England chowder (cream-based) and Manhattan Clam Chowder (tomato-based)l. To up the ante, try your chowder "Nolan-style" with bacon and croutons. Duckie's also offers fish tacos, steamers and fish 'n chips, as well as salads, sandwiches and sides. Wash it all down with a locally-made beer or glass of wine from their drinks list. And don't forget the little duckies! Duckie's takes care of the kids with a menu offering burgers, hot dogs, grilled cheese and fish 'n chips. Find Duckie's at the start of the Cayucos Pier, at 55 Cayucos Drive.
Main Street Antiques
This fun and rambling antique store carries a wide range of period furniture and collectibles. In its nooks and crannies, find anything from vintage trunks, model trains, cast-iron cookware or even a phone booth. The knowledgeable staff often has the backstory on the shop's many treasures. Whatever tickles your fancy, you're sure to find a bit of history to take home here. Main Street Antiques is located on North Ocean Avenue, between D Street and Cayucos Drive.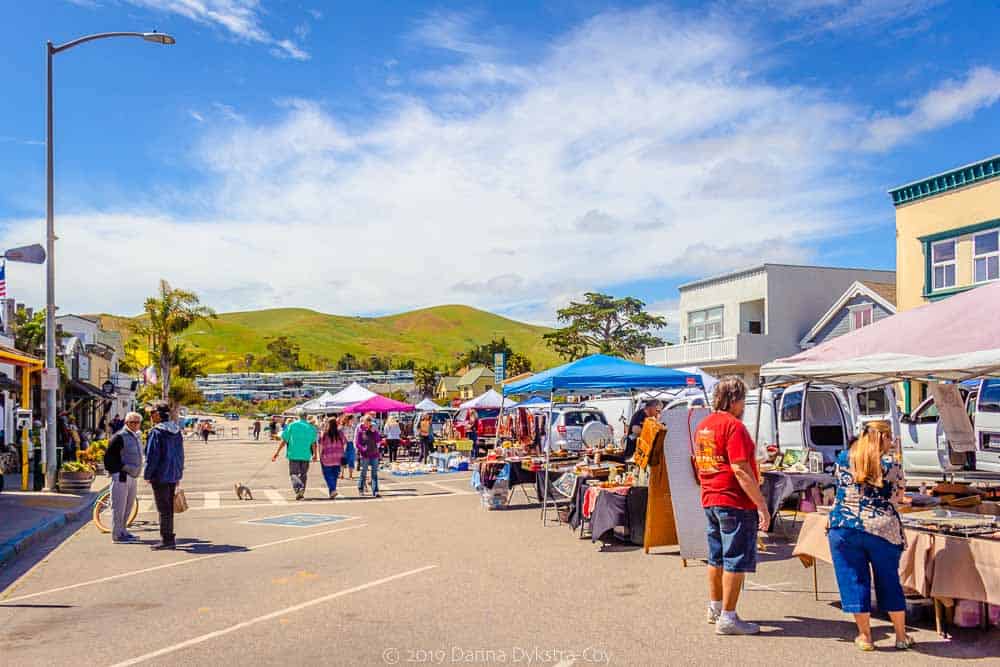 Remember When Antique Malls
Split across two locations, the Remember When Antique Malls bring vintage kitchenware, furnishings, clothing and more to downtown Cayucos. Find collectibles like Fiestaware, milk glass and depression glass pieces on the shelves. Restored shabby-chic furniture is also on display, with headboards, coffee tables, desks and dressers throughout. Lace, linens, jewelry and artwork: you name it, and it's probably tucked away here. Remember When is located on North Ocean Avenue, between D Street and Cayucos Drive. Remember When Too can be found one block south, between D Street and E Street.
Good Clean Fun
Need help getting outfitted for your Cayucos beach adventure? Good Clean Fun takes fun very seriously. Wander into the surf shop for towels, sandals and toys, or head to the "Board Loft" for surfboards, bodyboards and skateboards. Good Clean Fun rents surfboards, bodyboards, wetsuits, kayaks and stand-up paddleboards (SUP) for day use. For kayak tours of the coastline, kayak fishing tours or surf lessons, they are the experts. (Just be sure to make a reservation, as these are very popular!) To visit, find Good Clean Fun on Ocean Front Avenue between D Street and Cayucos Drive.
Events in Downtown Cayucos
Cayucos Farmers' Market
Start a long summer weekend in Cayucos with the Cayucos Farmers' Market, held Fridays, 10am-12:30pm, between Memorial Day and Labor Day. Vendor booths burst with a wide variety of ripe produce, picked that morning. Bread, jam, juices and flowers can also often be found here, among other goodies. And don't forget live music: nothing beats tapping your toes while shopping for fresh, local produce and products. The Cayucos Farmers' Market is held at the corner of Ocean Avenue and D Street.
Sea Glass Festival
This favorite annual event features sea glass ―the result of glass that's worn and smoothed by tumbling in the sea. A collaboration between man-made materials and nature's process, sea glass is prized by collectors across the globe. On the first weekend in March, many of those collectors descend on downtown Cayucos to celebrate these unique "gems." Find jewelers and artists who use seaglass for their pieces, as well as live music and plenty of food. Look for "Mermaid March" displays of mermaids throughout the month of March in many local businesses. And don't miss the Mermaid Ball in the evening, featuring dancing, a chowder cook-off, and prizes for the best-dressed mermaid and mer-couple. The Sea Glass Festival is held at the Veterans Hall at 10 Cayucos Drive in downtown Cayucos.
Polar Bear Dip
Every New Year's Day, over 1,000 people plunge into the frosty waves for the Carlin Soulé Memorial Polar Bear Dip. All ages come out to pack the beach for this beloved local tradition, featuring crazy costumes, hilarious team names and drum circles. Festivities beginning at 9:30am by the Cayucos Pier, and the dip takes place at noon every January 1st.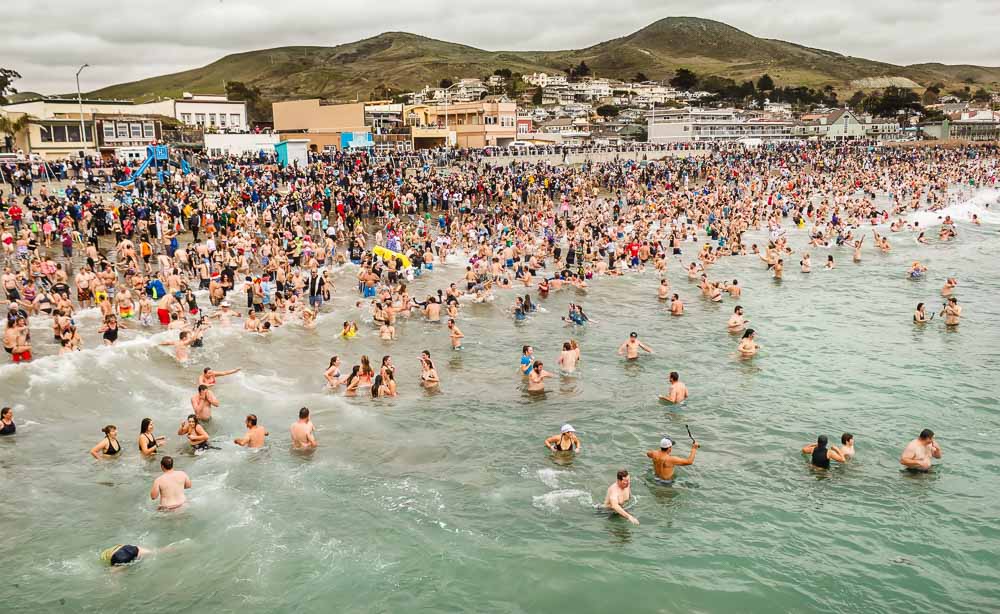 Cayucos Wine & Food Festival
For wine lovers and foodies, the annual Cayucos Wine & Food Festival gathers boutique wineries from the area for a memorable grand tasting. Chefs and area restaurants pair dishes with the wines, and local artists and jewelers show their work. The event also features live music from local musicians. Each ticket includes all wine tasting, small bites, and a commemorative Riedel glass. The Cayucos Wine & Food Festival takes place each November in downtown Cayucos.
Semi-Annual Cayucos Antique Street Faire
Every October and May, antique vendors occupy multiple blocks of Ocean Avenue to sell treasures, art, and memorabilia. This semi-annual antique faire brings collectors and antique-hunters from all over the world in the hopes of scoring a find. The street faire also features live music and food available for purchase. The Cayucos Antique Street Faire takes place along Ocean Avenue in downtown Cayucos.
Cayucos 4th of July Celebration
Nothing says "summer fun" quite like the 4th of July in Cayucos. Every year, the town puts on its red, white and blue for a boisterous, quirky parade down Ocean Avenue. Locals and visitors alike pack the sidewalk to celebrate the many hometown heroes, businesses, and clubs that take part. But the 4th of July Celebration is a whole-day affair! Before the parade, witness the annual sand sculpture contest, open to all ages, that takes over Cayucos Beach. And following the parade, dine on delicious barbecue prepared by the Cayucos Lion's Club at the Veterans Hall downtown. In the afternoon, the Cayucos Lionesses host a major game of bingo, open to all, at the Veterans Hall. And once evening descends, people stake out a spot along the beach for a festive fireworks display from the Cayucos Pier. The annual Cayucos 4th of July Celebration takes place across downtown Cayucos between Highway 1 exit 284 and B Street.
Checkout the Cayucos Activities Map