Cayucos State Beach is known for its fishing pier, beautiful beach and historical buildings, many of which are left over from the prospering old town and still stand as a variety of businesses such as restaurants, antique stores and specialty shops. The sandy beach offers mild weather, watersports such as surfing and swimming, tidepooling. Lifeguards are on duty during peak summer months.
There are picnic tables, play equipment, restrooms and outside showers available. Dogs on-leash are also welcome from the Pier south to Chaney Avenue.
Explore Cayucos State Beach
Cayucos Beach Overview
The waterfront along the charming coastal town of Cayucos, this state beach has something for everyone. In fact, Cayucos State Beach has been named one of California's best beaches by publications, bloggers and reviewers. Panoramic, laid-back, kid-friendly and historic, this classic stretch of shoreline represents the very best California has to offer.
Topography
Cayucos State Beach connects to the south with Morro Strand State Beach, the landscape laying flat beneath coastal bluffs. From Cayucos Pier to Morro Rock, this stretch comprises 6 miles of beach, perfect for walking or running.
Cayucos Pier
Established in 1872 by the city's founder, Captain James Cass, the Cayucos Pier anchors the state beach. Stroll the pier, watch the surfers, look for whale spouts at the Whale Trail sign, and even fish without a license.
Coastal Access
In addition to the shoreline at the pier, several entry points to Cayucos Beach stand along Pacific Avenue, through residential neighborhoods. Coastal access points include Pacific Avenue at 3rd, 6th, 8th, 10th, 12th, 16th, 19th and 21st streets. The north end of Morro Strand State Beach can be accessed at 24th Street. An off-leash dog beach can also be found at Studio Drive and Pacific Avenue.
Geology
Cayucos Beach features several interesting geological formations along its length. Climb Carson Rock, which stands in the surf less than a mile south of the pier. Find Cupcake Rock just beside it, named for its iconic shape. One mile north, find rocky, protected Half Seal Cove at the intersection of Lucerne Street and North Ocean Avenue. Numerous tide pools fill rocky crags, especially along the bluffs just north of town.  Find mussels, barnacles, limpets, sea anemones, hermit crabs and snails in its many nooks and crannies. Several trails lead to these tide pools from turnouts along Highway 1, north of Cayucos.
Weather & Tides
Cayucos Beach enjoys temperate weather year-round. Highs reach the high 60s and low 70s August through November, and fall to the mid-to low 60s December through June. Lows hit the low 40s December through March, and reach the high 40s and low 50s the remainder of the year.
Camping & Bonfires
Camping and bonfires are prohibited on Cayucos State Beach.
Cayucos Watersports
Surfing
Cayucos Beach tops the list of favorite California surf spots. Conditions include high swells (particularly November through April) and high tides. For the most consistent swells, though, hit the surf in spring or summer. Up-to-date surf reports can be found at websites like surfline.com.
Cayucos Beach water temperatures range from 54 degrees F in spring and 66 degrees F in September. When temperatures hit the low end, bring a 4/3 mm – 5/4/3 mm thickness wetsuit with boots, gloves, and a hood. On the warmer end, wear a spring suit or 2 mm – 3/2 mm thickness wetsuit.
Both short boards and longboards are welcome here ― the waves are open to all! Alternatively, shops like Good Clean Fun and Cayucos Surf Co. rent boards, wetsuits, and other gear. (They also offer surf lessons.) Also check these shops for a board to buy as several surfboard shapers live in the area.
Cayucos Beach also offers bathrooms, outdoor showers, and parking along Ocean Front Avenue.
Swimming
Great surf conditions also make for great swimming on Cayucos Beach. Enjoy great waves and calm waters further out for a great swim. Kids and even toddlers can wade and play safely at the water's edge. During the peak summer months, the beach provides lifeguards during regular business hours.
Windsurfing & Kitesurfing
With beach breaks where northwest winds blow side onshore, Cayucos boasts pristine conditions for windsurfing and kitesurfing. The windiest season at Cayucos Beach is February through June, with average wind speeds topping at 10 miles an hour. The least windy season extends July through January, with an average wind speed of 7.5 miles per hour. Primarily, winds blow from the west, year-round, peaking in the month of July. Find a favorite launch spot on the north side of the Cayucos Pier.
Kayaking
Named after canoes by Spanish settlers, Cayucos is a fitting destination for a kayak adventure! Bring your own kayak or rent one (and a life vest) from Good Clean Fun in Cayucos. Good Clean Fun also offers kayak tours to individuals, couples and groups. Guides lead visitors to hidden coves and untouched beaches rarely seen by tourists. Wildlife like sea lions, dolphins, otters and whales often appear during a kayak tour. Good Clean Fun also leads guided kayak fishing tours, with tackle and gear provided. (Note: Those taking the guided kayak fishing tour need to supply their own fishing license.) All kayaks are "sit on top" kayaks and come with backrests, paddles, and life jackets. Wetsuit are also available for rental.
Paddleboarding (SUP)
Stand-up paddleboarding (SUP) at Cayucos Beach is as easy as it is fun. Bring your own board and paddle, and glide out past the waves to the serene waters of the Pacific. Or rent a board and paddle from Good Clean Fun. Looking for lessons? They've got you covered there, too. Be sure to bring a wetsuit (see Surfing, above) as water temperatures are rather low, year-round. Also check local wind conditions (see Windsurfing & Kitesurfing, above) before hitting the water.
Fishing
Cayucos Beach welcomes people of all ages and skill levels to try their hand at fishing its abundant waters. Great conditions and no need for a fishing license make it easy for anyone to drop their line.
The 950-foot Cayucos Pier, of course, provides a high point from which to cast. Find barred and calico surfperch near the water's edge. Boccaccio rockfish, walleye and silver surfperch can be found at the pier's centerpoint. At the end of the pier, catch live bait like anchovies to lure the halibut that abound here. Other options for bait might be bloodworms, pie worms, grubs, shrimp, live sand crabs, and mussels.
Find fishing, tide and weather conditions for Cayucos Beach at a site like fishingreminder.com.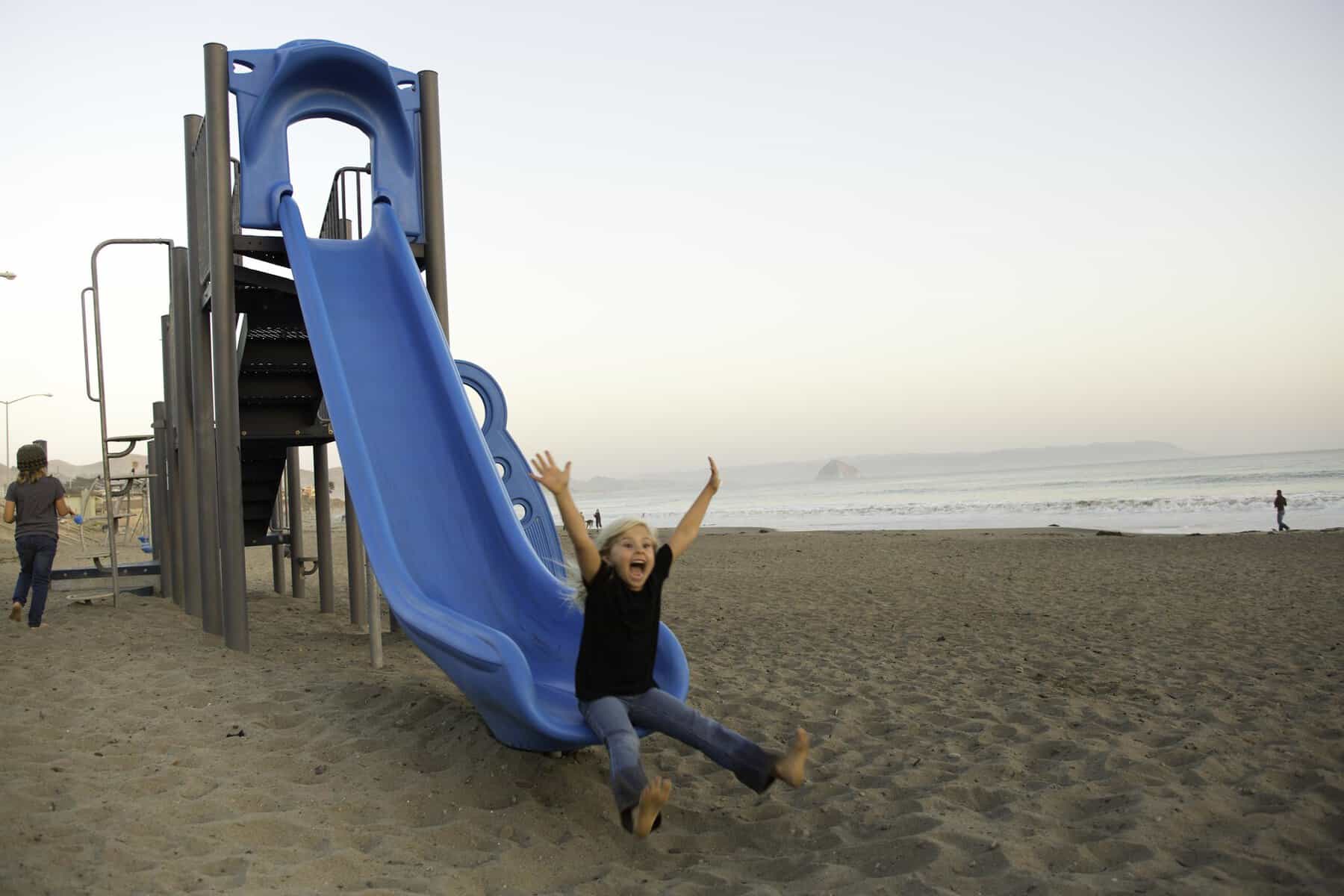 Cayucos Parks & Play
Cayucos Beach Playground
This super-fun, unique playground is a favorite with kids and parents alike for its tall slide, climb-able structure, and swings. Built in 2013, the playground came to be through the generosity of many local organizations and volunteers. Fine sand provides a soft base, so parents can feel good about safe play. And with restrooms and an outdoor shower station available, kids can play all day! Find the Cayucos Beach playground just south of Cayucos Pier.
Skate Park
At the north end of Ocean Front Avenue, the Cayucos Skate Park provides a safe place for skaters of all ages to thrash. Sponsored by the Cayucos Veterans Hall for the Lion's Club, the park includes a small halfpipe as well as a large bowl. All skateboarders must wear helmets, and boarders under age 12 must wear helmets and kneepads. (Bikes are not allowed.) The park is open during daylight hours.
Fun tip: Check out the skate park's new mural by artist Ingrid Goelz, a panoramic landscape made from recycled lids and caps.
Beach Volleyball
Bump, set, spike! Bring your net, a volleyball, and friends for fun in the sun on Cayucos State Beach.
Whale Watching
Cayucos State Beach is home to one of the best places on the West Coast for whale watching. In fact, Cayucos Beach sits along the Whale Trail, a series of destinations for prime whale watching on the Pacific Coast. The Whale Trail includes 100 sites between British Columbia and Southern California. Ten of those are in San Luis Obispo County ― the most in one county down the California Coast.
The interpretive sign for the Whale Trail stands on the Cayucos Pier. You might spy humpback whales here, in addition to the occasional gray whale or orca. Expect to see sea otters, harbor seals and sea lions, as well. The best time to spot migrating gray whales is in spring; for humpback whales, it's spring and summer.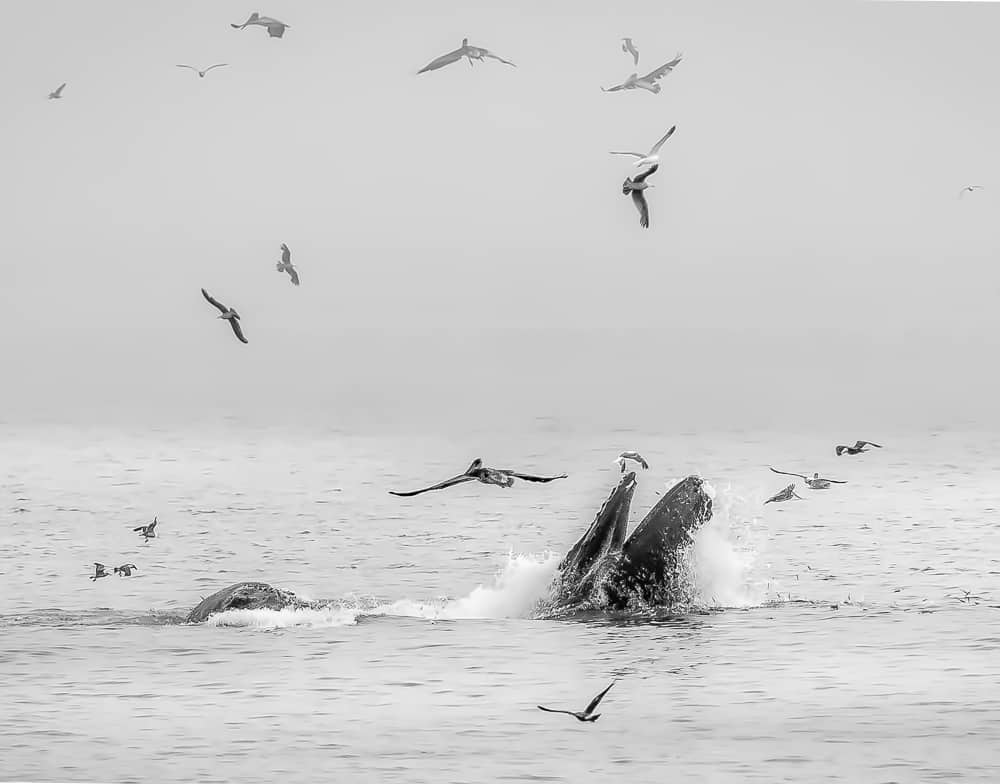 Estero Bluffs
One of our youngest state parks, the Estero Bluffs were first settled by the Chumash and Salinan People. Later, the land would become property of the California Missions. Established in 2002, the park's 353 acres and rocky coastline offer 180-degree views of the Pacific, including Morro Rock. Wildlife like urchins and anemones, seals and otters, pelicans and cormorants occupy the untouched landscape. For a picturesque hike, the 4-mile Estero Bluffs Trail parallels the beach, just off Highway 1. To enjoy this beautifully preserved natural playground, bring your dog (on-leash), a bottle, and your sense of awe.
Find the entrance to Estero State Park just north of Cayucos off Highway 1, with several pullouts available for parking. For best access, use the entrance at San Geronimo Road, near the coastal windmill to the west.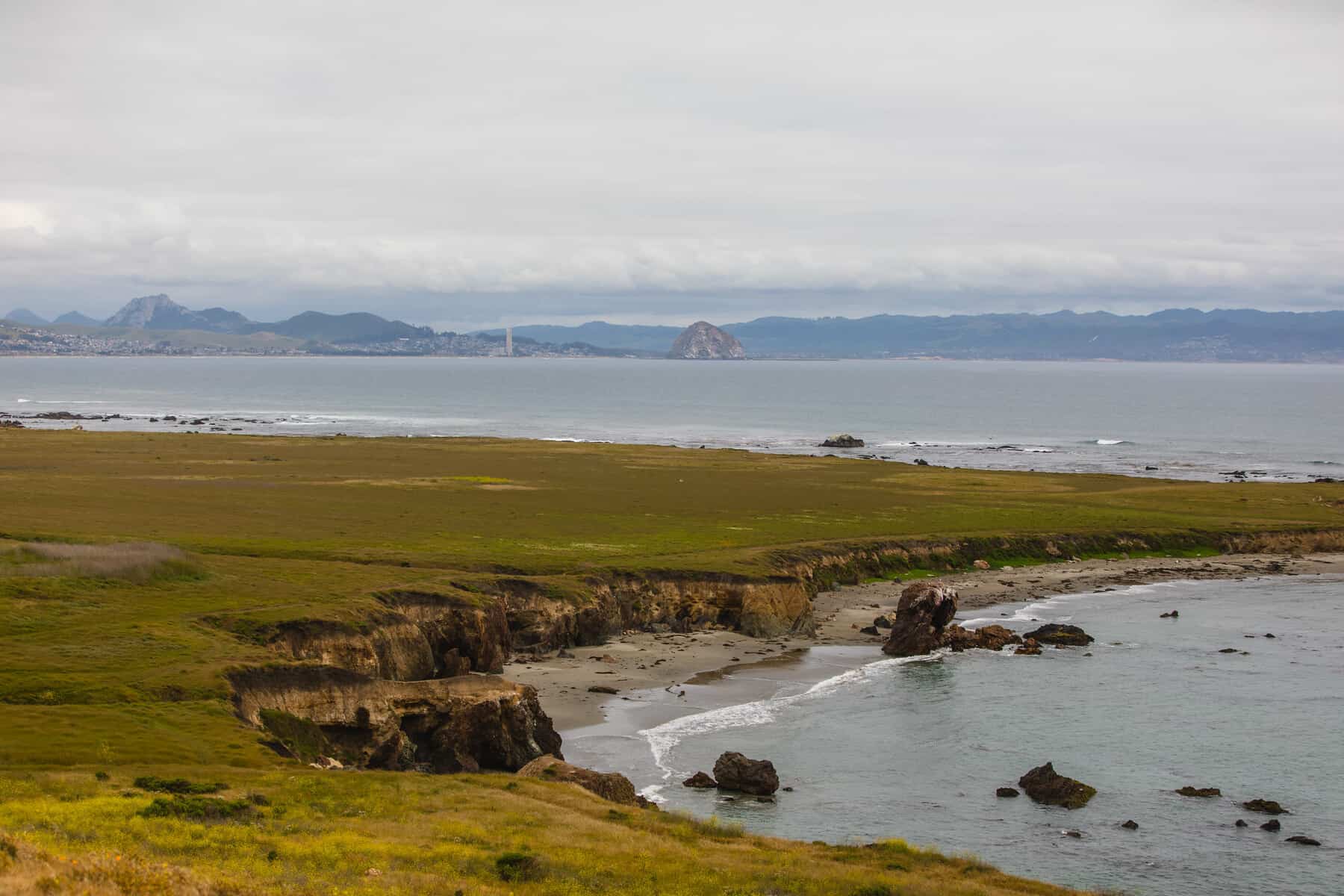 Special Events
As a warm, welcoming community, it's no wonder Cayucos is a destination for must-see annual and ongoing events.
One favorite seaside event is the Sea Glass Festival, held each March at the Cayucos Veterans Hall, steps from Cayucos Beach. Here, sea glass collectors, jewelers and craftspeople from across the world show and sell their wares. Another beloved event is the Carlin Soule Polar Bear Dip, held each January 1 on the beach. Folks from far and wide arrive in Cayucos to jump into the frosty waves to kick off the new year. And in May, Miracle Miles For Kids brings people out to run or walk the 6 miles between Morro Rock and the Cayucos Pier. Proceeds from the race benefit local foster children. After the race, hundreds of athletes descend on Cayucos Beach for live music, barbeque, and relaxation.