Walk the planks! With its significant history and panoramic views, the Cayucos Pier represents the very best that Highway 1 has to offer. Plus, it sits on one of the finest beaches in Central California. What's not to love?
Cayucos Pier History
Cayucos began to evolve during the Spanish Land Grant days and was originally part of the Morro Bay Cayucos Rancho. Captain James Cass built the original wharf, which channeled commerce throughout the coastal communities. Cass began construction of the pier in 1872. Originally 380 feet long, boats still had to anchor out beyond the pier as the shoreline was too shallow. In 1876, the pier was lengthened to 982 feet, allowing ships to dock right alongside. Although 40 feet of the pier were removed when the state took control, the Cayucos pier remains a central landmark of the area.
In July 2013, the pier was closed due to concerns about its condition after a rough winter storm. The pier had missing or deteriorating piles, and degraded beams and cross bracing. But thanks to a massive $3.5-million rebuilding effort coordinated by passionate local residents, the pier has been virtually reconstructed. The town of Cayucos celebrated the reopening of the historic pier on Halloween 2015, with a community party.
To see all of the locations along the Highway 1 History & Heritage Trail, check out our interactive map.
Cayucos Pier Plaques​
Plaques line the Cayucos Pier, memorializing the many people who donated to support its reconstruction. Each name honors people who love to visit the pier ― many who have done so for decades. (There's even a plaque in memory of a dog who spent considerable time at the Cayucos Pier.) To request your own plaque commemorating your love of the pier, get in touch with the Cayucos Lion's Club at (805) 720-3173.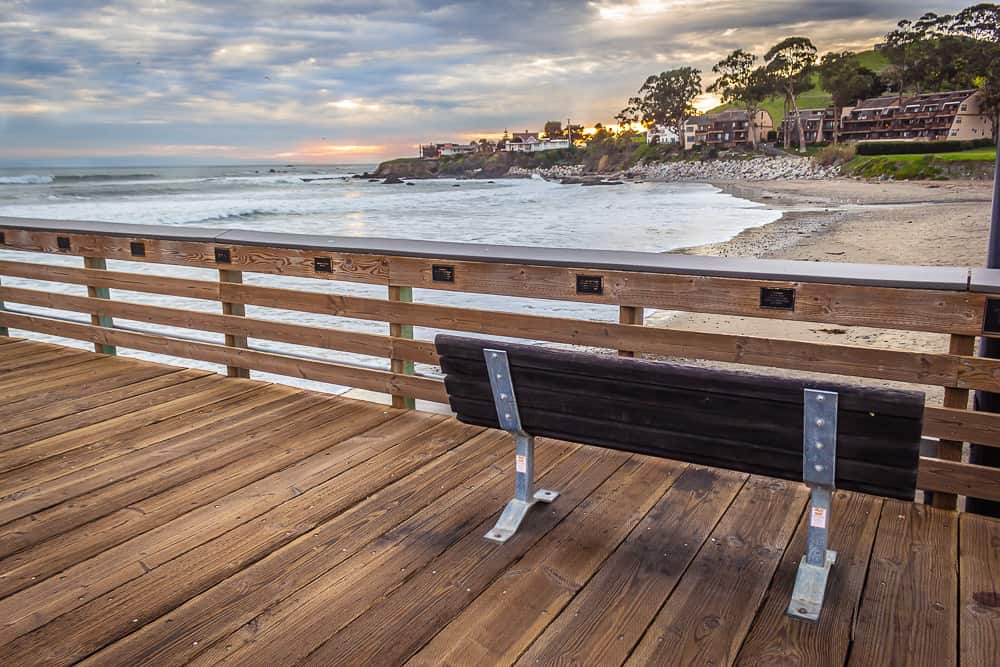 Cayucos pier fishing
The Cayucos Pier sees many people, day and night, fishing along its 950-foot length. The Cayucos Pier does not require a fishing license, making it a great spot for anyone to drop a line.
Different points along the pier offer a wide variety of catches. Try fishing near the surf for barred and calico surfperch. At the pier's halfway point, find boccaccio rockfish, walleye and silver surfperch. And at the pier's end, catch small fish to use as live bait for catching halibut, which are plentiful here.
Other bait might include live sand crabs, mussels, bloodworms, pie worms, cut shrimp and grubs. As for equipment, try a spinning rod, as well as hi/lo rigging or a sliding leader, Carolina-rig for beginners.
Pro tip: Cayucos Pier fishing can be unpredictable. When in doubt, check a fishing report (like fishingreminder.com) for information on moon phases, high tide, low tide, and feeding.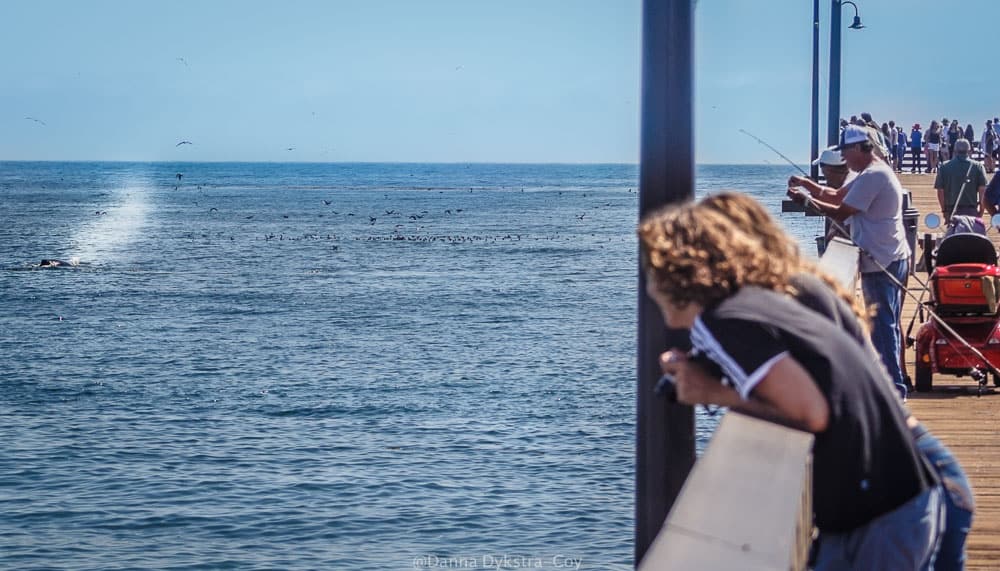 Cayucos Pier Surfing
Surfers from around the world love this famous surf spot. So do stand-up paddle boarders (SUP) and kite surfers! Look for northeast winds, waist-high and higher swells from the southwest, and high tide for ideal conditions. Spring and summer provide the best, most consistent conditions on this exposed beach break. For specifics, check a surf report (like surfline.com) before hitting the waves.
Water temperatures at the Cayucos Pier range between 54 degrees F (March) and 66 degrees F (September). For colder temperatures, bring a wetsuit at 4/3 mm – 5/4/3 mm thickness, plus boots, gloves, and hood. In the warmest temperatures, bring a 2 mm – 3/2 mm wetsuit or spring suit.
You can find short boards and longboards in the water here, so bring either one. Or pack light and rent gear, including wetsuits and boards, at Good Clean Fun or Cayucos Surf Co. You may even come across a board you want to buy, as many nationally-known surfboard craftsmen call Cayucos home.
Surfing at the Cayucos Pier includes amenities like outdoor showers, bathrooms, and ample parking.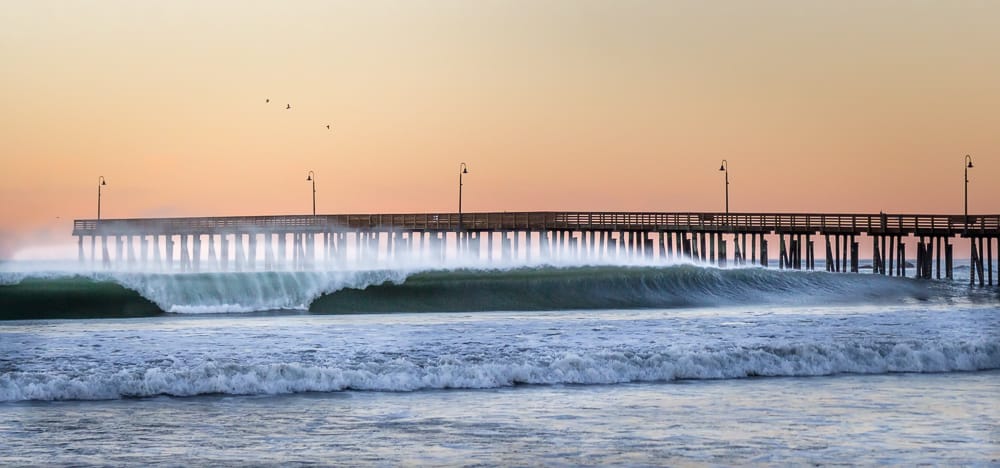 Cayucos Pier Dog-Friendly
Ready to bring Sparky to the Cayucos Pier? With your pup on-leash, enjoy a stroll down the pier together. If he or she is more interested in frolicking in the sand, Cayucos State Beach encourages on-leash dogs to enjoy its sun and sand from the Pier south to Chaney Avenue. See the Dog Friendly Activities page for more information.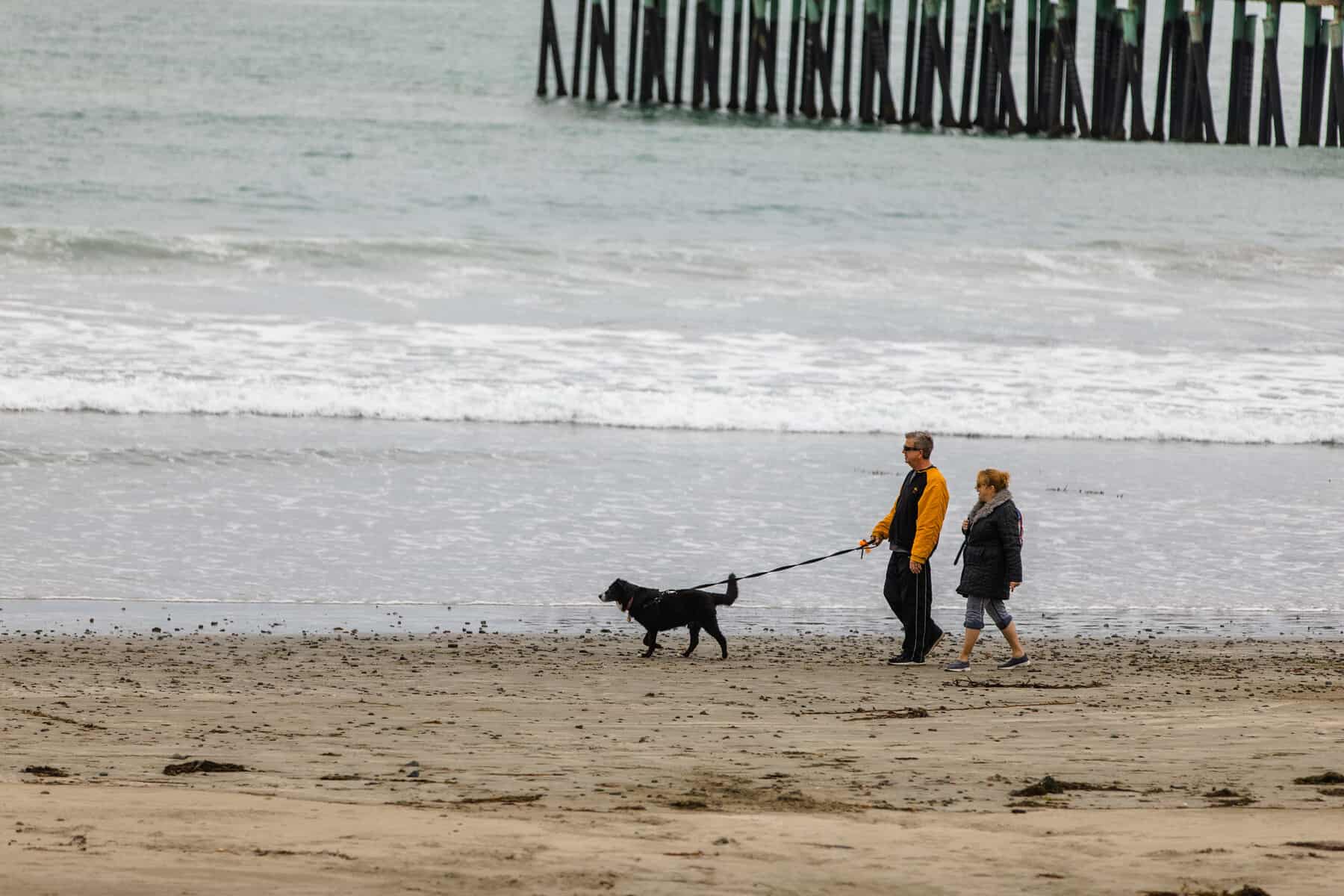 Eating Around Cayucos Pier
Take your pick of over a dozen eateries in walking distance of the Cayucos Pier. Cuisines include Mexican, Italian, American, seafood, sausages and smokehouse, farm-to-table, coffeeshops, wine bars and more. For more information visit the Where To Eat in Cayucos page.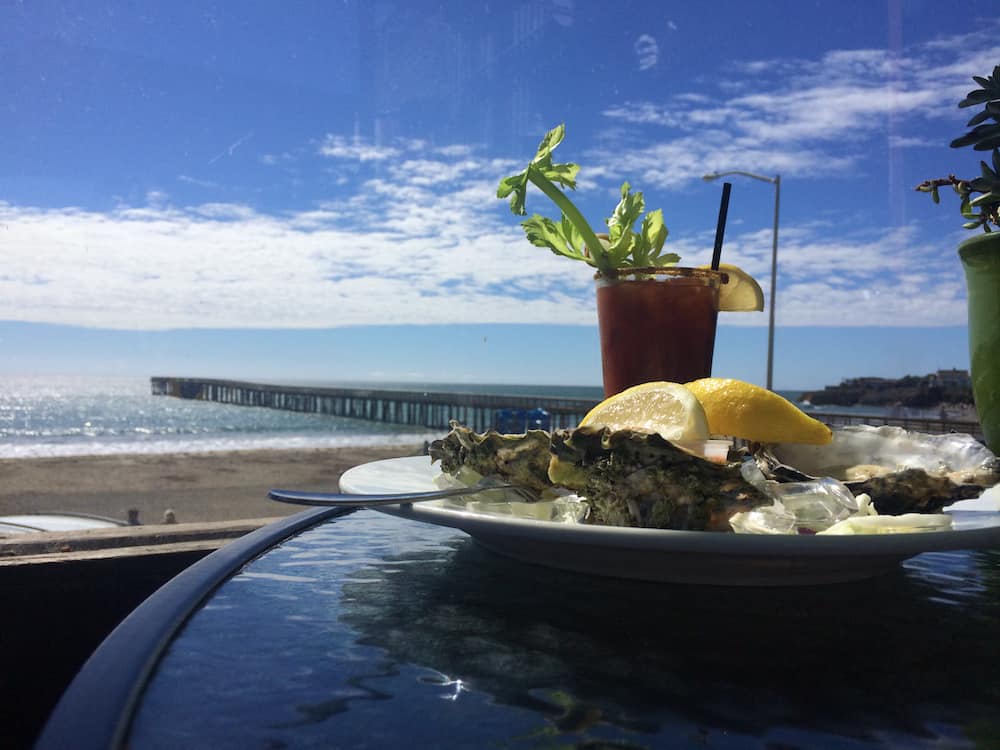 Hotels Around Cayucos Pier
Twelve lodging properties in Cayucos stand ready to make your beach days unforgettable. Options range from seaside hotels and bed & breakfasts to private retreats and historic inns. For more information on where to stay, visit the Where To Stay in Cayucos page.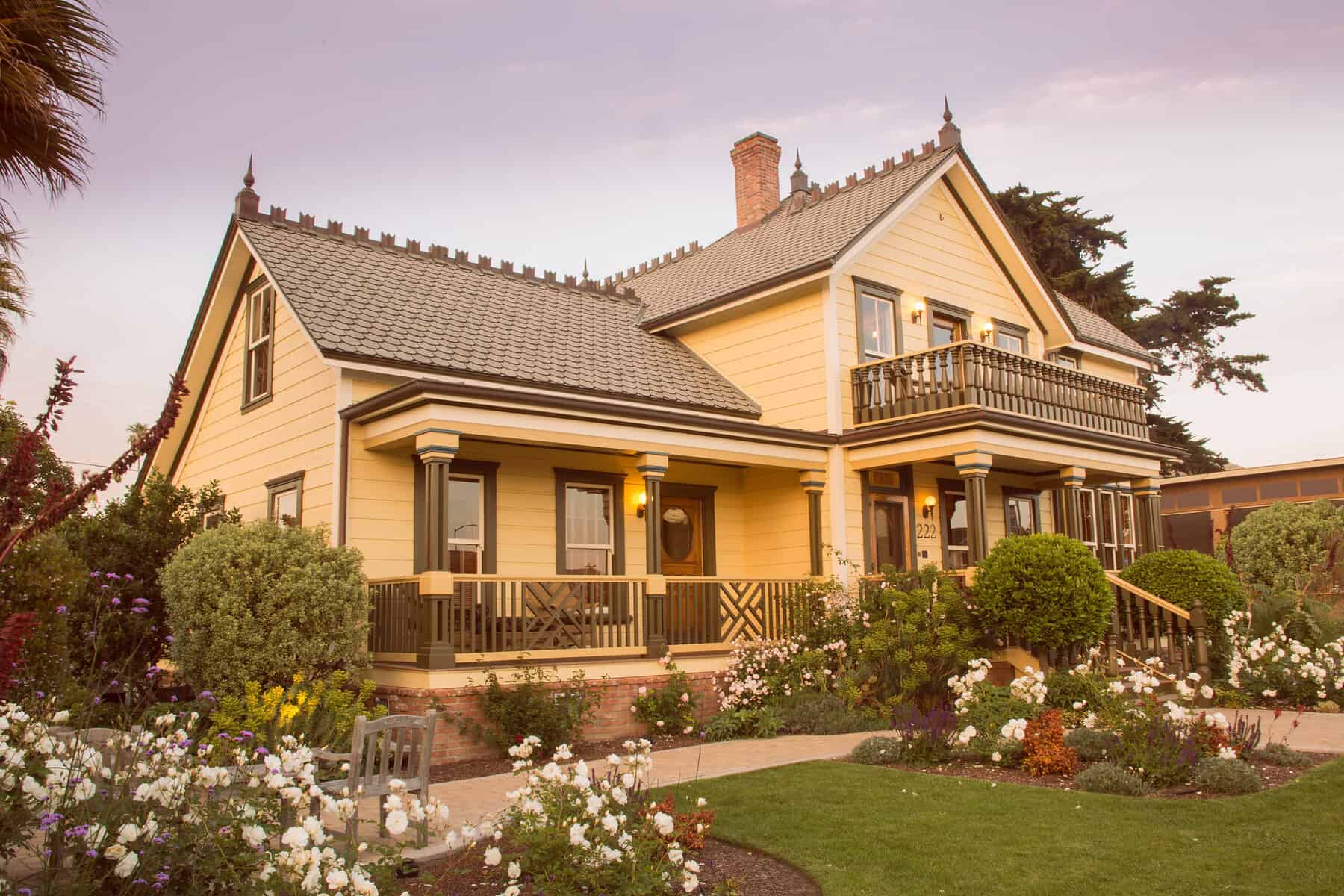 Directions to Cayucos Pier
Northbound on Highway 1: Take exit 285 for Cayucos Drive. Turn left on Cayucos Drive and, in 0.4 miles, turn left on Ocean Front Avenue. Find free public parking just south of the Cayucos Pier, or along Ocean Avenue.
Southbound on Highway 1: Turn right onto North Ocean Avenue, drive 0.7 miles, then turn right on Cayucos Drive. Make an immediate left on Ocean Front Avenue. Find free public parking just south of the Cayucos Pier, or along Ocean Avenue.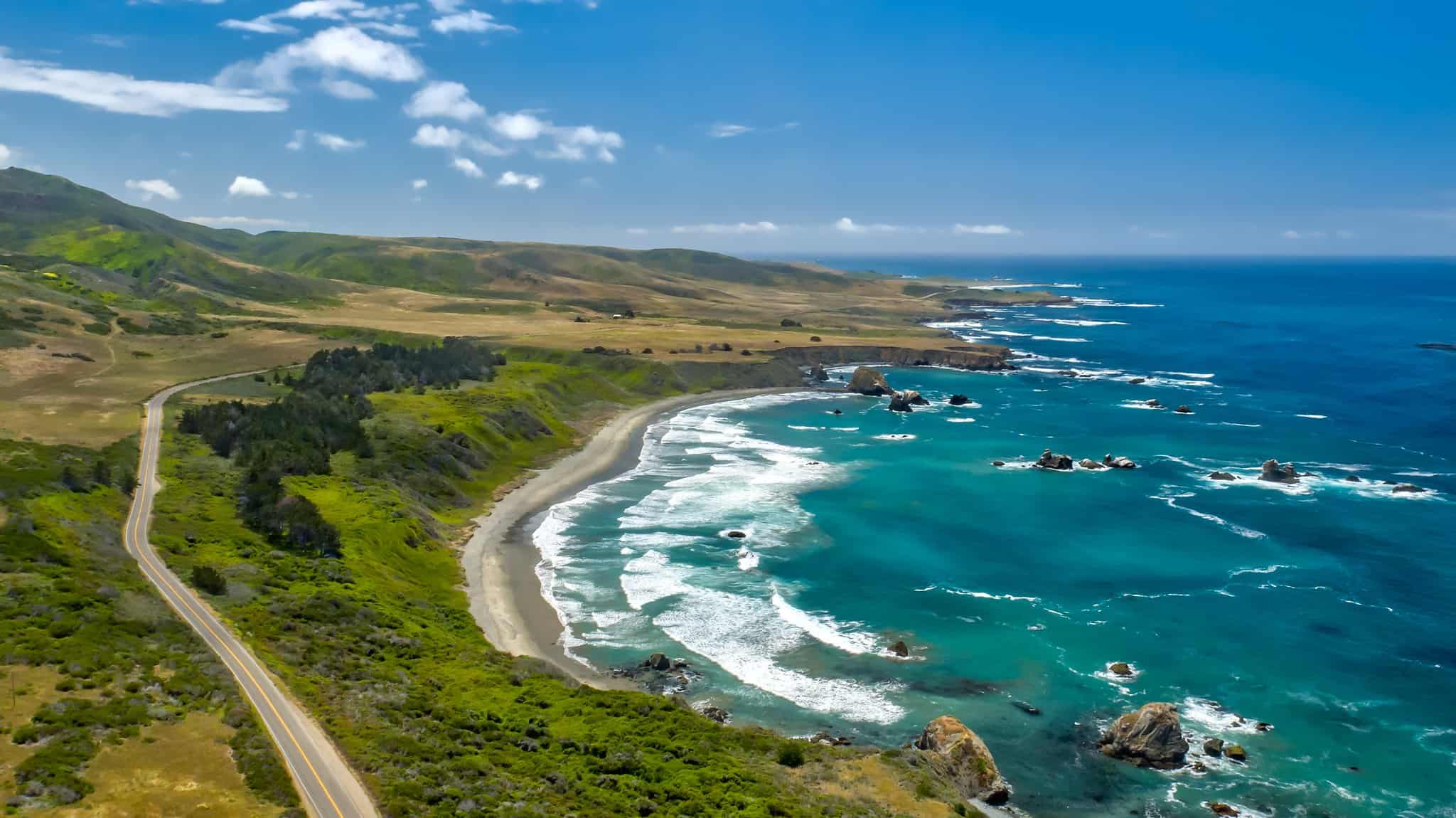 Checkout the Cayucos Activities Map