The Surfers love catching waves in and around Cayucos for its ideal conditions and for beaches less crowded than Morro Bay to the south. Expansive ocean views, one of California's best beaches, and the quaint, walkable town of Cayucos make this surf spot exceptional. Water temperatures across this state beach average 52 and 60 degrees F, so it's wise to bring your wetsuit, hood, gloves and booties. (Ideally, these should be 4/3 mm thick for temperatures 52 degrees F and up.) The air temperature ranges between 44 and 74 degrees F, so you'll want to bring a warm towel and comfy sweatshirt for afterward, too! But local Cayucos surfers don't bat an eye at the frosty water temperatures. In fact, Cayucos hosts the Carlin Soule Memorial Polar Bear Dip every New Year's Day. This beloved tradition involves hundreds of crazy townspeople jumping into the ice Pacific on Cayucos State Beach in the coldest month of the year. But the best time to surf in Cayucos is fall —September and October, specifically. Get out in the water early in the morning to avoid winds, and enjoy the long-interval swells from the west. Fall is also the best time to explore pretty much anywhere on our stretch of Highway 1. Put the board in the back, roll down the windows, and find yourself on Cayucos's wide-open beaches and waves.
Surf Spot: Atascadero Beach aka A-Beach
Just north of Morro Rock, Atascadero Beach — also known as A-Beach — lies 2 miles long. At one time, this used to be its own state beach, but was later included as part of Morro Strand State Beach. (And before that, this beach was home to the Morro Beach Inn, which stood directly on the sand. Atascadero's founder, E.G. Lewis, owned the tract and added one lot to anyone's purchase of 10 acres in Atascadero as a bonus!) Here, you'll find wave faces that range from 5 to 10 feet with 13-19-second periods. You'll also see A-frames that break just right when you catch Atascadero Beach on the right day. Bring a long or a short board — either works, depending on the day — but longboarders will especially love these conditions. But beware the springtime winds: if you come to paddle out any time between February and May, be prepared for a blow out. To reach A-Beach, take Highway 1 north of Morro Bay to the intersection of Yerba Buena Street. Turn west to the end of the road; park anywhere along the shoreline or on residential streets.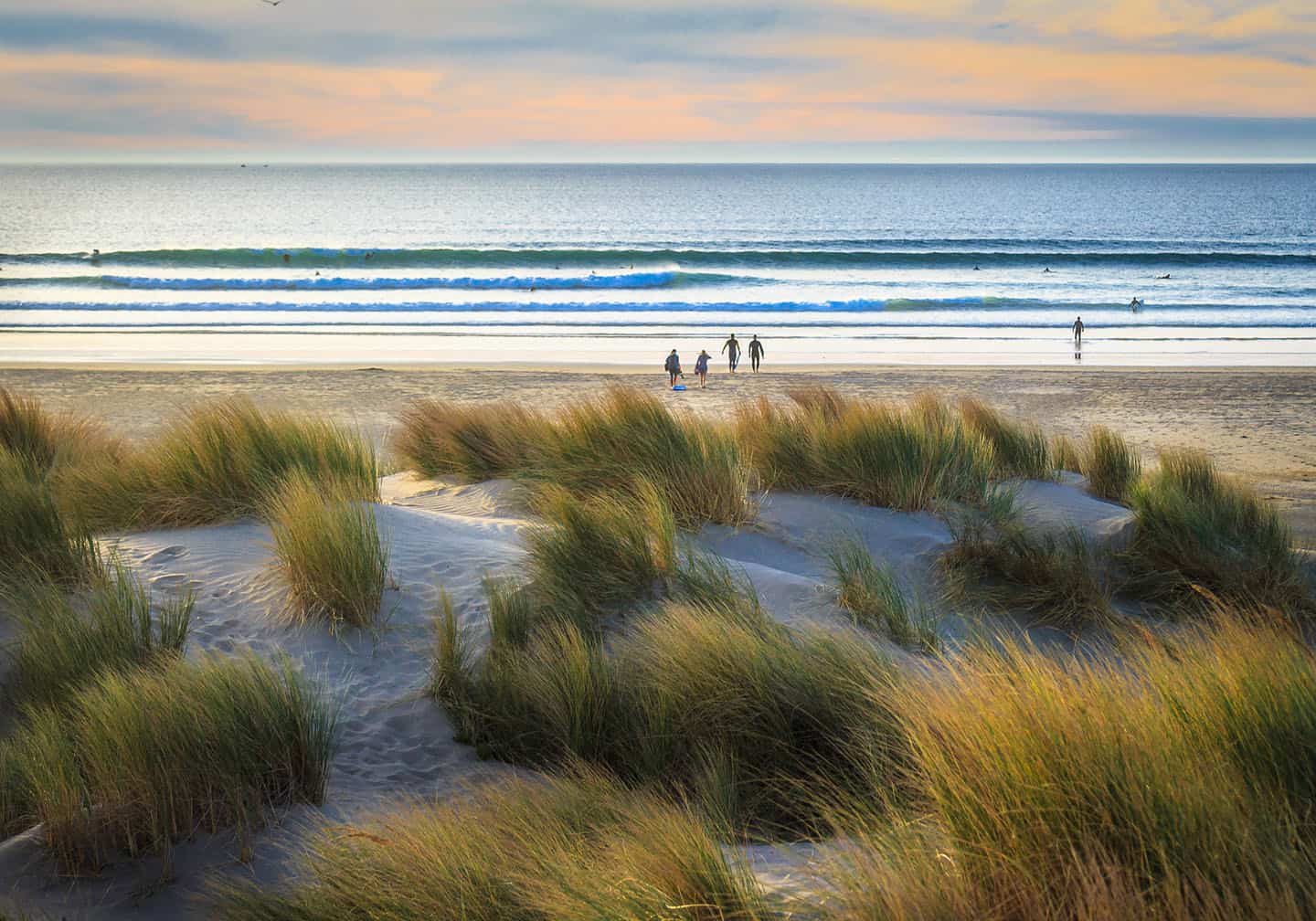 Surf Spot: Studios (Morro Strand North)
Five miles north of Morro Rock, "Studios" is a well-loved local surf spot named after its location at 24th Street and Studio Drive. The wave is a beach break with consistent and powerful rights and lefts. That said, these waves aren't long: on a good day, they extend 50 to 150 yards. Swells come from the north, working from 6-8 feet and holding around 10 feet. Come out at either rising or falling tides, but don't bother in spring or summer, when the wind chops at the water. This is a friendly spot, but only experienced surfers should get out in the waves. Watch out for rip tides and undertow, as well as rocks and the (very) occasional shark. The beach is wide and primarily empty all through the week, and most of the year. To reach Studios, drive Highway 1 between Morro Bay and Cayucos, and look for the sign for Studio Drive, pointing west. Turn off there and drive to the end of the road, where you can park for free on the street.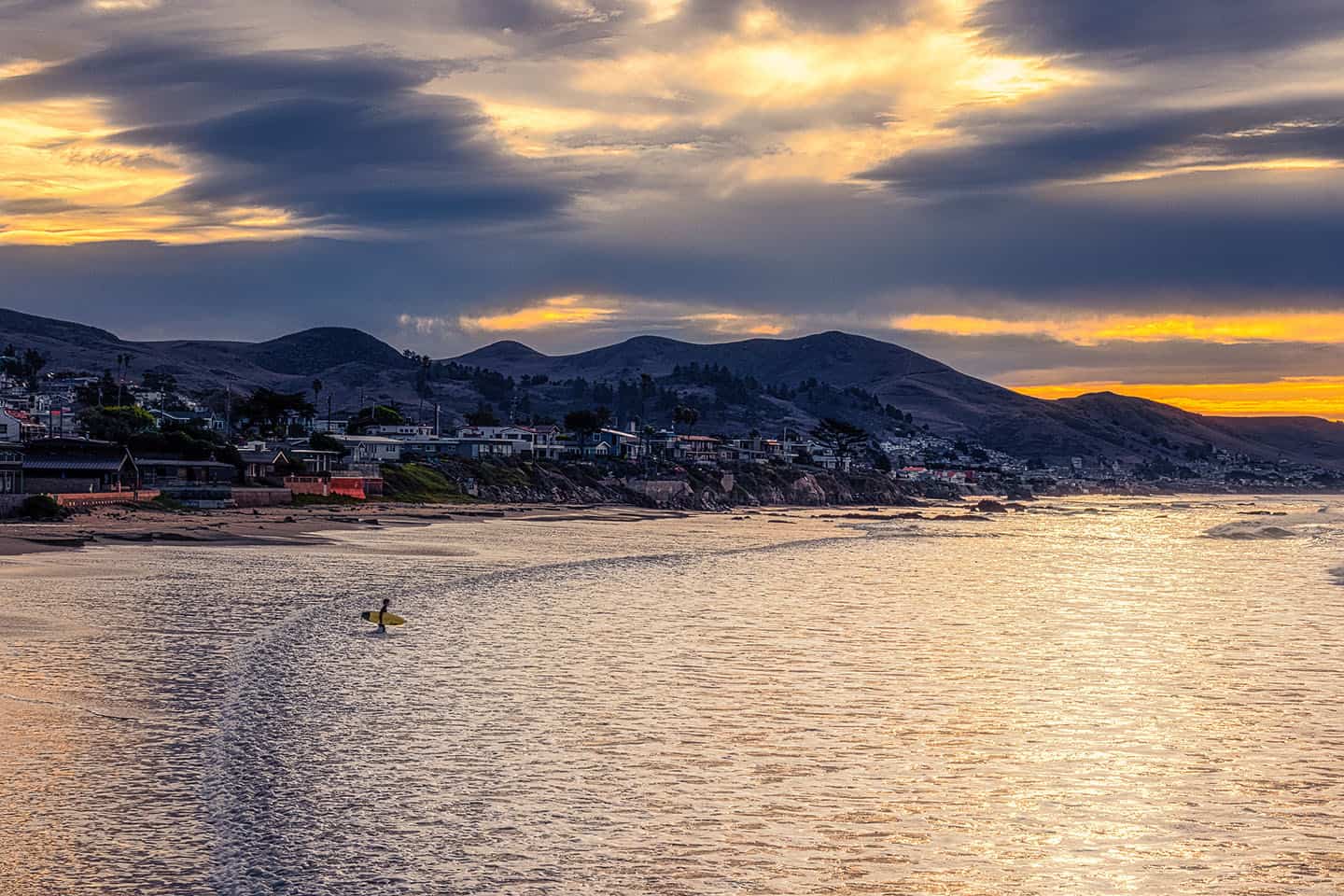 Located just beside the famous Cayucos Pier originally built in 1872, this surf spot appeals to anyone who loves classic California beach culture. Folks walk the pier, watching the surfers from above, for free entertainment. The pier entrance is really the heart of downtown Cayucos, which runs parallel to the beach on Ocean Avenue. Surfers will enjoy riding the hollow beach break on the south side of the pier — a favorite spot for locals and visitors alike. This is where a quick, thin wave rolls right in the best conditions, often handling up to several feet overhead. On a not-so-great day, it can be a close-out, though. While summertime can bring the best lefts, skip August for the best swell and wind conditions in November. For parking, look for a spot on Front Street, directly off the beach to the south of the pier entrance. Otherwise, park downtown and hoof it over to the beach.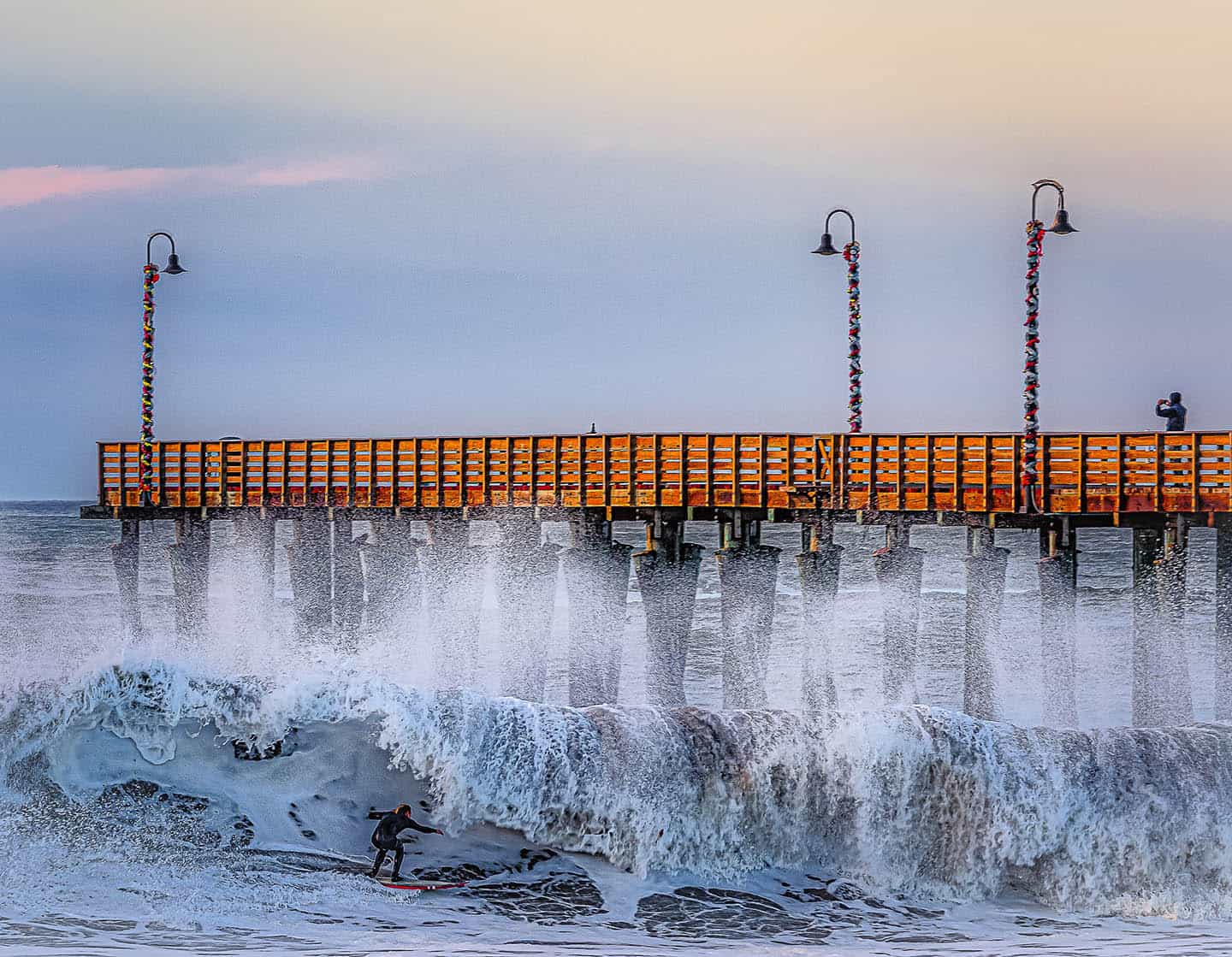 There are big waves and then there are big waves: Mouse Rock is the latter. Known for being an offshore monster, Mouse Rock waves can hold at 16 feet or more. This can be intimidating for less-than-expert surfers, but the good news is bodyboarding is easier here, and tons of fun. This reef break can be found 0.3 miles north of Cayucos Pier, which means it's a little tricky to reach. Tow out with a jet ski, wave runner or boat; or just jump off the Cayucos Pier and paddle out. While many surf spots on the Central Coast offer the best conditions in fall or winter, Mouse Rock shines in spring and summer. This is when offshore winds blow in from the east and groundswells move in from the west. Because Mouse Rock is an extreme spot, it's usually empty — and certainly never crowded, even at its busiest. Just beware of the sharp stuff: urchins, surfacey rocks, and the rare shark.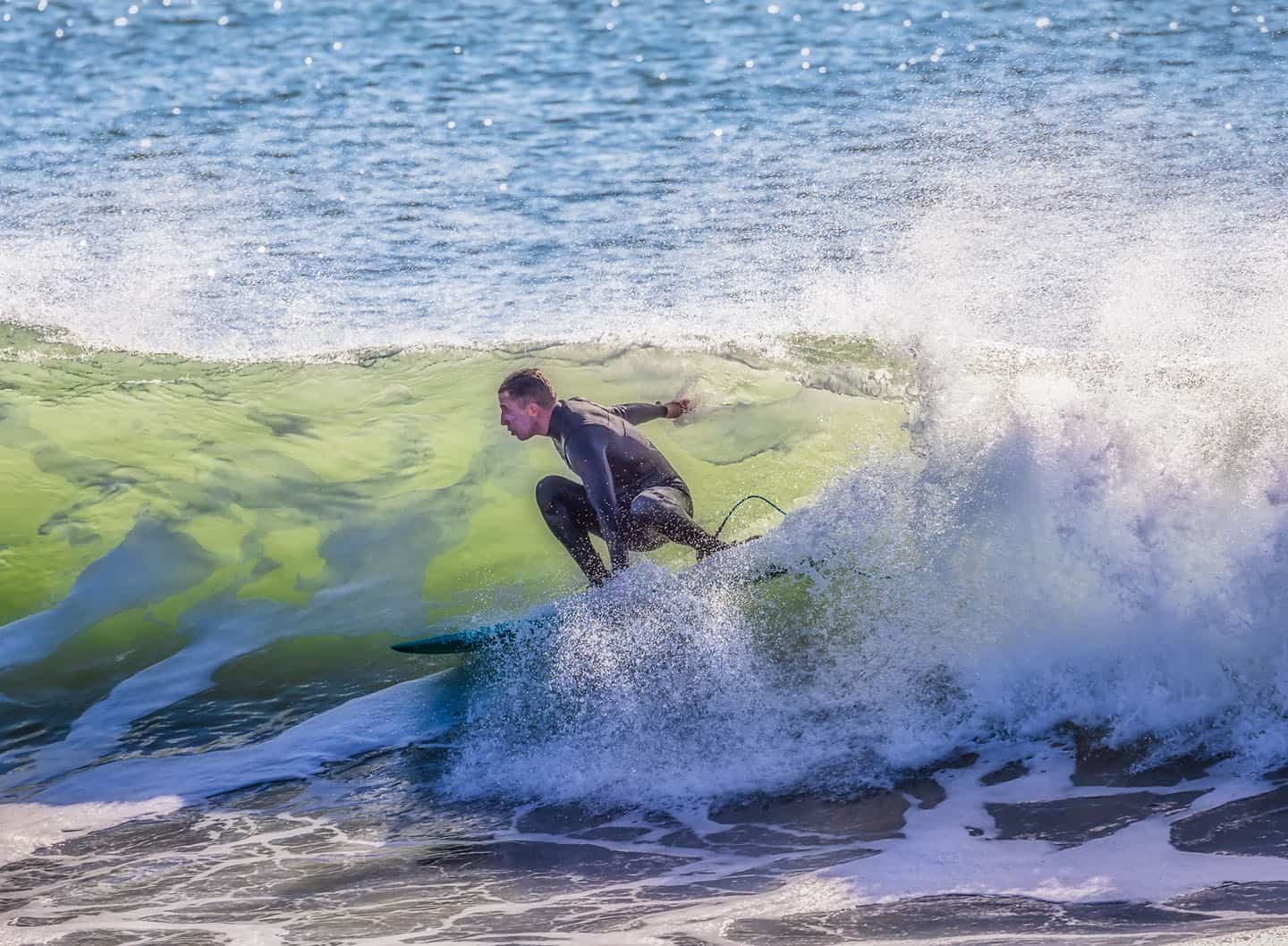 For pro-level conditions, check this surf spot on the north side of Morro Rock. Literally, though, these are pro-level conditions: Morro Rock is the site of the SLO CAL Open, hosted by the World Surf League. Since 2020, this North America Qualifying Series event has tested both women's and mens' surfing skills with cold waters and significant swells. Morro Rock is a beachbreak that wraps around a set of rocks and crashes on the sandbar for an easy left. (Want something more challenging? Head a little north of that break for steeper rides, or you can paddle across the channel inlet for the Sandspit surf spot.) It holds most swells up to six feet — sometimes taller, depending on the state of the sandbars. To avoid crowds and competition for waves, come mid-day, but always check the wind before heading out. This is one of the few spots on Highway 1 that isn't always windy in the afternoon, so you might get lucky and find yourself completely alone out there. To find parking, drive to the lot in the shadow of the rock. The surf spot is directly adjacent to the lot; the beach faces west.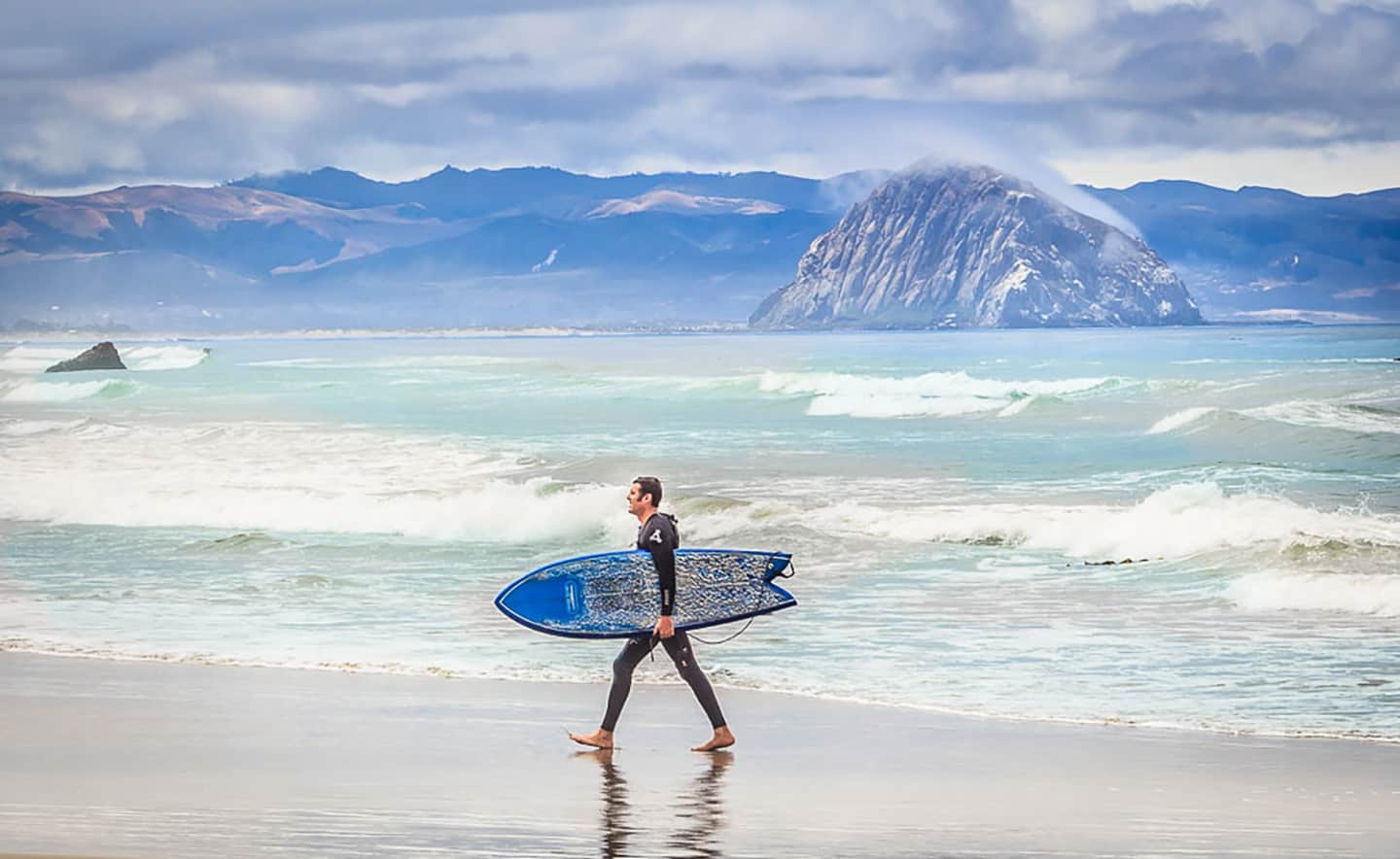 A Central Coast institution, Good Clean Fun offers a wide range of surf- and skate-related goods and rentals. Located directly on Cayucos State Beach on Ocean Front Avenue, the shop has been providing surfboards, wetsuits and apparel since 1975. The inventory has expanded since then! Look for brands like Sanuk sandals, ProLite surf bags and racks, and Daiwa reels. Catch the newest swimwear, beachwear, and Good Clean Fun's famous branded apparel like caps and sweatshirts. You'll even find jewelry, water bottles, and sunglasses. As for surfboards, head upstairs to the board loft where you can check out a wide selection from makers like BruSurf and Nomad. Bodyboards, stand-up paddleboards, kayaks and skateboards can be found upstairs, too. If you'd rather try before you buy, rent wetsuits, kayaks and boards from Good Clean Fun. You can even ask for surf lessons and guided kayak trips (including a kayak fishing trip) from the shop's staff.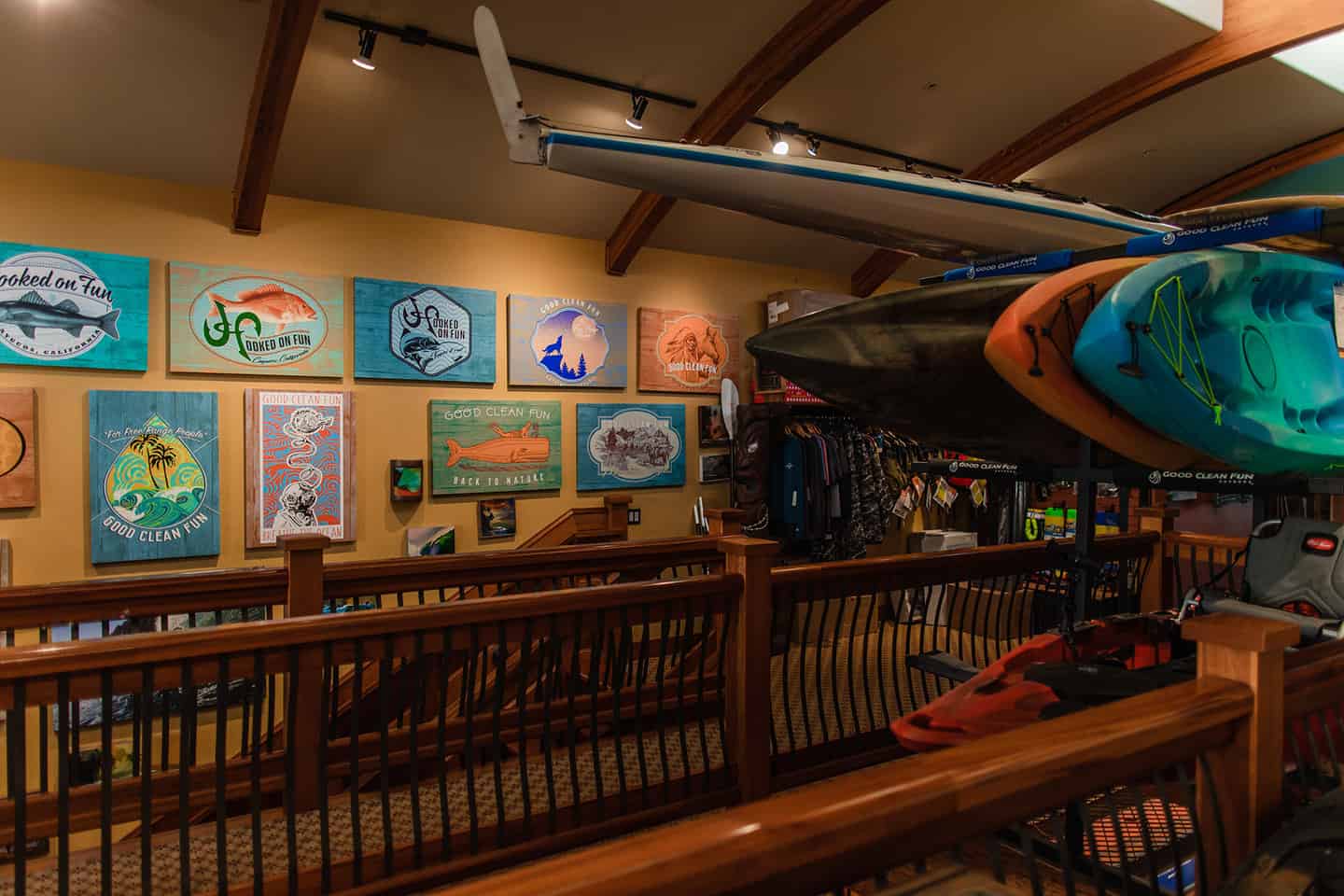 Cayucos Surf Company has stood at the corner of Ocean Avenue and Cayucos Drive since 1996, when it was founded by surfers. Since then, they've grown to become a hotspot for knowledgeable service, great gear, and rentals. Check out a wetsuit, surfboard or boogie board, and get advice on where to catch the best waves for beginners through experts. Or buy your next surfboard, boogie board or wetsuit here. The shop also retails name brand surf apparel for women, men and youth, including O'Neill, Roxy, and RVCA. Browse their famous selection of Cayucos Surf Co. branded logo wear like sweatshirts, tank tops, caps and more. Flip flops, sandals and shoes from Sanuk and Rainbow will keep your feet happy. And swimsuits, board shorts, hats and sunglasses will help you blend in with the locals. Park anywhere along Ocean Drive, pick up your gear from Cayucos Surf Co, and head to the beach, just a few steps away.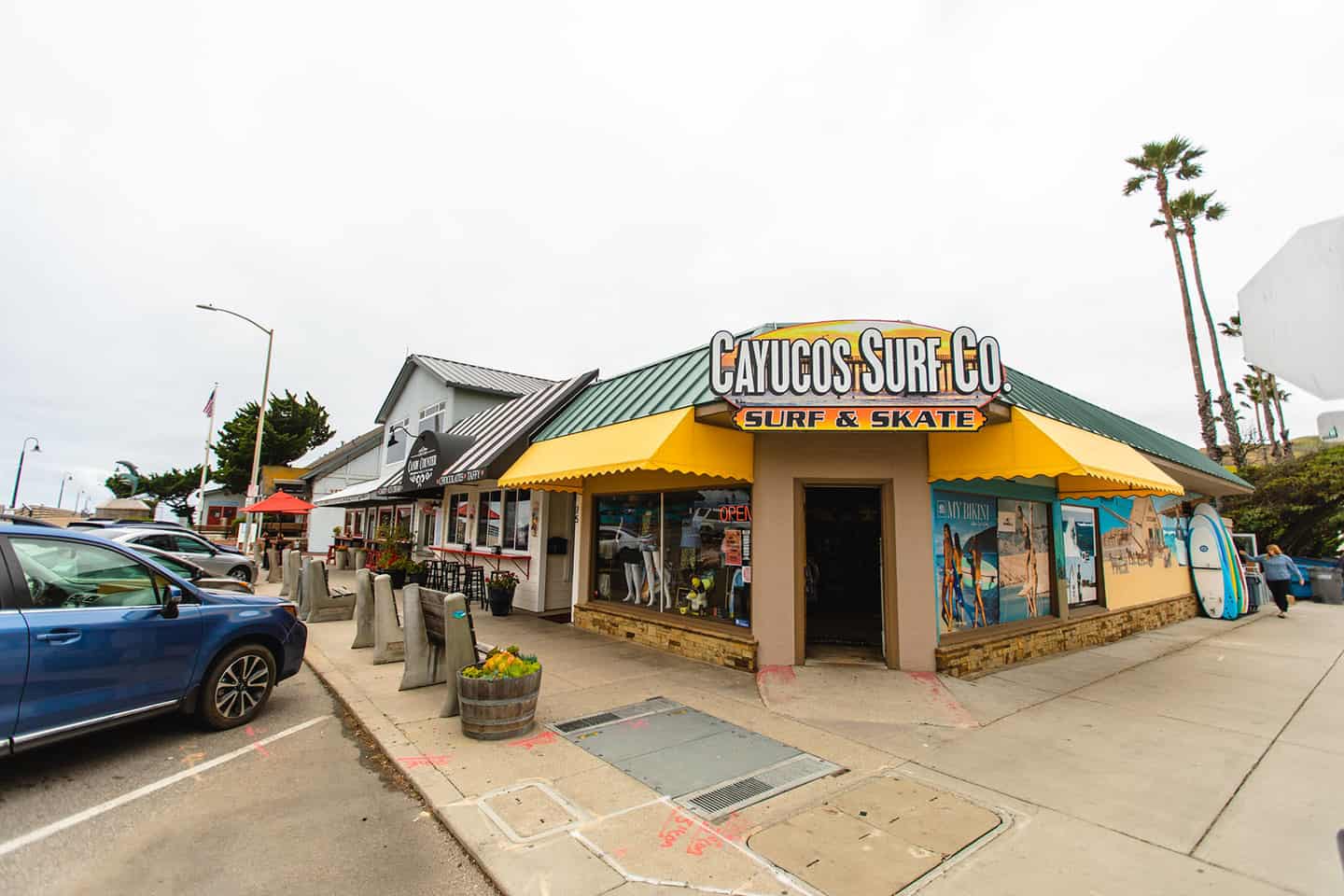 Start your Cayucos surf adventure on the right foot with surf lessons. With its relaxed vibe, variety of waves and sunshine, this is an ideal place to learn how to surf. A number of businesses offer group, semi-private and private instruction, plus gear and boards. Try the Van Curaza Surf School, an instructional outfit that teaches how to surf in Cayucos, and holds private lessons at the Studios surf spot. Local surf shop Good Clean Fun offers lessons for two or more people. If you enjoy yourself, head back to the store to buy boards, wax, wetsuits, and more for your next session on the waves. And for lessons in either Morro Bay or Cayucos, Cal Coast Adventures is a great choice. All lessons with this provider include the rental of a wetsuit and a board, and all are geared toward private groups. Bring the whole family or get in on the action all by yourself for personalized instruction that will have you hanging 10 in no time.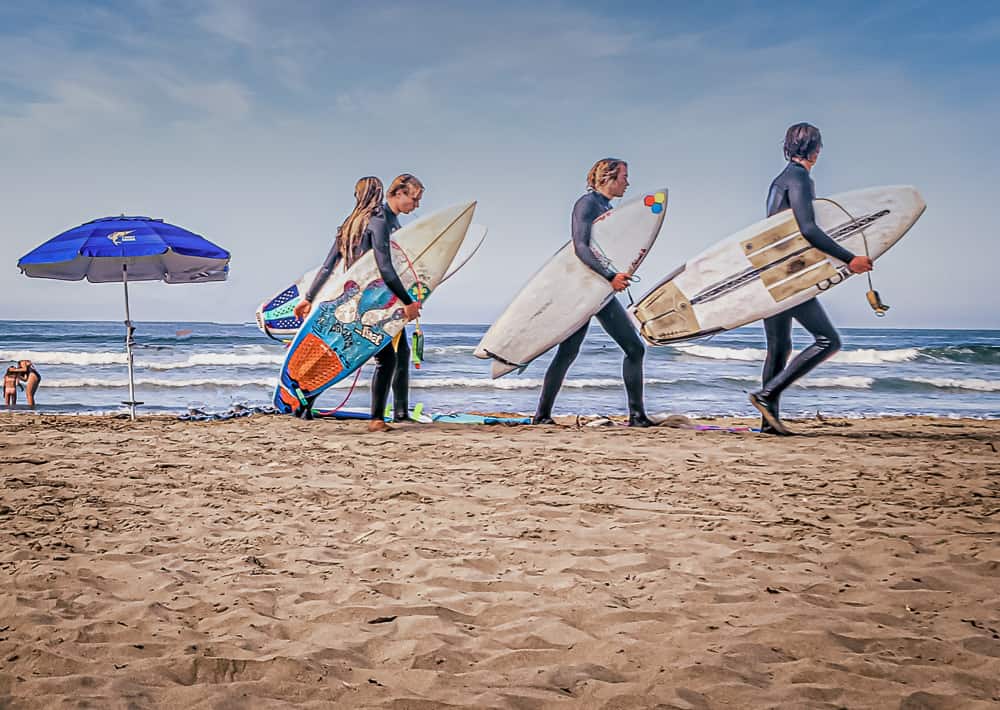 Other Cayucos Watersports
Kitesurfing and Windsurfing Cayucos
Cayucos is renowned for its kitesurfing and windsurfing as much as it is for wave surfing. Kitesurfers can be found along the entire beach from north to south of Cayucos State Beach. Mouse Rock is another popular destination for more advanced kitesurfers; even when it's "busy," the spot is always open. While wave surfers avoid the windy days of springtime, kitesurfers and windsurfers consider this prime time. Seasonal winds blow onshore from the northwest for days at a time, making this one of the best destinations around for these sports.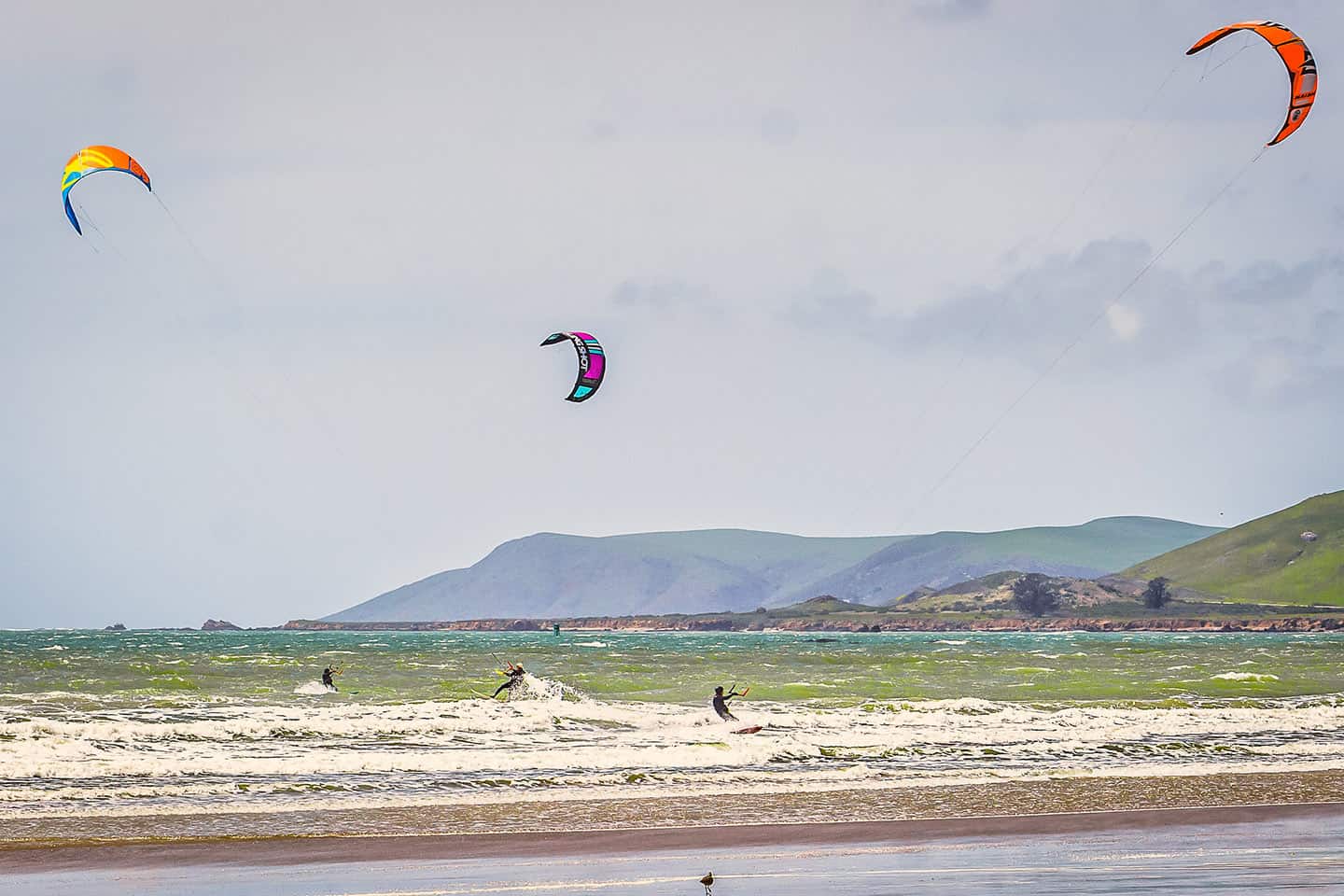 Fans of stand-up paddleboarding (SUP) will find plenty of glassy waters to explore throughout Cayucos Bay, especially in fall and winter. Launch from north of Cayucos Pier for a smoother paddle out that from the south. Discover the little rocky coves around the shore to the north, or head around the pier to see Cayucos from a Pacific perspective. However you choose to spend your sea sport time in Cayucos, you'll find perfect conditions and friendly folks to help you out.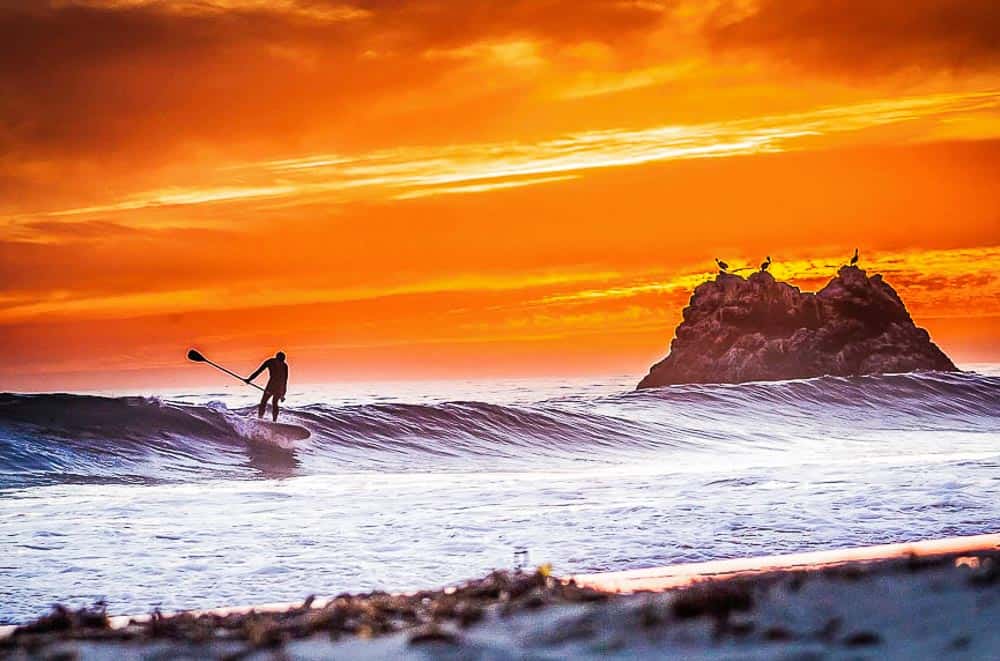 Tide Times for Highway 1
Thursday, Nov 30, 2023
| Tide | Time (PST/PDT) | Height |
| --- | --- | --- |
| High Tide | 1:01 AM | 3.79 ft |
| Low Tide | 4:38 AM | 3.23 ft |
| High Tide | 10:43 AM | 5.71 ft |
| Low Tide | 6:35 PM | -0.47 ft |
Tides measured at Port San Luis Harbor. Data provided by
noaa.gov.