The sunny beach town of Cayucos boasts a wide array of arts and culture to explore and enjoy. The common thread between it all? The presence of the mighty Pacific Ocean, just steps from downtown Cayucos. The influence of the sea can be found in nearly every artistic endeavor here, from surf clothing, to sculptures made from sea glass. See Cayucos via a trail of murals depicting underwater ocean scenes, stories of indigenous peoples, and the town's seafaring history. There's even a mural made from single-use plastic container lids that sends a message about recycling and environmental conservation efforts at the shoreline. Take the tour, see the town, and get in a good walk while enjoying free public art. Other free public art experiences are to be had at the The Sea Glass Festival and in artists' studios. Visit the workspace of renowned painter Christine La Russell, or pop into the Cayucos Collective to be a tee shirt artist yourself.
Explore Art & Culture in Cayucos
In 1992, a group of artists launched the Cayucos Mural Society as a way to celebrate the culture of this sunny seaside town. A series of murals followed, painted throughout downtown Cayucos on buildings owned by businesses, private citizens, and even a school. The paintings cover a range of Cayucos-centered subject matter, like history and the environment, and they showcase the local visual arts community. The first eight murals lie between B Street, on the northernmost side of downtown, to 24th Street. They include four painted on walls at Cayucos Elementary School, painted by students from kindergarten through 8th grade in 2001. The remaining murals along this section of the trail were painted in the 1980s and '90s. The newest installation to the Cayucos Mural Tour lies at the Skate Park by the Cayucos Pier. The colorful mural, titled "Let's Turn This Tide," is tucked back over the Veterans Hall parking lot. Made with groupings of plastic container lids, as well as paint, the mural depicts an underwater scene and sends an important message. Artist Ingrid Goelz created the mural to highlight the impact of single-use plastics on our oceans. This painting and collage debuted in 2019.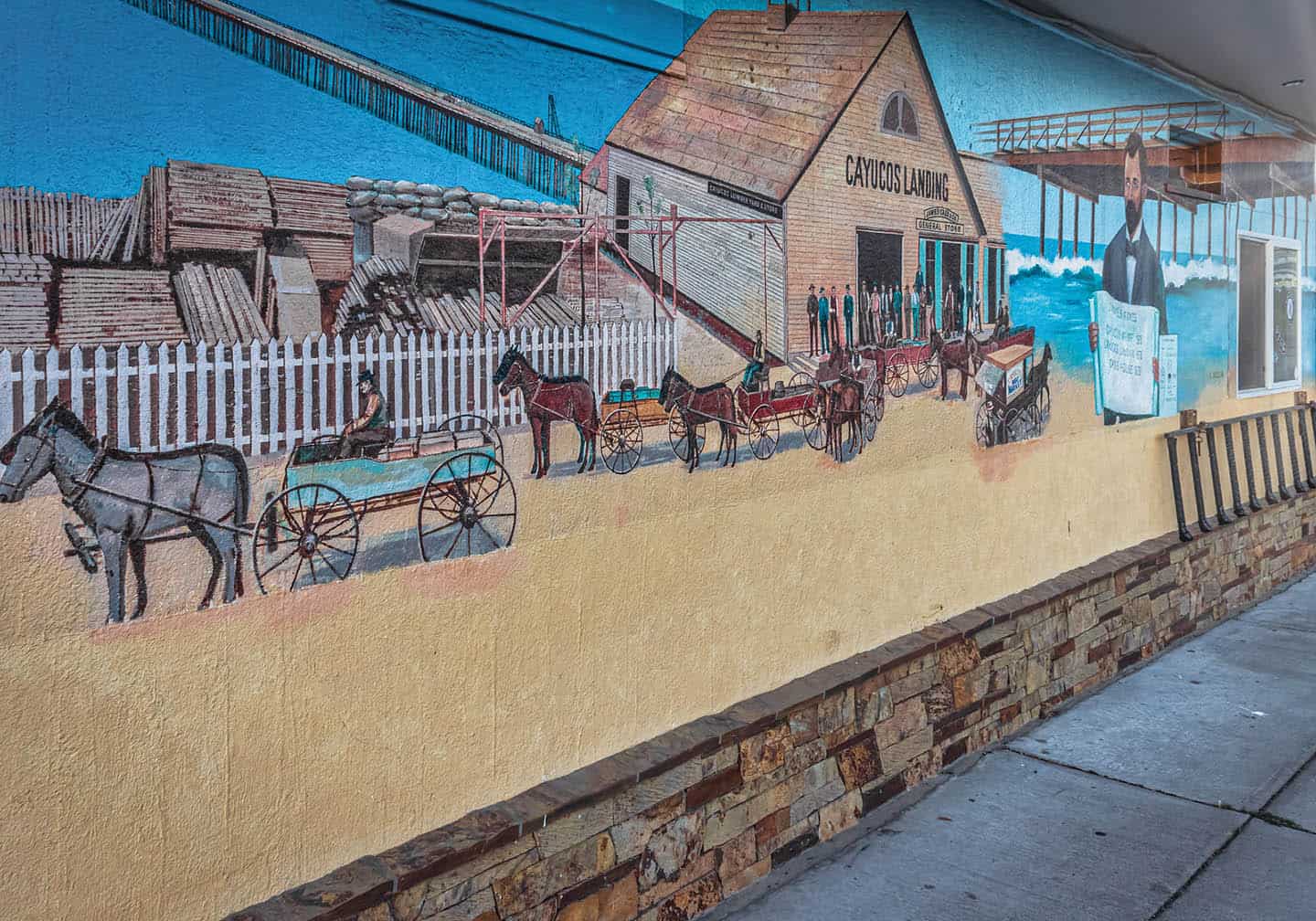 Every year, sea glass enthusiasts, hunters, artists, and collectors descend on Cayucos for the Sea Glass Festival. The event takes place on a weekend in March and includes several different happenings on site. Here, you'll find craftspeople and jewelers who put their found sea glass to use in works of art. These include earrings, bracelets and necklaces, as well as sculptures, lamps, mirror frames, and more. Vendors also lead live demonstrations on how to use sea glass in jewelry-making as well as other artforms. And while you might come for the sea glass, you'll definitely stay for the fun. Daytime festivities offer food for purchase as well as live toe-tapping music. On Saturday evening, dress up in your favorite sea-inspired costume for the Mermaid Ball. This beloved annual 21+ event includes a live DJ, food and drink for purchase, and a chowder cook-off. (Who knows? You might even win a prize for the Best Dressed Mermaid or Best Mermaid-MerMan Couple.) Also keep an eye out for handcrafted mermaids throughout Cayucos. Many storefronts boast beautiful, creative,  and often comic mermaids that provide great photo opportunities throughout the month of March.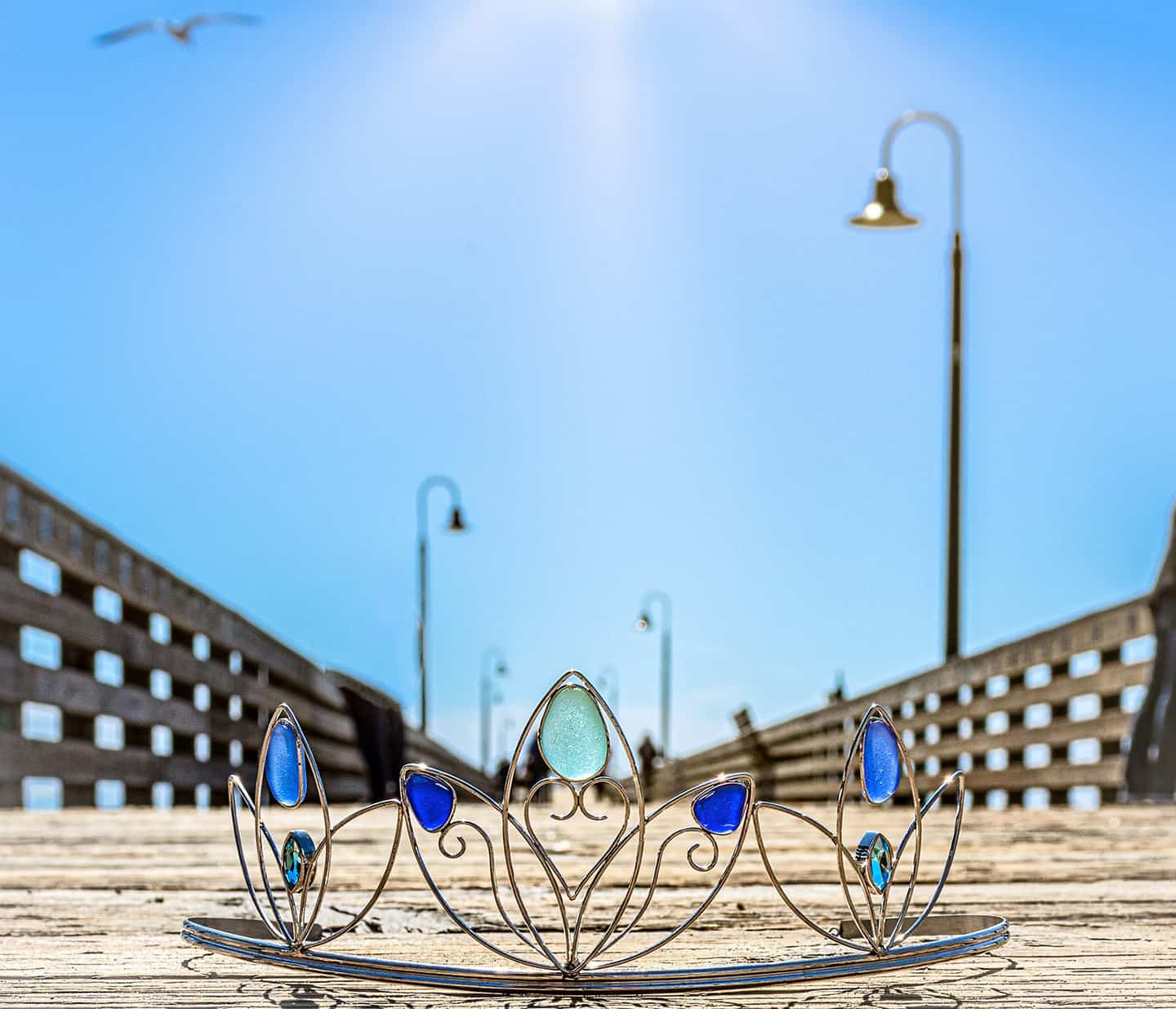 This local artists' work focuses on the culture of California, from its beaches and hillsides to its towns and big cities. Much of it, in fact, highlights life along Highway 1, particularly in Cayucos and Los Osos-Baywood Park. Christie La Russell's paintings have appeared in galleries and exhibitions across the west. She commonly works with acrylic paint to depict cool, beachy scenes with bold colors and simple lines. The effect is playful and free, evoking a sense of childlike fun. In her series "Bluff Trails" La Russell paints the grassy plain of Estero Bluffs State Park, just north of Cayucos. In the series "California Beach Town," she captures the everyday life of Cayucos, with its small businesses, seaside cottages, and quirky streets. And in the series "California Road Trip," La Russell paints vignettes of special spots along Highway 1, like beach hotels and shell shacks. She opens her Cayucos studio by appointment.
This art gallery and custom tee shirt shop sits on North Ocean Avenue in downtown Cayucos. A clutch of local artists in the surf and skate lifestyle started a blog and online art gallery in 2014. It eventually became the Cayucos Collective, a place where artists of all sorts craft work that celebrates surf and skate culture. Here, discover sculptures and jewelry, drawings and illustrations — all made locally. Apparel also represents a large part of what the Cayucos Collective offers. Find one-of-a-kind pre-designed tees, hats, hoodies and more, or you can even design your own. Using a superior DTG printing press and 100% cotton, ocean-safe clothing, the collective offers visitors the chance to make their own wearable art. Choose from a selection of images crafted by artists at the gallery, or bring your own, whether that's illustration or photos. Once you've picked your imagery and your garment, the Collective's artists will make it to order. Once it's done, the tee shirt wizards will roll it up and pack it in a signature takeout container for you.