Arroyo Grande and Edna Valley Parks are a family friendly destination with plenty of safe, fun opportunities for kids or pets to run, laugh and play. Spread a blanket in the grass, explore rugged terrain, partake in friendly fieldsports, or hit the playground for an afternoon of exploration. Whether you aim to get those wiggles out, want to enjoy a casual barbecue, or just take some time to appreciate a quiet slice of nature between stops, Arroyo Grande and Edna Valley Parks provide a scenic respite for everyone in the family to relax, recharge and have some fun. From rustic parks perfect for bird watching and picnicking to high-speed zip-lines, thrilling waterslides and enticing play structures, there's a family friendly park for every SLO County vacation.
Explore Arroyo Grande and Edna Valley
Peaceful, yet full of opportunities to break a sweat, Strother Park is a great choice for active kids of all ages or anyone looking to stretch their legs in a gorgeous creekside setting. Located adjacent to Arroyo Grande Creek at 1550 Huasna Road, this tree-studded oasis features thoughtfully-designed play structures geared towards both preschoolers and elementary aged children, as well as horseshoe pits, frisbee golf course, soft ball field, grass volleyball court and basketball courts. Looking to celebrate a birthday or other special event? Take your pick between three barbecue areas available for reservation: two small areas hold up to 40 people each and a large barbecue area holds up to 100. Whether your group is large or small, chances are you'll all appreciate the sprawling green grass, majestic oak trees, and fresh air of this naturally enchanting hangout.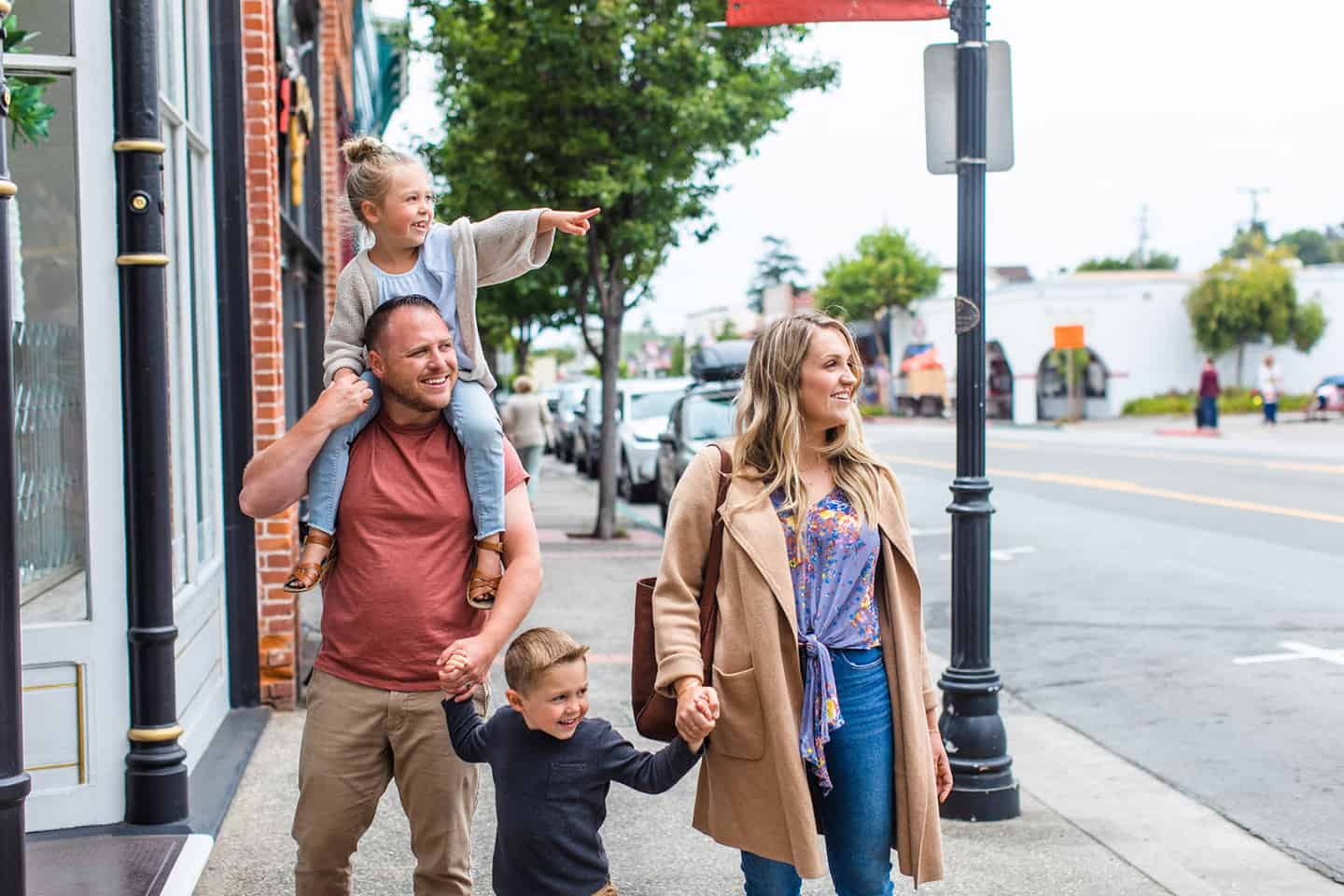 Let the kids and dogs play while you relax in a picture perfect locale. Located at 1221 Ash Street in Arroyo Grande, Elm Street Park is popular among locals and visitors alike thanks to a unique combination of amenities sure to delight the whole family. Enjoy the area's only off leash dog park, a vibrant community garden, playground for the kids and a barbecue area available for reservation. A favorite stop for happy dogs of all breeds, the adjoining Elm Street Dog Park encourages your best friend to ditch the leash and leap, wag, and roam with other friendly four-legged friends. Pet owners can expect double-gated entries for safety, plenty of grassy areas to sniff, doggie fountains replenished with freshwater and shaded bench areas perfect for kicking back while the pups play. Looking for more fun for the whole family? Look no further than Soto Sports Complex, which conveniently shares a parking area with Elm Street Park. Home to four tennis courts, four pickle ball courts and several fields perfect for fans of baseball, softball and soccer, you could easily spend a few hours running, kicking and swinging the afternoon away.
For a truly idyllic afternoon with the kids, Rancho Grande Park can't be beat. Located at 500 James Way in Arroyo Grande, this sheltered hilltop park offers up a sunny hideaway perfect for frolicking and making friends. Featuring two play structures for both preschool and elementary school ages, your child will love to explore Rancho Grande Playground's twisty slide, monkey bars and swings, all situated on a soft, sandy floor. Plus, kiddos can simultaneously race each other thanks to three slides lined up together, a fun treat for friendly competitors. For the sportier folks, find a basketball court, sandy volleyball court, baseball diamond and horseshoe pit ready to inspire a casual game or two. Luckily, lunch isn't far away: just fire up the grill at Rancho Grande Park's three group barbecue areas available for rent. Don't forget to check out this park's unique sundial, offering up a fun learning and photo opportunity for your little ones.
Wonderment awaits at Centennial Park & Gazebo, one of Arroyo Grande's beloved historical stops and a true must-experience destination for the whole family. Located at 200 Olohan Alley—just a stone's throw from the quaint and walkable Village of Arroyo Grande—this small yet celebrated park is home to an ancient swinging footbridge that towers 40 feet above scenic Arroyo Grande Creek. First built in 1875, this safe, reconstructed 171-foot-long bridge quivers with each step, providing an adventurous trek for kiddos and grown-ups alike. Feeling peckish? You're in the right place. Explore a swath of family friendly restaurants, bakeries and boutiques all conveniently located in the nearby "village," as the locals call it. There's so much to see and do, but before you go, be sure to keep your eyes peeled for roaming wild chickens known to nest in the nearby trees. A stop at Centennial Park & Gazebo is incomplete without saying hello to these surprisingly friendly feathered friends.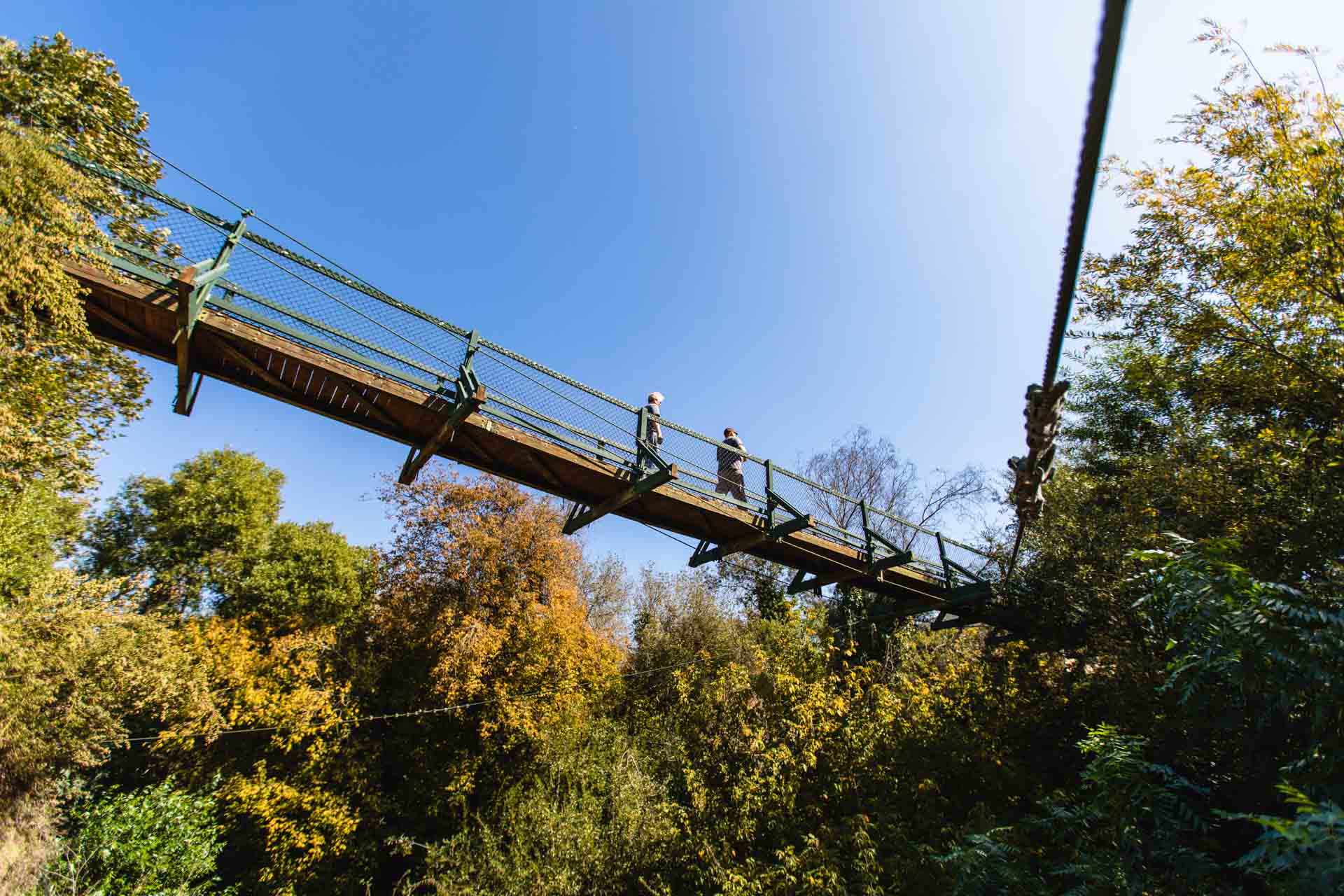 The wilderness comes alive at Biddle Regional Park in Arroyo Grande, home to a stunning Sycamore-Cottonwood forest and vibrant green belt. Tucked away just five miles east of Arroyo Grande at 3500 Lopez Drive, visitors of this unique destination enjoy picnicking at the park's tree-shaded picnic tables. Here, the rustic, ranch-like appeal that blends perfectly into the surrounding natural landscape. Explore the terrain while keeping an eye out for countless native birds or get a move on with a variety of fun outdoor activities. With five group day use areas as well as volleyball courts, horseshoe pits, and a large grass area suitable for plenty of field sports, there's something to entice everyone in your family. Note: Of the 47 acres that the park occupies, about 22 acres are developed. This means that although kids are welcome to explore the surrounding terrain, they should stay on designated paths and maintain a healthy respect for poison oak and native wildlife.
Splash into adventure at Mustang Waterpark, which boasts two 600-foot-long waterslides, a waterslide halfpipe, a kiddie pool and shaded cabanas to accommodate everyone in the family. Located at 6840 Lopez Drive in Arroyo Grande near Lopez Lake, this popular waterpark is nestled along Arroyo Grande's quiet, oak studded hillsides, giving you the best of a peaceful natural setting and non-stop family fun. In fact, you can camp at an array of nearby campsites and enjoy the park, effectively supercharging your summer vacation. After you've worked up an appetite, hit the waterslide snack bar, well stocked with everything from hot dogs and nachos to salads and snow-cones. Got a birthday party coming up? Mustang Waterpark goes all out to make your kiddo feel special with a reserved party area for up to ten guests. With more than 300 days of sunshine per year in SLO County, it's always the perfect time for a dip (plus, summer temperatures are known to soar from the 80s and 90s into the triple digits). Although located just ten miles east of Arroyo Grande, Mustang Waterpark is a world away from daily life. With water slides, camping and lake sports at your fingertips, you'll find countless ways to say "wow."
Vista Largo Adventurepark
With high-speed zip-lines positioned high above the hills and rugged adventure courses designed to test your strength, Vista Largo Adventurepark is a dynamic outdoor destination that combines action-packed family fun with the thrill of the great outdoors. Located at 6840 Lopez Drive in Arroyo Grande near Lake Lopez and lake sports and camping opportunities, this park is a must-stop destination for your next family outing. Take to the air with three high-flying zip-lines totaling 1,800-feet followed by a glass of local wine at the SipLine Bar, put your agility to the test as you fight your way through wobbly bridges, cargo net and tire bridge, or explore the park's four distinct courses depending on your skill level. With color coded courses tailored to your experience, you'll never worry about overdoing it: the yellow course is best for beginner-to-intermediate, green is best for intermediate, blue is best for advanced and black is best for those seeking the highest intensity challenge. Plus, friendly guides are there every step of the way to ensure you're maximizing and enjoying your journey. Ever wanted to jump from a towering cliff and land on your feet? The Adventurepark's Ledge Quick Jump allows thrill-seekers to free fall from a 45-foot-tall platform and land in perfect safety. Needless to say, this last obstacle isn't for the faint of heart.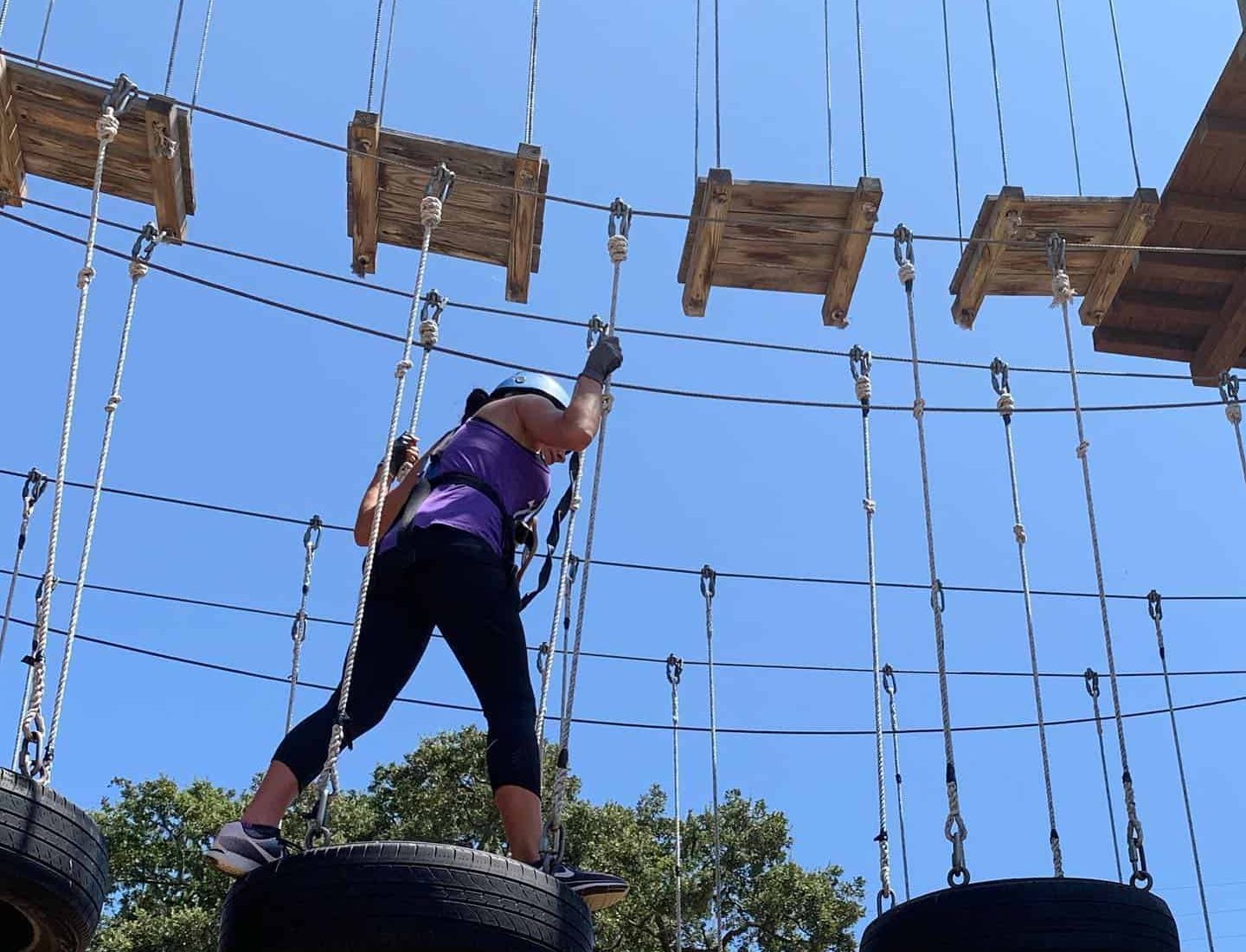 An otherworldly dunescape awaits visitors of Oceano Dunes State Vehicular Recreation Area, where endless bluffs roll onward toward the sea. Located at 100 Pier Ave. in Oceano, this is the only beach in California you can dive on, an exhilarating treat for all ages. Kick up some sand when you hop in an ATV or command your own vehicle along the surf. Follow up a day of heart-pumping fun with a family bonfire under the stars (leashed dogs welcome) or check out a range of casual, family friendly restaurants in nearby downtown Oceano. Also nearby, find Oso Flaco Lake, an enchanting beach stop that guides your family from forest and farmland to marsh to dunes, all while hundreds of species of birds soar overhead. Looking to ditch the daily grind? Pitch a tent at Oceano Park Campground and Lagoon, home to 22 campsites and a private pond for fishing.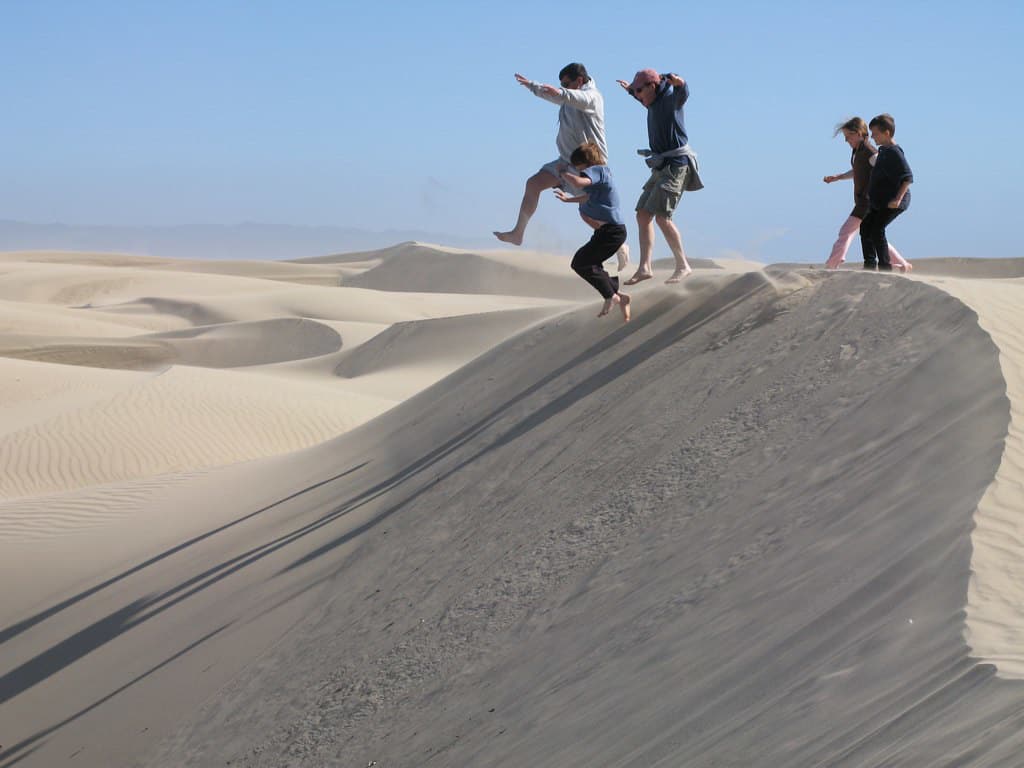 Enjoy Pismo Beach as you've never seen it before–from the top of a hiking trail–when you make a trip to the stunning Pismo Preserve. At 880 acres of pure beauty, this pristine coastal hiking area offers up one of the most stunning and unique views in all of San Luis Obispo County. Located at 80 Mattie Road in Pismo Beach and open daily from dawn to dusk, enjoy over 11 miles of trail traversing serene oak woodlands and coastal ridgelines, including awe-inspiring panoramic vistas of the Pacific Ocean stretching from the Irish Hills to Point Sal. Truly, there is no better place for a picnic or photo op than this! With trails suitable for equine enthusiasts, you can even ride horseback, if so inclined. With easier trails perfect for younger kids and more challenging terrain for teens and adults, you'll experience your next family beach day in a whole new way. Tip: a secret camera positioned at one of the park's many watering holes provides loads of fun when you log on to the preserve's website. Deer, raccoons, mountain lions and even bears can be seen enjoying a bit of refreshment courtesy of the preserve's natural spring water. Nearby in downtown Pismo Beach, find lots of family fun activities. Spend the day surfing, paddle boarding or exploring the Pismo Pier and boutique shops and restaurants. Kids will love the Monarch Butterfly Groves of Pismo Beach, a special sight to behold each winter. Watch in wonderment as nearly 230,00 Monarch Butterflies flutter in unison along the eucalyptus trees of Pismo State Beach.