Hanging with the family in Cayucos? This charming seaside town is a family-friendly destination with multiple parks and open spaces. Settle into one of Cayucos' parks and let the kids burn off some energy — or the pets, for that matter! Getting their hearts pumping will help ensure that they, and you, get the most out of your vacation. These beautiful spaces include access to picnic and barbecue facilities, tennis courts, horseshoes, swimming pools, playgrounds and restrooms. Some are even located on or mere steps away from the beach. (This can be handy when each family member wants to do something different at the beach: surfing, sunbathing, fishing, swinging, kayaking and more.) Skateboarders, rollerbladers and scooter-ers will be delighted to find a top-notch skate park open to the public just beside the historic Cayucos Pier. And four-legged friends: we've got you covered, too. Enjoy the safe and friendly Cayucos dog park, fenced in and stocked up with Mutt Mitts.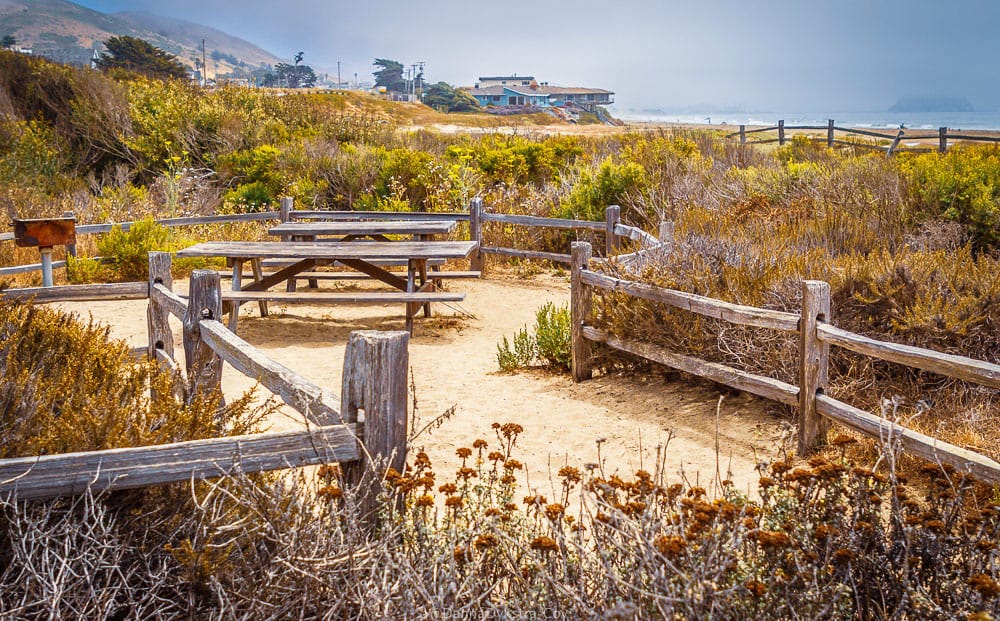 This community park makes it easy to enjoy the best of Cayucos, whether as a group, a family, a couple, or a solo traveler. Located in a residential neighborhood just 4 minutes' walk from the beach, Hardie Park spans two areas across the street from one another. On one side of B Street lies a "pocket park" with a lawn, covered day-use area that seats 60, and barbecues. It also includes a children's play area, horseshoe pit, restrooms and ample parking. On the other side of B Street, park amenities include tennis courts and a public heated swimming pool. The pool offers handicapped access, a tot pool for toddlers, dressing rooms and showers and includes an entrance fee. It is also available for rental by the hour — perfect for a family reunion, milestone birthday party or other group celebration. Fun fact: Hardie Park owes its name to the Hardie family, which emigrated from Scotland during the California Gold Rush and resided in Cayucos. Mr. Angus MacPherson was the town's first postmaster as well as a county assessor and supervisor.
Find Hardie Park located at the corner of Ash Avenue and B Street in Cayucos.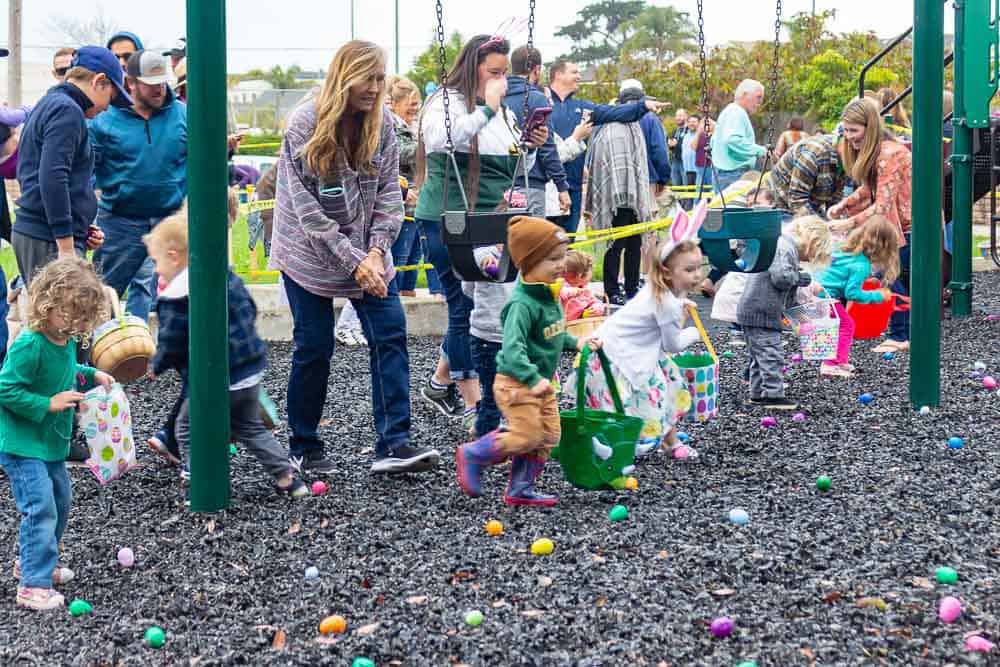 Paul Andrew Park / 3rd Street Park
This neighborhood pocket park is long and skinny, running the entire length between North 3rd Street and South 3rd Street. Park in one of the many spaces alongside the park, and walk in to enjoy the sparkling ocean view. Here you'll find a play structure and swings, as well as picnic tables, restrooms, and plenty of grass for doing cartwheels and three-legged races. You'll also find the site of the historic Cayucos Jail, a pint-sized wooden structure built in 1897. If you decide you'd like to get your toes in the sand, head toward the shoreline and cross Pacific Avenue. There, you'll find coastal access down to Cayucos State Beach via a staircase. A lookout platform also stands at the end of a primitive path, perfect for seagazing. Locals tip: When you've had your fill of the great outdoors, walk up North 3rd Street one block to the Sea Shanty Restaurant. Grab breakfast, lunch, dinner or one of their famous killer desserts to complete this uniquely Cayucos experience.
Locals know this playground as one of the finest on the Central Coast, not least of all for the view. Here, little ones and their grownups can play, climb, swing, and slide with the sparkling Pacific Ocean as a backdrop. A cushion of soft white Cayucos sand beneath the play structure makes the setup feel both comfortable and safe. The slide, in particular, is a favorite with kids for being tall and steep, while the ample swing set helps minimize waiting. A set of conga drums on the swings and a few springy seahorses to ride will keep the kids busy for hours. Nearby, find picnic tables and barbecues for making a day of it, as well as outdoor shower and restroom facilities. If different family members want to surf, fish, kayak, sunbathe or shop and dine downtown, it's all within reach of the playground. Head to the historic Cayucos Pier and find the playground directly to the left of the entrance, on the sand.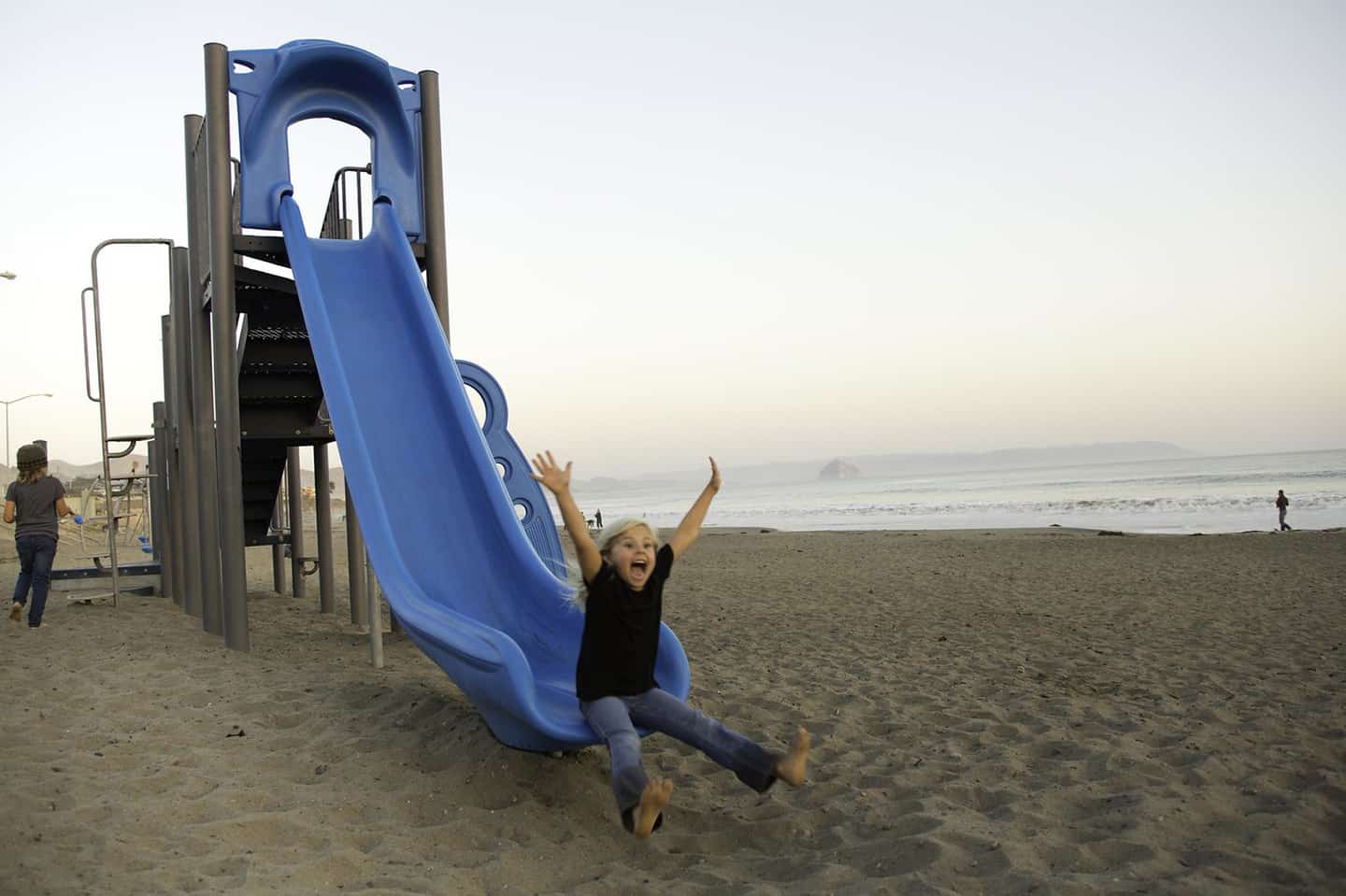 Norma Rose Park aka The Cayucos Dog Park
Local pet owners know Norma Rose Park as the Cayucos Dog Park. At 1.5 acres, this pooch-friendly space offers lots of room to run, wag, sniff and play — and all with an ocean view. The park is completely fenced in so Fido can run off leash and explore, and Mutt Mitts are provided for easy cleanup. This park provides public restrooms, covered picnic tables, a security gate and a play area. Make sure your furry friend is all up-to-date on vaccinations, and bring water to drink. And if he or she isn't completely tuckered out afterward, maybe hit up the nearby off-leash dog beach at Studio Drive and Pacific Avenue. To reach the Norma Rose Park, find Studio Drive midway between Cayucos and Morro Bay on Highway 1. Turn east onto Studio Drive, then north on Ocean Boulevard. The Norma Rose Dog Park stands at 2432 Ocean Boulevard, just before the entrance to the Cayucos-Morro Bay Cemetery.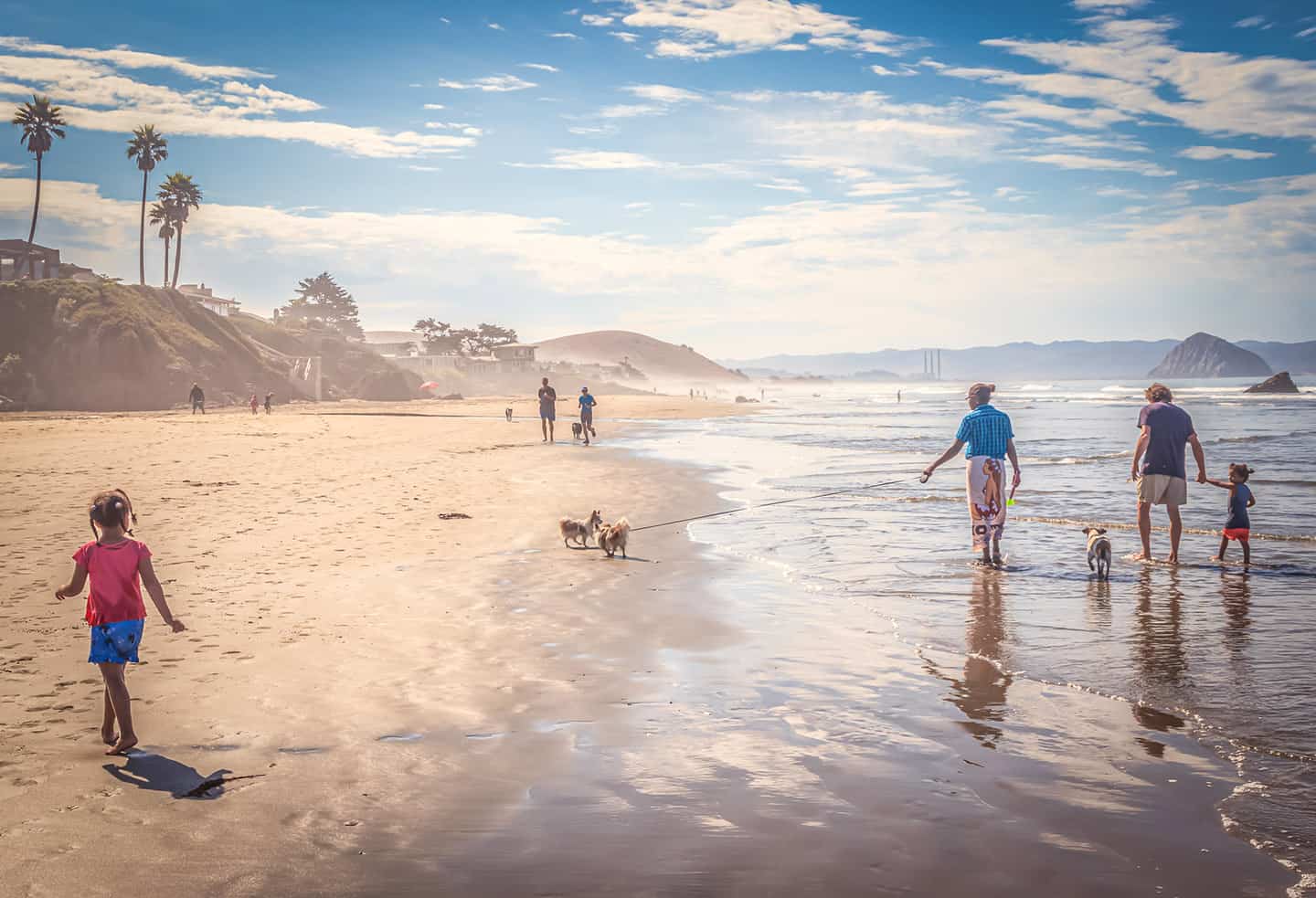 A skate park with an ocean view? Absolutely. Cayucos Skate Park stands just a couple hundred feet from Cayucos Beach, making for a great spot to drop in and get vertical. The Cayucos Skate Park includes a big L-shaped mini-ramp about 70 feet wide and between 2 and 6 feet high. There's also a smaller cement bowl for your aspiring miniature Tony Hawk. The Cayucos Skate Park is a skating destination for all ages, with fishing, surfing, dining, and shopping all within reach. The Skate Park stands to the right of the entrance to the Cayucos Pier, where restrooms and outdoor showers are also available. Unfortunately, gear rental is not available. Bring your skateboard, rollerblades or scooter, as well as a helmet (mandatory). Kids 12 and under also need to wear knee pads, and rollerbladers need knee pads and wrist guards. Bikes are not allowed at the Cayucos Skate Park.