With nearly 17 miles of Pacific coastline, Pismo State Beach has been a destination for sun and sand for generations. Here you can find something for everyone, from clam-digging and fishing to surfing, hiking and wildlife viewing.
Just south of Pismo State Beach, the Oceano Dunes State Vehicle Recreation Area (SVRA) welcomes vehicles to the only drivable beach in California. The SVRA is also the only driveable dune complex in the country. Here, thrill-seekers bring their off-roading vehicles (or take dune-driving tours) to experience the freewheeling fun of tires in the sand.
Between them, Pismo State Beach and the Oceano Dunes SVRA stretch from north of the Pismo Pier to Guadalupe on the southern end. This is an extremely diverse area with attractions, natural wonders, thrills, and much memory-making to be enjoyed.
Explore Pismo State Beach & Oceano Dunes SVRA
Pismo State Beach
History
After acquiring the Oceano Campground in 1934, California State Parks gathered more land along the coast to form the Oceano Dunes District. Currently, that district now includes Pismo State Beach and the Oceano Dunes State Vehicular Recreation Area.
The word pismo comes from the Chumash and Salinan people who inhabited this area thousands of years ago. Pismo translates as "tar," referring to the tar springs in nearby Price Canyon, east toward Edna Valley. The Chumash people left evidence of their lives throughout the dunes, including "middens," which are ancient heaps of discarded clam shells. Today, California and the federal government protect these middens.
The natural process that formed the dunes from Pismo State Beach to Guadalupe and Nipomo occurred over millions of years. Sand and sediment traveled from far and wide, over mountains and valleys, to the streams and, finally, the ocean. As it collected at the ocean's edge, the tide pushed it back until mounds formed. These became the Oceano and Nipomo Dunes, one of the largest dune complexes in California.
The dunes have attracted people of all types, across generations. When Portola's Spanish expedition traveled here in 1769, sailors found Chumash people thriving up and down the California coast. They also encountered plenty native black bears and grizzly bears. In fact, Portola's sailors named the southern end of the Guadalupe Dunes "Oso Flaco" after hunting a skinny bear there.
In the 1930s, the dunes later attracted a bohemian settlement of mystics, artists and philosophers called The Dunites. This unusual band of free thinkers occupied areas of the dunes they believed to be cosmically significant. One predominant spot, called Moy Mel, means "pastures of honey" in Gaelic. Duneite homes weren't much more than lean-to's and shacks, but hosted visitors including Upton Sinclair, Ansel Adams, John Cage and John Steinbeck. The last of the Dunites died in 1974; though the space is now vacant, the area occupied by the Dunite encampment is still referred to as Moy Mel. (To see more about the Dunites, check out the Oceano Train Depot and Museum for a rebuilt shack in the museum.)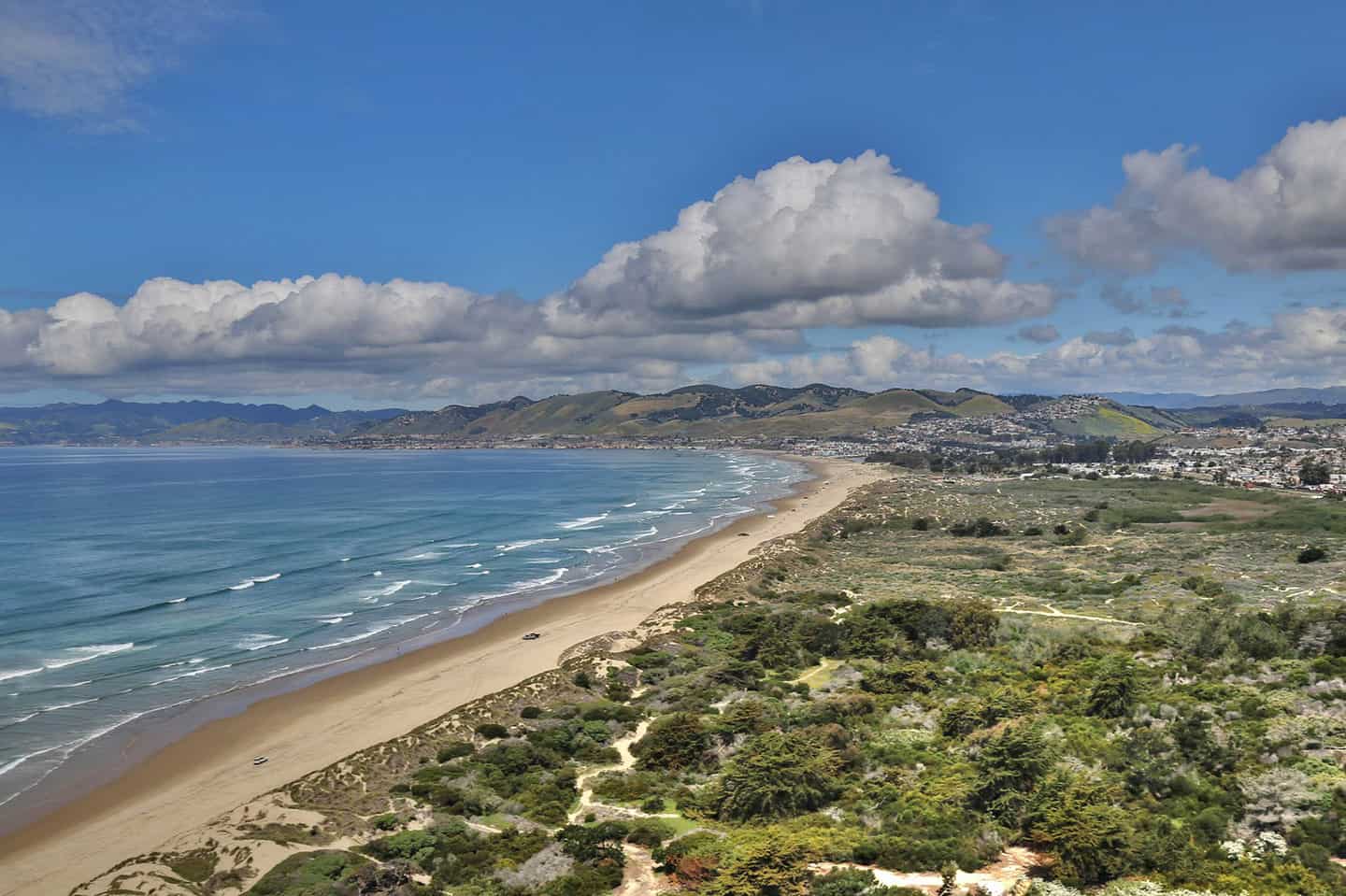 Surfing Pismo State Beach
Today, this state beach is known widely for its great waves and consistent surf. Many pro surf competitions and invitationals happen here, like those for Surf For Hope and the World Surf League. But it isn't just pros who ride here. Surfers of all ages from across the world come to Pismo State Beach hoping to ride the perfect wave. (And many of them find it.) Ideal kite-boarding and paragliding conditions attract enthusiasts to Pismo State Beach, too.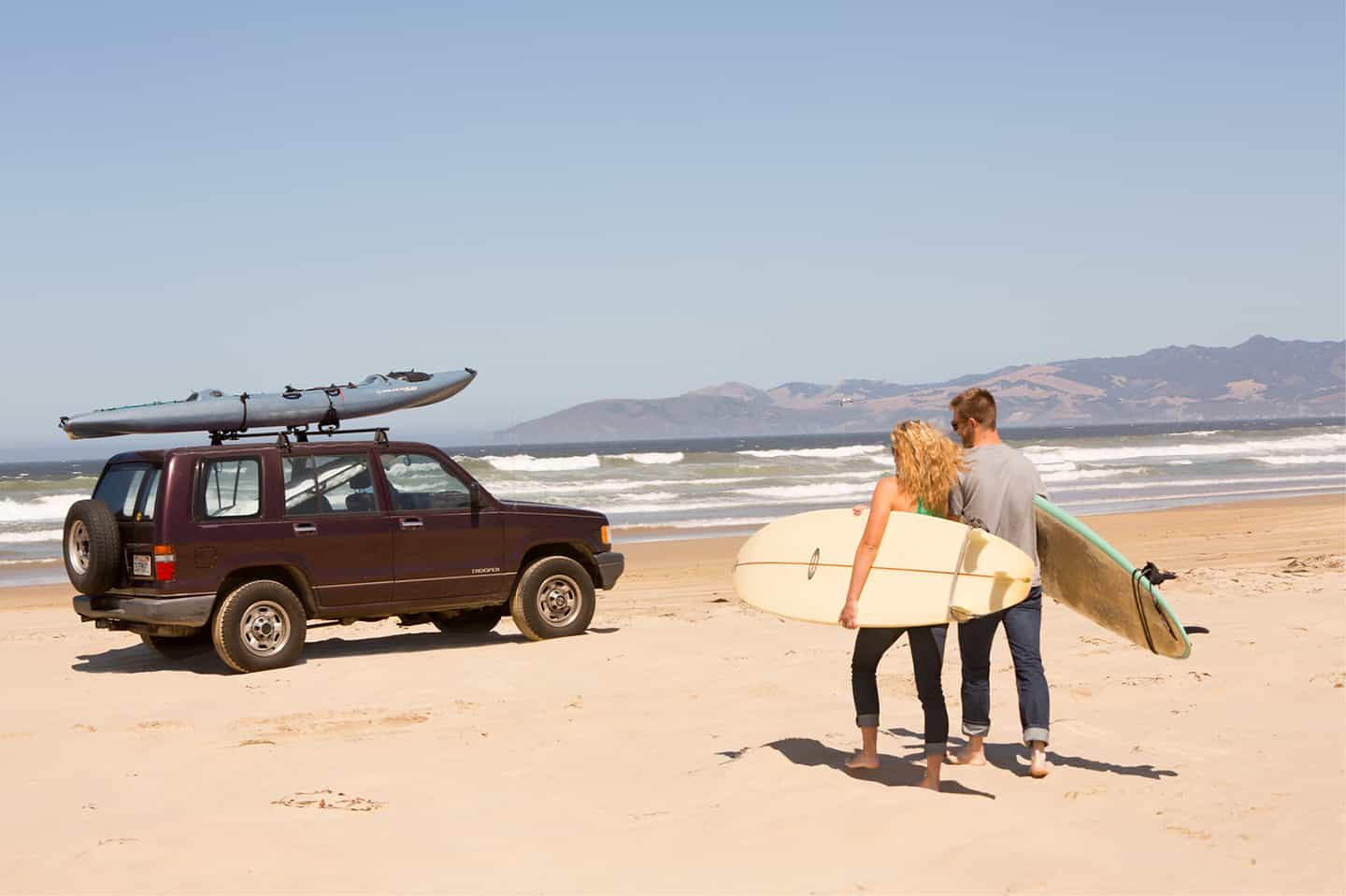 Oceano Dunes District Visitor Center
Towering sand dunes, a lake and wetland, and 1,400 species of plants and animals make this a place of rare beauty and significance. A visit to the Oceano Dunes District Visitor Center is a great way to learn about it all. There, a newly remodeled Dunes Center introduces visitors to the state park, local area, flora and fauna. Grab an interpretive activity book for kids who want to experience the park hands-on. Young people ages 7-12 will also enjoy the State Park Junior Rangers program. Interpretive Park Rangers present a fun set of activities in the great outdoors during the summer months, and all are welcome. These Park Rangers also offer community campfire nights for families to learn about local wildlife and culture, offered in the summer.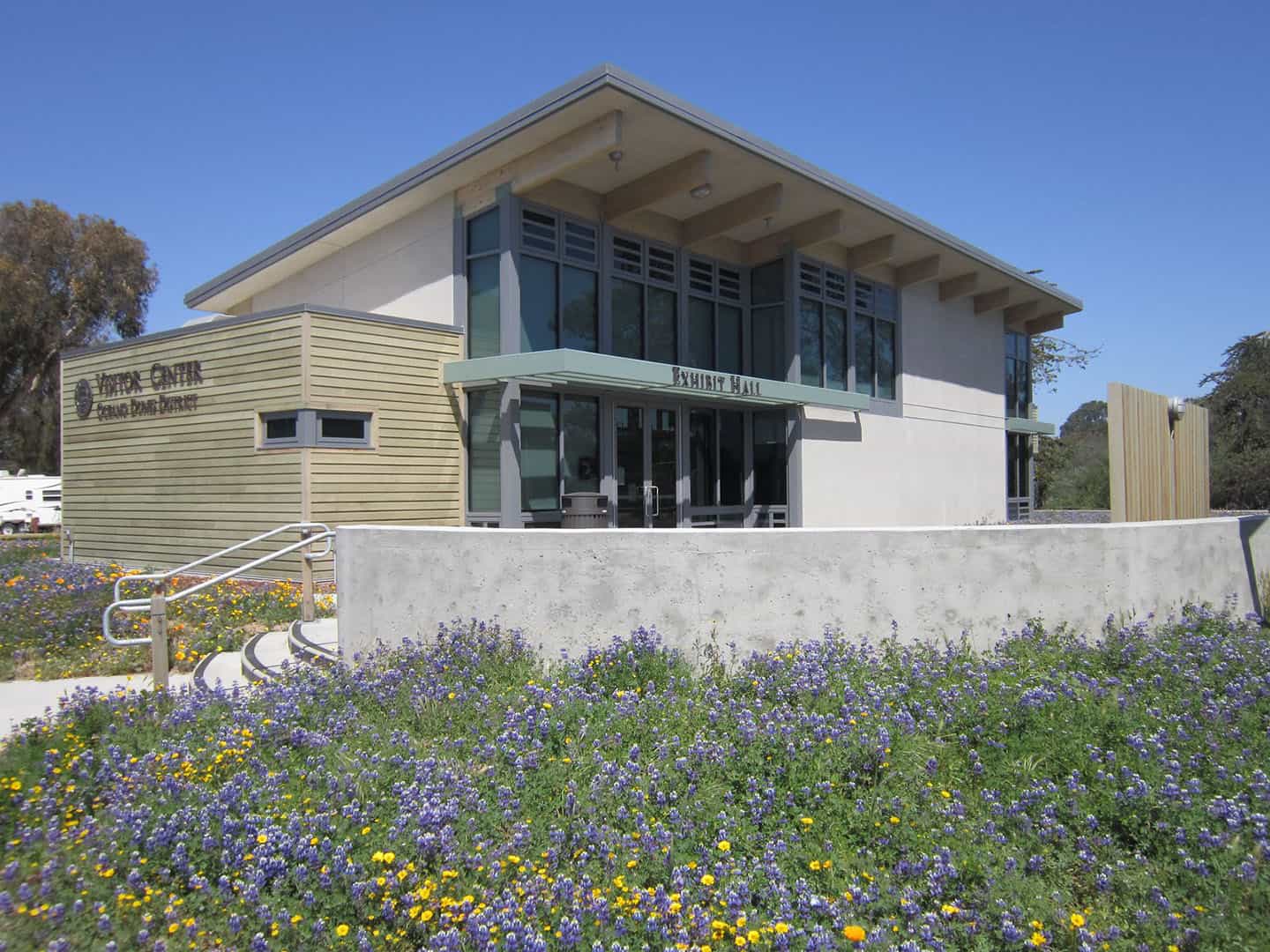 Whale Watching
Another ideal way to see Pismo State Beach is by walking the 1-mile boardwalk from the SVRA to the Pismo State Beach Campground. This easy walk along a raised wood plank path gives a new perspective to the beach, winding beside views of the dunes and waves. Looking out toward the ocean, it's very possible you'll see whales as they migrate offshore. Gray whales and Humpback whales come here annually to feed, bringing whale watchers from all over to catch sight of them. The Whale Trail organization has named Pismo State Beach one of the best sites for viewing whales on the West Coast. Other sea life to be seen here includes harbor seals, sea lions, sea otters — even orcas, on occasion. For more information on these species and how to identify them from shore, look for the Whale Trail sign on the Pismo Pier.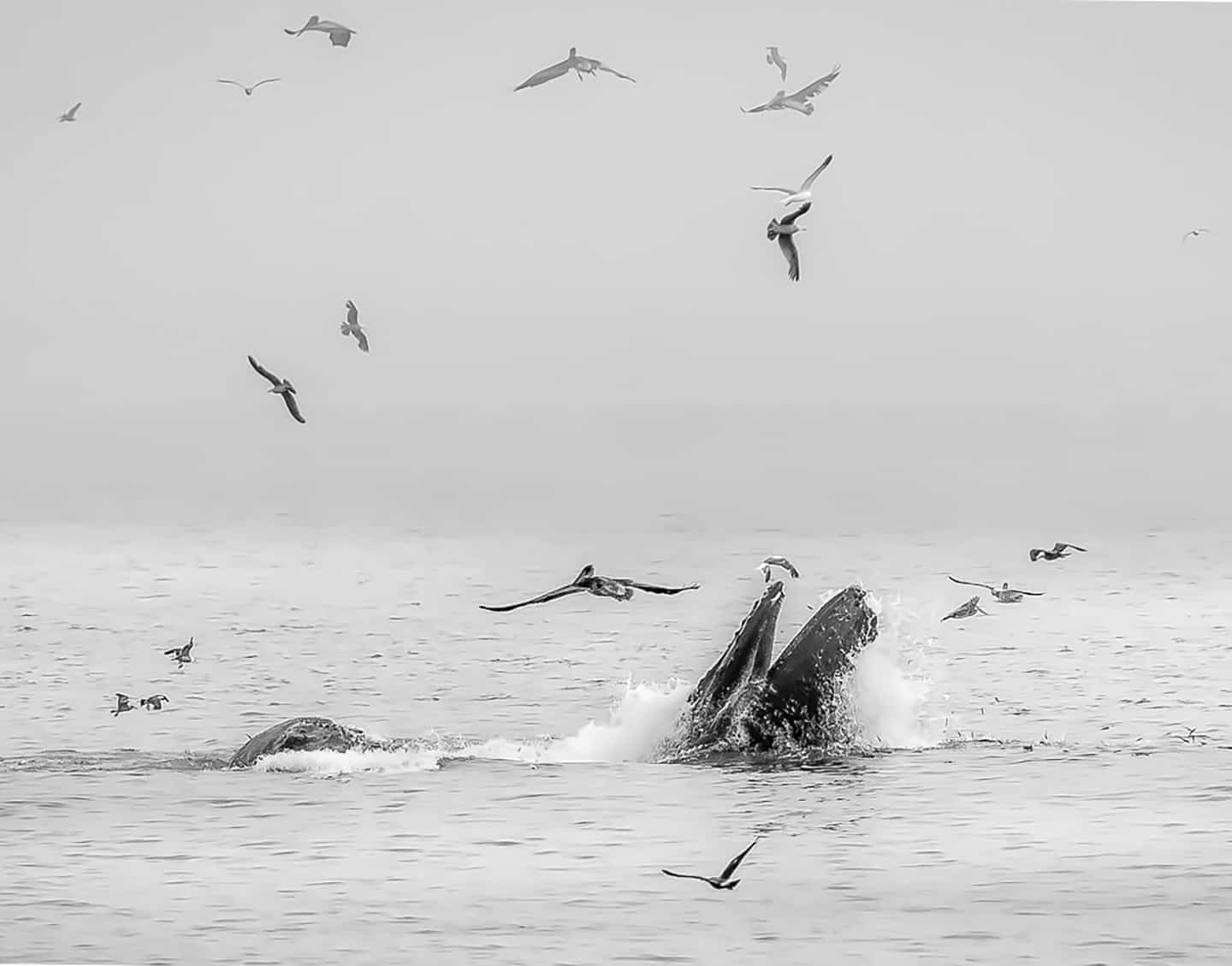 Clamming Pismo Beach
For at least 25,000 years, people have been digging for clams in this area of California's Central Coast. In fact, Pismo Beach named itself the "Clam Capital of the World" in 1947. Clam varieties caught here are "Pismo Clams" and "Pismo Razor Clams." These are bivalves that use their digging foot to bury themselves a few inches under the wet sand. The largest recorded Pismo Clam was 7.37 inches across and estimated to be 26 years old.
Sadly, clammers and sea otters (which feed on clams) have all but depleted the Pismo Clam population. Though people can still clam on Pismo State Beach, they must follow regulations with this delicate resource. Clammers must carry a current fishing license and a rigid measuring device. Only 10 Pismo Clams can be harvested per person, or 20 Pismo Razor Clams per person. And Pismo Clams must measure at least 4.5 inches long to be harvested. So get out your clamming bucket and get ready to spend a few hours on the beach, digging for your dinner!
Fishing at Pismo State Beach
Visitors of all abilities can also enjoy fishing at Pismo State Beach, whether in surf or freshwater. Surf fishing is especially popular here, but a fishing license is required. (Also take care as rip currents can be strong here.) For freshwater fishing, take your rig to the Oceano Lagoon, behind the Oceano Dunes Visitor Center. The lagoon features an ADA-accessible fishing platform. A fishing license is required here, as well.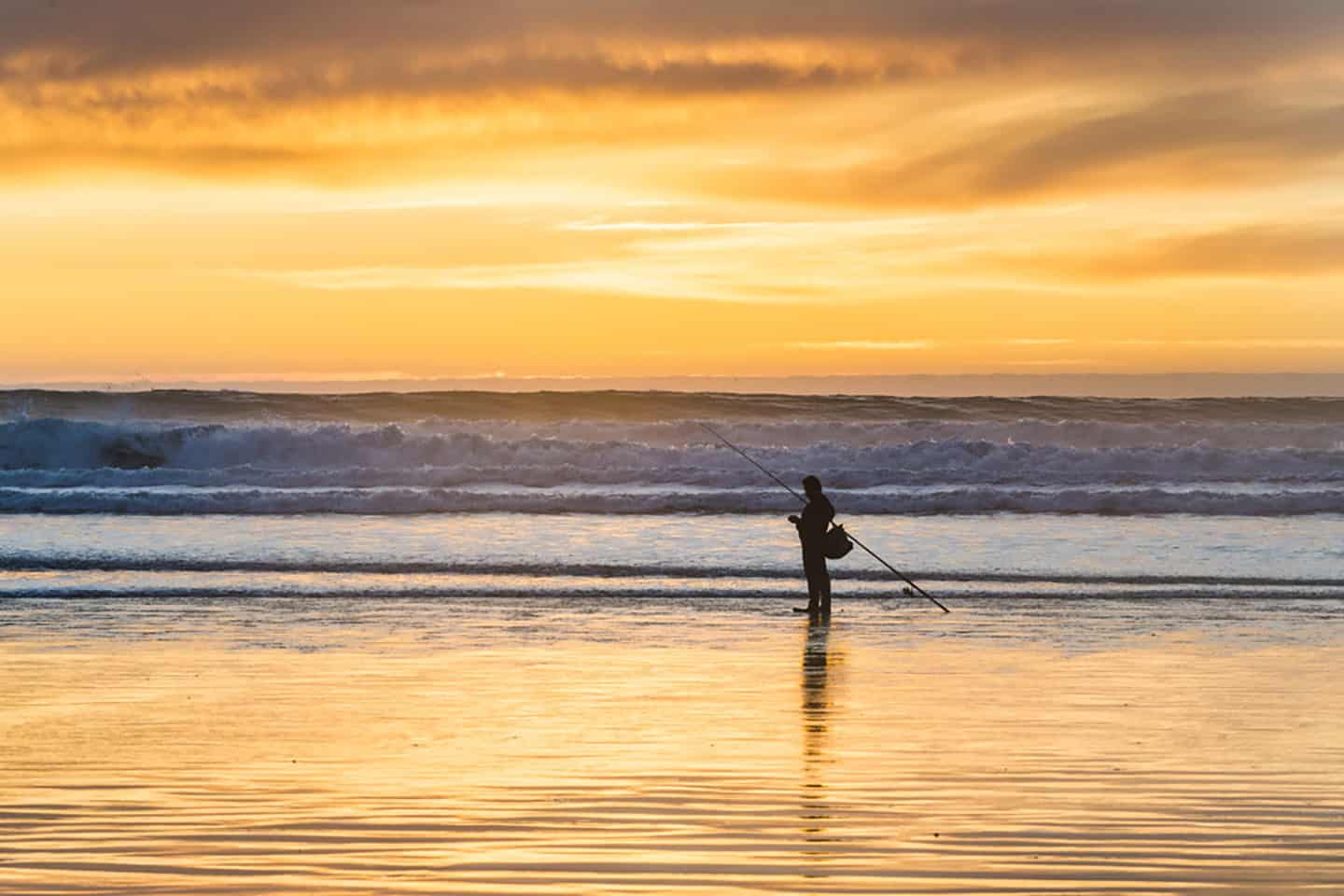 Oceano Dunes State Vehicle Recreation Area (SVRA)
As the only drivable beach in the nation, the Oceano Dunes SVRA has attracted adrenaline-seekers and off-roading enthusiasts for decades. In fact, photos from the 1900s show Model T's lining the beach, as well as motorcycles — even a horse and buggy. But it wasn't until 1982 that California State Parks dedicated a 3,500-acre section of the beach and dunes to vehicle recreation. It was the first state beach in the nation to officially designate part of its acreage to off-roading. Visitors from across the country and the world come for the freedom to off-road across the packed wet sand and soft, rolling dunes.
Even if you don't have your own ATV, Hummer or dune buggy, these can be rented from nearby outfitters. These businesses can also teach you about dune-driving safety and how to navigate the dunes. But for those who'd rather be passengers, sign up for a Hummer ride with a professional at the wheel. Several companies provide adventure tours that provide you all of the rush without lifting a finger. Visitors can also walk miles of beach and dunes here, and campfires and bonfires are permitted. Plus, for those who want to hit the water, the conditions at the SVRA are ideal for kitesurfing and windsurfing.  
The same great fishing and clamming at Pismo State Beach can be had at the Oceano Dunes SVRA, too. Bring your bucket, a ruler, and something to dig with (hands work well!) for clams. Or haul out your tackle for a day of fishing at the water's edge. Wildlife can be found throughout the state park and state beach, especially around the Oceano Lagoon, just east of the Visitor Center. Take the Guiton Oceano Lagoon trail for a 1.5-mile easy hike around the lagoon, perfect for bird watching. Or travel the 2-mile trail through the Oceano Dunes Natural Preserve. Thanks to dunes that screen off sound, this is a serene walk that feels a world away from the SVRA. Look for sea birds like the Western Snowy Plover, a threatened species, which makes its home here. You'll also find another Whale Trail sign near the Grand Ave entrance to the dunes (west of Finns Restaurant) for whale watching information.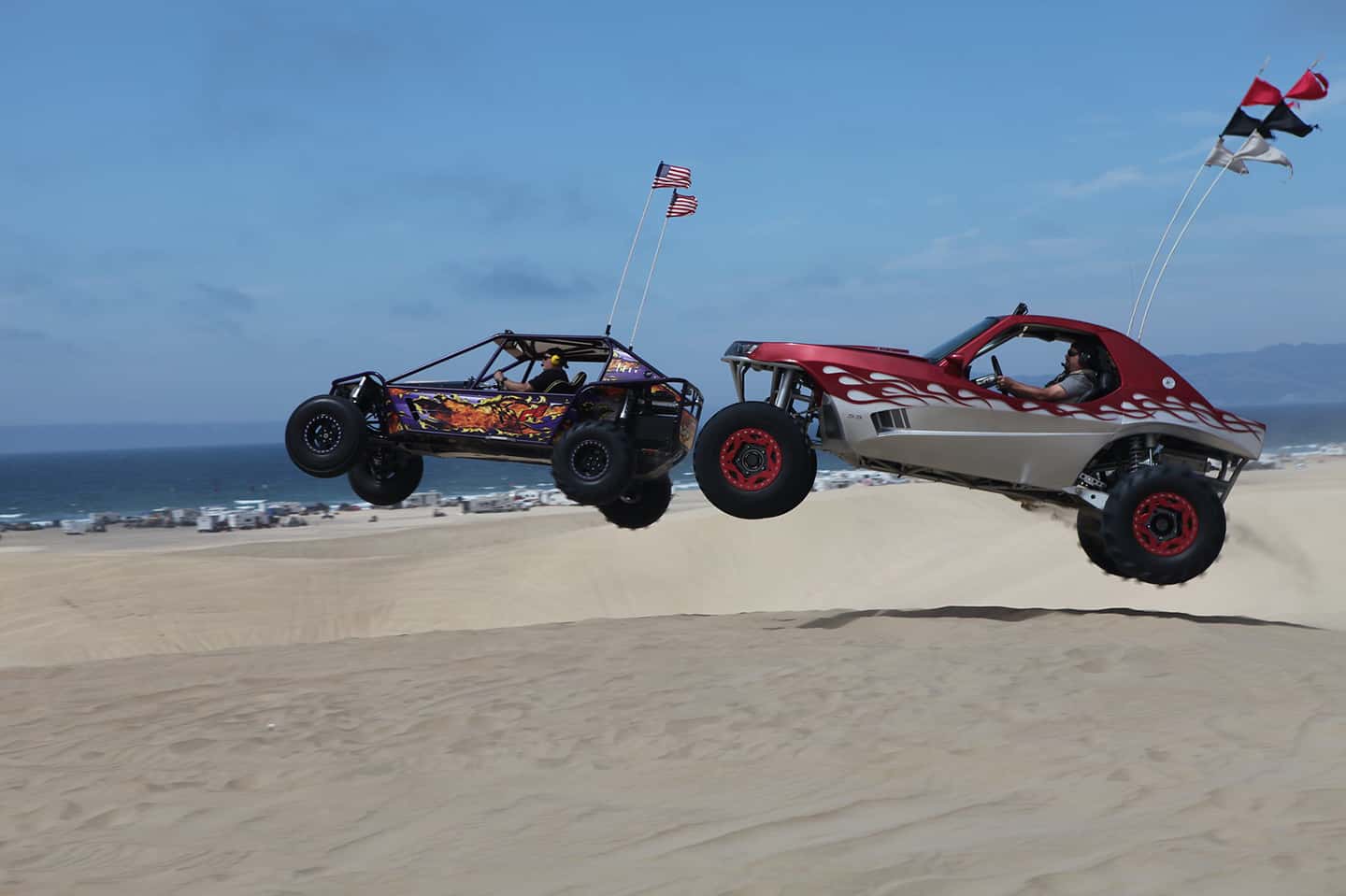 Monarch Butterfly Grove (directly adjacent to Pismo Beach campground)
If you've never seen thousands of butterflies competing for space on eucalyptus branches, you've missed one of nature's most vivid images. A short walk from Pismo State Beach, Monarch Butterflies gather at this natural migratory habitat — one of the largest in the nation. The Monarch Butterfly Preserve has been known to see 30,000 butterflies per year, covering tree branches with their orange and black wings. These iconic creatures winter over in Pismo Beach on their way to Mexico from British Columbia between October and February each year. Come to experience the awe of seeing these majestic creatures in their natural habitat, warming their wings in the sun. Docents and trained volunteers are available for daily tours and educational talks. There is also a gift shop and interpretive signs describing the path of the Western Monarch and its life cycle. Bring your binoculars or enjoy peeking through the high-powered telescopes provided by the state park.
Biplane rides
One of the best ways to experience this stretch of coastline is from the air. Board one of Banner Airways' biplanes for the flight of your life out of Oceano Airport. The company operates two biplanes – a 1947 Piper Cub PA-11 and a 1942 WW2 Boeing Stearman – with seats for two passengers. Banner Airways provides guests with all the gear:  leather jackets, caps, and goggles. Have your pilot fly you out for a 20-minute tour of the Pismo Pier, plus surfers in the waves just below. Or add another 20 minutes to that trip to take in the spectacular dunes and the four-wheelers riding over them. And if you're really up for an adventure, ask about the Thrill Ride. Banner Airways also does custom sky work for marriage proposals, baby gender reveals and the like.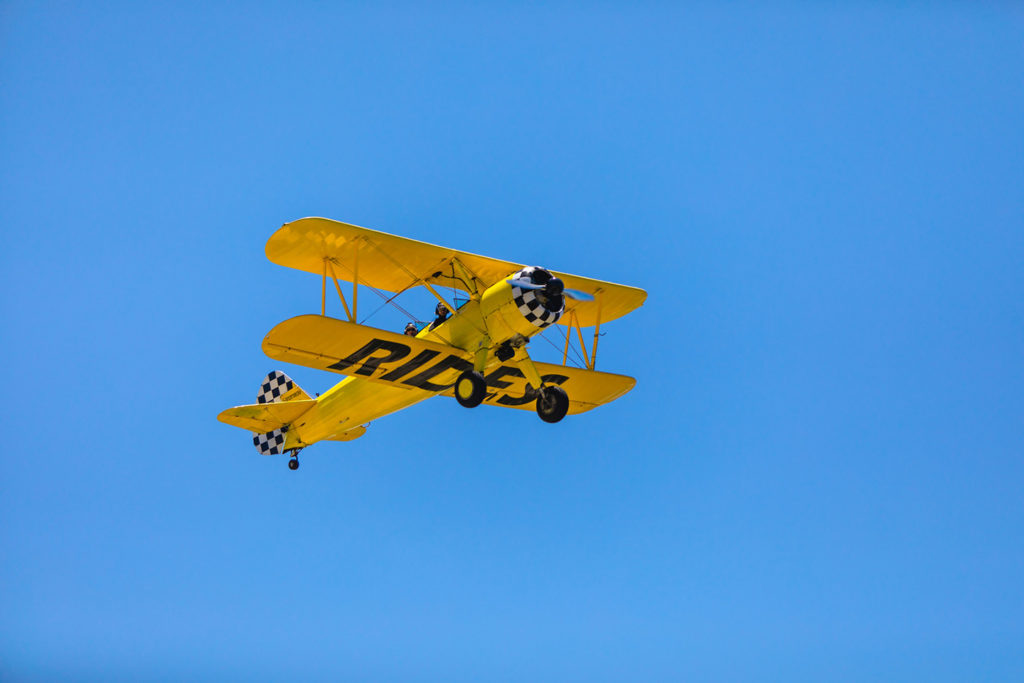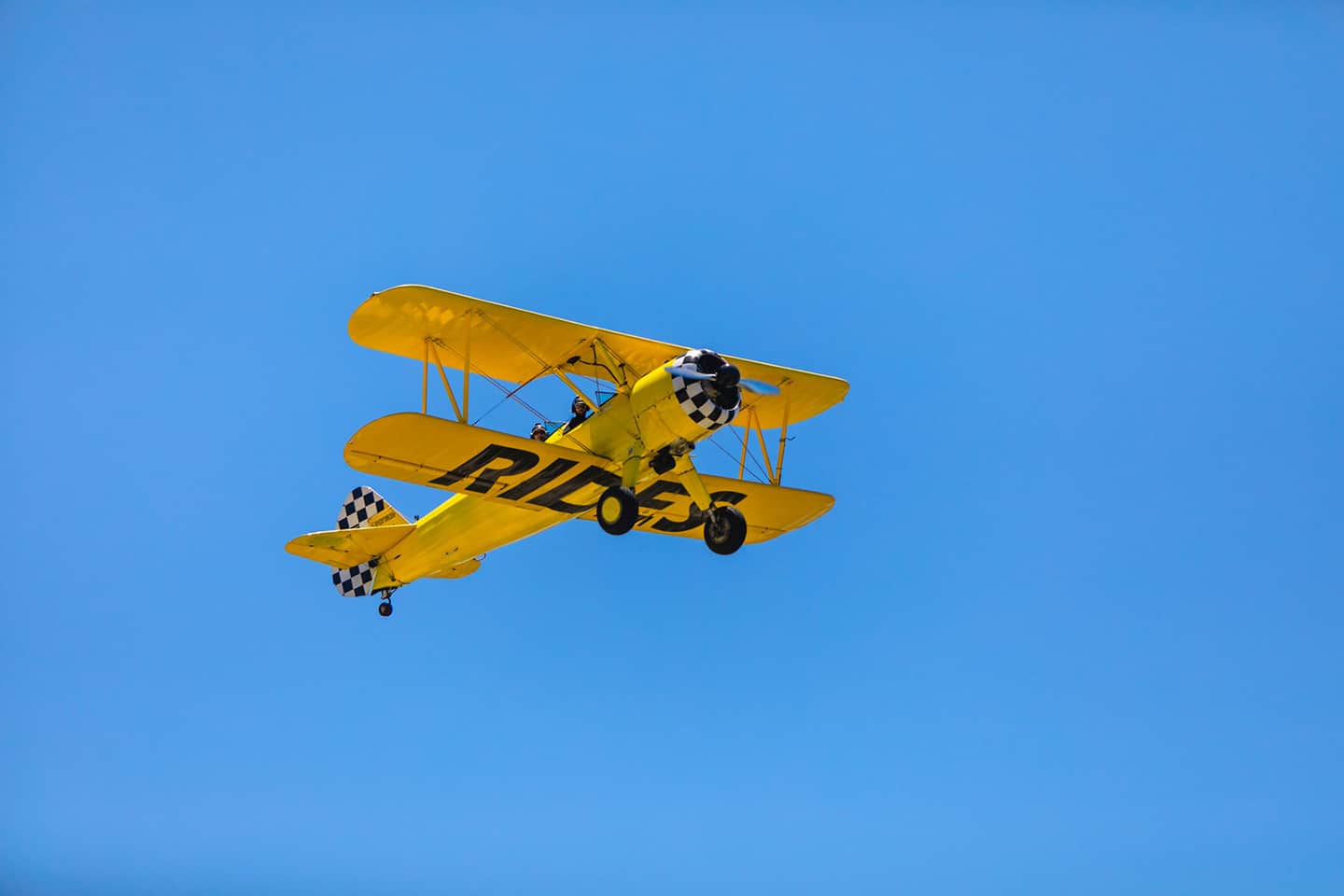 Horseback riding on the dunes
Sure, you can drive over the dunes, but don't miss the chance to ride over them, too. Pismo State Beach welcomes horseback riders to saddle up for an experience to remember. Riders have several options to choose from for their adventure. Bring your own horse and enjoy trotting over hard-packed sand near the seashore for a day trip. Alternatively, you can bring your horse for an overnight stay at Pacific Dunes Ranch Riding stables and boarding facilities. Or, if you don't have a horse, take a horseback riding tour with one of Pacific Dunes' or the Pismo Sands Beach Club's horses and guides. Tours take 1 hour and meander on a trail through the dunes to the ocean. Don't miss the opportunity to hoof it at the water's edge, against the picturesque backdrop of the dunes. Both the guides and the horses are calm and experienced with riders of all ages and abilities.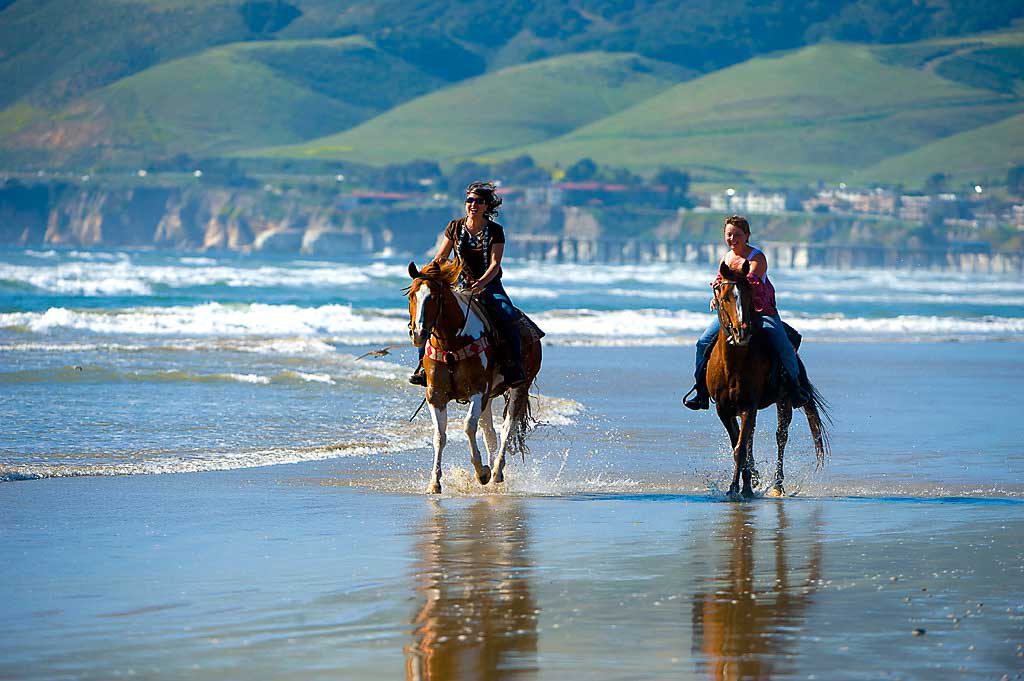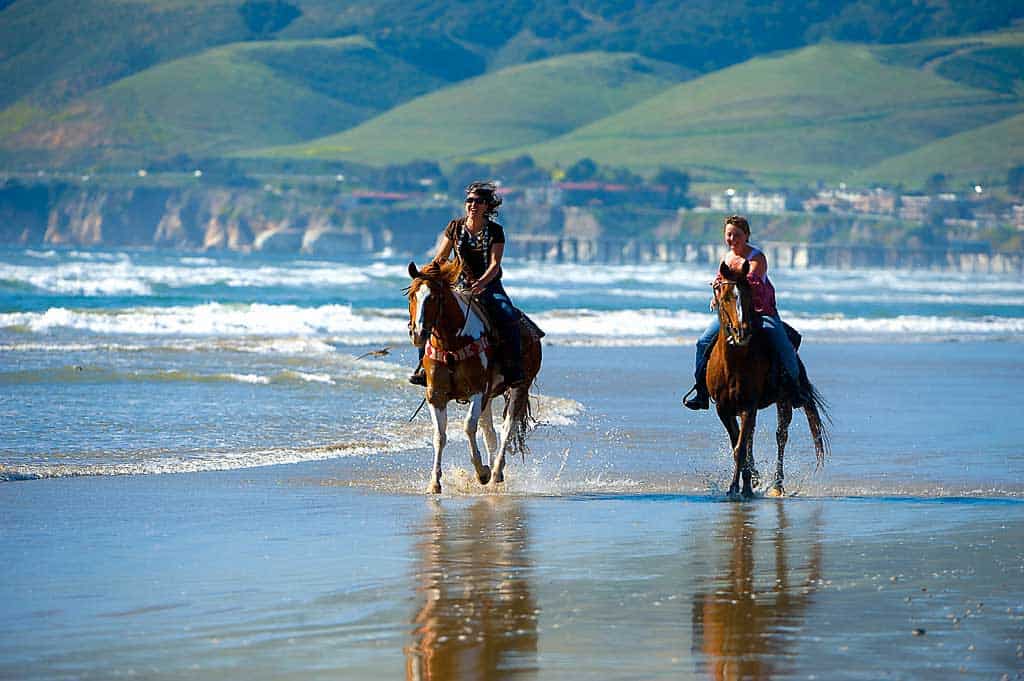 Oso Flaco Lake
The dunes of Pismo Beach and Oceano extend several miles south to become the Guadalupe-Nipomo Dunes. Within this remote and beautiful dunes system lies Oso Flaco Lake Natural Area. Here, a range of habitats and environments host diverse species of flora and fauna, viewable at every turn. Follow a path through riparian woodlands, across a boardwalk over a glassy lake, over soft dunes, all the way to the ocean. Along the way, see foliage like arroyo willows, wax myrtles, dune lupine, coyote bush and dune paintbrush. You'll also likely encounter jackrabbits, lizards, sandpipers, frogs, western snowy plovers, and many other mammals, birds, reptiles and amphibians. Don't miss the nearby Dunes Center for information about dune access and other points of interest. The center offers educational programs, group hikes, exhibits, and research, as well as a gift shop. The center also offers cultural and historical insight into the filming of Cecille B. DeMille's 1923 film The Ten Commandments, which was filmed in the dunes.