Old-fashioned charm, mom-and-pop storefronts, and a friendly Main Street reminiscent of years gone by make Arroyo Grande and neighboring Edna Valley must-shop destinations. Visitors love walking the Village of Arroyo Grande (or "the Village," as the locals call it), taking in the sights and sounds of this historic town. Many of the shops in the Village have been there for decades, catering to locals and visitors looking for one-of-a-kind finds. The Village also hosts a number of new storefronts that keep the offerings fresh and current. Shopping Arroyo Grande and Edna Valley, you've never really seen it all. This is in part thanks to antique and vintage stores that constantly update their inventory with collectibles, jewelry, furniture, housewares, toys, and more. Arroyo Grande and Edna Valley are known as hot destinations for antique and vintage enthusiasts, who come from far and wide seeking treasure. But this area offers much in the way of other goods, including cosmetics, paper and stationary, clothing, gifts — even bicycles and guitars. And don't forget food and wine related shopping: the weekly farmers' market and Edna Valley wine tasting rooms boast much more to peruse. So take your time and carve out an afternoon to shop the Village of Arroyo Grande and Edna Valley. You're sure to find something for yourself or someone you love.
Explore Shopping The Village of Arroyo Grande
The Hive
Walking into this quaint shop feels a little like wandering into an old-fashioned market. A vintage bicycle hangs from exposed beams on the ceiling, along with lights and bunting flags. The shop is operated as an artisan collective, hence the "hive" concept. Different vendors use space throughout the shop, which is expertly curated and merchandised. Owner Tracy Sonny brings her appetite for community and creativity to this space where shoppers can find a wealth of locally-made goods. Find honey and honey products, shoes from brands like Pons and Mibo, ceramics, succulents, and baskets. Bring a fun new drink home with cocktail mixers from YES Cocktail Co, herbal teas from Vana Tisanes, and kombucha starter kits. Tracy and the makers who sell at the Hive also offer creative workshops that allow visitors to get in on the fun. Whether you're window shopping, getting in some retail therapy, learning a skill or making new friends, the Hive is your spot.
Village Papery
Paperies like this beloved Village shop are tough to find these days, when so much communication happens over email, social media, and smartphones. But the stationery, specialty papers, greeting cards and invitations sold here will inspire you to pick up a book of stamps and start writing. Look for Rossi Elegant, Papyrus, Peter Pauper Press, and Carlton Craft paper goods, plus custom-printed wedding invitations, birth announcements and calligraphy tools. But there's much more to see here than just stationery. This charming Village storefront offers a wide array of gifts, jewelry, toys, books and more. Powder-UK, Anne Koplik, Liz Soto, Firefly, Uno de 50, Crislu, Monali and Holly Yashi are just a few of the brands available here. Village Papery is also the exclusive location for Pandora jewelry and accessories in San Luis Obispo County. Peruse cookbooks, journals, children's books and gifts, toys, home decor, lotions and more in this sweet, old-fashioned stationery shop.
Lightning Joe's Guitar Heaven
For decades, Lightning Joe's has supplied guitarists and other musicians with the gear they need to "pic long and prosper," as Joe says. This specialty shop boasts over 1,600 used, vintage and new guitars and fretted instruments, including banjos, dobros, ukuleles, mandolins and more. Family owned and operated, Lightning Joe's allows visitors to try out a variety of instruments in their quest for the perfect fit. Sit in the all-electric room and give a Fender, Epiphone, Gibson, Hamer, Ibanez, Minarek or Seymour Duncan a spin. Or walk to the acoustic room and try on a wide variety of Martins and Taylors for size. Lightning Joe's provides everything you need to start picking, from strings and amps to capos and pickups. They also do trades, layaway and shipping, so there's no excuse not to nab that pretty Takamine or Cordoba guitar you've been eyeing. Or bring your instrument in to be fixed — Lightning Joe's does repairs, too.
Posies in the Village
The first thing you'll likely notice at Posies in the Village is its size. At 6,000-square-foot and two stories tall, this Arroyo Grande shop holds a wealth of treasures. Anyone who enjoys vintage, shabby chic and found-object art will discover something to love at Posies, whose specialty is home decor. New and repurposed furniture fills the shop, from artwork and vintage signs to chandeliers, cabinets, tables, beds and dressers. For soft goods, Posies carries linens, bedding, soft blankets and quilts. Looking for clothing and accessories? Head to the back of the store where "Chrisy's Cottage by the Sea" offers an array of romantic fashions like tops, dresses, and large party hats. Explore jewelry pieces throughout the store, as well as handbags, lotions, soaps and perfumes. Some of the name brands carries here include Crabtree & Evelyn, Copper and Pearl, Root and Tyler Candles, Natural Life, Chateau Chalk Furniture Paint, and Baggallini bags. Also look for children's items like leather moccasins, clothing, gifts, and toys.
Lady Di's Boutique
Women with an eye for fashion and easy style will want to pop into Lady Di's Boutique. Owner Dianne Quintana carefully selects tops, bottoms, denim, dresses, and accessories to fit the modern woman's lifestyle and preferences. And the atmosphere at Lady Di's is just as important as the merchandise, with upholstered chairs, chandeliers, white carpet and gold-leaf mirrors. Look for slimming and shaping clothing that's also focused on comfort and fit. Lyssé New York is a favorite brand here; Dianne carries several items that suit all ages and body types. Romantic tops, printed tees, kimonos, oversized hats, earrings and more can be found in this specialty boutique. The shop also carries a number of jewelry items produced by local artisans. Handbags, necklaces, wallets and sunglasses add the finishing touches you need to look your best. Soft sweaters, Ilsa Jacobsen shoes, crossover bags, linen rompers and more will entice you to find something for yourself or someone you love.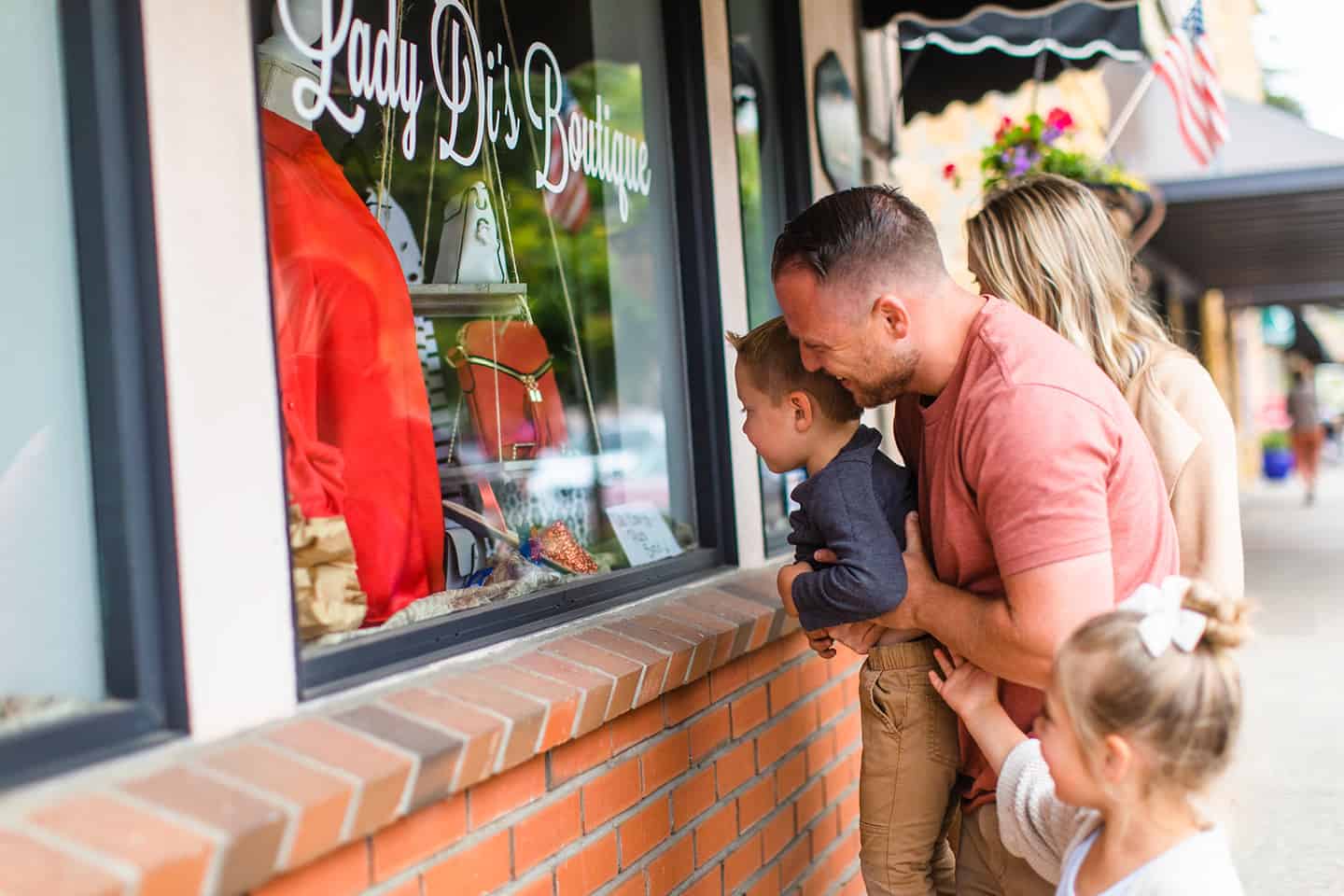 Luxe Boutique
Women of every age, stage, shape and size will find something to love at Luxe Boutique in the Arroyo Grande Village. This spacious shop is filled with ways to treat yourself or gift your loved ones. The main section of the store features women's attire, from dresses and blouses to Level 99 jeans and bohemian styles. Around the perimeter, find accessories like hand painted silk scarves and Cynthia Eggiman Jewelry, made locally. Luxe Boutique also offers a variety of handbags, clutches and wallets, including cross-body purses and even yoga mat bags. In the back of the shop, look for gently used clothing and sale merchandise, curated to offer style without breaking the bank. For home decor, Luxe Boutique sells motivational mixed media gifts, vintage postcards, religious items like iron crosses, candles, paintings and even locally-made lamps. It's not hard to find something that complements a woman's style here. Whether it's a complete ensemble or a small accessory to complete an outfit, Luxe Boutique is a great place to start.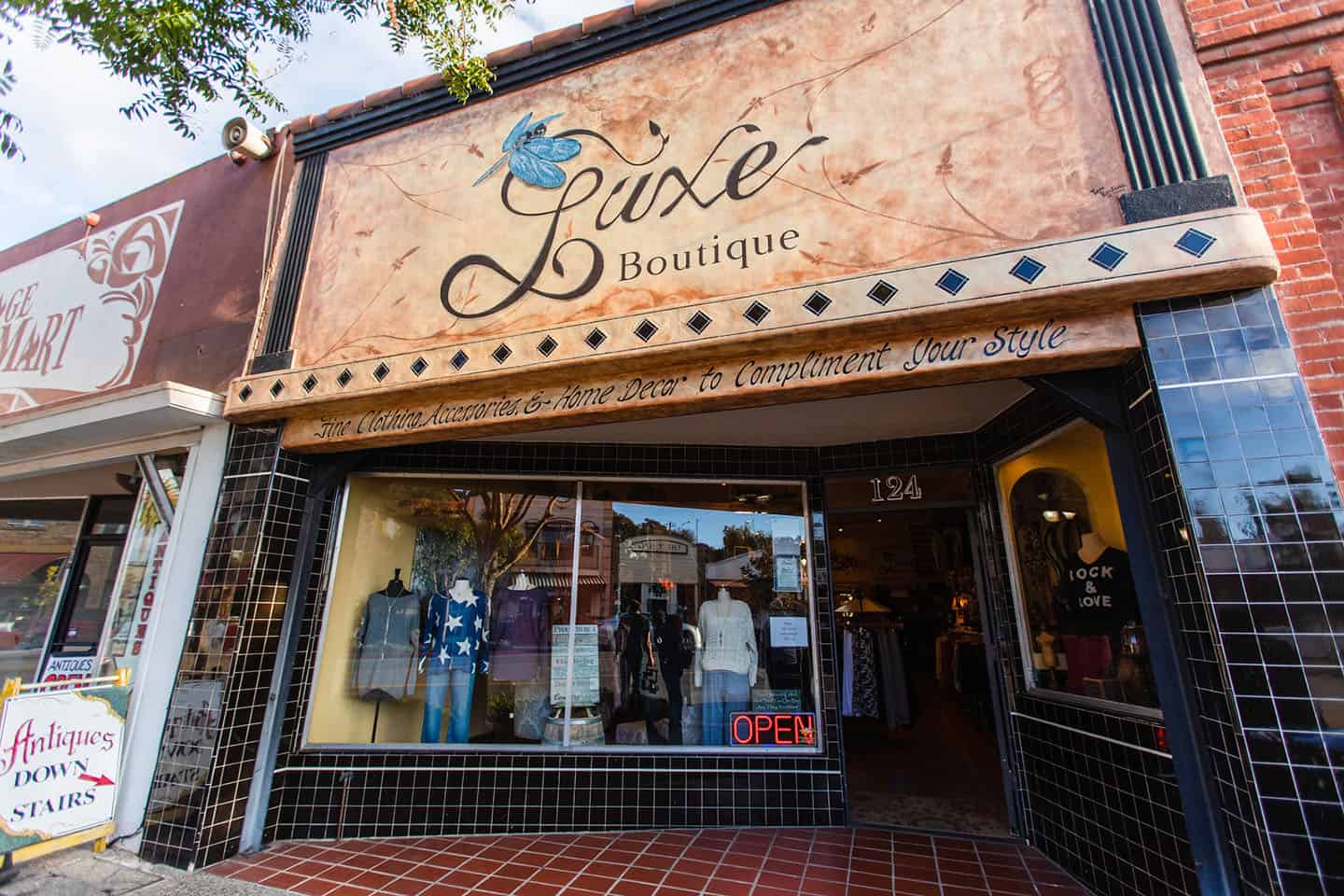 The Sports Dugout
Get ready, sports fans! Located in the heart of the Village of Arroyo Grande, the Sports Dugout is a store full of memorabilia for the ultimate fan. Find collectors' items aplenty, like a baseball bat autographed by Angels center fielder Mike Trout, or a pair of iconic Air Jordan 5s. Card collectors will appreciate the large selection of baseball cards, football cards and basketball cards, as well as One Touch holders for display. Fans of all teams are welcome here, and will find just the right item to show their loyalty and team pride. (Dodgers fans will find an extra-wide selection here!) Pick up apparel like shirts and jerseys, sweatshirts, athletic wear. There's also team jewelry like mascot earrings, cufflinks, and necklace pendants. Signed photos, vintage game programs, and other mementos from the history of American sports will surprise and delight sports fans of all ages. Come ready to treat yourself or choose that perfect gift for someone special.
Brisco's Village Gift Shop
The Brisco family established the Brisco's Village Gift Shop in 1909 — a place that delights young and old, visitors and locals alike. The shop has seen many trends and fashions in its time, and has carried different brands and types of gifts. Looking for just the right greeting card to wish someone happy birthday, congratulations, or get well soon? Brisco's has a large selection of cards to help you express yourself. Pick up candles in a variety of scents, as well as lotions, room sprays, and other home and body care items. Brisco's has an especially fine inventory of children's books and gifts, including titles from local authors. Tote bags, signs, and tea towels are printed with sweet sentiments calling to mind life's most important moments. Home and garden decor including crosses and other faith-based messages are also a specialty here. Aprons, puzzles, seasonal decorations and journals make for a wide selection of gifts and goods. But the area that gets the most attention is Brisco's old fashioned candy counter, featuring 35 flavors of Jelly Belly jelly beans.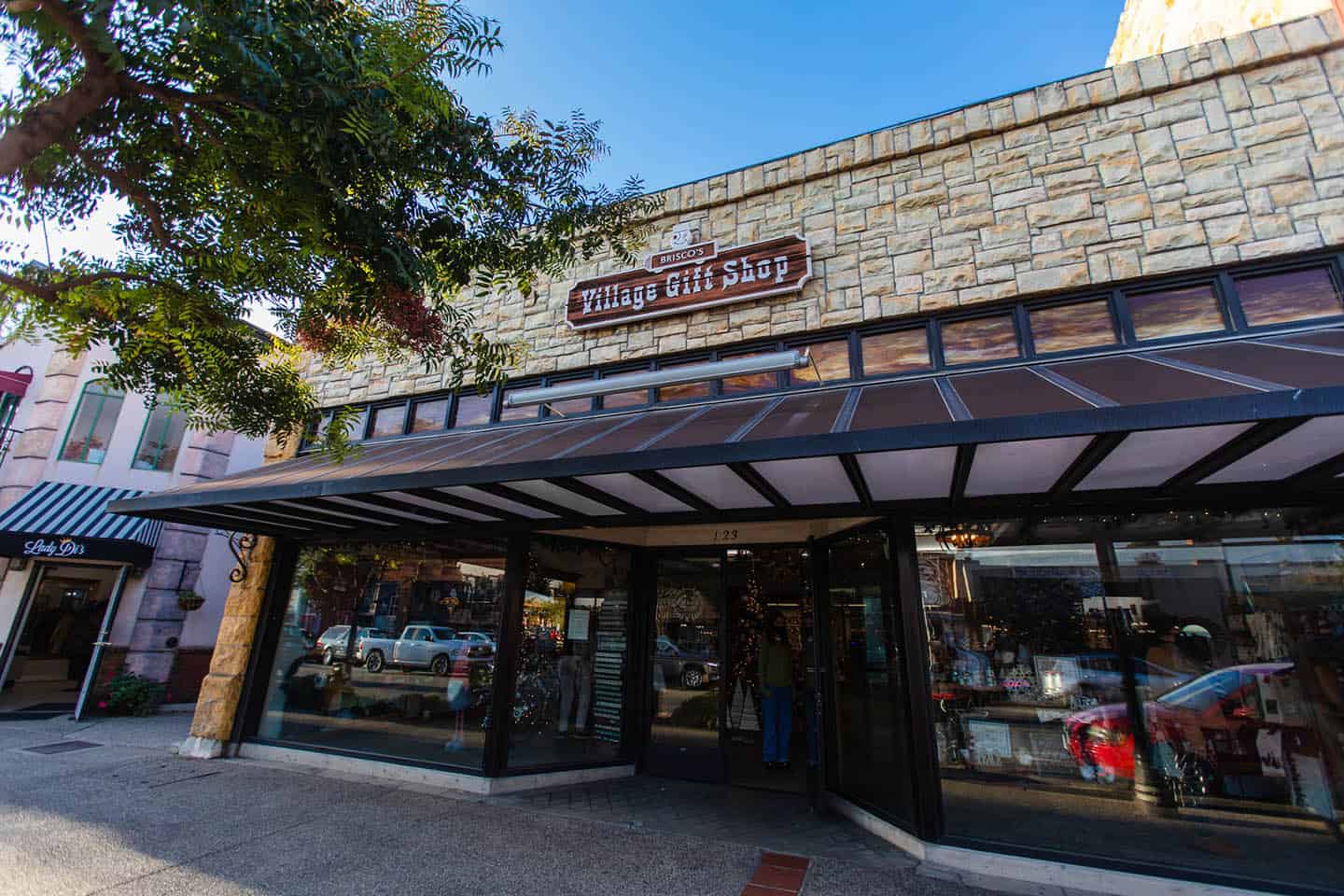 Willis & Bennett
Since 2003, Willis & Bennett owners Greg and Julie have provided unique, fun and elegant home decor in the heart of the Village. The shop goes all the way from front to back patio, with multiple rooms to explore along the way. One pocket might highlight Asian-inspired decor while another room may cater to children with nursery furnishings and baby gifts. Julie and Greg hand-select each item to appeal to every style, from traditional and vintage to bohemian and modern. Willis & Bennett's eclectic offerings include furnishings and artwork from around the globe, but gifts and jewelry are a specialty here, too. You won't find these pieces in big box stores. From glassware and dishes to canvas tote bags, greeting cards and more, these are one-of-a-kind, hard-to-find goods that make a statement. Be sure to wander to the back patio for lovely garden decor and inspiration. And don't miss Willis & Bennett during the holidays, when the shop offers must-have gifts and decorations.
Hello Village Co.
For those who have little ones or those who love them, this shop overflows with good buys and lucky finds. Hello Village Co. carries all kinds of items for kids who love to explore, learn, and celebrate! Find unique party goods that will turn any get-together into a real bash. Buy specialty treats like gummy candy, taffy, lollipops and marshmallows to sweeten up a special occasion — or any day. Pick up new duds from brands like Fannie, Rivet Apparel, Savage Seeds, Tiny Trucker Co, and Urban Infant. Or check out the name brand shoes and socks from Piccolo, Starry Knight Design and Zutano. Hello Village Co. sells puzzles, books and toys, and arts and crafts supplies that are great for budding minds, and make great gifts. And don't miss Hello Village Co's sister project, Village Kids Co Consignment Boutique. Here, gently used, quality clothes, shoes, toys, books and more can be found for ages newborn to 12 years old. Look for Village Kids Co Consignment Boutique just three doors down the street from Hello Village Co.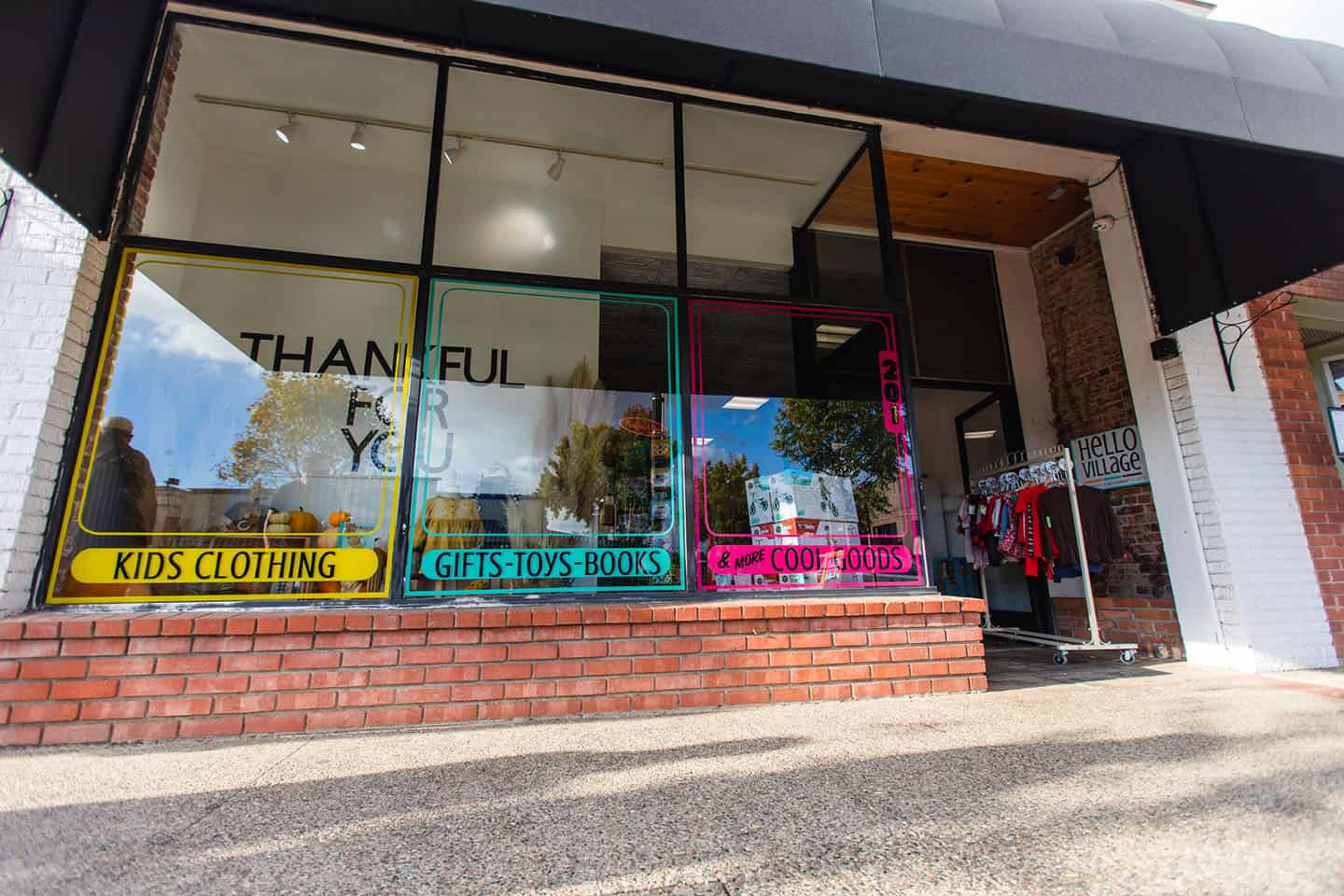 Lavender Blu Boutique
Lavender Blu Boutique carries women's fashions in a range of styles to suit most ages, stages, shapes and sizes. The spacious interior provides plenty of room to browse blouses, sweaters, kimonos, skirts, dresses, and shoes in a relaxed atmosphere. This is an ideal store to look for a breezy, vacation-worthy outfit, a dress for a special occasion, or to try out a new look. Floral blouses add a romantic touch, while eyelet skirts and animal prints bring a bohemian vibe. Flattering denim from brand name producers, as well as straw and felted hats touch on the Central Coast's ranching history. Intimates, jewelry, handbags, sunglasses, belts, gifts, and more make this an ideal spot to shop for high quality, unique apparel and accessories. The knowledgeable staff provides great recommendations and an artistic eye for choosing your next favorite piece. Treat yourself to something new, or pick up a gift for someone you love at Lavender Blu Boutique.
Village Bike Shop
For decades, this bike shop has outfitted cyclists young, old, experienced and novice with high quality bikes, parts and gear. Family owned and operated since 1975, the Village Bike Shop carries a wide selection of road, hybrid, mountain, and e-bikes. Some brands include Raleigh, Huntington Beach Bike Company, Verde, Diamondback, Origin 8, Redline, Sun Bicycles and Toker. They also specialize in restoration and repairs on vintage BMX, mountain and road bikes (and even have some bikes from the 1800s in the shop). Vintage and hard-to-find parts, as well as excellent expert service, can help bring your old bike up to speed. The staff is well-versed in all kinds of bikes and can fix just about anything, but mountain biking is a particular obsession at the Village Bike Shop. Come in, peruse the selection, and even test some wheels out behind the shop.  And if you leave with new wheels? Don't miss the best cycling routes along Highway 1.
The Cozy Patio
Given the mild temperatures along Highway 1 — not to mention the beauty of the natural landscape — outdoor living is a must here. Why not do as the locals do and set up your patio, yard, or garden as a haven? The Cozy Patio, located right in the heart of the Arroyo Grande Village, can help get you situated. Find all types of outdoor furniture here. For comfortable seating options, look at The Cozy Patio's selection of conversational sets, sofas and sectionals. Dining elements like bars, tables, chairs, and umbrellas contribute to more versatile spaces. Want to kit out your swimming pool? Deck chairs and chaise longues can add comfort and an air of luxury to poolside seating. Other accessories like firepits, pillows, blankets, linens, and dining ware are available here too, in a wide array of styles. Don't hesitate to ask the staff for help in coordinating rugs, throws, fabrics, and other accents to realize your dream outdoor space.
Carol's Specialties & Gifts
Located inside the Village Emporium Hometown Mini Mall, Carol's Specialties & Gifts offers a fun assortment of jewelry and children's clothing. Carol's specializes in unusual, unique and hard-to-find styles, with a wide selection of special occasion dresses. Catering to visitors and locals alike, Carol's Specialties & Gifts has become a must-stop for grandparents looking for that special something for the grandkids. It's a great place to pick up small toys and stocking stuffers, too. Look for kids' clothing for baptisms, confirmations, weddings, recitals, and more. The patterns and materials used to make these clothes are different from anything you'll find in a chain store. And don't forget the wide variety of costume and fine jewelry, with rings, necklaces, bracelets, earrings, and more available. These quality pieces can be for adults or children, in most cases, and will brighten any person's day. Come in and pick something up for yourself or for the one you love.
Arroyo Grande Antique Stores
A Glance Into the Past Antiques
This well-stocked antique store is more than a glance into the past — it's a long, winding walk down memory lane. Located on the fringe of the Arroyo Grande Village, A Glance Into The Past covers 5,000 square feet of space, with 30 dealers. The shop welcomes locals and visitors alike, including new friends and those who return, year after year, as they pass through the Village. The shop carries antique, vintage and collectibles only, and doesn't stock anything new. No crafts, reproductions or gifts can be found here. The focus is solely on real treasures from the past, making it a hub for the general public as well as antiques dealers. Wander the aisles looking at vintage literature, depression glassware, pottery, Danish modern, jewelry, toys, paintings, signs, flags, old photographs, LPs, and more. The owner is highly knowledgeable about antiques and is also available to appraise your own vintage items upon request.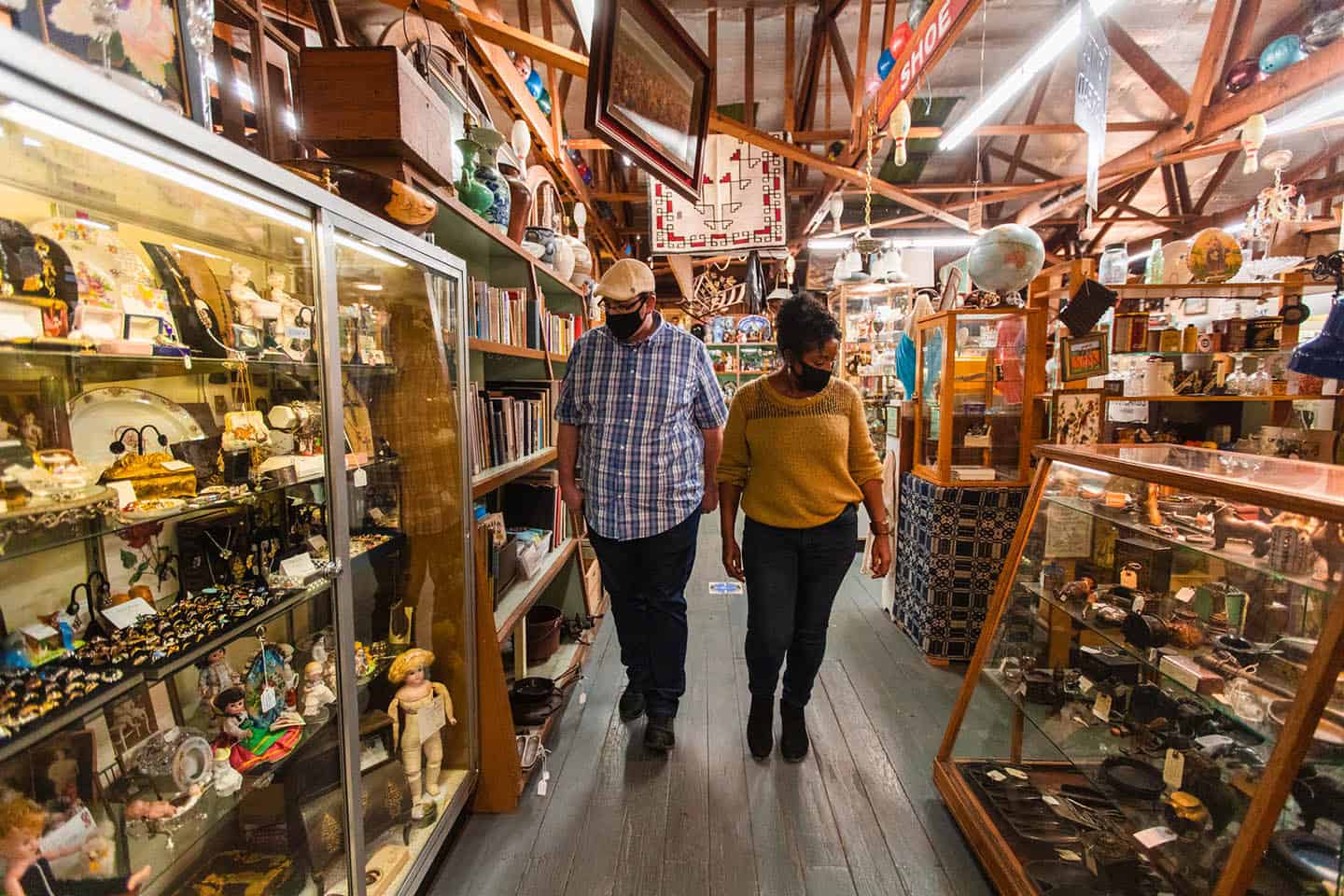 The Green Vase
Situated in a historic Victorian cottage on Heritage Square Park, The Green Vase boasts a curated selection of vintage items, beautifully displayed. Each room features elegant and one-of-a-kind pieces from days gone by. One wall might highlight framed antique bird sketches, along with handwoven baskets parked beside a vintage settee. Restored and refinished furniture ranges from dressers and bureaus to tables, chairs, stools and more. Concrete pottery pieces hold houseplants throughout the space, and vintage medallions and milagros hang on burlap pinboards. Niches and vignettes are expertly designed to evoke the past, and honor its heritage. Owner Connie selects items from all over the world to share with her customers, who also come from near and far. Set outside the hustle and bustle of Branch Street, The Green Vase feels calm and serene for weary shoppers. Enter this charming house with an open mind and some time to spare, and you'll find plenty to enchant you.
Village Vintage
This fun antique store on Branch Street features the quirky and playful side of vintage goods. Located downstairs from Branch Street, Village Vintage is operated with an eye toward youthful merchandising and unique buys by Ely Panos. The result is an eclectic storefront with a following that appeals to everyone from kids to kids-at-heart. Find vintage LPs and turntables, books and games to keep yourself entertained. Or go in for clothing that's making its way back around in the trends. Pendleton blankets and vintage camping gear give a rustic vibe to your outdoor adventuring. Ely even carries taxidermy for those who like the hunting lodge look. It's entirely possible to find an old leather football helmet alongside a card catalog cabinet, old payphone, and a trophy of a warthog head. Specialties include old signs and license plates, satin jackets, pennants, and ladies' dresses. Do not miss the fun and colorful finds available here.
Arroyo Grande Farmers Market
Saturday between Short St. & Mason at Noon in the Village
Locals know to carve time in their weekend for one of Highway 1's best farmers' markets in the Arroyo Grande Village. Every Saturday at noon, the corner of Short Street and Mason closes to through traffic for a quaint produce market and street fair. Items for sale might include heirloom lettuces and greens, local cut flower arrangements, roasted and salted pistachios, avocados, or fresh-pressed juices. The vibe is downhome country, and the flavors are downright delicious, with live music performed from the bandstand by local performers. Pick up a loaf of sourdough and a jar of blackberry jam, and sit down to enjoy it, al fresco, while listening to music. Talk with the farmers and shake the hands that feed you (and supply local restaurants). Kids love seeing the famous Arroyo Grande roosters roaming freely during the festivities. This is a great family-friendly event that will feed your heart as well as your belly.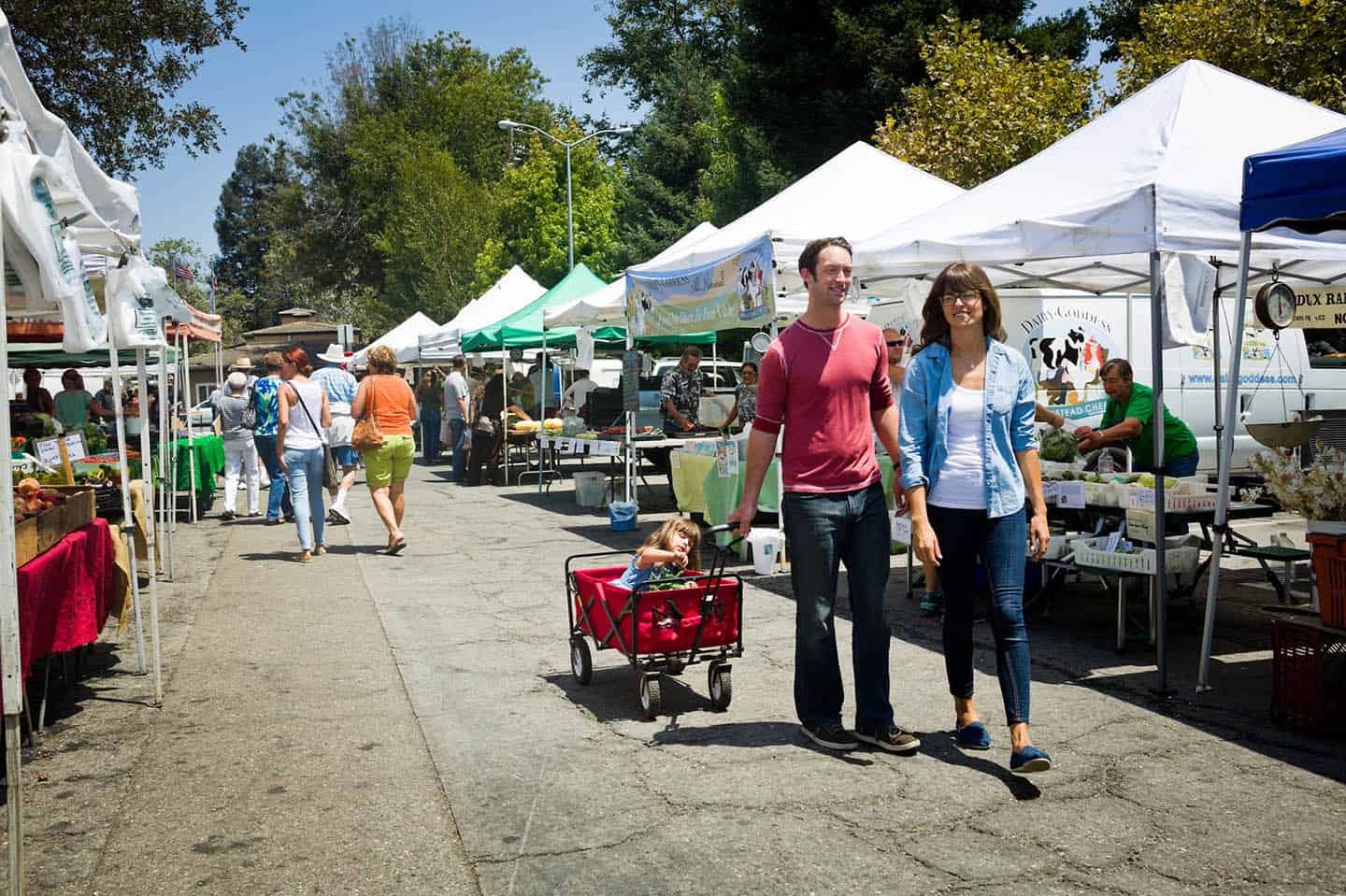 Arroyo Grande Meat Co.
This Village institution has turned out fresh meats, poultry, sausages and more, faithfully since 1897. Today, Henry, Josh, Brandon and James serve customers with the best meat available on the market. Expect to find Sterling beef, pork, poultry, fresh wild fish, lamb, wild game, deli meats and natural specialty sausages. Henry's BBQ & All-Purpose Seasoning is also for sale here in 6-oz or 16-oz packages — perfect for making any dish taste delicious. If you visit during a holiday or special occasion, be sure to reserve a roast through the butcher to ensure you celebrate in good taste. AG Meat Co also carries Diestel free-range turkey for Thanksgiving, and Rocky Chicken year-round. But if you're not in a position to pick up meat on your trip — or even if you are — be sure to try the AG Meat Co's famous tri-tip sandwich. This meaty, tangy treat is served on a French roll slathered in BBQ sauce, every day except Sundays.
Wine Tasting Rooms galore
While wine tasting is, in itself, a worthwhile way to explore our stretch of Highway 1, tasting rooms also stock many goods worth taking home. Of course, there's always bottles of wine. Pick up fresh vintages of Albarino, Chardonnay, Riesling and Pinot Grigio, or age-worthy Pinot Noir, Cabernet Franc, and Syrah. Grab wine gear, too, like specialty corkscrews, glassware, books, and picnic baskets. Many wine tasting rooms also have branded apparel, including caps, shirts, sweatshirts, fleeces, hoodies, visors, golf attire — even socks. Some have developed lovely displays with gifts, artwork, jewelry, reading material, blankets, throw pillows, candles and tote bags. While some tasting rooms offer only the basics by way of merchandise, others hold extensive inventory. Travel the Arroyo Grande Valley and Edna Valley wine trails to search out your next gift for a friend or family member. Whether they enjoy wine or not, you can almost always find something that tickles their fancy in a tasting room.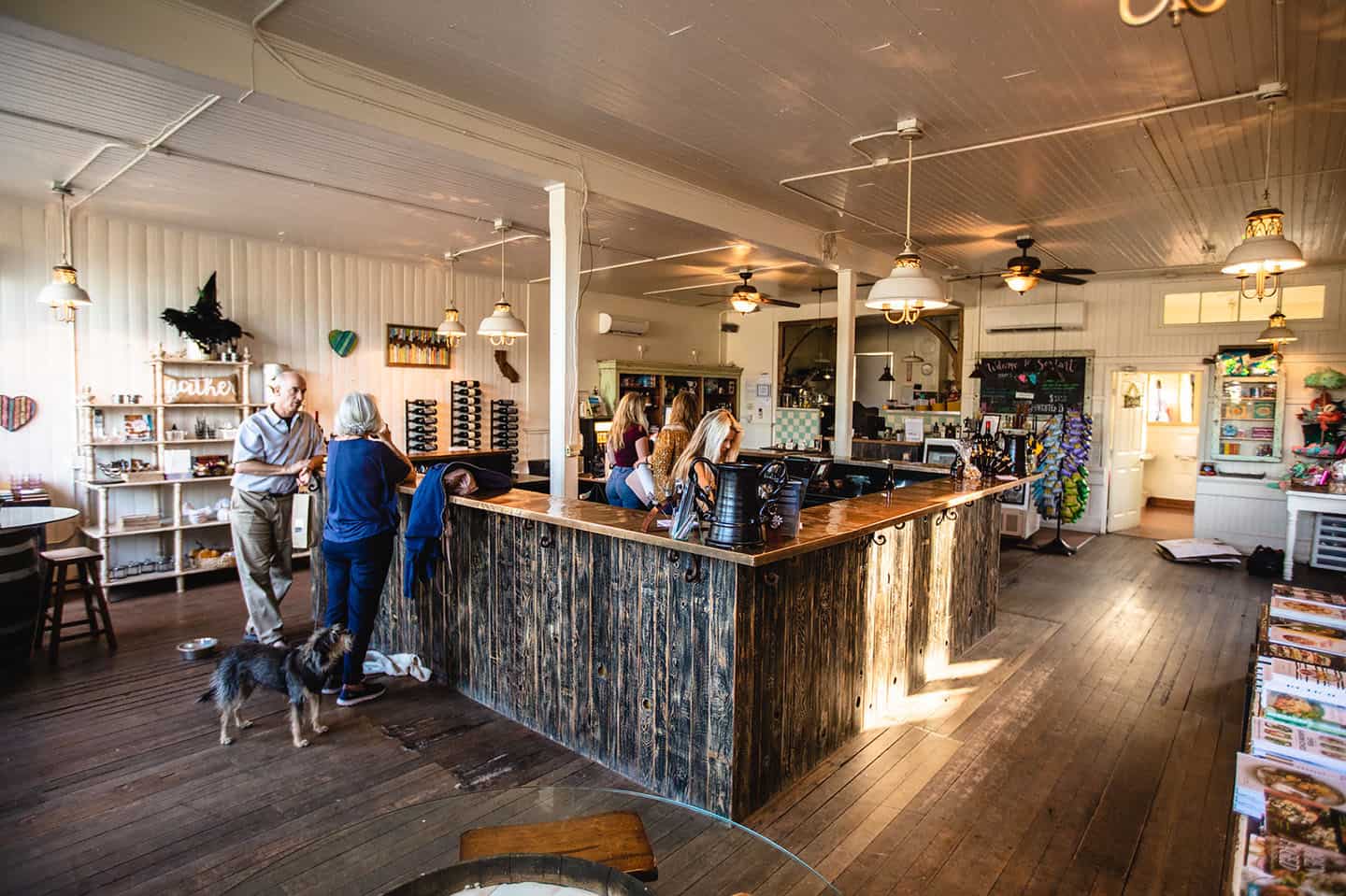 Farmhouse Corner Market
Perched along Highway 227 heading out to Edna Valley wine country from San Luis Obispo, this market caters to foodies and shopaholics alike. The sprawling property comprises a restaurant helmed by longtime top chef Will Torres, with mouthwatering American cuisine. But on the other side of the building, a wide room holds treasures and enthralls shoppers with good taste. It stocks bottles of local and hard-to-find wines, cheeses, pantry items, kitchen wares, and a sweet shop with housemade ice cream. (Pantry goods include plenty of gluten-free, vegan, paleo, and no-sugar-added items for alternative diets.) The aesthetic of the shop is youthful, colorful, and fresh, with plenty of spots to take artistic selfies with family and friends. (Be sure to stand over the "SLO DOWN" floor tiles for a pic of your toes — a customer favorite for Instagram.) Handbags, keychains, dried floral arrangements and more from local artisans fill the shop.