Folks come to Cayucos for the sun, sand, surf — and the excellent shopping. The main thoroughfare of Ocean Avenue cruises through downtown Cayucos, which boasts several unique shopping opportunities. Find one-of-a-kind antiques and vintage pieces, as well as boutique surf shops. Hunt down the perfect souvenir at a Cayucos gift shop, candy store, or art gallery. No matter where you find your next purchase, you'll be happy to know that Cayucos businesses are family owned and operated. Most of what's available here isn't available anywhere else!
One of the best parts about shopping the downtown Cayucos corridor is the access it provides to so many other activities. Just a few steps from Ocean Avenue lies one of California's best beaches. Cayucos State Beach anchors this coastal town, and is a family-friendly spot with lots of space to play, surf, lounge, fish and explore. As a beloved beach destination, Cayucos also hosts several festivals throughout the year. One of these is the Cayucos Antique Street Faire, which brings antique enthusiasts and vintage collectors out for the thrill of the hunt. And of course there's the town's most famous event: the Cayucos 4th of July Parade and festivities. Enjoy this old-fashioned Americana parade, as well as the Front Street Faire for artisan crafts, jewelry, gifts and goods. Between Memorial Day and Labor Day, pop over to the Cayucos Farmers Market, held every Friday by the beach. Pick up artisan wares there, in addition to fresh eggs, fruit and veggies, nuts, rustic breads and coffee. Whether you visit for a special event or just wander downtown, Cayucos will keep you busy hunting down your next great find.
Shopping Downtown Cayucos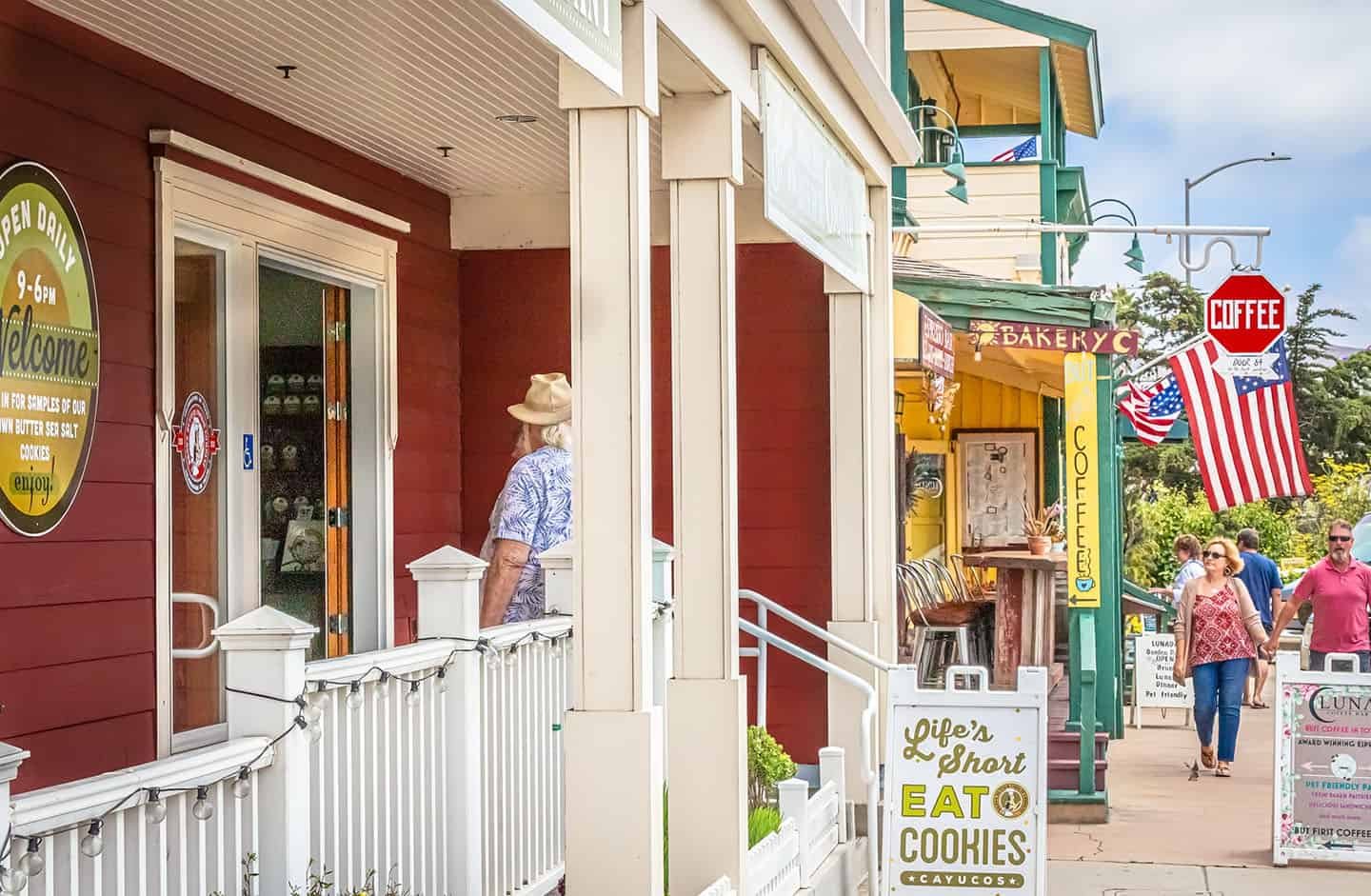 Remember When Antique Malls
This Cayucos antique store on Ocean Avenue offers vintage jewelry, art, clothing, tools, toys, records and books, as does its sister shop, Remember When Too. Located just down Ocean Avenue from one another, the shops are set up in stations that host different sellers and their finds. One antique dealer might specialize in art and antiquities, while another focuses on musical instruments. Take the time to wander around the shops, and delight in the thrill of the hunt. You might be a while: Remember When covers three whole floors, while Remember When Too fills up the footprint of a large barn. You never know what kinds of treasures you'll find in this pair of Cayucos antique stores. It might be a collection of vintage troll dolls, a set of Fiesta ware dishes, an antique clarinet or an old French bicycle. Give yourself plenty of time to reminisce, and you're likely to say "remember when?" too.
Main Street Antiques
Visitors to this sprawling Cayucos Antique store will find a wealth of treasures to choose from. Recessed off Ocean Avenue, the entrance to the shop includes an outdoor section with garden goods, tools, and large items for sale. Inside, peruse the shop's collection of vintage clothing, hats, accessories and shoes. Or thumb through the pages of an antique book, old postcards, maps, and magazines. Furniture hunters will enjoy the wide variety of solid wood antique pieces, including wardrobes, dining sets, armchairs and more. From time to time, the shop even has vintage appliances for sale, like 1940s O'keefe and Merritt ovens, laundry machines and Westinghouse roasters. Mint-condition electronics are popular here, too, with turntables, victrola cabinets and tube radios; as well as antique clocks from times gone by. When you visit, be sure to check out the tool section, where old railroad equipment and other odds and ends can be found.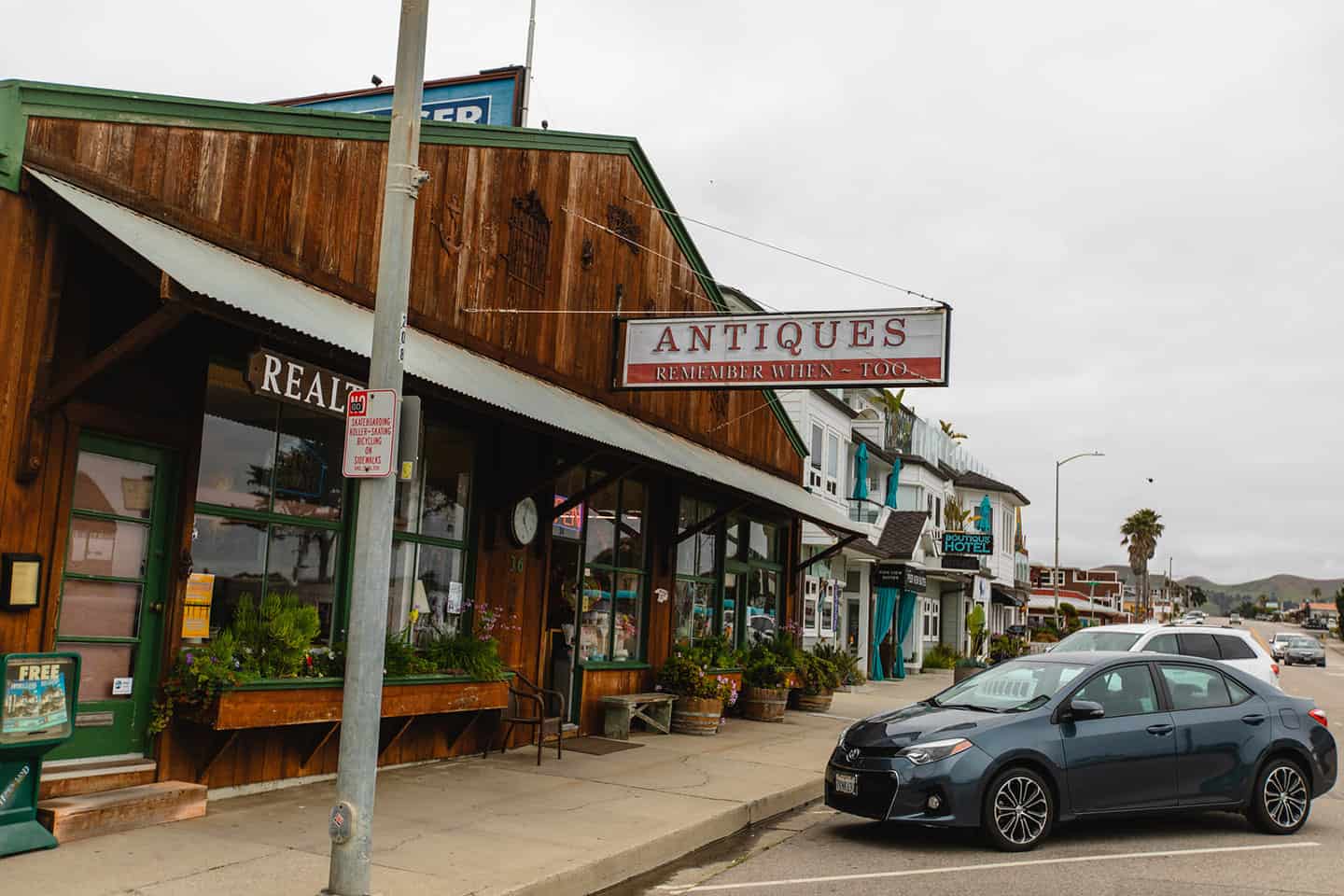 Good Clean Fun
Downtown Cayucos lies just a few feet from the beach, so it's no surprise it has some of the best surf shops around. Head to Good Clean Fun for proof: this Cayucos surf shop opened in 1975 and has been going strong ever since. Here you'll find gear and expertise for a number of water sports. Check out their selection of wetsuits, including booties, gloves and hoods for that infamous chilly Pacific water, both for purchase and for rental. Look downstairs for surfwear and casual apparel, while the board loft upstairs holds all the beautifully crafted surfboards for sale. Rent a surfboard, stand-up paddleboard, or kayak, and get the best advice for where to go. Alternatively, you can sign up for an expert-led kayak tour or kayak fishing tour. Good Clean Fun also offers surf lessons on Cayucos State Beach — a bucket list item to check off, for sure.
Cayucos Surf Co.
Since 1996, this Cayucos surf shop has sold gear and apparel for surf, skate and sun from the corner of Ocean Avenue and Cayucos Drive. Rent or buy a surfboard or wetsuit here from a wide array of sizes and styles. Cayucos Surf Co is well known for their branded apparel, which the locals wear, too. Come in for a tee, sweatshirt or cap for men, women and kids. Don't forget to buy a pair or two of high-quality sunglasses, too, perfect for all that bright Cayucos sunshine. Cayucos Surf Co has a nice inventory of women's and men's sandals from brands like Rainbow and OluKai, as well as swimsuits and board shorts. Skateboarders will find all they need to take a spin at the nearby skate park, including decks, trucks and wheels, and complete boards. Ask about windsurfing and kitesurfing gear, as well! Whatever you decide to buy, you can know that you're supporting local business while having a great time in the water.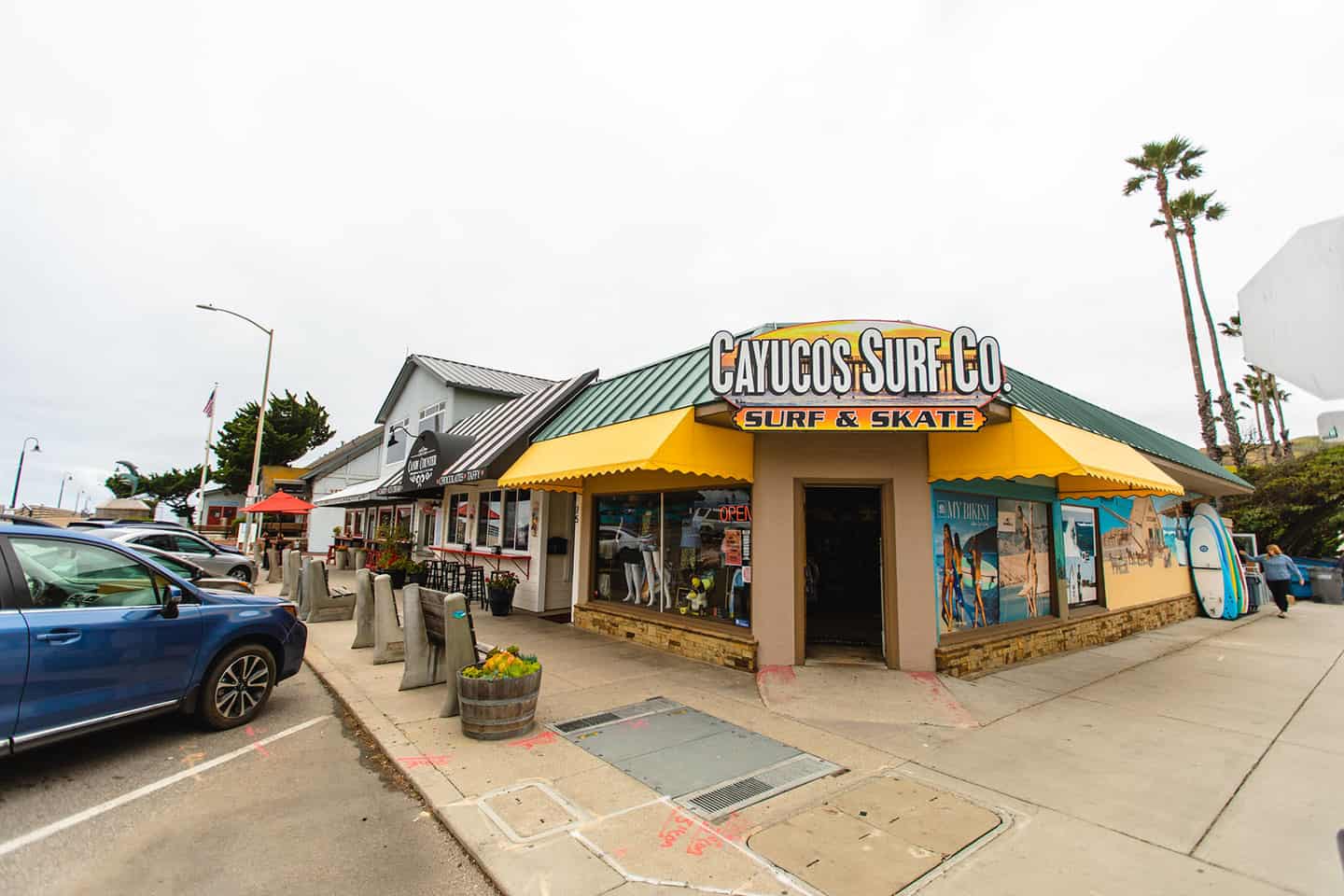 Cayucos Collective
This shop takes art to a new fun level with Cayucos-focused prints and tee shirts. This art gallery and custom printing studio features artists who are surfers and skaters whose work highlights surf and skate culture. Each image is one-of-a-kind and made locally. One of the unique parts of the collective is its apparel printing shop. Cayucos Collective artists design the images and then print tee shirts in the shop. These are called "Take-Out Tee Shirts" because they're made to order, then packaged in traditional take-out cartons. They also offer custom hoodies and trucker hats. Just pick out an image and a garment, and the artists do the rest. But tees aren't the only items for sale at the Cayucos Collective. You'll also find collectibles, jewelry, and sculptures that celebrate the Central Coast's beach culture. Walk inside and you'll be drawn into the quirky, fun world of Cayucos locals in no time.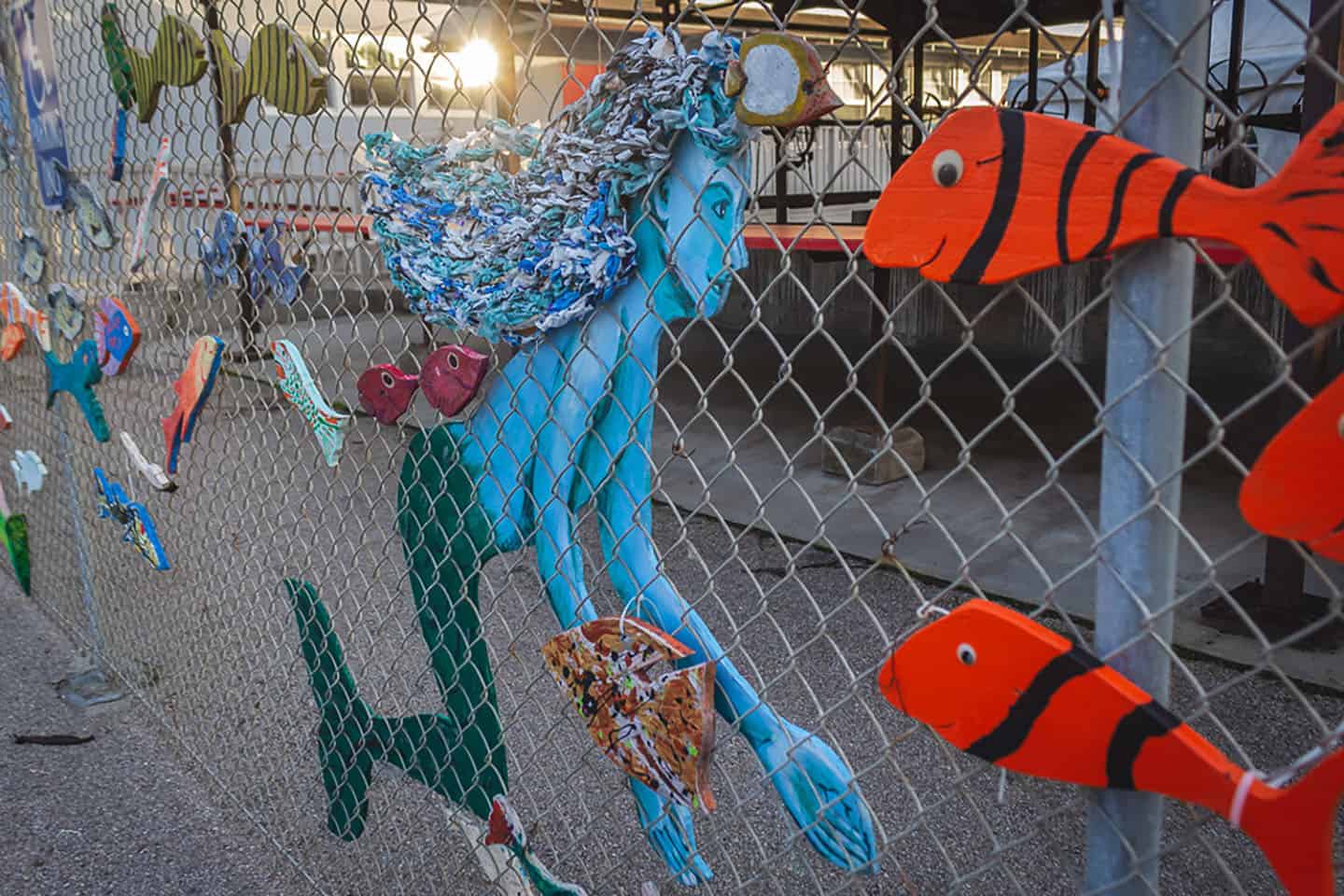 Maven Leather + Design
Located just one block from the ocean in Cayucos, Maven Leather + Design features beautiful handcrafted leather purses and bags with deep roots in the American wilderness. Founded by artist, natural dyer and auto trimmer Emma Thieme, this charming storefront features one-of-a-kind originals alongside limited edition Core Collection pieces produced with the help of local artisans. While the business began its journey in 2015 on the East Coast, Maven Leather + Design has become a staple of upscale sustainable craftsmanship on the Central Coast. Utilizing botanical dyeing processes, foraged materials and other natural production techniques, Thieme is able to ensure that each piece is both elegant and eco-friendly. With a range of earth-toned totes, crossbody bags and purses handmade from free-roaming American buffalo and adorned with solid brass hardware, there's a unique Cayucos-crafted bag for every style. Plus, this working studio and storefront represents 30+ independent designers and artists from the Central Coast and beyond.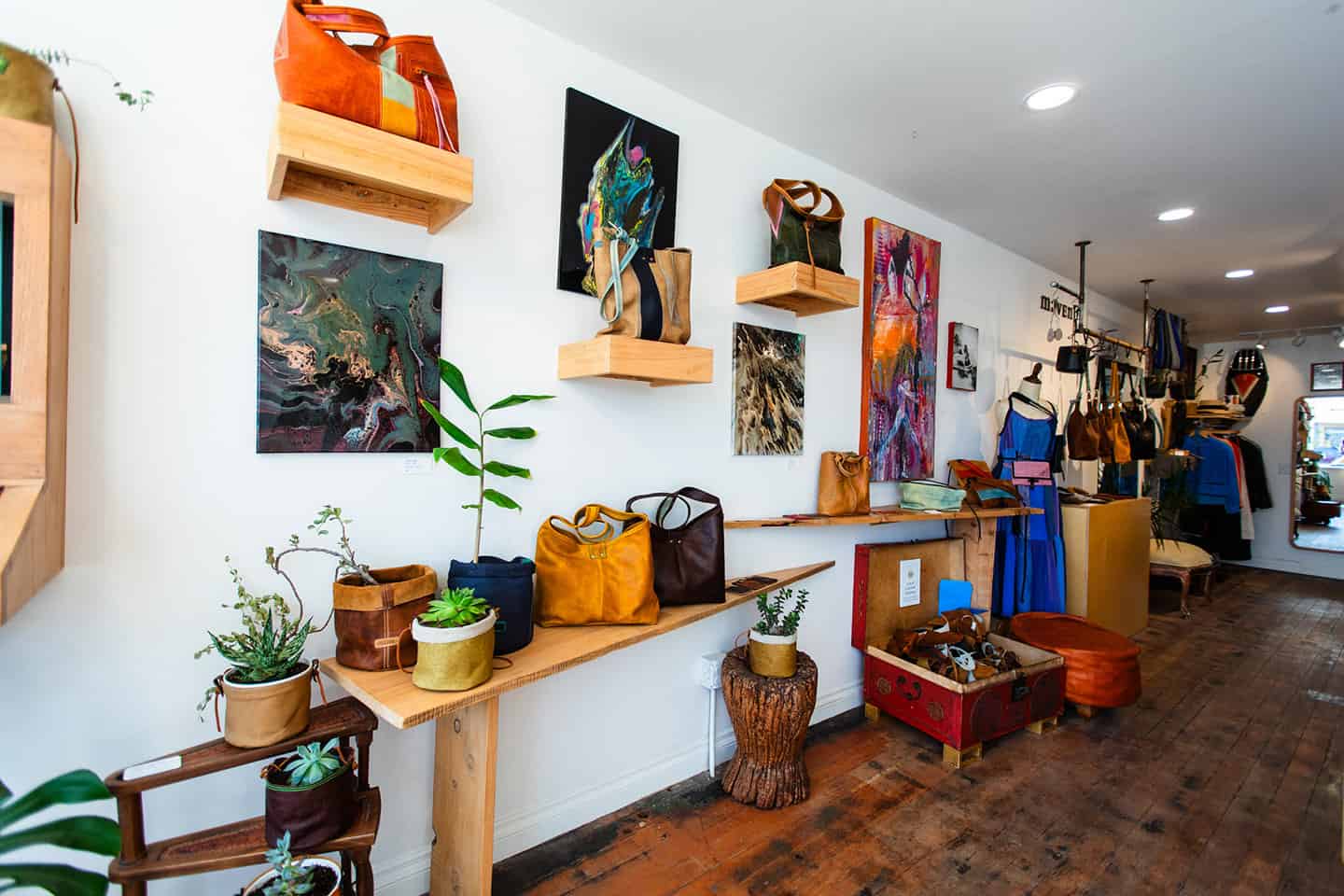 Mical Skincare
For those in the glow, Mical Skincare in Cayucos is a one-stop shop. Find healthy, safe and functional skincare paired with warm and knowledgeable expertise. Founded in 2012 by licensed esthetician Cristy Mical and marketer/designer Amber Sandoval, the company was born from Sandoval's lifetime struggle with psoriasis and grew as Mical's early formulations proved to be surprisingly effective in treating the issue. Featuring top shelf natural ingredients and powerful actives, Mical Skincare showcases a range of organic oil cleansers, mists, balms, serums, toners and moisturizers aimed to keep skin off all ages and stages beautiful. Whether customers walk in with concerns over wrinkles, blemishes or dryness, Mical Skincare products are tailored to produce healthy results, the natural way. With a welcoming ambiance awash in greenery and inviting wood surfaces, find the co-owner's overarching philosophy of self care, discovery and community inside each and every bottle.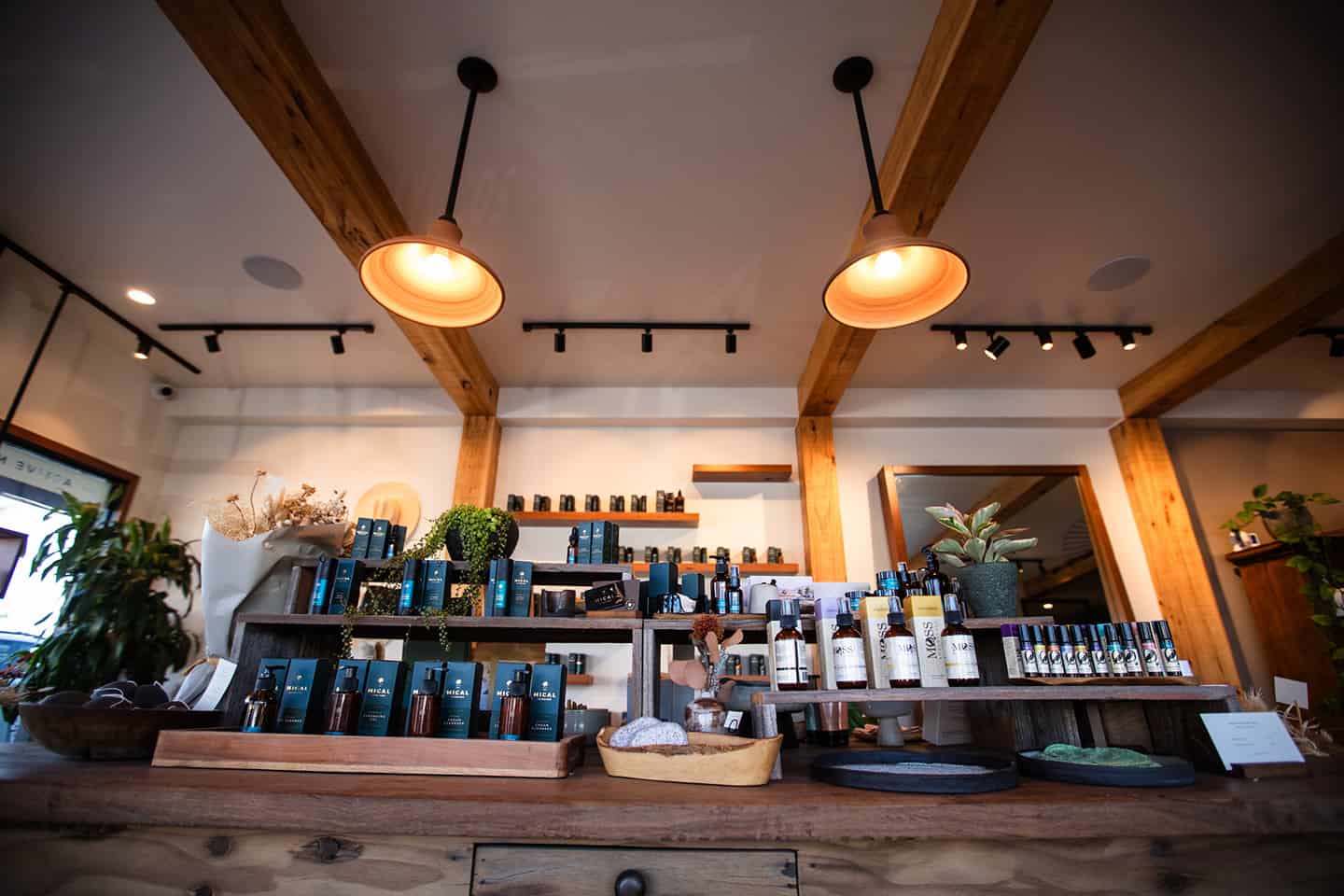 Jennifer's Unique Boutique
With mermaid sculptures, sea glass, and driftwood wreaths, Jennifer's Unique Boutique welcomes anyone who loves the ocean. From the moment you enter the front gate and explore the items in the recessed courtyard, you'll be drawn into Cayucos beach culture. Cayucos hosts the annual Sea Glass Festival, and many such sea treasures can be found year-round at Jennifer's, too. Don't miss the earrings, keychains, necklaces and bracelets that boast beautiful sea glass. You'll also find plenty of shabby chic furniture, often either restored or repurposed in attractive ways. Vintage art, antiques, and home goods bring a cozy patina to the sho, even for lowly land-lubbers! Pick up a hand-made greeting card, a wind chime, soaps, lotions, essential oils and pottery. Air plants and potted succulents also make up a large part of the inventory at Jennifer's Unique Boutique. Come ready to explore — and ready to bring home something uniquely "Cayucos."
Mermaid Rock Soap Company
It's not unusual for customers to mistake soap for cake and other sweet treats at this Cayucos body product shop. The soaps, scrubs and bath bombs are designed to look like delicious desserts, often with aromas to match! Indulge your senses in a visit to this popular shop where soaps are made weekly if not daily. All ingredients are fresh and natural, with luxurious scents that travel out the door and into the street. Buy a birthday cake bath bomb, cherry donut soap or citrus bar to give away — or keep it all to yourself. Stock up on luxury soaps, which are made in long "loaves" and sliced to show the unique shapes and colors inside. The seaglass luxury soap is a customer favorite, and features small bits of translucent colors in the center, like stained glass. But for sweet tooths, the solid bubble bath scoops and soapcakes are a delicious indulgence, and completely carb-free.
Cabana Jewelry & Gifts
More than diamonds and rubies, pieces of sea glass are the "gem" of choice in beachy, quaint Cayucos. Cabana Jewelry & Gifts seals the deal, with stunning accessories to bring a bit of Cayucos home with you. Here, jeweler Jason Cordero hunts down delicate sea glass on the shores of the Central Coast, then transforms them into jewelry and gifts. His work is a true testament to the beauty and power of nature to turn "trash" into "treasure." Come be dazzled by earrings, necklaces, bracelets and even tiaras made from glass that's been tumbled smooth by the sea. These stones come in many colors, from amber and red to pale green, kelp green, and cobalt blue. The style? Simple and elegant, framed by brilliant white and yellow gold. When you visit, you're very likely to meet Jason in the shop, where you can talk about sea glass and learn about his process.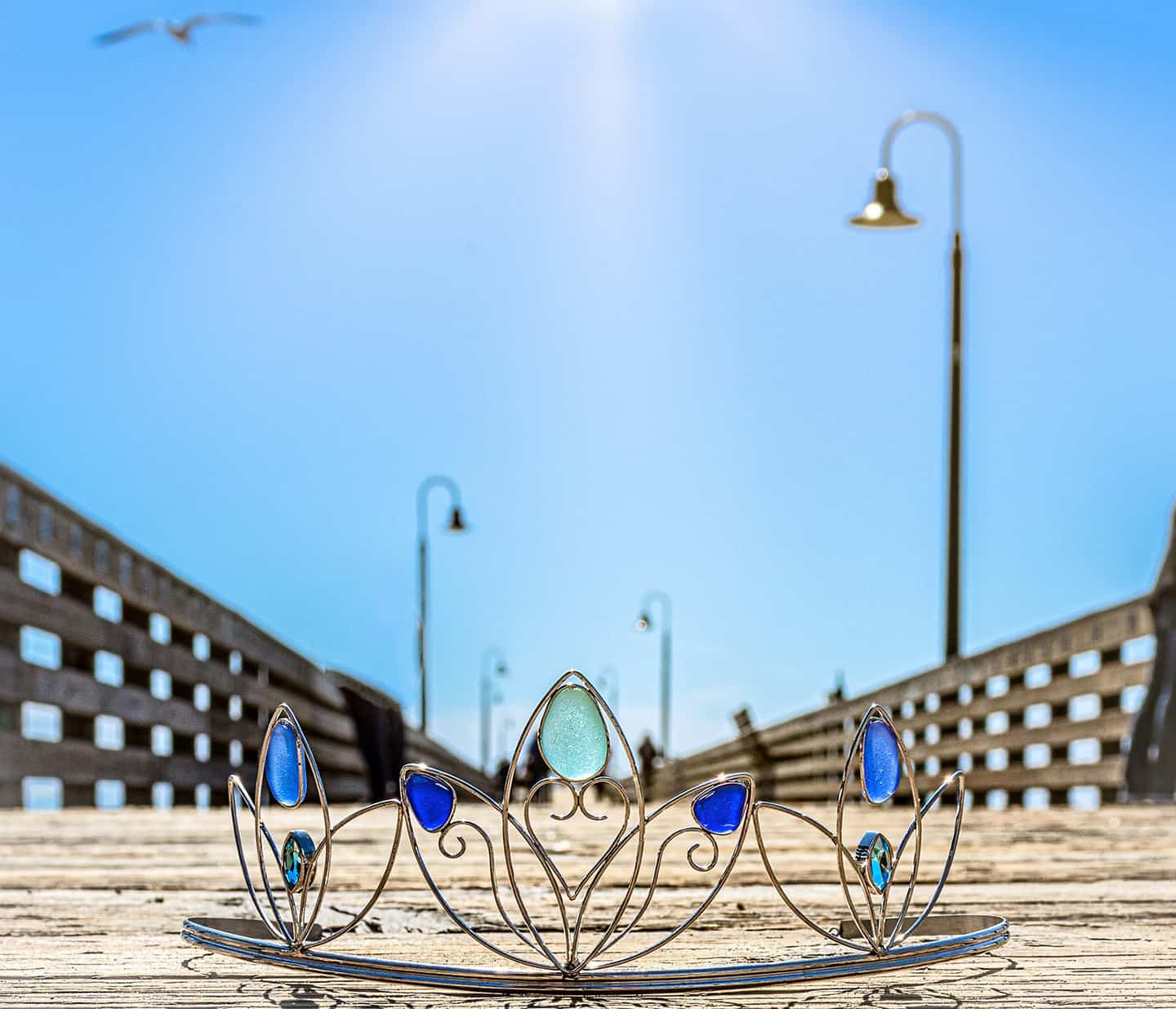 Pier Gifts on the 1
Want to take Cayucos home with you after your visit? Pier Gifts on the 1 is a terrific place to start. This charming shop carries a wide variety of apparel, jewelry, art and housewares for beach lovers young and young-at-heart alike. Look for ladies' beachwear, jewelry, hats, and sandals, men's Hawaiian-style shirts, as well as children's apparel, towels, hats, and toys. Home decor includes wind chimes made from seashells, vintage signs, clocks, throw pillows and an extensive collection of souvenir magnets. One of the walls is devoted to artisan-made pocket knives, another to ceramic mugs and yet another to holiday ornaments. Seashell lovers and beachcombers will appreciate the wide variety of seashells for sale here, whether individually or in bulk. Sand toys like buckets and shovels, flip flops, and other essentials can also be found here, in case you mistakenly left yours at home. And don't forget postcards! Pier Gifts on the 1 has an extensive variety of postcards to send to your loved ones, or as keepsakes for a wonderful visit to Cayucos.
Cayucos Pharmacy & Gift Shop
Just a block from the beach, this quaint pharmacy and gift shop is reminiscent of old fashioned apothecaries. In fact, the storefront even looks like that of an old Western business, with its dark barnwood exterior. Inside, of course, you can have a prescription filled by the knowledgeable pharmacists and staff. But there is much more here to be discovered. Enjoy choosing from a wide array of gifts and collectibles, body products and children's goods. The shop has a surprisingly wide variety of modern cookbooks covering everything from flatbreads to tarts and plant-based cuisine. Also enjoy a robust tea selection from artisan vendors, as well as European over-the-counter skin care products. A curated collection of ladies' wear pieces, as well as accessories like jewelry and tote bags are also on offer. Best of all, the Cayucos Pharmacy & Gift Shop carries an incredible selection of children's toys, books, and gifts. Come in, wander the shop, and enjoy the best Cayucos has to offer.
Cayucos Candy Counter
Looking for a fun, delicious place that time forgot? Check out the Cayucos Candy Counter, an old-fashioned sweets shop with plenty of goodies to tempt you. Choose from an array of nostalgic treats, like gobstoppers, lemon drops, and salt water taffy. The Cayucos Candy Counter also offers gourmet chocolates, truffles, ice cream, gelato and espresso drinks. Customer favorites include the honey lavender gelato, affogato (scoop of gelato in espresso with cream) and the Four Berry Smoothie. Dewars honey chews, Haribo gummy candy, and an entire wall of Jelly Belly flavors will excite your taste buds for a sweet adventure. Don't forget the fudge counter, with turtles, caramels, nougat, milk chocolate, white chocolate, dark chocolate and even sugar-free options. Come in from the heat and get an ice cream cone, or pick up a bag of candies from years past. Conveniently located at the entrance to the Cayucos Pier, this is a place you'll come back to again and again.
Brown Butter Cookie Company
Founded by two sisters with a decadent, unique recipe, the Brown Butter Cookie Company is beloved by folks far and wide. Follow your nose to the shop: often, the scent of freshly baked cookies drifts on the air in Cayucos. When you enter, you'll find someone offering free samples of the famous Brown Butter Cookie. The original recipe makes a cookie that's like shortbread but with a nutty, toasty flavor from the brown butter the bakers use. Brown butter is obviously a key ingredient, but the other is a light dusting of salt crystals over the top of the cookie. This marries the flavors of sweet and salty for a treat that is simply irresistible. But the original cookie isn't the only one on offer here. Go for multiple flavors, including Spice, Cocoa, Cinnamon and Almond. And don't miss the seasonal flavors like Coconut Lime. Brown Butter Cookie Company even offers a gluten-free option with Cocoa Mint. Pick up gift boxes of these famous cookies to bring home, or open one up and chow down on the cookies yourself!