With 100 miles of Pacific coastline, our stretch of Highway 1 boasts abundant sea life including marine mammals, tide pools, and kelp forests. What's more, 50 of those miles are protected under federal, state and/or local law — the most in all of California. The result? A wildlife wonderland that beckons visitors to explore and enjoy communing with nature. 
Travel to coastal Cayucos and get to know our local tide pools, where sea stars, urchins, mussels, crabs and other tiny critters make their home. Or stop at the Cayucos Pier for a Whale Trail viewpoint, where whale watchers of all ages and experience can spot a spout offshore. For otter lovers, find "rafts" of these furry cuties across the Cayucos coastline. And don't forget harbor seals, sea lions and dolphins, all which play in Cayucos's clean, protected waters.
To enjoy the tide pools and sea life in Cayucos, follow some basic guidelines that will keep our critters safe for generations to come. View our Wildlife Viewing Tips for best practices on when and how to see sea life in Cayucos and elsewhere. (For instance, watch the local tides, as low tide provides the best access for tide pool viewing.) And always remember: as tempting as it is to touch tide pool inhabitants, doing so is illegal. Teach little ones especially to enjoy tide pools with their eyes, only.
Want to spend more time with Cayucos tide pools and sea life? Get to know us better through Stewardship Travel for Good, an initiative that brings visitors closer to the heart of Highway 1. One available stewardship activity is the Cayucos Land Conservancy's "Bluff Walks" among the Estero Bluffs tide pools. Learn about their complex ecosystems, as well as the cultural and natural history of the state park. To learn more about other Stewardship Travel for Good activities in Cayucos, visit the Stewardship Travel for Good page.
Explore Sea Life and Tide Pools
Tide Times for Highway 1
Thursday, Sep 21, 2023
| Tide | Time (PST/PDT) | Height |
| --- | --- | --- |
| High Tide | 4:14 AM | 3.2 ft |
| Low Tide | 7:01 AM | 3.03 ft |
| High Tide | 2:08 PM | 5.16 ft |
| Low Tide | 10:34 PM | 0.72 ft |
Tides measured at Port San Luis Harbor. Data provided by
noaa.gov.
Tide Pools between Cayucos and Harmony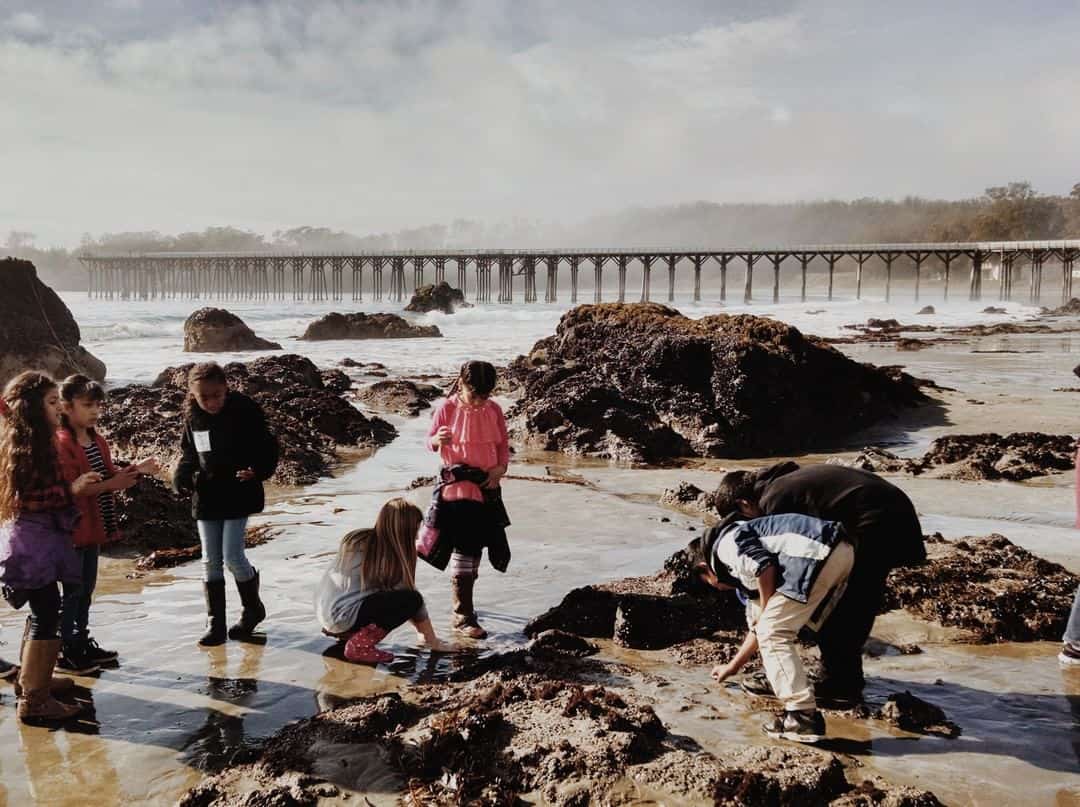 When it comes to Cayucos tide pools, Estero Bluffs State Park and Harmony Headlands State Park act as north and south boundaries. While many of the same species live along this stretch of shoreline, the state parks each offer unique terrain to explore. Look in the nooks and crannies of low tide for ochre sea stars, giant green anemones, black turbans, rough limpets and purple shore crabs. For those feeling adventurous, find "tide pools" inside the beached boat called "Point Estero" at Estero Bluffs State Park. The commercial fishing vessel ran aground in 2017 and has since become known as an unusual sea life viewing opportunity.
To reach the boat, park at the North Ocean Parking Area; it's easy enough to wade out to the boat from shore. Along Highway 1, you'll find multiple turnouts between Estero Bluffs and Harmony Headlands where you can walk to the shoreline. (Examples: Turnout 1, turnout 2, turnout 3, turnout 4, turnout 5, turnout 6. Be aware that some areas do require some areas of steeper cliffside terrain; wear grippy shoes to avoid slipping.) The parking at Estero Bluffs is only a few hundred yards from the shore via each of these turnouts. For Harmony Headlands, park in the parking lot and take the easy 2-mile hike to the shore.
Another great spot for tidepooling is China Harbor, also known as China Cove, six miles north of Cayucos. Here, Chinese immigrants farmed sea lettuce, a type of seaweed, for over 100 years until they abandoned the cove in the 1960s. To reach China Harbor, drive north on Highway 1 from Cayucos, turn left on Villa Creek Road and drive to its end. Park there and walk north on the trail until it veers toward the shore.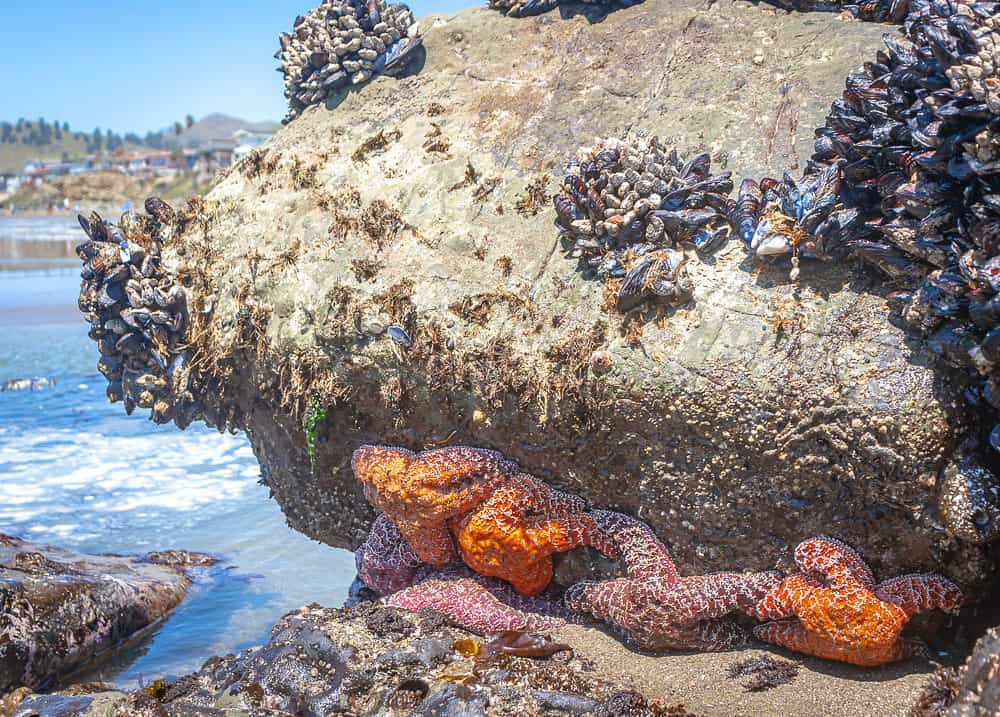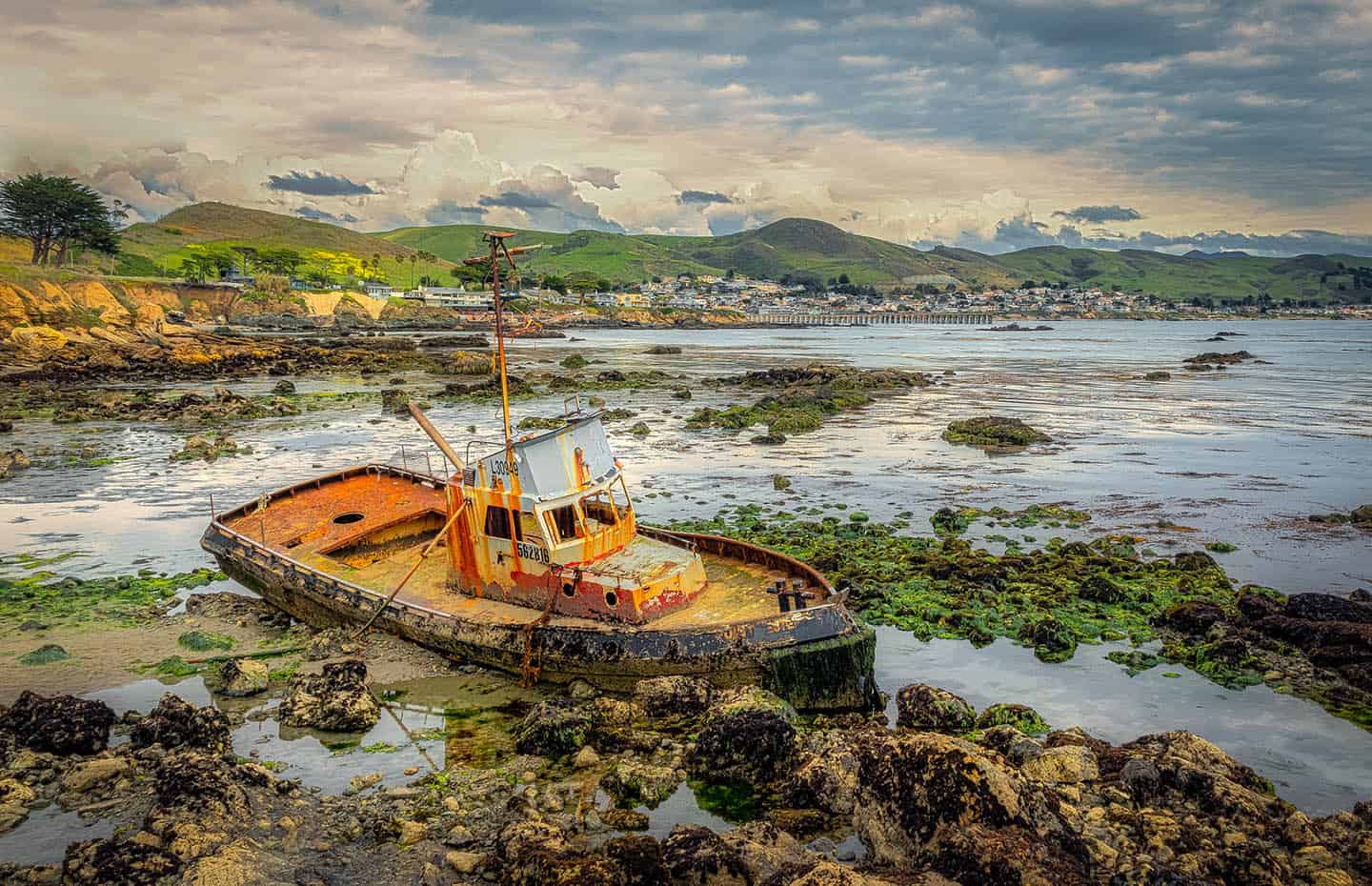 Off-Shore Sea Life of Cayucos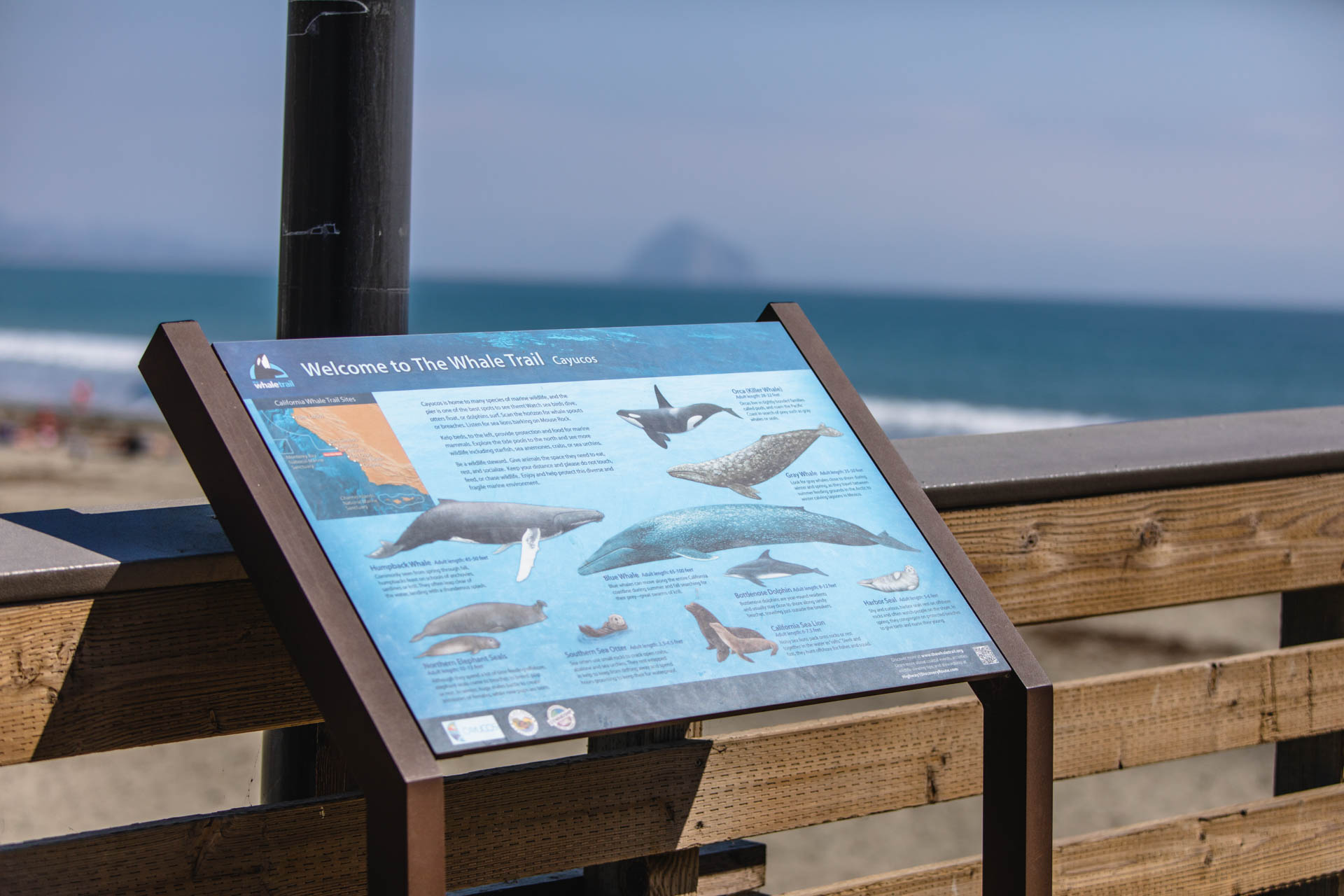 Cayucos shoreline makes up a significant part of the Central Coast's sea life. But tide pools aren't the only habitat — Cayucos is known for its harbor seals, dolphins and sea otters, too. Listen to the barking of harbor seals and watch them dive and dunk in the water. (You'll recognize these creatures by their sweet whiskers and dog-like faces.) Also look for dolphins hunting baitfish like anchovies and playing in the waves. To find some of the cutest creatures in the animal kingdom, look for California sea otters offshore, especially in kelp beds. Most of Cayucos's beaches offer visibility, but if you want a closer view, walk to the end of the Cayucos Pier.
Whale watching presents another opportunity to glimpse sea life off the coast in Cayucos. Check out the Whale Trail sign at the entrance to the Cayucos Pier for plenty of information on what to look for and when. Gray whales are the most common species to be seen migrating offshore. In December and January, they travel south to their calving grounds in Mexico; in March and April, they travel to Alaska to feed. Head to the Cayucos Pier in March or April for your best chance to see mothers and their calves traveling closer to the shoreline. Other species seen here include humpback whales and even the occasional orca whale.