Avila Beach consistently lands on anglers' bucket lists for good reason: the fishing and the views are excellent here. For those without a watercraft, two piers invite anglers of all ages and abilities to drop a line. Rockfishing in this area is also particularly good, for those willing to reach the prime spots. Kayakers will appreciate the easy access to quiet waters where halibut, salmon, and even coastal steelhead migrate. (Coastal steelhead, however, are a protected species.) For those with their own fishing vessel, salmon, albacore, and long range rock cod can be found further out in the deep sea. And for those looking to charter a boat or take a fishing tour, local company Patriot Sportfishing offers expert guidance. (They also sell fishing licenses on Harford Pier.) In the meantime, enjoy the stunning scenery in and around San Luis Bay, with its historic piers and lighthouse, salty air and sunshine. All fishing opportunities lie close to the quaint seaside town of Avila Beach and all its charms, too.
Explore Avila Beach Fishing
Pier fishing in Avila Beach
The small town of Avila Beach boasts three piers, each with its own rich history. Each is located in close proximity to food, shopping and playgrounds — everything a family could need to stay entertained all day. Remember that fishing off California piers does not require a license, making it possible for anyone to try their hand at the sport. Common catches here include surfperch and white croaker, though schools of queenfish and small leopard sharks can be found in some springtime months. For catching surfperch, expert anglers recommend baiting with bloodworms, pile worms, sand crabs, ghost shrimp, and fresh mussels. For catching white croakers, anchovies are the bait of choice. Be aware that San Luis Obispo Creek feeds into the ocean just north of the Avila Beach Pier, which has been known to support steelhead trout. These are a protected species and must be released if caught.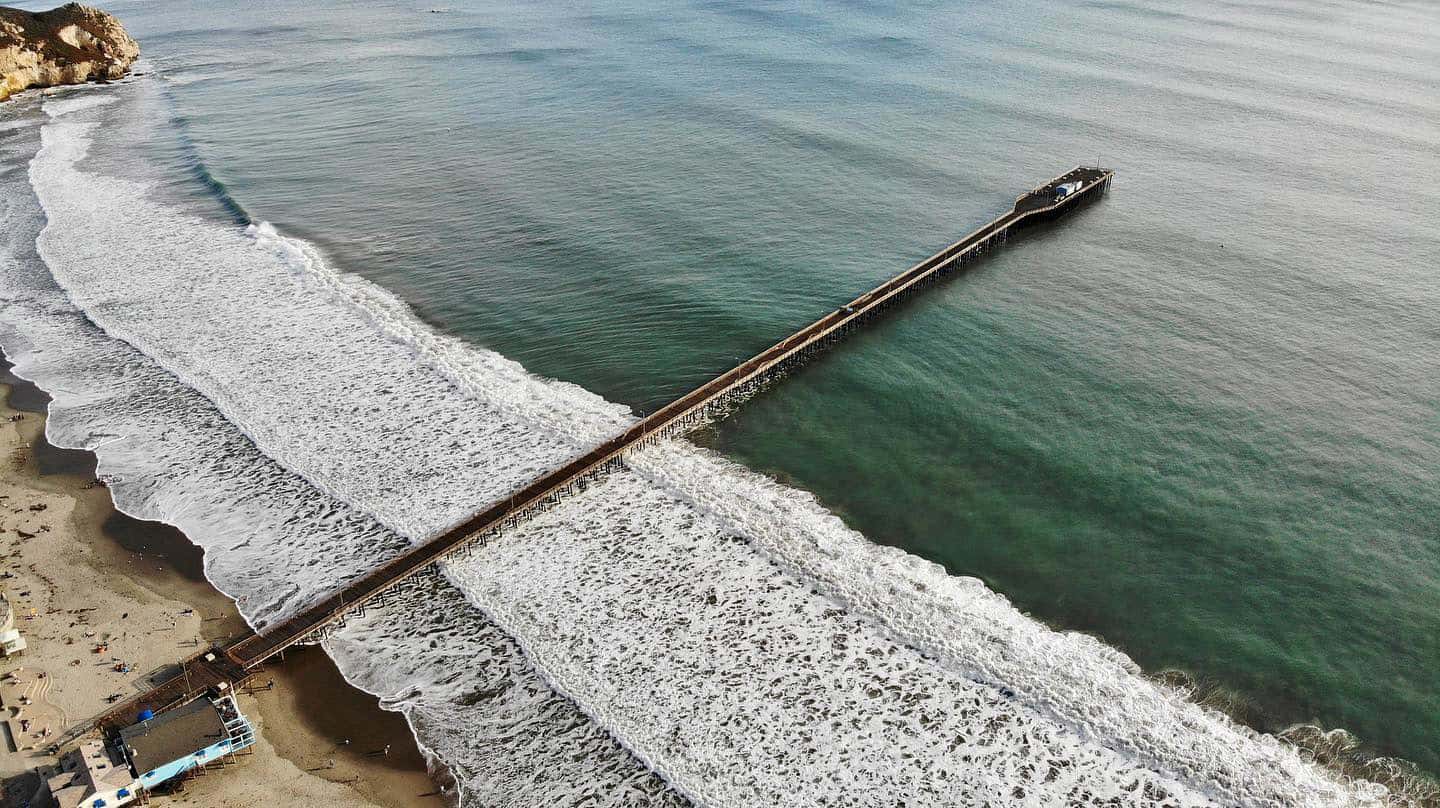 Fishing Avila Pier & Fishing Port San Luis' Harford Pier
These two piers support a thriving fishing community of locals and visitor anglers alike. Bait and tackle can be purchased on either/both piers; restrooms and dining are available close by to each as well. Look to the Harford Pier, built in 1871, for a more commercial or serious fishing environment, less crowded and less touristed. Common catches here include mackerel, perch, rockfish, sardines, and jacksmelt. Harford Pier stands in Port San Luis Harbor, offering a bait and tackle shop as well as public fish cleaning stations. Note also that the Harford Pier is one of only a handful of driveable piers in the U.S., and has fairly plentiful parking. The Avila Beach Pier sees many tourists in the high season, and is thus a little trickier to navigate; parking can be tough. The end of the Avila Pier is closed, but fishing inshore (on the first third of the pier) can yield barred and surf perch.
Located between the Harford Pier and the Avila Beach Pier lies the Cal Poly Pier, the university's educational marine research facility. It was originally built in 1914 by the Pacific Coast Railway Company and was later leased by Union Oil, or Unocal. Connected to San Luis Obispo by a narrow gauge railway, it made Avila Beach the world's largest shipping port for crude oil. When standard gauge rail lines became the norm, the Pacific Railway Pier lost productivity. Union Oil purchased the pier in 1941, and became a significant oil port for the U.S. Navy during World War II. It remained important in the oil industry until a storm took the pier down in 1983. Unocal rebuilt it — this time with steel and concrete — and gifted it to Cal Poly's College of Science and Mathematics in 2001. As such, the pier is private and not available for fishing.
Rock Fishing in Avila Beach
The most popular area for rock fishing in Avila Beach lies southeast of downtown, at Mallagh Landing. This rocky outcropping served as a natural pier for Native Americans living and fishing here long before European settlers arrived. (It also acted as a hidden port for smuggling booze during the Prohibition.) Multiple water caves also welcome anglers looking to rock fish. Access this area from Highway 101 by taking Avila Beach Drive to Cave Landing Road, about 1 mile inland from the beach. From the dirt parking lot at the end of Cave Landing Road, walk the Pirates Cove – Mallagh Landing trail. This will bring you about half a mile down to the rocks. Much of the terrain is very steep cliffs and rack faces leading down to the prime rockfishing area. Hiking shoes are a must here; exercise good judgement and be cautious. Also, be aware that Pirate's Cove is a clothing-optional beach.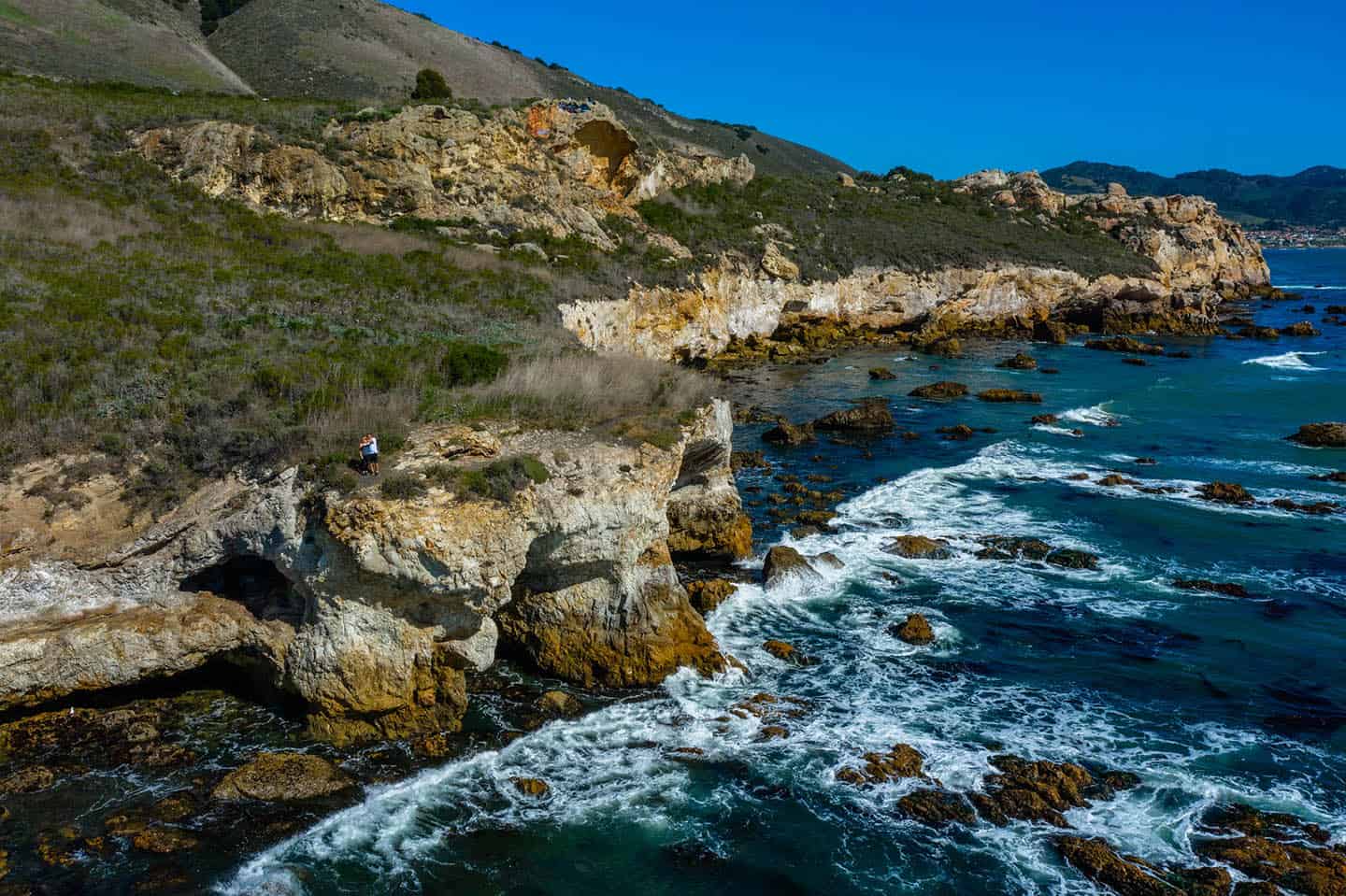 Kayak Fishing in Avila Beach
Kayak anglers, rejoice: launching your rig from Avila Beach is as easy as can be, for multiple reasons. For one, the surf and swell are almost always manageable, even for the least experienced kayaker to pass over. For another, Avila Beach provides several handy launching spots. For open-water kayaking, head to the main beach at the Avila Beach Pier, and push off directly from the sand. For access to a variety of kelp beds and caves, paddle south toward Mallagh Landing/Pirates Cove and Shell Beach. This is an easier launch point than attempting to do so from the Mallagh Landing-Pirates Cove beach. There, you'll discover plenty of visible kelp beds and rock fishing close to the beach. (You may also find nude sunbathers, as this is a clothing-optional beach, remember.) Alternatively, the area north of Avila Beach around Port San Luis makes it easy to put in with ramps and boat launches. This zone is also much more accessible by car, where you can park mere feet from the water, untie your kayak, and paddle.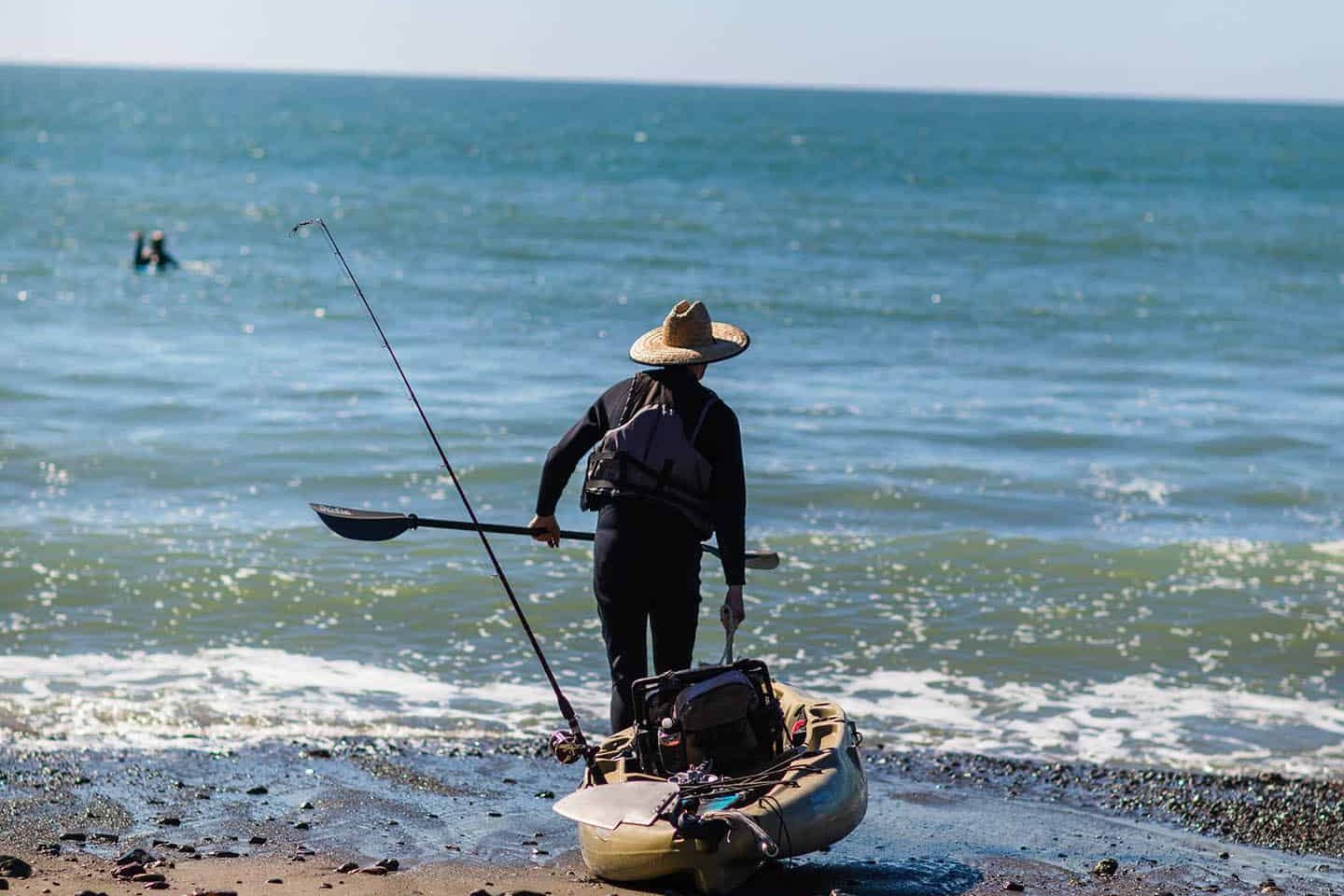 Exploring the deepest areas off the Pacific coast is one of the great benefits of fishing Avila Beach. With the help of experienced anglers, it's possible to catch the beautiful ling cod, rock cod, and salmon that populate these waters. Patriot Sportfishing has an office in Avila Beach on Harford Pier in Port San Luis. They specialize in rock cod fishing at up to 300 feet and offer trips from Avila Beach in half, three-quarter and full-day increments. Depending on how much time you have, these trips can travel locally in Avila and Shell Beach, or further away. Choices include boating to Point Sal in Santa Maria, Point Purisima in Lompoc and Point Buchon in Montana De Oro State Park. Choose from long-range rockcod, albacore, and salmon trips; sometimes Patriot Sportfishing includes crab and sand dabs trips, as well. Call to book a trip on one of their three vessels: The Patriot, The Flying Fish, or The Phenix. Call to book a trip, or visit the Patriot Sportfishing store for tackle, rods and reels, hats, apparel, and annual California sportfishing licenses. Patriot Sportfishing also offers whale watching and nature cruises, both as trips and as charters.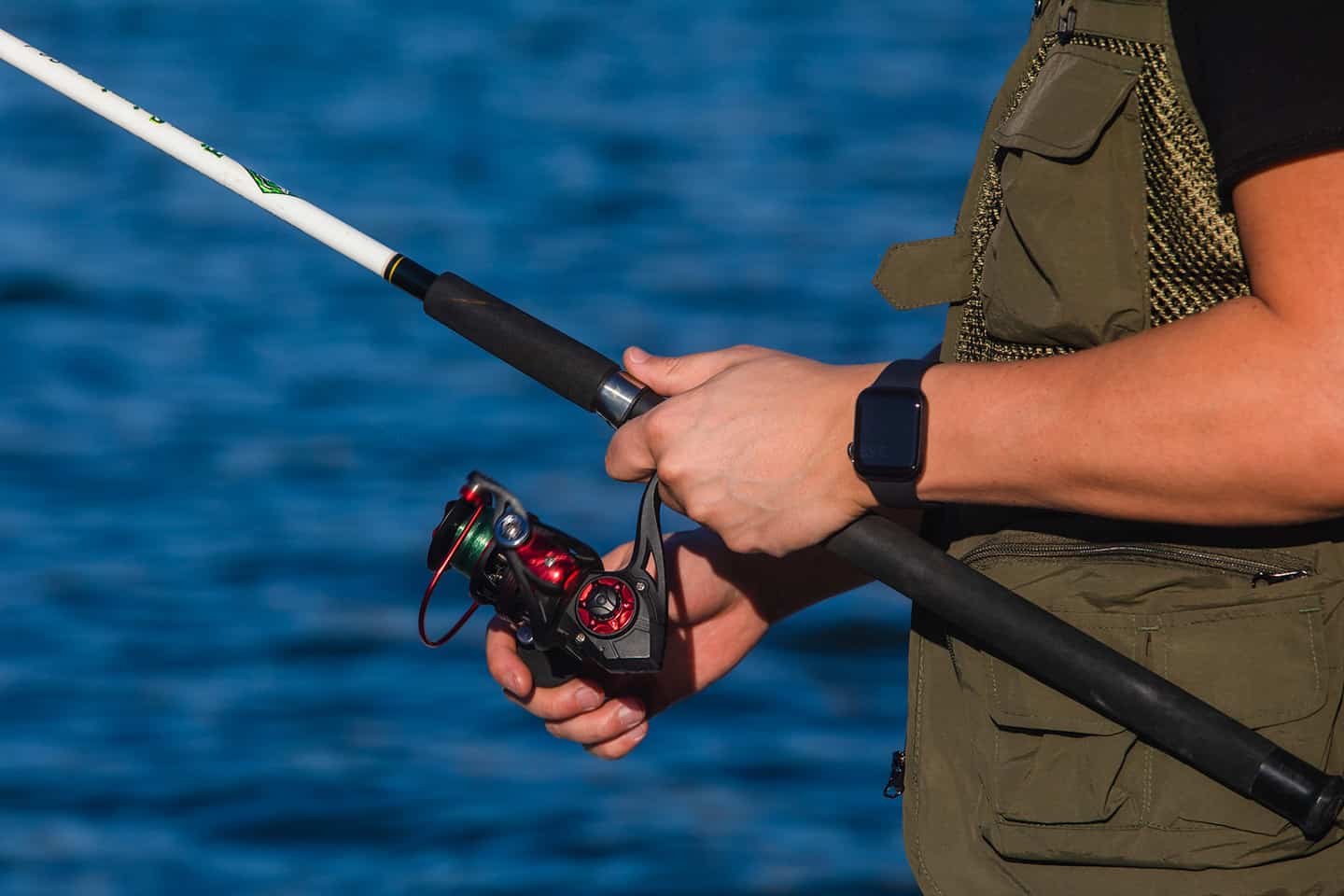 Surf Fishing in Avila Beach
While Avila Beach is definitely a fishing town, finding successful surf fishing spots can be tough. Much of this is owing to the fact that Avila Beach sees a lot of activity from people swimming along its shoreline. These are typically conducive conditions for surf fishing. The surf here is also notoriously small — good for young swimmers and new surfers, but not so for those wanting to fish from shore. That being said, surf perch are occasionally available on the southernmost and northernmost parts of Avila's shoreline. Head to the southern edge of Avila Beach, where less people are swimming, or to Olde Port Beach in Port San Luis. These are your best bet for finding that perch you're wanting to take home. Local anglers recommend baiting with sand crabs, grubs, and/or gulp sandworms. And if you don't catch anything to eat? Head to the Custom House, Ocean Grill, or Mersea's for expertly-prepared seafood, no rod or reel required.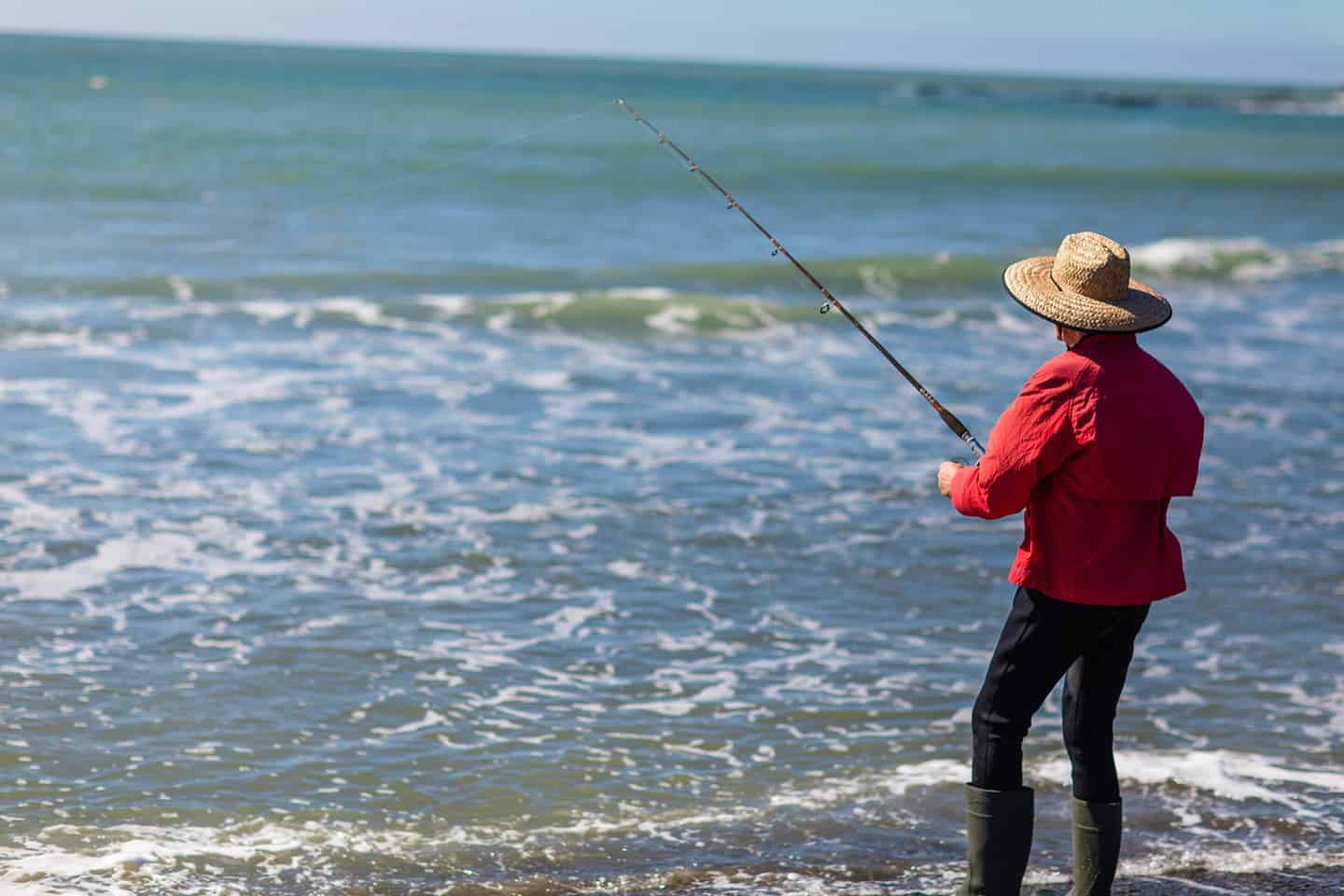 Tide Times for Highway 1
Tuesday, Jun 6, 2023
| Tide | Time (PST/PDT) | Height |
| --- | --- | --- |
| Low Tide | 6:59 AM | -1.51 ft |
| High Tide | 2:03 PM | 3.61 ft |
| Low Tide | 5:47 PM | 2.88 ft |
Tides measured at Port San Luis Harbor. Data provided by
noaa.gov.