A trekker's paradise, Avila Beach boasts a wide variety of hikes and trails, from challenging to casual. Take in coastal views stretching from Point Sal to Point San Luis, or stroll beneath a canopy of live oaks and sycamore trees. Head out for a day-long trek or just for an hour. But no matter where you hike in Avila Beach, make sure to head downtown to fuel up ahead of time or unwind afterward. 
Explore Avila Beach Hiking
Bob Jones Trail
Part of an in-progress trail from San Luis Obispo to the coast, this beloved section of the path extends from the Ontario Road parking lot to downtown Avila Beach. The walk comprises 5 miles, round-trip, along a wide paved path, skirting a tidal estuary teeming with wildlife. The path also meanders past Woodstone Market, a deli offering breakfast, lunch, dinner and a selection of wine and beer. For a lovely outing, walk part of the trail, stop for a drink on the Woodstone patio, then continue toward the coast.
The Bob Jones Trail is extremely family-friendly, and welcomes all types of travelers, from walkers and joggers to cyclists and strollers. For walkers, it takes about 2 hours, 15 minutes to complete this out-and-back trek. The path stretches beneath a sycamore forest most of the walk, but it's wise to bring a hat for the unshaded sections. Otherwise, sunscreen, sunglasses, water and good walking shoes are all you'll need to enjoy the trip! 
Bob Jones Trail Details
To walk toward the coast and back, park at the Ontario Road dirt parking lot, between San Luis Bay Drive and Avila Beach Road. (This parking lot has primitive bathroom facilities.) Out and back, the Bob Jones Trail comprises 5 miles, with a small elevation change of 50 feet. It takes 2.25 hours to complete, and is considered easy.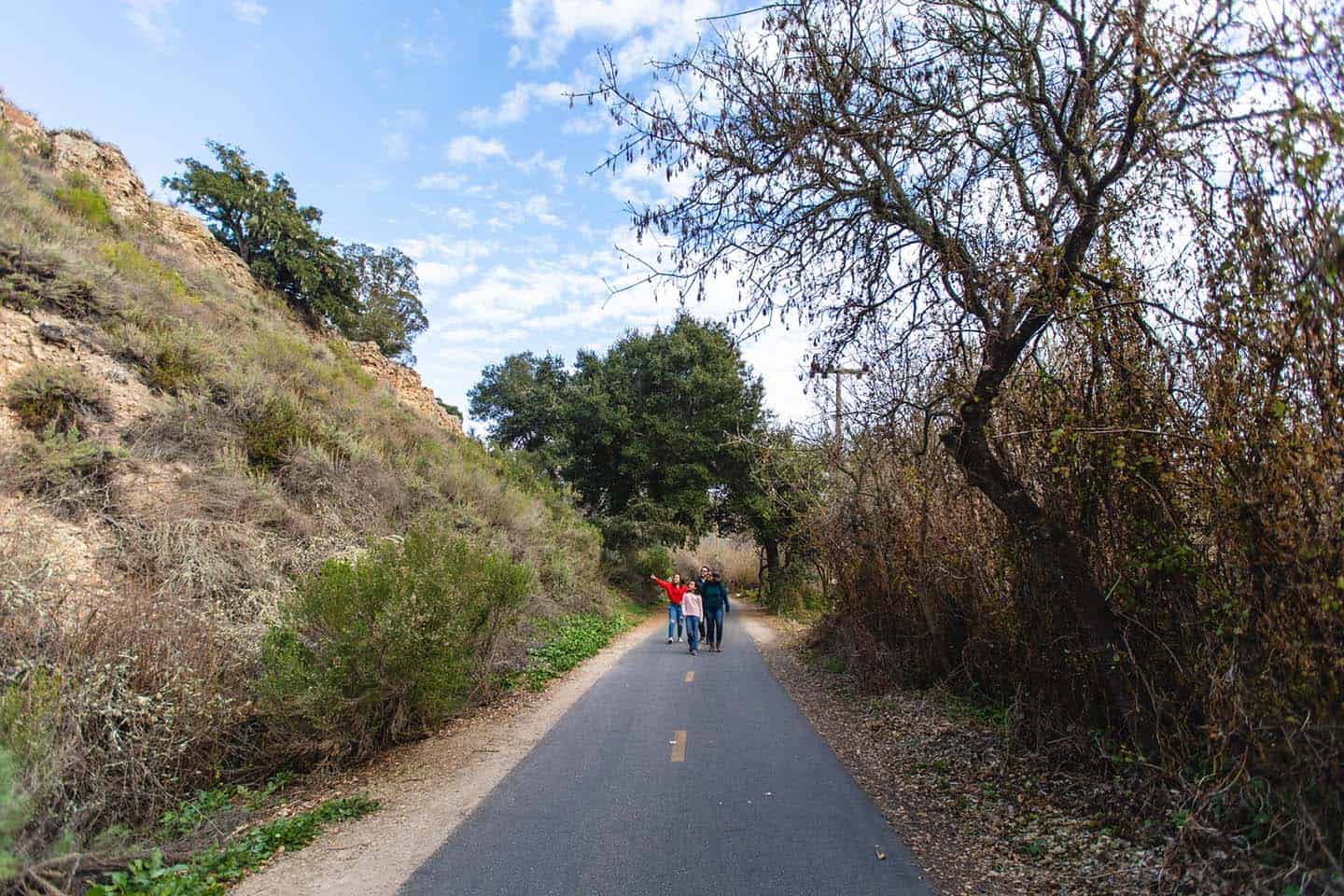 Pirates Cove – Mallagh Landing Trail
Through time, the area in and around this short trail has been attached to scandalous stories, including pirates and bootleggers. Today, though, it is considered one of the most scenic areas to enjoy on California's Central Coast — for adults, that is. Note that the beach at Pirate's Cove is clothing-optional!
At a half-mile, round-trip, this hike passes through a natural tunnel which opens to expansive views along the coast. (Fisherman can also be found casting off here.) The terrain gains 100 feet, with coastal scrub lining the trail. The walk takes only about 20 minutes, altogether, but if you're looking for a longer trek, extend the Pirate's Cove – Mallagh Landing Trail into a number of other paths that run parallel to the coastline. One of those trails is the Shell Beach Bluff Trail, which connects to the Ontario Ridge Trail. Treat this as a loop for a long, challenging walk.
Mallagh Landing Trail Details
From Highway 101, take the Avila Beach Drive exit and head west toward Avila Beach. After two miles, turn left on Cave Landing Road. Drive to the end of the road, and park in the large dirt parking lot. The Pirates Cove – Mallagh Landing trail is 0.5 miles long with 100 feet elevation gain, requiring about 20-30 minutes to complete. Wear comfortable, grippy shoes, a hat, sunscreen, and bring a bottle. Also, note that while the beach at Pirate's Cove is stunning and idyllic, it is clothing-optional. Hike (and take in the views!) at your own risk.
Sycamore Crest Trail
While this picturesque trail begins at Sycamore Hot Springs Resort, you need not be a guest there to hike it. The Sycamore Crest Trail travels a wide dirt road along Ontario Hill – the ridge that runs east to west and divides Avila Beach and Shell Beach. At 1.75 miles out-and-back, this trail takes in a vibrant oak and manzanita grove, spacious ocean views at the top, and 575 feet of elevation for a short but challenging walk. At the top of Ontario Hill, the Sycamore Crest Trail intersects with the Ontario Ridge Trail and can be extended along the ridge, if desired. 
Sycamore Crest Trail Details
Take Avila Beach Drive west of Highway 101, and drive 0.8 miles to Sycamore Hot Springs, on the left. At the Sycamore Hot Springs Resort parking lot, look for the sign labeled "Sycamore Trail," just to the right of the Gardens of Avila Restaurant. Follow the steep switchbacks up to the trailhead. At the end of the pavement, find a service road that climbs the ridge amid the forest and ferns. Soon, the trail meets the Ontario Ridge Trail, which continues up very steeply an additional 0.15 miles. (To loop into the Shell Beach Bluff Trail and on to the Pirate's Cove – Mallagh Landing trail, descend the summit on the other side of the mountain. To hike this loop covers 4.5 miles total. Just remember that the Pirate's Cove beach is clothing-optional; plan accordingly.) The Sycamore Crest Trail is 1.75 miles, out and back, with an elevation gain of 575 feet.
Shell Beach Bluff and Ontario Ridge Trail
These two trails run parallel to each other, but are very different in nature; together, they make a popular loop for locals and visitors alike. The Shell Beach Bluff Trail provides a paved, flat, wheelchair-accessible path with wide ocean views. The Ontario Ridge Trail, on the other hand, is extremely steep and rugged. Combined, they become a loop that takes in 2.8 miles and 675 feet in elevation.
Knowing where to start this hike depends on what you'd like to get out of it. If you're looking for something short and easy, pick up the Shell Beach Bluff Trail in Shell Beach. For those interested in hiking the full Bluff Trail – Ontario Ridge loop, park at Cave Landing near Avila Beach, where parking is easier to find. Taken counter-clockwise, this loop leads east along the Bluff Trail, then merges with the base of the Ontario Ridge Trail. From there, the path climbs 735 feet to the top of Ontario Ridge, then descends on the other side to Cave Landing. (To add a turn-off onto the Sycamore Crest Trail, find the junction of these two paths just 1/4 mile past the summit of Ontario Ridge. Head north on the unmarked Sycamore Crest Trail to Sycamore Mineral Springs Resort, in the Avila Valley.)
Bluff and Ontario Ridge Trail Details
To reach the Cave Landing Trailhead, drive 7 miles west from the Avila Beach exit on Highway 101. Drive west for 2 miles, then turn left up the steep Cave Landing Road. Take this road one half-mile to its end, then park in the dirt lot on the left. The combined loop of the Ontario Ridge and Shell Beach Bluff Trail comprises 2.8 miles and 675 feet elevation. While some sections of the hike are easy and paved, be aware that some sections are extremely steep and rugged.
For the Shell Beach Bluff Trailhead, from Highway 101, take the Avila Beach Drive exit and head south on Shell Beach Road. Drive 1/3 of a mile and make a right on El Porto Drive. Proceed toward the ocean to the end of the road, making a slight right on Indio Drive. Once you reach the cul-de-sac at the entrance to Bluff Drive, head left down to the parking lot. The Shell Beach Bluff Trail is a there-and-back trail comprising nearly one mile and 59 feet in elevation gain.
Pecho Coast Trail & Rattlesnake Canyon Trail
Tucked back behind Port San Luis, the Pecho Coast Trail and, further, the Rattlesnake Trail, offer a glimpse into gloriously untouched California. In fact, hikes near Avila Beach rarely take in such remote and quiet country. Both occupy coastline owned by PG&E, and as such, require reservations on docent-led hikes. All hikes begin at 8:45am from Fisherman's Memorial at Port San Luis Harbor; reservations are available by phone or online.
The Pecho Coast Trail winds between Port San Luis and the Point San Luis Lighthouse, an active light station that's been protecting local waters since 1889. Open for hikes since 1993, the trail invites hikers to view flora and fauna, and learn about natural and cultural history. Embark on the 3.75-mile hike, with the guidance of a docent, and learn about the history of the land and the lighthouse. Pecho Coast Trail hikes take place Wednesdays and Saturdays by reservation; Point San Luis Lighthouse tours requests a small donation for tours. Restrooms and water are available at the lighthouse, as well.
Beyond the Pecho Coast Trail, the Rattlesnake Canyon Trail covers 8 miles, out and back. Hikers start along the Pecho Coast Trail, travel far past the Point San Luis Lighthouse, and loop back to the starting point. Witness pristine, untouched coastline, wide-lens ocean views, and an encyclopedia of native plant species and wildlife, including whales, dolphins and otters. In addition to restrooms and water at the Point San Luis Lighthouse, restrooms are available at mile 3.5 of the Rattlesnake Canyon Trail.
Bear in mind that both trails cover varied terrain including some steep elevation change — up to 45 percent at times. The path also covers steep cliffs, narrow dirt trails and loose earth. Weather is also extremely changeable here, with winds and heat exposure as factors. Watch for native plants and animals here, too, including poison oak, stinging nettles, rattlesnakes and ticks. All participants must complete a waiver prior to embarking on their guided hike.
Pecho Coast Trail Details
To find parking, drive 4 miles west from the Avila Beach Drive exit off Highway 101. At the Fisherman's Memorial (a statue of dolphins just opposite Fisherman's Beach), park in the adjacent lot. Your docent and group will meet at the statue to being the hike. The Pecho Coast Trail covers 3.75 miles and gains 482 feet in elevation. The Rattlesnake Canyon Trail comprises 8 miles, there and back, beginning at the Fisherman's Memorial in Avila Beach. (See above.) Sturdy, closed-toe shoes are required for either hike. Also bring water, snacks (or lunch, in the case of Rattlesnake Canyon), a hat, and layered clothing.
Pismo Preserve
With nearly 900 acres and 11 miles of trail, the Pismo Preserve is a new addition to SLO CAL hikes, thanks in part to the Land Conservancy of San Luis Obispo County. The trail begins adjacent to the 101 Freeway overlooking the Pismo Bay, then meanders east into hills that used to comprise a cattle ranch. From there, it splinters into five subtrails, including the strenuous 5-mile Discovery Loop and 3/4-mile Vamonos Trail. Depending on the trail, this hike offers a wealth of panoramic vistas and quiet wooded oak glens. All trails except the Vamonos Trail welcome mountain biking and horseback riding. In fact, the parking lot includes two equestrian trailer parking spots and trails offer water troughs. In winter and spring, the hills are green, and in summer and fall, they shine golden; from high lookout points, the spouts of migrating whales can be seen traveling along the coastline. Indeed, the Pismo Preserve provides a magical walk through a truly special open space.
For those looking to huff and puff on a quick but tough hike, the Vamonos Canyon Trail covers 0.7 miles and gains 92 feet in elevation. (This is the only trail that prohibits mountain bikes and horses.) For moderate exertion, the Lone Oak trail gains gentle elevation (139 feet) and takes about 1.5 hours to walk at 2.2 miles. To experience a longer hike, walk the easy 3.4-mile Spring to Spring trail, with a gain of 416 feet. And for drop-dead gorgeous views, tackle the 5.2-mile Discovery Loop, with a quick jaunt along the adjacent Lover's Lookout Trail. The views alone make those 557 feet of elevation well worth the walk.
Pismo Preserve Details
To find the Pismo Preserve trailhead, take exit 191B from Highway 101 in Pismo Beach. Look for the parking lot on the east side of the freeway, at the southern end of Mattie Road, and find the trailhead there. Hiking, mountain biking and horseback riding are allowed here, and dogs are allowed on leash. Find parking in the lot at the trailhead, but in the event of overflow, be very mindful of parking signs on side streets, as cars are often ticketed here. Parking for equestrian trailers can be reserved in advance through The Land Conservancy.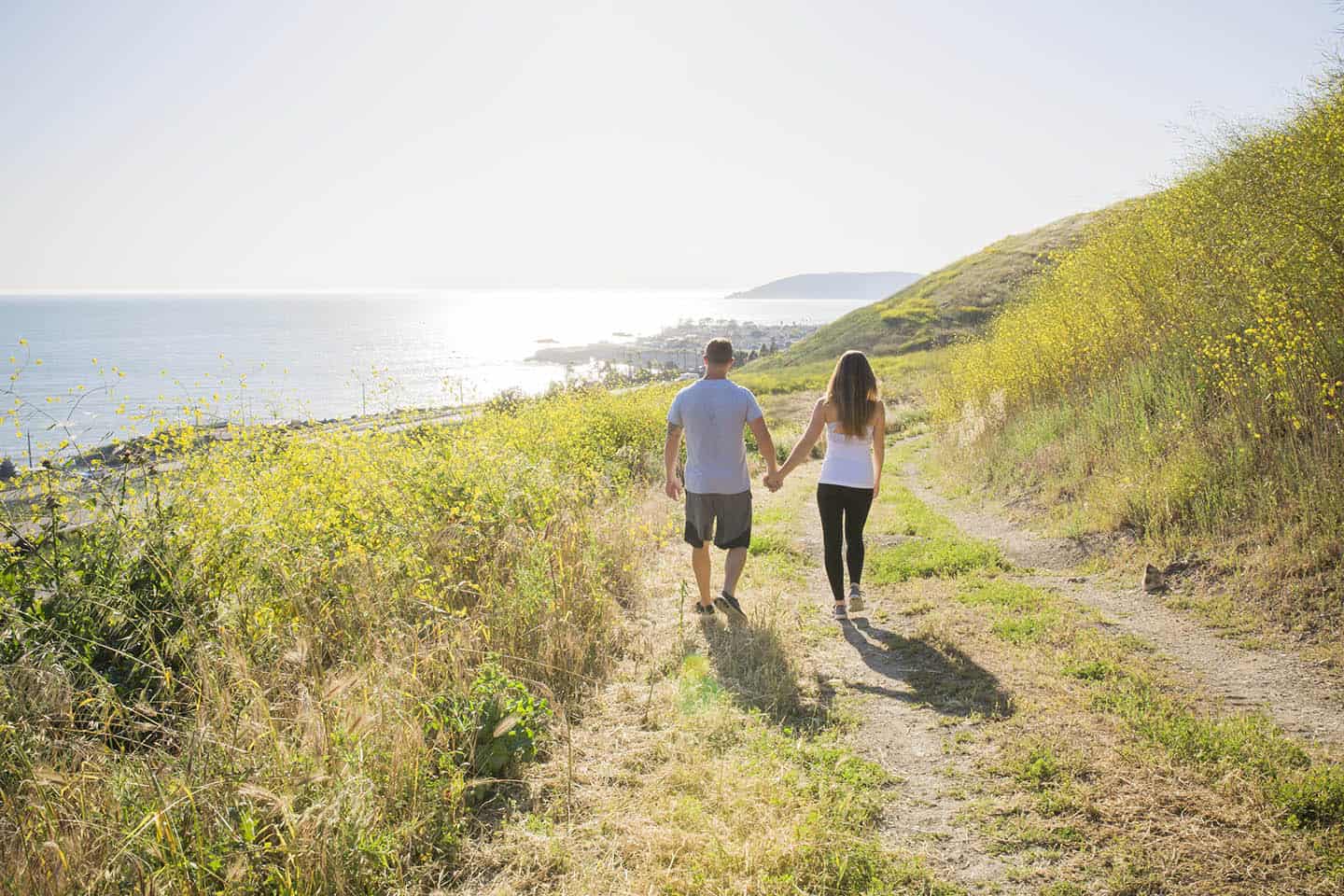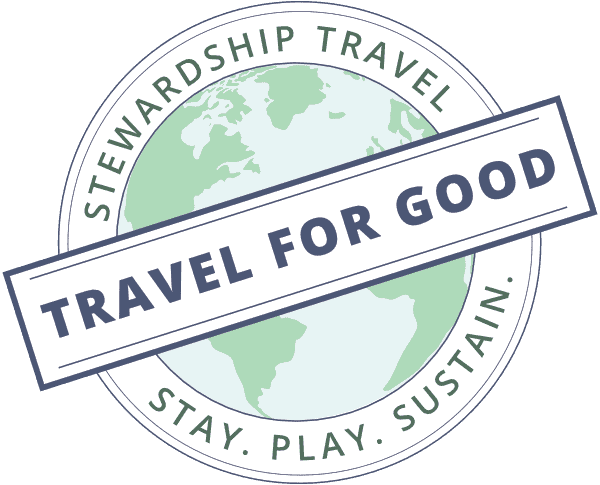 Stewardship Travel for Good ACTIVITIES
Ready to get closer to the heart of what makes our stretch of Highway 1 so special? Our Stewardship Travel for Good activities bring visitors shoulder-to-shoulder with local people, experts, wildlife, heritage and history. Try these ideas to immerse in the unique culture of Avila Beach the next time you visit.
Pecho Coast Trail Docent Hikes to Point San Luis Lighthouse with PG&E
These scenic and informative hikes are led by knowledgeable docents from Port San Luis to the historic Point San Luis Lighthouse. Gain a fresh perspective – as well as elevation! – on this 3.75-mile hike along the unspoiled California coast. (See above.)
Avila Beach Free Stewardship Clean-up Kit & Tote Bag Gift
Visitors can do good where they go by picking up a free beach clean-up kit and tote bag to remember their stay. Take an hour or two to clean debris from Avila Beach, which can be extremely harmful to wildlife. Join with friends and family to connect on a deep level with this beautiful, natural playground.