Few places in the West can boast as much charm, flavor and family fun as the town of Avila Beach. But it's the town's scenic beaches that really set it apart. With its long stretches of white sand, boardwalks, pet-friendly spots, wildlife and bustling harbor, Avila Beach has attracted visitors for centuries. Here, sun, surf and sand come together to make any stay memorable.
Avila Beach
A spacious and serene white sand beach, Avila Beach shines like a jewel in the crown that is California's Central Coast. This stretch of seaside is popular with all ages for its calm waves, shallow wading options, and arm's-length proximity to town. Walk the beach, combing for shells, sand dollars, and driftwood. Bring a surfboard or bodyboard for the waves, or a SUP board or kayak to cruise further out. Of course there's always sunbathing and taking in the sights and sounds of a picture-perfect day at the beach, too.
Facing the seaside along Front Street, the Avila Beach Promenade is the heart of downtown and the center of most activities and events. The promenade is a pedestrian-only section of Front street filled with businesses, patios, benches, and art. In the summertime it is home to events like the Avila Beach Farmers Market, Art on the Beach, etc. The entrance to the Avila Beach Pier also lies at the center of the promenade.
Avila Beach is located west of the 101 Freeway, along Avila Beach Road. Free street parking is available near Avila Beach, but can be hard to come by. Try to find a spot, or pay for parking at the lot off 1st Street. Beach amenities include restrooms, outdoor showers, a playground, picnic and barbecue facilities.
Dog Beach (Olde Port Beach)
The smallest beach in Avila, this beach is popular for its openness to four-legged friends. Dogs of all shapes, ages and sizes love to run free on this leash-optional beach. This is a privilege afforded by the Port San Luis Harbor District, which allows well-behaved dogs to frolic in the surf and sun. Remember to keep Fido under your control and pick up after him at all times, throwing all trash in a proper receptacle.
This beach also features a ramp from Avila Beach Drive down to the sand for vehicles to drop off kayaks, SUP boards, etc. To find Dog Beach, travel Avila Beach Drive past downtown toward Port San Luis. Traveling west, the beach lies on the left; park on the street free of charge. Restroom facilities are available, as are bonfire rings. These can be used on a first-come, first-served basis, the second Sunday of March through the first Sunday of November.
Fisherman's Beach
Further west from the Dog Beach, Fisherman's Beach has a peaceful, secluded vibe despite its position just off Avila Beach Drive. Enjoy the calm waters and harbor views from this quiet cove. Dogs are not allowed on Fisherman's Beach, neither on- or off-leash, making this a less crowded spot. Swim or bodyboard in the ocean, sunbathe, fish, or launch kayaks and SUP boards from this beach. Or just bring a picnic lunch, lay down a blanket and enjoy the coastal scenery.
Fisherman's Beach is the closest beach to Port San Luis and the Harford Pier. Park for free, but plan ahead as the beach offers no restrooms.
Pirates Cove (Mallagh Landing)
This clothes-optional beach lies off the beaten path a bit, but is one of the Central Coast's most picturesque spots. (Note: if you're traveling with children, pick any of the other beautiful beaches along this stretch of Highway 1!) The secluded hideaway is rumored to hold a $5 million treasure, buried by Sir Frances Drake in 1579 — hence the name. But this special beach is sometimes referred to as Mallagh's Landing, named after David Mallagh, a sea captain who built a sharf and adobe home here in 1849. Later, during the Roaring '20s, the cove served as a secret spot for Prohibition-era booze smuggling.
Even those who lack an interest in smuggling, treasure, or clothing options, will be able to appreciate this beach's many natural charms. Find unusual rock formations like an arch, cliffs, and the "beach cave." Plenty of wildlife can be seen as well, from seabirds and seals to creatures in shallow tide pools. Just remember that clothing is optional here, and plan accordingly.
To reach Pirate's Cove, travel west along Avila Beach drive, passing the intersection of San Luis Bay Drive. Just across the street from the golf course, find the entrance to Cave Landing Road and turn south onto it. Drive for half a mile, then park in the large dirt lot. The trail to Pirate's Cove proceeds south from here; though it is short, be aware that the trail is rather steep.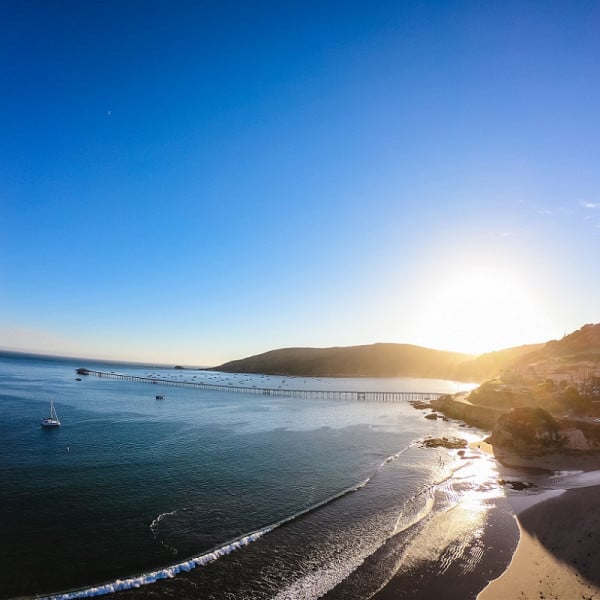 Historic Avila Beach Piers
Avila Beach Pier
During Avila Beach's heyday as a bustling import and export hub, this 1,685-foot pier welcomed passenger ships and fishing vessels. At the time, the pier boasted many hoists and a large warehouse, as well. Today, the pier still remains at the center of Avila Beach, though not in the same capacity as it once did. Walk this classic pier to fish, enjoy views of the bay and surfers, or to watch migrating whales and other wildlife.
The Avila Beach Pier can be found perpendicular to Front Street and the Avila Beach Promenade. Find free street parking or pay at the lot on 1st Street.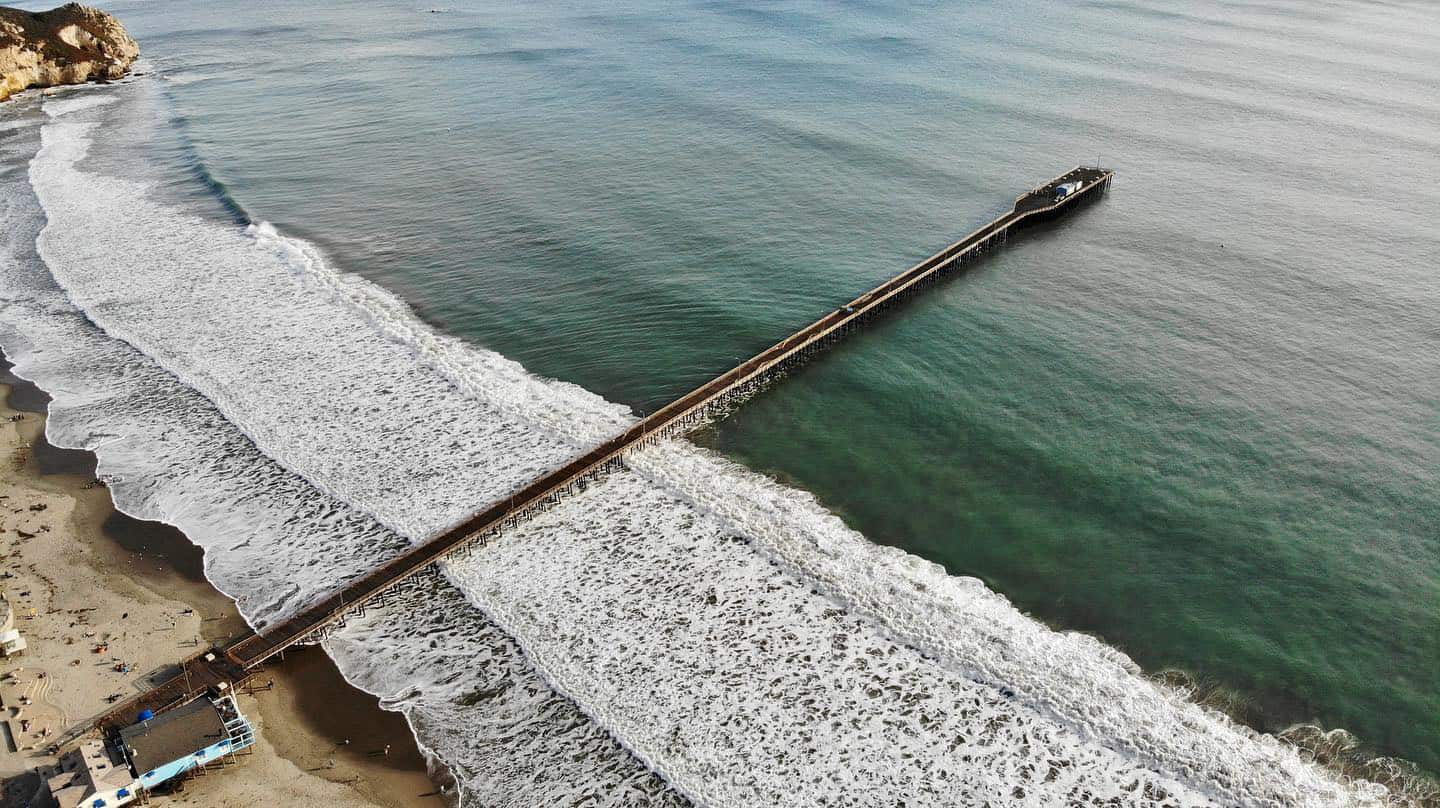 Harford Pier
Also called the Port San Luis Pier, this historic landmark remains one of the last driveable piers in the United States. Built in 1868, the 1,320-foot structure served the exporting of San Luis Obispo County products across the world. Its builder, John Harford, also constructed "The People's Wharf," near where the Avila Beach Pier is today. Harford connected both of these piers to the light gauge railroad that transported passengers and cargo to and from San Luis Obispo.
Though the railroad and People's Wharf are no longer standing, Harford Pier remains as a working harbor. Walk and drive the pier to find restaurants and a fish market. Visitors can also fish off the pier without a license, or watch for seabirds, sea lions, and whales.
The Harford Pier lies at the termination of Avila Beach Road, west of Highway 101. Facilities include restrooms, free parking on the pier, tackle shops, and fish cleaning stations.
Cal Poly Pier
This educational pier was built in 1914, and owned by the Pacific Coast Railway Company for commercial shipping. Later, Union Oil Co (Unocal) would lease the pier to ship crude oil, exclusively. (In fact, this pier and the Harford Pier constituted the largest crude oil shipping port in the world at the time.) With the rise of standard Gauge railroads, the need for narrow gauge railroad transport declined. Still, Port San Luis and the Pacific Railway Pier remained critically important for fuelling the U.S. Pacific Naval Fleet during World War II.
Unocal eventually purchased the pier, which continued to export oil until a massive storm damaged it irreparably in 1983. Unocal replaced the wooden pier with a concrete and steel version, and gave it as a gift to nearby Cal Poly State University for marine research.
Activities on Avila Beach
Farmers Market
This family-friendly (and date-friendly!) event takes place on the Avila Beach Promenade every Friday afternoon from 4-8pm, April through September. Mere steps from the sand, visitors can enjoy live entertainment from local performers, plus farm-fresh produce and artisanal products from local vendors. Restaurants, wine tasting rooms, and boutique shopping can all be found within steps of the farmers market, making the Promenade a one-stop fun spot for all ages. Cool tip: ride the Avila Beach Trolley for free from Pismo Beach or Shell Beach to avoid the hassle of parking.
Kayaking Avila
The calm, sparkling waters of Avila Bay make for magical kayaking (or stand up paddleboarding), any time of year. Bring your own kayak or rent one from outfitters like Avila Beach Paddlesports or Central Coast Kayaks. These operators also offer tours of the area, from adventurous outings to family-friendly excursions. Enjoy the tour or head out on your own to view seabirds, seals, sea lions, otters and whales, all plentiful on this stretch of coastline. Cool tip: You can also kayak to a secret cove to reach the Point San Luis Lighthouse!
Point San Luis Lighthouse
During the heyday of ship travel up and down California's Central Coast, the shoreline saw many a shipwreck along its length. In the late 19th century, Congressman Romaldo Pacheco proposed the construction of a new lighthouse off the coast of Avila Beach. And in 1890, the Point San Luis Lighthouse opened to protect passing ships.
The lighthouse continues to light the way today with a French Fresnel lens whose light is visible 17 miles offshore. All tours of the property require a reservation, and include a docent-led hike or trolley ride out to the lighthouse.
Bob Jones Bike Trail
Beneath a canopy of sycamore leaves, this beloved biking, walking and jogging trail begins at the Ontario Road parking lot to the town of Avila Beach. At just over three miles roundtrip, the trail passes by Woodstone Market, where casual breakfast and lunch fare delight passersby of all ages. The trail also passes beside the San Luis Obispo Creek, with interpretive signs describing wildlife activity there. Named after environmental pioneer Bob Jones, this special path will fully connect San Luis Obispo to Avila Beach, effectively making it a "city-to-the-sea" trail. Until that time, the Bob Jones Trail makes for a pleasant and scenic morning or afternoon walk, ride, or run.
Central Coast Aquarium
A boutique aquarium with charm to spare, the Central Coast Aquarium brings conservation, exploration, and a love of the ocean to Avila Beach visitors. Enjoy in-house exhibits like the jellyfish and octopus tank, the shark swell encounter, and scheduled feedings, with 75 species in all. The aquarium also works with locals and visitors alike to advocate for a clean, diverse, and healthy ocean.
Stewardship Travel for Good activities
Feeding the sharks at the aquarium or touring the lighthouse can draw you closer to the heart of our stretch of Highway 1. We call these Stewardship Travel for Good activities. The more you learn, the more you love it here, and the more you love it, the more you want to make sure it lasts. For more close encounters in Avila Beach, check our list of Stewardship Travel for Good activities.