With several miles of coastline, including plenty of bays and channels composed of craggy terrain, Los Osos is an area perfect for tide pools. Nowhere is that more evident than in Montana de Oro State Park, an 8,000-acre natural playground on Los Osos's west side. Here, limpets, crabs, anemones, sea stars, urchins and more make their home in the shallow intertidal zone. At low tide, these tiny sea creatures can be easily observed above or just beneath the water line in shallow pools. Incredibly, these natural habitats can be seen just steps from parking lots and turnouts along Pecho Valley Road, Montana de Oro's main thoroughfare. Of course, for the more adventurous visitor, many other tide pools and sea life are discoverable in further out, in more secluded regions. So whether you're looking for a quick glimpse or an intensive experience, you'll find it here in Los Osos' tide pools. Please remember that the best time to visit any tide pool is during low tide, when flora and fauna are most accessible. Check the tides ahead of your visit to ensure visibility. It's also very important that creatures remain undisturbed in their natural habitat; do not touch, move, or bother them in any way. For ideas of how best to view wildlife throughout our stretch of Highway 1, have a look at our Wildlife Viewing Tips page.
Explore Sea Life and Tide pools
Tide Times for Highway 1
Friday, Dec 8, 2023
| Tide | Time (PST/PDT) | Height |
| --- | --- | --- |
| High Tide | 6:29 AM | 5.24 ft |
| Low Tide | 1:30 PM | 0.88 ft |
| High Tide | 7:27 PM | 3.4 ft |
Tides measured at Port San Luis Harbor. Data provided by
noaa.gov.
Spooners Cove
This heavenly inlet offers a protected, unspoiled place from which to explore some of the Los Osos tide pools. Bring a picnic and a blanket, and spend an afternoon discovering a whole new world at the tide's edge. The rocky channels on the cove's north and south sides serve as homes to limpets, snails, sea stars, urchin, anemones and barnacles. You may also see a hermit crab inching up, down and over the rocks. With hundreds of yards of tide pools, these are some of the most accessible spots for sea life on the Central Coast. Plan to take your time. The best option for parking is directly adjacent to the cove, in the parking lot. Spooners Cove offers restrooms and picnic tables; it also stands just across the street from the Spooner Ranch House. As the headquarters for Montana de Oro State Park, here you'll find tide charts and trail maps for your tidepool excursion.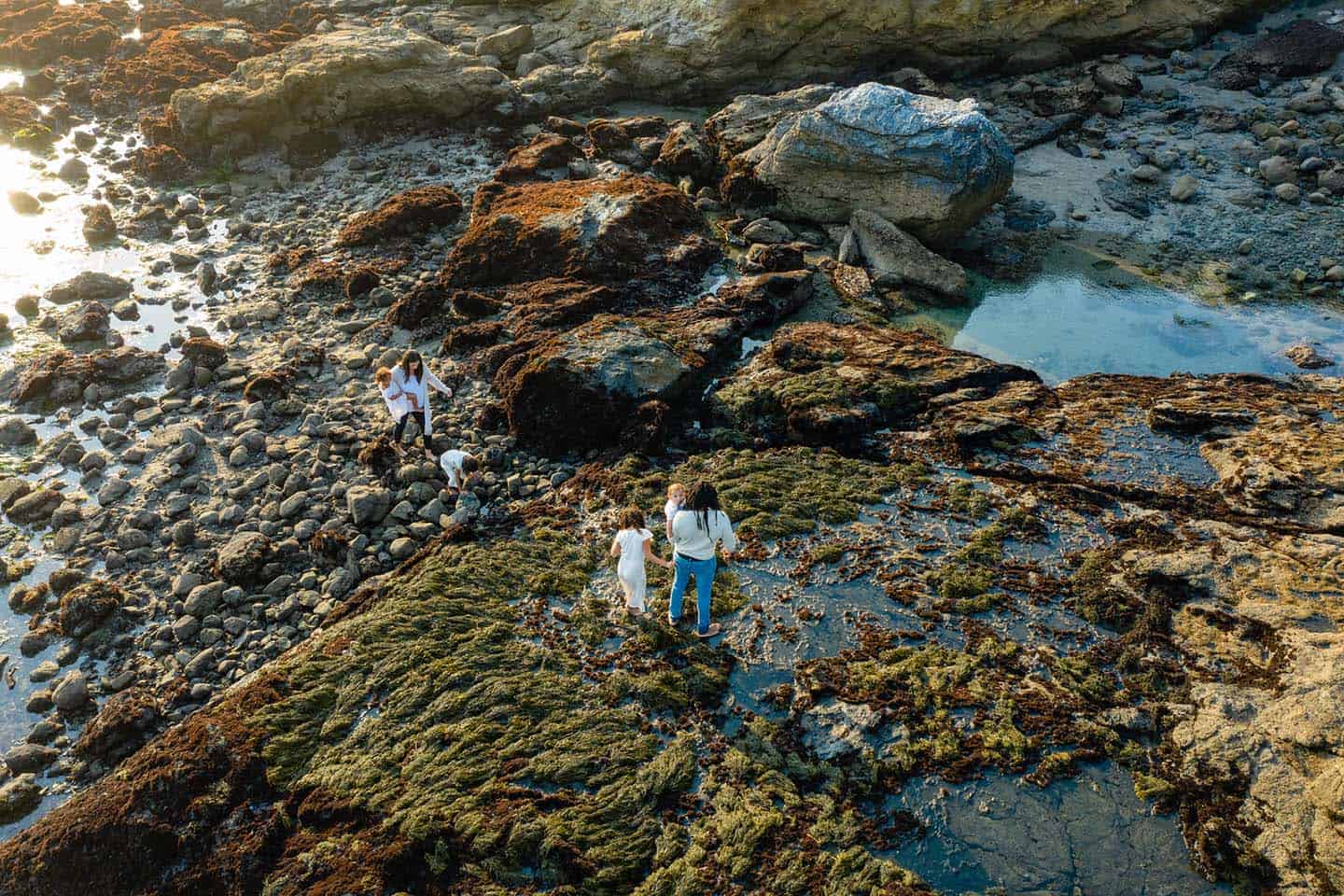 Corallina Cove
Just south of Spooners Cove, Corallina Cove presents a less-trafficked area for tide-pooling. Much of what makes Montana de Oro's tide pools special is the formations of sedimentary rock that jut up and out at the water's edge. These layered wedges, turned at an angle thanks to seismic activity, form thousands of perfect pools for tiny sea life to inhabit. This is extremely evident at Corallina Cove, where the tide pools seem endless among the exposed rocks. Look for sea stars in wild colors like yellow, orange and even purple, as well as hermit crabs, urchins, and frilly anemones. But while their micro-habitats are fascinating, don't forget to look up — this is also whale watching territory! One of the best ways to see whales is to park at Spooners Cove and hike the Bluff Trail south to Corallina Cove. Along the way, keep your eyes on the horizon to see gray whales, who migrate between December and April annually.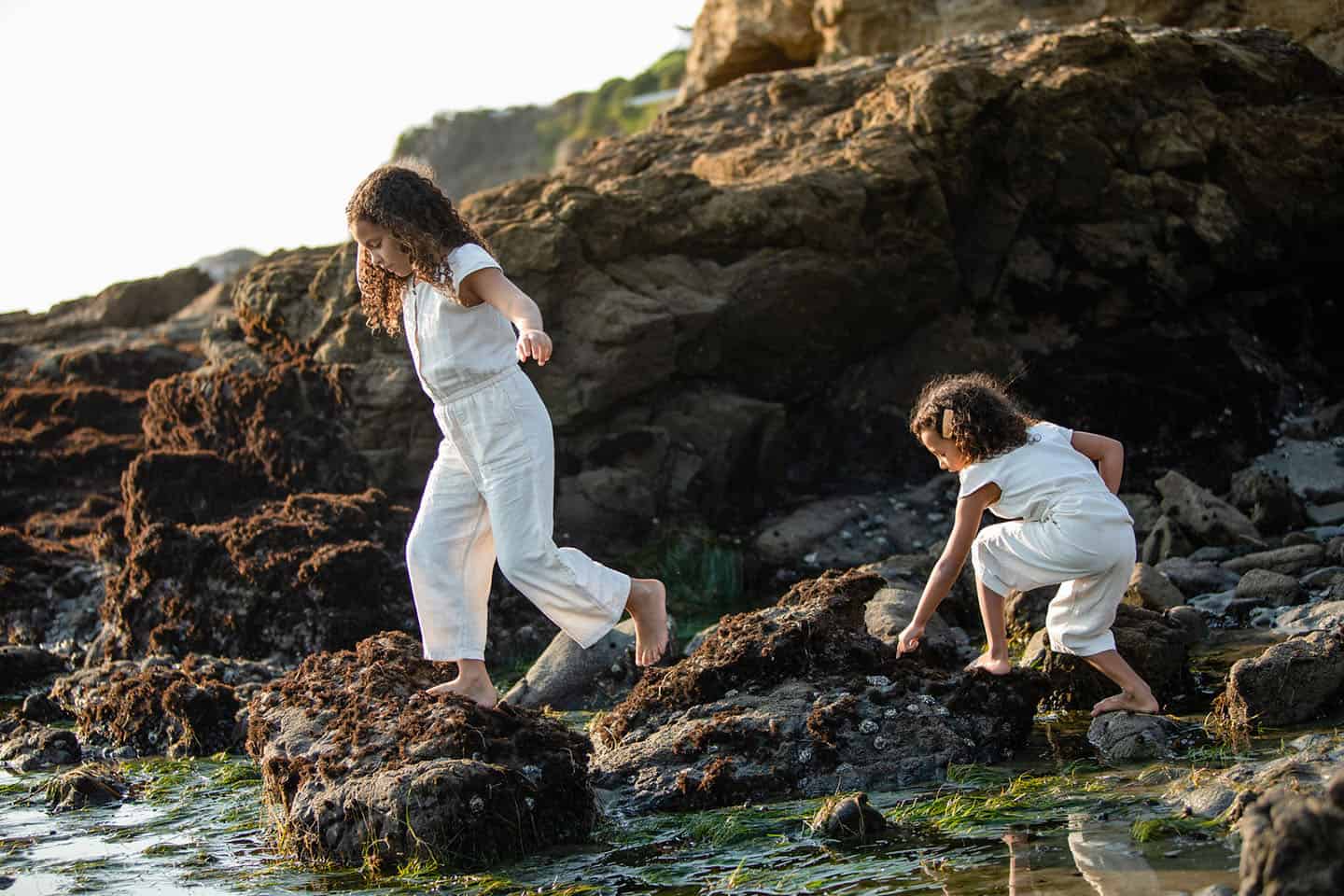 Hazard Reef
Known by locals as a secret surf spot, Hazard Reef also has much to offer in the way of tide pools. As with Spooners and Corralina Cove, Hazard is notable for its sedimentary shale that's lifted up in jagged rifts from the sea floor. This makes for multiple tiny pools, ideal for mollusks, barnacles, crabs, sea stars, anemones and more. To get there, you'll need to hike out from the Hazard Peak trailhead, north of Spooners Cove. Look for the turnout at the little "Hazard Reef Trail" sign and park there. Walk through an enchanted eucalyptus forest, past blooming wildflowers on the way. Once you reach the tidepools, be careful to keep your wits about you as sneaker waves can come suddenly. And, once again, look up from the tidepools, too! On clear days, you'll see Morro Rock in the distance to the north, or maybe even as far as Point Estero.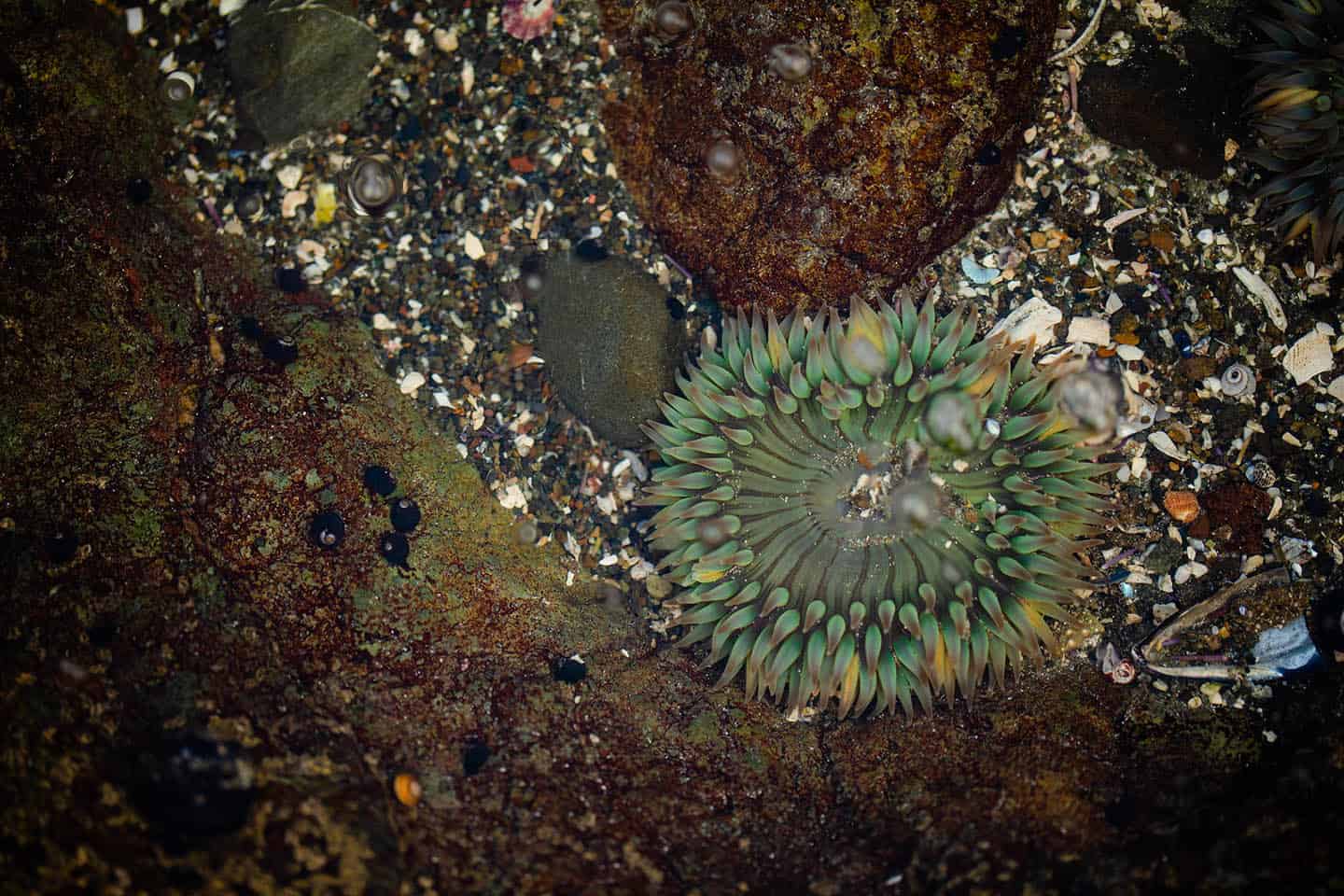 Viewing Sea Life at the Estuary
Kayaking the Estuary
Few experiences offer the chance to see such diversity of sea life as kayaking the Morro Bay National Estuary. Located on the north side of Los Osos-Baywood Park, the estuary exists where fresh water runoff from the hills and mountains meets salt water from the ocean. The result is an area that's brimming with life, from oysters and otters to egrets and eelgrass. When you kayak the estuary, you are paddling across a 800-acre wetland preserve inhabited by hundreds of species of birds, mammals and more. Thanks to a long sandbar, the estuary is protected from waves, which makes it extremely calm for kayaking. Start out at the Morro Bay State Park Marina, either in your own kayak or one you rent from an outfitter like The Kayak Shack. Paddle among the reeds to see shore and seabirds, or into the middle of the estuary to see the two oyster farms there. If you really want to see sea otters, move north toward Morro Rock to see them frolicking and playing.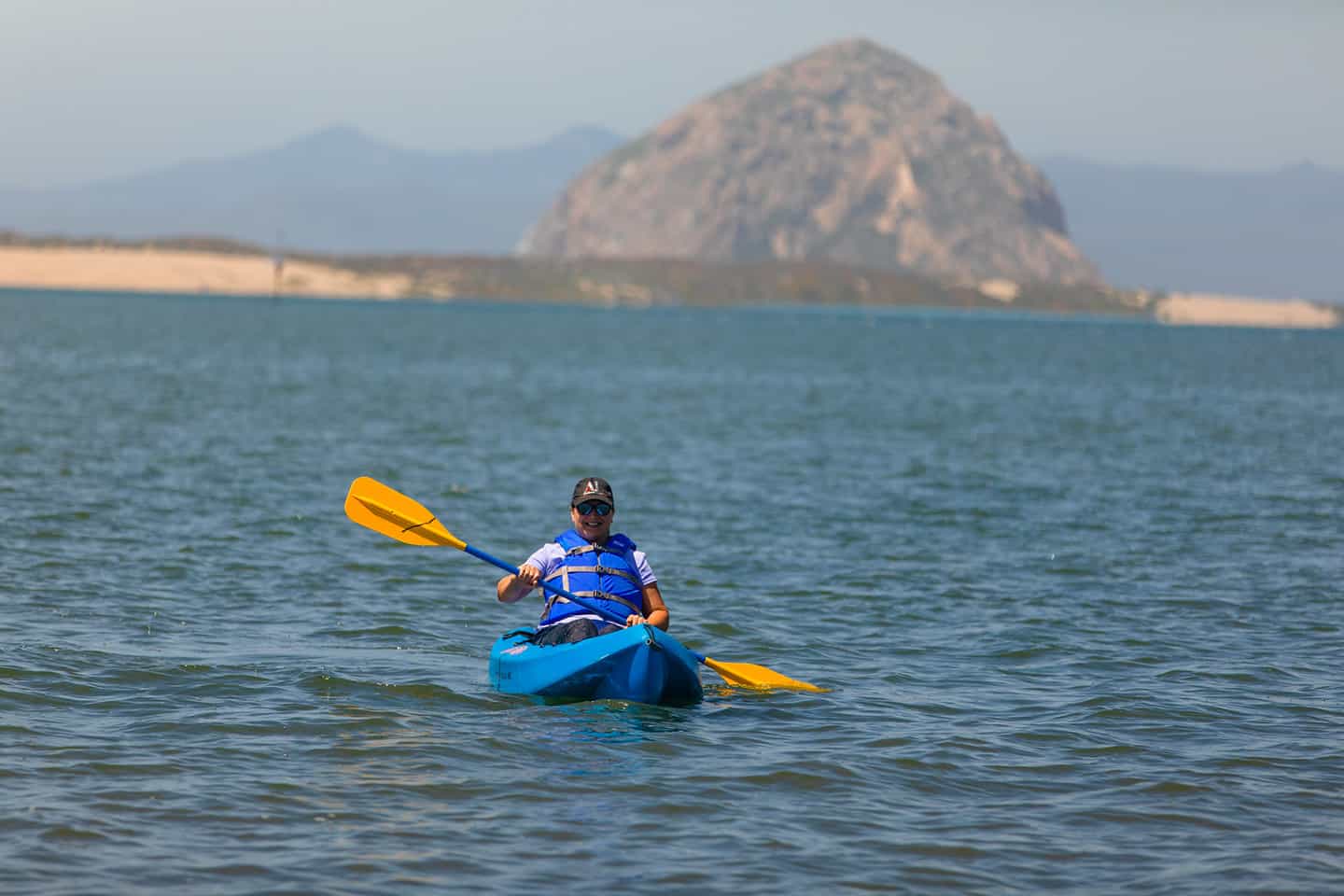 Bird Watching
Los Osos-Baywood Park is well-known as a bird sanctuary, with all manner of feathered friends available for viewing. Some of the best opportunities can be had along the boardwalk at the Elfin Forest. This path looks out on the Morro Bay National Estuary with plenty of lookouts and benches for resting. Other hot spots for bird watching include the Morro Coast Audubon Society Sweet Springs Nature Preserve, with gadwalls, brants, mallards, grebes, cormorants and pelicans. Find this post on the southern edge of the estuary. Another opportunity for bird watching exists at the Baywood Park Pier, a pretty spot with a long bench for sitting and watching birds. Grab a cup of coffee at the Back Bay Cafe, just a few steps from the pier, then settle in for an hour. You'll also notice the "Cow Bear" near the Bawood Pier — a different kind of "wildlife" and point of interest that will make you smile.