Surfing this unspoiled stretch of coastline off Highway 1 should be on every experienced surfer's bucket list. Epic waves, beautiful barrels and a rare unexposed break make this the stuff of surfing dreams. All of the best spots in Los Osos are located within Montaña de Oro State Park, a large natural playground with more than just surfing to enjoy. Pick up a sandwich or burrito in town, then head out to the waves for a morning or evening. Afterward, sit on the beach or on a turnout along Pecho Valley Road to watch other surfers carve it up. Of course, the views alone are worth a visit: rugged shoreline, crashing waves, secluded beaches, and everything Highway 1 does best. Any one of these spots are accessible along Pecho Valley Road within the Montaña de Oro Park, and many are indicated by signs. Check the tides and surf reports, but please note that many of the waves in Los Osos are for experienced surfers only. Swells can be very large, while jagged rocks on shore and rip tides can be extremely unforgiving. Sharks and localism can be a factor as well, so gauge your abilities before paddling out. For reliable information on these spots, ask questions at a nearby surf shop like Cayucos Surf Co, Good Clean Fun in Cayucos. You can also pick up a hefty wetsuit there, like a 4/3mm, for the water that averages as low as 53 degrees. Most locals recommend bringing a longboard to avoid closeouts. And, as with most surf spots on the Central Coast, fall and winter tend to be the best time for swells.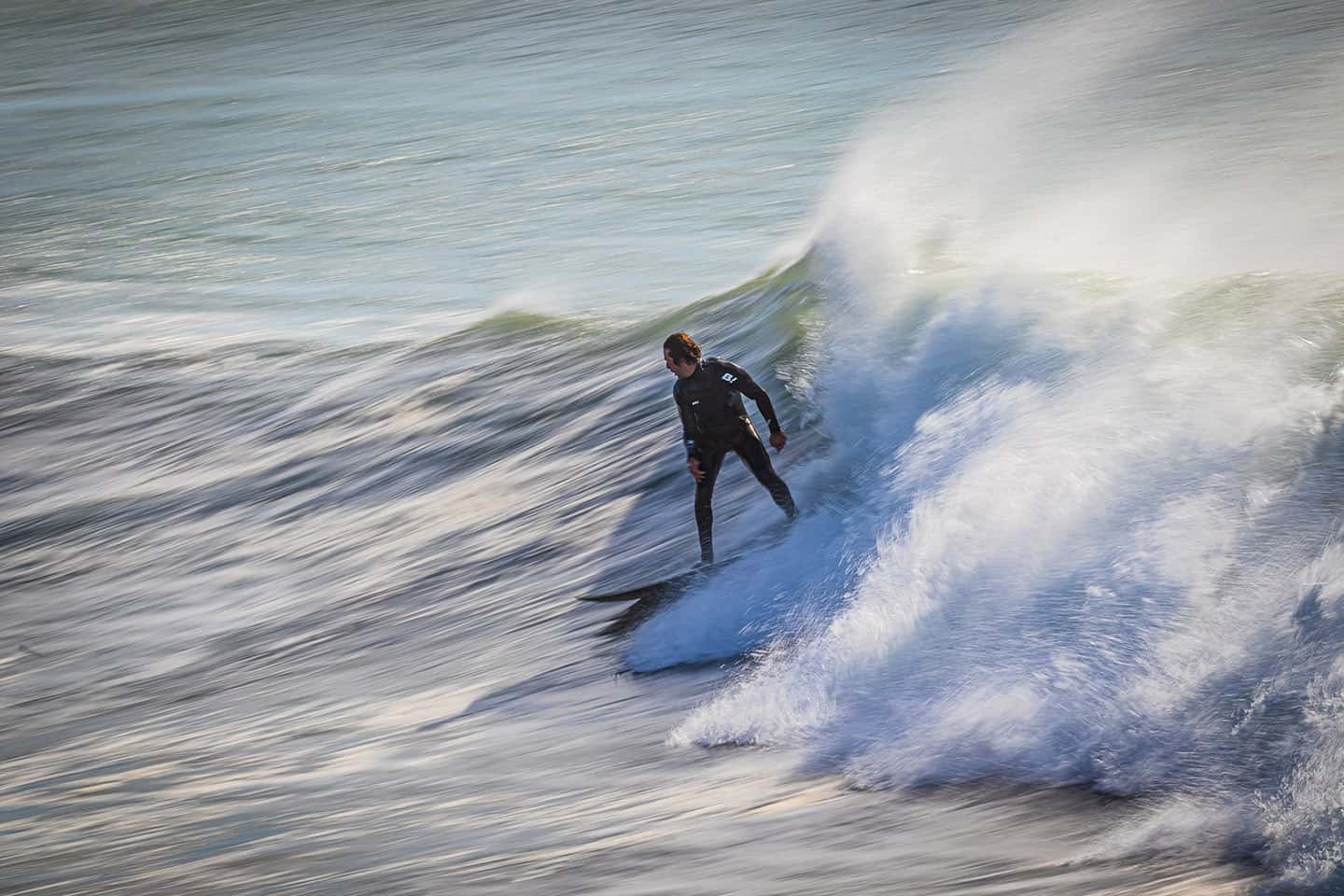 Sandspit Surf Spot
The long sandspit that connects Montaña de Oro State Park to Morro Bay is one of the most unique spots along Highway 1. This four-mile beach includes dunes stacked as high as 85 feet — as well as some of the best surf around. Literally anywhere you get in the water between Los Osos and Morro Bay along the sandspit will offer good waves, if timed right. Added benefits include a fantastic view of Morro Rock to the north, and a wide-open beach that's practically empty. Swells come from the west and southwest, with winds to the north. The surf ranges from waist-high to several feet overhead; head out during low tide for the best conditions. (And, as a reminder, only experienced surfers should attempt Sandspit Beach.) To get to Sandspit, take one of two routes. Drive Pecho Valley Road and turn right to find the Sandpit day-use area. Park at the end of the road, where there's a parking lot, restroom and picnic tables. The beach nearest the parking area can be accessed via a short trail, but Sandspit surf lies further out; be prepared to walk. Alternatively, access Sandspit Beach by parking at Morro Rock and paddling south across the channel.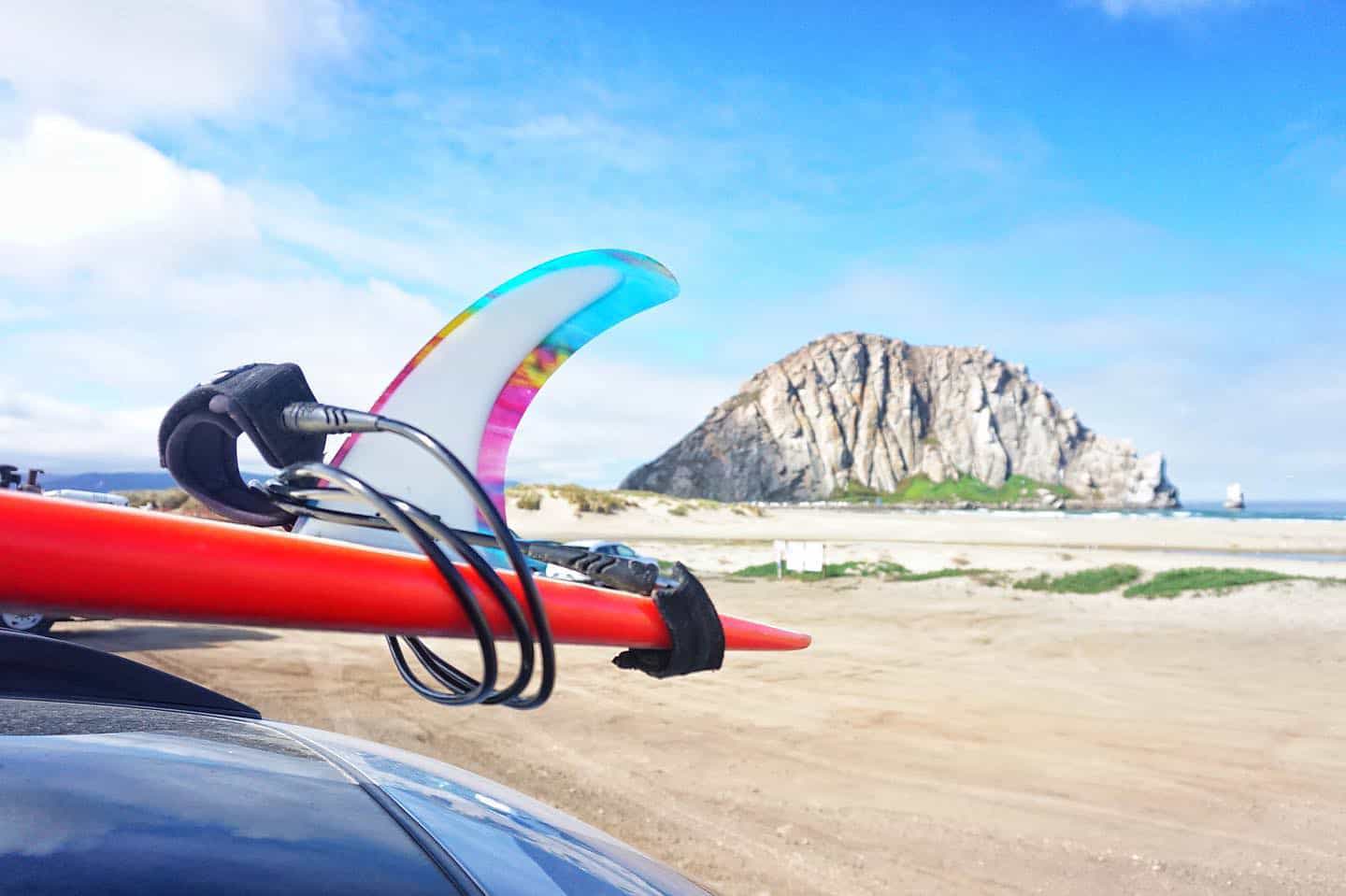 Spooners Cove Surf Spot
This is one of Montaña de Oro's most popular beaches, but don't let that deter you: the waves are wide open. Spooner's Cove is a protected inlet with wide, high cliffs, surrounding a freshwater stream and a picturesque beach. But locals think of it as three distinct surf spots: Lonesomes, A-Frames and Spooner's. Most visitors park in the parking lot, just off Pecho Valley Road, across from the Spooner Ranch House. But the locals will tell you to park on the grass above the cliff overlooking Spooner's Cove.
Lonesomes breaks on the north point, in toward the cove. Catch it at its best, with swells from the northwest/west, and winds from the east/northeast. Swells can hold up to 16 feet or more, the best likelihood being during a falling tide. This right-breaking wave is named for the long, solitary paddle required to catch it. (Once again, experienced surfers only!) Watch for the reef rock standing in the middle of the cove. 
A-Frames lies in the middle of Spooner's Cove, a ways out from shore. True to its name, this wave breaks both right and left, giving plenty of options for where to ride it. That being said, it can also combine with the left-breaking wave from Spooner's to become a painful closeout. Some surfers only use A-Frames to practice big drops and tow-ins, as it's pretty far out. If you choose to do that, too, take care to ensure that surfers aren't in your path.
Spooner's is a left-breaking wave that rolls on the south point of Spooner's Cove. In fact, many believe it's the best big-wave break on the Central Coast, with 20-foot swells in good conditions. Spooner's is world-class for its unexposed break — a rarity anywhere south of San Francisco. But with great power comes great responsibility: don't attempt to surf Spooner's on a whim. Catch it on a medium tide to avoid being forced into the rocks, but still able to get the swells. Come ready to paddle a lot and stay underwater a lot, as hold-downs can be long. On a good day, the barrel will be worth all the challenges.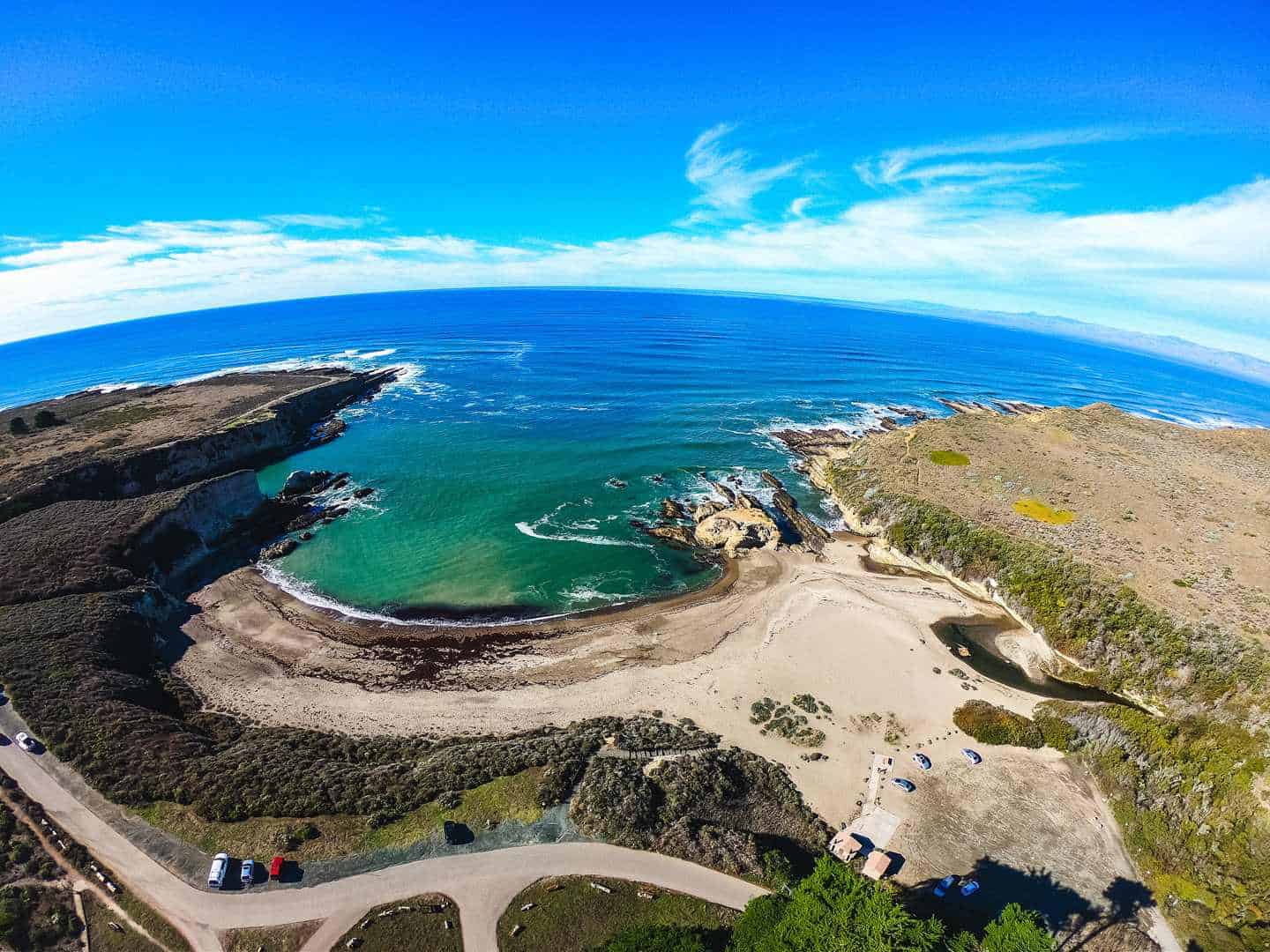 Hazards Surf Spot
For decades, this surf spot was considered the Central Coast's best-kept secret — a notoriously huge wave, only accessible by hiking. The secret got out, however, when a surf photographer snapped shots of Hazards that made their way to print. But no matter: the spot is still mostly visited by locals, many of whom just  want to watch you attempt that monster wave. Hazards breaks right over a jagged reef, with serious power, especially with southeast prevailing winds in winter. There is a lot to consider here, from the late drop and dangerous double-ups, ledges and bowls to the unforgiving rock shelf beneath. This is why only very experienced, near-pro surfers are successful here — and even they wipeout at Hazards, much of the time. Look for a medium tide, with swells about head-height. Unlike other Montana de Oro surf spots, this one does well with a shortboard or semi-longboard. Just be sure to bring your helmet: Hazards is not for the faint of heart. As you drive into Montana de Oro on Pecho Valley Road, look for the Hazard Reef trailhead sign. Parking access to the trailhead is along turnouts only.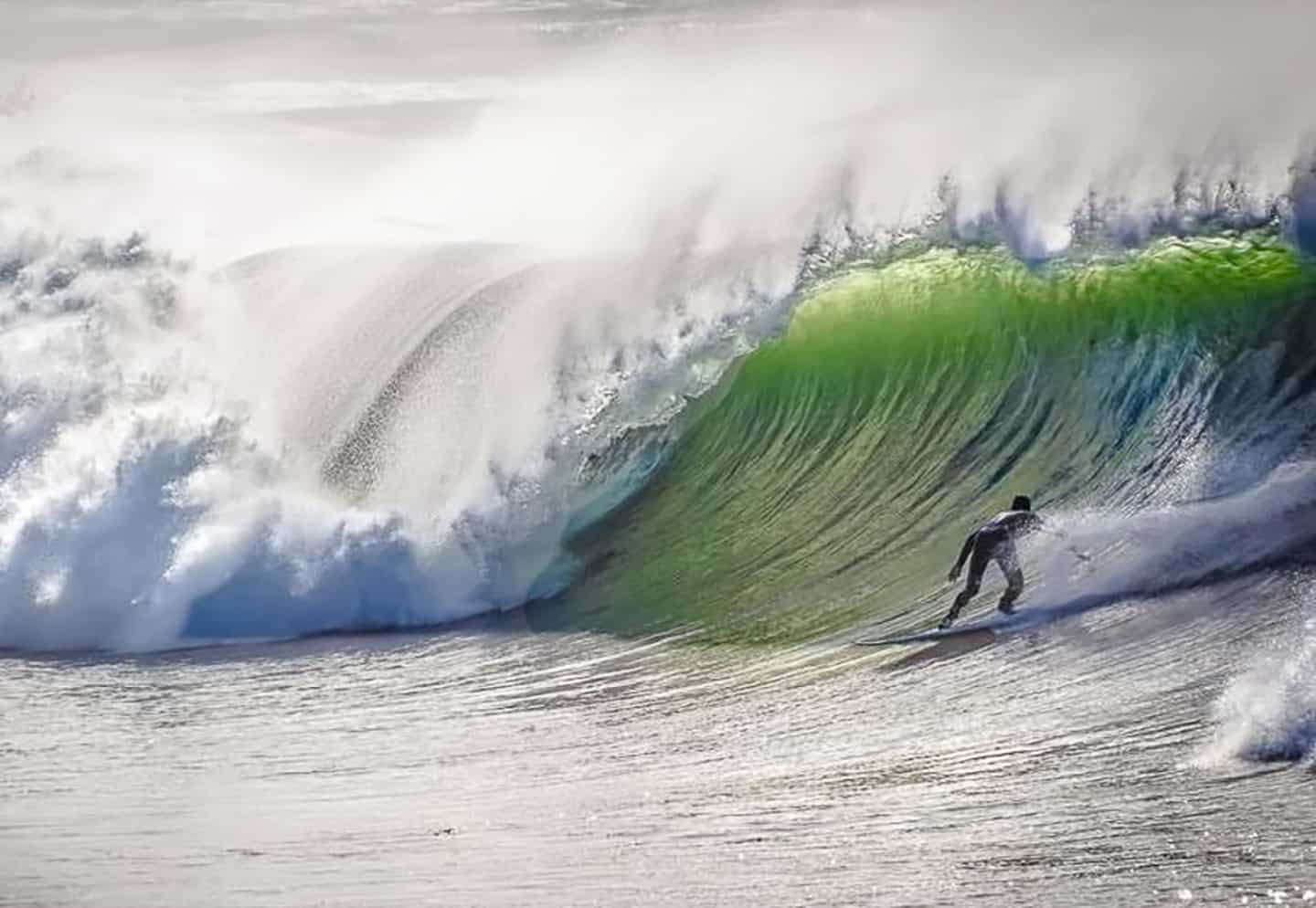 Tide Times for Highway 1
Friday, Sep 29, 2023
| Tide | Time (PST/PDT) | Height |
| --- | --- | --- |
| Low Tide | 4:19 AM | 0.15 ft |
| High Tide | 10:31 AM | 5.7 ft |
| Low Tide | 4:45 PM | 0.39 ft |
| High Tide | 10:51 PM | 5.4 ft |
Tides measured at Port San Luis Harbor. Data provided by
noaa.gov.