Tucked into the southern side of Morro Bay, Los Osos and Baywood Park might just be the coolest beach towns you never knew existed. Full of mom-and-pop charm, boutique shopping, vintage treasures and fine artwork, these neighboring towns each have their own flavor and flair. 
Find Los Osos's shopping spread along Los Osos Valley Road and South Bay Boulevard back toward Morro Bay. (Find the entrances to Los Osos where the "Greeting Bears" stand, two concrete statues by artist Paul Zima installed beside bridges into town.) Los Osos features fantastic retailers like nurseries, bookstores, distilleries, gift shops and thrift stores. Baywood's sweet downtown and shopping areas are concentrated on the small peninsula called "the back bay." Here, the specialty is artisan handiwork, including paintings, ceramics, and blown glass. A village in its own right, the weekly Baywood Farmers' Market also offers a wealth of shopping opportunities, including many handmade goods. (Plus kettle corn to sweeten the deal!) 
But one quality that Los Osos and Baywood Park shops share is an eclectic quirkiness. Whether you're buying coffee beans, soaps, pottery, vintage furniture or clothing, in Los Osos-Baywood Park, you can always expect the unexpected.
Shop Downtown Los Osos & Baywood
Los Osos & Baywood Art Galleries
Be sure to call before you visit any of these studios and galleries, as many require appointments.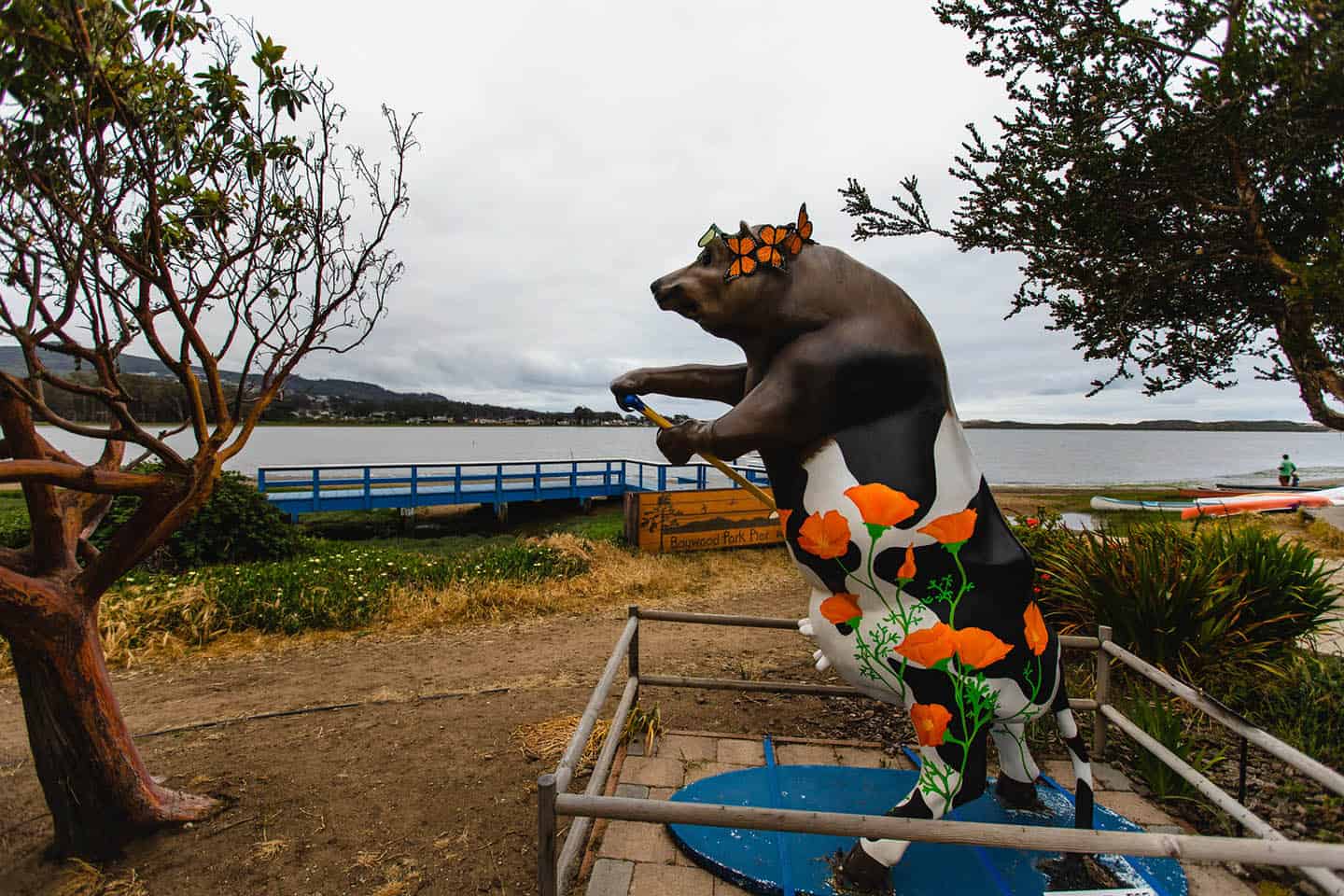 Since 2014, the Los Osos PopUp Gallery has offered an exhibition space for local artists in venues across the greater Los Osos area. Sometimes this is a community center or empty retail space, church or outdoor venue. Often the space is closed to the public, but the artwork is viewable through a window. (In some ways, this makes the gallery open 24/7, depending on how you look at it!) The gallery rotates through exhibitions about every three months, with up to 20 artists featured at a time. Staffed and organized solely by volunteers, the gallery's previous featured works include mixed media, painting, and sculpture. The artists' work is available for sale, and creators receive 100 percent of the profit. As an artistically active community, Los Osos has much to offer in the way of local handiwork. Come to the PopUp Gallery to see what artists are working on, and perhaps pick up a gift for someone — or yourself.
Two artists define the space known as Baywood Drift Studio in downtown Baywood Park. Artist Jan Brink uses old-growth redwood for outdoor pieces, as the material has already been weathered by natural forces and the elements. Jan then reimagines each slab of redwood into a figure, animal, or object, from an octopus to a mermaid. These sculptures stand all around the exterior of the gallery. For a different type of expression, artist Ingrid Brink paints in watercolors and exhibits them at the Baywood Drift Studio. Impressionistic in style, these paintings focus on landscapes like those found in and around Los Osos-Baywood Park. This means soft rolling hills, the serene Morro Bay National Estuary, and views of the Pacific. Jan and Ingrid live in Baywood and Hawaii; their work is influenced by the two places, the ocean being the common theme. Come discover the unique work of these two different yet complementary artists, and even take home a token of your visit to Baywood.
Directed by artist Nick Wilkinson, Left Field Art Gallery brings contemporary art and home goods to the Central Coast. What began as a tiny satellite studio in San Luis Obispo became a bona fide art gallery in Los Osos. Modern masterpieces can be found here that aren't found anywhere else in the area. Wilkinson's background lies in painting and printmaking, and his work has been shown in major metropolises, from Reykjavik and Copenhagen to Athens and Chicago. His abstract style lends itself to joyfulness, with bright colors and ecstatic forms. In addition to his own work, Wilkinson has featured the work of many other artists, local and otherwise. Some of these include printmakers Michael Henry Hayden and Anthony Lepore, sculptor and painter Saul Alegria, and ink-on-paper artist Sara Malpass. The space is cool, clean and contemporary, displaying work for both enjoyment and purchase. Find the Left Field Art Gallery on Los Osos Valley Road in downtown Los Osos.
Michael Costa Art Gallery
Don't let the small size of this diverse gallery fool you: it bears the work of at least 20 artists inside at any time. The gallery is owned and operated by photographer Michael Costa, whose travel and still life photography is also on display. Ceramics by Martin Shapiro and Phillip Lopez, glasswork by Lisa Anderson, landscape paintings by Ginny Burdick, and others contribute to the handiwork here. The gallery has regular hours, but can also be open by private appointment, and often has artist's receptions. Come for an afternoon to look over mixed media pieces by Ellen Jewett, pastels, oils, watercolors, and jewelry. At the Michael Costa Art Gallery, you'll find a well-curated assortment of different media and styles. In fact, more often than not, Michael himself will be available to help you find just the right piece. Pick something up for a loved one's home, or for your own.
If you've ever taken a spontaneous road trip, you will recognize the joy and color of artist John Ramos's paintings. Often, they are crafted from the perspective of someone in the driver's seat of a VW bus. There might be a dog on the passenger's side, a hula girl on the dash, and a surf spot up ahead. Or it could be a landscape view of the craggy coastline off Ragged Point, a pelican flying high above. These are the scenes that John Ramos does so well: quiet, ordinary moments on the extraordinary California coast. But no matter what he captures, it's always with plenty of color and a polished sheen. John has sold paintings and prints since the 1980s, beginning with a painting of a cantina in Baja. While he's had galleries across the West Coast, today, he opens his private studio by appointment only. If you love a good road trip or California adventure, you'll want to take a trip to his Los Osos gallery.
Ceramic artist Pandora Nash-Karner crafts one-of-a-kind pieces from clay, her chosen medium. Among her work are wall hangings, platters, plates, cups, treasure holders, cups, vases and sculpture. Pandora builds pieces by hand, or with the wheel, and she plays with lines, textures, color and asymmetrical shapes for added interest. Often the inspiration is Native American, as with many of the sculptures and plates in the gallery. At other times, there is a note of whimsy and humor, as with Pandora's sgraffito work, when images are scratched into clay. Contemporary ceramic bowls show gradations of tender color down the side, like a sunset. These are pieces to be used, as with the cups and platters, where the mark of the artist is felt in fingerprints and indentations throughout. Pandora believes that art should uncover a human connection; a visit to her studio must include ample time to connect with her work. And if you can't find just the right piece, talk it over with Pandora and she just might make something custom for you.
Close to downtown Baywood, the Back Bay Pottery studio has produced modern, classic pottery with a whimsical twist since 2011. Fans of pattern and texture will love artist Christine Silbaugh's designs, from butter crocks and platters to mugs and full sets of dishes. Every piece she makes is done by hand, either with or without the wheel. Because the studio lies close to the ocean, it's no wonder the pieces bear resemblance to the ocean and nearby rolling hills. Christine was raised on the California coast by artists and makers, so the inspiration is in her blood. Working with clay, she chooses to make things she'd use in her own home and garden. She fires all pottery at least twice, and often three or four times depending on the piece. Christine's technique of slip trailing is especially significant for her work, as it allows her signature dot patterns on her pottery, almost resembling braille. This pattern shows up across much of Christine's work, from mugs, pots and soap dispensers to mixing bowls and cheese boards. Set up an appointment with her to visit the showroom.
As a hub of art and creativity along Highway 1, Los Osos-Baywood Park offers a wealth of galleries and shops. For more information on everything from other artists to public art like murals and sculpture, visit our main guide for Los Osos Arts & Culture.
St. Benedict's Abundance Thrift Shop
Abundance does describe the feel of this second Los Osos thrift store. Here, you can find any number of goods, from towels and blankets, to pots and pans, to a good book or movie. Clothes hounds will love the shops' wide variety of coats, pants, jeans, tops, and accessories like jewelry, hats, scarves, belts and purses. For those who live to shop for shoes, Abundance Thrift Shop offers men's, women's, youth and child shoes. Pick up a new pair of boots or the perfect picture frame here, and you'll always remember your trip to Los Osos.  Best of all, the Abundance Shop sends all income to support the local mission of St. Benedict's Episcopal Church. The shop also supports a number of local nonprofits that serve the elderly, homeless and impoverished people, and humane societies. Abundance is staffed by volunteers who can help find just the right item for you.
Remember the days when a Rexall Pharmacy was more than just a pharmacy? Fortunately, the Los Osos Rexall Drugstore remains like those shops of days past, and has been owned by the same family for 40 years. Here, you'll find much more than a place to have your prescription filled. Los Osos Rexall Drug & Gift Store comprises two buildings, an outdoor patio, a professional putting green, a barbecue and a place to play music. All of this is complimentary for customers to use. In fact, when you show up to the shop some evenings, you might even find friends meeting for happy hour or an artists' reception. The shop sells local goods, including jewelry, books, artwork, and foods like Harmony Ice Cream, Paso Almonds, Cayucos Collective tees and Cayucos Hot Sauce. Don't miss the beautifully curated selection of toys, games and puzzles, with brands like Melissa & Doug and eeBoo. And if you're picking up a gift for a birthday or other occasion, ask someone to wrap it for you, and they'll be happy to.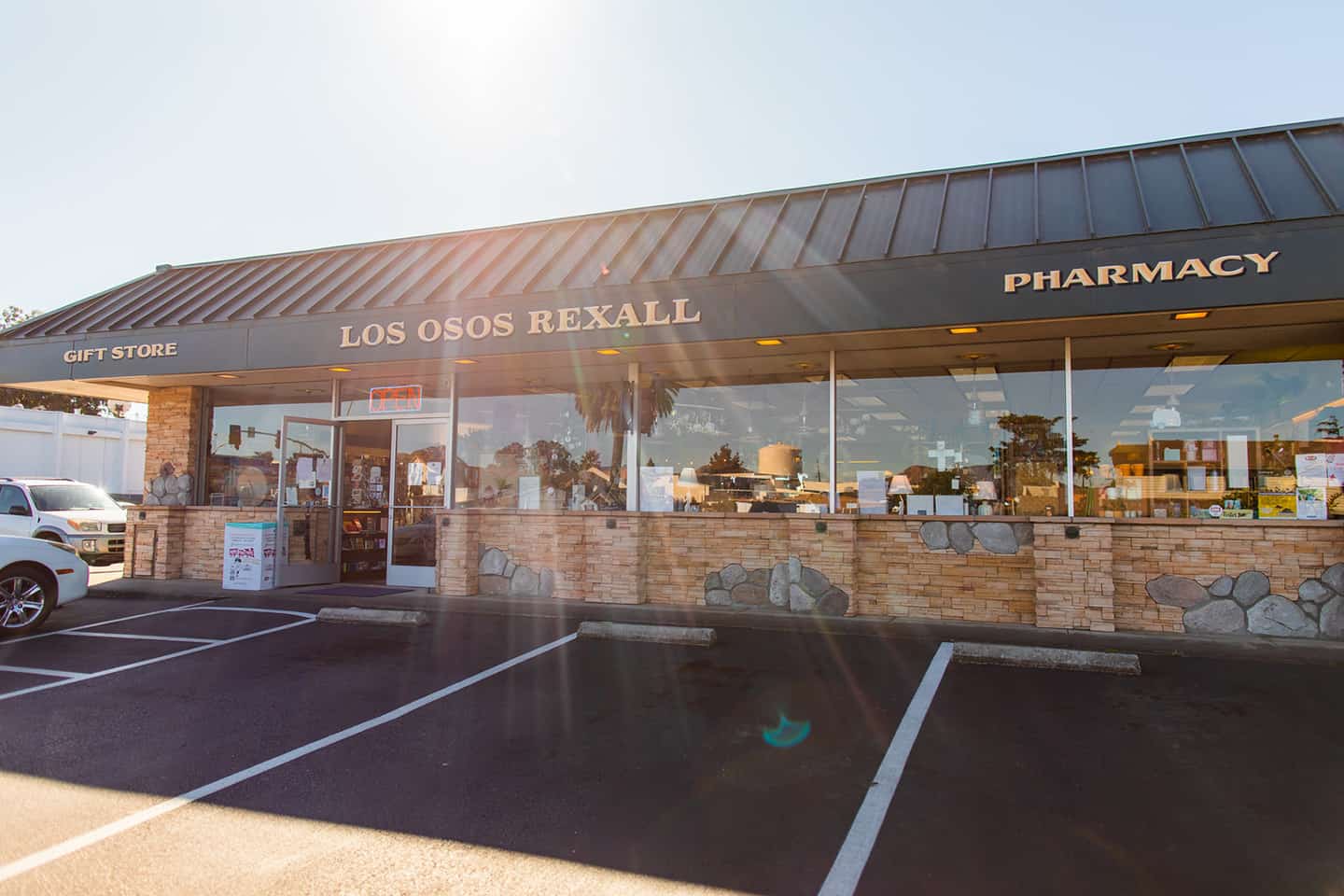 Volumes of Pleasure Bookshoppe
Looking for a good book? Volumes of Pleasure supplies the Central Coast with an eclectic selection of new books, gifts, holistic and spiritual items. Owner Carroll Leslie has built a magical place where book lovers can find their next title, whether that's fiction, non-fiction, history, memoir, or children's literature. But it's much more than that, too. Carroll designed Volumes of Pleasure to awaken the senses of smell with lovely aromas like essential oils and herbs to explore. Enjoy the sight of art and handiwork on the walls. The space is small, but this boutique bookshop makes the most of it, filling the shelves and counters with items to nourish the mind and spirit. The owners have provided an inclusive selection of books for decades, specifically including Eastern and Western spirituality. The cookbook selection is appetizing to home cooks and foodies, while the psychology section provides insight on the workings of the human mind. Pick up a book, a piece of art or a gift, and take a bit of Los Osos back home with you.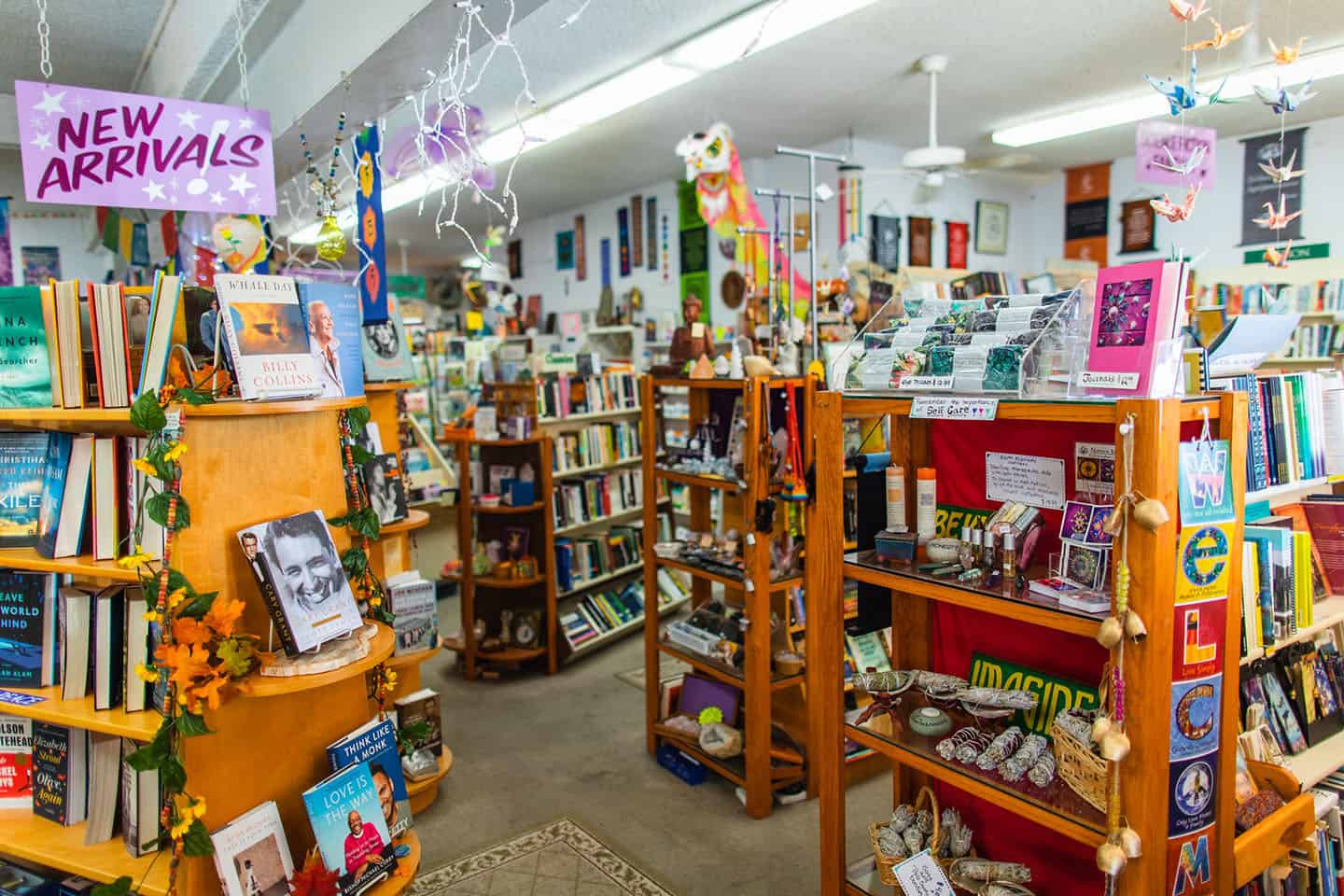 Los Osos's quirky, eclectic, artistic vibe is on full display at Los Osos Valley Nursery. Thanks to its temperate coastal weather, Los Osos plants grow beautifully year-round — a paradise for gardeners. Family-owned and operated since 1977, Los Osos Valley Nursery sits among the eucalyptus trees north of Montaña de Oro State Park. The Tish family specializes in drought-tolerant and native plants, with species like protea, sages, and other trees and shrubs. Succulents are another specialty, with obscure, rare and hard-to-find varieties displayed throughout the nursery, as well as air plants. Find epiphyllums and vegetable starts at Los Osos Valley Nursery, too. The property includes plenty of outdoor plant space, as well as an indoor plant area for houseplants and gifts. Terra cotta and glazed pottery come in a wide variety of shapes, colors and sizes for the perfect potted plant. The knowledgeable staff can help you find the right species for your growing region, as well as the perfect gift or houseplant.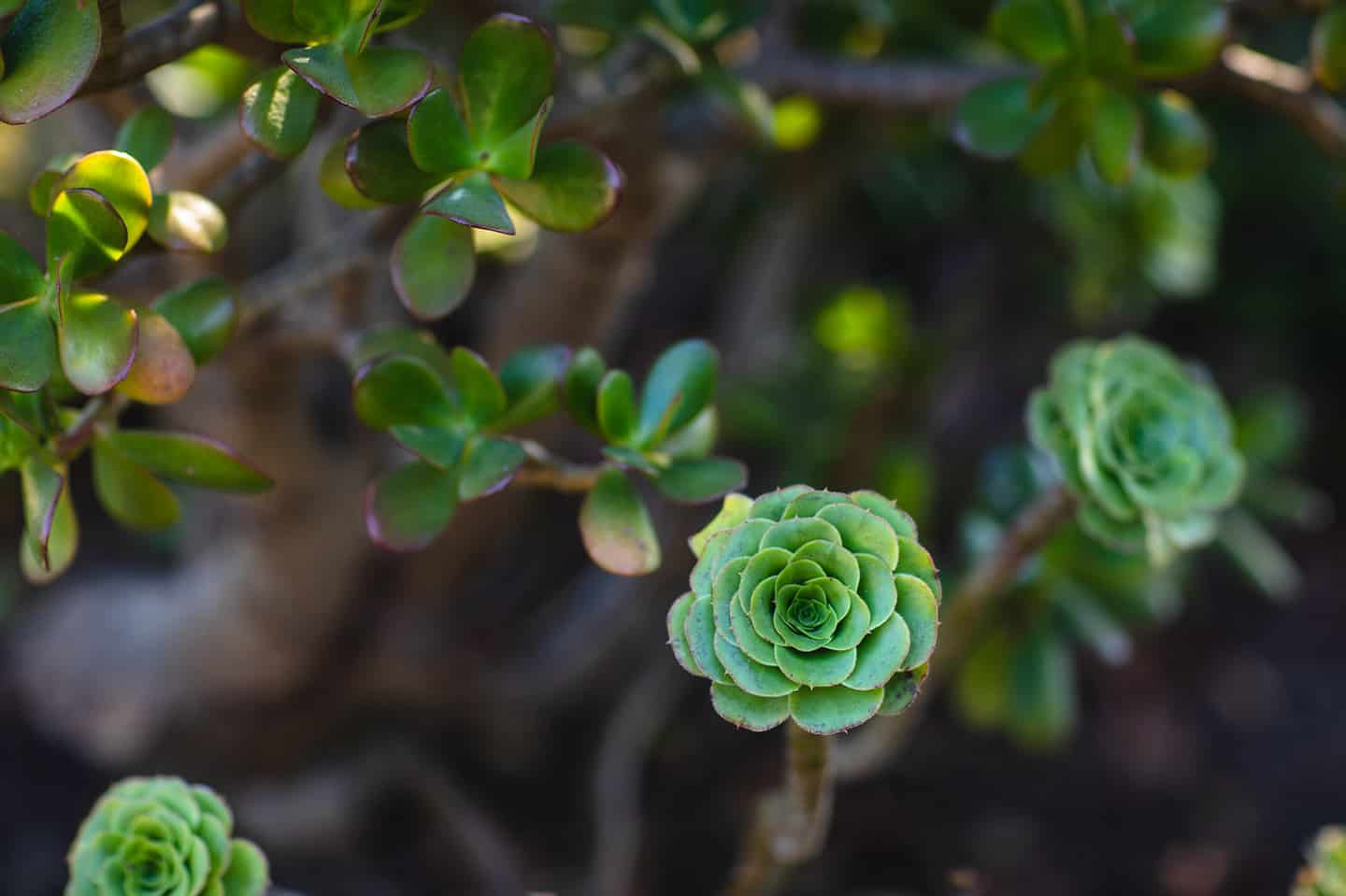 Central Coast Glass Blowing
Located on the back bay in Baywood Park, Central Coast Glass Blowing is a working glass blowing studio that's open for public viewing. Open year-round, the gallery showcases the work of Rod Baker, a self-taught glass artist who started blowing glass in 2007. (Previously, he had learned the art of stained glass, which relates to his work in fused glass at the studio, as well.) In the style of glass blowers and glass fusers of old, each piece is handcrafted and one-of-a-kind, with unique patterns and colors. For fusion glass, Rod combines multiple pieces of glass by fusing them together in a 1,500-degree F kiln. For blown glass, however, the kiln rises to a temperature of 2,200 degrees F. Purchasing works of blown or fused glass from their maker is a rare opportunity in modern California; witnessing their creation is rarer yet. Find marbles, platters and plates, paperweights, jewelry and bowls for sale in the gallery shop.
The name really says it all with this gallery and art space: the place is intended to bring joy. The shop was founded in Cayucos in 2013, offering freshly baked cupcakes, clothing and art classes to locals and visitors alike. Now located in Los Osos, Happy Go Smile continues to offer a wide variety of goods, including apparel bearing the mixed media Happy Go Smile logo. (The shop also encourages visitors to dream up their own "Happy Go…" logo for customized apparel. Previous examples include Happy Go Mama Bear" and "Happy Go Dog Mom.") You'll also find fun assorted items like dog leashes and journals, keychains, beach towels, caps and…cupcakes! Baked fresh daily, Happy Go Cupcakes bring joy and happiness in flavors like funfetti, strawberry shortcake, chocolate raspberry, and chocolate salted caramel. And don't miss art classes and retreats with Happy Go Smile, with mixed media instruction for all ages.
Since 1984, SLO Roasted Coffee has supplied the town of Baywood and beyond with the highest quality coffee beans, making the company iconic. This was long before the hip coffee shops of the 1990s came into the spotlight. SLO Roasted Coffee has had a passion for quality coffee since long before then. Norman and Gail Galloway founded the business on the principles of full flavor and freshness. These two guiding lights have kept SLO Roasted at the forefront of the locally-roasted coffee scene ever since. Today, the company is owned by Norman and Gail's children, Julie and Chris. When you visit the SLO Roasted Coffee store, you'll meet the team of coffee lovers who run the business. They can help you find the perfect roast and grind for you, including new varieties and items. Find the SLO Roasted Coffee retail store in Baywood, and take the time to explore their selection of gifts, coffee gear and branded logo apparel, too.
Established in 2017, the Foggy Bottom Distillery is an outdoor tasting room that samples and sells craft spirits. These run the gamut from Bourbon whiskey and corn whiskey to spiced rum and gin. Some of these are flavored with cherry, cinnamon, maple and apples, as well as botanicals like juniper and coriander. Located just off Los Osos Valley Road, the distillery was built and is operated by Todd Adams, whose specialty is corn whiskey. (This is unusual in San Luis Obispo County, where most distilleries bear some connection to the wine industry.) Patrons to Foggy Bottom Distillery can taste through several varieties aged in a selection of different barrels. They can also bring some hooch home with them as most bottles are also for sale. Taste the lineup of standing whiskeys, gin and rum, as well as seasonal and special offerings. Then bring some home to enjoy and remember your trip to Los Osos every time you sip.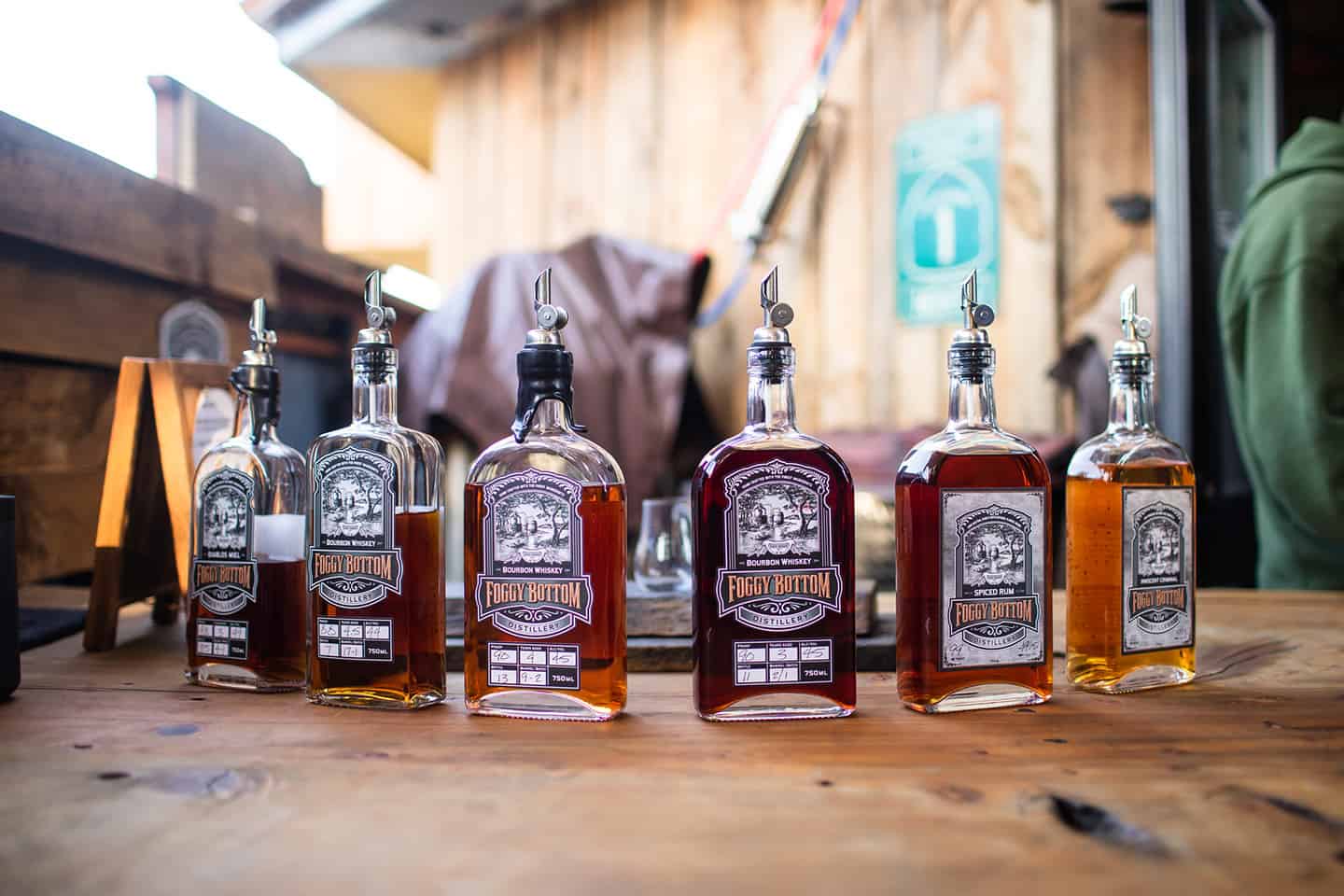 This local skincare company began with a simple goal: to provide high quality skincare products for ultra sensitive skin. Every product within the shop is made locally, plant-based and sourced from organic ingredients. They're also made without the use of parabens, identified as hormone disruptors, and without sulfates, which can irritate and dry out skin. Owner Tracy Bullock created the skincare line in 2011 when she discovered she couldn't tolerate conventional products due to allergies and autoimmune disorders. Products in the shop include soaps, bath salts, bath bombs, lotions, men's beard products, oils, scrubs and hand sanitizers. Babylonian Soap Co. also offers candles, scents, and teas from local tea companies. Tracy and her staff can consult with you on your skincare needs, and even make products to order. Visit the store to clean up your own skincare regimen, to treat yourself or to purchase gifts for loved ones.
Next to one of Los Osos's most beloved eateries, Carlock Bakery, Don's String Shop sells, repairs, and trades new and vintage stringed instruments. Most of these instruments are guitars, but Don's stocks a selection of ukuleles, banjos, mandolins, and more. Proprietor Don Young is the longtime owner of National Reso-Phonic Guitars, a manufacturer of fine resonator guitars and other resonator instruments. He brings his decades of expertise in the stringed instrument business to Don's String Shop, where customers can buy, sell, and trade. The shop also carries a wide array of strings, should you need a whole set or just a single. If you love to play stringed instruments, head to the shop on Saturdays (the only day Don's is open) to try a new one, or bring your own for repair. Saturdays at Don's often include spontaneous playing and even jamming, if the mood is right.  The shop also occasionally offers classes and concerts from nationally and internationally-renowned artists.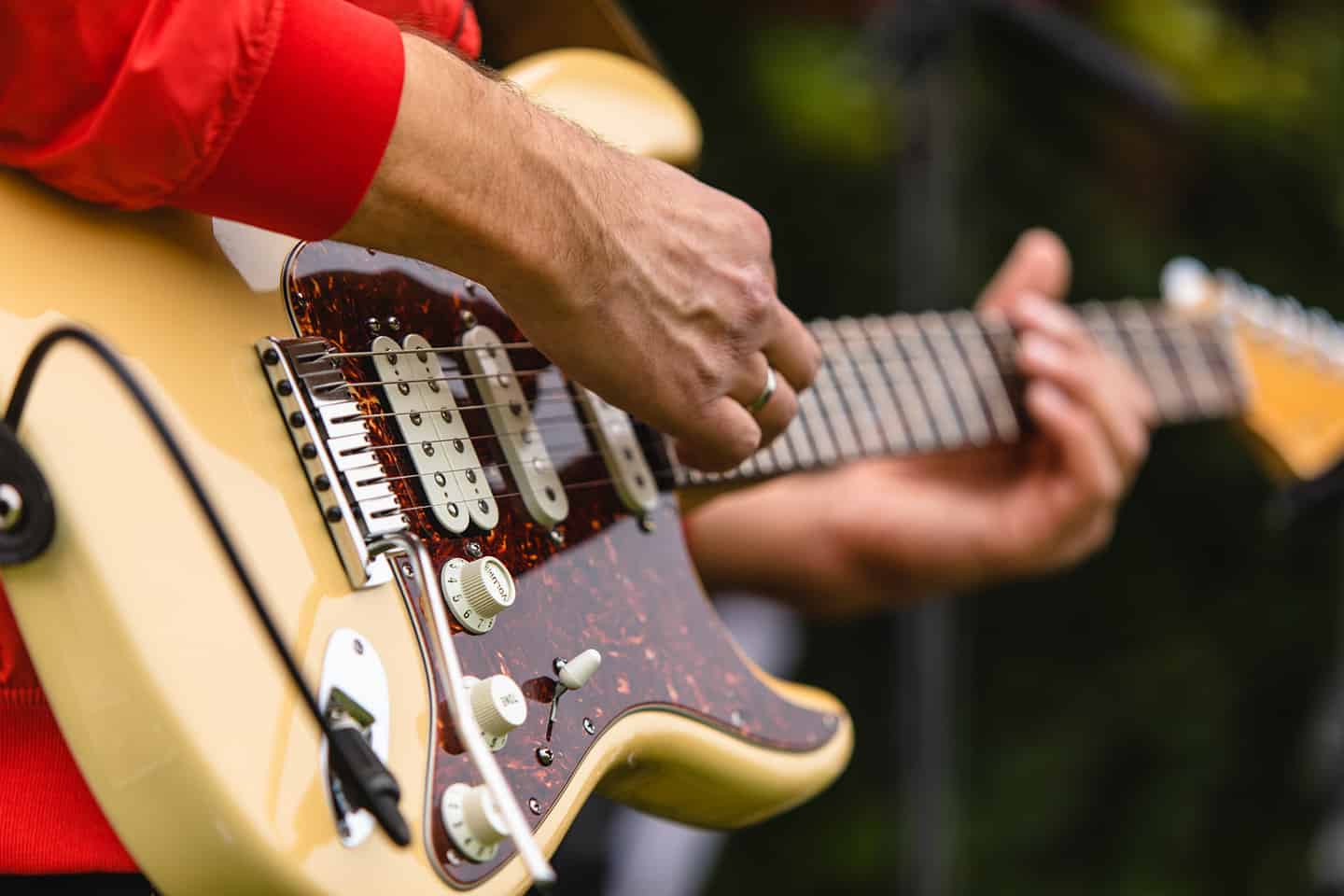 Every Monday, the best of Baywood Park comes out for the weekly Farmers' Market. The Central Coast boasts many farmers' markets on a daily basis, but many locals consider Baywood to be the best. This quaint market features locally-grown fruits and veggies, as well as baked goods, coffee, desserts, and more. But some of the most giftable goods in Los Osos-Baywood are sold at the market on Mondays, too. Pick up a packet or two of Larry Kandarian's ancient grains, like teff, farro and bulgur wheat. These are rare and hard-to-find varieties that have made Kandarian Organic Farm famous across the world. You'll also find Beelieve Honey, which sells multiple varieties of honey from their own beehives, including clover, avocado, and orange blossom honey. And Native Herbs, a company owned by indigenous artisan Violet Sage Walker, offers products made from native herbs in the traditions of her ancestors. These include seasonings, salves, balms, and candles, in addition to honey. Find the Monday Farmers' Market on 2nd Street at Santa Maria Street in Baywood.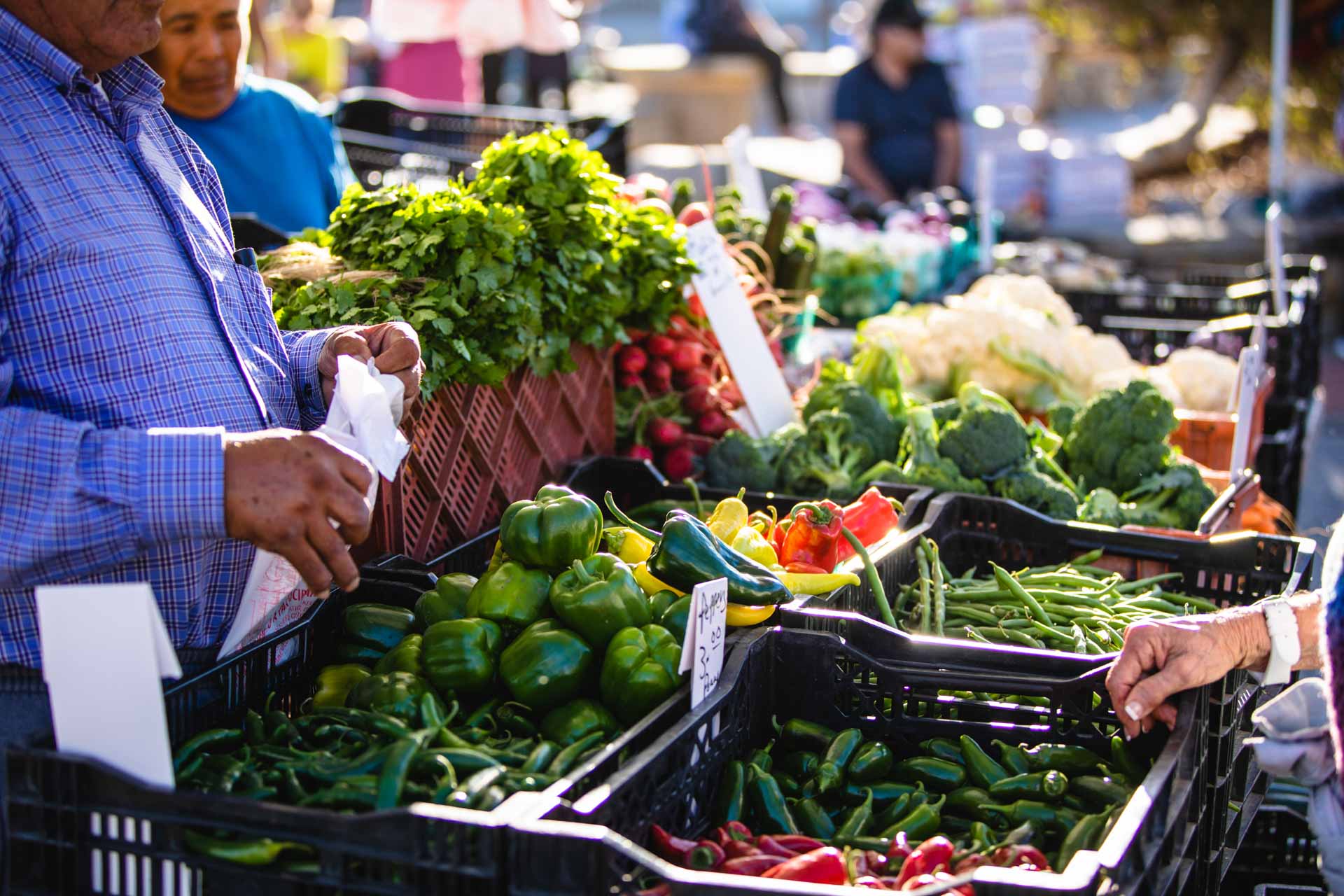 Enjoy the taste of Los Osos-Baywood Park by visiting its best restaurants, cafes, and eateries. Los Osos boasts one of the most robust bakery cultures, with fantastic breads, pastries and desserts available at Wayward Baking, Pagnol Bakery and Carlock's. International eateries line the streets, including unique spots like Noi's 2nd Street Cafe for Thai Food, Nardonne's Pizzeria for Italian, and La Palapa for Mexican. Brewpubs like Beerwood and the Olde Ale House attract beer-lovers and foodies alike. Between meals, check out Los Osos-Baywood Park's many things to do. Hit the links at Sea Pines Golf Resort or witness a kaleidoscope of color at Monarch Butterfly Grove. Catch ocean views on a hike in Montana de Oro State Park or kayak the Morro Bay National Estuary. A laid-back, creative vibe characterizes much of this stunning area; you'll have no problem finding your favorite moments here.