To discover the flavor of Cambria shopping, just head to Main Street. The town's main thoroughfare creates a quaint shopping district that's split into two distinct areas: the West Village and the East Village. The West Village is bordered by the intersection of Windsor Boulevard and Cambria Drive, and features artists' galleries, clothing boutiques and specialty shops. The heart of the East Village beats at the Cambria Historical Museum on Bridge Street. Together, the East and West Villages span about 1.5 miles of walkable, diverse downtown shopping. Find booksellers, candy shops, knitting and yarn stores, home and garden and clothing boutiques along the way, with bakeries, bistros and cafes along the way. Cambria antique stores are especially popular, with their wide selection of vintage decor, apparel, and hard to find collectors' items. Notice something different about the shopping experience in Cambria? All of the stores and boutiques here are mom-and-pop shops — you won't find any chain retailers. Free parking along Main Street also makes for easy, comfortable access in either village, or park and stroll between the two.
West Village Shopping in Cambria
New Moon Boutique
New Moon Boutique lies on Main Street in Cambria's West Village. This little clothing shop offers a wide array of women's apparel, from whimsical and slightly bohemian to tailored and crisp. Look for brands like Tempo Paris, Liz Soto, Olive Hill, Fresh Produce, Et'Lois and more. New Moon Boutique specializes in garments made in the USA, and even offers made-to-order options. You can also find a wide selection of plus size garments to accommodate every shopper. New Moon Boutique has been owned and operated by the same family for 30 years, making them an a style authority in Cambria. The inventory changes daily, including dresses, tops, skirts, and jeans, as well as accessories like jewelry, eyewear, purses and scarves. All merchandise is artfully displayed for shoppers with a discriminating palate. Head to the quaint Tudor-style building on Main Street, in the West Village, for eclectic and comfortable womens' clothing.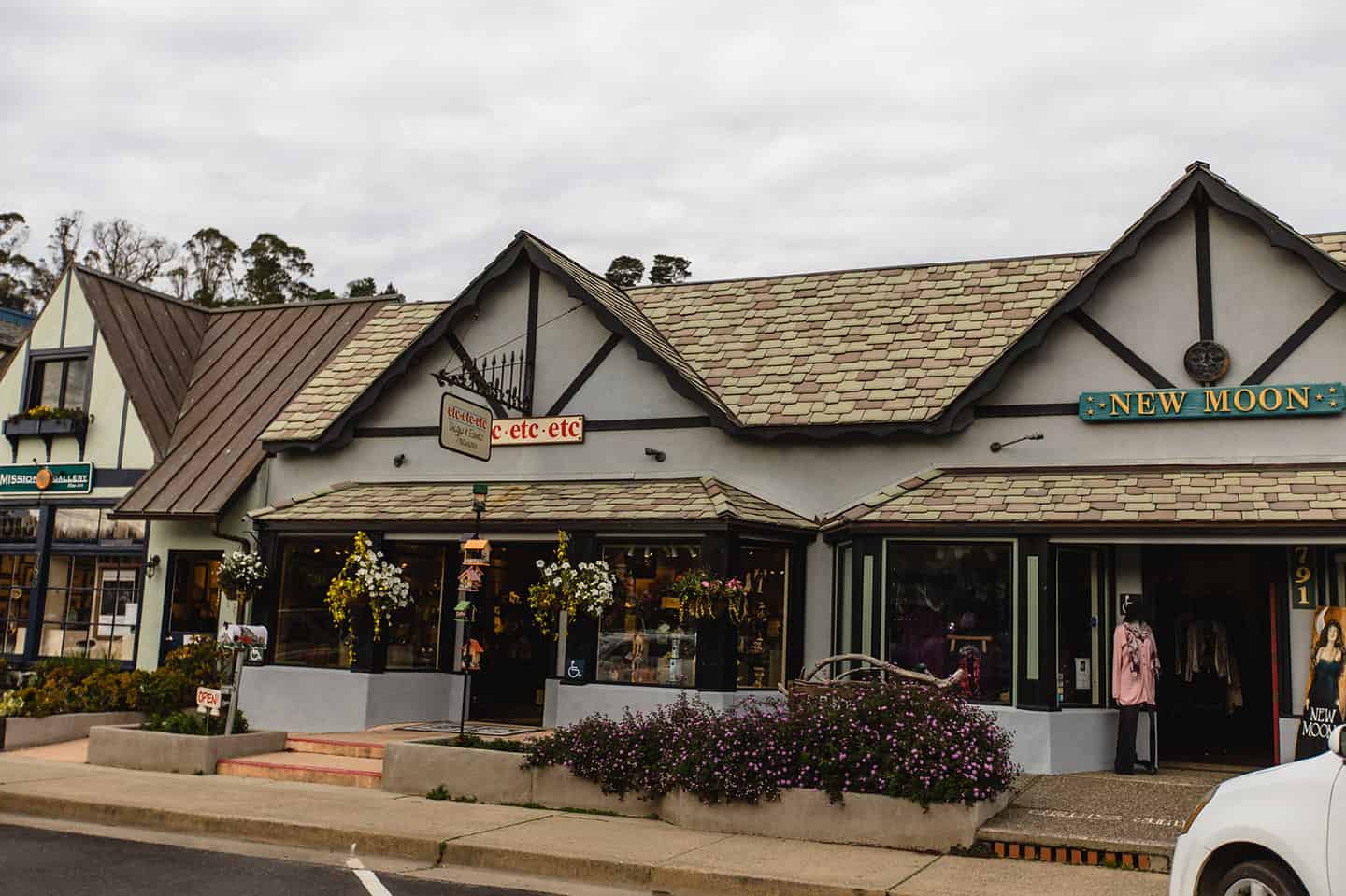 STASH Local Goods
This popular downtown Cambria shop champions and celebrates the work of local makers. In the spirit of Cambria's chain-free city planning, STASH curates a selection of locally-made goods that are perfect as gifts or souvenirs. Many of the items are edible, including PasoAlmonds almond brittle, Cattaneo Bros. sausage and jerkies, AllePia cured meats, and Celia Chocolatier chocolate bars. The shop also carries goods from out-of-the-area small makers like Vintage Cheese Company and Thatcher's Popcorn. STASH sells fresh cocktail mixers made by Yes Cocktail Co in Paso Robles, as well as honey from the Humblehive Bee Co. in Arroyo Grande. Also look for housewares and decor like wine glasses, keychains, planters, totes and prints. (Don't miss the macrame plant hangers from Tied & True.) STASH is owned by a mother and daughter who sought to bring public awareness to the Central Coast's wealth of local makers. Visit, and start a stash of your own.
Verde of Cambria
A whimsical, cozy shop, Verde brings over 60 herbal teas and specialty honey to Cambria's West Village. Verde specializes in herbal teas, and the shop owners will happily provide a tea tasting with you. They'll also provide tips and information on how to store, prepare, serve and enjoy your favorite teas. Many tea blends include unconventional (yet delicious) flavors like Lavender Rose, Crème Brulée and Cherry Jubilee. Verde also stocks a wide selection of tea kettles, mugs, and strainers. Be sure to leave with a jar of raw local honey, too! You'll find a curated selection of honeys here to choose from. Like a modern apothecary, Verde also supplies herbs, lotions, soaps and candles to local customers as well as visitors. Check out the greeting cards, decor, jewelry, and artwork if you're considering bringing a piece of Cambria home with you. Look for Verde in the West Village, in the little blue building on Main Street.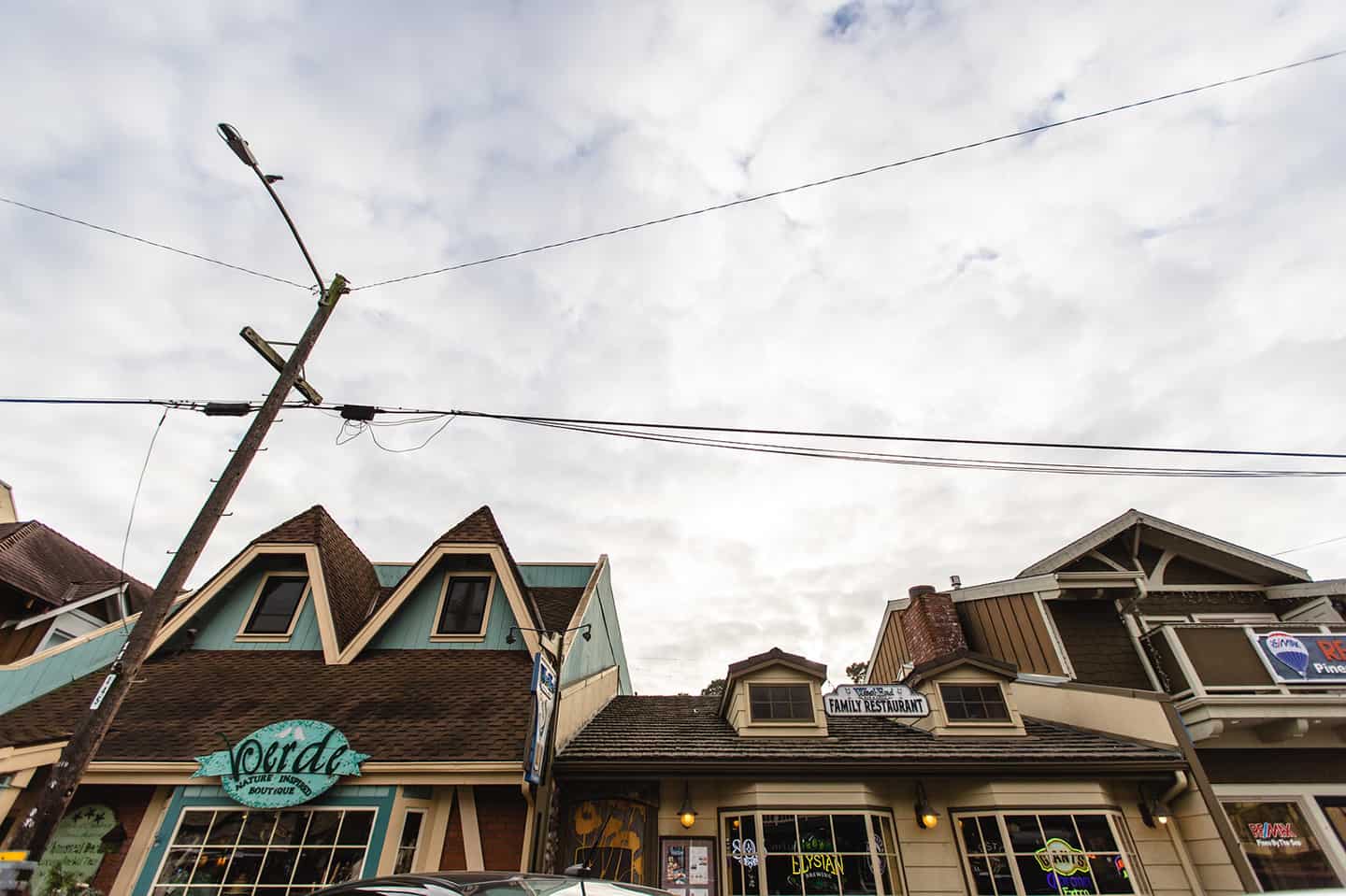 Chambers Gallery
Chambers is a warm, intimate gallery curated with one-of-a-kind pieces from notable artists from the local area and beyond. The featured artworks range from blown glass and jewelry to paintings, silk scarves, and sculpture. May reflect the beauty of the natural world in and around Cambria. The owner of Chambers Gallery is very knowledgeable about each piece and each artist represented, and is happy to share her information. Discovering new artists (or new-to-you artists) is one of the great benefits of a visit to Chambers Gallery. One such maker is Jeanette Wolff, whose multimedia work can be found throughout the gallery. Chambers carries Ms. Wolff's watercolors, oils, acrylics, collages, and more. Purchase a gift for someone or a treat for yourself, and return to Cambria to grow your collection. Find Chambers Gallery next to Cambria Coffee (where all the locals go for joe) and the Cambria Visitor's Center in the West Village.
Visions of Nature Gallery
The work of American photographers takes center stage at Visions of Nature Gallery in Cambria's West Village. The gallery is curated by Bill La Brie, a nature photographer whose work captures some of the world's most dramatic and picturesque landscapes across the seasons. Some destinations include the High Sierras, Zion National Park, Big Sur, the Santa Lucia Mountains, and Cambria, of course. In addition to his own work, La Brie offers a wide selection of nature photos from across the nation, primarily from film. Each is a limited edition piece, signed and numbered by the artist. The gallery itself is long and narrow, with wall space to hang two layers of framed photographs. The large-format photos show exceptionally well in the space, giving the artwork just the right conditions to shine. All prints are double-matted with archival museum board, and are mounted on perfect-mount acid-free board. Pick up a framed nature photo for yourself or as a gift for someone special.
Ephraim Pottery West Coast Gallery
This studio and gallery is the sister space to a rural studio in Wisconsin where ten artists work together to create collectible art pottery. At the studio gallery in the Midwest, the artists have been collaborating to make decorative pieces and tableware since 1996. Founder Kevin Hicks prizes hand-thrown pottery that bears the mark of its maker, and makes pieces to order for customers. Ephraim's full line of pottery, tile and wood items can be found at the West Coast Gallery in Cambria, along with product development pieces and glaze variations. The gallery owners also carry a selection of work by other artisans and craftspeople. Examples include furniture by Voorhees Craftsman, textiles by Archive Edition, lamps by William Morris Studio, and plein air landscapes by Gordon Luce. Stop in at the quaint Victorian building on Main Street in Cambria's West Village, taking your time among all the truly unique pieces.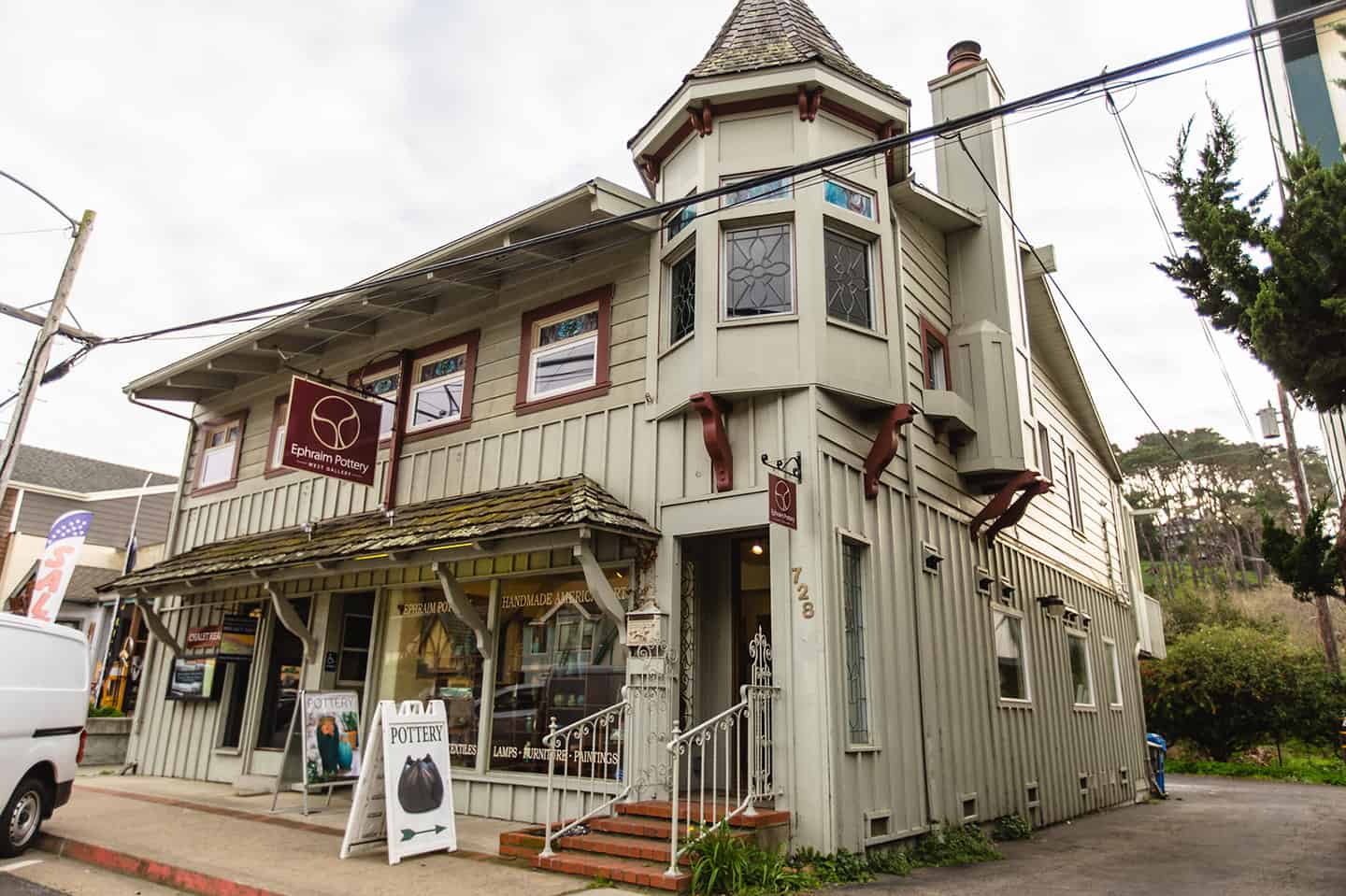 Blackhand Cellars Tasting Room
A sweet little Nantucket-style building houses the Blackhand Cellars Tasting Room, where the Banish family sells their handmade wines. Winemaker Tom Banish was in the fishery business before shifting into the wine industry. He has worked for many of the Central Coast's most prestigious wineries including JUSTIN, Zenaida, and Treana. It's very likely he'll be your guide in the tasting room, sharing stories of his days on the water, and in the cellar. Blackhand Cellars sources its fruit from the Banish's estate vineyard, Torie Ranch in Paso Robles. Located on the west side of San Miguel, this three-acre vineyard is planted to French clones of Syrah. Other varietals on the tasting menu include Grenache, Merlot, Cabernet Franc — even hard apple cider. Come in for a tasting through the offerings and pick up a few bottles. Or go the distance and join the Blackhand Cellars wine club to remind you of your time in Cambria.
East Village Shopping in Cambria
Gallery of Wearable Art
Christopher and Dinah Lee design and create pieces of "wearable art" for men and women at this East Village storefront. The historic Porte House, built in 1897, announces itself with bright colors at the outset, a rainbow painted across its facade. Inside, find artfully printed silk jackets, which are the Lees' specialty. Other garments include kimonos, shawls, ponchos, wraps, jackets, tops, and vests, as well as Christopher Lee's hand-painted denim jackets and vests. All of the Lees pieces are made in The Golden State, with other labels coming from across the country and across the globe. The Gallery of Wearable Art is an official retailer of Marüshka, Desigual, Effie's Heart, FLO London, Meredith Strauss, Soul Flower and Ozone Socks. If you like wearing or perusing one-of-a-kind clothing and works of art, you'll want to stop by the Gallery of Wearable Art. It is a place beloved by locals and visitors alike.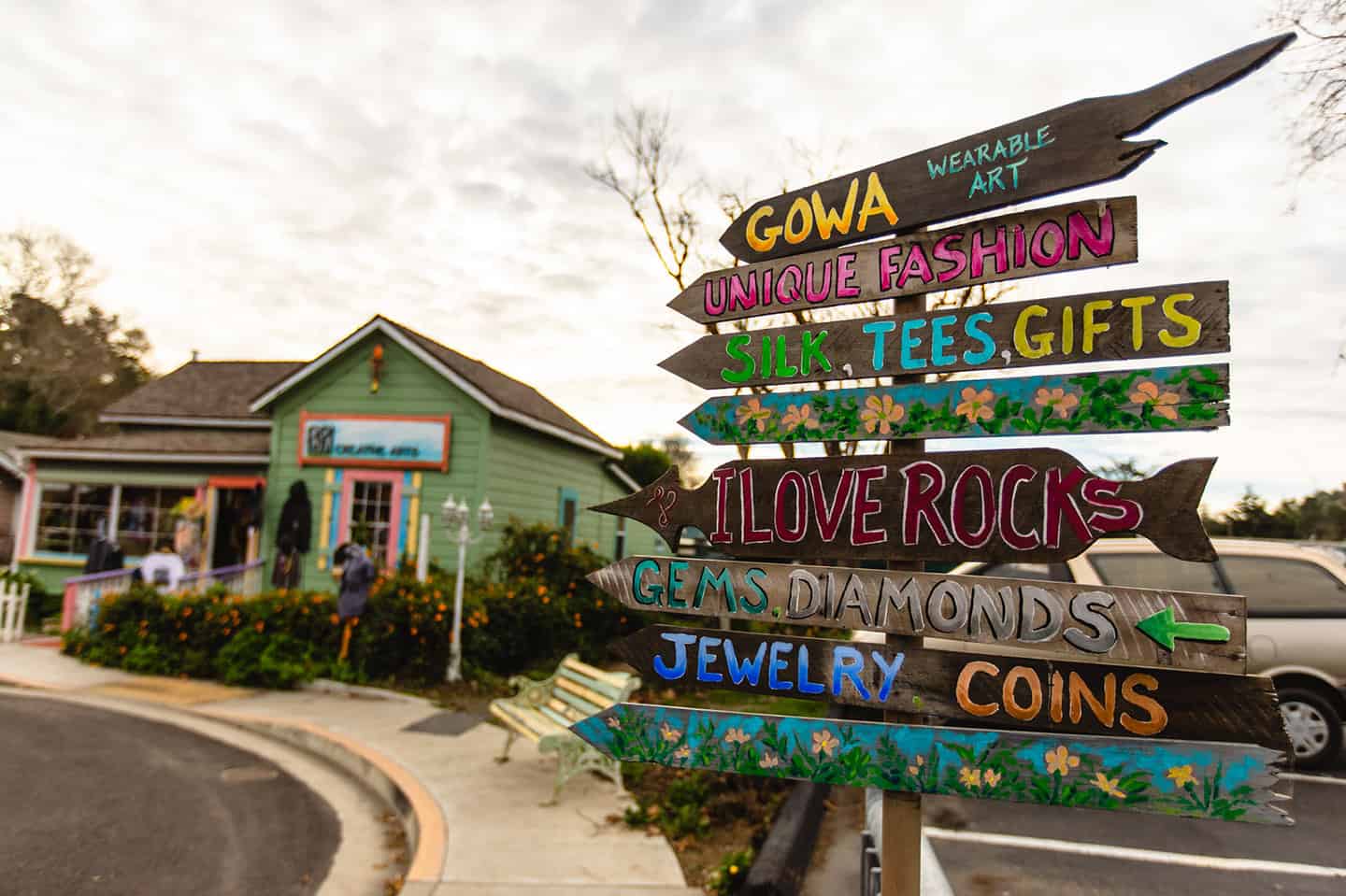 Ocean Heir
Known for its modern lines, estate finds and one-of-a-kind pieces, Ocean Heir is an eclectic, tiny clothing and gift shop located behind the Garden Shed. The setting is unlike any other, with chic clothing among refurbished dairy sheds from the 1900s. The owner, Diane Matzner, has been involved in the fashion and design industry for nearly 30 years. Diane crosses the country looking for statement pieces that help women create and accentuate their personal style. Look for tops, dresses, skirts, pants, shorts, jeans, and accessories like hats and jewelry. Also explore the vintage and consignment area of the shop, where you may find an affordable treasure unavailable elsewhere. Ocean Heir also carries letterpress greeting cards, books, candles and perfumes, perfect for keeping or gifting. Locals are very loyal to this little shop behind The Garden Shed, next to Cayucos Cellars and Lilly's Coffee. Tip: Also check out Ocean Heir's sister business, Ebb & Flow, located right on the beach on Moonstone Drive.
Cinnabar
Looking for gifts and decor that are truly unique? Cinnabar fits the bill. Located in Cambria's East Village on Burton Street, Cinnabar's building was originally a blacksmith shop. Built in the 1800s, it is a remnant of Cambria's cinnabar-mining days. (Cinnabar is the chief ore mineral of mercury.) Today, the rustic storefront beckons local shoppers and visitors alike to mine for a different kind of treasure. Discover eclectic and one-of-a-kind folk art from around the world, including a dizzying display of crosses and milagros. The shop also features hand-made furniture, often from reclaimed wood sources, as well as Cinnabar's own line of custom sofas. Pick up unique and interesting womens' clothing, jewelry and accessories, as well as children's handmade mobiles, books and toys. Nearly every item in the shop is eco-friendly, Fair Trade-certified, and/or recycled, including the selection of pottery in the back garden. And don't leave without a peek at the Dia de los Muertos display of skulls and catrinas.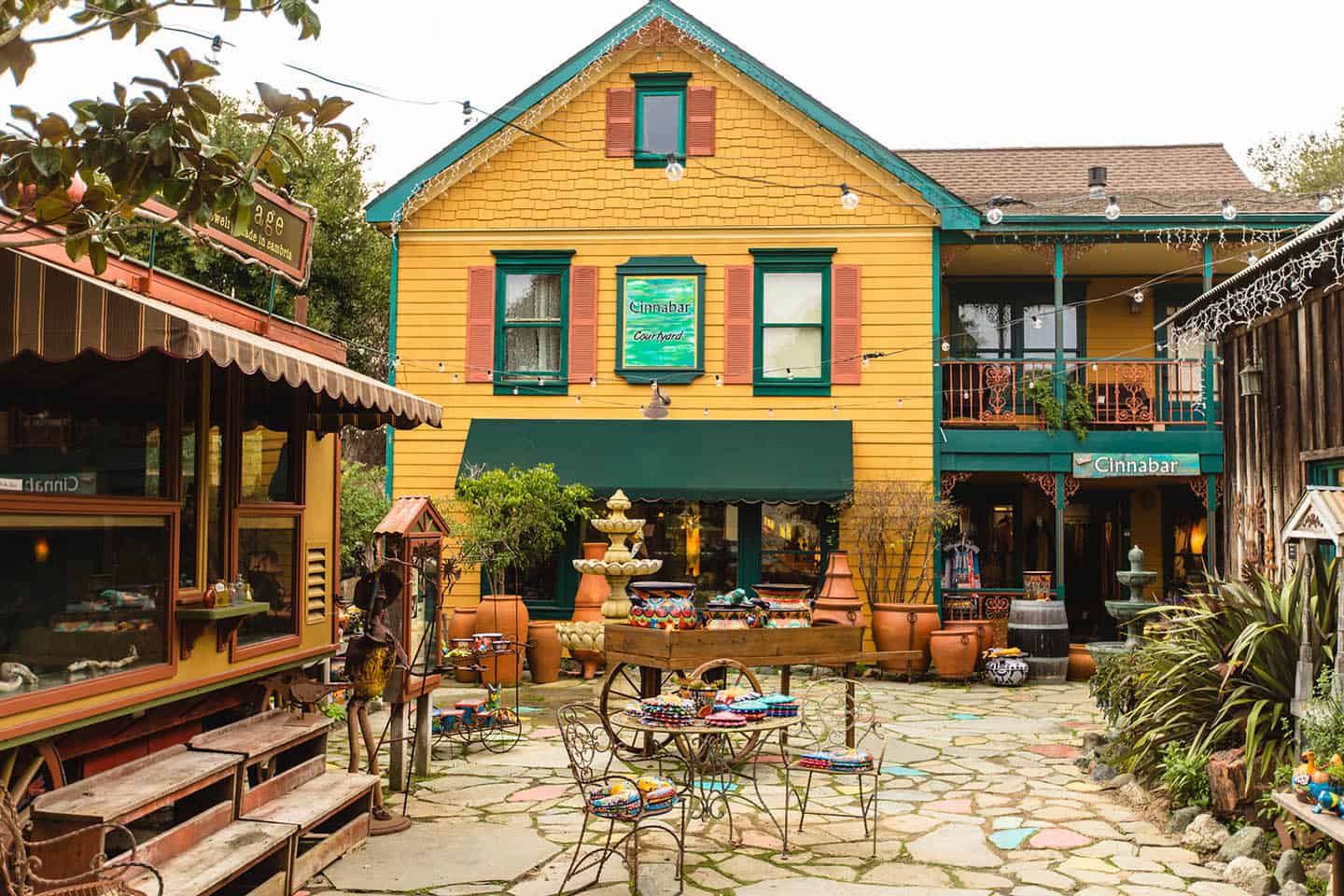 Spellbound Herbs Gift Shop & Garden
Fans of all things fantasy will appreciate the charm of this little East Village shop. Part Harry Potter, part Alice in Wonderland, Spellbound Herbs Gift Shop & Garden delights in whimsy. Located in an 1870s homestead, Spellbound is known for its wide selection of fairy garden accessories like fairy doors, gnomes, trees and more. (In fact, to see one of the most impressive fairy hangouts around, head to the lush garden behind the shop.) Look for a wide variety of incense and sage bundles, plus an apothecary room with specialty potpourri to develop your own signature blend. Test soaps, room sprays, perfumes, lotions, salves, scrubs and bath salts, and maybe bring a few home for a spa self-care day. Peruse the decor, greeting cards, candles, totems, jewelry and more available in this fanciful shop. Children also like this spot for its magic and wonder, from the little fairy library to the Mad Hatter's tea party in the garden.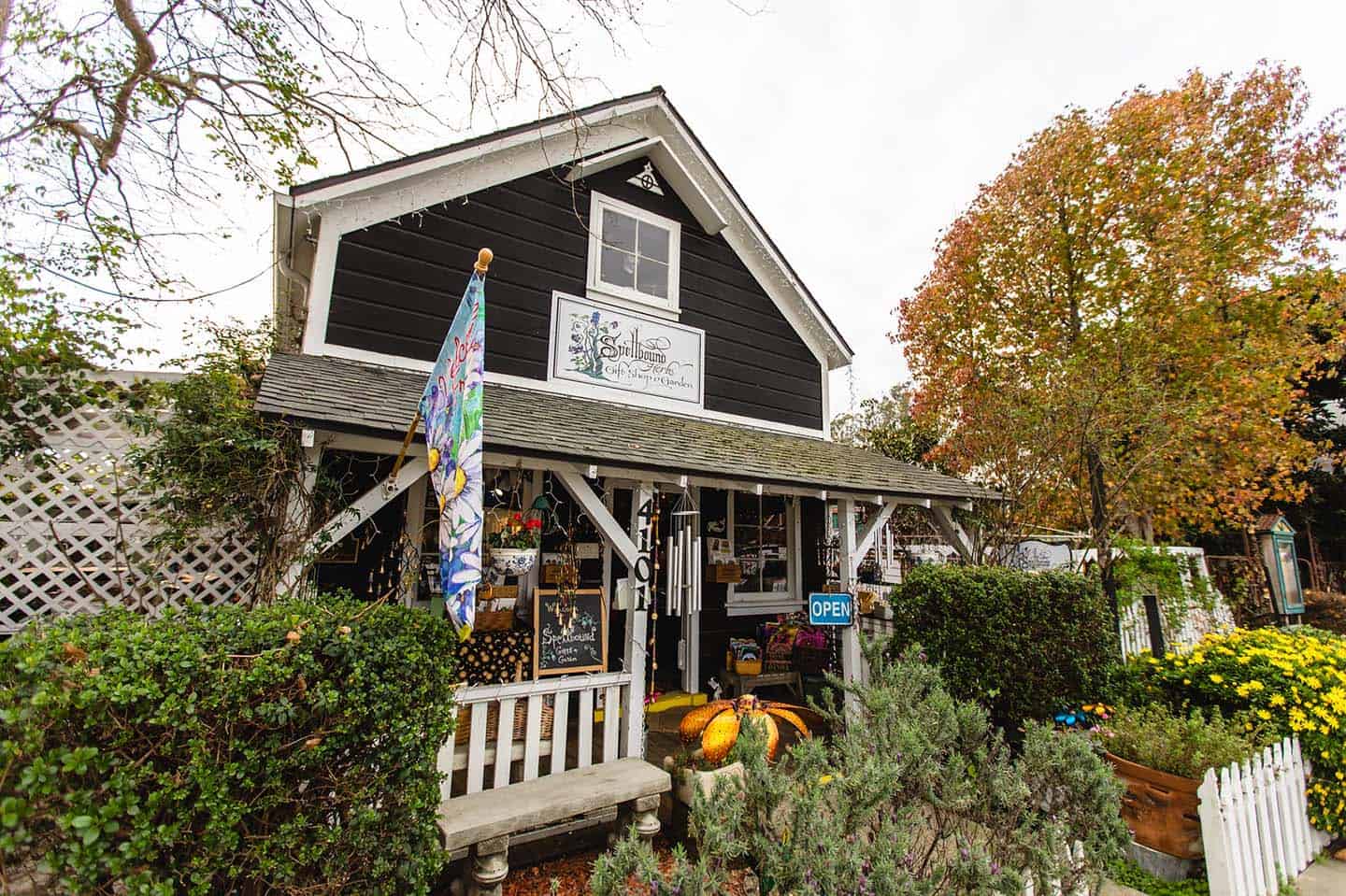 Rich Man Poor Man Antiques
Cambria is known for its antiques and this is certainly one of the best destinations for vintage finds. On its exterior, Rich Man Poor Man Antiques looks small and manageable, but just a peek inside will cure you of that notion. Rich Man Poor Man is cavernous and rambling, with approximately 60 vendors showing their wares here. With so many vendors, the diversity is really staggering: you never know what you may come across here! Find what you're looking for — or, even better, what you didn't know you needed — at Rich Man Poor Man. Give yourself time to roam the aisles looking at pottery, furniture, collectible magazines, signs and paintings, clothing, footwear, jewelry and much more. Whether it's leather clogs from the 1970s, Franciscan Starburst dishes, or a church's stained glass window, you'll probably find it here. Also: don't miss The Man Cave, where neon signs, beer kegs, sports and car memorabilia will keep any man busy reminiscing for a while. Locals tip: Bring Fido in for water and a treat. The owners encourage it!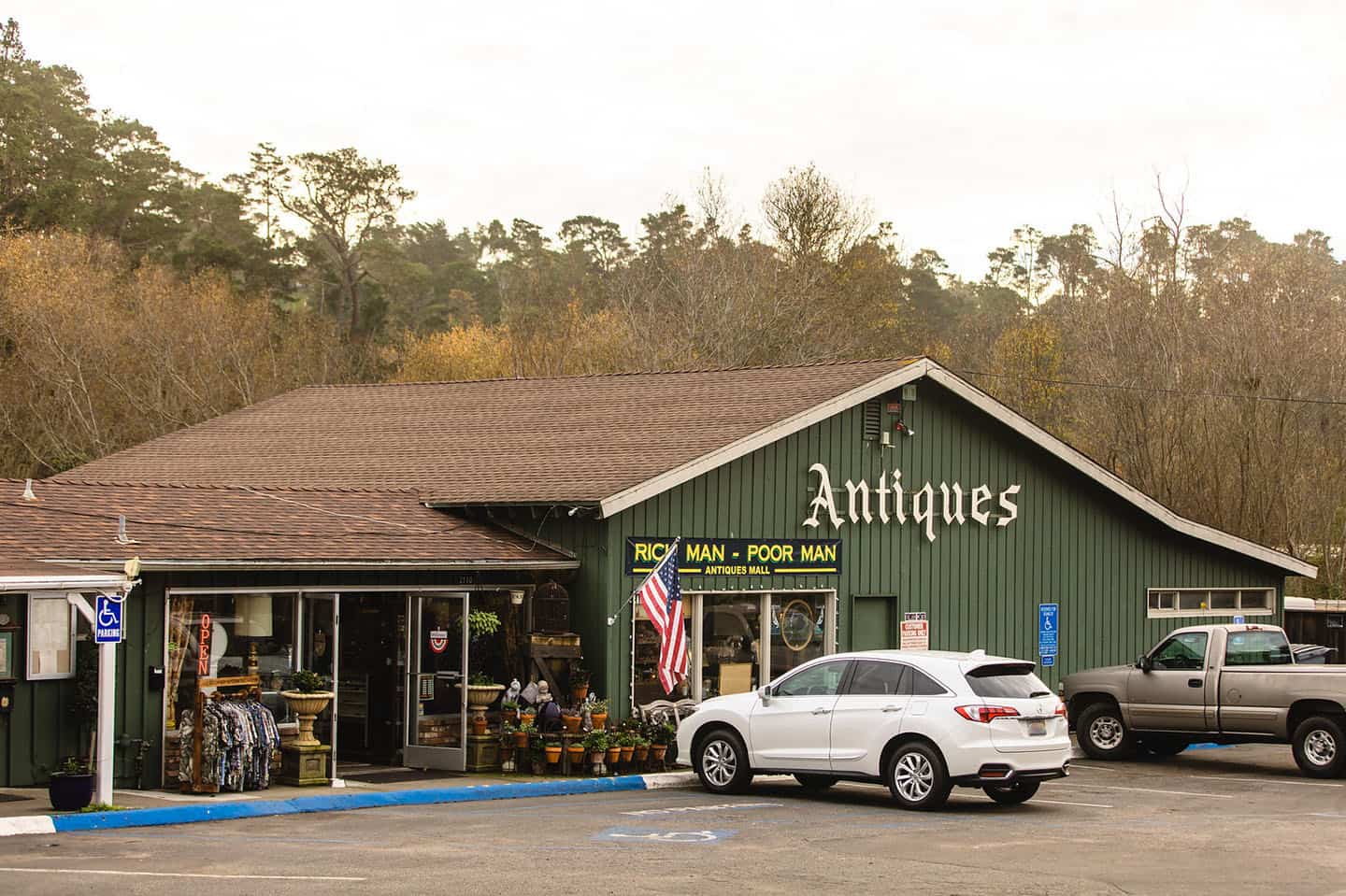 Antiques on Main
The first thing you'll notice at Antiques on Main is that it's a whopping three storeys high, filled with fun collectibles to explore. At over 9,000 square feet of antiques and collectibles from consignments and dealers, it's sure to make for a long, leisurely afternoon. The treasures go on and on: depression glassware, vintage Les Paul guitars, the complete Hardy Boys — you name it, it's likely here. A number of specialty items are tucked here and there in small vignettes through the store. Look for gas and auto memorabilia, stone necklaces and earrings, Beatles collectibles, and books. Also, many locals who collect dishes and dishware say this is a favorite stomping grounds. Stroll down memory lane with dollhouses, old globes, landscape paintings, enamelware pitches, and lace. Pick up holiday finds like snow globes and flags, or clothing, furniture, vinyl records — even an extensive collection of old rolling pins.
Linn's
Tucked into a neat little corner of the historic East Village, a series of shops owned by the Linn family make Cambria extra sweet. Linn's became famous around here for their fresh fruit pies and preserves, scones, cookies, muffins, and just about any deadly-delicious treat you can imagine. The basis of all their baking is fresh fruit, with most of it coming from the Farmstore located up Santa Rosa Creek Road. To experience the flavor of Cambria, head to Linn's Easy as Pie Cafe, Gourmet Goods, and Á La Carte Boutique & Books. Each of these spots is unique, but each shares a common thread of love for family and flavor. At the Easy As Pie Cafe, take home a whole olallieberry pie (their specialty) or hang out with coffee on the family-friendly patio. Gourmet Goods stocks your kitchen with ingredients and gadgetry to help you get creative in the kitchen. This includes Linn's signature gift boxes, full of fruit preserves and frozen ready-to-bake fruit pies. And at Á La Carte Boutique & Books, you'll discover home decor, lifestyle goods, children's toys, gifts and more.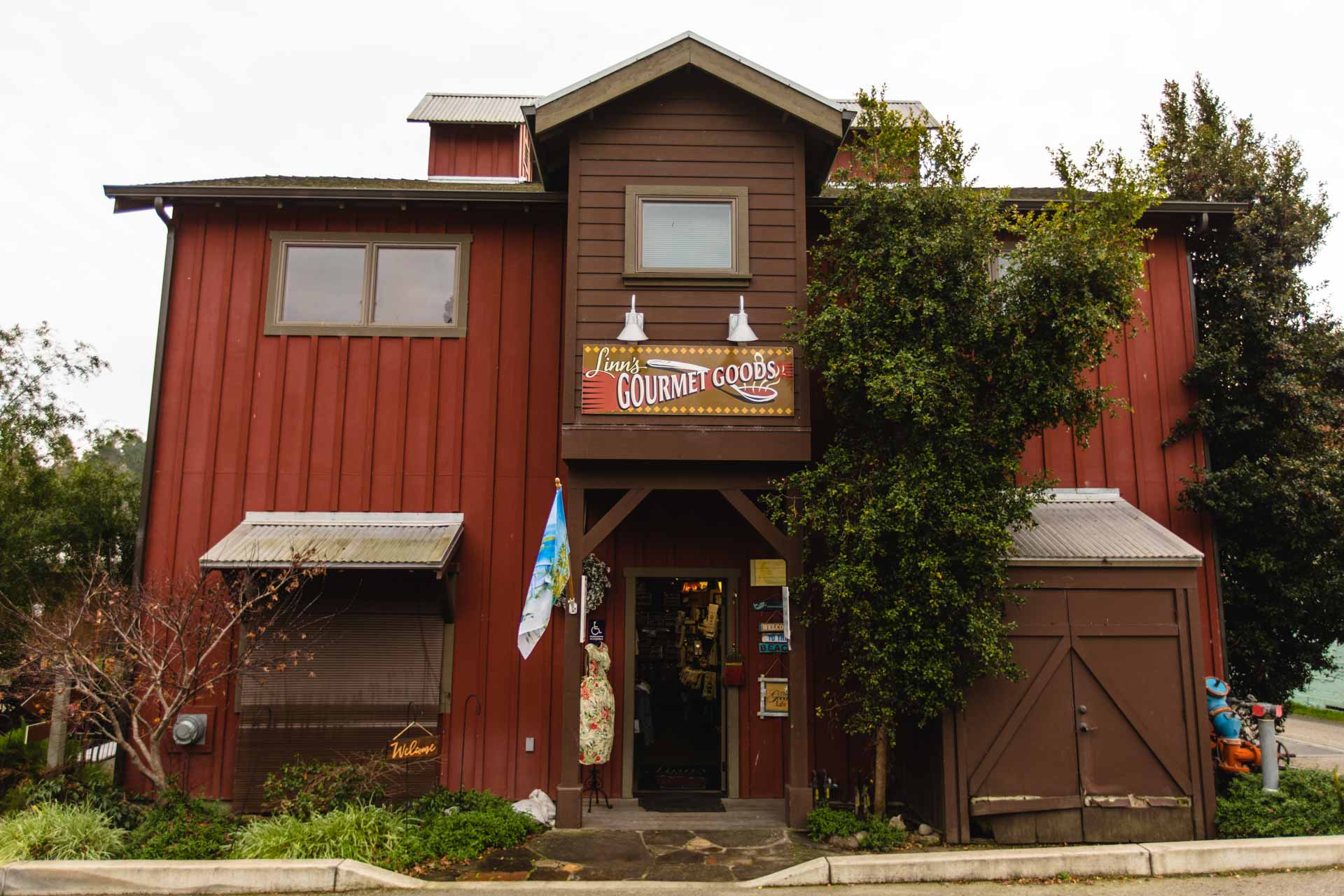 Cambria Historical Museum
When you're ready for a slight change of pace during a day shopping in Cambria, head over to the Cambria Historical Museum. Cambria's history is well-preserved thanks to a devoted band of historians and volunteers who keep it alive. In fact, Cambria's history reflects the history of the American West, with tales of merchants, miners, cowboys, and more. Through the years, the Cambria Historical Society has gathered these stories, along with photos and remnants of the past to share. One such remnant is the Guthrie-Bianchini House, one of the oldest homes in Cambria. The house, which sits at the corner of Burton Drive and Center Street, now serves as the Cambria Historical Museum. Swing by on a leisurely afternoon and wander the grounds, tour the house, and listen to the docents' tales of Cambria days gone by. This is also the first stop on the Cambria Historical Walking Tour, which you may be inspired to embark upon during your visit.
Cambria Nursery & Florist
This hidden treasure is much more than a nursery; it's a destination for gifts, home decor, design inspiration — and zen. For plant-lovers, the benefits are obvious: the nursery stocks a wide selection of seasonal and indoor plants and flowers, as well as pottery and decor for the garden. The staff is also extremely knowledgeable, friendly, and ready to help with any green-thumb questions you may have. The on-site florist shop also offers a selection of flowering plants, cut roses, orchids, and other flowers. The rambling display gardens will inspire you with their diverse aesthetics and greenery, including the cottage, Zen, and shade gardens. For gardening gadgets and houseplants, walk over to The Barn, or explore the seed collection and garden-themed gifts in The Garden Shop. In the Yellow House Gift & Antique Shop, you'll find a little of everything, from shabby chic decor to contemporary stylings to complete holiday displays.
Cambria Farmers Market
This sweet little farmers' market is much-loved by locals for its small-town feel, quality handmade goods and delicious produce. Plan your visit around Friday afternoons, when the market lights up the Veterans' Hall parking lot on Main Street. This is a year-round market, with plenty of products grown and/or made within mere minutes of downtown Cambria. Pick up olive oil from Legacy Olive Company, preserves from Dragon Springs Farm, and honey from Matthew's Honey. Located high in the Santa Lucia Mountains, Stepladder Creamery is best known for its cheeses, as well as goats' milk soap. Pick both up here at the Cambria Farmers' Market, as well as wine from small wineries like Bassetti Family Vineyards. Hand-harvested teas, roasted coffee beans, vegan elixirs, rustic sourdough bread and more can be found at this delightful little market by the sea. Pick up ingredients for a picnic, gifts to bring home, or gifts just for yourself.