A cycling hub and best-kept secret among locals, Cambria lies on a scenic stretch of Highway 1 between the mountains and the ocean. A variety of cycling routes start here, from lengthy road bike excursions and heart-pumping mountain biking trails to casual jaunts around town. The terrain varies here, too, from coastal views over miles of mellow roadway to mountain vistas on climbs traveling into wine country. Breeze through flats that parallel the coastline or wind up challenging roads in the Santa Lucia Mountains that reward cyclists with 360-degree views. Road routes can be broken up to accommodate stops at historical landmarks, white sand beaches, wildlife refuges, farm-to-fork restaurants, award-winning wineries and more. Or, if you're training for an upcoming event, test your abilities on one of the itineraries designed for local races. (Then order a bottle of local wine and fresh-caught seafood to recover afterward!) Mountain bikers will enjoy easy access to nearby trails, from fire roads to shore-hugging single tracks. For cyclists visiting Cambria, there really is something for everyone.
To make the most of Cambria cycling, check out the Cycle Central Coast guide. This expertly-designed website suggests several routes along Highway 1, from casual to pro-level challenging. For each route, CCC shares elevation, mileage, maps and terrain, as well as food, drink and other points of interest along the way. Many of these routes are detailed below. Another way to maximize your ride, Stewardship Travel for Good activities bring you closer to the heart of Highway 1. Help with a trail-building day at Fiscalini Ranch Preserve, then ride down those very trails with renewed appreciation. Head to Moonstone Beach for an hour of beach clean-up, then launch out on any number of cycling routes along Highway 1. For more ways to bring your Highway 1 cycling trip full-circle, check out more Stewardship Activities for Good.
Before you set out on the ride of a lifetime here, make sure to load your bike with patch kits, mini tools, and a water bottle. If you plan to go wine tasting, mount panniers or a basket to your bike, or wear a backpack for bringing wine back. Also carry ID, a cell phone, and energy snacks if you plan to ride for longer than a couple hours. And never pedal without your helmet — or your sense of adventure!
Explore Cycling Along Highway 1
Road Biking in Cambria – Cycle Central Coast Routes
Beach to Beach
At 35 miles out and back, this route travels from Cambria to Cayucos, two sweet beach towns along Highway 1. This is a great route for gourmets, with plenty of fresh, local cuisine and drinks to be had along the way. And don't forget the views: golden mountains rippling down to rugged cliffs, white sand beaches and an endless ocean horizon.
This itinerary would be perfect for any cyclist just starting to pedal longer distances, or for a seasoned cyclist who wants an easy ride. The entire route follows Highway 1, which is all asphalt, and climbs are minimal. Cyclists are greeted with ocean views on both legs of the trip, making for pleasant pedaling.
Start at Moonstone Beach in Cambria, then head south on Highway 1 for nearly 15 miles. Along the way, pull over at Estero Bluffs State Park for a small hike, and access to a small, secluded beach. You'll also find picture-perfect views of Morro Rock and the Estero Bay coastline here. Follow this with a ride through downtown Cayucos, stopping at the historic Cass House for a farm-to-table lunch. Or check out the quirky Hidden Kitchen, where blue corn waffles go sweet and savory with unconventional recipes. Or check out Duckies by the Cayucos Pier, where clam chowder and fish and chips rule the roost. And don't forget dessert: grab a sample cookie from the Brown Butter Cookie Company, and purchase a few gift packs for the ride home. Travel south on Highway 1 just a bit further to explore Cayucos State Beach, Carlson Rock, and Sand Dollar Beach. Then head back the way you came for another 15 miles to return to Moonstone Beach.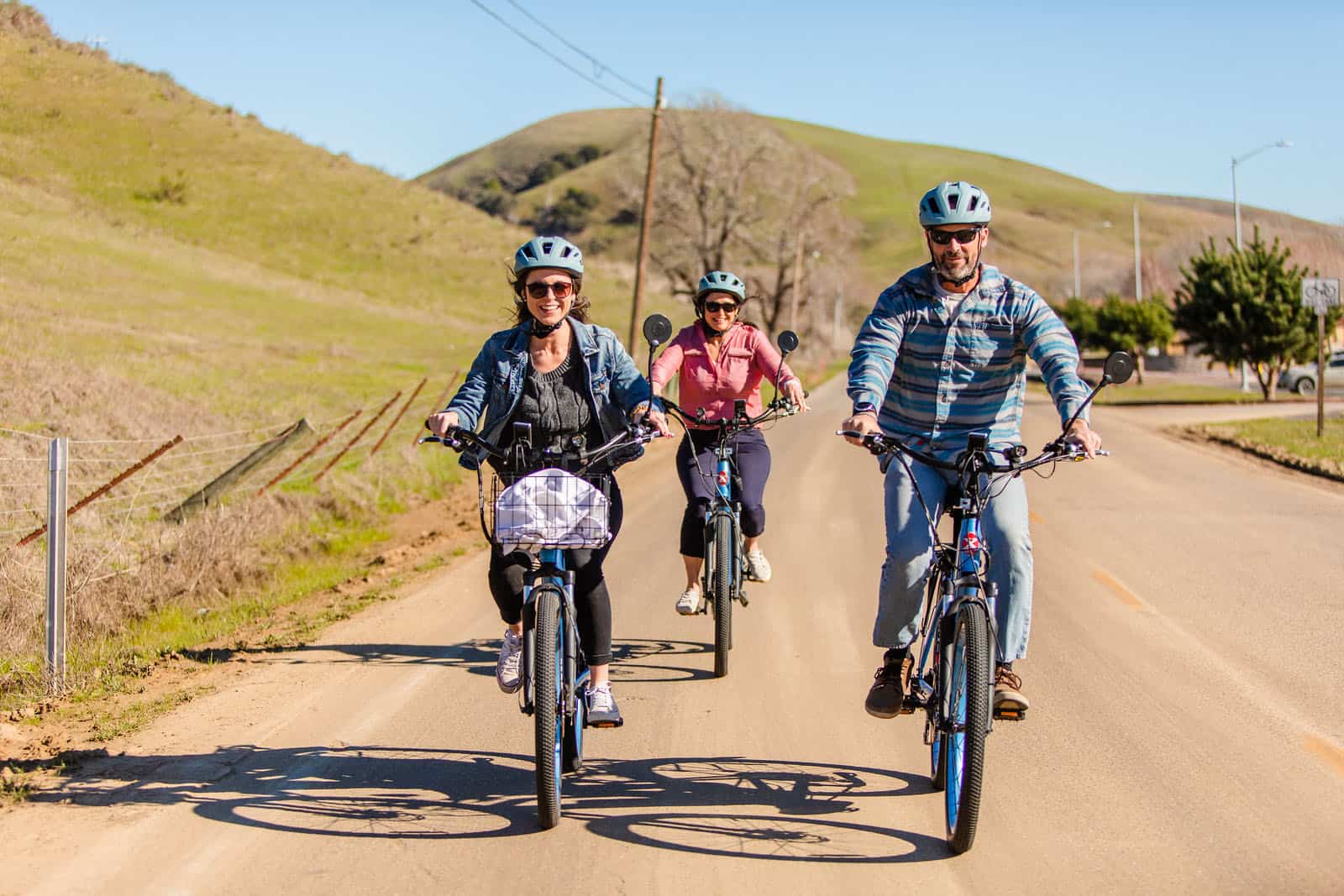 Santa Rosa Creek Route
This 22-mile out-and-back route travels lush and rustic back country roads east of Cambria. A mellow hillside ride, this itinerary gains only minimal elevation. Wind past farms and vineyards, perfect for a picnic pause or wine tasting en route. The seaside town of Cambria feels far from this charming inland ride, but it's really just minutes away.
Begin at Moonstone Beach Park, then travel southeast to reach Highway 1. Turn south on the Santa Rosa Creek Trail and stay on the trail as it crosses Highway 1. Turn right on Main Street for 1.3 miles, then left onto Santa Rosa Creek Road for 14 miles into the country. Pass Stolo Vineyards, a family-owned estate winery that offers wine tasting, vineyard tours and picnic facilities. You'll also see Dragon Spring Farm, which offers summer fruit-picking and canning classes, and a pumpkin patch in the fall. And check out Linn's Fruit Bin (temporarily closed) for their famous fruit pies and Cambria olallieberry desserts. At Jackson Gate, turn back to return the way you came. (If you continue past Jackson Gate, very little flat road lies ahead. Locals call this "The Wall," and it does eventually connect to Highway 46, but not without plenty of steep climbs. See the Green Valley Loop route below for details on an extended ride here.)
Cayucos Loop
Want to indulge your senses on a freewheeling ride through wine country? Take this itinerary, a 47-mile loop with a total elevation gain of 3,647 feet that features wineries and artists' studios along the way. But be warned: this is no walk in the park. At mile 12, be prepared for "The Wall," a 1,871 feet climb that doesn't fully let up until mile 20.
The route begins in Cambria at Moonstone Beach. Travel south through town to Santa Rosa Creek Road and head east. These country roads boast farmstands like Linn's Fruit Binn, as well as Stolo Family Vineyards, an estate winery tucked back in the countryside. After your arduous climb over The Wall, arrive at the studio of silversmith Randy Stromsoe to watch the artist at work. From here, begin your descent crossing Highway 46 and down Old Creek Road/Cayucos Road. This is easily one of the most beautiful views on the Central Coast — if not in all of California — complete with rippling mountains and the sparkling sea beneath. At Highway 1, turn north into Cayucos and enjoy lunch at the Cass House Grill, the Victorian-era home of Cayucos settler Captain Cass. Follow that with wine tasting at Cayucos Cellars, right on Ocean Avenue downtown.Then continue north into Harmony, a town of only 18 residents that boasts Harmony Winery and Harmony Glass Works, which both welcome visitors. Finish back in Cambria at Patrick Gallery, the working studio of painter Patrick Dennis.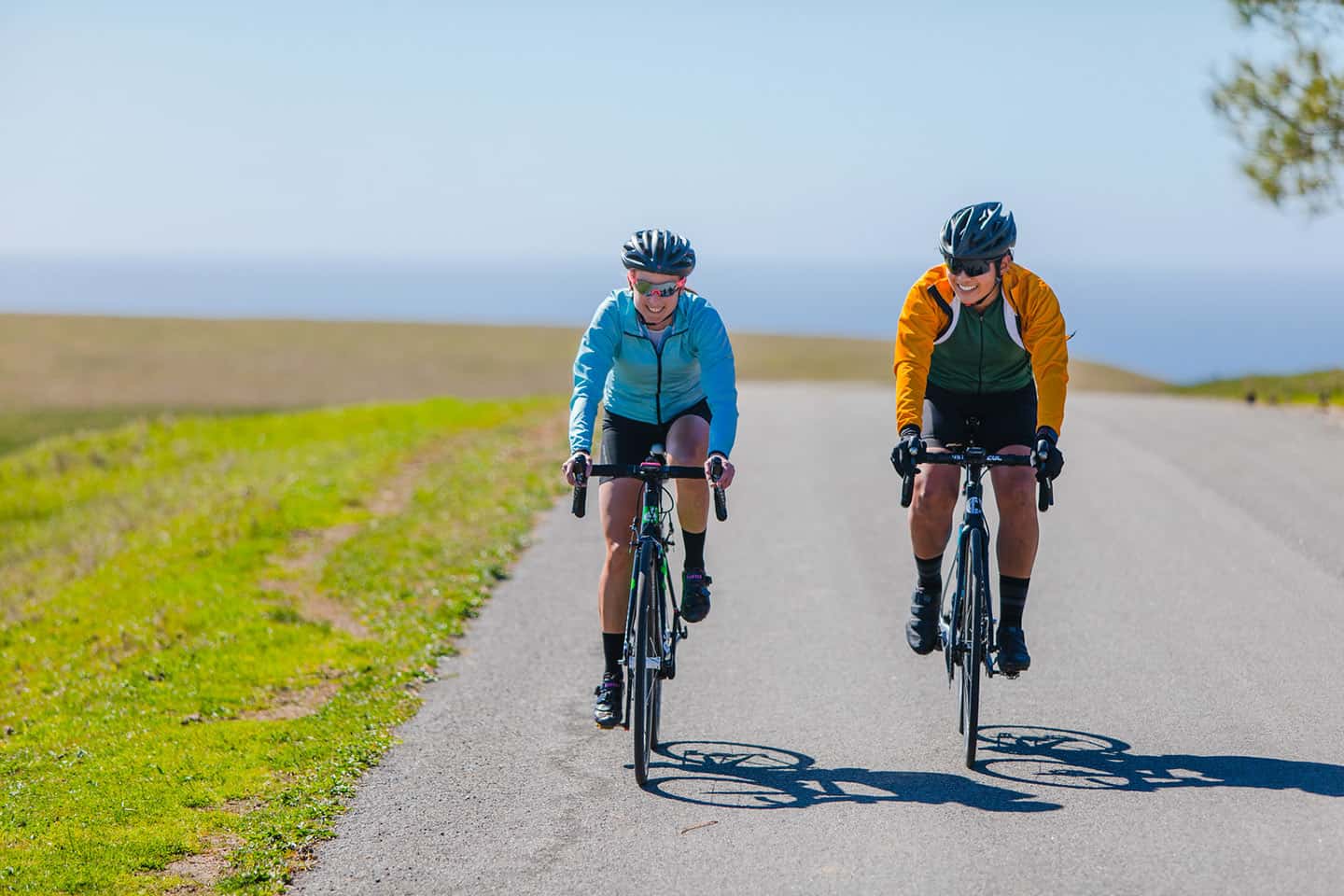 Avila Beach Route
Ready to tackle a century ride? This 100-mile, full-day ride gains a total of 4,709 feet that requires endurance, but will keep your interest with plenty of stops. Along the way, discover a historic lighthouse and pier, hot springs, a candy shop, and a boutique aquarium. To get to them, though, you'll need to summit the suddenly-steep pass through Prefumo Canyon, a gain of 1,300+ feet that peaks at mile 42.
Start in Cambria at Moonstone Beach. Travel south on Highway 1 for 62 miles, a section of mellow roadway that hugs the coast. Then turn into Morro Bay for a quick jaunt along the coast, following Quintana Road past Lila Keiser Park. Head back through downtown Morro Bay, making a quick pass through Morro Bay State Park and then on to Los Osos. At Turri Road, turn south and follow this very quiet road through wetlands and ranches to Los Osos Valley Road. Turn left and continue another 5 miles to Prefumo Canyon Road. Here, the climb begins! Travel up a winding country road covered with oak trees and Spanish moss. At the summit, be sure to stop and breathe in the mountain view. (On a clear day, you can see all the way north, back toward Cambria, your departure point.) 
Descending the summit, be aware that a section of the road is unpaved, but does not require special tires or other special equipment. Follow the road, now called See Canyon Road, through its famous apple orchards and fruit stands. At its end, turn right on San Luis Bay Drive and pick up the Bob Jones Trail west, toward the beach. Pass the estuary and the Avila Beach Golf Resort, then cross Avila Beach Drive into downtown Avila Beach. Here, find restaurant options like the seafood-centric Ocean Grill, with a patio overlooking the ocean. You'll also find Reimer's Candies Gifts & Ice Cream here for a sweet treat after lunch. Take in other attractions, including the historic Avila Beach Pier or the Central Coast Aquarium, both in the walkable downtown. Or ride west to the end of Avila Beach Drive to see the Point San Luis Lighthouse (by appointment) or walk the historic Harford Pier. 
From here, travel back inland along Avila Beach Drive, but this time, take it all the way past Sycamore Mineral Springs. Here, you can indulge in spa services like a massage or facial, or reserve a private, naturally-heated soaking tub outdoors, among the sycamores. Or follow Avila Beach Drive a little further to Avila Hot Springs to play in the pool or natural hot springs. After, mount your bike again and take Ontario Road north, as you parallel Highway 101. Follow this frontage road north toward San Luis Obispo, riding under Highway 101, where the road becomes Higuera Street. Take this to Los Osos Valley Road, turn left, and return the way you came.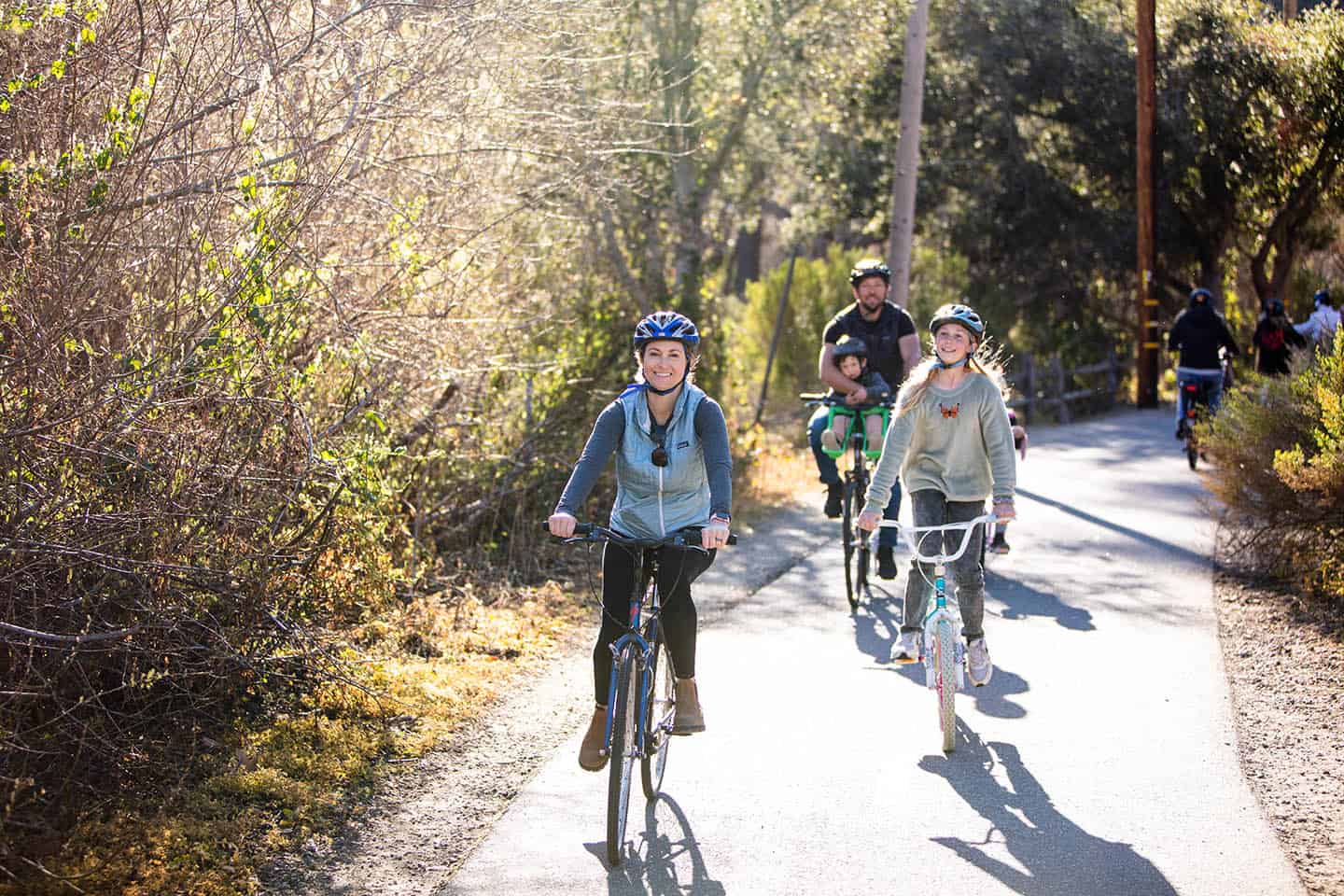 Gorda Route
This 70-mile route gains 5,041 total feet in elevation and rewards those who love to explore a little off the beaten path. Views unfold around every corner, but it's the parks and trail spurs along the way that make this itinerary special. Choose to take just one or two of these extra-curricular stops or do them all. However you decide to do this out-and-back route, be sure to bring sturdy shoes just in case you can't resist an enticing hike. Other points of interest include views of historic landmarks, wildlife viewing, and quaint ocean-view eateries.
Start in Cambria at Moonstone Beach and head north on Moonstone Beach Drive. At the end of the road, find Leffingwell Landing, which is part of Hearst San Simeon State Park. You'll find public restrooms, picnic facilities, tidepools, and short hiking trails around the park. From here, travel north on Highway 1 past San Simeon to Ragged Point. At mile 26, pull over for a walk along the Salmon Creek Trail, whose waterfall is just a short walk from the trailhead. Just around the corner from the Salmon Creek trailhead, find the Buckeye Trail. Keeping left on this trail, it's possible to take a short walk past small oak groves and waterfalls. This trail, if taken all the way north, connects to the Soda Springs Trail as well, whose trailhead lies just up Highway 1 about 2 miles. Another lush hike along the Cruickshank Trail, a few more miles north, takes visitors through the forest, beside waterfalls and small pools.
At the 34 mile mark, stop for lunch or breakfast on the patio at the Whale Watcher's Cafe in Gorda before heading back south. Returning through Big Sur, reach Ragged Point and stop for an ice cream, coffee, or farm-fresh meal at the Ragged Point Inn. This point has been called "the million-dollar view" for good reason: it takes in a sweeping vista of the Pacific Ocean and coastline. Get back in the saddle and continue south to the San Carpoforo Creek Trail, at mile 47. Park your bike and walk west to find a short trail to a sandy, secluded beach. If you have time, walk all the way south on the beach and walk around the rock there for the hidden Ragged Point Beach.
Other stops between here and the end of the trail include the Piedras Blancas Lighthouse and Piedras Blancas Elephant Seal Rookery. Hearst Castle also stands watch over San Simeon to the east, totally visible on a clear day. Enjoy these sights before pedaling the remaining 10 miles back to Moonstone Beach in Cambria.
Green Valley Loop
There's no question this route takes endurance (a total gain of 3,680 feet in just 37 miles!), but the payoff is huge. The Green Valley Loop pushes the Santa Rosa Creek Route further and links back around Highway 46 and Highway 1 into Cambria. The itinerary travels over "The Wall," an area of steep incline past Jackson Gate on inner Santa Rosa Creek Road. Think of this 1900-foot climb as your ticket to unparalleled views of a magical natural playground. En route, grab coffee and pastries, taste wine, indulge your historical curiosity, and let your jaw drop at those panoramic Pacific vistas.
Begin at Moonstone Beach, a remarkable hideaway with wild waves, sea glass and gnarled driftwood. From here, head south on Main Street to the Cambria Coffee Roasting Company. Here you'll find craft coffee and espresso drinks, tea, and pastries baked in house. After fueling up, ride a little further to the Veteran's Memorial Building, where the original Piedras Blancas Light Station lens is on display. Made in France by Henri Lapaute in 1872, this Fresnel lens speaks to a bygone era of local maritime life.
Continue your ride through town, turning east on Santa Rosa Creek Road. This part of the route takes cyclists through quiet country backroads, rolling through farms, vineyards and orchards. At mile 4, stop at the Stolo Family Vineyards farmhouse to taste their coastal Chardonnay, Sauvignon Blanc, Gewurztraminer, Pinot Noir and Syrah wines. Then push on to the most challenging leg of the ride; from here, you won't see a downhill until mile 15. At mile 19, the route turns sharply west on Highway 46 and begins another incline that peaks at mile 21. Coast downhill to catch your breath, but definitely stop at mile 24 for a magical view of the valley and sea below. Then proceed downhill to meet up with Highway 1 at mile 30 for a 6-mile jaunt north, back to Moonstone Beach.
Highway 46 Route
This route mirrors the Green Valley Loop exactly (see above) until mile 19, when it doubles back on itself. At 38 miles, with a total elevation gain of 3,117, this out-and-back itinerary is not for the faint of heart. Reward your strength along the way with a few delicious stops. Start with coffee, tea and pastries on Main Street at Seed & Soul, a sweet little cafe converted from an old farmhouse. Sit on the porch for a spell, then venture out on Santa Rosa Creek Road, into country backroads that time forgot. Stop in for wine tasting at Stolo Family Vineyards, whose farmhouse and barn date back to the 1800s. Then ride a bit further for fruit and pie at Linn's Fruit Binn, a charming fruitstand and bakery tucked back in the hills. Then saddle up for the most challenging leg of the ride, climbing what locals call "The Wall" for 8 miles. From the peak, descend to mile 19, where Santa Rosa Creek Road meets Highway 46. Enjoy the views here, then return the way you came, along Santa Rosa Creek Road. The backside of The Wall ascends a quick 300 feet in half a mile, but the rest of the route is downhill. At mile 35, back in town, grab creative soups, salads and sandwiches at Indigo Moon. After lunch, cruise down Main Street for beer, cider or wine at 927 Brewing, and kick back a bit before finishing the route.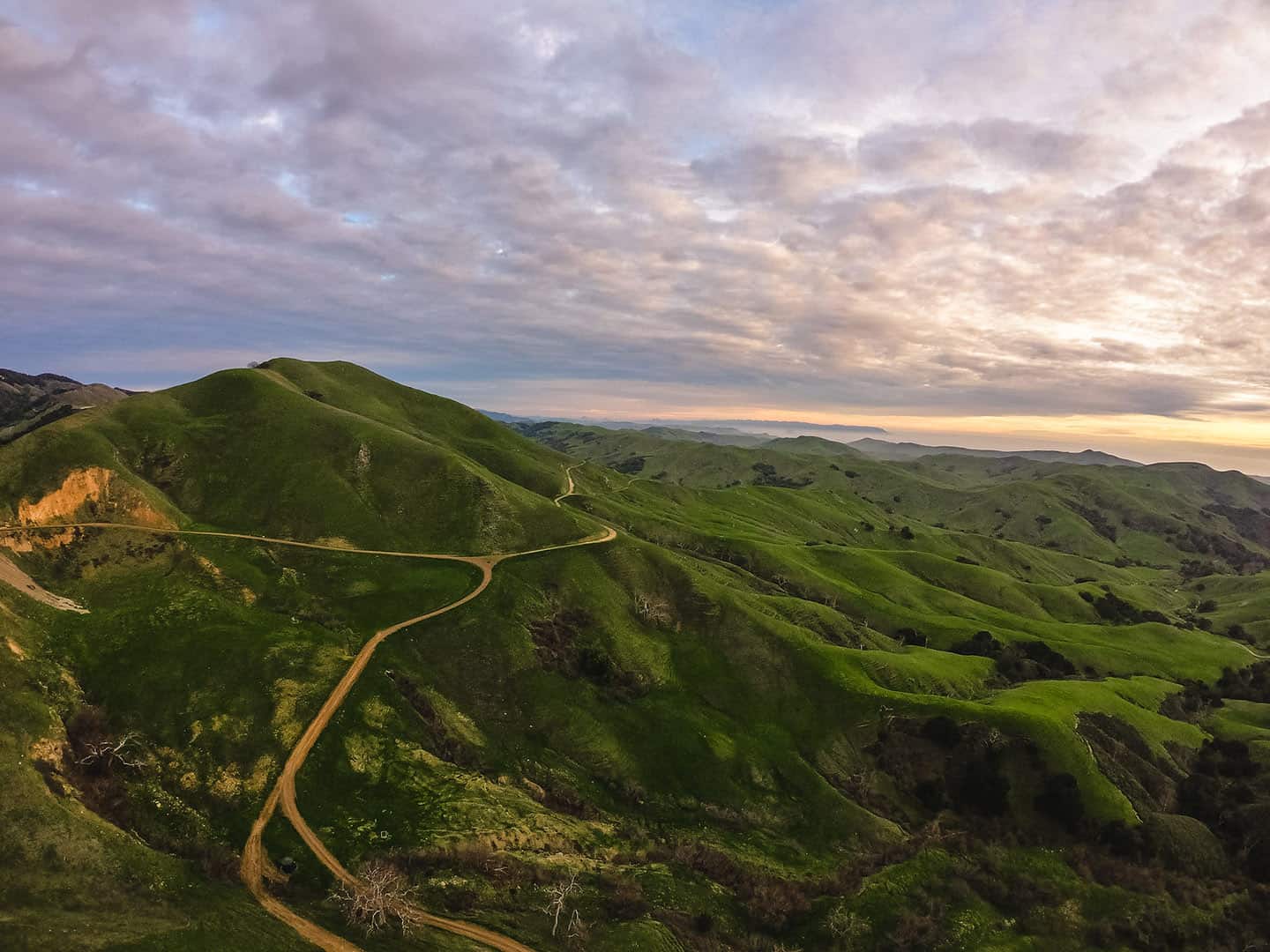 Montana de Oro Route
At 72 miles out and back, with a total gain of 3,568 feet, this route highlights the natural wonders of our special stretch of Highway 1. The lineup includes passes through Cambria, Cayucos, Morro Bay and Los Osos-Baywood Park. It also winds through several protected open spaces that beg for a hike to the soundtrack of crashing waves.
Start your ride at Moonstone Beach and proceed south along scenic Highway 1. Just 1.7 miles in, stop off at the Fiscalini Ranch Preserve. Enjoy the songs of birds protected in this important habitat as you walk the extensive trail network. In particular, the Bluff Trail hugs one mile of prime California coastline, looking out on the Monterey Bay National Marine Sanctuary.
Continuing south on Highway 1, at mile 10, take the opportunity to dismount for another hike through Harmony Headlands State Park. This 784-acre former dairy ranch invites visitors to hike 4.5 miles through coastal grasses and prairie to the rugged shoreline. Next, ride further south on Highway 1 to pass by the laid-back beach town of Cayucos. When you enter Morro Bay, at mile 21 turn west on Atascadero Road and then a quick left to follow Quintana Road south. At mile 22, turn west on Piney Way and follow this until it merges with Main Street at mile 24. Follow this as it skirts Morro Bay State Park, taking a moment to enjoy the scenery overlooking the Morro Bay State Marine Reserve. This road meets with South Bay Boulevard; turn right (south) here and follow for about 4 miles to meet with Los Osos Valley Road. Turn west on Los Osos Valley Road and ride this all the way into Montana de Oro State Park. Here, take a break and have a picnic on the picture-perfect beach at Spooner's Cove. Other activities available in this 8,000-acre natural playground include hiking, beachcombing, and learning about its history at the Spooner Ranch House.
On the way back to Cambria, at mile 50, stop at House of Juju by the Bay in Morro Bay. Here you'll find gourmet burgers, salads, and lovely views of the working harbor. Then cruise back to Cambria the way you came, another 22 miles.
Highway 1 Adventure Route
We don't call this an "adventure route" for nothing: be ready to travel 133 miles and up a whopping 11,637 total feet in elevation. In return, enjoy a remarkable diversity of landscapes, from ocean views to lake views, mountain views to deep backcountry views. Along the way, enjoy tastemaking California cuisine, an iconic waterfall, a historic general store, and wineries in Paso Robles Wine Country. Keep in mind that this route starts in Cambria and ends in Big Sur, so this could be an excellent multi-day trip. If you choose to stay overnight in Big Sur, ride the 75 miles south along Highway 1 to Cambria to close the loop.
Launch out from Cambria's Moonstone Beach, traveling south on Highway 1 for 5 miles to the intersection of Highway 46. Ride east on Highway 46, scaling an 1,800-foot mountain at mile 13. Wind through this country highway, stopping at mile 22.5 for wine tasting at AronHill Vineyards. This estate winery produces Primitivo and Cabernet Sauvignon wines from dry-farmed vineyards – a detail that definitely sets them apart in these hot conditions. From here, turn north on Vineyard Drive at mile 22. At mile 31, turn left on Adelaida Road. Just a little beyond that, stop at Tablas Creek Vineyards to taste some of the most groundbreaking of Paso Robles' wines. Tablas Creek represents a partnership between two families – French and American – who have made wine together since 1989 using sustainable and biodynamic methods. Taste a wide array of red, white and rosé Rhone-varietal wines on their picturesque property. Continuing on Adelaida Road, turn right onto Chimney Rock Road at mile 34 to reach nearby Kukkula Winery, for their dry-farmed Rhone-varietal wines. This winery, designed by Studio B architects out of Aspen, Colorado, has won awards for its modern yet naturally-influenced architecture.
Pedal on Chimney Rock Road for another 5 miles until you reach the intersection with Godfrey Road. Turn left (west) here and follow Godfrey Road (which will become Nacimiento Lake Drive) for 4 miles. At mile 46, hit the Oakville Market, where you'll find a bake shop, groceries, and deli to supply a picnic lunch. Once you've fueled up, get back in the saddle to enjoy a quick ride past Nacimiento Lake. At mile 50, turn left (west) onto Interlake Drive and follow this for 20 miles. At the corner of Interlake and Jolon Road, visit the historic Lockwood Store. This is a great spot to grab any food or water you'll need for the next 50 miles of remote cycling. (You can also use the restroom here.)
From Lockwood, turn west on Jolon Road for almost 6 miles, then turn west again on Mission Road. This will take you directly through Fort Hunter-Liggett, which is open to through traffic as training and operations permit. At mile 80, turn south on Nacimiento-Ferguson Road, which winds for 23 miles through the Los Padres National Forest before reaching Highway 1. A challenging climb begins at about mile 93 and continues steeply for 3.5 miles before a significant 2,000-foot descent. Be sure to stop and snap several photos of the many wondrous top-of-the-world ocean views.
At Highway 1, turn north and ride up the twists and turns of Highway 1 to mile 111. Here, pull over for another photo opportunity at the Big Creek Cove Vista Point, with a view of the towering Big Creek Bridge. At mile 120, stop at McWay Falls, one of the prettiest and most iconic images in the world. (And if you're feeling up for a quick hike, change out your cycling shoes for boots to walk the McWay Waterfall Trail. This is also a great spot to use the restroom.) Eight miles later, pull into the classic Big Sur eatery, Nepenthe, which continues to live up to its bohemian legacy. Since 1949, Nepenthe has served the artists, writers, musicians, and free-thinkers that call Big Sur home. Relax on the terrace overlooking the ocean and dine on casual fare, beautifully composed salads and desserts, alongside beer and wine. For the remaining 5 miles, Highway 1 scoops inland a bi before reaching the town of Big Sur proper, at mile 133.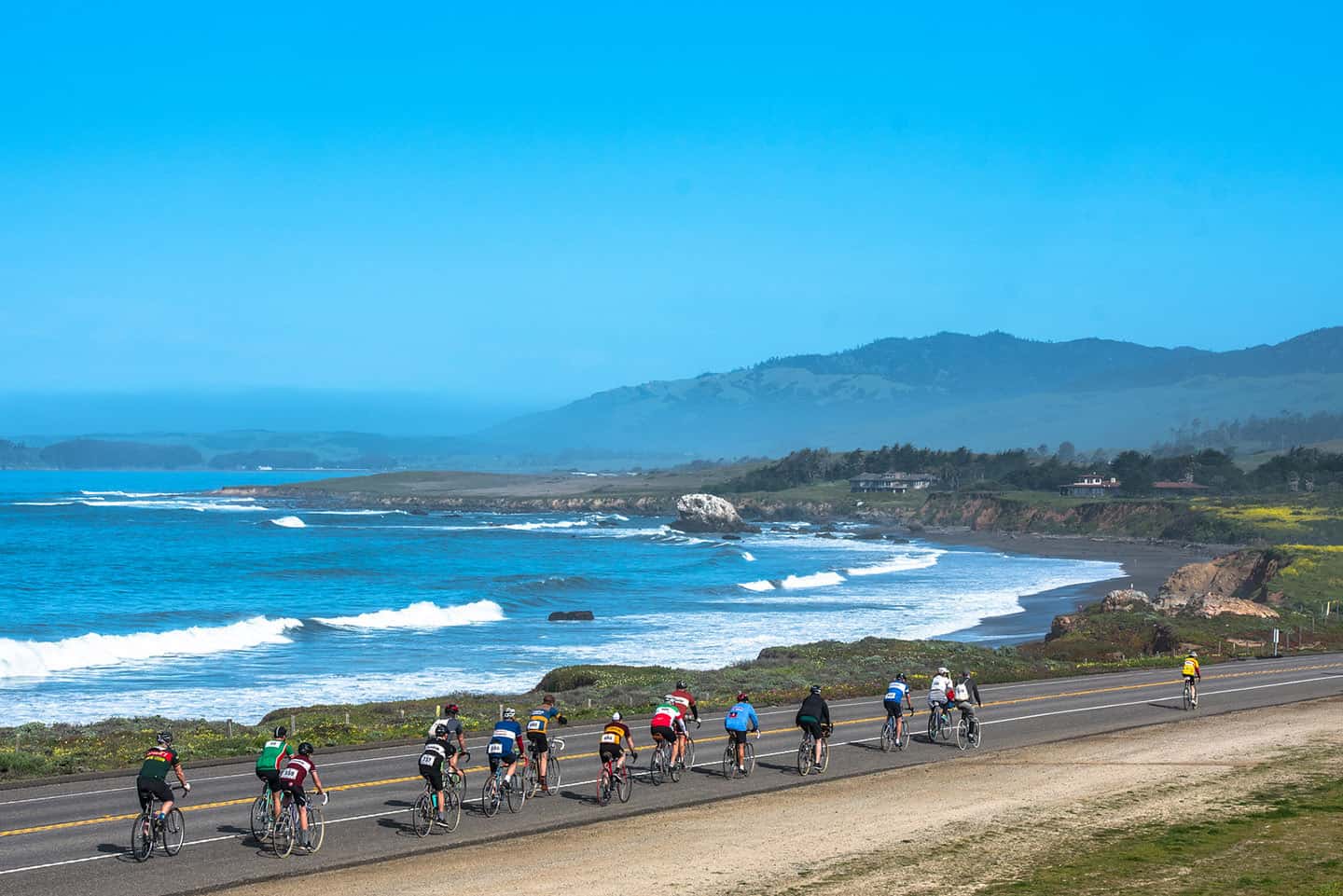 A sister event to the original Eroica cycling event in Tuscany, Eroica California brings two days of vintage cycling to the Cambria coast. Each September, cyclists from around the world descend on Highway 1 to ride vintage bicycles over a mix of paved and unpaved roads. The idea is to recreate vintage rides, to "rediscover the beauty of fatigue and the thrill of conquest" using bikes constructed before 1987. Many participants dress in period clothing and bring minimal gear in the spirit of vintage cycling culture. This worldwide phenomenon has put Cambria on the map for many visiting cyclists. Eroica also offers an "Eroica Nova," which is a timed, segmented race in the Eroica style, without the vintage bicycle component.
You don't need to be a vintage cycling enthusiast to pedal the Eroica routes, though. Cycle Central Coast has curated a list of routes that are examples of what you might expect on Eroica California weekend.
La Via Scalatore
At 80 miles and with a total gain of 6,436 feet, this route ascends all of the gravel roads of the Eroica ride. Ride from Cambria south to Cayucos, ride east along pretty Santa Rita Creek Road. After a climb to mile 27, wind through Templeton wine country, then into Kiler Canyon. A steep gravel road will challenge you before a rest at Halter Ranch Vineyards. Soldier on to Cypress Mountain Drive, a steep and winding climb. The payoff? A 2,000-foot descent back to Cambria.
Heroic Route 
Pedal over 107 miles, up a total of 8,243 feet to become a true "heroic." This route builds on La Via Scalatore itinerary, adding sections of unpaved roads east of Templeton and through Paso Robles. The ride then connects through to Kiler Canyon for the return trip.
NOVA Eroica Route 
At 97 miles long, 7,500 feet of climbing and 30 miles of unpaved road, this route is designed for modern cyclists with vintage sensibility. The route mirrors the Scalatore with the addition of miles 37 to 53, a further jog into gravel roads and Templeton wine country.
NOVA Short Route
The total distance for this slightly abbreviated route is 72 miles, with a total elevation gain of 6,043 feet. The NOVA Short Route mirrors the Scalatore route but cuts north at mile 35 to avoid the steep Kiler Canyon incline. 
Santa Lucia Route
Another abbreviated Eroica route, this covers a distance of 73 miles – 16 of which are gravel – and gains 5,691 feet of elevation. The Santa Lucia Route matches the Scalatore route but turns north at mile 35 and catches "killer" Kiler Canyon on the way back.
Piedras Blancas Route
This gentle ride covers 36 miles and 1,677 feet in elevation. Ride north from Cambria along highway 1 past San Simeon. Here, Hearst Castle is visible to the east, overlooking ranch lands grazed by cattle and zebras. Reach the historic Piedras Blancas light Station by mile 18 and take in the remote beauty of its location. Just beyond the lightstation on Highway 1, look for the famous Piedras Blancas Elephant Seal Rookery, home to thousands of elephant seals each year. Then return the way you came, enjoying the beach and mountain views en route.
Mountain Biking in Cambria – Fiscalini Ranch Preserve
Cambria's Fiscalini Ranch Preserve is home to the only public mountain biking trails between Ragged Point and Morro Bay. This network of trails travels over a wide variety of terrain, from coastal plains and scrub to pine forest and boardwalk. Trails are both single-track and double-track ranging between easy and moderately difficult. The preserve offers multiple well-marked entrances with interpretive signs and maps, and lies just south of Moonstone Beach. Be sure to bring your bell as this is also a pedestrian-friendly open space.
For an easy ride, try the 1.5-mile East West Ranch Access route (point to point). This covers a wide area of the ranch on a double-track with a maximum grade of 8 percent. Another is Santa Rosa Creek Trail, which travels 1.5 miles through the woods on a double-track with a maximum grade of 2 percent. More advanced trails tend to be connectors between the easier trails, with single tracks, more significant grades and more challenging terrain.