Located between two surf hotspots, San Simeon and Cayucos, Cambria is often overlooked by visiting surfers. That's unfortunate for them, but fortunate for those in the know. Locals prize Cambria surfing as some of the most accessible and most consistent waves around. The primary spot is Moonstone Beach, where the shoreline is really uncrowded, despite being just a 12-minute walk from Cambria's quaint East Village. (Think: post-surf tri-tip sandwich at Main Street Grill.) In other words, Moonstone Beach surfing is pretty much hidden in plain sight. Head to the waves in fall, known as one of the best seasons for surf in San Luis Obispo County. (It's also considered the best time to see Highway 1, in general.) Get out in the water early in the morning to avoid the wind, which can be blustery here. And for those who need to buy or rent gear like boards and wetsuits, visit Cambria Surf Shop. They can also hook you up with surf lessons, if you're a newbie.
Moonstone Beach Surfing (and bodyboarding)
A day surfing at Moonstone Beach has quite a few benefits. For starters, it's jaw-droppingly scenic — the beautiful Harmony Headlands beach is just south of Moonstone Beach, as is the Fiscalini Ranch Preserve. But this beach is unique for its unusual smooth "moonstones" along the shoreline, in addition to seaglass and driftwood. Once you've parked at the main lot off Moonstone Beach Drive (next to Santa Rosa Creek), waves are easy to find. Paddle out to where the waves break, off a pile just south of the parking lot. Seasoned Moonstone Beach surfers know to come at low tide as high tide causes a shore break here. Shoot for the right-hand reef wave which can offer very long rides, and is generally good no matter direction the swell comes from. Be mindful of the protruding rocks here, though; if you're anything less proficient than an intermediate surfer, you'll want to practice elsewhere first.  But for those who take the time to hit Moonstone Beach, the rewards are great: consistently good swells and truly uncrowded waves.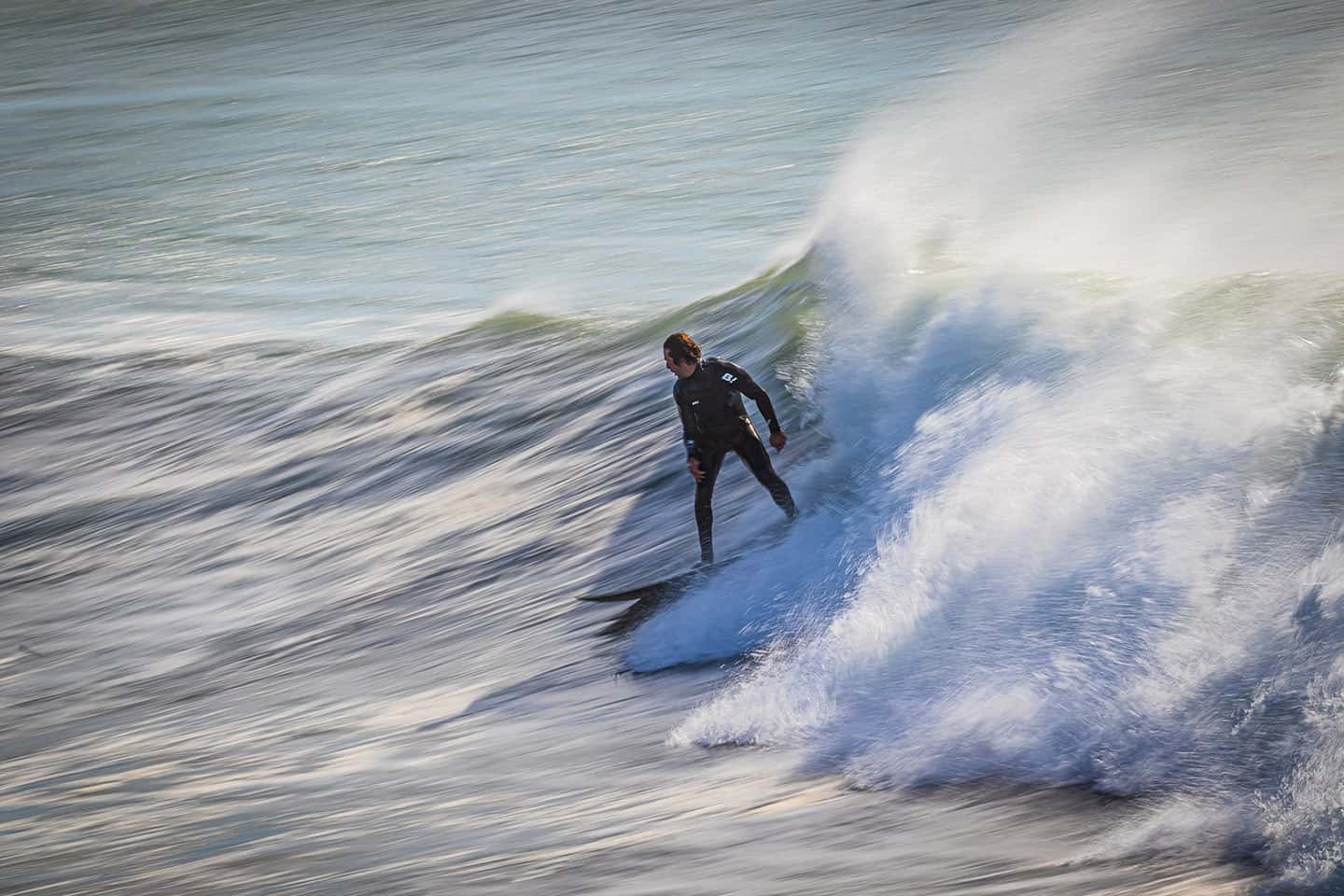 Other Cambria Watersports
Kitesurfing and Windsurfing Cayucos
If you're ready to branch out from surfing, why not try kitesurfing or windsurfing? These two gusty watersports are favorites in Cayucos, with visitors coming from across the world to harness its winds. Cayucos winds come from the north and northwest across the entire beach spanning from north to south of Cayucos. (No wonder Cayucos has become a major destination for these watersports.) Keep in mind that winds are seasonal, with springtime bringing northwest winds that blow onshore for days at a time. More advanced kiteboarders, kitesurfers and windsurfers will want to spend time around Mouse Rock. This offshore monster wave can hold at 16 feet, and is tons of fun for those ready to tackle it. Find this reef break just north of the Cayucos Pier, and because it's big water, it will likely be uncrowded if not empty. Get tips, advice and gear for windsurfing and kitesurfing by visiting Good Clean Fun in Cayucos.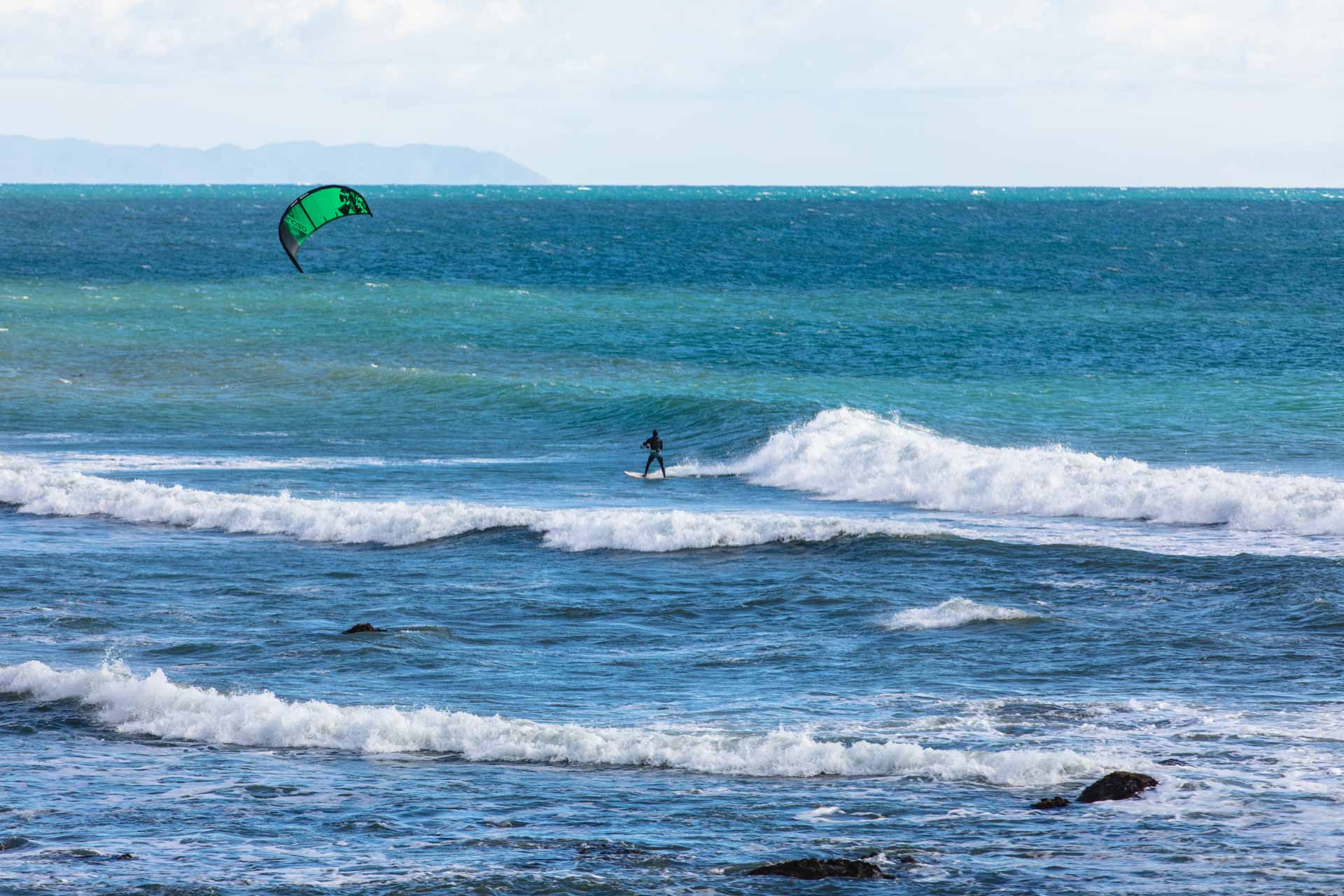 Stand Up Paddleboarding (SUP) & Kayaking
Multiple coves lie along the Cambria coastline with spots perfect for paddling out with minimal wind or surf. For easy launching, head to Leffingwell Landing, on the northern end of Moonstone Beach Drive. The rocky coastline and coves provide picturesque paddling opportunities, and the boat ramp makes for easy entrance to the ocean. (Just be careful of the shore pound when the surf gets big.) Another terrific launch spot is Shamel Park, at another point along Moonstone Beach, parallel to Windsor Boulevard. But for a truly special view of Cambria, launch from Harvey Street, located midway between Fiscalini Ranch Preserve and the Lampton Country Park. This is an easy access point for the southern end of Cambria's coastline; take off from Harvey Street and head south along shore. Keep paddling parallel to the shoreline and you'll eventually see the old, defunct Cambria Air Force Station. This 34-acre facility was built during the Cold War as a place to track Soviet air activity, but has been closed since 1980. From the ocean is the only way for the public to see it now.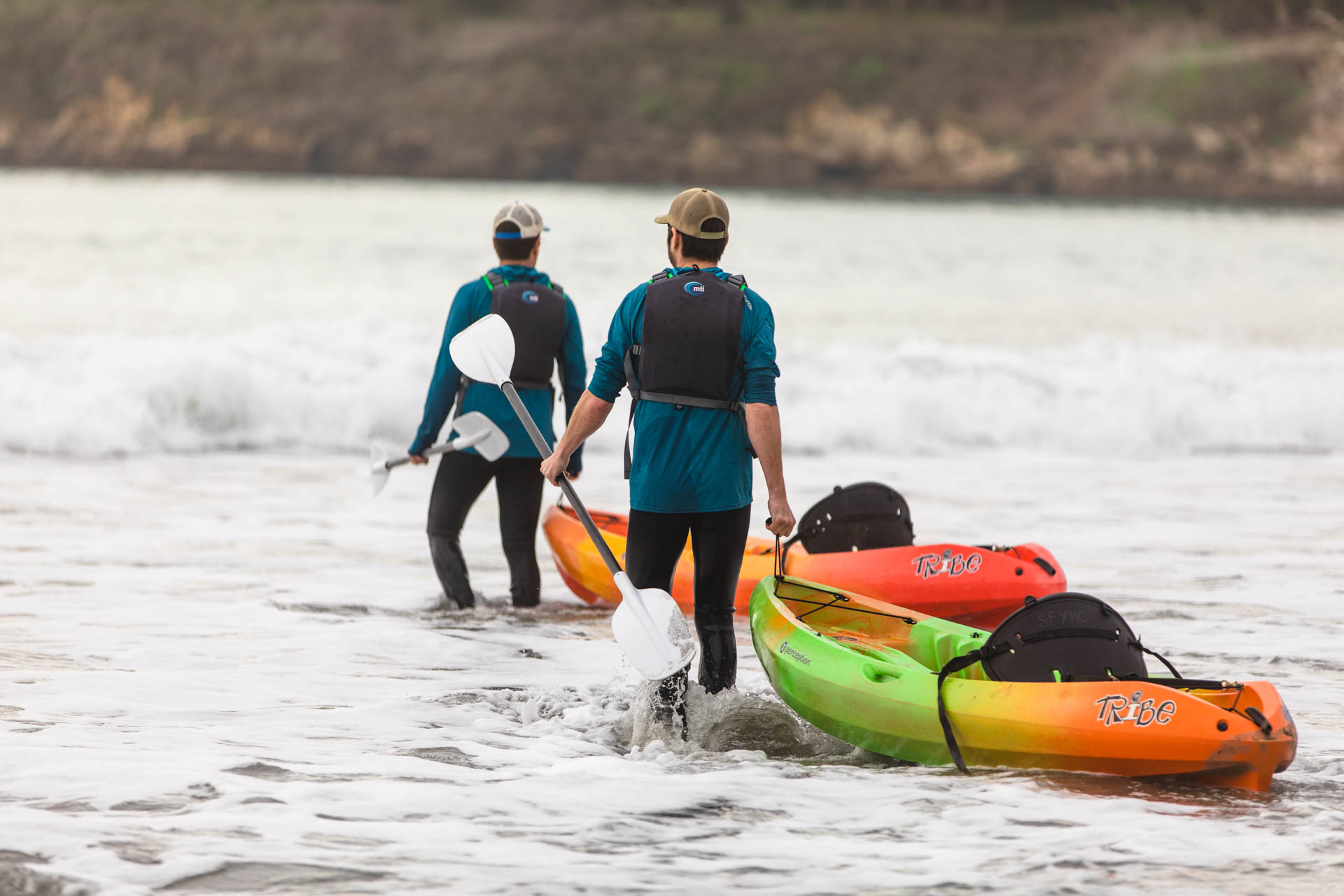 Tide Times for Highway 1
Thursday, Nov 30, 2023
| Tide | Time (PST/PDT) | Height |
| --- | --- | --- |
| High Tide | 1:01 AM | 3.79 ft |
| Low Tide | 4:38 AM | 3.23 ft |
| High Tide | 10:43 AM | 5.71 ft |
| Low Tide | 6:35 PM | -0.47 ft |
Tides measured at Port San Luis Harbor. Data provided by
noaa.gov.