Cambria hikes are unique for their combination of wildlife, scenic views and accessibility. Trek out into deep pine forests, across coastal bluffs and over a stretch of beach famous for its moonstones and hidden treasures. When it comes to Cambria hiking trails, there's no limit to the wonders you'll find when traveling on your own two feet. Better yet, many Cambria hikes accommodate hikers of all ages and abilities, so everyone can get in on the adventure. 
Fiscalini Ranch Preserve offers up a diverse trail system with 17 distinct trails to choose from. Hiking trails range from easy to moderate in difficulty and the terrain–which extends from dramatic ocean bluffs to grassy marine terrace and pine forest–affords countless awe-inspiring views. Be sure to keep an eye out for migrating whales, among other wildlife.  Free and open to the public all year long from dawn till dusk, you can combine any number of trails for a customizable adventure. Plan your own Fiscalini Ranch Preserve hiking excursion today keeping in mind the following popular trail options.
One of the most popular trails at the lush Fiscalini Ranch Preserve, the mile-long Bluff Trail is perfect for beginners and families. Windling along a boardwalk and gravel path, this ADA-accessible hiking trail showcases ocean views paralleling a dramatic ocean bluff. Want to take in the scenery or enjoy a snack? Handcrafted benches dot the trail, allowing for a peaceful moment by the sea. Hikers should note that the Bluff trail connects to Windsor Boulevard North to South.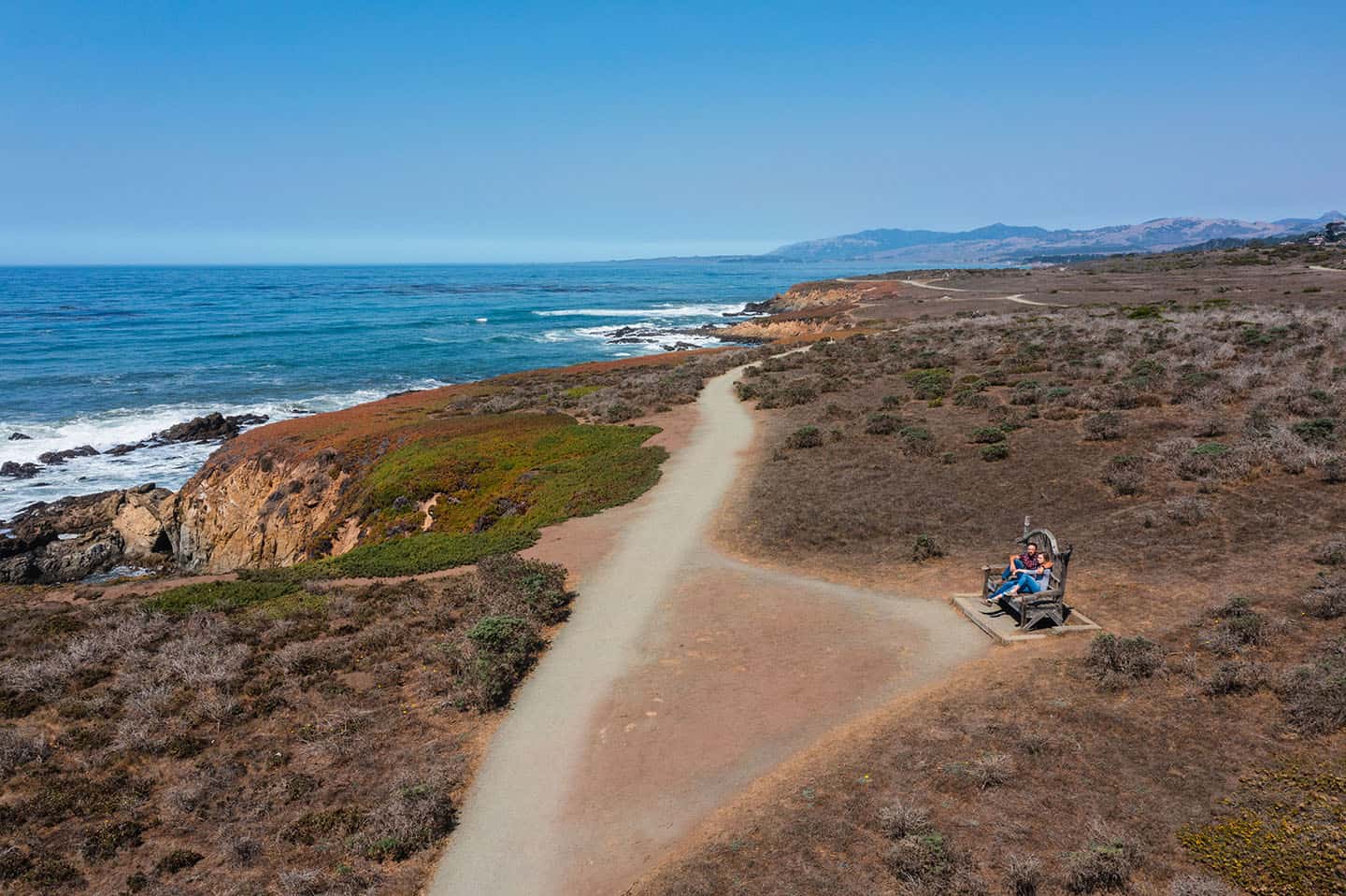 The Marine Terrace Trail is perfect for a casual walk or family outing at the Fiscalini Ranch Preserve. Featuring a level path, stone benches, rolling grasslands and beautiful views, hikers of all skill levels can appreciate this ADA-accessible path. Whether you're a hiker, bicyclist or equestrian, you'll fall in love with this trail's many options. Hikers should note that the Marine Terrace Trail runs from the Windsor Boulevard entrance to Marlborough Drive. The trail can be conveniently combined with Bluff Trail to create one of the most popular loops within the preserve.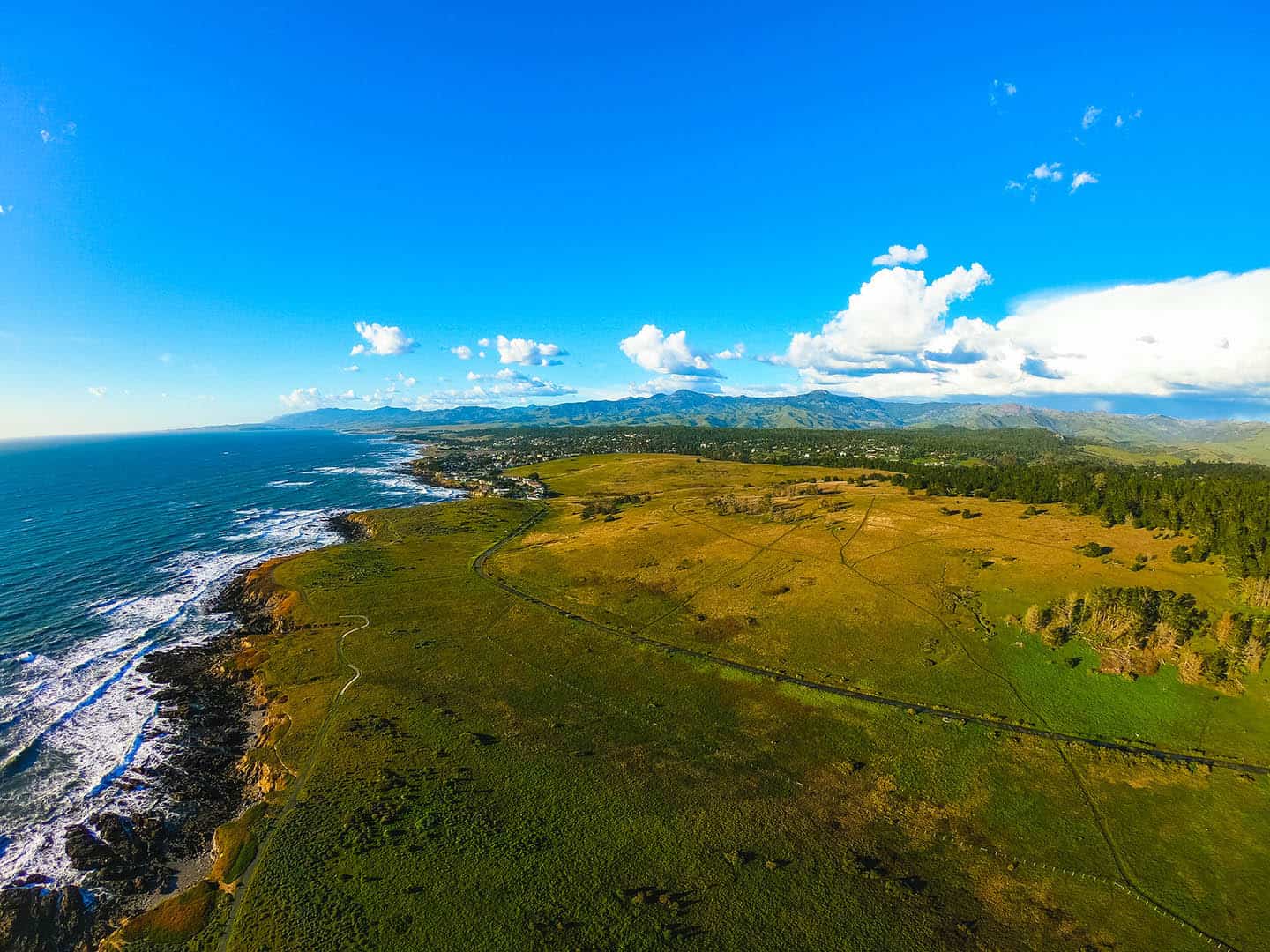 The Forest Loop Trail is unique to the Fiscalini Ranch Preserve, featuring a majestic forest habitat known to inspire wonder in visitors young and old. An amazing contrast to the preserve's many beach bluff options, this extensive hike winds through 70 acres of native Monterey pines and coast live oak trees. Take in a tapestry of twisting branches, bird song and sea breezes along the way. Hikers should note that Trenton Street offers the best entrance to this trail.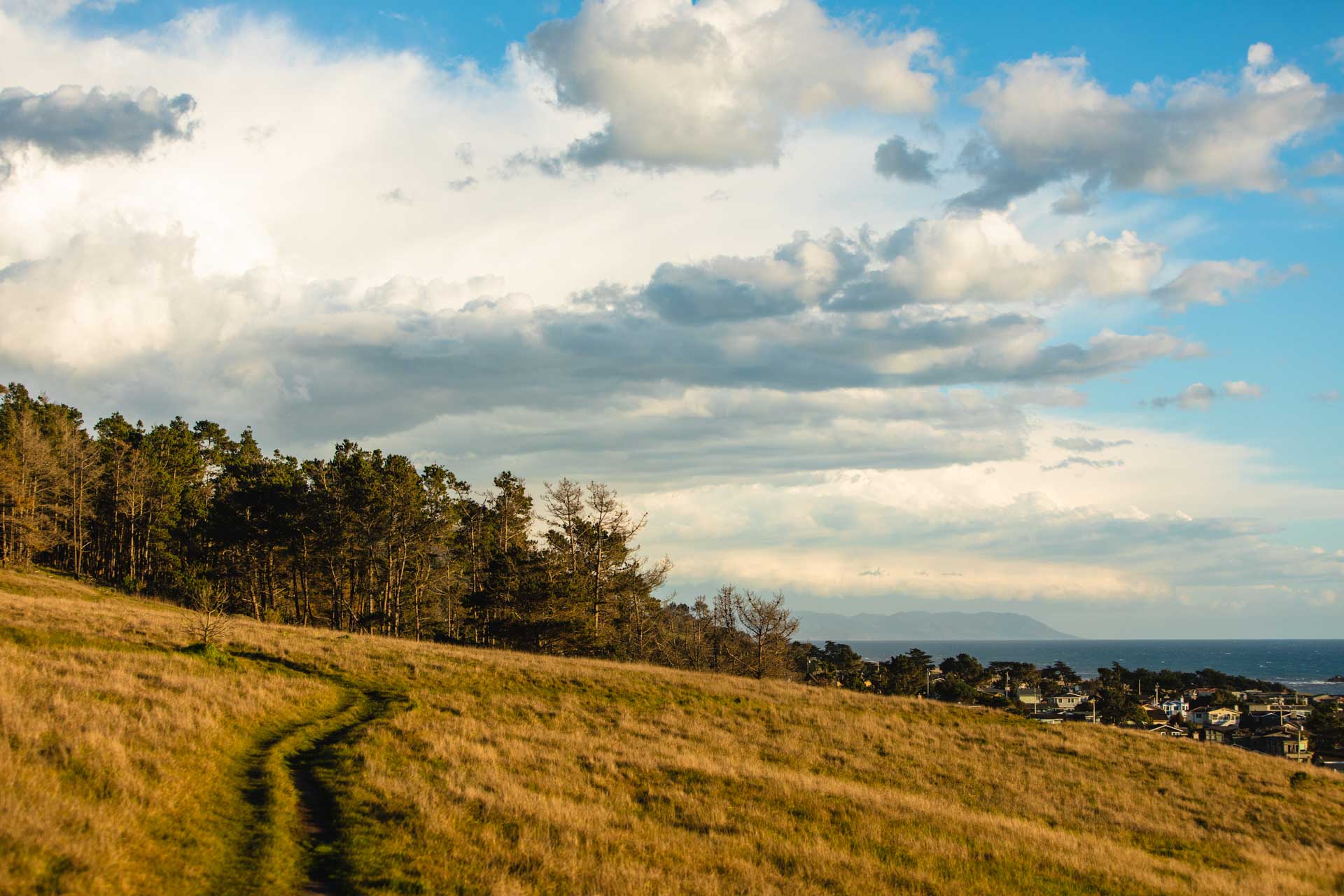 Santa Rosa Creek East/West Trail
The Santa Rosa Creek East/West Trail is a delight for hikers looking to explore Fiscalini Ranch Preserve's scenic grasslands and beyond. Meandering along grassy slopes, wildlife-rich wetlands and a forested hillside, this mile-long hike runs parallel to the wildlife-rich Santa Rosa Creek. Hikers should take note to leave this trail as pristine as they found it. This beautiful waterway provides a crucial habitat for steelhead trout (the river empties into the Pacific on the northernmost side).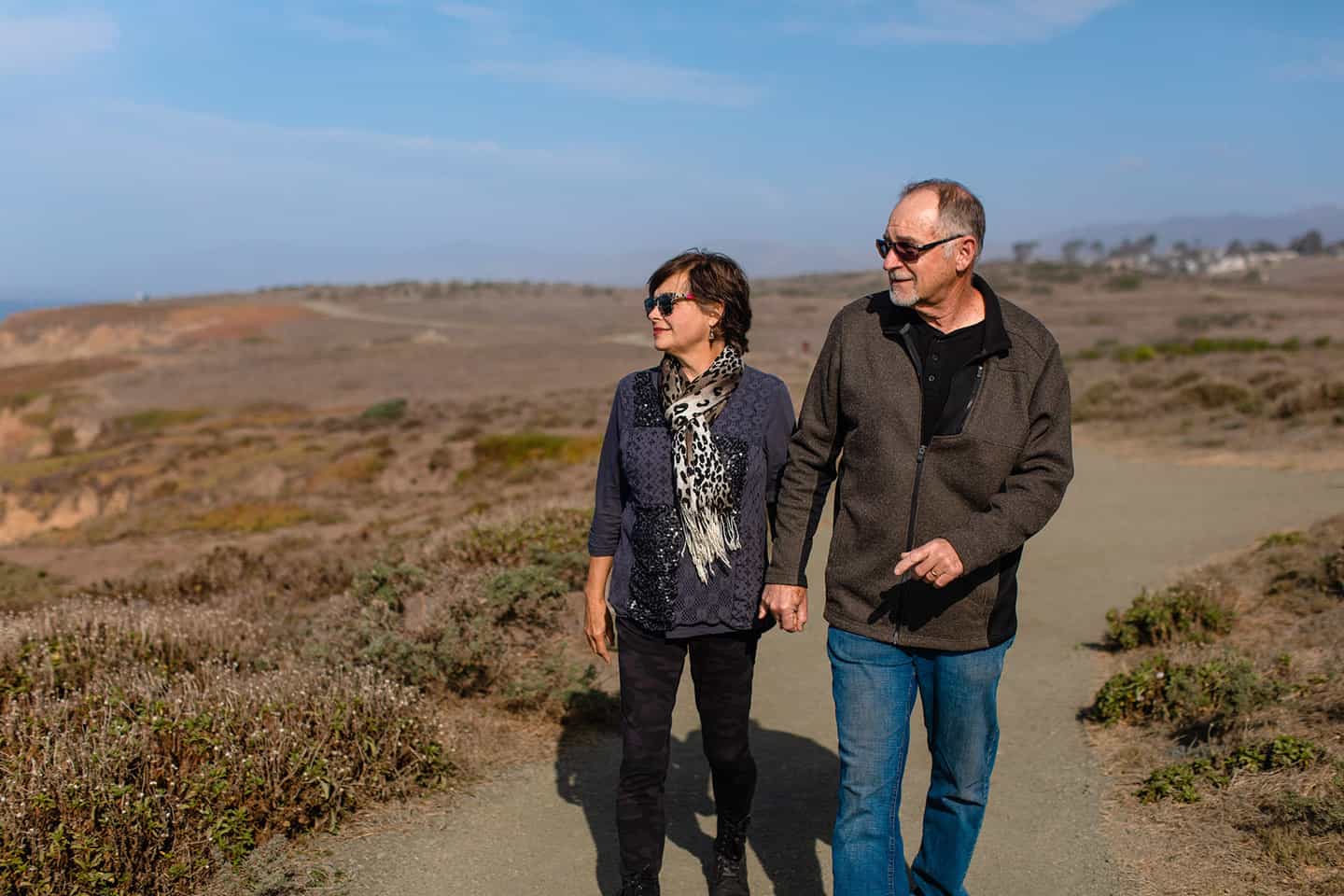 Moonstone Beach Trail is an easy, ADA-accessible boardwalk trail that boasts plenty of exciting seaside detours. A 2.6-mile out-and-back trail popular for casual walking, you'll find fun coastal experiences located all along this popular Cambria path. Deviate off the trail at the northernmost end of Moonstone Drive for a peek at tide pools teeming with sea creatures. Nearby Leffingwell Landing offers up a beautiful viewing and lookout spot that extends the hike further north. Directly across Moonstone Drive, you'll find a variety of dining options perfect for satisfying hungry hikers. At the southernmost end of Moonstone Beach, find the mouth of Santa Rosa Creek, a great spot for wading and family-friendly waterplay. Shamel Park is also located on the south side of the trail, so families should take full advantage of the playground, a favorite among kids and parents alike. Finally, descend the trail to Moonstone Beach and spend an hour hunting for sea glass and smooth stones shimmering along the sand. Need a breather or just want to take it all in? Stop to rest on a bench and watch for dolphins, seabirds or migrating whales.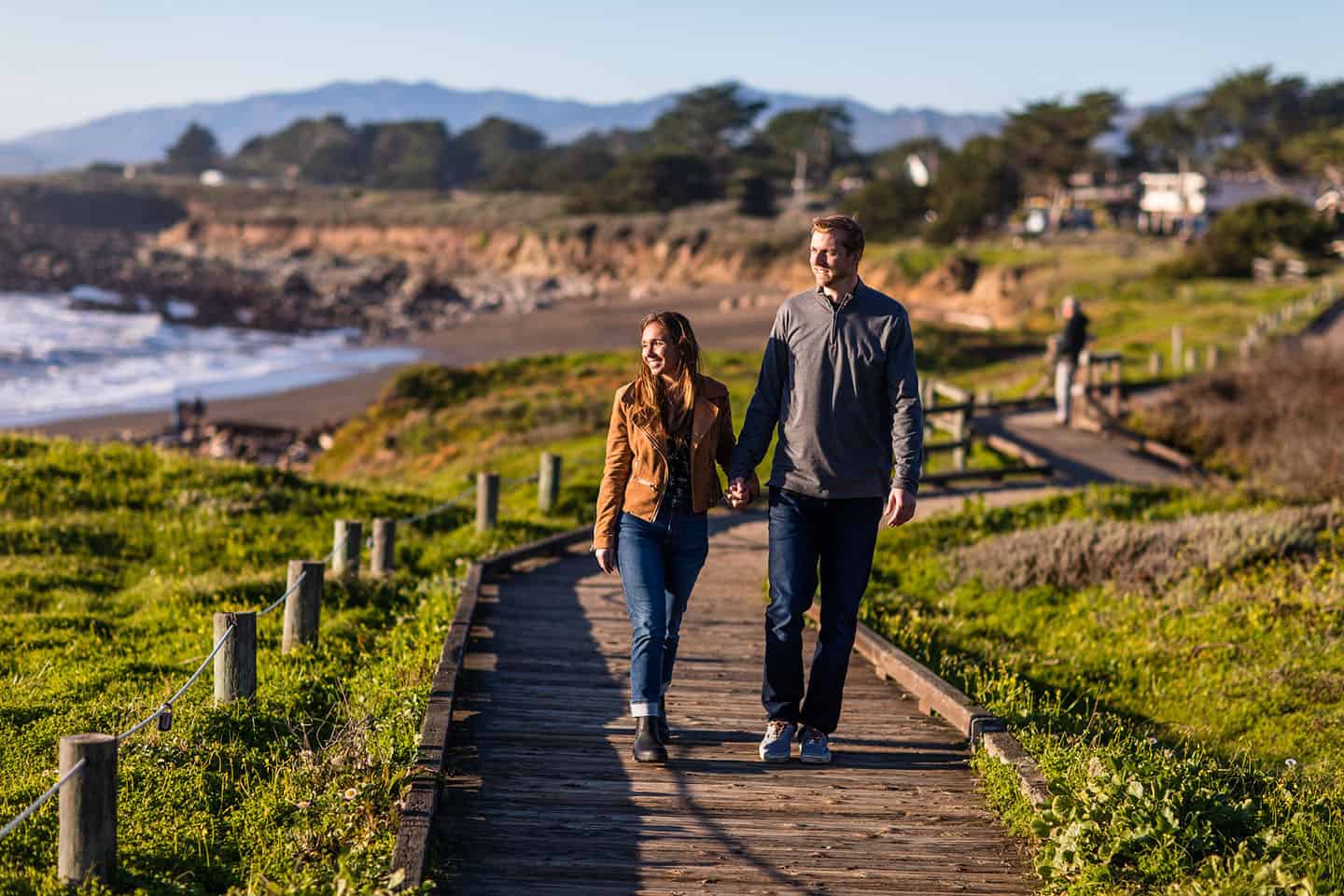 Fern Canyon Henry Cluck Trail
Nearby the Fiscalini Ranch Preserve, Fern Canyon Henry Cluck Trail presents notable wildlife sightings rarely associated with the beach. You're likely to see a variety of critters as you stroll this pastoral area, including wild turkey, deer and even the odd skunk. Hikers should note that this lesser-known hiking trail can be found off Fern Drive, a stone's throw from the Fiscalini Ranch Preserve.
The Strawberry Canyon Trail in Cambria invites hikers to explore a heavily wooded area that leads to the sea. Just a mile in length, the scenic transition from forest to sand is charming, to say the least. A lesser-known trail, you may have to work a little harder to find this oasis.  Hikers should note that the trail is located off Kay Street, about 1.6 miles from the south entrance of Fiscalini Ranch Preserve.
Lampton Cliffs County Park Trail
Lampton Cliffs County Park features a small loop trail that winds through an open meadow to the Pacific ocean. Look for this trail's famous seaside staircase, which descends down to a secluded rocky beach. Incredible tidepools reveal themselves at low tide, so be sure to plan your journey accordingly. Although not much of a workout, you're sure to enjoy the scenery along this short and sweet stroll. A bench overlooking the ocean provides the perfect vantage point for surveying the windswept Cambria coast.
Harmony Headlands State Park offers up 784 acres of lush coastal terrain nestled just south of Cambria, near the village of Harmony and Cayucos. The park's Headlands Trail is a great option for beginning hikers and families: the 4.5 mile lollipop loop is lined with benches and features an easy elevation change of just 135 feet. Truly, anyone can enjoy this scenic and easy trek.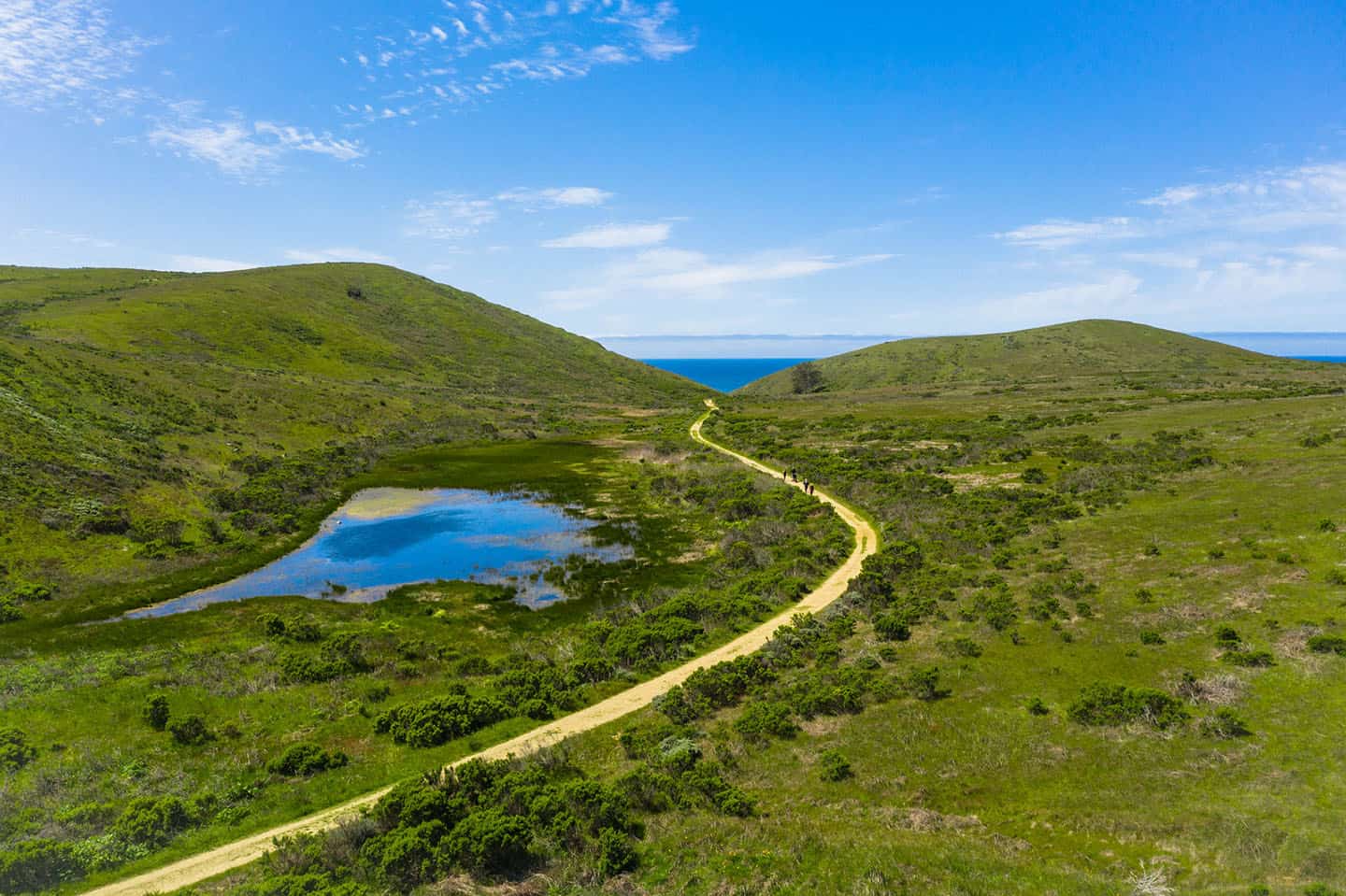 Stewardship Travel For Good
Cambria Museum & Historic Buildings Self-Guided Walking Tour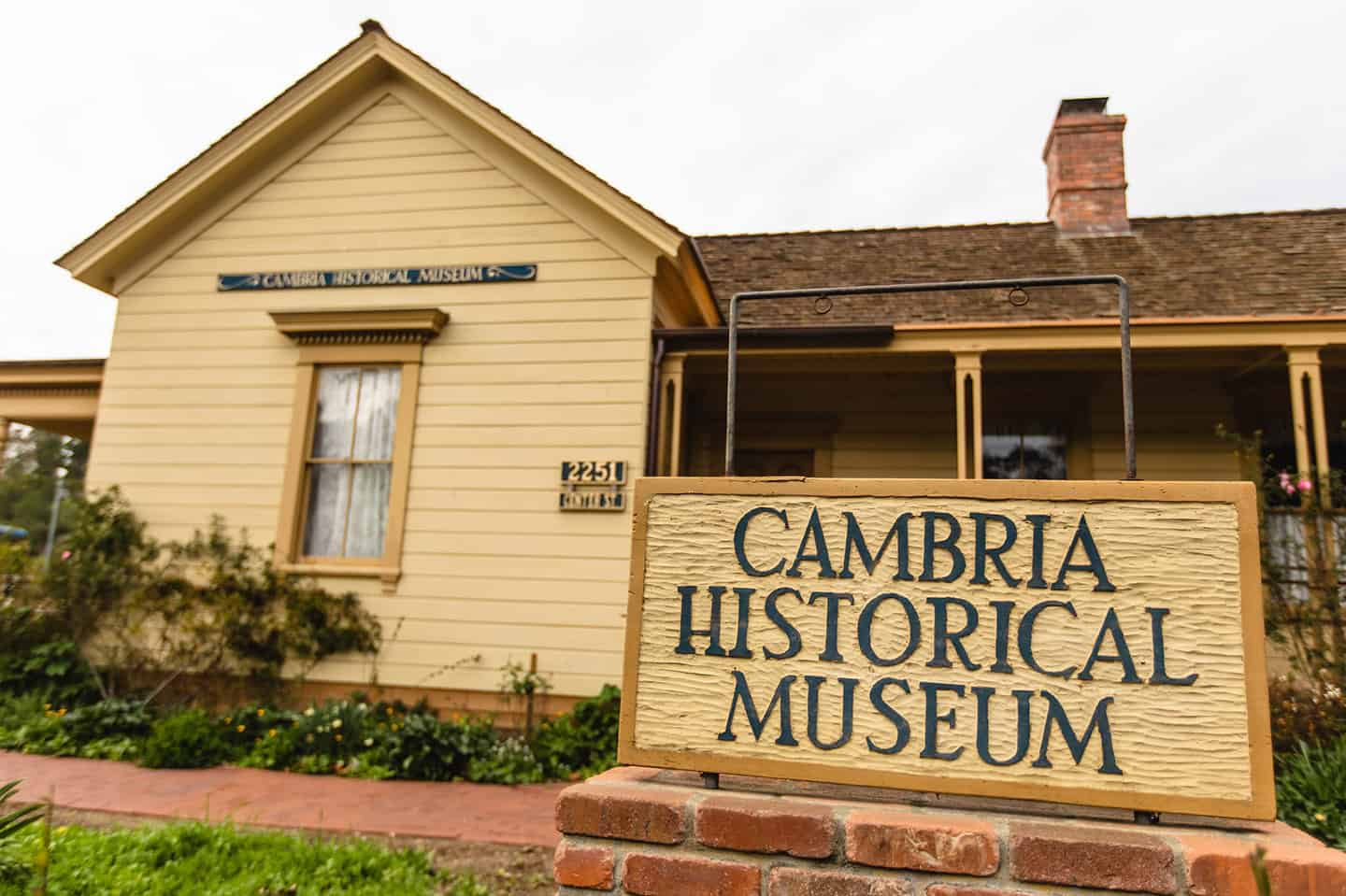 Fiscalini Ranch Preserve Nature Walks and Work Days
The Fiscalini Ranch Preserve Nature Walks and Work Days program allows visitors to Travel for Good while learning about local fauna and flora. Design your itinerary to include one of Fiscalini Ranch's monthly docent-led nature walks aimed at preserving the region's complex ecosystems. Love to roll up your sleeves and get involved in conservation? Bring your work gloves and help out on an organized work day at the preserve. Either way, you'll leave knowing you helped sustain this coastal treasure for generations to come.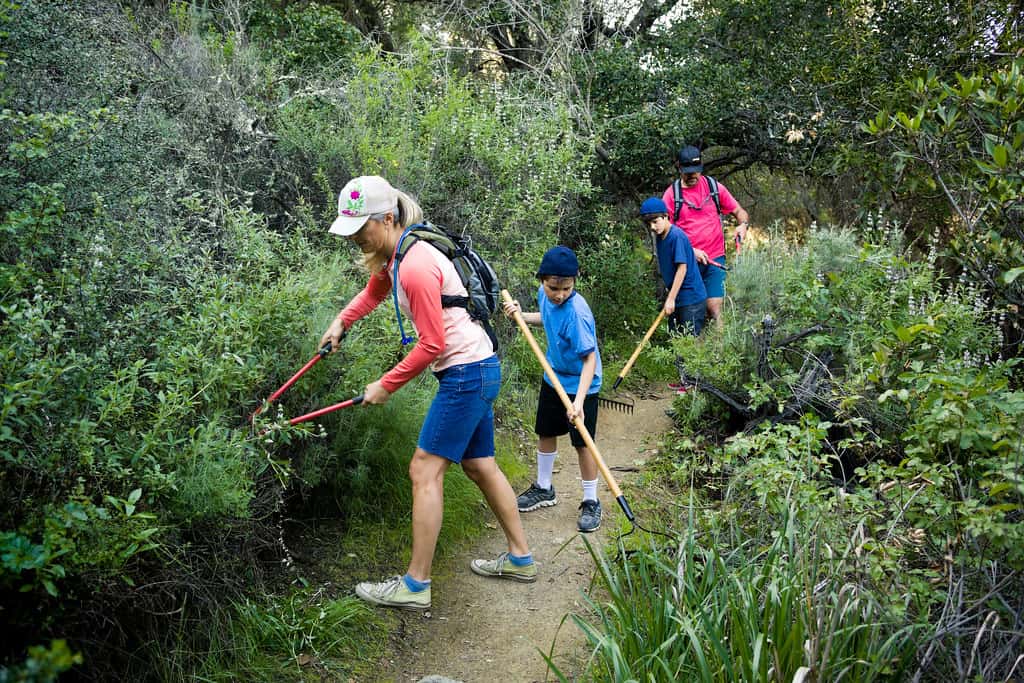 The Whale Trail encourages visitors to Travel for Good by enjoying spectacular whale watching opportunities all along the West Coast. Located at the southern end of Cambria's Moonstone Beach trail, you'll find one of the organization's popular Whale Trail viewing points. The path ends at Shamel Park, where whale watching is an avid pastime among locals and visitors alike. Hikers should look for interpretive signage designed to educate visitors about local marine life. Keep your eyes peeled for gray whales, sea lions, sea otters and Pacific white-sided dolphins. In other words–enjoy the show!