A good public park can add so much to a vacation along Highway 1. In Cambria, parks are destinations for flying kites, barbecuing burgers, and letting the kids (and dogs) burn off some steam. Most parks here include wide views of the Pacific Ocean, where sea otters, whales, dolphins, seals and seabirds raise their young, hunt, and play. Each park makes the perfect family-friendly destination, with plenty of safe, fun places for kids to roam. Fido can even get in on the fun with a dog park set up just for four-legged friends. Cambria offers a mix of wide-open unfinished spaces for exploring and sightseeing, and parks that are traditional playgrounds for young ones to enjoy. All lie in close proximity to the historic Cambria downtown East and West Villages. Wander downtown, check out the boutiques and coffee shops, then grab a picnic lunch to enjoy at any one of these parks. Just remember to bring sunscreen, a hat, water, and your sense of adventure.
Few parks can claim the amenities that Shamel Park has. For starters, it's right on the ocean at Moonstone Beach, perfect for beach-combing for sea glass, driftwood and moonstones. The landscape here is magical, with the stony shoreline, sparkling water, and gentle outlet of the Santa Rosa Creek in which to wade. But aside from the obvious benefit of Moonstone Beach, Shamel Park's six acres include a popular children's play area. The rambling wooden play structure and soft rubber foundation bring joy to kids and parents alike. The park offers two group day-use areas, a playing field, horseshoe pits, a gazebo, and even an ADA-compliant heated swimming pool. (Check on the pool's open hours as access is seasonal.) With its handsome gazebo, sizable turf area and beach backdrop, Shamel Park is popular as a wedding and/or reception venue. Other perks include restrooms, large Santa Maria-style grills and plenty of banquet seating.
At the opposite end of Moonstone Beach from Shamel Park, Leffingwell Landing offers its own mix of amenities. Greatest among them is access to the beach, specifically the concrete boat ramp that makes launching into the ocean easy. (Bring your kayak here for an especially easy spot to venture out for a pleasure cruise or kayak fishing.) Parking is free, as is use of the boat ramp. Leffingwell Landing also offers picnic tables and barbecue stands for rustic seaside cooking and dining, as well as convenient restroom facilities and water spigots. The state-run park is part of Hearst San Simeon State Park, which extends north toward San Simeon. Come for a scenic place to relax on the grassy knoll with picnic benches, with elevated views of the ocean. Or take the trail down to the small beach and tide pools for up close and personal time with the ocean's fascinating shore-dwellers. Leffingwell Landing also serves as the beginning (or end, depending on how you see it) of the Moonstone Beach Boardwalk. The boardwalk follows the edge of the bluff above Moonstone Beach for about one mile to the Santa Rosa Creek day-use area.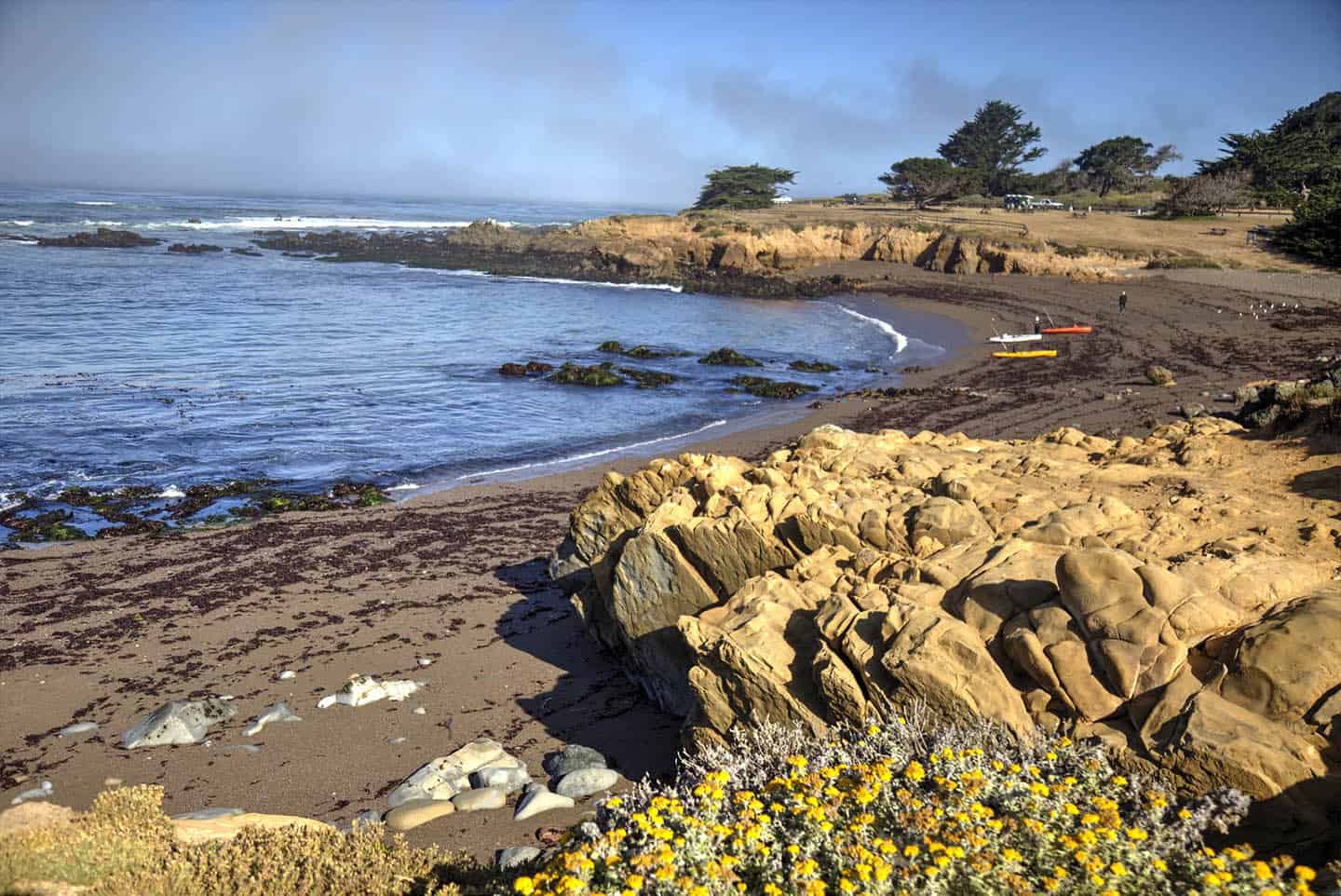 At 30 acres, this seaside park occupies a wide expanse of Moonstone Beach at the mouth of Santa Rosa Creek, as well as the bluffs above. Enjoy easy, free parking just off Moonstone Beach Drive, on a turnout toward the ocean between Stafford Street and Chatham Lane. Walk along the short ADA-accessible boardwalk — a different section of boardwalk than Moonstone Beach Boardwalk, which lies slightly inland. Here, you'll find two small landings with interpretive signs and a perfect elevated view for spying whales, sea otters, seals, and dolphins. These are the protected waters of the Cambria State Marine Park (SMP), and beyond, the Monterey Bay National Marine Sanctuary (MBNMS). Take advantage of the benches provided and maybe enjoy a sunrise or sunset with your family, a friend, a pet, or all by yourself. Moonstone Beach Park offers endless exploration opportunities, from tide pools, moonstones and the creek mouth to wildflowers, shore birds and sea glass.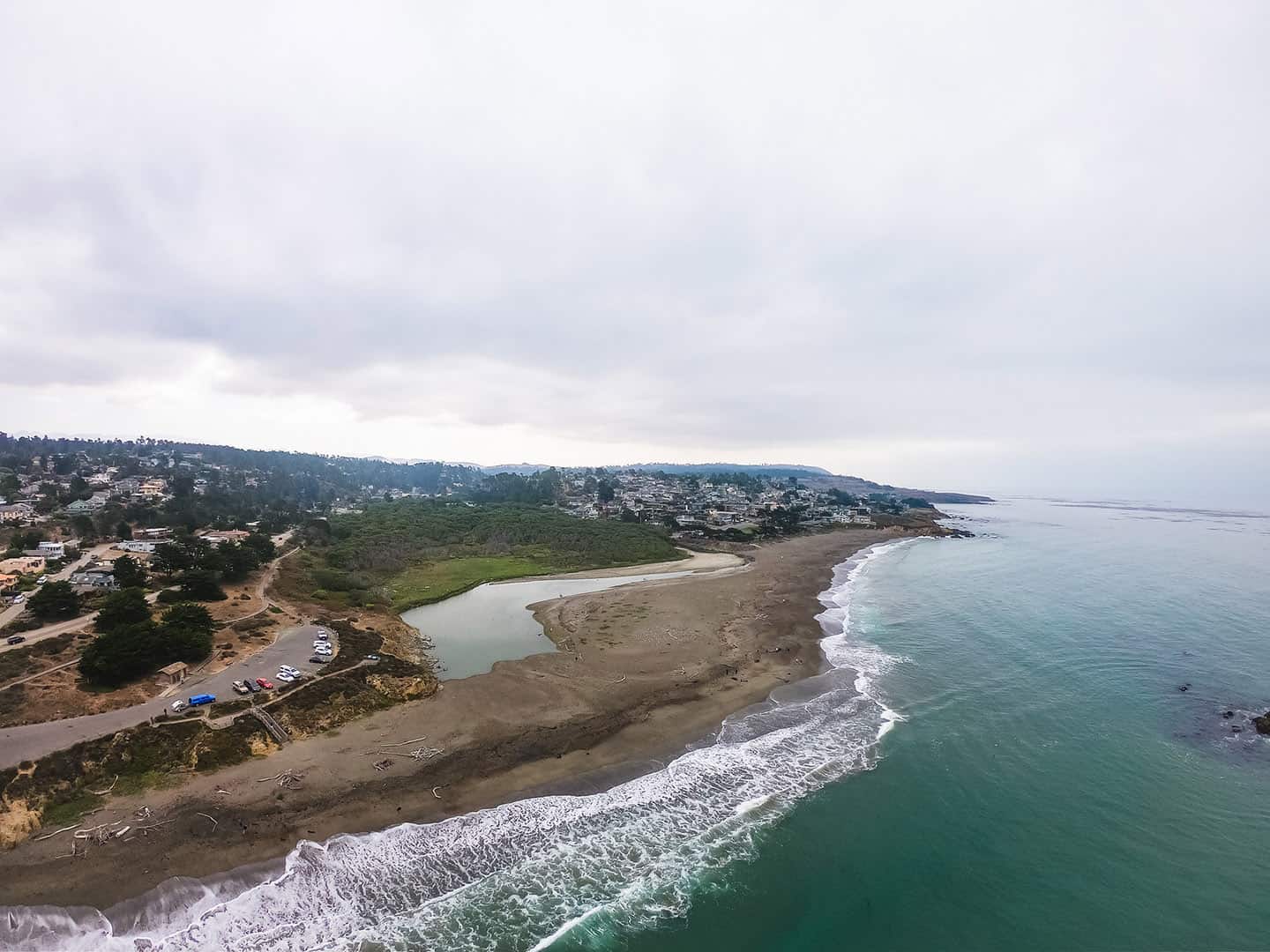 Everyone needs a chance to roam — even Rover! Bring your pup to the Cambria Dog Park where dogs can romp, sniff and socialize off leash. The park stands just a few blocks from downtown, making this an easy place to access and enjoy. The park occupies 3/4 of an acre and includes separate big dog and little dog areas to keep everyone feeling safe. Mutt mitts, fresh water, and shaded picnic tables also make for an enjoyable doggie spot. The park even offers a basket of balls to share (in case you happen to forget yours), as well as mock fire hydrants as an added perk. As always, use common sense and keep aggressive dogs away from the park, and remember to pick up after your pup. Before or after your visit, consider spending time at another of Cambria's pet-friendly destinations, like cafe patios, beaches, hikes, and more.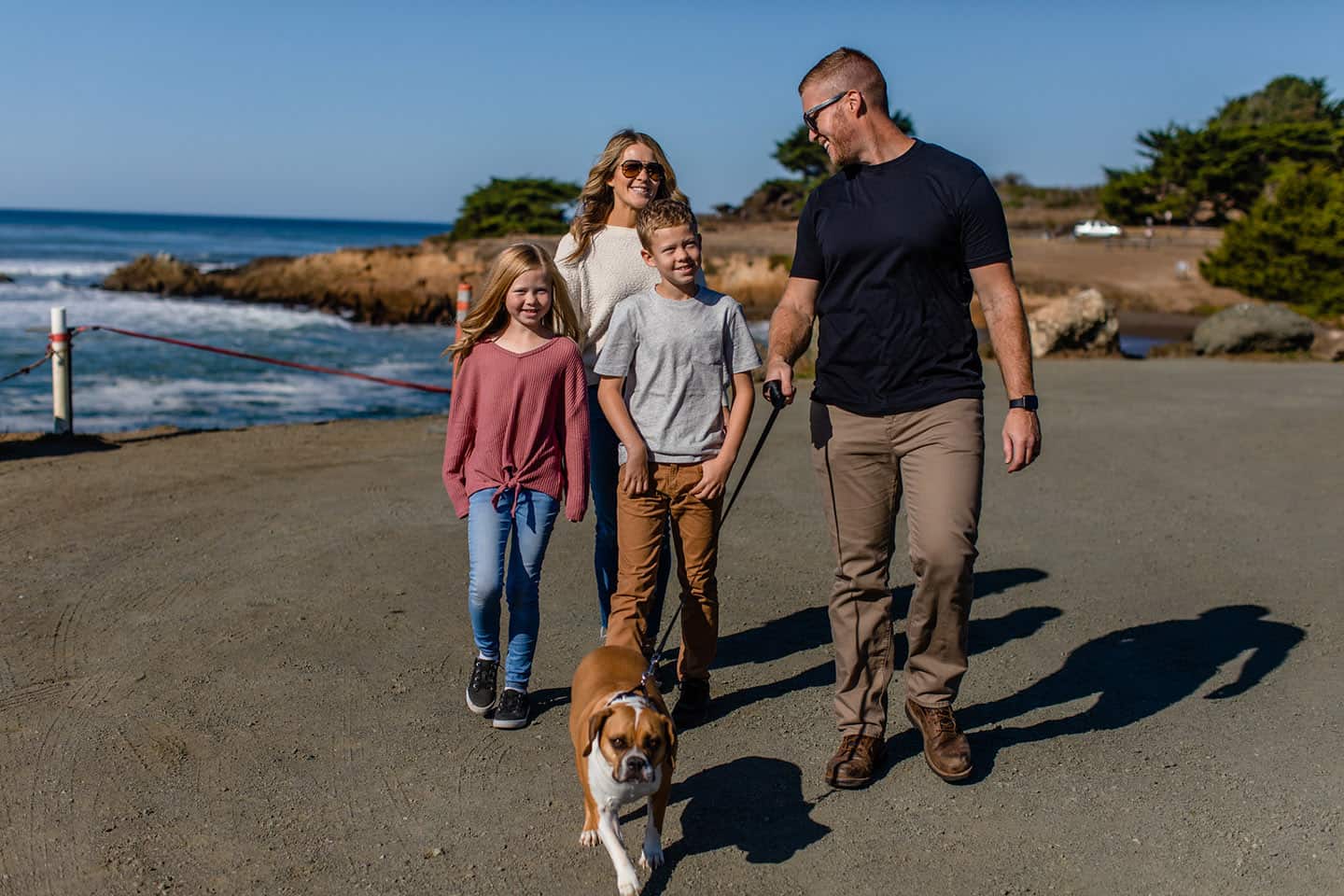 With 1.7 acres of greenspace next to Santa Rosa Creek in Cambria's East Village, this reserve centers around a historic preserved Chinese temple. Called the Association House, this temple has been restored from the 1800s, when Chinese immigrants worked here as miners, laborers and fishermen. In fact, it's known to be one of the oldest Chinese temples remaining in Southern California. This was a place of refuge, rest, tradition and ceremony for Chinese laborers in Cambria, and it remains a peaceful place today. The temple and surrounds are managed by Cambria Greenspace, an organization that has acquired and maintained forested and riparian property throughout Cambria. These properties include 20 preserves, natural areas and pocket parks, the Chinese temple among them. The park is open to the public at Center Street and Hesperian in Cambria's historic East Village. Perhaps take a self-guided historic walking tour of Cambria, then head to the Creekside Reserve for a restful, quiet spot.
A dairy once occupied this beloved public open space — which means the cows had a heck of a view. The Fiscalini Ranch Preserve is a natural marvel, with 430 acres of Monterey pine forest, cascading hillsides and coastal bluffs. Catch one of multiple trailheads on the edges of the preserve, whether on foot for a hike/walk or on a mountain bike. The property lies between Huntington Road to the north and Warren Road to the south, and extends all the way east to Highway 1. These trails meander through forest and field, all the way to the ocean's edge. Take the Bluff Trail, a one-mile ADA-accessible boardwalk that parallels the bluffs. These give an elevated view of the water, making wildlife-spotting a breeze. For adventurous travelers, scramble down to the beach for epic tide pool exploration and bird watching. For more restrained folks, a stroll or a roll along the boardwalk and a rest on a driftwood bench are just the ticket.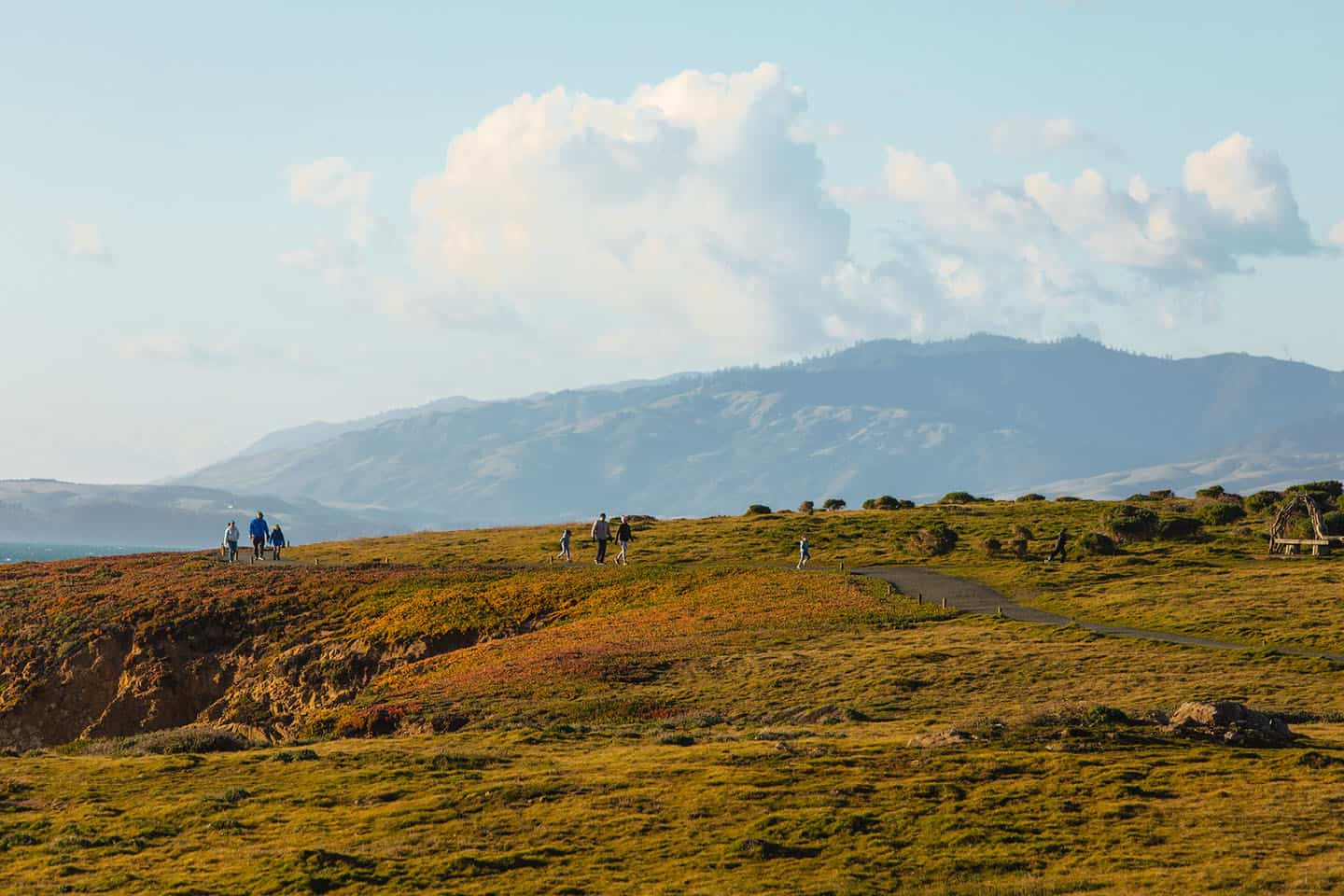 Lampton Cliffs County Park
A pocket park with a view of the sea, the Lampton Cliffs County Park is one of Cambria's loveliest hidden gems. Located off the beaten path, this park offers a secluded cliffside entry to tide pools on the south side of town. The park doesn't offer much in the way of facilities, but it is a wonder in its own right. Lampton Cliffs County Park is a still and generous place to enjoy a conversation with a friend, or a good book, or a moment of solitude. Wild grasses and willowy tree branches sway in the wind. Sit on one of the benches along the marine terrace and take in the view of the dynamic Pacific Ocean, or wander down the stairs to the beach. With its rocky floor, this section of coastline is best visited at low tide if you're hoping to go tide pooling. Roll up your pantlegs and tiptoe along the rocks to spy a sea anemone, urchin, hermit crab, or sea star.
On the north border of Cambria, San Simeon State Park stands facing the ocean, one of the most popular beaches along Highway 1. And yet, for all its popularity, San Simeon State Beach never feels crowded, with wide expanses of unspoiled white sand and frothy surf. This state park is actually one of the oldest in the California State Park system, and includes several natural preserves within its border. These include the Santa Rosa Creek Natural Preserve, the San Simeon Natural Preserve, and the Pa-nu Cultural Preserve. Some of these protected spaces are visible along the 3.3-mile trail that winds through the park, including parts of the Washburn Campground. Expect plenty of scenic vista points, interpretive panels about wildlife and natural history, and benches on which to rest. A section of the trail that borders the seasonal wetland is accessible by wheelchair. At the westernmost end of the trail, enjoy some of the best whale and elephant seal viewing available on the Central Coast. Look for the Whale Trail sign at the south end of the parking lot located at Santa Rosa Creek on Moonstone Beach Drive. This interpretive sign will help identify what to look for while whale watching from shore. Note: dogs are prohibited on the beach and trails.