The site of fishing tournaments and a historic fishing community, Cambria has been a destination for anglers for centuries. Bring your gear and prepare to spend an hour — or a week! — enjoying these tranquil, abundant waters. Ask the locals for tips, and they'll likely guide you to the best spots Cambria has to offer. The most popular fishing opportunities here are surf fishing and rock fishing along Moonstone Beach. Please be aware that you'll need a fishing license for all fishing in Cambria, as there are no piers here. (Piers are the only locations along Highway 1 where anglers can fish without a license. Find the nearest piers to the north in San Simeon, or to the south in Cayucos.) Also be conscious of the protected waters of the White Rock State Marine Conservation Area (SMCA) where recreational fishing is strictly prohibited. This includes the south end of Cambria, past the boundaries of Fiscalini Ranch. Fishing south of Fiscalini Ranch isn't allowed until past Harmony Ranch Roading heading toward Harmony Headlands State Park. Familiarize yourself with all restrictions along Cambria's coastline, including take limits and open/closed seasons via the California Department of Fish and Wildlife. These can change from year to year and even within seasons.
In addition to its stunning scenery, ease of access, and proximity to downtown, Moonstone Beach offers terrific surf fishing and rock fishing. This picturesque area offers a nice mix of rocky and sandy beach for either surf fishing or rock fishing. Expect to catch rockfish, surfperch, and lingcod here. Some anglers have caught huge cabezons that like to hang out on the ocean floor beneath rocky reefs. Try for yourself, especially at low tide. Barred surfperch are the most common catch on Moonstone Beach, averaging around two pounds apiece. Look for other species of surfperch too, which sometimes swim in the sandy stretches between reefs, or further out past the first breakers. Locals recommend using sand crabs, grubs, gulp sandworms, salted anchovies and shrimp as bait. (A common setup includes a Carolina-style rig with 2-inch grubs.) At the southern end of Moonstone Beach, park at Shamel Park or Santa Rosa Creek to fish the river wash area on an incoming tide. Or head to the northern end and park at Leffingwell Creek to fish Leffingwell Cove. This area includes a ramp next to the bridge, which anglers can use for beach access to launch boats and kayaks. (This isn't an official boat launch, however — just a beach access ramp.)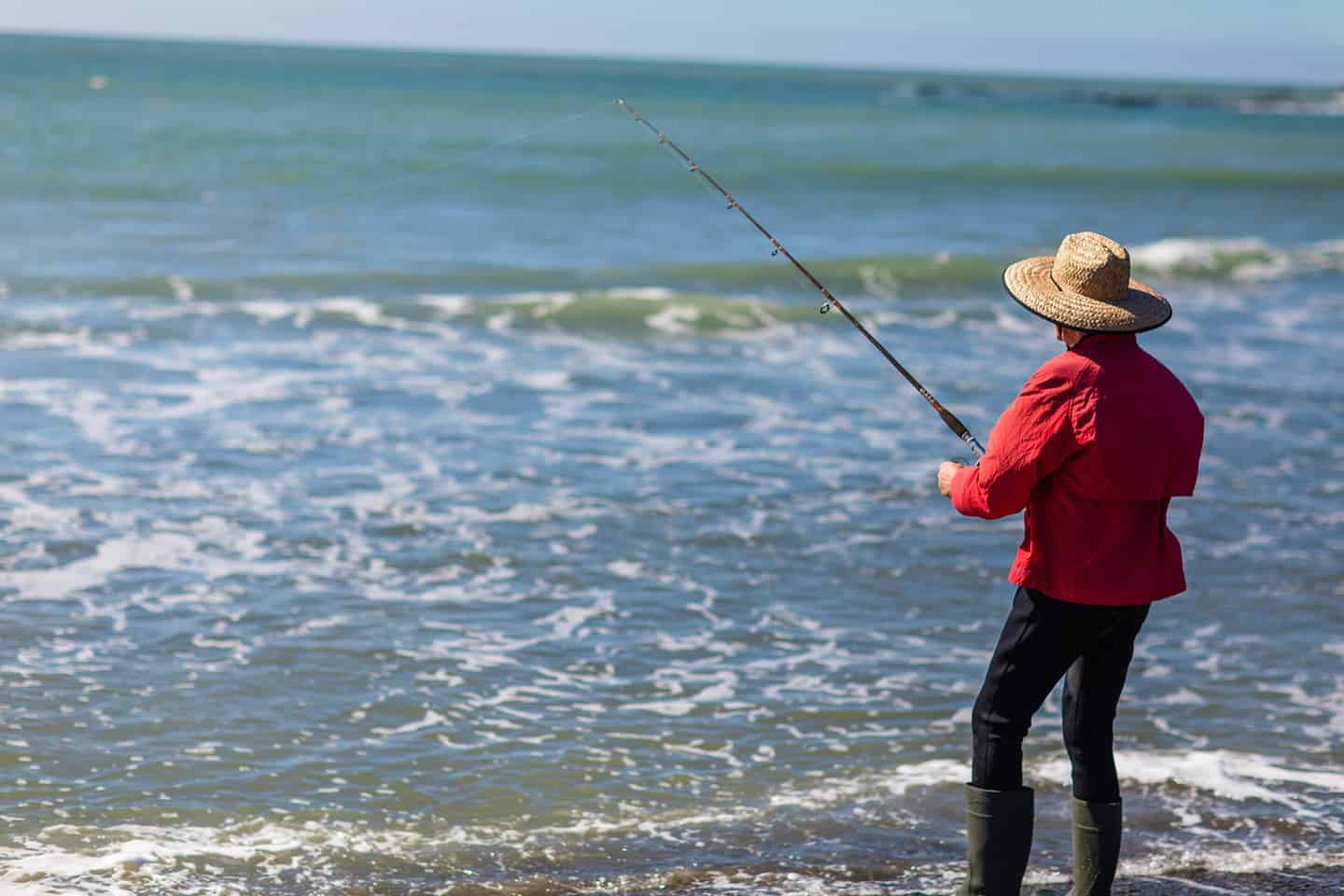 The Cambria coastline offers multiple beach access points for excellent rockfishing, all of which are much rockier than Moonstone Beach. Head north to Pico Creek, at the end of Pico Avenue, almost 6 miles from Cambria off Highway 1. Or get to the Nottingham Drive Beach Access, on Nottingham Drive at Cambridge Street, just 350 yards from Shamel Community Park. The Wedgewood Accessway at Wedgewood and Harvey Streets offers easy beach access. There is also rough access to nearby Otter Cove at the north end of Windsor Boulevard, and at the southern end of Fiscalini Ranch.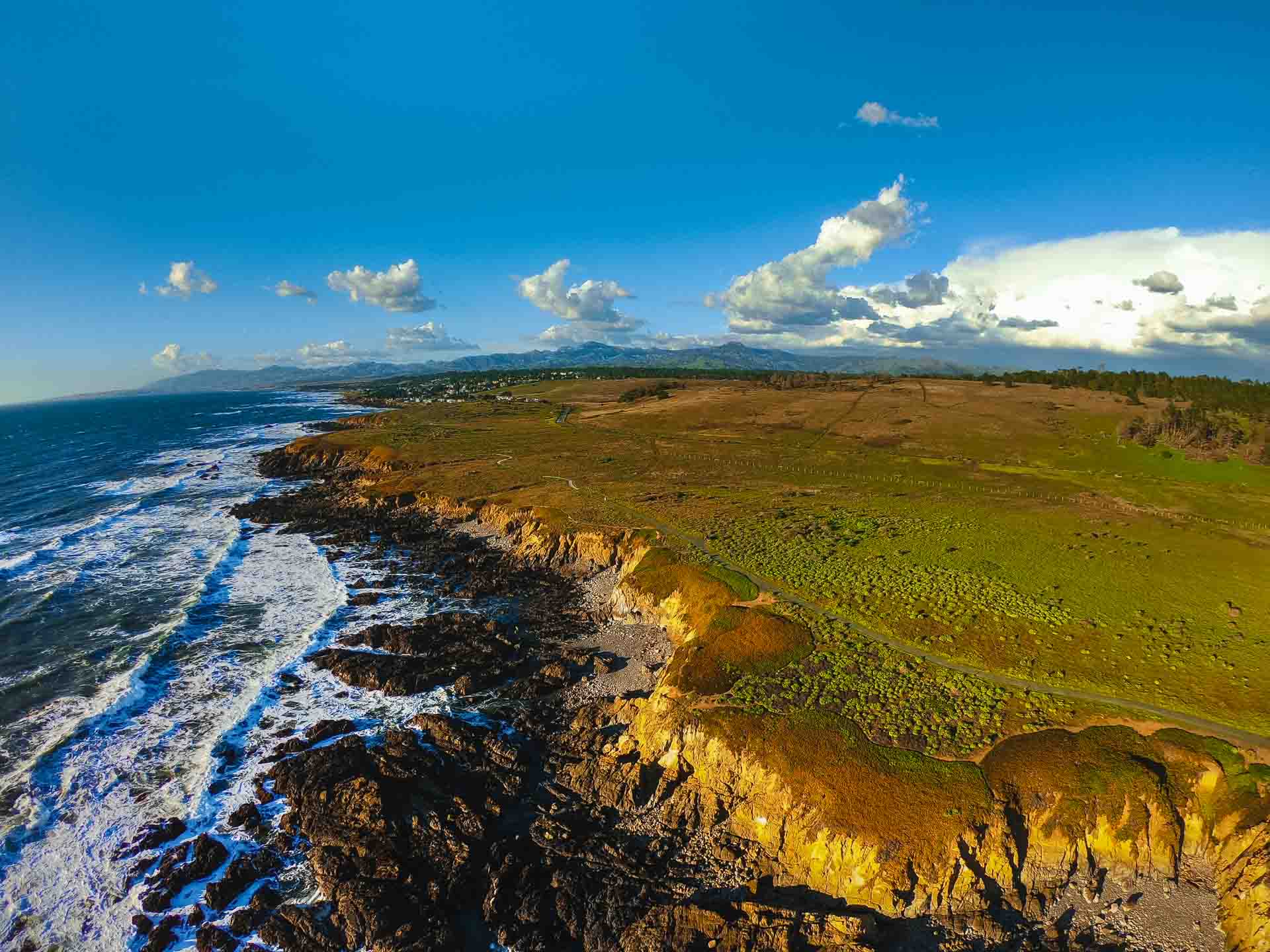 This scenic open space holds much appeal for hikers, mountain bikers, wildlife and wildflower seekers. Fortunately for anglers, the Fiscalini Ranch Preserve also boasts some of the best rockfishing around. From the Windsor Boulevard dead end on the north side of the preserve, access the Bluff Trail. Along the boardwalk, visitors can hike down to various rock outcroppings that are popular with local anglers.(Stick to this northern end of the Bluff Trail, though, as you'll approach the Marine Protected Area heading south.) Regular rockfish catches include black, brown, blue, copper, vermillion, yellowtail, olive, starry, widow, and canary varieties. Note: For anglers looking to rockfish offshore, be mindful of ordinances on closed/open seasons. Shore-based angling is available year-round, but boat-based angling has different restrictions. When the boat-based rock fishing season opens (typically in mid- to late spring), find lingcod that can average 10 pounds or more. Locals often use metal jigs with squid here.
Try deep sea fishing off Cambria's coastline for Pacific Barracuda, Calico Bass, Lobster, Halibut, White Seabass, Steelhead, Rainbow Trout, and Yellowfin Tuna. If you own your vessel, the nearest place from which to launch is to the south at the Morro Bay public launch ramp. This is located on the Embarcadero's southern end; launching your boat is free, but note that vessel and trailer parking incurs a fee. Cambria lies about 20 miles north from the launch ramp. These waters are highly protected in certain areas, particularly to the south of Cambria. Consult with experts at Virg's Landing or Patriot Sportfishing in Morro Bay before embarking on your deep sea fishing excursion. These two businesses are also great spots to charter a vessel or book a fishing tour with an experienced and knowledgeable guide. Tours include rockcod, albacore and salmon tours when salmon are available and in season. Virg's Landing and Patriot Sportfishing also sell bait, tackle and fishing licenses.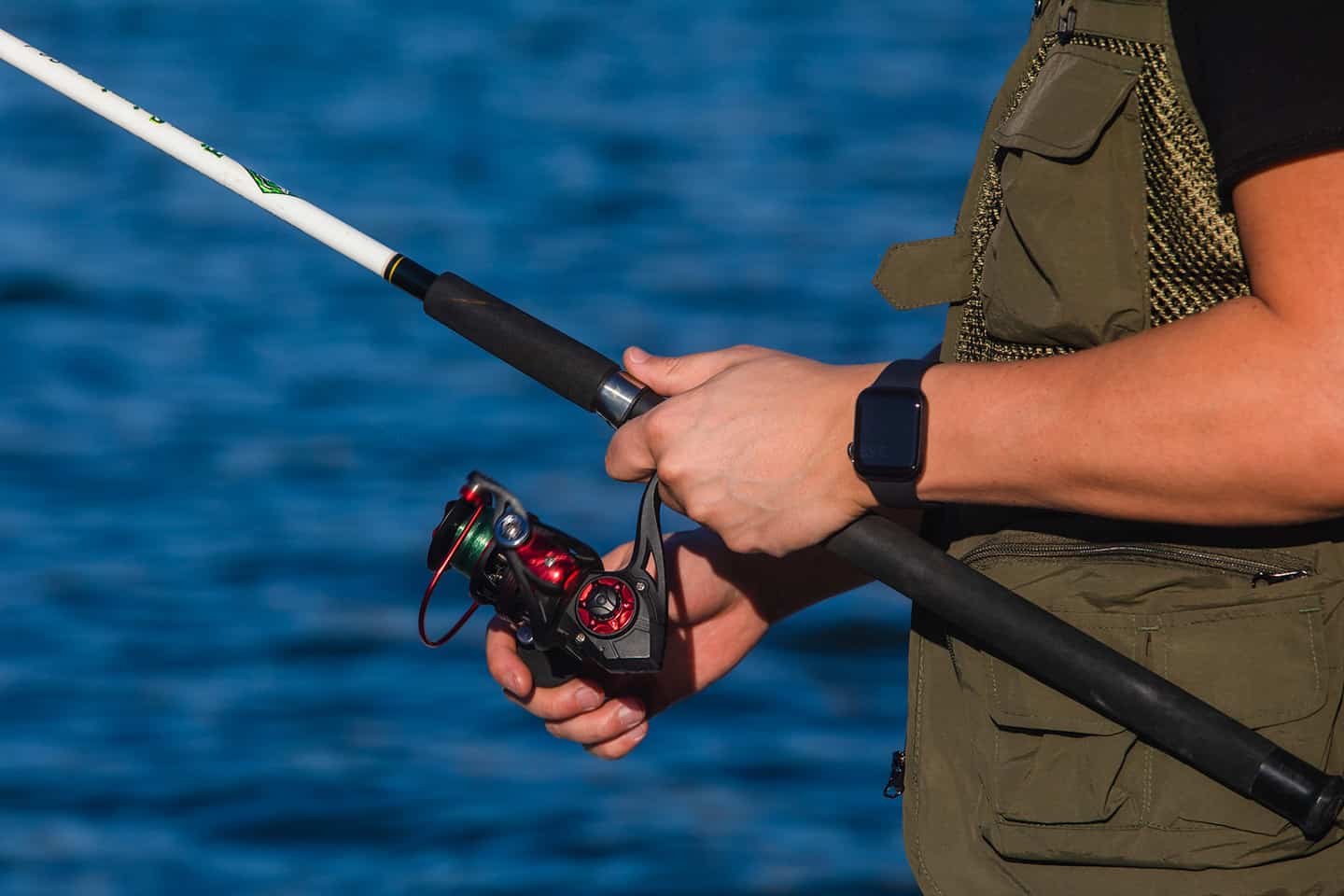 The fact that two very popular kayak fishing tournaments take place here goes to show how fine a kayak fishing spot Cambria is. These waters have hosted the Estero Kayak Challenge and the Central Coast Slamdown over the years, with anglers coming from near and far. Most competitors are also members of, or familiar with, the Central Coast Kayak Fishing Club. The forum on the club's website can be a great resource for visiting anglers to ask questions of the locals. Year-round, kayak anglers can expect to find a variety of species, including rockfish, lingcod, cabezon, halibut, saltwater perch, leopard sharks, and even salmon. The most common and popular species for kayak anglers to catch here are rockcod, cabezon and greenling. Just be ready for a showdown: cabezon and lingcod, especially, are incredibly strong and known to fight back when hooked. Some anglers prefer a double dropper loop setup with anchovies or squid on the hook for these aggressive species. Others like using artificial baits like jigs, swimballs, irons and plastics. Keep an eye out for Cambria's spectacular kelp forests, where you may even spy a California Sea Otter. Other wildlife in the area may include whales, dolphins and sea lions. For the best, most efficient launch point, head to Leffingwell Landing (see "Fishing Moonstone Beach" above). This small, protected cove includes a boat ramp that makes it simple to hit Cambria's abundant coastline with your rig.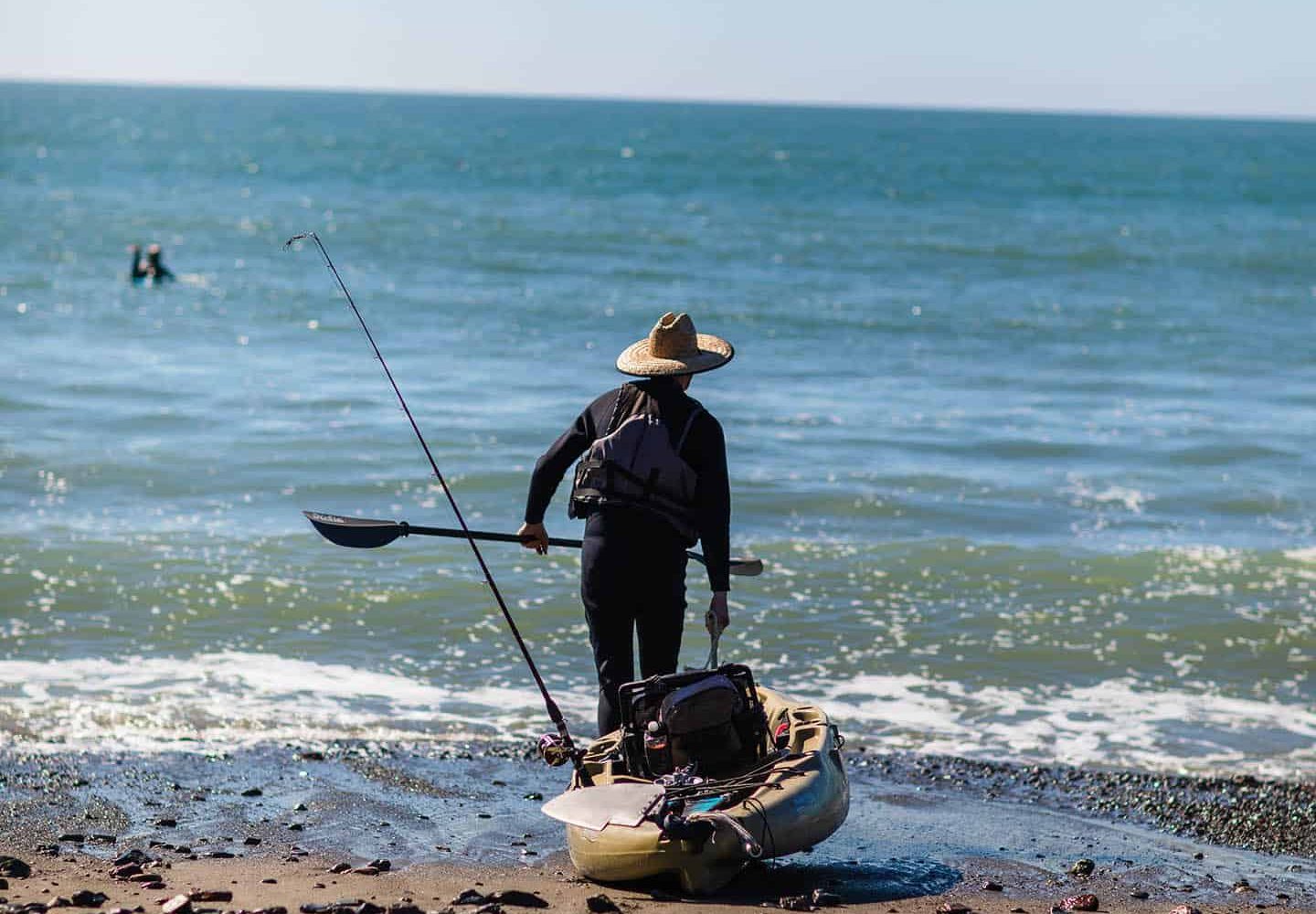 Tide Times for Highway 1
Monday, Sep 25, 2023
| Tide | Time (PST/PDT) | Height |
| --- | --- | --- |
| Low Tide | 1:43 AM | -0.33 ft |
| High Tide | 8:34 AM | 4.21 ft |
| Low Tide | 1:18 PM | 2.69 ft |
| High Tide | 7:16 PM | 5.78 ft |
Tides measured at Port San Luis Harbor. Data provided by
noaa.gov.