Looking for things to do in San Simeon? This beautiful seaside town offers up exceptional wildlife viewing, hiking, dining and sightseeing. San Simeon is home to historic Hearst Castle, a must-see attraction that combines impressive architecture, museum-worthy works of art and stunning coastal views. Roadtrippers should plan on staying overnight to best explore all Highway 1 and this magical region has to offer. From check-in to check-out, enjoy this detailed itinerary featuring top things to do in and around San Simeon.
Explore Things to do in San Simeon
The San Simeon Pier Walk
The San Simeon Pier Walk offers up several ways to enjoy a day of family fun along the coast. Park at the Discovery Center parking lot and be sure to take note of the colorful mural nearby. Inside the Discovery Center, visitors are invited to learn about the local environment and San Simeon wildlife. For whale watching opportunities, check-out a pair of binoculars from the center and walk down to the pier. Enjoy a self-guided tour of the pier itself, one of the primary points of interest for the region's popular Whale Trail. The pier also provides a scenic and practical location for a picnic, as nearby tables, grassy areas for sitting, a wide open beach and clean restroom facilities are all available to the public. Keep an eye out for the nearby Western Monarch Trail interpretive sign, with details of the butterflies migration along Highway 1. Looking for more fun things to do at the San Simeon Pier Walk? Take advantage of this popular fishing destination and cast a line from the pier or launch a kayak from the cove. Whether you stick to the pier or traverse the water, you're sure to get a colorful taste of San Simeon's coastal allure.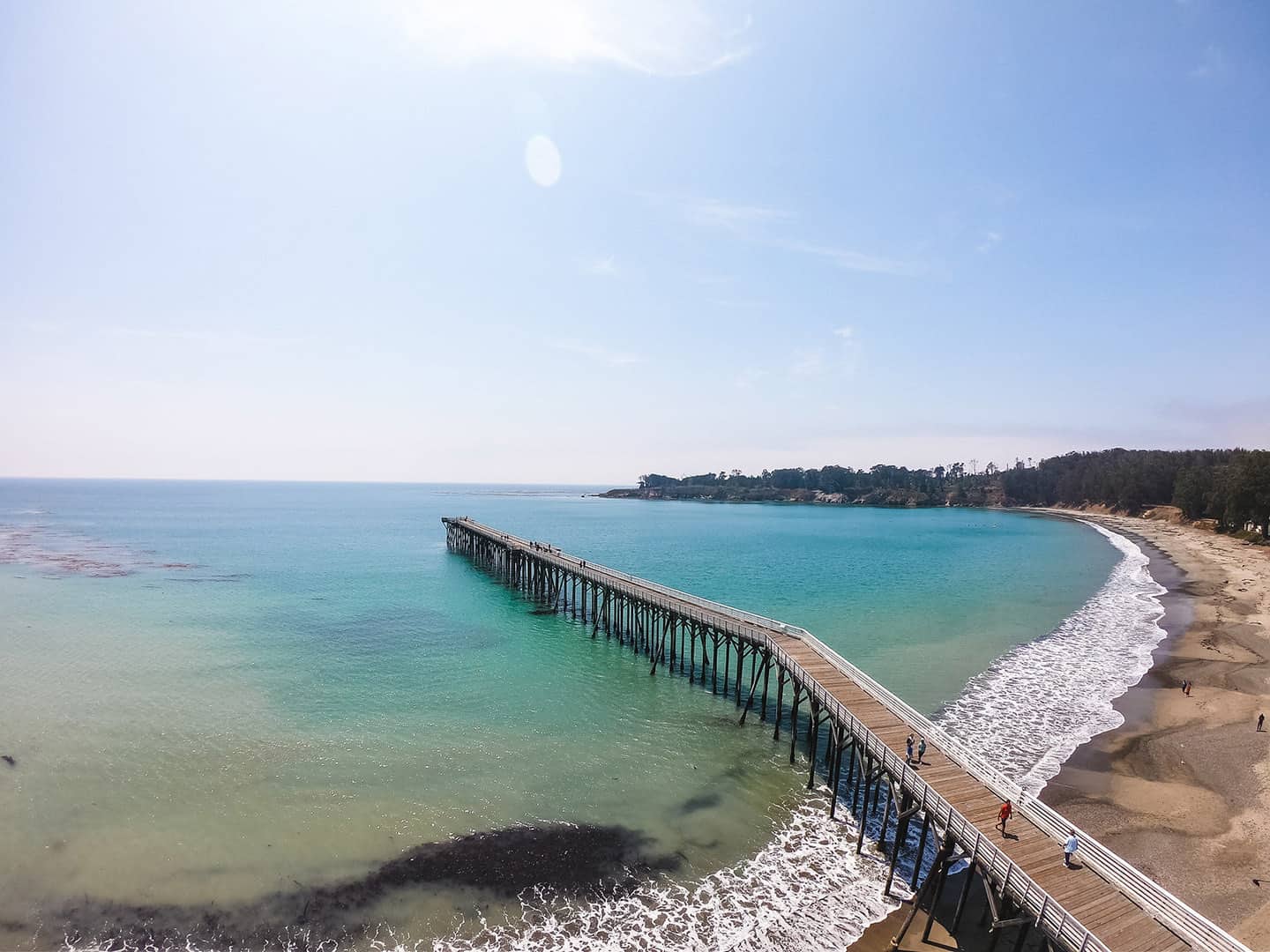 Take in the view from San Simeon Point
Take a family-friendly walk to San Simeon Point to enjoy beautiful views of San Simeon Cove. Located just a short hike from the San Simeon Pier Walk, you'll love the journey as much as the destination. Simply stroll north along the beach to the trailhead to discover a forested beachfront trail meandering through the bluffs. This relaxed walk clocks in at just 2.5 miles round trip and affords unobstructed views of San Simeon Cove's pristine white sand beach. Kids will especially enjoy watching for surfers, kayakers and seabirds along the horizon. Everyone is invited to enjoy this view–it's easy enough for even your littlest travelers.
Walk through the historic Village
San Simeon's historic Village harkens back to early California history. Anchored by a time-honored General Store (currently closed for relocation and structural updates), this site has provided a home to the Hearst Ranch Winery tasting room as well as a small post office. Everywhere you look, the past is present. In fact, the Coastal Discovery Center is located where the original shipping and storage warehouse once stood. Nestled along the water's edge, it's not hard to imagine William Randolph Hearst's architectural treasures being hauled off ships more than a century ago. The nearby 1881 Pacific Schoolhouse, a relic from the region's ranching days, still stands as an incredible photo opp. Speaking of great photos, Monarch butterflies roost along the Eucalyptus trees along the coastline. Be sure to keep an eye out for orange clusters fluttering through the branches as you explore this charming locale.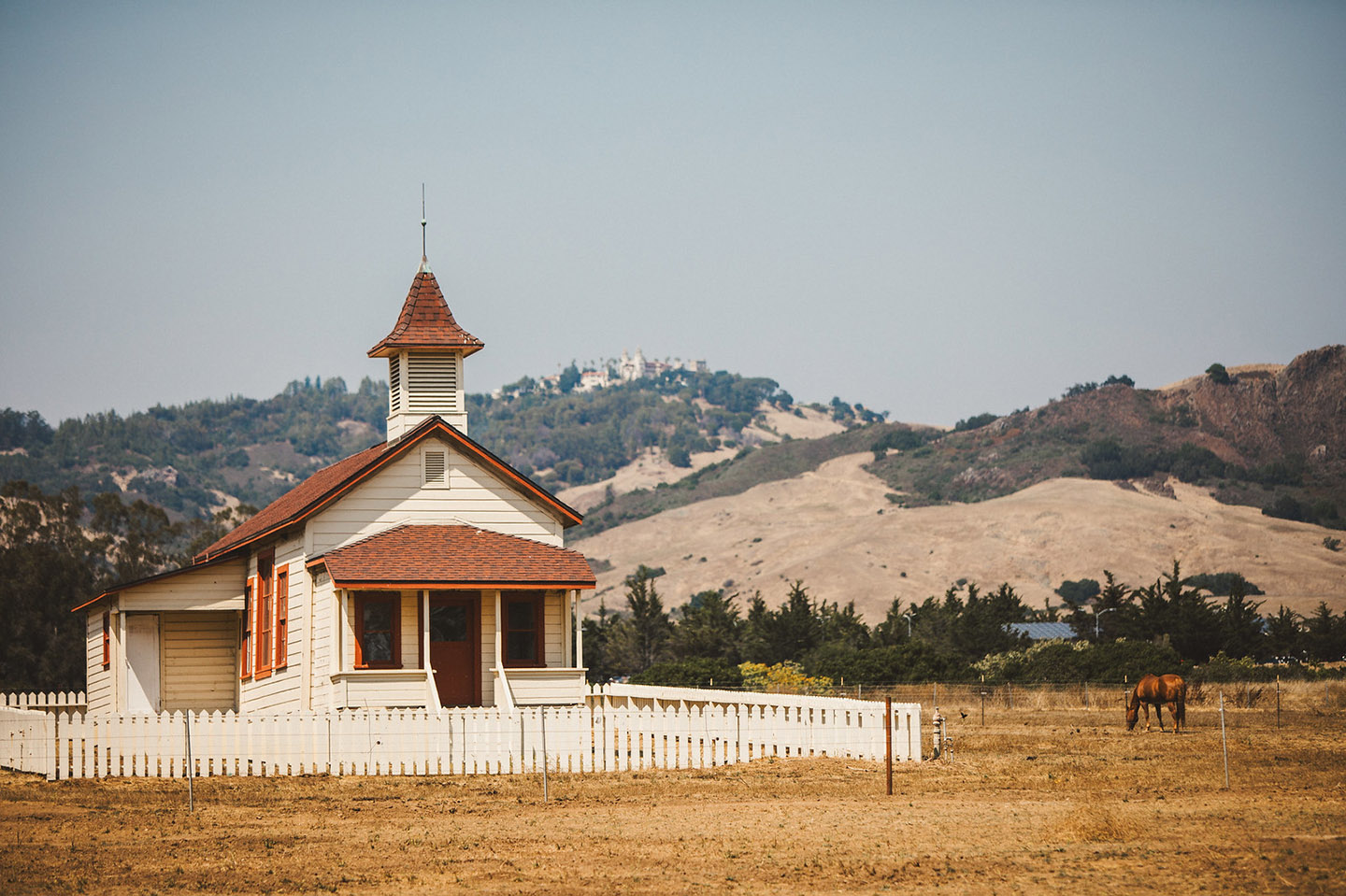 Grab a Lunch Bite
Lunch at the Cavalier
Dining at San Simeon's beachfront restaurant Cavalier provides delicious, upscale options for everyone. Choose from Hearst Ranch Beef burgers and plant-based options for the vegetarians. Everyone is invited to come hungry and leave happy. From refreshing entree salads to classic fish and chips and chef-crafted sweet treats, you'll find something tasty to tantalize every member of your party. Plus, you'll enjoy oceanfront dining at its most impressive, as the restaurant literally touches the sand.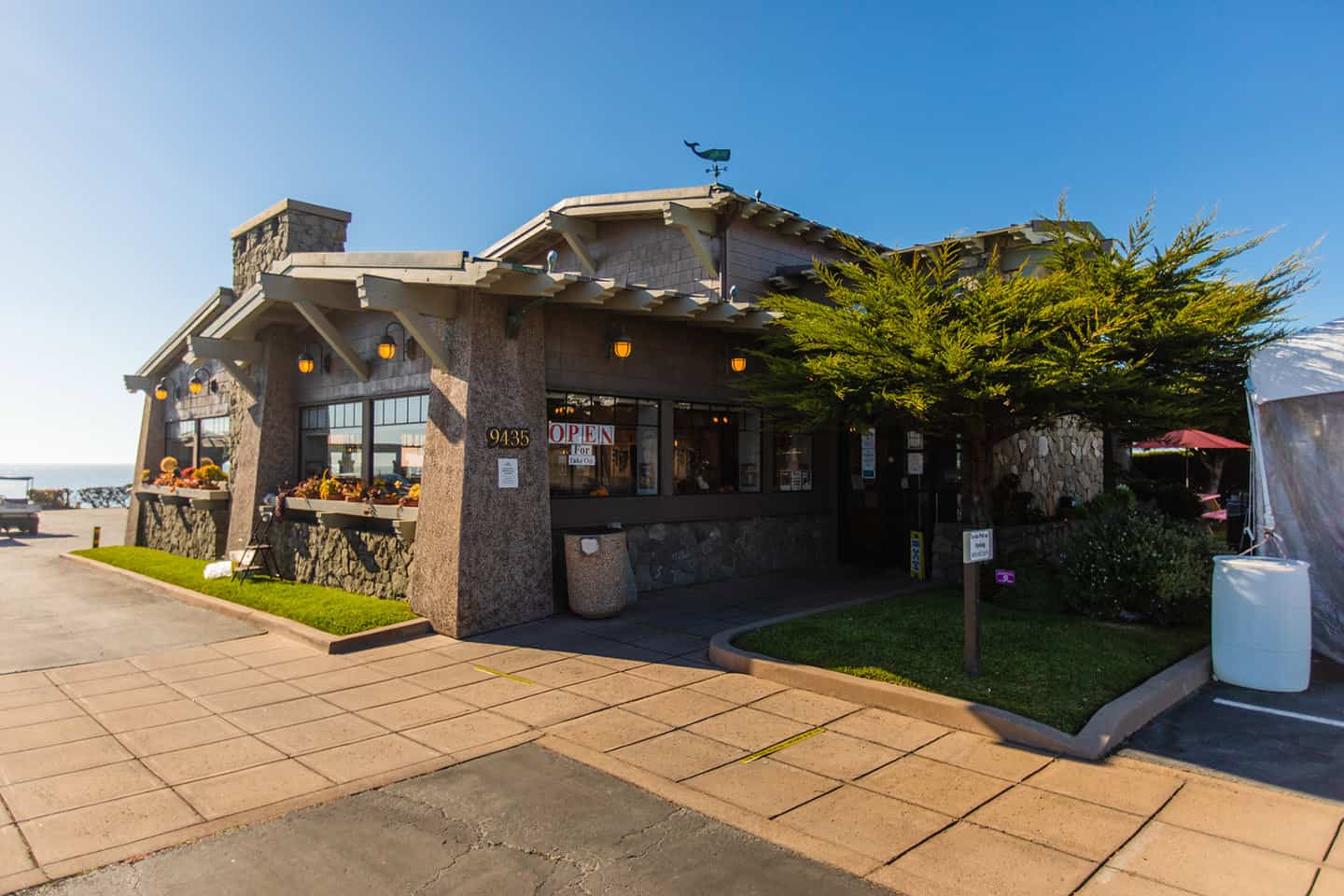 Happy Hour & Billiards at San Simeon Beach Bar & Grill
Happy hour at San Simeon Beach Bar & Grill is a satisfying, casual party. Come as you are and join the fun: this is where locals and visitors come together to relax and unwind. Grub down on sandwiches, pizza, baby back ribs and Maine lobster tail and wash it all down with a cold beer or chilled cocktail. Happy hour runs 4 to 6 p.m. with a full bar and karaoke hosted Friday and Saturday nights from 8 pm. To 1 a.m. You're sure to make a few new friends at this friendly local hangout.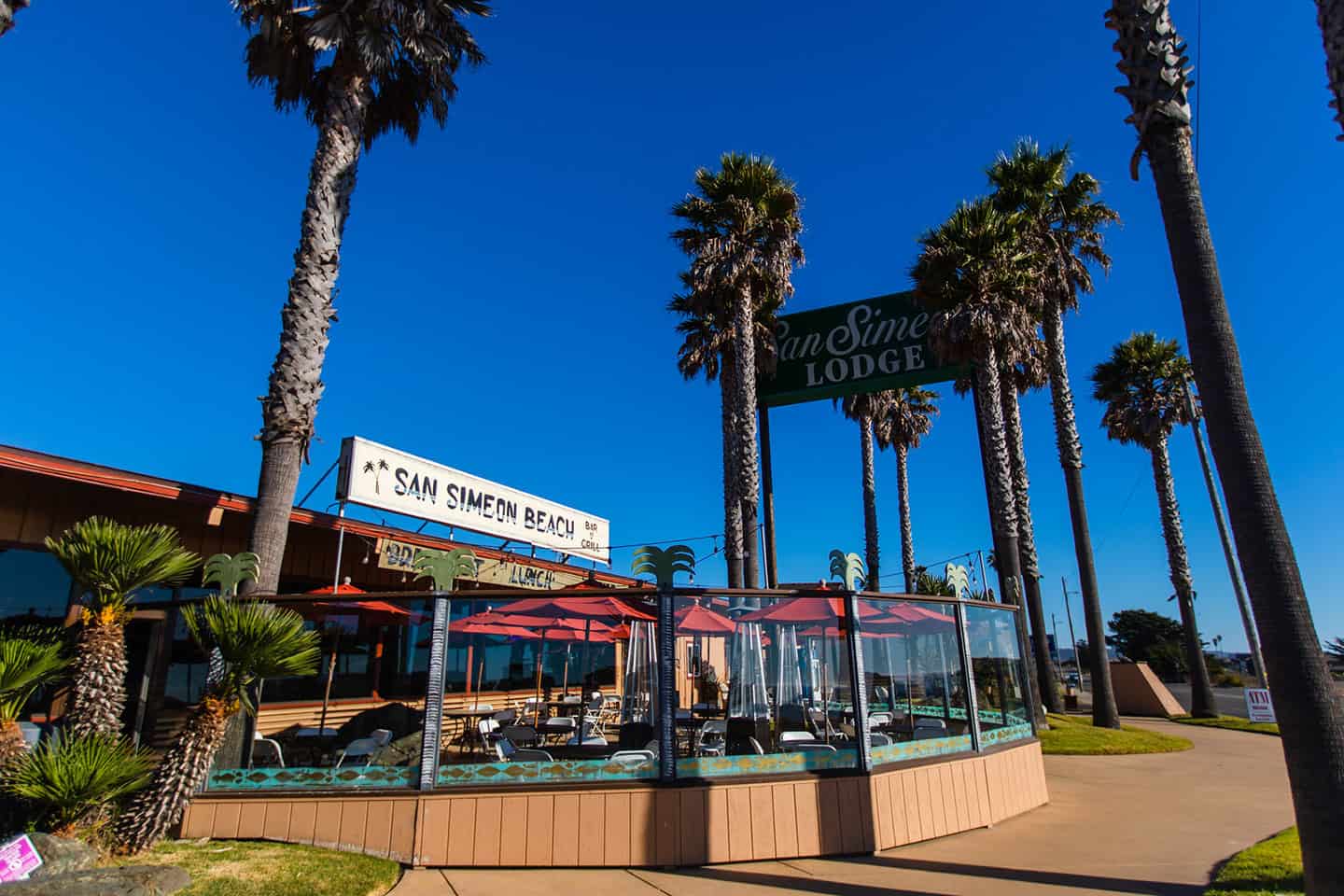 Oceanfront Wine Taste at Hearst Ranch Winery
Wine tasting at Hearst Ranch Winery in San Simeon pairs world class wines, great food and ocean views. Just a quick five-minute walk from the San Simeon Pier, you'll have the opportunity to explore the historic San Simeon Village along the way. Ready to soak up the sunshine with some fine wine? Open air tastings are offered overlooking Hearst Ranch Memorial Beach, a lovely backdrop for sampling a flight, glass or bottle shared among friends. Open daily from 11 a.m. to 4 p.m., reservations are required, yet anyone can drop in for a quick and tasty lunch. The Cruiser Food Truck is parked onsite at Hearst Ranch Winery Thursday through Monday from 11 a.m. to 3 p.m. and serves up short rib sandwiches, beef and plant-based burgers, shrimp rolls and Ahi tacos, to name a few options. While you dine and sip, be sure to scan the Eucalyptus trees flanking the tasting room. Pops of orange reveal beautiful Monarch Butterflies fluttering along the beach. Yes, this is wine tasting done the uniquely San Simeon way.
Diva Day Spa
Diva Day Spa in San Simeon is a true oasis for the body and mind. After exploring San Simeon's historic Village and strolling the beach, indulge in a luxurious trip to this restful spa. Allow the potent combination of Swedish massage and aromatherapy to melt your stress or choose from an array of healing modalities to suit your needs. It's no wonder why spa options abound in San Simeon: it's the perfect place to relax and rejuvenate. If you've never enjoyed a spa day on the coast, here's your reminder to book that first session.
Dinner at The Manta Rey Restaurant
Dinner at The Manta Rey Restaurant in San Simeon will satisfy your strongest seafood cravings. With a menu famous for offering up a magnificent seafood selection–including King Crab legs, lobster tail, Ahi, sea bass, salmon and prawns–you'll sample the ocean's most delicious bounty. Located just two miles from Hearst Castle and boasting stunning views of the coastline, you'll enjoy not only fresh seafood, but also high quality steaks, decadent desserts and a wide variety of local wines, too.
Evening Tour of Hearst Castle
An Evening Tour of Hearst Castle invites visitors to step back in time at one of San Simeon's most enchanting attractions. Hosted at late great publishing mogul William Ranpolph Hearst's famed abode, experience Living History Docents dressed in period accurate 1930s garb. Unfolding at twilight, each room is brought to life with stunning accuracy. Available in March, April, May, October and November, this is an extended adventure you won't soon forget. Folks should also note that an ADA accessible version of the tour is also available, allowing everyone to experience Hearst Castle's most mesmerizing seasonal offering.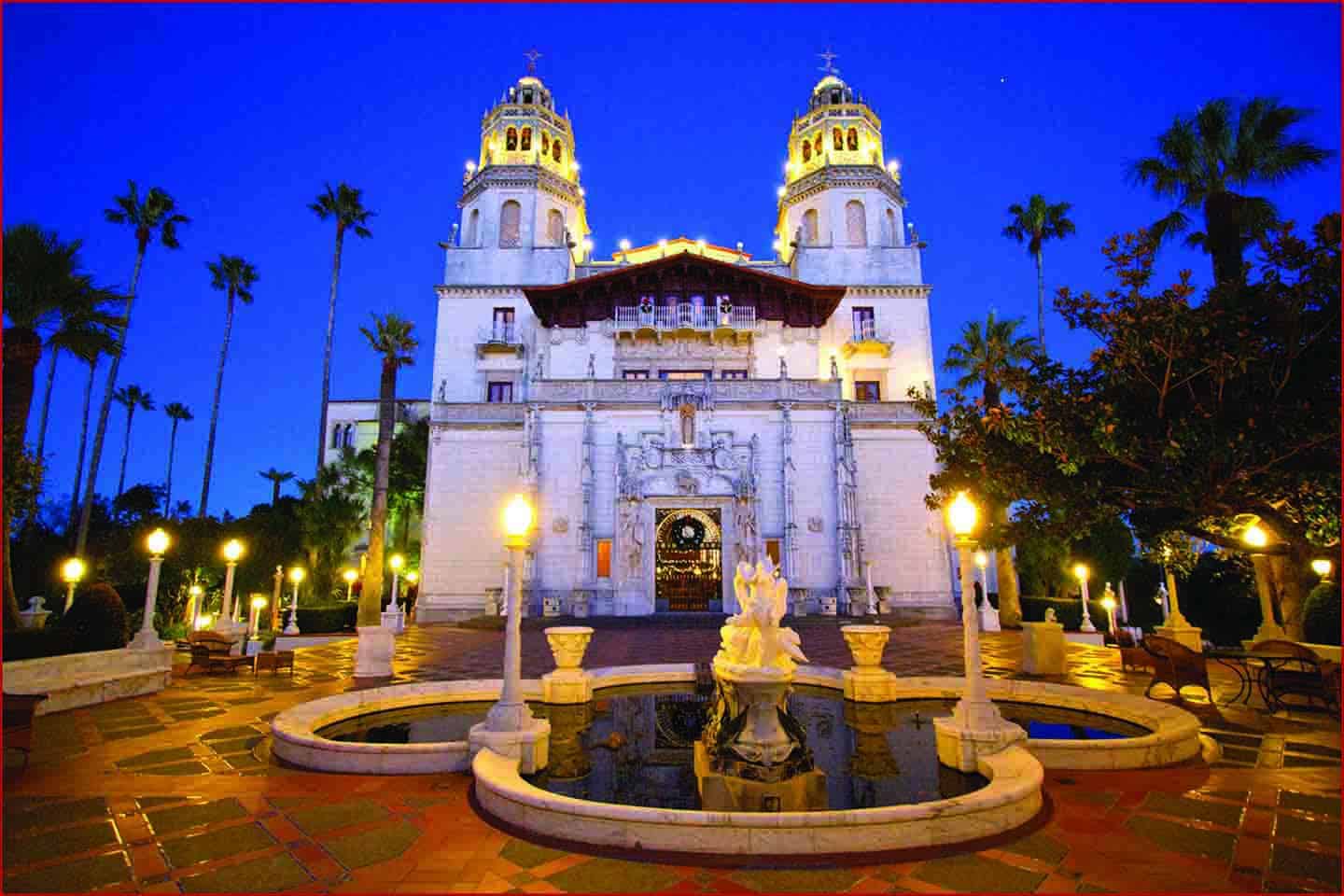 Big Breakfast Options
Big Sur Restaurant
A hearty breakfast is always on the menu at Big Sur Restaurant in San Simeon. Despite the name, you'll find this popular community eatery located in the heart of San Simeon. Serving ample breakfast portions made to order, you'll enjoy classic fare like full stacks of fluffy pancakes, French toast, omelets, scrambles and more. Fill up with bottomless piping hot coffee and a generous side of hashbrowns, buttered toast, or bacon–your choice. With a breakfast this generous, you're sure to have all the fuel you need to explore San Simeon to the fullest.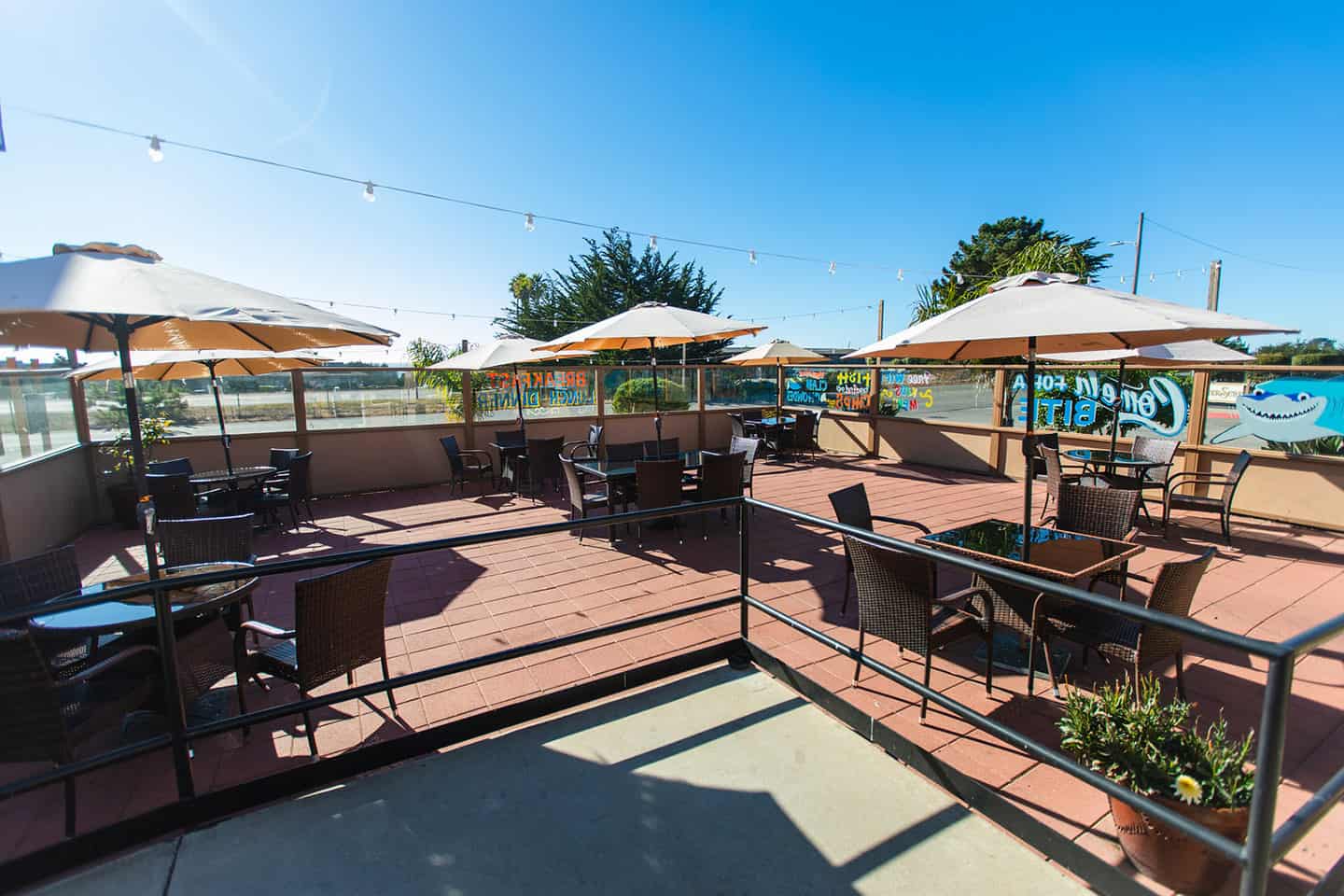 Sunset Grill
Sunset Grill in San Simeon cooks up an "all you can eat" buffet with a wide array of breakfast options. Perfect for when pleasing everyone proves tricky, you'll find everything from scrambled eggs and country potatoes to sizzling sausage, bacon, French toast, waffles, pancakes, biscuits and gravy, fresh fruit, oatmeal and more. Plus, with upscale menu options like Florentine Benedict and Belgian Waffles, there'll be smiles all around from even the most discerning diners.
Tour the Piedras Blancas Light Station
The Piedras Blancas Light Station stands as one of San Simeon's most recognizable historic landmarks. Located just six miles north of Hearst Castle on scenic Highway 1, be sure to keep an eye out for Hearst's famed zebras grazing along the pastures nearby. Morning Activity Tours meet at 9:45 a.m. at the Piedras Blancas Motel and take visitors through the iconic lighthouse, first lit in 1875. A fascinating relic of the region's rich maritime history, you'll come away from the experience illuminated, indeed.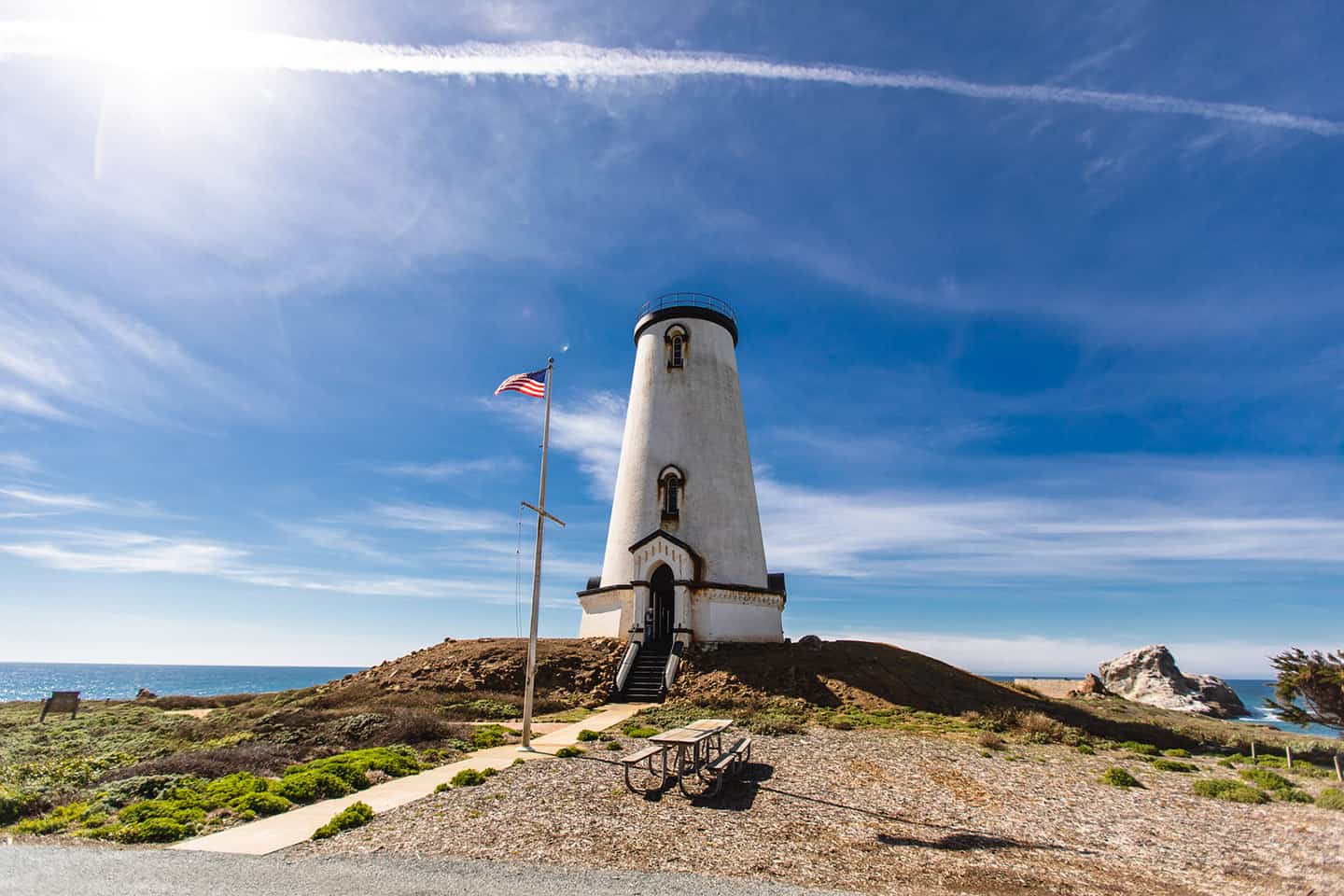 Watch the Elephant Seals
San Simeon Elephant Seal viewing is free and accessible to the public and a top Highway 1 attraction for all ages. After a morning tour of the Piedras Blancas Light Station, you'll be primed and ready for this exciting wildlife viewing opportunity (plus, you won't have to travel far). The Elephant Seal Rookery is just a short walk from Boucher Trail and a handy Boardwalk and Observation Deck provide a safe and easy way to view these animals in their natural habitat. Enjoy an up-close look as the seals sunbathe, molt, compete for their mate or care for their young, all depending on the season. Check out the newly-opened Elephant Seal Visitor's Center, where friendly docents are on-hand to answer all of your questions. Know before you go and view the Elephant Seal main page, a great resource for best viewing times and general wildlife viewing tips. There's no doubt about it: this family-friendly viewing opportunity is designed to get everyone in touch with their wilder side.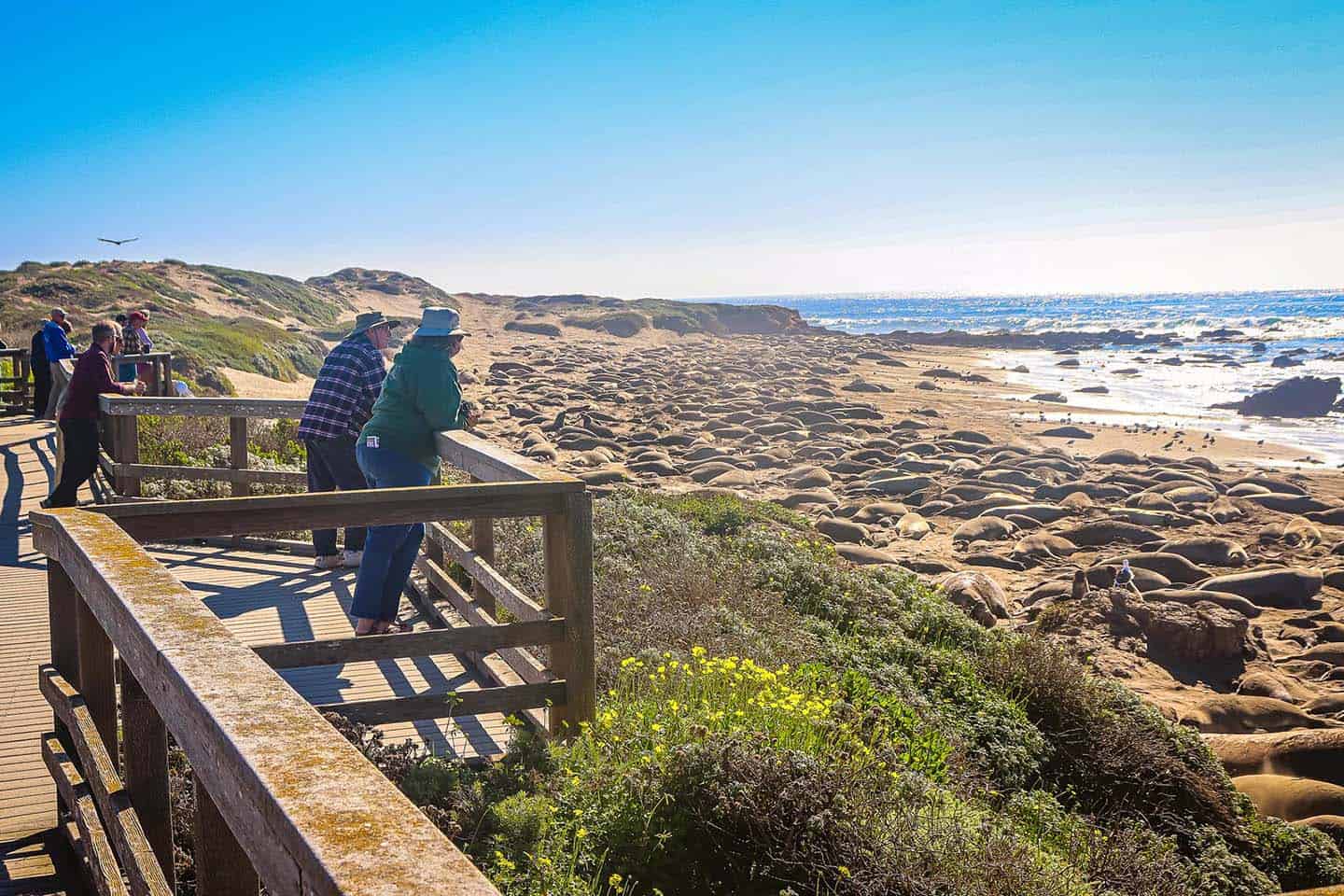 Where to next?
Looking for more exciting things to do in and around San Simeon? Head north to Ragged Point, where Ragged Point Inn beckons with a famous photo opportunity backdropped by the Gateway to Big Sur. We also recommend traveling south to the seaside hamlet of Cambria, where pines meet the Pacific. Home to a charming downtown and Moonstone Beach, you'll find myriad ways to make memories nearby. Wherever you roam in and around San Simeon, you'll experience the breadth and beauty of Highway 1, one of the world's most scenic drives. There's always more to explore around the bend!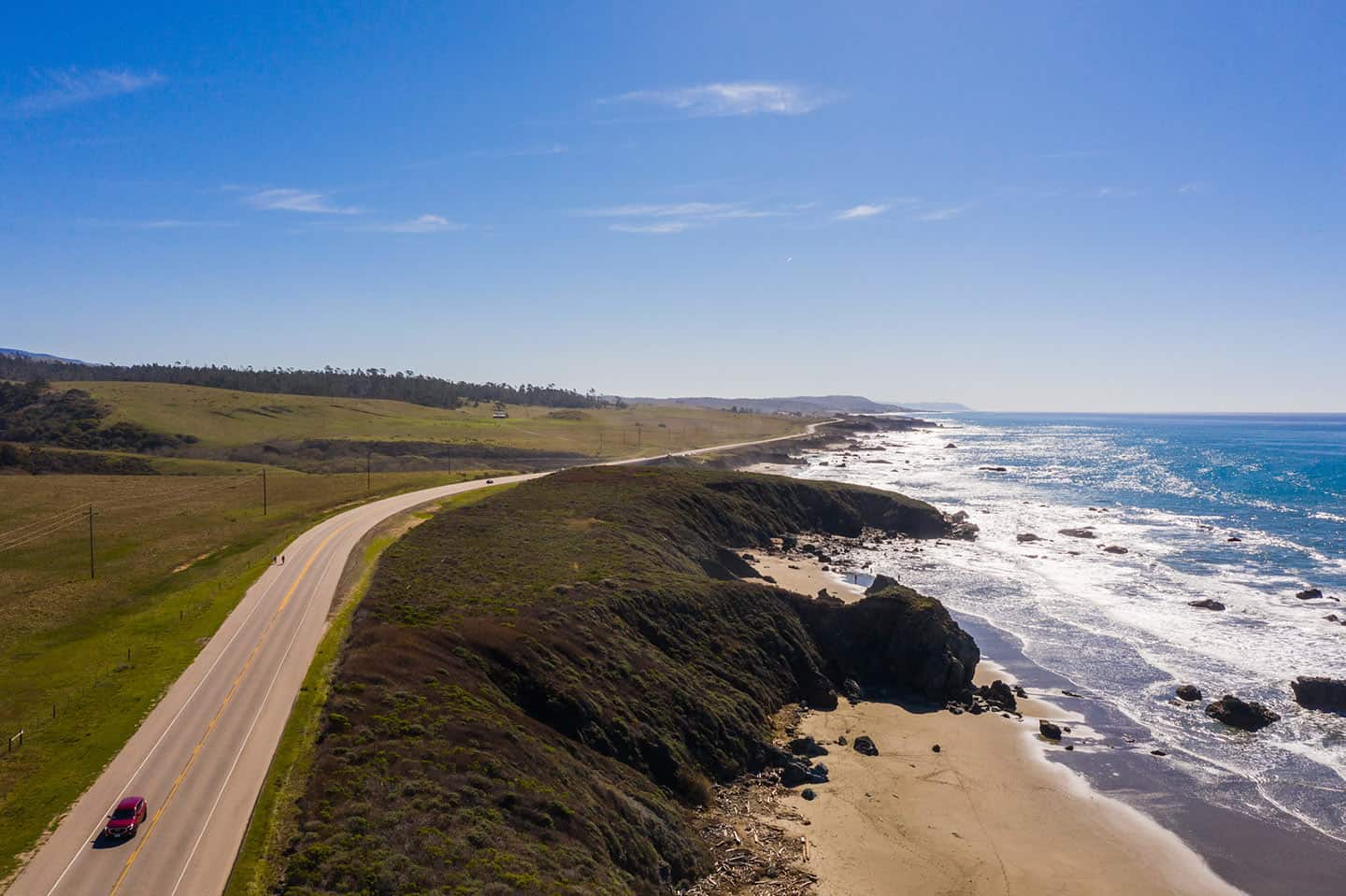 #SanSimeon