If you're looking to find a magical beach near Hearst Castle, look no further than the William Randolph Hearst Memorial Beach. This beach once bustled as a whaling outpost, and later as a port for receiving antiquities to adorn W.R. Hearst's hilltop estate. Today, William Randolph Hearst Memorial Beach provides the scenery, sand, and surf for an ideal beach day on Highway 1.
Explore W.R. Hearst Memorial Beach
History of William Randolph Hearst Memorial Beach
Like so many places on California's Central Coast, this beach was once home to Chumash Native American people. But by the 1850s, it had become a small whaling village established by Portuguese settlers who hunted gray and humpback whales. After a severe drought caused its inhabitants to relocate, the beach was purchased by George Hearst, the famous mining baron from Missouri. When his son William Randolph Hearst inherited George's holdings, he put the beach to good use. Ships came and went from the pier his father built, delivering antiquities to appoint W.R. Hearst's hilltop estate, now known as Hearst Castle.
Today, W.R. Hearst Memorial Beach is a day-use area offering 24 picnic sites, parking, restrooms, water faucets, barbecue facilities, and beach access. The beach lies off Highway 1 in San Simeon, just down the hill from Hearst Castle. Tucked inside a protected cove, the beach enjoys mild weather year-round. (Highs reach an average of 78 degrees F between June and October, while December's average settles around 60 degrees F.) San Simeon Point extends in the shape of a crescent from San Simeon Cove, along a pristine white sand beach. Serenely scenic, The Cove (as locals call it) is popular for swimming, fishing, sunbathing, picnicking, kayaking, whale watching, and more.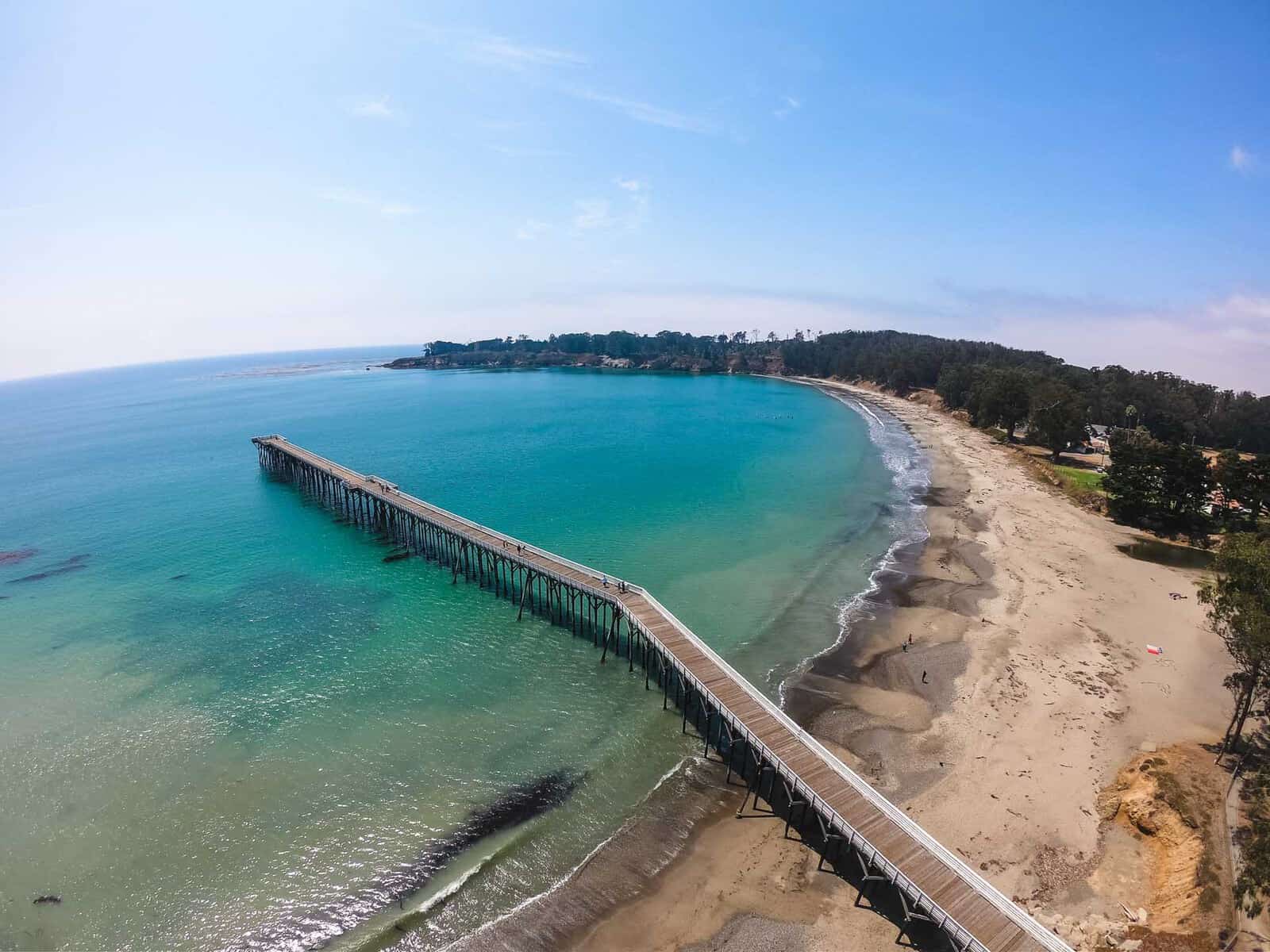 Activities at W.R. Hearst Memorial Beach
Thanks to the protection of The Cove, this beach boasts ideal weather and amenities for many family-friendly activities.
Fishing
For those interested in casting their line, the 850-foot-long pier allows fishing without a license, though limits are enforced. Find rubberlip, barred surf, walleye and rainbow perch in these waters year-round. Surf fishing is also popular here, with white croaker and barred surfperch fairly easy fish to catch.
Coastal Discovery Center
At the entrance to W.R. Hearst Memorial Beach, the Coastal Discovery Center welcomes visitors to learn more about the connection between land and sea. The center is a collaborative project between Monterey Bay National Marine Sanctuary and California State Parks. It offers interactive displays, exhibits, and educational programming to bring light to the natural and cultural history of San Simeon. Fun and enriching for all ages, the Coastal Discovery Center is a free public attraction.
Kayaking and Paddleboarding
Though the beach no longer offers kayak and board rentals, W.R. Hearst Memorial Beach remains one of the best spots on Highway 1 for paddling. Bring your kayak, canoe, stand-up paddleboard, or boogie board out for a calm and picturesque cove to explore.
Whale Watching
Gray whales, humpbacks, and even orcas have been sighted from W.R. Hearst Memorial Beach, attracting thousands of visitors throughout the year. The Whale Trail recognizes this beach as one of the most important whale watching points on the West Coast. Head to the pier, where a Whale Trail display identifies whales that migrate in these waters, as well as what to look for. Visitors can also borrow binoculars and guides for viewing San Simeon Bay Wildlife at the Coastal Discovery Center.
Hiking
A walking trail leads out to San Simeon point, flanked by eucalyptus, pines, cedars, and cypress trees. This magical half-mile ends with breathtaking views back toward the cove, its waters sparkling. Though the trail lies on private Hearst Ranch property, without public easement, it is frequently used by hikers. Catch the trail on the bluff at the north end of the cove.
Annual Beach Cleanup Day
On the third Saturday in September, beach-goers, beach-combers and beach-lovers turn out for the annual Creeks to Coast Cleanup. This event typically draws 1,800+ volunteers to gather over 16,000 pounds of trash and recycling from 48 cleanup sites in SLO CAL. Since 1983, this event has cleaned up after the high summer season, removing debris that impacts the health and safety of humans and local wildlife. Become part of our Travel for Good program. Partner with locals to volunteer and do good work while gaining a deeper connection with San Simeon. Your contributions help preserve and conserve our stretch of Highway 1 for everyone. 
#hearstsansimeonstatepark
Near Hearst State Beach
W.R. Hearst Memorial Beach lies close to several family-friendly attractions, just waiting to be discovered. Spend a day at the beach, then add stop-offs to catch extra adventures nearby.
Cambria, California
The charming village of Cambria begs for exploration. Walk the town's picturesque streets with a self-guided tour of historic homes and storefronts. Taste Cambria's famous olallieberry pie at Linn's Restaurant, as well as a wide range of dining options. Boutique shopping, special events, horseback riding, and beachcombing await in this quaint seaside hamlet.
Hearst Castle
Across the street from W.R. Hearst Memorial Beach, the Hearst Castle Visitor Center serves as gateway to the historic treasure of Hearst Castle. See the famous 90,000-square-foot home decorated with art and antiquities from W.R. Hearst's global travels. Tour the estate with a docent and learn about Hearst's lavish parties with luminaries of the early 20th century. Don't forget to take in the view! Hearst positioned his home for sweeping vistas of the Pacific Ocean, Santa Lucia Mountains and beyond.
Piedras Blancas Light Station
Seven miles north of W.R. Hearst Memorial Beach, the historic Piedras Blancas Light Station still stands as a beacon to passing watercraft. The lighthouse first operated in 1875 to protect the many ships in these waters from running aground on the rugged shoreline. Today, the lighthouse offers tours of the property, and docent-led talks about the light station's history.
Elephant Seal Viewing
The Great Northern Elephant Seal Rookery is a wonder to behold, located just off Highway 1 north of Piedras Blancas Light Station. Come for the drama of mating, birthing and molting among the large majestic creatures who migrate here twice annually. Helpful docents are available to answer questions, and admission is completely free.
Estero Bluffs
A hike in the 350-acre Estero Bluffs State Park takes in sweeping views of the Pacific coastline, including Morro Rock. Find tide pools, otters, harbor seals, and abundant seabirds on a peaceful coastal hike. A small beach is also accessible from the trail.
Hearst San Simeon State Park
The coastal bluffs of this scenic state park take in wide ocean views, particularly from a 3-mile trail that winds through San Simeon Natural Preserve. Enjoy panoramic vistas, benches for resting, and interpretive displays featuring local flora and fauna. This loop also features a stretch of wheelchair-accessible trail.