The beauty and bounty of Highway 1 inspires a wealth of art and culture in each of its communities, Arroyo Grande and Edna Valley among them. In Arroyo Grande, find a lively sense of history inside impeccably-preserved buildings like the Santa Manuela Schoolhouse. This quaint spot and others like it bring history to life; in fact, several are still in use today. (One terrific way to discover historic places you can visit along Highway 1 is with our History and Heritage Trail.) And in Edna Valley, rolling vineyards are reflected in the work of artists whose masterpieces can be found on wine tasting room walls. You'll find plenty of other subjects too, including local wildlife and the vast Pacific Ocean, to name just a couple. As for the performing arts, these areas serve as hubs for touring artists as well as local vocalists, dancers, theater, and more. Whether it's history, public art, or an ovation-worthy performance, you'll find it here in Arroyo Grande and Edna Valley.
Explore Arroyo Grande & Edna Valley Art and Culture
Historic Buildings & Museums
Independent Order of Odd Fellows Historic Hall
This statuesque building overlooks Bridge Street, perpendicular to Branch Street in the Arroyo Grande Village. At two and a half stories in height, it is taller than most buildings in the Village, and made of stone as opposed to wood or brick. The hall was built in 1902 for the Independent Order of Odd Fellows fraternal organization, which disbanded in 1985. Today, it's owned by the South County Historical Society, and functions as a historical hub for the area. The first floor serves as a theater, where live hour-long reader's theater productions play every Saturday at 2pm throughout the summer. Previous themes have included the impact of the Gold Rush on Arroyo Grande, and the Duneites of Oceano. The second story of the building houses the South County Historical Society offices. Look for the Society's popular antique shows at the IOOF Hall throughout the year, which help preserve South San Luis Obispo County history.
Santa Manuela Schoolhouse
This wonderfully preserved historic building is great to visit with school-aged children to compare their learning environment to that of their ancestors. The one-room schoolhouse once served the children of east Arroyo Grande, close to Huasna and Lopez Lake. In fact, the schoolhouse sat on the property of Joseph Jatta, which now lies under Lopez Lake thanks to the Lopez Dam. Originally built in 1901, the schoolhouse was moved once in 1957, and to its final address on Short Street in 1999. Today, it serves as a hands-on museum, fully restored with historic blackboards, desks, maps, and books. The room is set up as it once was, complete with the teacher's desk on a platform, and even a player piano. The schoolhouse is conveniently located just on the other side of the Swinging Bridge, beside the Barn Museum and the Heritage House Museum. Bring the kids and grandkids so they can marvel at how much education has changed — and how much it remains the same.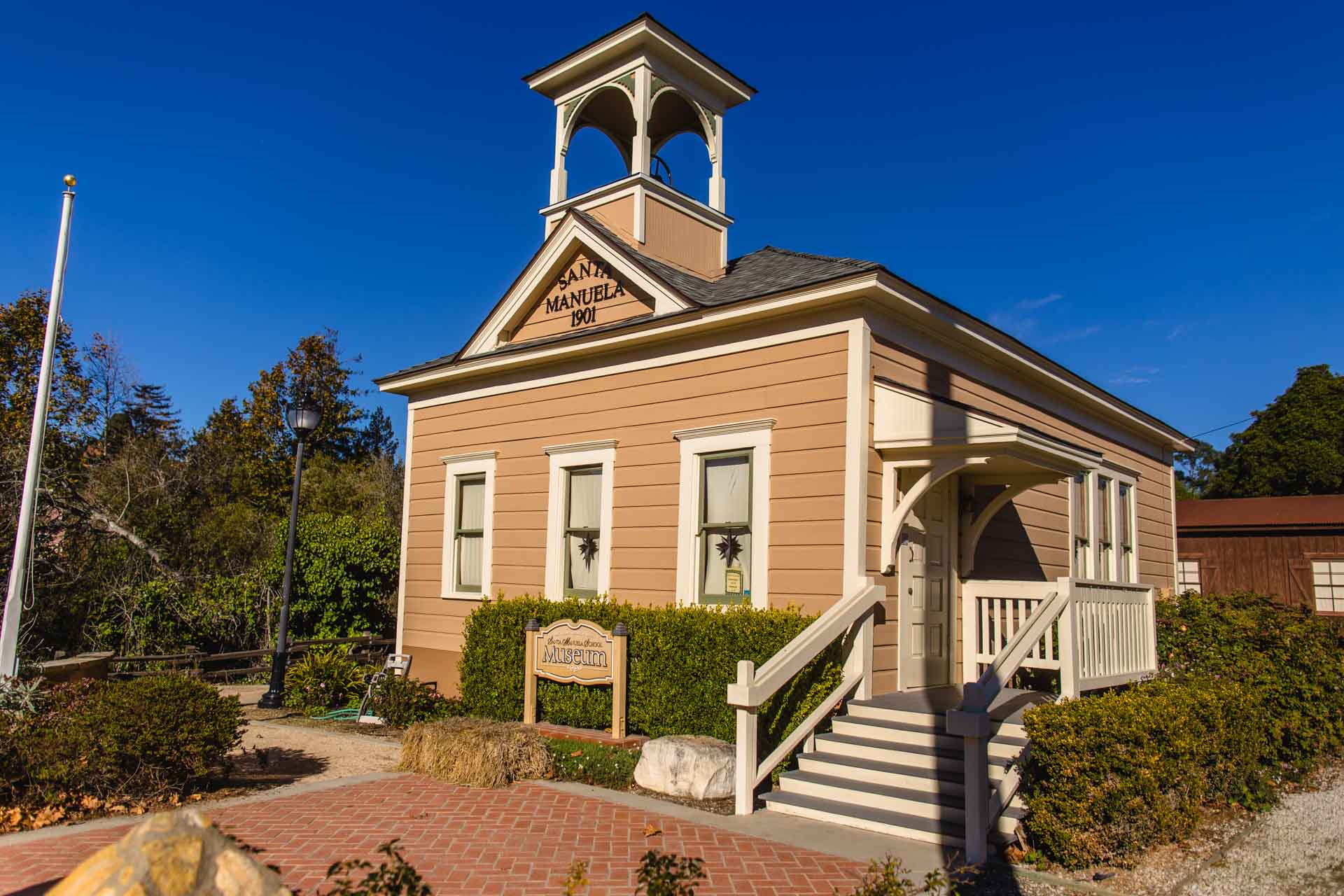 This long, low barn serves as the South County Historical Society's Museum Annex, where larger historic items can comfortably be stored. These include artifacts from Arroyo Grande's long tradition of agriculture and ranching, like vintage tillers, carriages and machinery. Some of these items stand outside the building and can be viewed and enjoyed at any time, while others comprise indoor-only exhibits. One of the most popular exhibits showcases the early days of firefighting in Arroyo Grande and South San Luis Obispo County. Look for the horse-drawn hook and ladder truck, as well as the 1923 LaFrance fire truck. Much can be learned about the way previous generations lived from these early vehicles and machines. The Museum Annex Barn is also home to several antique printing presses, as well as other interesting cultural artifacts. Enjoy the Barn, the Santa Manuela Schoolhouse, and the Heritage House Museum, all within just a few steps of the Swinging Bridge.
Heritage House Garden & Museum
Located just behind the South County Historical Society Barn Museum Annex, this Victorian-era cottage offers a glimpse back into Arroyo Grande history. The house was built in the 1800s; not much is known about its original owners, but records show that it sold in 1895. Since then, the home has served many purposes for many people, from a sanatorium to a daycare center. In 1997, the Historical Society purchased the house and restored it as a museum and visitor's center. The organization's volunteers staff the museum, providing tours of the house and information on its history. Permanent and rotating exhibits include studies of home life for previous generations, clothing and dress, work, children, and more. Come enjoy the robust collection of costumes, photographs, furniture, and even kitchen items that paint a portrait of time gone by. The Heritage House garden and gazebo also provide a picturesque setting for social gatherings, weddings and other events.
The Paulding House belonged to the first medical doctor in Arroyo Grande, Dr. Edwin Paulding. Built in 1889, the house features an ancient oak tree that has stood in the front yard for over 250 years. Dr. Paulding and his wife Clara Edwards gave birth to their daughter Ruth in the house. Ruth Paulding lived there until her death in 1985 at the age of 93, when it passed to the South County Historical Society. Dr. Paulding's parents were missionaries, and Ruth was an avid traveler. As such, the house is decorated with many notable pieces from around the world. One of these includes the only remaining authentic Chumash Indian basket in San Luis Obispo County. Additionally, Dr. Paulding was a skilled carpenter and woodworker; his carvings are also on display throughout the house. Visit the home on Crown Hill Road, just east of the Village of Arroyo Grande, to experience life as Dr. Paulding and his family did.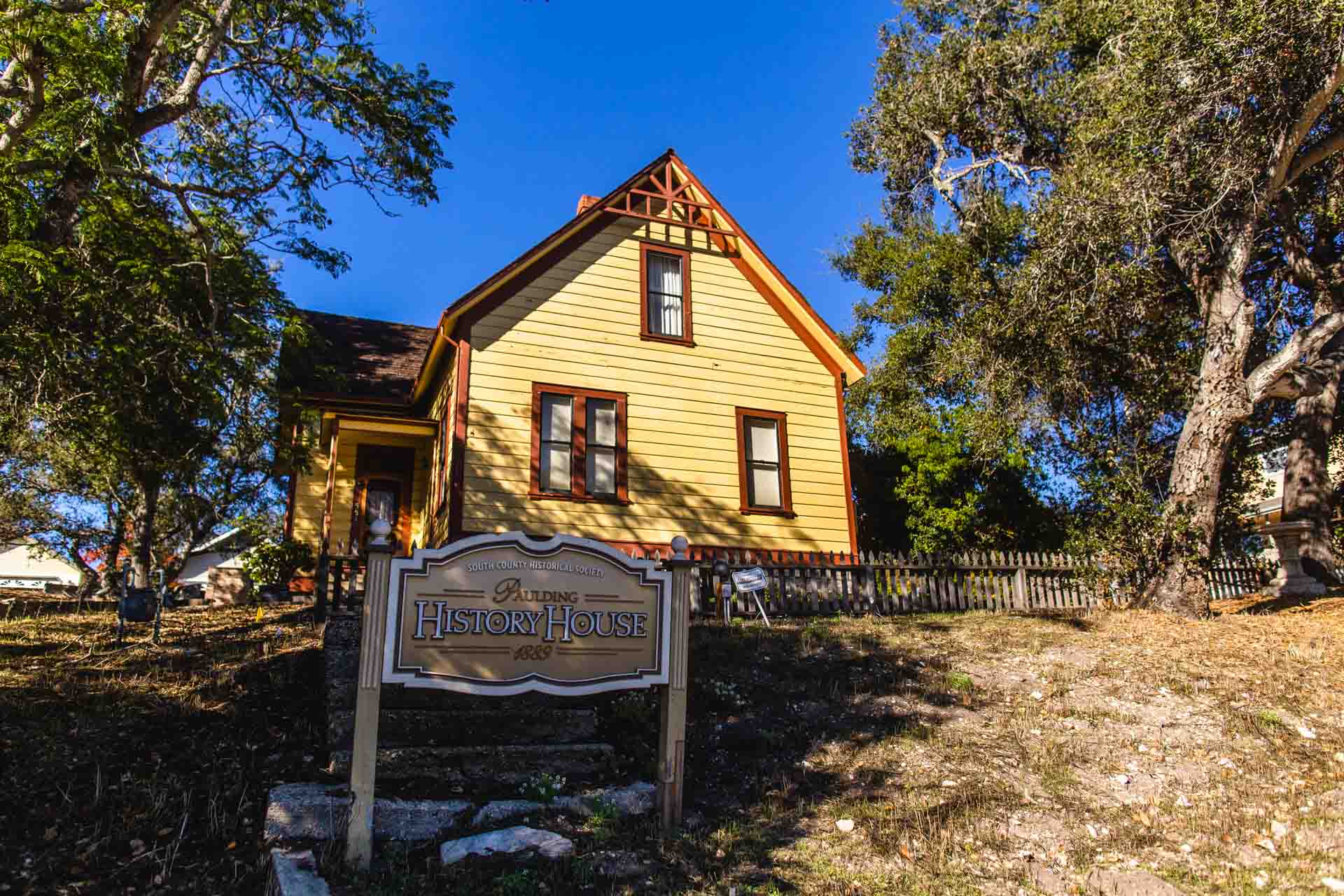 A state-of-the-art facility, the Clark Center for the Performing Arts features two theaters for both local and touring productions. The primary performance space is Forbes Hall, a theater with tiered seating and phenomenal acoustics for a wide range of productions. These include theater and plays, musicians, orchestras and bands, dance and balley, and lecturers and debates.The secondary performance space is the Studio Theater, a black-box style theater for smaller productions. (Forbes Hall seats 617, while the Studio Theater seats 120.) The Clark Center's calendar is consistently booked with local performances from the San Luis Obispo Symphony and Youth Orchestra, high school band concerts and plays, operas, ballets, and more. It's also an in-demand theater for touring productions of musicals, bands, festivals, dance troupes, and other performers. Furthermore, the Grand Lobby, which wraps around the hall, serves as a spacious gallery for local artists who capture scenes from the region.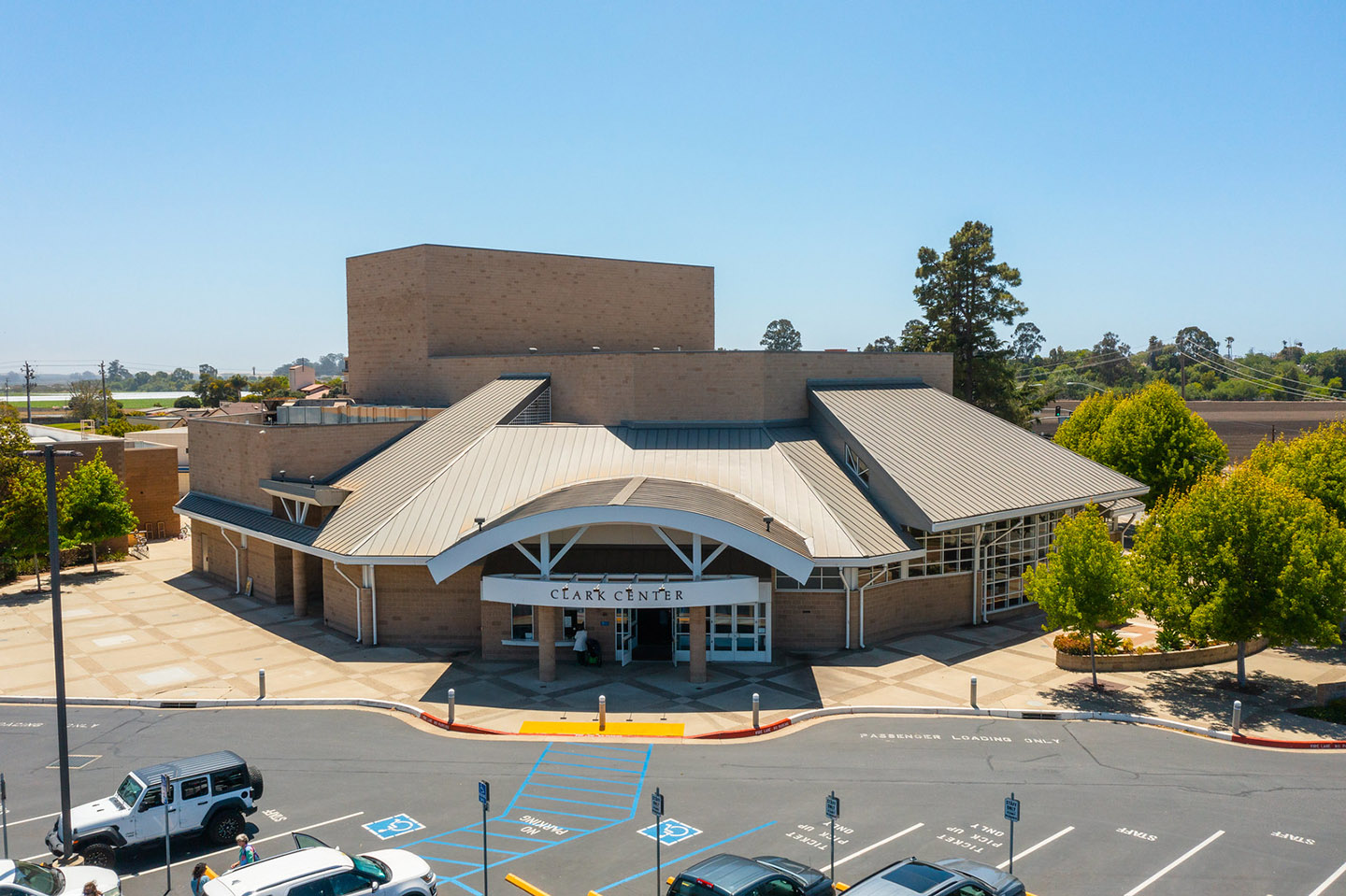 Diver and water-lover Drew Arnold dives for jade off the coast of Big Sur, then crafts pieces into one-of-a-kind artworks and jewelry. Drew and his wife Shelley are the only people who touch the jade from the moment it's harvested to the moment it's sold. Just a few pieces, however, are sourced from other spots around the world — but most come from right off Highway 1. Many experts in the jade and gemstone industry believe Big Sur to be the sole source of ocean-polished jade across the globe. Drew and Shelley take care in maintaining each stone's natural shape and color, in contrast to companies that manipulate their "jade" with dye. Drew's work has won awards at the World Jade Symposium, and takes pride in its pure gem quality. To experience Ocean Arts Jade for yourself and perhaps purchase pieces, visit Reflections Salon and Boutique on Branch Street in Arroyo Grande.
Those who appreciate the arts will enjoy taking in several of Arroyo Grande's public art pieces installed throughout the community. A good place to start? Try the large mural on the side of Mason Bar & Kitchen at the corner of Mason and West Branch Streets. Painted by Colleen Mitchell-Veyna, this sweeping panorama has been called "The History Mural" for its depiction of Arroyo Grande's agricultural roots. It includes the people of Asian and Latino heritage who established Arroyo Grande as an agricultural powerhouse in California. Another tribute to Asian influence in Arroyo Grande is the Japanese lantern at 150 South Courtland Street. Installed in a former strawberry field, the lantern was a gift to the public from the Peoples' Self-Help Housing Project. And in 2021, Arroyo Grande High School students and local artist Jim Trask made the Diversity Sculpture on the high school campus. This towering sculpture depicts a globe with the words "Community," "Culture," and "Diversity" engraved on its base.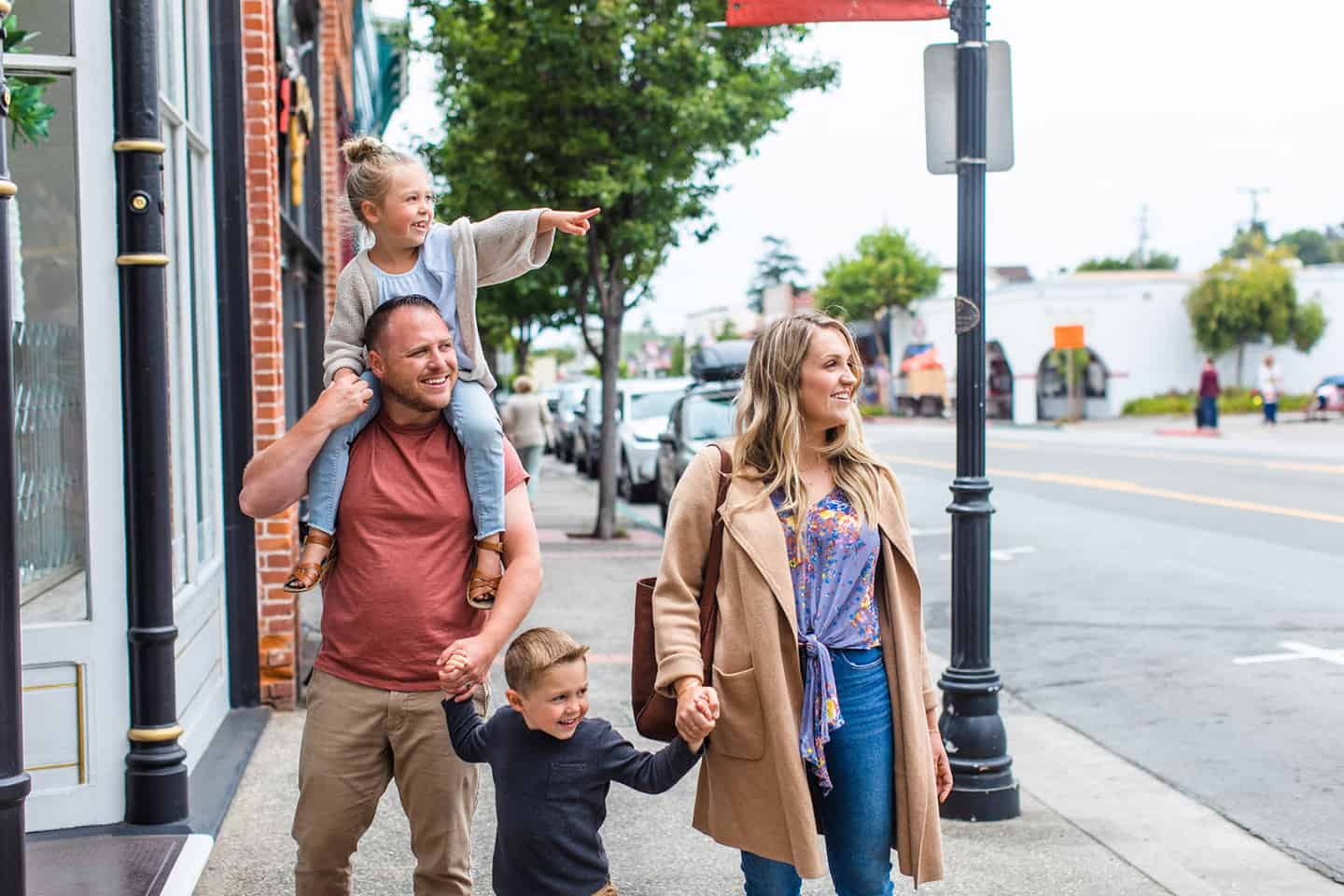 Owner Alaina McBride owns the Edna Valley Design Ranch, so called for her love of unique designs and desire to fill the property with artwork. Located on a rural five-acre parcel in the Edna Valley, the Edna Valley Design Ranch is a vacation rental with flair. The house itself comprises three bedrooms, with an additional game room garage and detached office. For an artistic touch, Alaina McBride hired famous muralist Shrine to freehand paint the game room garage door. In vibrant teal, turquoise, red and coral colors, Shrine painted a pattern that resembles those of indigenous art. He painted that pattern not only on the garage, but on the trim of the building as well. Alaina has incorporated a shadow box and other artistic touches throughout the property, too. She is currently at work installing multiple pieces and has a call out for artists to add their input. Whether it's sculptures, murals, or interactive media, she wants the Edna Valley Design Ranch to become a destination for art-lovers of all sorts.
Wine, vineyards, and art often go together — and Edna Valley wines and wineries are no exception. Tour the wineries of the Edna Valley and you'll find that several feature art and sculptures on site. For example, head to Tolosa Winery to have a look at the kinetic wind sculpture created by local artist John Tyler titled "Mistral." This towering sculpture moves and dances in the wind, never forming the same shape twice. Other wineries use their space to feature the work of painters, collage artists, and photographers. Drive the Edna Valley Wine Trail, and you're bound to come across the work of fine artists from both near and far. Furthermore, many wineries host live music and performances of all sorts. Organizations like Festival Mozaic, San Luis Obispo Symphony, San Luis Obispo Opera, Master Chorale, Civic Ballet and the Blues Festival stage performances in wineries. Chances are, if you plan a trip through Edna Valley Wine Country, you'll have the opportunity to experience the mastery of a fine or performing artist.