Sunshine, shoreline, surf and even starfish — these are just a few treasures to be found in Cayuco State Beaches and State Parks. Spanning 11 miles of diverse coastline, these places feature sandy beaches, rugged bluffs, tidepools and seasonal creeks that flow into the sea. All of it is minutes away (or, sometimes just steps away!) from the quaint, walkable beach town of Cayucos. From Harmony Headlands State Park to Morro Strand State Beach, these open spaces highlight the very best of Highway 1.
Explore Cayucos State Parks and Beaches
If you're on the hunt for a family-friendly spot with something for everybody, check out this laid-back state beach. At its heart is the historic Cayucos Pier, established as a busy wharf by Captain James Cass in 1872. Though most trade has since moved to other parts of the Central Coast, the pier remains an important hub for locals and visitors alike. Grab your rig and set up for fishing the Cayucos Pier, where rockfish, halibut and other fish can be caught without a license. Or simply stand at the pier's edge and watch surfers catch the perfect wave. 
Better yet, suit up to get in the water yourself! Cayucos State Beach lies right beside Cayucos' downtown corridor, where surf outfitters and surf schools offer gear and lessons for all ages and abilities. Whether you rent from them or bring your own, you're sure to hang ten on the Cayucos waves. Other fun things to do in downtown Cayucos include antique-hunting, dining, and cookie-sampling at the original Brown Butter Cookie Factory. 
A big, safe play structure, popular with little and big kids alike, stands right on the soft sand where the pier and the beach meet. Let the littles swing from the rings, drum on the play congas, and speed down the epic slide. Or for budding naturalists, take a walk south to the Cayucos State Beach tidepools, where anemone, mussels, and other small sea creatures live. (Just be careful to step on exposed rock to avoid treading on them.) Of course there's also wading, sand play, sunbathing and swimming to be had here. In fact, the Carly Soule Memorial Polar Bear Dip happens here every New Year's Day, with thousands of swimmers braving the cold January waters. And don't forget the Cayucos 4th of July Parade and celebration, which includes a serious sandcastle competition on Cayucos State Beach each year.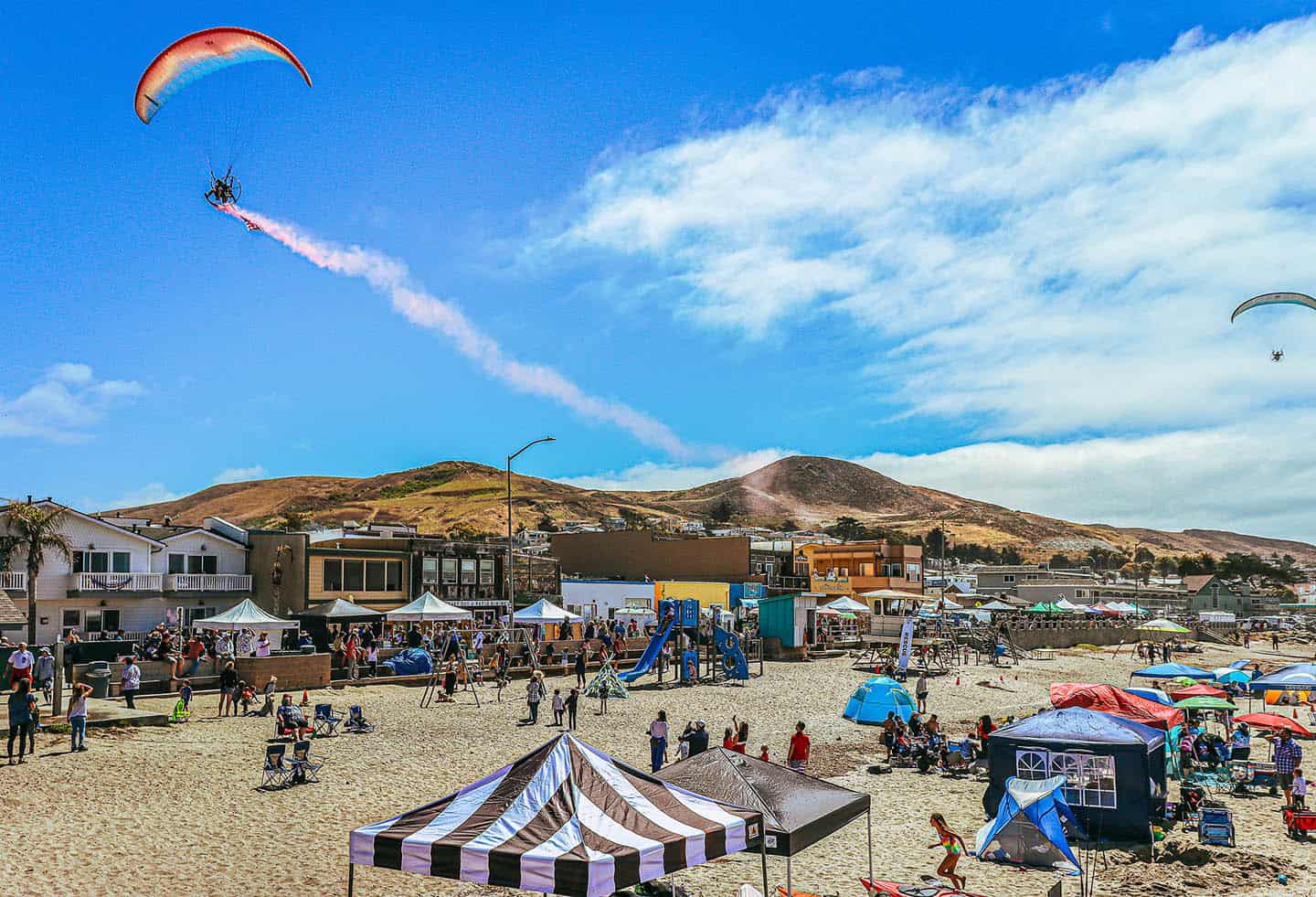 Secluded beaches and coastal bluff walks define this dramatic California State Park. Estero Bluffs boasts a wealth of natural riches, from whales and tide pools to native grasses and geologic formations from the Jurassic Period. It's no wonder that the ancestors of today's Chumash and Salinan people settled around this cove for 10,000 years before European explorers came. (In fact, the park's property includes several Native American occupancy sites.)
Estero Bluffs State Park stretches along a strip of coastline just north of downtown Cayucos, and west of Highway 1. The 4-mile easy trail that runs parallel to the shore is accessible by short lateral trails amidst grasses, coastal scrub and seasonal wildflowers. This popular walk welcomes dogs on leash from the park's southern boundary to San Geronimo Creek. (Dogs are not permitted between San Geronimo Creek and the park's northern boundary. Also note that bikes and horses are prohibited at Estero Bluffs State Park.)
Find tidepools beneath the bluffs near San Geronimo Creek, where exposed rocks host barnacles, limpets, sea anemones, crabs, snails, and mussels. As for sea mammals, visitors can see migrating whales December through March, and California sea otters, dolphins, and harbor seals year-round.  And don't miss the beached fishing boat at Estero Bluffs's southern end. Located beside a dirt parking lot off Highway 1 at Ocean Avenue, the "Estero Point" vessel ran aground and was abandoned in 2017. Since then, visitors have enjoyed glimpsing it from the cliffs or even scrambling down and out to the ship at low tide. The beached Estero Point also makes for an excellent photo opportunity, especially with Morro Rock in the distance.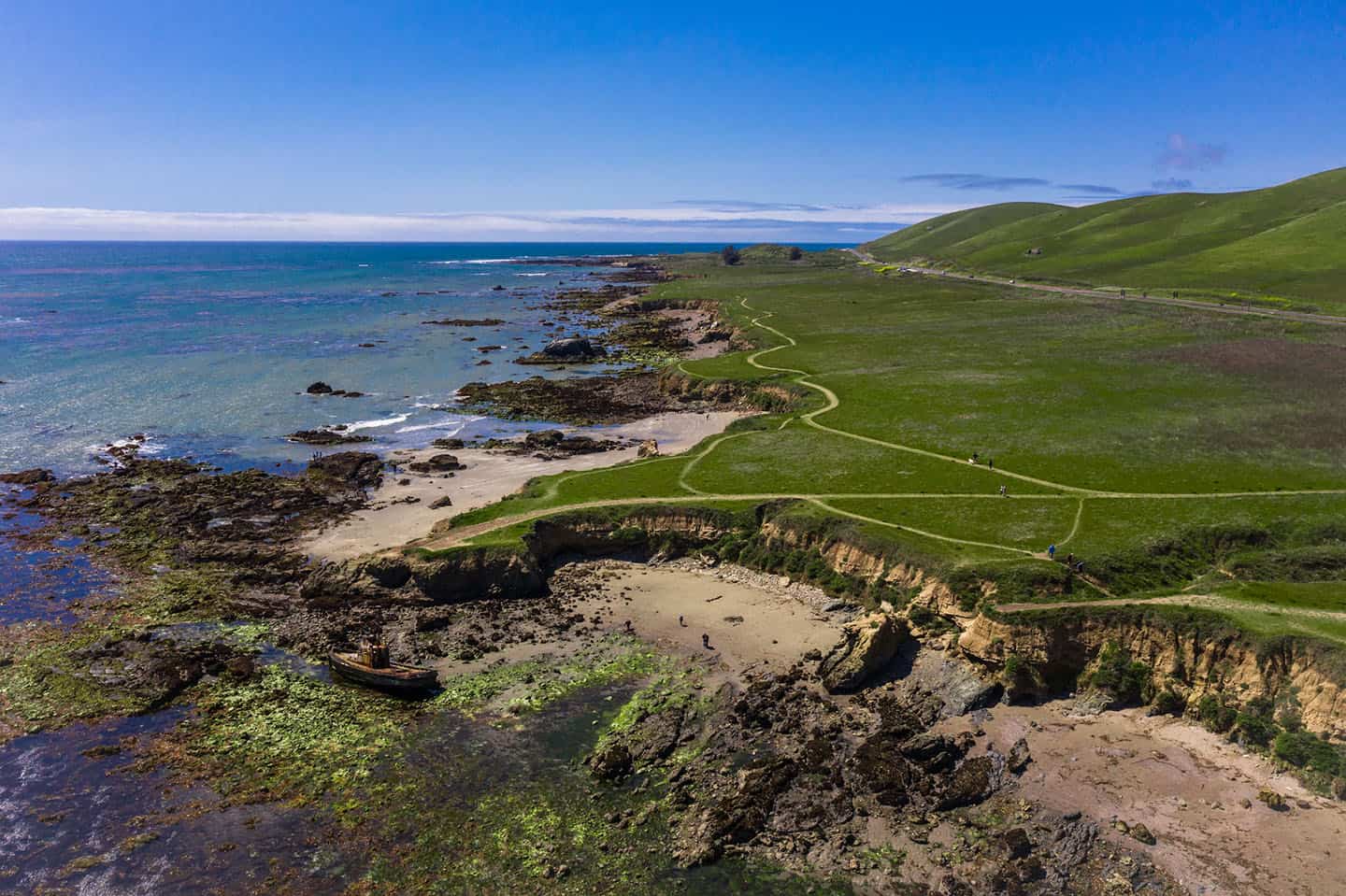 Harmony Headlands State Park
At 784 acres, Harmony Headlands State Park occupies some of the richest, most diverse and scenic coastal land on California's coast. It is also the northernmost of Cayucos's state properties. This state park was opened in 2008 after the American Land Conservancy and its supporters saved it from development. The property's earliest inhabitants were ancestors of today's Chumash and Salinan people, followed by recipients of the Rancho San Geronimo land grant. Later, the land passed hands to the Swiss-Italian Righetti and Storni families, both of which operated dairies here. 
An easy 4.5-mile hike along the Harmony Headlands Trail offers the best way to see this priceless section of unspoiled California. Begin by parking just off Highway 1, then walk the inland section of trail among San Luis Obispo morning glories, bluebells and oatgrass. Along the way you'll see a bunkhouse from the park's old cattle ranching days which has since become a primitive restroom. A man-made pond also lies beside the trail, another remnant of the dairy ranch. About a mile from that, the path opens to ocean bluffs and runs north, alongside the rocky shore. Enjoy a quiet seaside moment on one of the benches provided, or bring your watercolors or pencils to capture the landscape on paper.
Dogs are not permitted at Estero Bluffs State Park, so please prepare to leave Fido at home. Visitors can fish along the shore, but only with a license.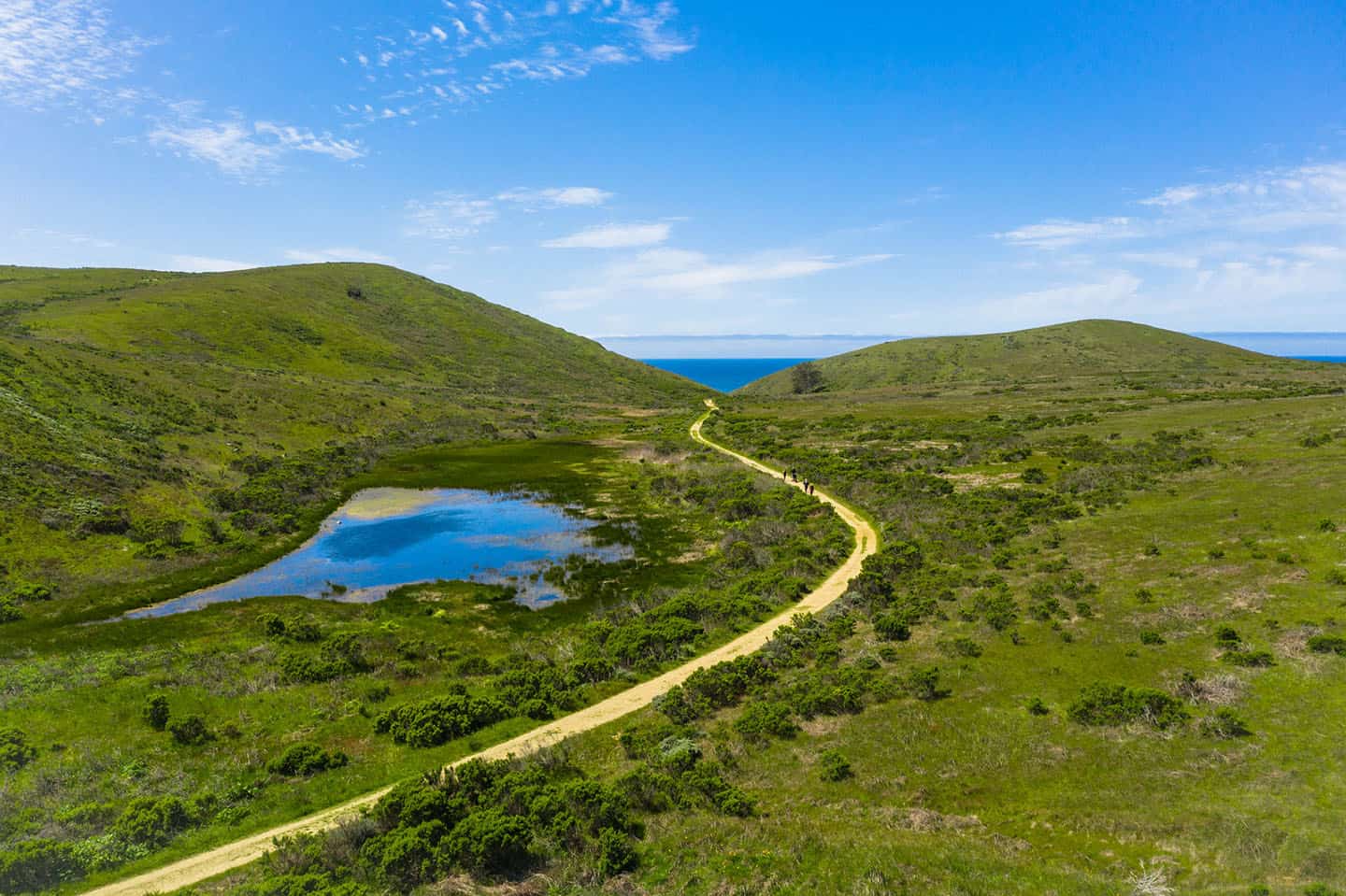 This long state beach with a view of Morro Rock actually comprises two strips of coastline. The northern end of Morro Strand State Beach lies between 24th Street and Chaney Avenue; the southern section spans Yerba Buena Street to Atascadero Road. In 1916, a land developer named Edward Lewis purchased this southern section of coastline, planning to build a beach community and inn. He did build the Cloisters Inn and Cottages in 1925, and many historic photographs show how grand it was, built right beside the shoreline in a neo-Spanish style. The inn was a popular place for entertainment, as well as a restaurant that served breakfast, lunch and dinner. But the Great Depression prohibited Lewis from keeping the property open. In 1948, the inn and southern beach were deeded to the State Park System; the northern beach has been part of California Parks since 1932. Combined, they became Morro Strand State Beach.
The beach remains popular for the same reasons it was with Cloisters Inn guests. It still boasts views of Morro Rock, dramatic coastal dunes, and long stretches of beach for walking, running, and playing. In fact, Morro Strand State Beach remains popular for camping. And excellent picnic facilities (and plenty of soft, white sand) make for a beautiful meal with a view.
Surf-fishing here can bring in rockfish and halibut, but anglers must be 16 years old and carry a valid California fishing license. The waves at Morro Strand State Park also attract surfers, stand-up paddle boarders and boogie boarders of all ages and stages. The beach is set against a long series of dunes, and these make for terrific bird-watching, especially during the winter migration. Other wildlife can be seen among the tidepools on the north end of Morro Strand Campground. Look for sea slugs, urchin, crabs, snails and anemone in the crevices at low tide.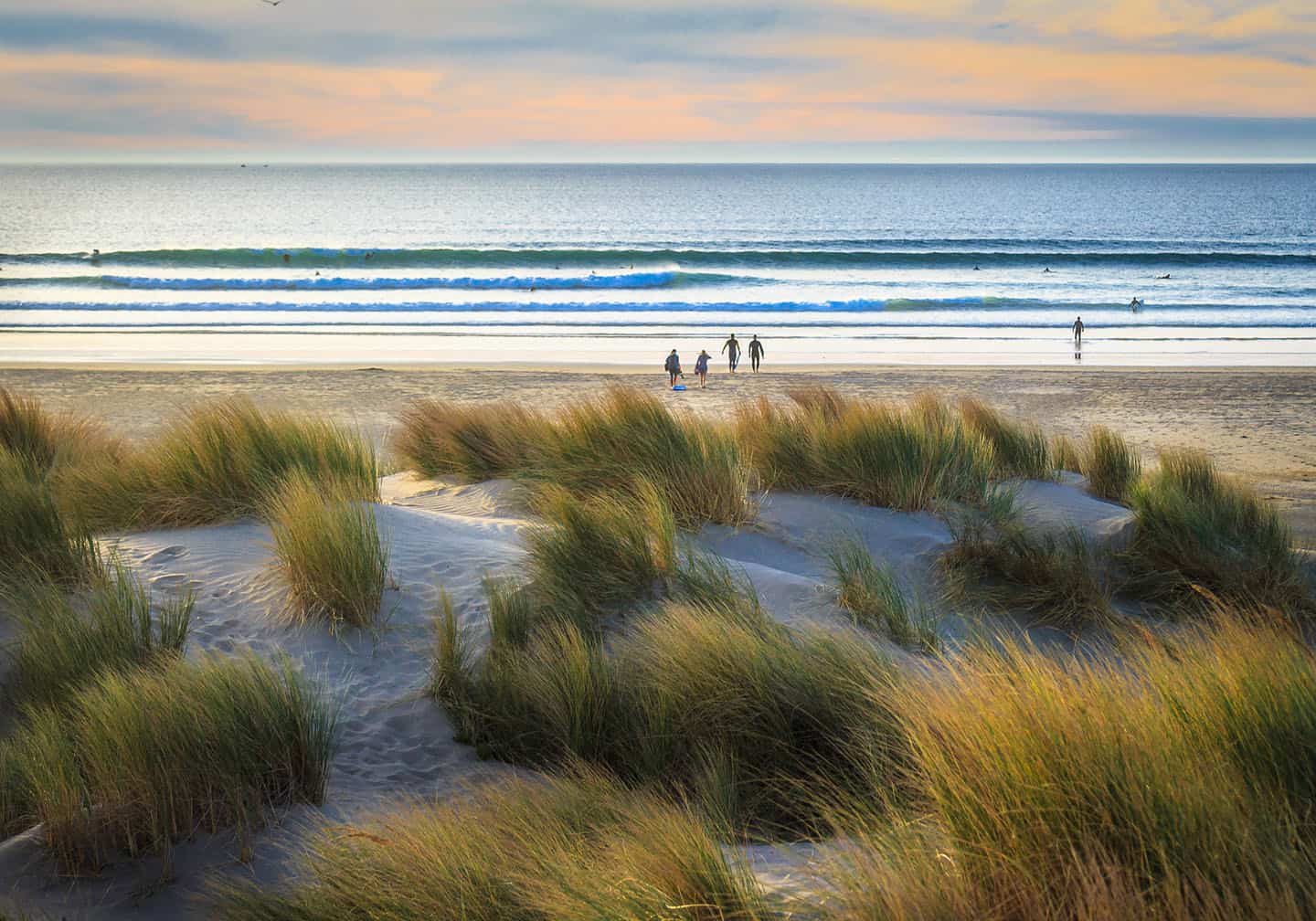 Stewardship Travel For Good
When you visit the state parks and state beaches in and around Cayucos, you can't help but fall in love with this tremendous place we call home. For a guide to meaningful moments in Cayucos, try our Stewardship Travel for Good program, a series of experiences designed for deeper connection. Take a seaweed foraging tour to identify different species and cook seaweed ramen right on the beach. Follow the trail of migrating whales offshore with The Whale Trail, or tour the incredible Elephant Seal Rookery with an expert guide. Or help the Cayucos Land Conservancy by cataloging plant and animal life at the beach with the iNaturalist app. When you see this stretch of Highway 1 through the eyes of locals, you understand the importance of preserving it for future generations.