Big Sur represents the best of the West, and the SLO CAL stretch of Highway 1 provides a gateway to its many wonders. As one of the nation's top attractions, Big Sur sparkles with vast views of the Pacific, towering mountains, and a beloved scenic byway. Many commercials and movies have been filmed along Highway 1's twists and hairpin turns, with the rugged coastline as their background. The view of a waterfall cascading onto a secluded beach at McWay Falls is one of the most photographed and scenic in the world. See what makes this place an American treasure by entering at SLO CAL's northern border, Ragged Point, the gateway to Big Sur.
During the time of the native Ohlone, Salinan and Essellen people who inhabited it, Big Sur proved nearly impossible to access. Even after the construction of Highway 1, the area remained mostly undeveloped and sparsely populated. Thanks to the Big Sur Local Coastal Plan of 1986, this peaceful remoteness contributes significantly to Big Sur's charm. Emerald canopies of trees, pristine coastline, and waterfalls abound, protected and untouched.
As for the name Big Sur? That originated with early Spanish settlers in Monterey, who called Big Sur el país grande del sur, or "the big country of the south." Over time, the name morphed into "Big Sur," and, with the naming of the Big Sur post office in 1915, became official.
Explore The Gateway to Big Sur
What is Big Sur?
Big Sur, California, is an area that spans over 70 miles along the Pacific Ocean, Highway 1 clinging to the coastline. With some of the world's most dramatic ocean views, a National Marine Sanctuary and a National Scenic Byway, Big Sur draws millions of visitors each year.
Big Sur encompasses roughly the area between San Simeon and the Carmel Highlands along Highway 1. Though the boundaries are not fixed, many people consider Malpaso Creek the northernmost point of Big Sur, and Ragged Point the southernmost entrance. As the gateway to Big Sur, Ragged Point offers amenities and the "million dollar view" that welcomes visitors to this majestic natural playground.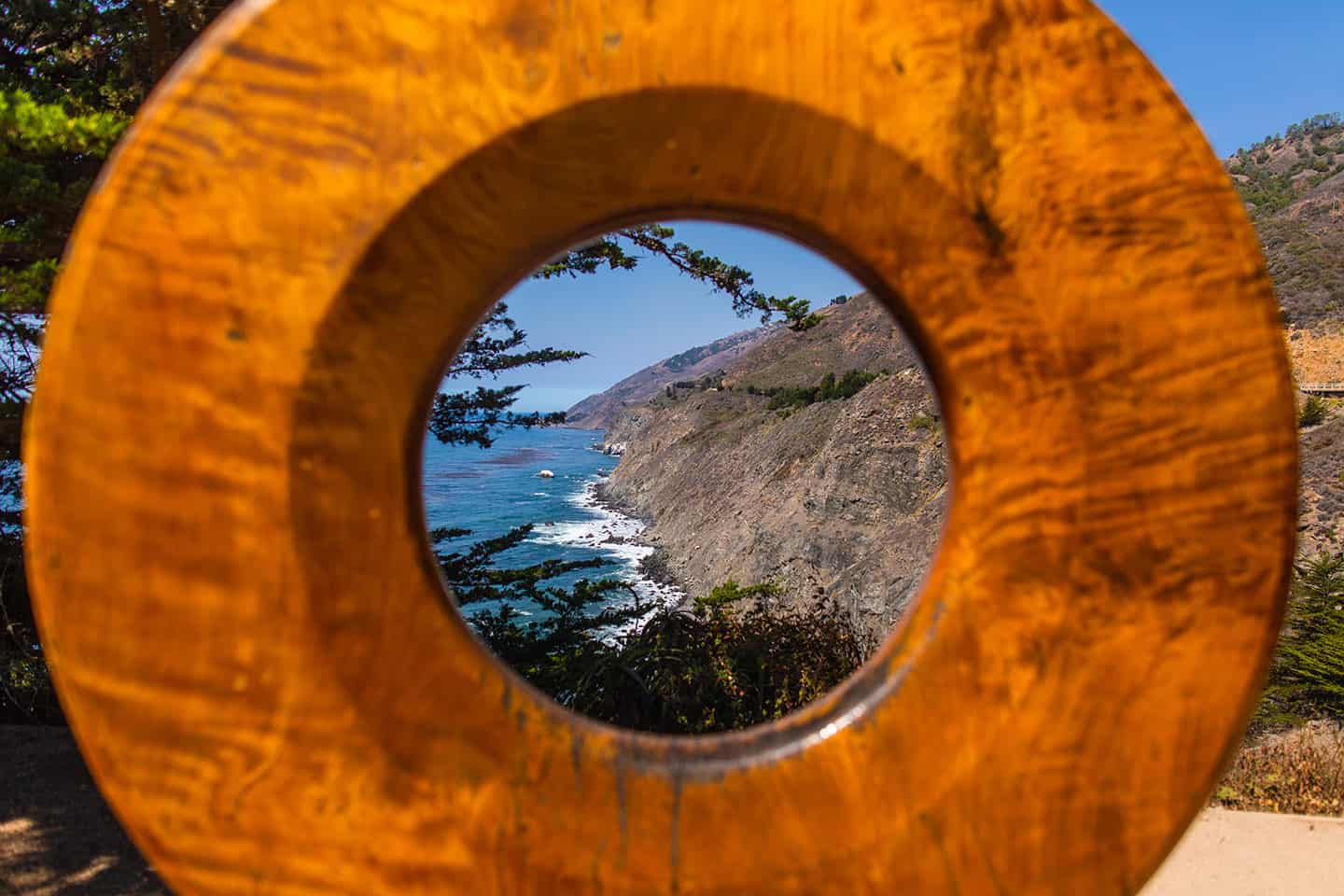 Big Sur's Best Hotel
Conveniently located between Los Angeles and San Francisco, Ragged Point is considered the southernmost entrance to Big Sur. The Ragged Point Inn started as an outpost of Hearst Ranch, purchased by Mildred and Wiley Ramey in the late 1950s. Today, the Inn offers a gourmet restaurant with picture-perfect ocean views, as well as an ice cream shop, espresso bar and sandwich stand. Check out the Inn's shops that sell the work of local artisans, or hike the Cliffside Trail to a waterfall and a magical secluded beach. And don't miss that "Million Dollar View" when you're pumping gas at one of the area's only fueling stations. The Ragged Point Inn is a scenic spot to stop and rejuvenate as you push forward into Big Sur Country.
Places to Eat on the North Coast
Ragged Point
Options for dining are limited in Big Sur, which makes the Ragged Point Inn a perfect spot to stop and have a bite before venturing forth along the coast. Famous for its views and fine service, the Ragged Point Restaurant serves breakfast, lunch and dinner every day of the year. Seating is available inside, in a glass-walled dining room, or outdoors on a heated deck beside flourishing gardens, a natural koi pond, and fire pits. If you're looking for a quick bites, the Ragged Point Inn Sandwich Stand serves burgers, hotdogs, sandwiches, fries and milkshakes to order. Other menu items include fried chicken, fish and chips, fresh salads, soups and chili. Or perhaps you need a little pick-me-up? Try the Ragged point Inn Espresso Bar for espresso drinks, baked goods, beer and wine. For frosty treats, hit the Ice Cream Stand, serving scoops of locally made ice cream. And don't miss the Ragged Point Inn Mini Market for snack foods and drinks. The Ragged Point Inn also invites those who have packed their own picnic to enjoy their wide lawn and picnic tables.
San Simeon
In Old San Simeon, just down the hill from Hearst Castle, enjoy casual al fresco dining with a view at The Truck. This full-service restaurant on wheels stays parked at the Hearst Ranch Winery's tasting room from 11am to 5pm daily. Try tacos, burgers, and other casual picnic dishes; better yet, pair them with a bottle of Hearst Ranch Wine, available for purchase.
New San Simeon offers options like Mexican cuisine at El Chorlito Mexican Restaurant, and seafood from the San Simeon Beach Bar & Grill. For classic cocktails, head to the Cavalier Restaurant, and for burgers, hit the Big Sur California Cafe.
Cambria
This seaside hamlet plays host to a wide variety of dining options. For terrific Thai food, the pint-sized restaurant Wild Ginger can't be beat. The Cafe on Bridge Street serves delectable sandwiches from its historic storefront, as does Sandy's Deli & Bakery. Try the beloved Robin's Restaurant for fresh global cuisine, or the Sea Chest for locally-caught seafood. And for French bistro dining, an impressive wine list, and a cozy candlelight ambiance, head to the Black Cat Bistro.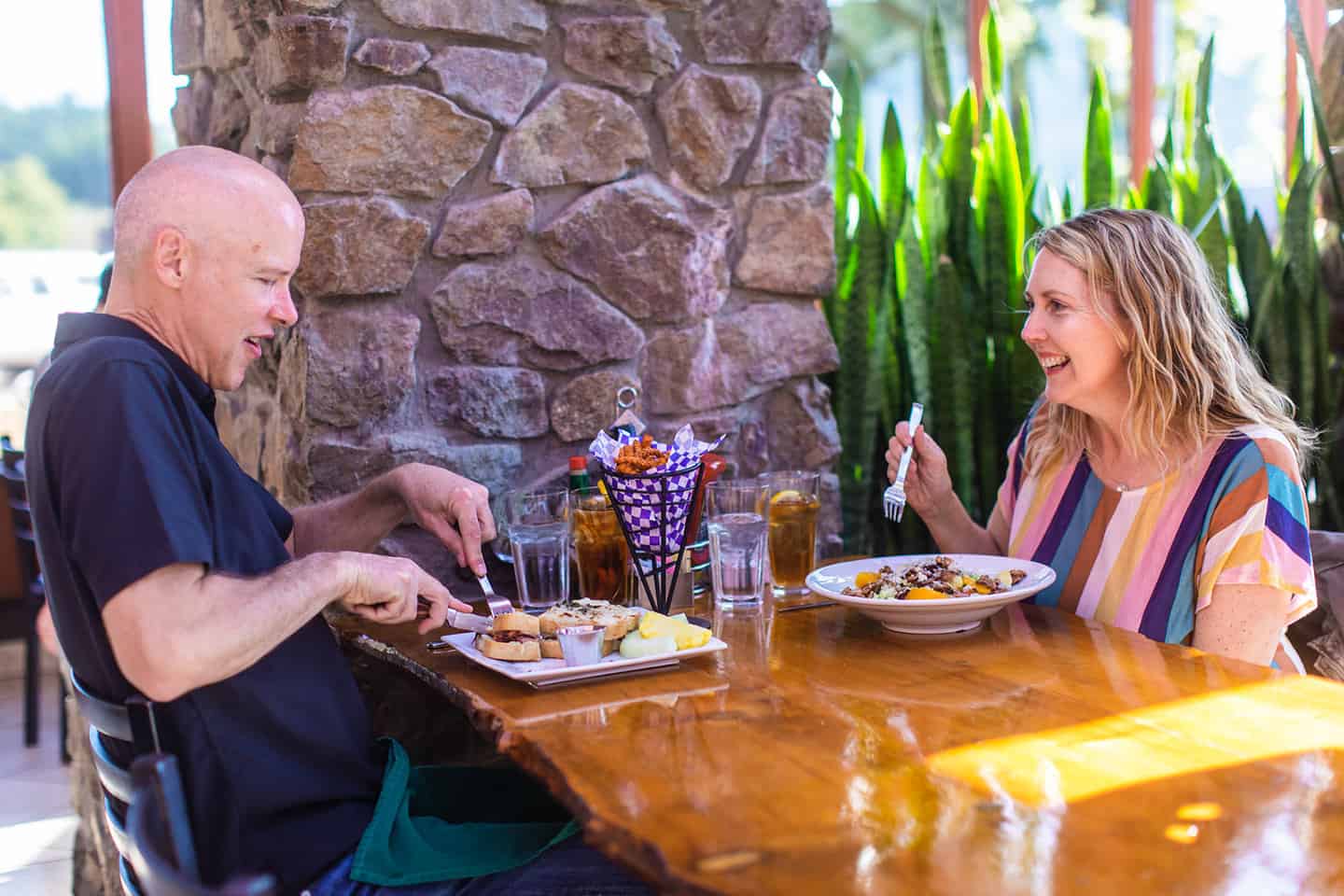 Big Sur Hiking
One of the best places on earth to hike, Big Sur offers a wealth of trails in a variety of settings. For a quick, rewarding hike, take the Salmon Creek Falls trail, located 3 miles north of Ragged Point. This trail is short and easy: park near the ranger station and walk less than 100 steps to the 120-foot waterfall.
Another quick hike can be had from Ragged Point Inn to Ragged Point Beach on the Cliffside Trail. This half-mile, extremely steep trail leads to a secluded beach with black sand. While the ocean views are majestic, views from the beach up to the 300-foot Black Swift Falls are equally impressive.
The 1.6-mile loop of the Pacific Valley Bluff Trail takes hikers on an easy, breezy coastal stroll. Walk through grassy fields to a cliff with panoramic ocean views. Wildflowers and scrub grow along the fields, as well as in the rocks and cliffs.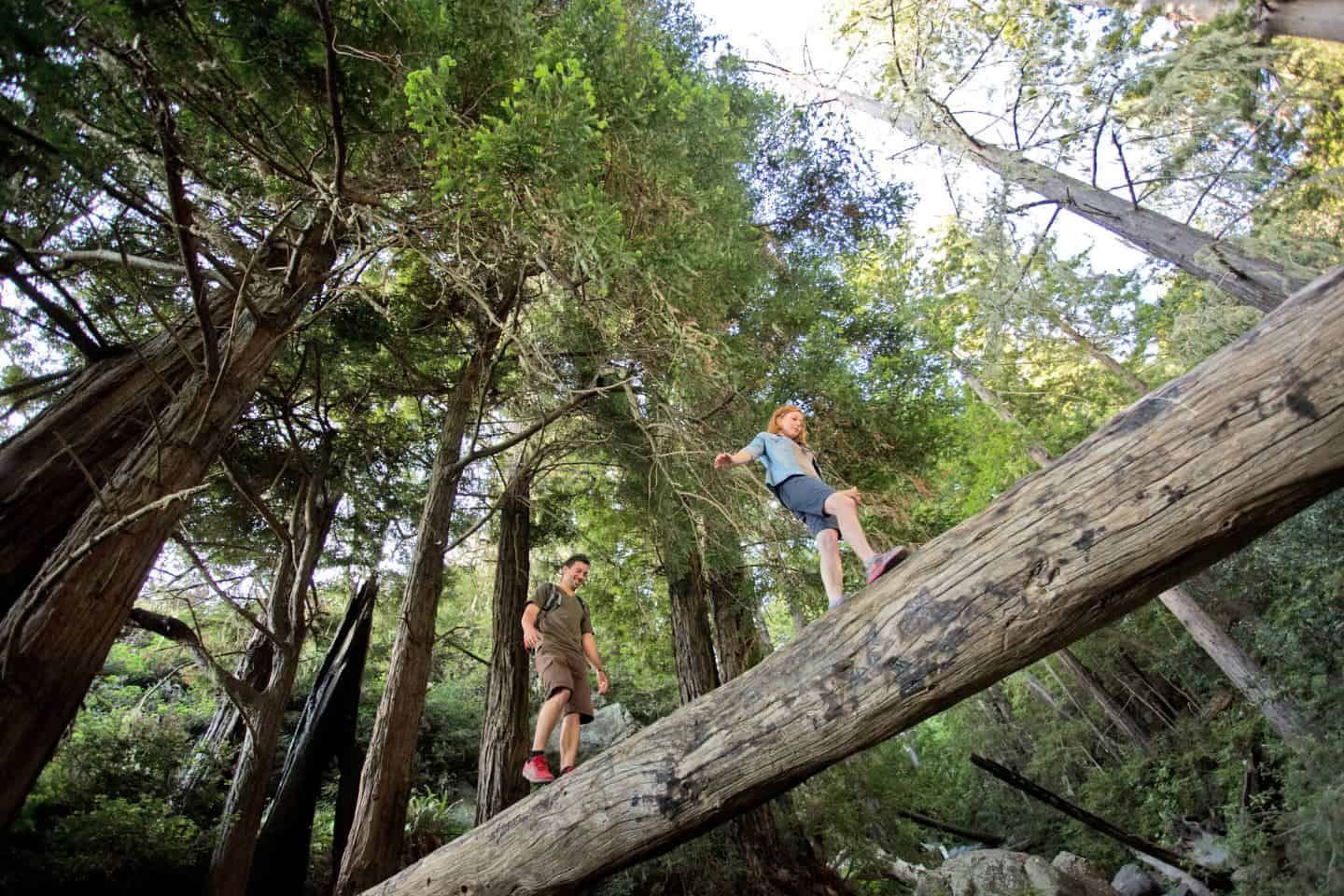 En Route to the Big Sur Gateway
Big Sur opens a treasure trove of opportunities to slow down, ditch your agenda, enjoy the scenery and glimpse abundant wildlife. Traveling the most iconic road in the nation through northern San Luis Obispo County provides the best way to take it all in.
A stop in Cambria offers boutique shopping along the classic Main Street that connects the East and West Villages. A variety of dining options, historic points of interest, and a rambling boardwalk along the beach make this a must-see spot along Highway 1.
For whale watching, San Simeon hosts two points along the Whale Trail, a collection of the best viewing spots along the West Coast. Seven miles north of Cambria, find an interpretive display and telescope for whale watching at the Cavalier Oceanfront Resort. Another prime whale watching point stands at the end of the San Simeon Pier at W.R. Hearst California State Beach.
The most glamorous stop en route to Big Sur, Hearst Castle brings the opulence of the early 20th century vibrantly to life. Heir and tycoon William Randolph Hearst built his majestic hilltop estate to host the who's who of Hollywood, Washington, D.C. and beyond. Today, the 95,000-square-foot home, gardens, and famous Neptune Pool are open for public viewing and tours throughout the year.
North of Hearst Castle, pull over to witness wildlife up close and personal at the Elephant Seal Rookery on Highway 1. This 6-mile stretch of shoreline plays host to thousands of Northern Elephant Seals for mating, pupping, and molting throughout the year. Their life cycle plays out like high drama, open to the public, with docents available to explain and educate.
About 10 miles south of Ragged Point, the Piedras Blancas Lighthouse stands much as it has since its opening in 1875. The historic light station protected seafaring vessels from running aground on the craggy coastline when trade and travel flourished here. Today, its Fresnel lens and housing reside in nearby Cambria, but the light station remains a fascinating window into the past. Tours are open to the public by reservation. Access to the light station grounds is by guided tour only.