For generations, the natural hot springs of Avila Beach have provided relief and relaxation to visitors from far and wide. Known for their supposedly curative benefits, these hot springs were discovered by those seeking oil in the late 19th and early 20th centuries. Today, they continue to restore and revive travelers to Avila Beach. Want to soak your stress away? Find pure bliss in two legendary Avila Beach Hot Springs.
Avila Hot Springs
A family favorite for over a century, Avila Hot Springs was established by the Budan family after drillers found hot springs instead of oil in 1907. This natural artesian mineral spring continues to bubble up at Avila Hot Springs today. Along with a thermal soaking pool, Avila Hot Springs offers a heated swimming pool with waterslides, poolside service, a restaurant and an arcade. No matter how you spend your time at Avila Hot Springs, it's guaranteed to be relaxing, rejuvenating, and fun. Find the entrance just west of the Highway 101 offramp, on Avila Beach Drive.
Pool and waterslides
The 5,000-square-foot swimming pool at Avila Hot Springs is heated year round to 85 degrees F. With plenty of chairs and tables for poolside meal service, the pool also features two squiggly water slides for wet and wild fun. Lifeguards keep the fun safe, too.
Hot spring mineral pool
The same hot spring that oil drillers found over a century ago continues to soothe travelers today. Come soak in an two-foot-deep "hot pool" where the water stays around 104 degrees constantly, thanks to a natural artesian well beneath.
Bike Rentals
The Bob Jones Bike Trailhead sits just steps away from Avila Hot Springs. Bring your bike or rent a beach cruiser from Avila Hot Springs to ride the 1.5 miles to seaside Avila Beach.
Massage
Avila Hot Springs offers massages for individuals and couples by appointment. Each treatment includes a thermal mineral pool soak before and after your massage.
Sycamore Mineral Springs
Tucked away under a canopy of sycamore trees, this treasured spot provides a retreat from daily stress and obligations. Find Sycamore Mineral Springs famous hot tubs, staggered amid the trees, as well as the Oasis Lagoon swimming pool. In keeping with a longstanding history of healing weary travelers, Sycamore Mineral Springs also offers luxurious spa treatments and yoga classes. However you choose to soak it in, you'll find relief and restoration at Sycamore Mineral Springs.
Brief History
In 1886, when drillers sought oil in Avila Beach, they discovered something a little different: hot mineral water, bubbling up from a natural well. Believed to heal ailments of all types, the waters became the focus of a spa and resort that would later become Sycamore Mineral Springs. With the success of the Pacific Coast Railway, the resort thrived, located just opposite a PCR stop midway between Los Angeles and San Francisco. By the 1930s, celebrities and "who's who" were visiting on their way to Hearst Castle in San Simeon. That attraction remains today, as Sycamore Mineral Springs continues to soothe and renew the body, mind and spirit on California's Central Coast.
Avila's Hillside Hot Tubs
The open-air mineral spring hot tubs at Sycamore Mineral Springs are supplied by over 100 acres of natural, underground thermal waters.  Set amidst the quiet of a sycamore forest, these 23 tubs provide luxury and privacy in an unparalleled environment.
Tubs can be reserved by the hour, and are open to the public. Choose between tubs that accommodate up to eight people. Reservations are highly recommended, and hourly rates apply.
Oasis Lagoon
A private jade mineral pool with a waterfall, the Oasis Waterfall Lagoon is a treat for larger groups, private retreats, and special events. The Oasis Waterfall Lagoon accommodates up to 20 people, and reservations are required. Hourly rates per person apply.
Spa
The spa at Sycamore Mineral Springs has won awards from Spa Magazine and Spa Finder Magazine for its luxurious services and treatments. Offerings include a signature massage, as well as hot stone, Swedish, deep-tissue, and prenatal massage, available for individuals or couples. A menu of skin-brightening facial treatments is also available, as well as detoxifying body scrubs. Bring your worries and woes and watch them disappear under the care of a skilled spa professional in a peaceful setting.
Healing Arts Dome
The Healing Arts Dome is Sycamore Mineral Springs' harmonious structure set among 100 acres of coastal forest. As an extension of the resort's commitment to whole-body wellness, this space offers a selection of movement and meditation classes. Instructors bring a wealth of practice and experience to a variety of methods. Find balance with, hatha, restorative and centering yoga, pilates and tai chi, taught with empathy and kind attention to your body and spirit. Classes are priced per session and are available to the public, but resort guests can enjoy unlimited classes, as available. Private instruction is also available.
Sycamore Mineral Springs also invites visitors to host their own private wellness retreats in the Healing Arts Dome. Take advantage of the resort's amenities like the full-service day spa, thermal water tubs, restaurant, gardens, and hiking trails.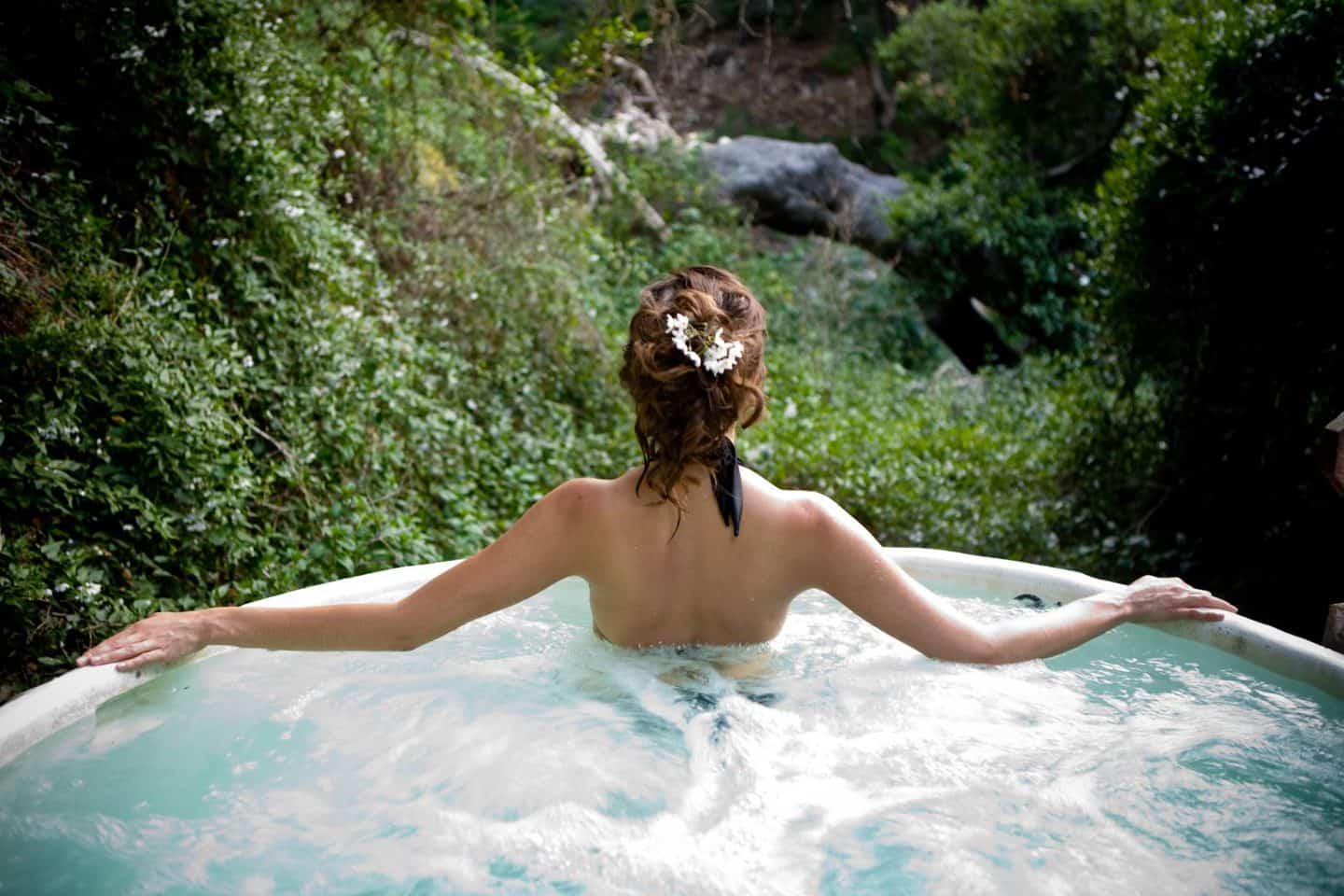 Nearby Activities
Hiking (Sycamore Crest Trail, Caves Landing, Bob Jones, etc)
Avila Beach is home to many hiking trails that afford spectacular ocean views. Touch the sky with the challenging Ontario Ridge Trail, or trek among the trees on the Sycamore Crest Trail behind Sycamore Mineral Springs. The resort also connects via a bridge to the beloved Bob Jones Bike Trail, which takes travelers all the way to downtown Avila Beach and the ocean.
Avila Valley Barn
Come for family fun at this old-fashioned farmstand, complete with a petting zoo, gift shop, and tractor rides. Feed the goats, pick pumpkins or peaches, or purchase baked goods and fresh flowers. A Central Coast favorite for visitors and locals alike, the Avila Valley Barn provides the setting for making sweet family memories, year-round.
Avila Golf Course
A championship course designed by Olin Dutra and Desmond Muirhead in 1969, the Avila Beach Golf Resort welcomes golfers of all skills and abilities. The par-71, 6,500-yard course skirts a tidal estuary and offers ocean views. Test your game along oak-studded valleys and scenic terrain on this popular and challenging course.
Stewardship Travel for Good Activities in Avila Beach
Want to experience Avila Beach on a deeper level? Engage in Stewardship Travel for Good opportunities to feel good inside and out. To learn how, check out these Stewardship Travel for Good activities in Avila Beach.