Discover Fishing Along Highway 1
Located 10 miles east of Arroyo Grande, this freshwater lake is formed by the Lopez Dam, built in 1969 on Arroyo Grande Creek. The lake totals 49,200-acre-feet; fluctuating water levels and capacity can be found through the San Luis Obispo County Public Works website. Common fish species here include crappie and red-ear sunfish. Anglers have been known to catch large catfish (exceeding 25 pounds) at dusk and dawn, year-round. But Lopez Lake is best known for the largemouth and smallmouth bass that swim its waters. To learn more about which species are planted, and when, visit the California Fish & Wildlife website. And while you're at the Lopez Lake State Recreation Area, take advantage of the wildlife-viewing in the 4,200 acres of open space surrounding the lake. From the shorelines, anglers can see deer, bears, and wild pigs; be aware of this possibility, especially if you choose to hike in for shoreline fishing.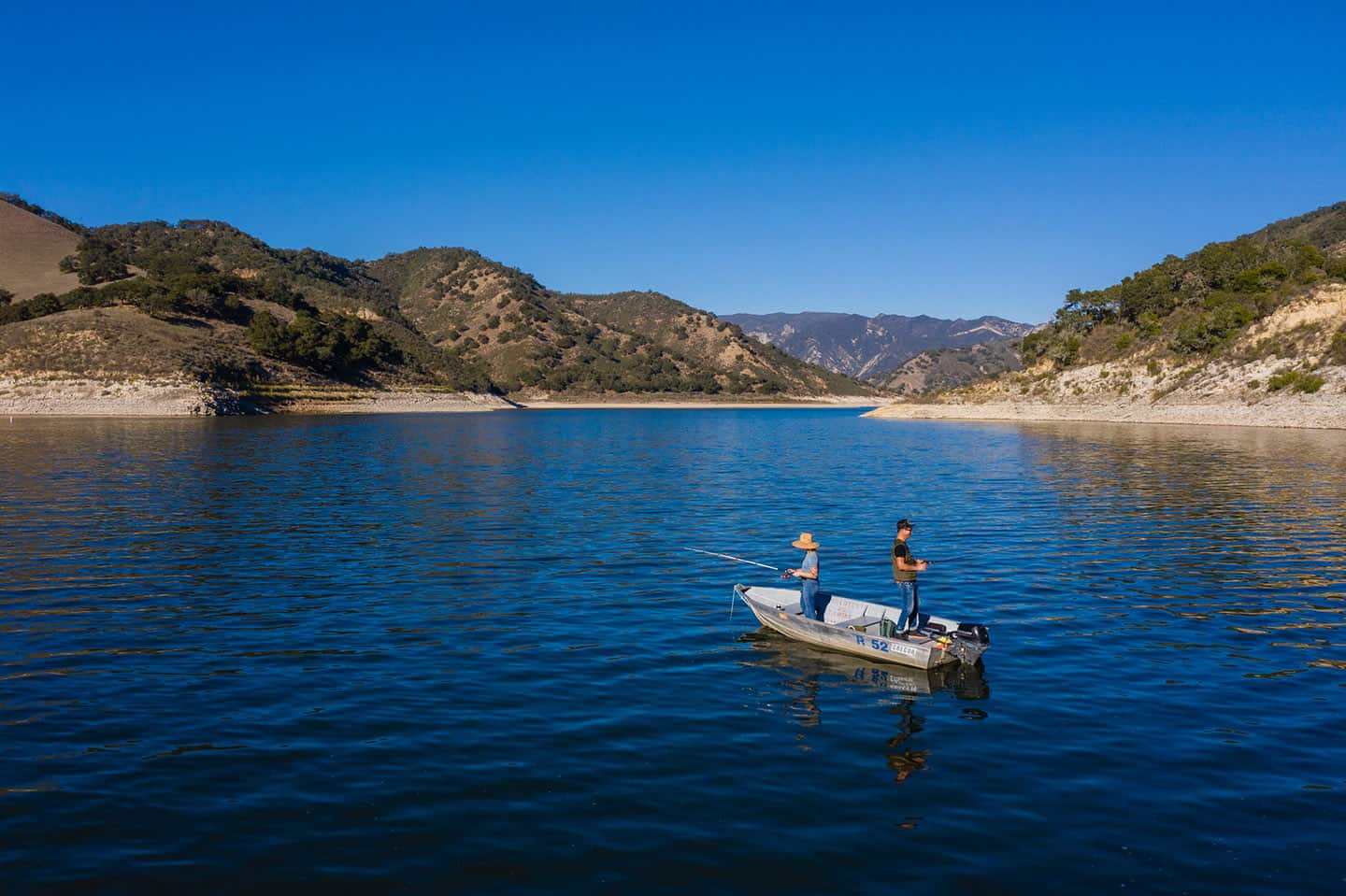 It's helpful to know some of the most popular fishing spots before embarking on your trip, but of course it's also worthwhile to explore on your own. Should you want a guide, there are four common spots that shoreline anglers choose to visit. Note that while the shoreline around some of these areas can be reached on foot, this guide pertains only to fishing from a water vessel. The Lopez Canyon Arm is the southwestern bend of the lake, where waters reach 129 feet when the lake is at capacity. The Vasquez Creek Arm extends from the northwesternmost part of the lake and reaches depths of 90 feet. The Wittenberg Creek Arm forms the northeastern edge of the lake, and has depths of up to 46 feet. And the Arroyo Grande Creek Arm, which follows Hi Mountain Road along the southeastern border of the lake (near the park entrance) reaches depths of 45 feet.
Bass tournaments are very popular at Lopez Lake, attracting anglers from near and far to join in the competition. Check out the American Bass Association Pacific Coast Region, which holds regular Bass Derbys here. In prior years, the tournament has taken place in early March, with prize winners catching bass at 9+ pounds. Paso Robles shop Jim's Pro Bass Tackle has held tournaments at Lopez Lake, as has San Luis Obispo's Tackle Warehouse. And the Friends of Lopez Lake even hold an annual Kids' Fishing Derby for little anglers. This longest panfish competition takes place in March, with one tournament for kids ages 5-10 years old and another for ages 11-15. For more information on other bass and fish tournaments, research open competitions through the California State Fish & Wildlife website. Every year, new interest grows, and new tournaments and competitions take place here.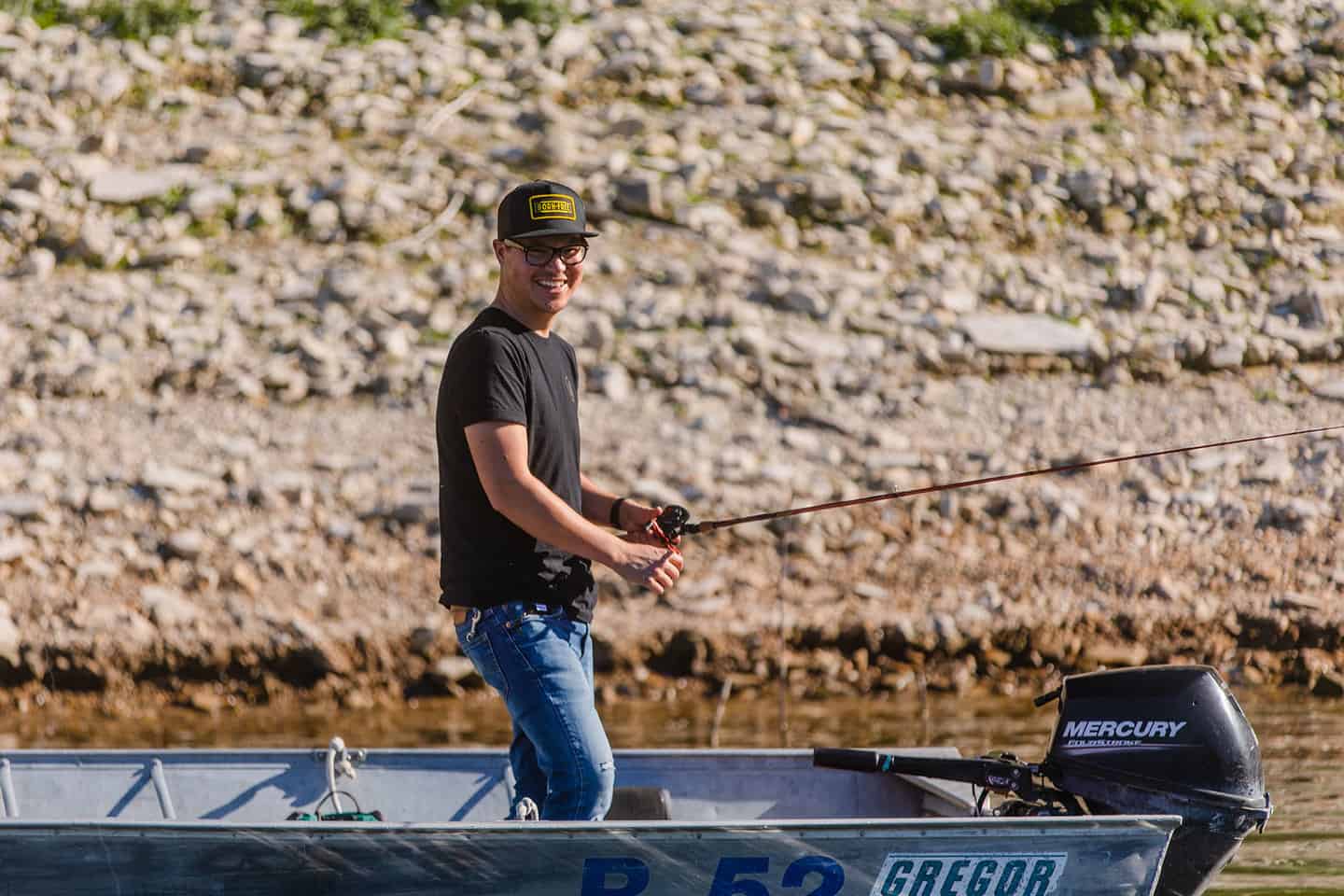 The Lopez Lake Marina is located 0.6 miles from the Lopez Lake Campground entrance, on the southeast end of the lake. The marina is well-stocked with live and frozen bait, plus fishing licenses for those without one. (All anglers 16 years and older require a fishing license on Lopez Lake.) The Marina also rents a variety of boats including five-passenger, crestliner, patio boat, deluxe, tiki, P5, pontoon, valco, slide boat and fishing boat options. (If rustic is more your speed, the marina also rents canoes.) Some include restrooms and barbecues, and some charge a fee for pets. All are available for up to 8 hours and require a deposit. The marina offers many other amenities, including camping supplies, WiFi, boat batteries, gas, and branded merchandise like t-shirts, hats, and hoodies. Check out the marina restaurant, the Fishtales Bar & Grill, which serves breakfast, lunch and dinner, and includes a full bar. Chow down on a heart breakfast, tasty lunch, or satisfying dinner, alongside a glass of beer, wine, or a cocktail. And if you come with kids — or you are a big kid, yourself — settle in at the arcade with air hockey, ping pong, darts, foosball and more. The bar also has two flatscreen TVs with satellite, plus a jukebox.
Should you want an experienced guide, fully-licensed local captains like Jonathan Davis are available to show you the ropes on Lopez Lake. Captain Jonny has guided tours since he was 19 years old, and is great with anglers of all ages and experience. As a local native, Jonny grew up fishing on Lopez Lake and other Central Coast lakes. He guides locally from September until May on one of his two vessels: the Phoenix 921 Pro XP and a family-friendly pontoon boat for 6 guests. He recommends the 21-foot 6-inch Phoenix 921 Pro XP for serious anglers, as it boasts cutting edge technology and electronics. For any Lopez Lake chartered visit, he asks that anglers older than 16 years have a fishing license, as well as any food and drink you like to have with you. He provides top-quality fishing rods and tackle, plus lures, bait, and a cooler with ice.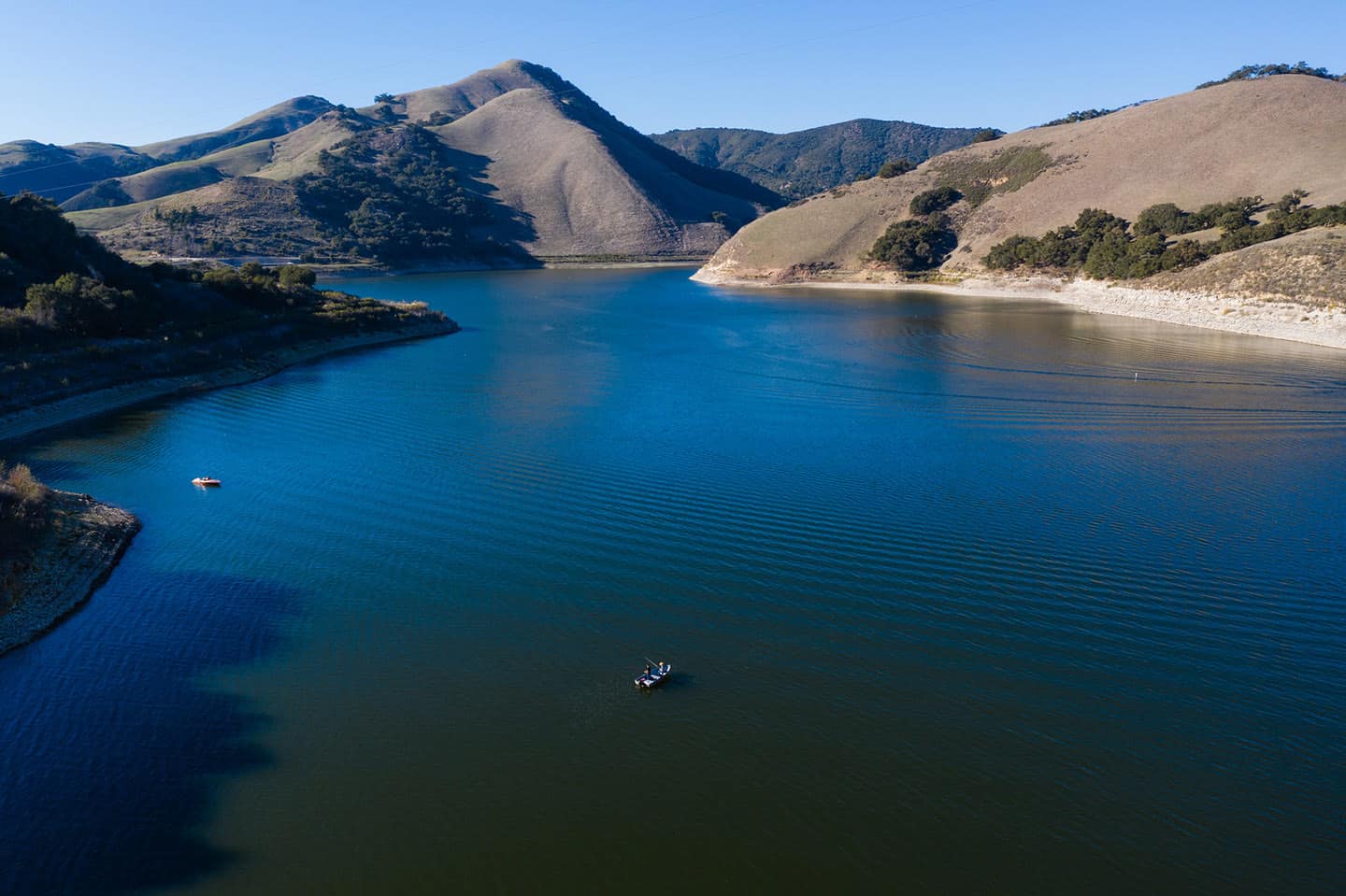 Arroyo Grande Creek Watershed
Arroyo Grande's local watershed is fed by the Lopez Dam below Lake Lopez. In fact, the headwaters of this watershed lie high in the foothills of the Santa Lucia Mountains, where the spring combines with rainwater to form the Arroyo Grande Creek. This creek flows 9 miles from the Lopez Dam to the ocean, passing through agricultural land and the quaint Village of Arroyo Grande. Prior to construction of Lopez Dam in 1969, steelhead trout could be found in the Arroyo Grande Creek, spending up to three years hiding, feeding on insects, and growing. Eventually, juveniles began their migration to the Pacific Ocean, adapting to saltwater as they traveled. Counts totaled between 500 and 5,000 fish during steelhead runs in the Arroyo Grande Creek and its tributary, Lopez Canyon Creek. As of 1997, however, they are a threatened species and fishing for them in this area is strictly prohibited, and incurs significant fines.
More freshwater fishing along Highway 1
Lopez Lake is just one of Highway 1's best spots for freshwater fishing. Steelhead trout can be found at William Randolph Hearst Memorial State Beach in San Simeon, where San Simeon Creek meets the Pacific Ocean. Visit in the fall, when steelhead make their way west to be flushed into the Pacific with winter's rain. (Just remember that California law designates steelhead trout as catch-and-release.) Whale Rock Reservoir, located in the hills above Cayucos, is another popular spot, stocked with striped bass and large-mouth bass. The reservoir is only open for bass season, typically from April through mid-November, and all fishing is done from shore: no vessels allowed. And along Highway 1 to the south, freshwater fishing can be had in the Oceano Lagoon and Oso Flaco Lake in Nipomo. Just steps from the beautiful Oceano Dunes, the Oceano Lagoon has the same serene and natural beauty. Come in the spring and find common species like bluegill, crappie, and largemouth bass. And at Oso Flaco Lake, plan to hike out on the quiet, ADA-accessible boardwalk to fish for white perch, largemouth bass, and flathead grey mullet.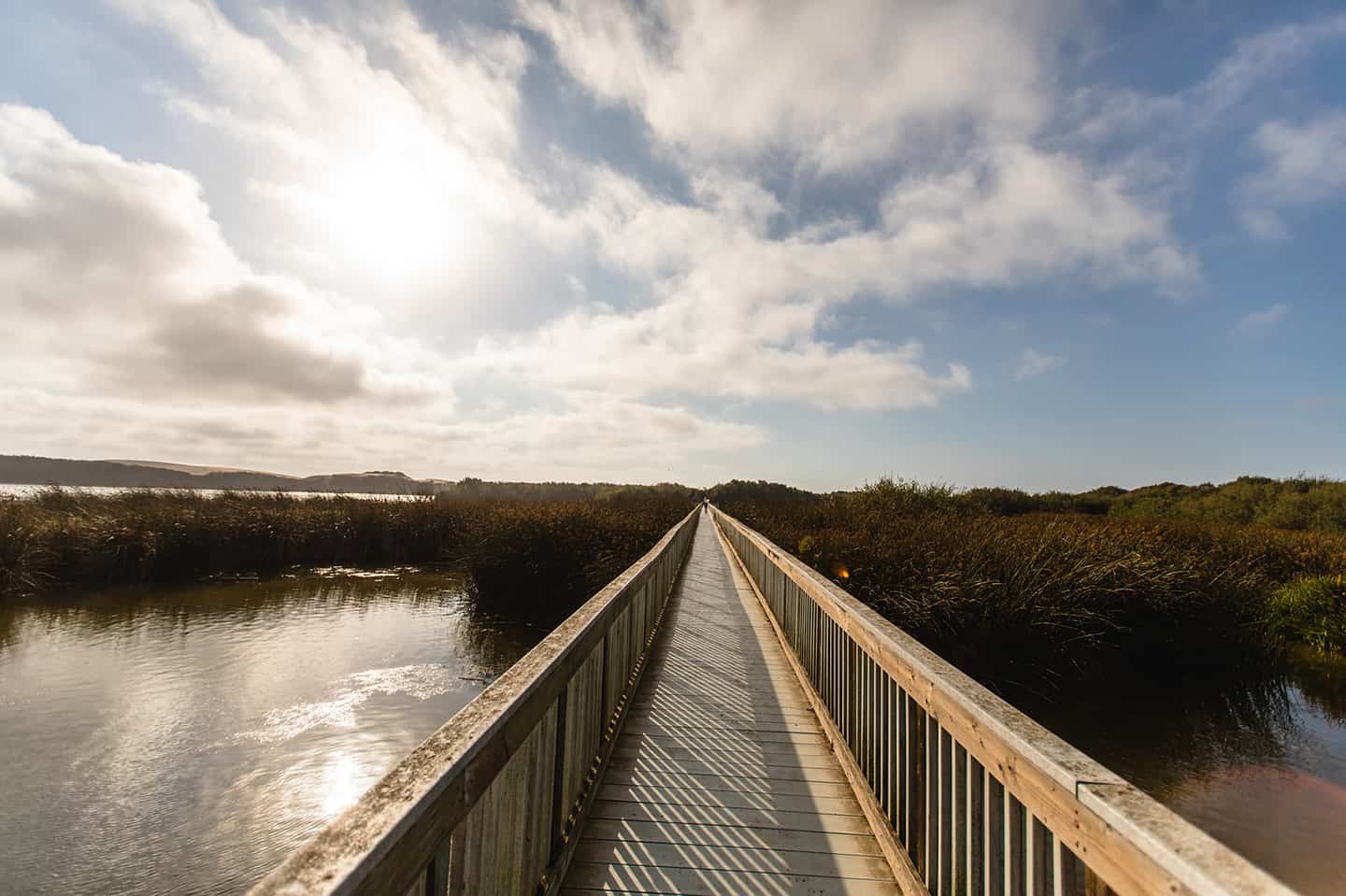 Tide Times for Highway 1
Sunday, Aug 14, 2022
| Tide | Time (PST/PDT) | Height |
| --- | --- | --- |
| Low Tide | 6:32 AM | -0.46 ft |
| High Tide | 1:01 PM | 4.9 ft |
| Low Tide | 6:35 PM | 1.67 ft |
Tides measured at Port San Luis Harbor. Data provided by
noaa.gov.