Cambria Historical Museum
Given the rich history of this seaside hamlet, it's no wonder Cambria has an active historical society and historical museum. Built into one of Cambria's oldest homes, the Guthrie-Bianchini House, this museum stands right downtown in Cambria's East Village. Stop in to indulge your curiosity about days gone by, with historical photos, exhibits and docents on-hand to answer questions. Or take a literal walk down memory lane with a self-guided historical walking tour of Cambria, a program overseen by the Historical Society and Museum.
The Guthrie-Bianchini House
This quaint "salt box"-style home was built in 1870 by Thomas Clendinen at the corner of Burton Drive and Center Street. Legend has it that the first owner, a man named Benjamin Franklin, was related to another Benjamin Franklin: the United States founding father. Following his short stay there, the home was bought by Sarah Guthrie, whose husband Samuel would own the Grant & Lull Store downtown. Though he died in 1905, she kept the home until 1916, when she sold it to a Swiss immigrant named Eugenio Bianchini. While living in the house, he and his wife Louisa Bezzini had seven children together. 
Like so many Swiss immigrants on the Central Coast, Mr. Bianchini was a dairyman. He also operated local butcher shops and ranches, worked at the Oceanic Quicksilver Mine, and smuggled booze during the Prohibition. After his death, his children and grandchildren continued to occupy the house until 1971. The property fell into disrepair and heirs contended over the estate. By the 1980s, a handful of interested business-people sought to replace the home with a parking lot. Fortunately, the home was listed on the National Register of Historic Places and was therefore had to be preserved. The home went to a court-ordered sale in 2001, and the Cambria Historical Society bought the deed. Since then, members lovingly restored the home and opened it as the Cambria Historical Museum in 2008.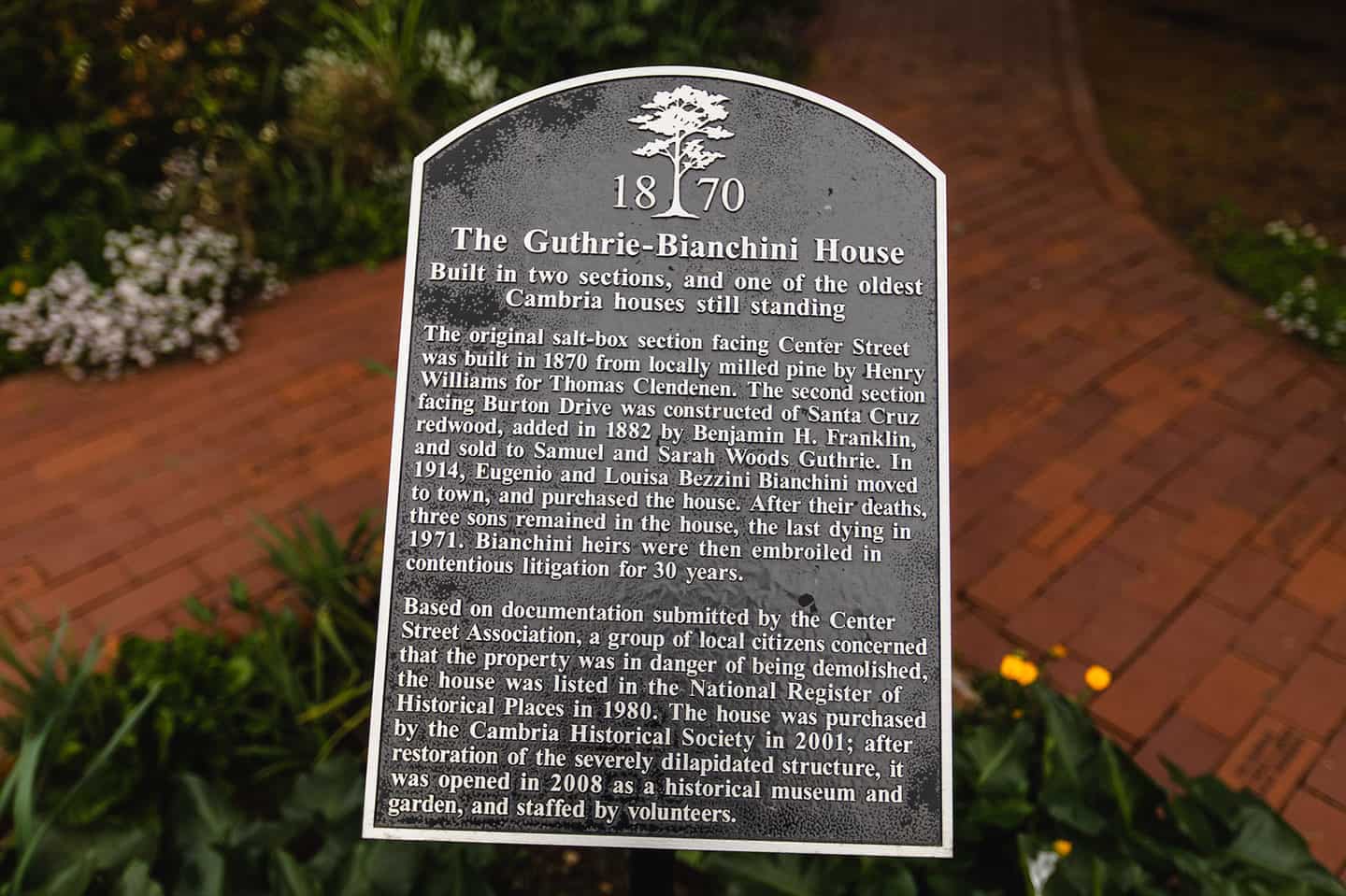 Cambria's Historical Museum Today
Since its opening in 2008, the Cambria Historical Museum has hosted over 20,000 visitors. Guests enjoy wandering the Guthrie-Bianchini House, seeing photos and treasures from Cambria's past, roaming the gardens, and embarking on historical walking tours.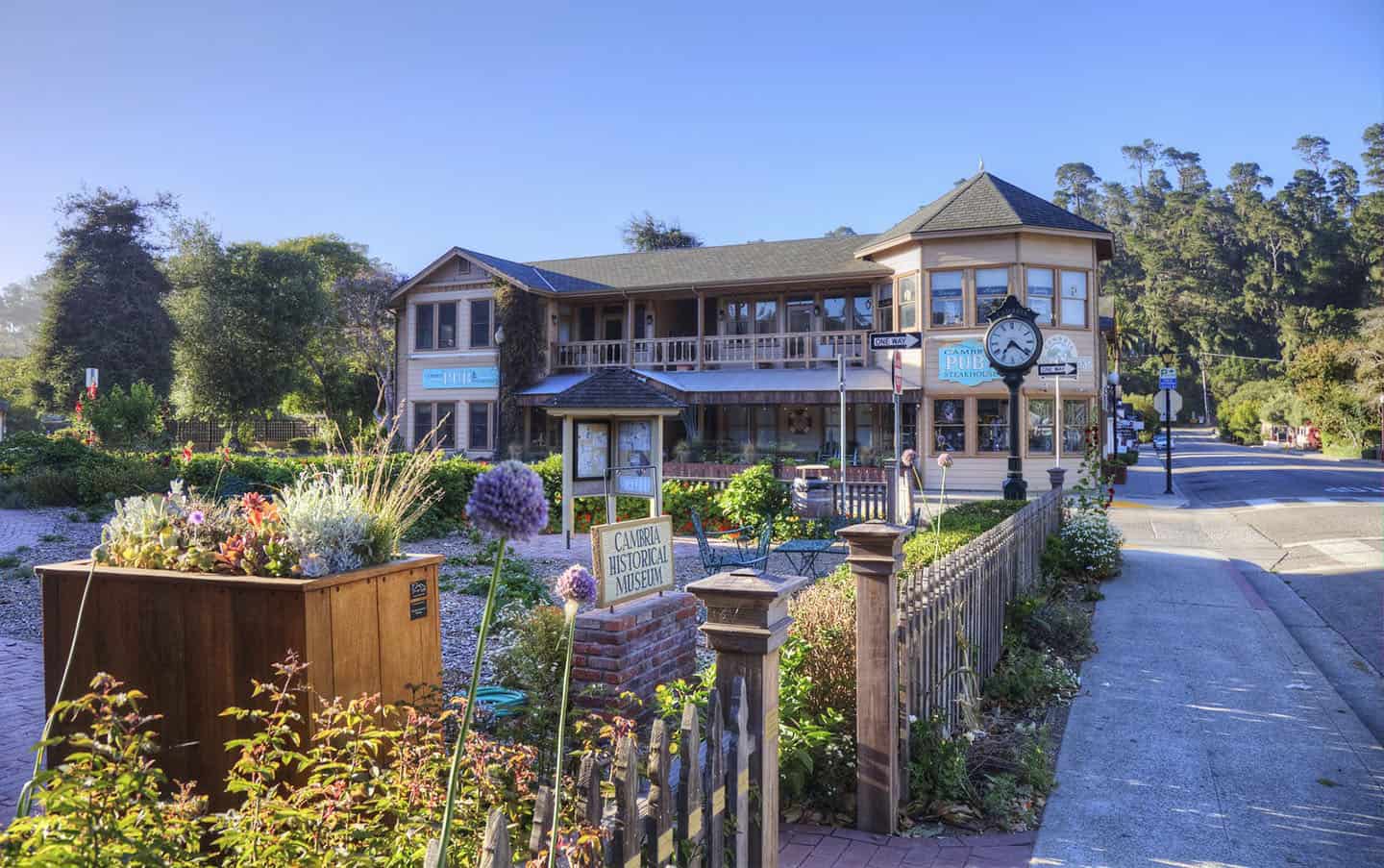 Stewardship Travel For Good: Self-Guided History Tours
Want to keep Cambria's history alive? Our History and Heritage Trail brings you to the heart of the Central Coast, including a stroll through Cambria's history. Travel back in time with a self-guided walking tour of Cambria's historic buildings. Begin your journey at the Cambria Historical Museum, also known as the Guthrie-Bianchini House. Get your map there, then take a stroll down memory lane by visiting 28 historic sites that tell this town's remarkable backstory. Stops include a tiny Catholic chapel tucked up on a hill, a Prohibition-era hotel and card hall, and one of the oldest remaining Chinese temples in all of Southern California. Some historic sites welcome the public, such as restaurants, shops and inns. Others are residences or otherwise private. In either case, the journey will stoke your curiosity and offer a glimpse into the heritage of our special stretch of Highway 1.