Ask anyone who has spent time on our part of Highway 1 and they'll tell you: this is the best place to get all the fall feels. Whether it's apple or pumpkin picking in Avila Beach, wine tasting in Edna Valley, theater-going in Oceano, wildlife-viewing in Los Osos or sunset-hunting in Cayucos, our small towns offer plenty of big fall fun to get in the spirit of the season. The beaches are wide open and uncrowded, begging to be discovered—and the same goes for hiking, biking and equestrian trails. Farm stands sell the spoils of the harvest, from fresh eggs and honey to pomegranates, persimmons and cider. And cultural events abound, celebrating the work of artists in just about every medium. When you arrive, you'll be spoiled for choice, so we've designed a guide to make the most of your time with our small towns and big experiences this fall.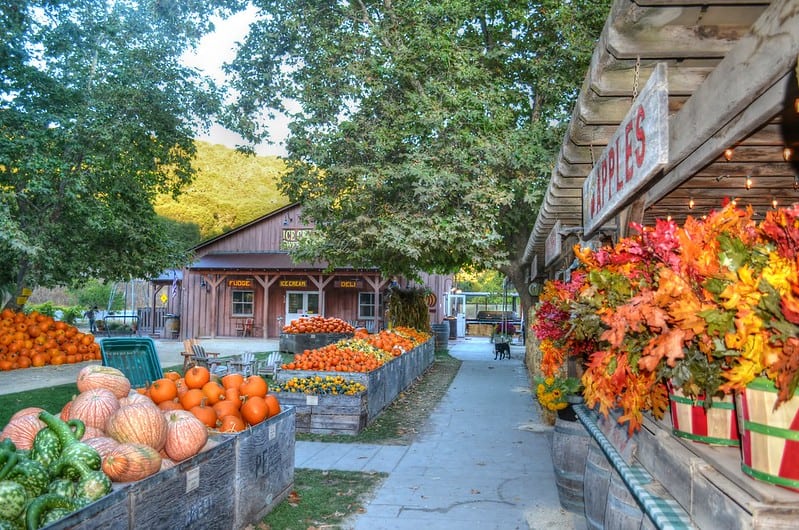 Indulge in wholesome family fun, not far from the tree
In the heart of Highway 1, apple season is a way of life. Throughout the fall, parts of the countryside are dominated by apple trees heavy with fruit—and they have been for generations. What does that mean for you, the traveler? It means you'll have access to a wide variety of heirloom apples that, in some cases, date back hundreds of years.
Since 1984, See Canyon Fruit Ranch in Avila Valley has grown a blend of Red Gold, Pippin, Fuji and Gala Apples. The family-owned operation offers apple tasting in their farmstand, as well as other local goods like fresh vegetables, eggs, jam and honey. They're also known for their seasonal apple cider, a favorite with kids and grownups alike this time of year.
In Avila Valley, One of the most prolific apple farms around, Gopher Glen grows a wide range of varieties. Some of these you'll recognize, like Gala and Gravenstein, and some you might meet for the first time, like Mutsu, Laura Red and Nittany. Enjoy a full tasting of all the apples in season with a knowledgeable guide, then pick up a few pounds of your favorites to eat on your travels. The farm is certified organic and family-owned, so every apple you buy supports sustainable local agriculture.
Located on the southern end of Avila Valley, SLO Creek Farms offers apple U-Pick throughout the fall in their scenic 44-acre organic orchard. The farm supplies the apple basket; the visitors do the picking, or they can head to the farmstand to select pre-picked apples. The farmstand also supplies lawn games for guests with an appetite for competition.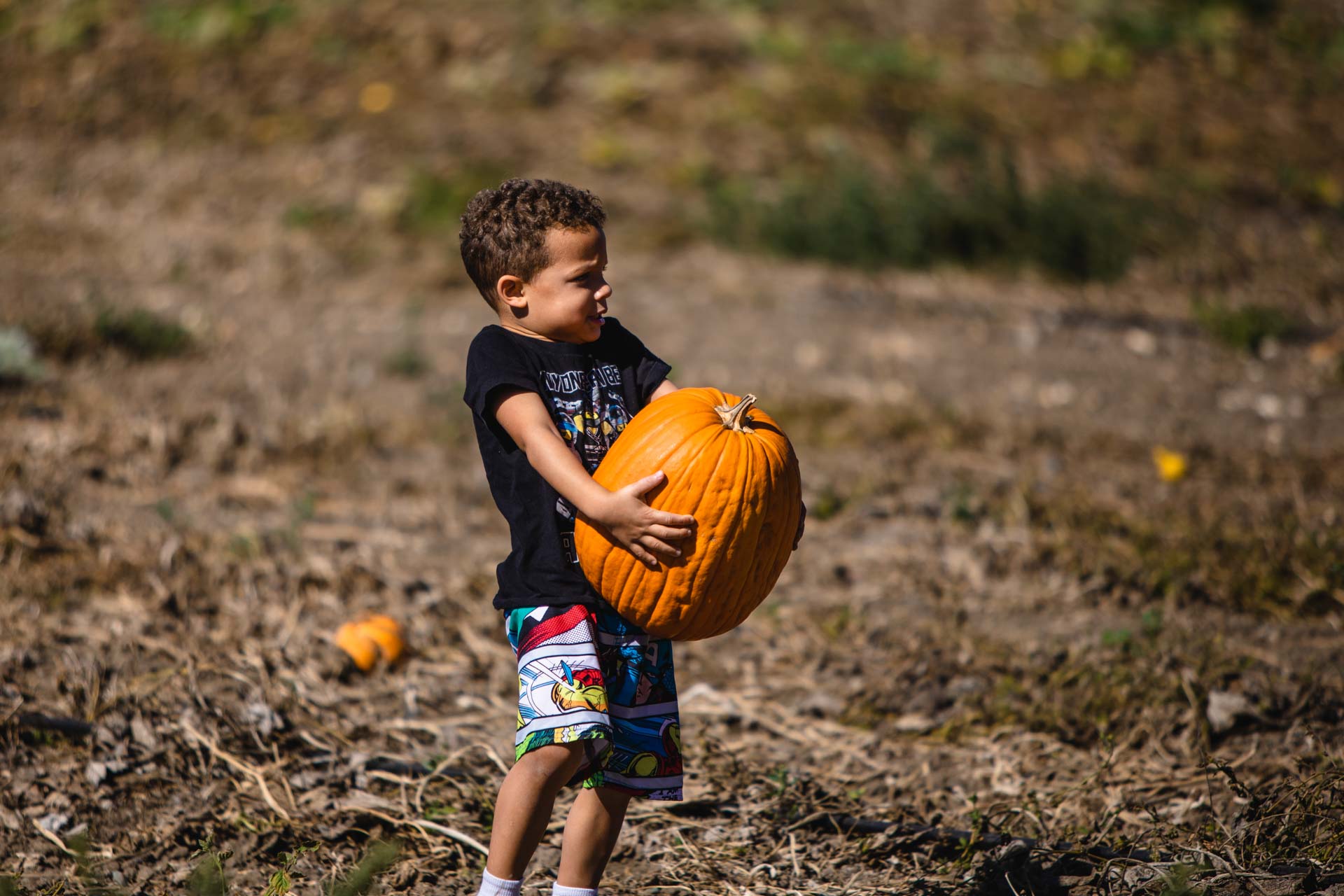 Corn mazes, hayrides, pie and much more
You know it's fall when the air turns crisp, the light turns golden, and the pumpkins arrive! And all of those signals are at their strongest on Highway 1, inviting you to stroll through the pumpkin patch for the perfect one to carve, eat, or just decorate with. You'll also find seasonal activities to keep the fun going, like hayrides, corn mazes, and seasonal decor.
Want to make lasting fall memories? Brookshire Farms in San Luis Obispo is here to help. This multi-acre property excels in fall fun, with a large pumpkin patch and pumpkin shop, as well as Highway 1's most vast and intricate corn mazes. Kids also love the bounce house park and seasonal games.
The Avila Valley Barn is open year-round for wholesome, family-friendly fun—but it really shines in fall. The family-owned operation stocks a wide selection of pumpkins and gourds for decorating, eating, and carving. But you can also head to the patch to pick your own on a hayride. The rustic barn also offers a hearty lunch menu, sweet shop, bakery, boutique, and petting zoo.

Looking for a big pumpkin? Like, a

really

big one? The Nipomo Pumpkin Patch is your destination. Marvel at the massive varieties for sale on site, some of which weigh hundreds of pounds and require a truck to be carted out. But these are just some of the 50 varieties to peruse, including those for carving, those for decorating, and those for eating.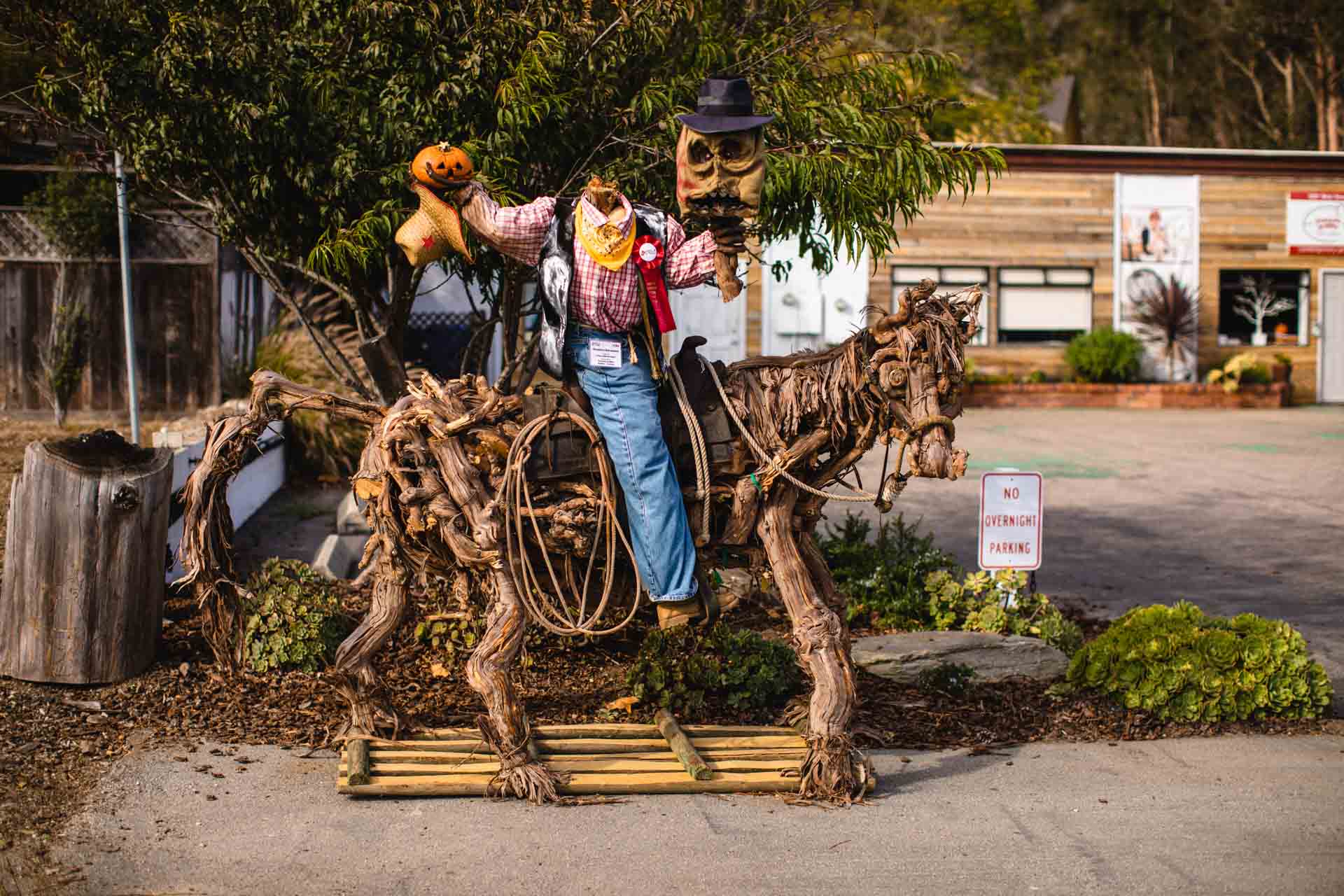 Experience Fall-centric Events
There's so much to do this season
The heart of Highway 1 knows how to make the most of the season, and invites all ages to join in! Arrive with an appetite for art, culture, festivals, shows, and the abundance of the harvest for your best fall yet.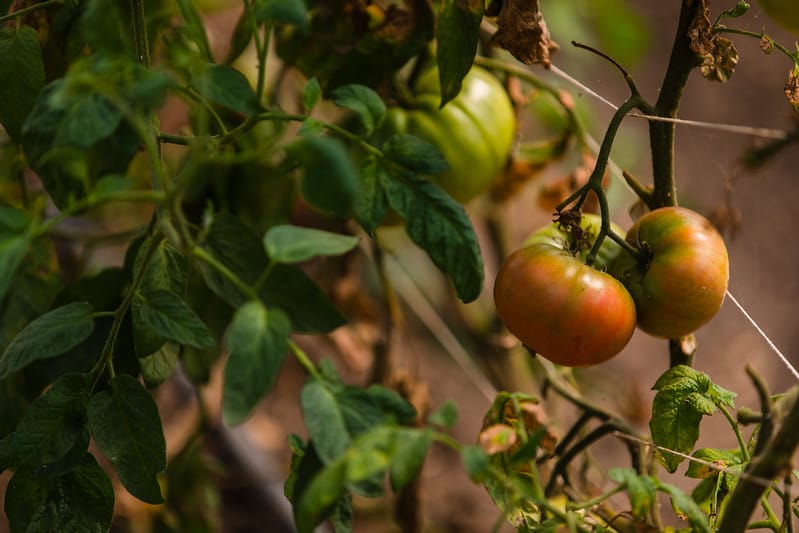 Taste and sip the essence of the season
The heart of Highway 1 is a region blessed with bounty—and fall is the best time to experience it all. Visit any number of farm-to-table destinations here to savor sweet heirloom tomatoes, cinnamon-scented pumpkin pies, roasted corn, and much more.

Here, apples rule the roost when it comes to seasonal fruit (other than the grapes that make our wine!). Sure, you can eat them raw out of hand, or try them in a new way, like Apple Compote Pancakes at the San Simeon Beach Bar, in Apple Cider Floats at the Avila Valley Barn, or…..there's always candied apples at the Cayucos Candy Counter near the beach.
The SLO CAL stretch of Highway 1 is so abundant, it's hard to grasp the diversity of winegrape varieties and wine styles available here. During the fall season, you can find wine trails and wine tasting rooms of all shapes, sizes and persuasions. As you travel the coast, expect seasonal vineyard lounges, harvest-themed flights, and farm-to-table winemaker dinners to kick back and enjoy.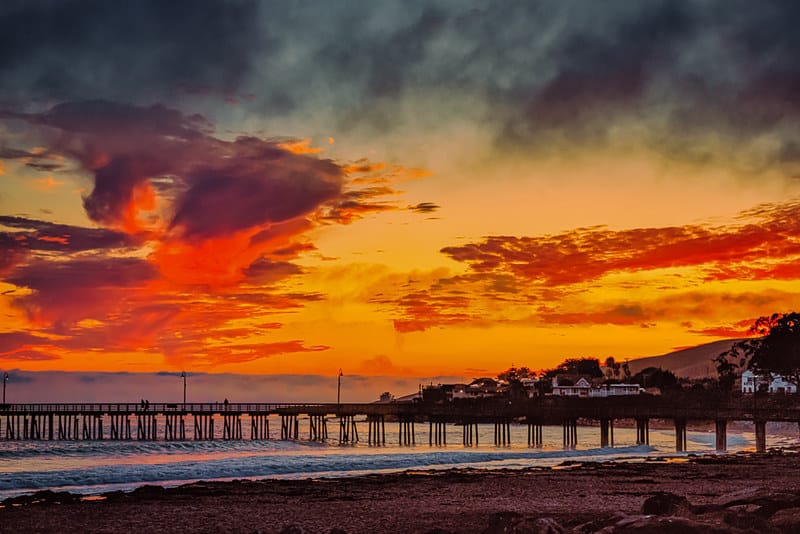 Seasonal happenings abound
There's no time like the present to experience the heart of Highway 1. Want more to fall in love with? Try these additional experiences, and you'll be head over heels.
San Simeon's world-famous historic jewel known as Hearst Castle is always dazzling, but the gilded light of fall sets it off spectacularly. Tour the property inside and out, exploring its Spanish Colonial Revival architecture style and its treasure trove of antiquities and art.
It isn't only locals who love this section of Highway 1—the wildlife stop by, too! Each fall, whales can be seen offshore with the help of the Whale Trail, which highlights the best places for peeping a fin, flipper or tail in the distance. The Piedras Blancas Elephant Seal Rookery in San Simeon also invites the public to view majestic elephant seals in the migratory habitat on the beach, free of charge.
Like to hike? The heart of Highway 1 offers hundreds of miles of trails with endless ocean views. Check out the abundant, easy-to-access tidepools at Montaña de Oro State Park in Los Osos, or explore the shipwrecked boat off the shore of Estero Bluffs in Cayucos.