There's no doubt about it: Fall is the best time of year to road trip along Highway 1. Thanks to mild weather and less crowded beaches, you'll feel those relaxed Autumnal vibes in a big way. Explore stunning scenery, take part in local arts and culture events, cheers to the wine harvest or try your hand at apple picking. With lots of exciting Fall activities to discover, you'll never run out of road trip ideas to delight the whole family.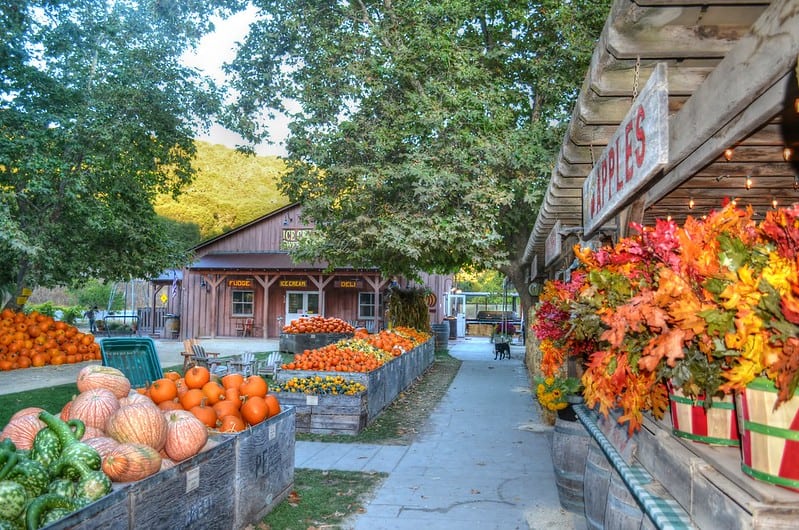 Go Apple Picking & Tasting
Wholesome fun for the whole bunch
Apple picking and tasting is a time-honored tradition along Highway 1. Home to a thriving apple-growing microclimate, heirloom apple varieties ripen to perfection in scenic Avila Valley. Whether you U-pick, taste or shop the farmstand, you'll get a special taste of Fall's most celebrated crop. 
See Canyon Fruit Ranch in San Luis Obispo is a family-owned orchard growing strong since 1984. Offering up Red Gold, Fuji, Pippin and Gala apples, savor a mix of apple slices paired with fresh pressed cider. You'll also want to check out the farm stand chock full of seasonal veggies, jam, honey and farm-fresh eggs. Why not take a few goodies to go?
Gopher Glen in San Luis Obispo is known for growing lesser-known apple varieties sure to satisfy your craving for Fall adventure. This family-owned certified organic farm offers rare heirloom apples ranging from tart and refined to sweet and juicy. Plus, with friendly growers onsite, you can dig into the backstory of each seed all while you taste. Bite boldly, friends.
SLO Creek Farms in San Luis Obispo is a scenic U-Pick stand that encourages folks of all ages to roll up their sleeves and get picking. Fill an apple basket, shop the farm stand or kick back with a few lawn games. The 44-acre organic apple orchard features 40 acres of organic apple trees, so you'll never run out of opportunities to taste the rainbow.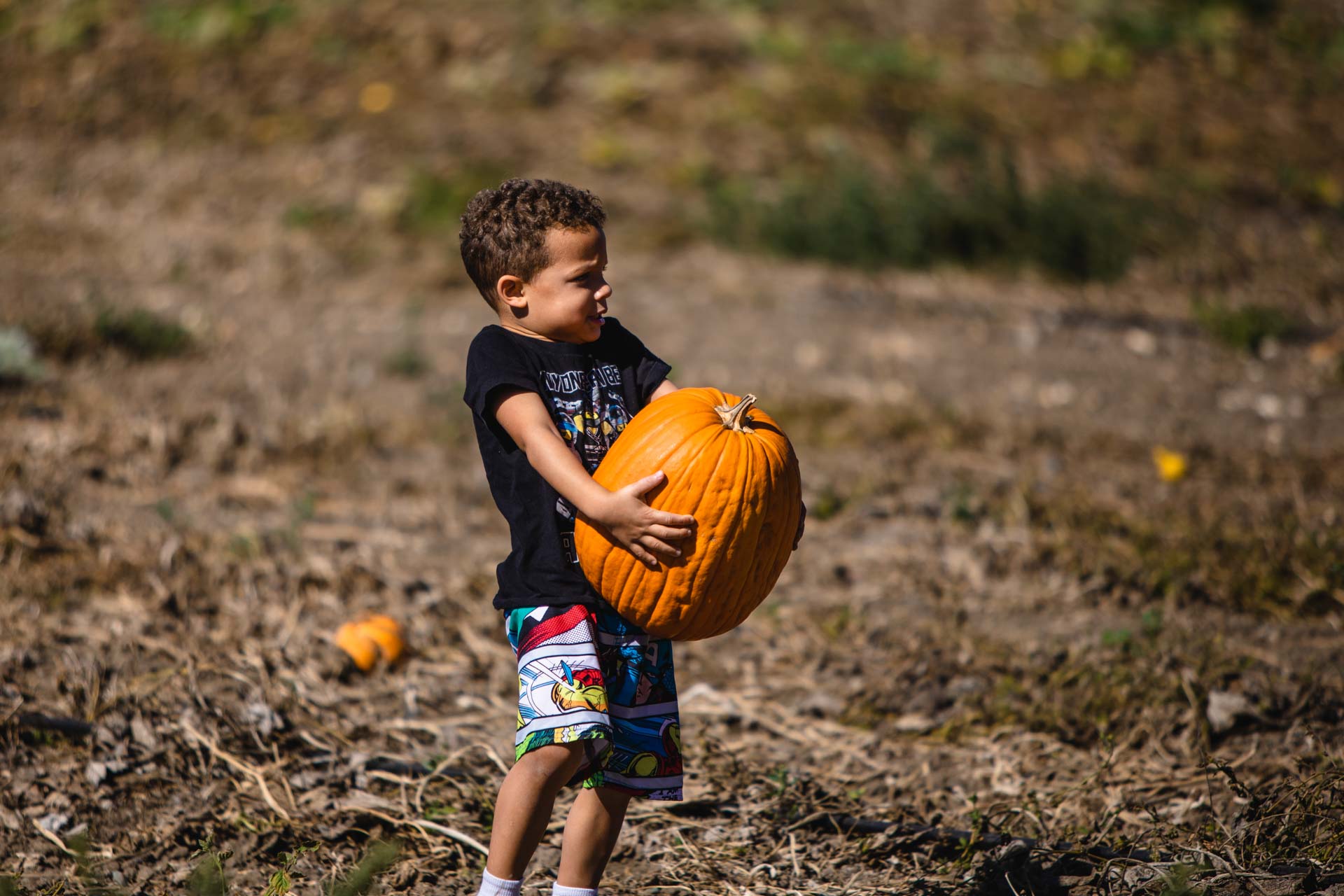 Great gourds, hayrides and more
Pumpkin patches abound along Highway 1 each Fall. You're invited to search for that perfect pumpkin, whether it be miniature, multiculture or classic Jack-o-Lantern style. Plus, stick around for hayrides, corn mazes, and friendly scarecrows, too!
Brookshire Farms in San Luis Obispo is a whimsical seasonal pumpkin patch for all ages to explore. Grab a wagon and hunt for pumpkins of all sizes. Kids will especially enjoy the onsite corn mazes designed to stump even the most clever pumpkin-pickers.
Avila Valley Barn in San Luis Obispo is a Fall wonderland on the coast. Shop from a selection of pumpkins, gourds, fresh produce and legendary baked goods all in a rustic barn setting. Cap off your adventure with a hay ride, hot meal and visit to the onsite petting zoo.
Nipomo Pumpkin Patch in Nipomo knows a thing or two about how to grow great pumpkins. In fact, you can find eye-catching giant pumpkins for sale each year. Stroll through fields of carvers, decoratives and edibles (there's more than 50 pumpkin varieties to discover). Which will you choose?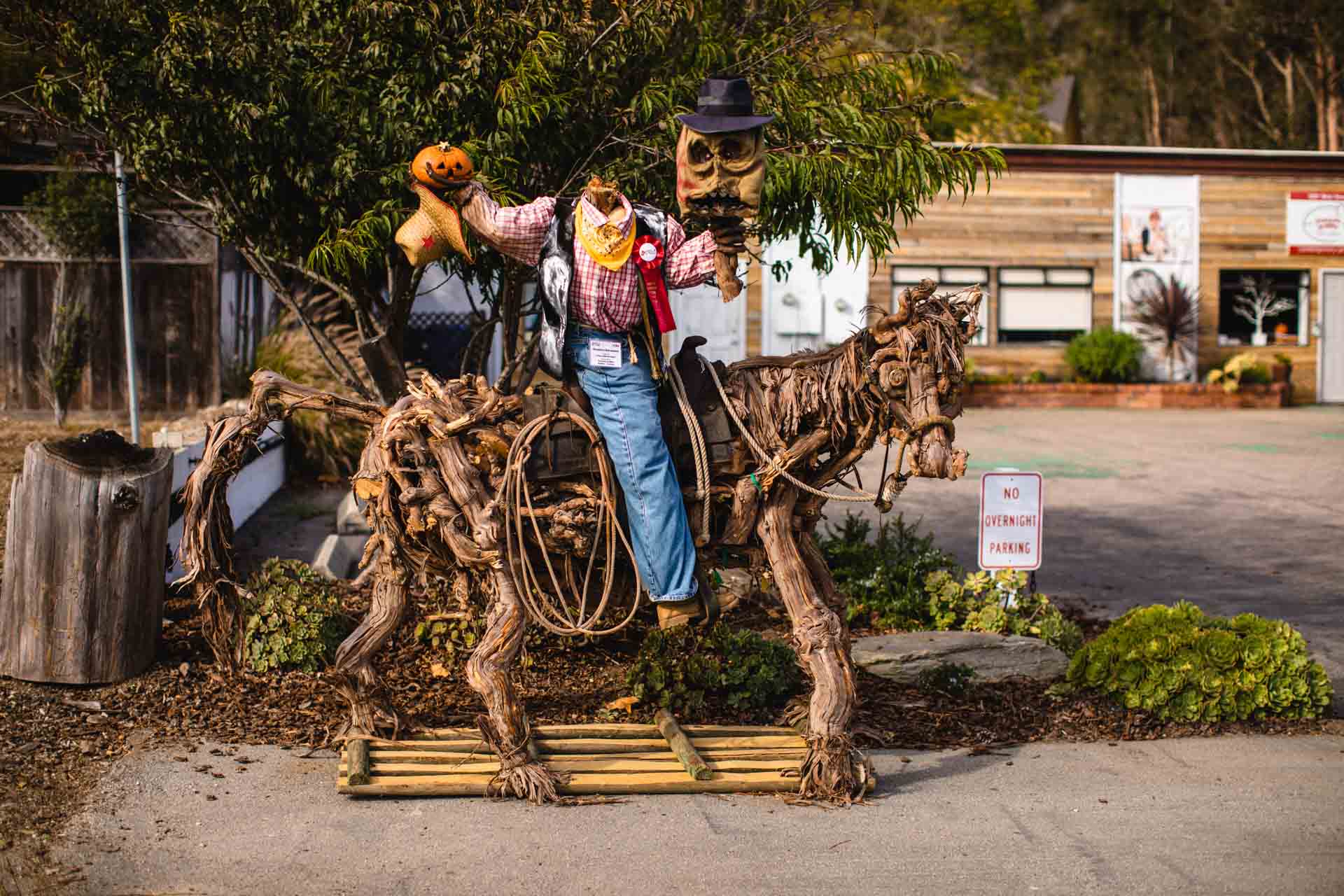 Explore Fall Events along Highway 1
Community spirit and local events come together to make the season extra colorful along Highway 1! Take part in festivals, arts and culture happenings and food and wine offerings sure to feed your appetite for fun.
The Cambria Scarecrow Festival brings dozens of hand-made scarecrows to Cambria's quaint downtown. Created by local youth and local businesses, wave hello to new stuffed-straw friends crafted with a hefty does of imagination.
The Open Studio Art Tour invites locals and visitors alike to take a spin through regional art studios, large and small. Free to the public and hosted over two weekends this Fall (Oct. 7-8 and Oct. 15-16 2022), you'll steal an up-close peek at in-progress paintings, ceramics and more.
Oktoberfest Events on Highway 1 combine German heritage, authentic food and cold beer. Grab your stein and don your Lederhosens for festive Oktoberfest events in Los Osos, Avila Beach, Cambria and more. We're all a little German at heart!
Harvest on the Coast is a celebration of SLO Coast Wine's culminated efforts kicking off Nov. 11-12, 2022. Enjoy a Grand Tasting and VIP Rare & Reserve Tasting event at Avila Beach Golf Resort or check out the Savor by the Sea tasting held at the Central Coast Aquarium. We'll toast to that!
The Great American Melodrama in Oceano brings belly laughs to the whole family. Enjoy an old fashioned vaudeville revue full of song, dance and audience participation when you attend Scary Poppins, running Sept. 23-Nov. 12.
The Western Monarch Trail draws butterfly chasers from around the world to Pismo Beach's Monarch Butterfly Preserve. This Fall, watch as thousands of the winged insects concentrate along a scenic Eucalyptus grove. What's black, orange and fluttering all over?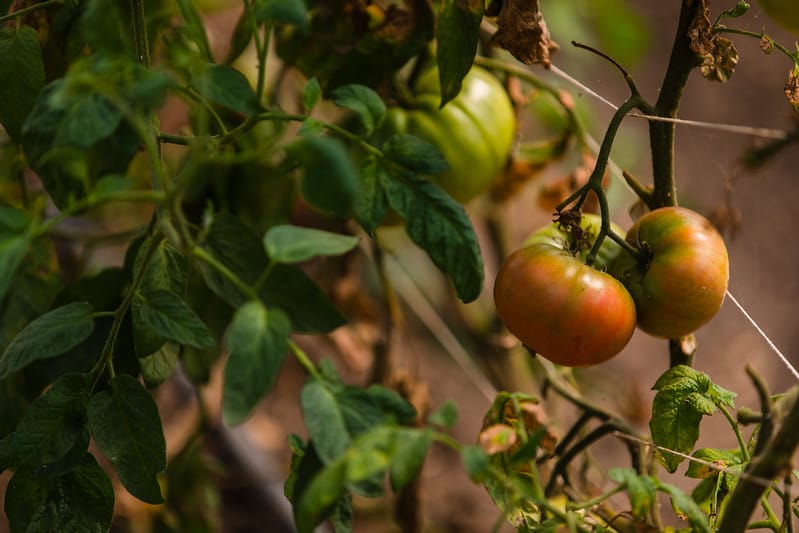 Taste the changing season
Experience the farm-to-table seasonality Highway 1 is known for. With heirloom tomatoes, avocados and sweet treats, Fall is full of satisfying bounty.
Drizzle syrup over San Simeon Beach Bar and Grill's famous Apple Compote Pancakes or enjoy a fizzy treat with Apple Cider Floats at Avila Valley Barn. Wherever you go, follow your nose to your next best bite.
Unique wine trails wind from the Pacific to Edna Valley's rolling green hills. Celebrate Fall along Highway 1 at a range of tasting rooms and vineyard lounges. Clink your drink to harvest-themed flights, tastings and farm-to-table winemaker dinners uncorking all season long.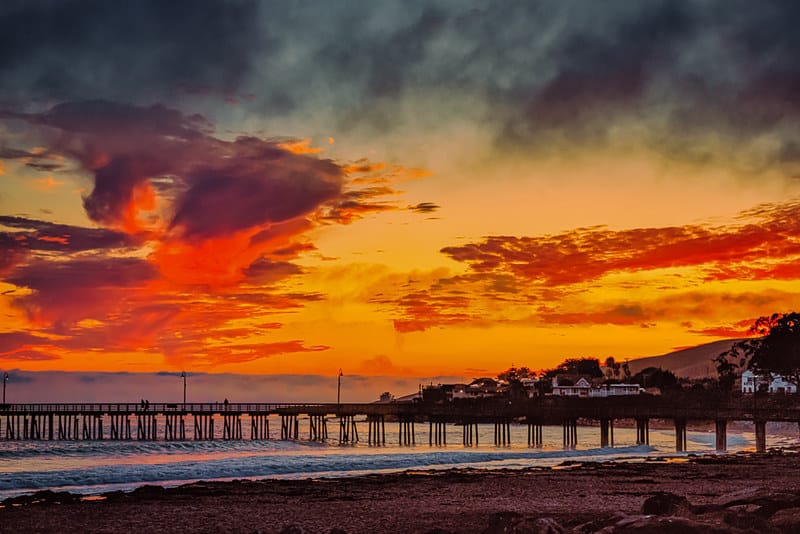 More to Explore this Fall on Highway 1
Keep rolling onward for these exciting extras
The time is now to enjoy Fall's many splendored-spread along Highway 1. There's even more to explore with incredible road trip bonus stops!
Hearst Castle, Highway 1's world famous "castle on the hill," is extra alluring in the Fall light. Showcasing works of art and incredible architecture, stroll sun-dappled terraces and well-appointed rooms at this San Simeon destination.
Wildlife viewing is popular along Highway 1 each Fall. Watch for whales with our useful Whale Trail, which features ten whale watching stops along Highway 1. Don't forget to wave to the Elephant Seals at the Piedras Blancas Elephant Seal Rookery in San Simeon. Free and open to the public, anyone can get a real-life look at these majestic animals.
HIghway 1 gives new meaning to the phrase "take a hike." Explore seaswept trails and tide pools at Los Osos' Montana de Oro State Park or discover a shipwreck along the Bluffs in charming Cayucos. 
On Highway 1, the destination is great, but so is the journey. Get going and book your own fabulous Fall road trip today and see what Autumnal adventures await. Get started with these awesome coastal stays.